Digital marketing is evolving rapidly and it has become really hard for marketers to keep up with every trend of the digital marketing industry. According to studies, the growing use of mobile phones and social media has only increased the prospects of better business opportunities as brands benefit by building engaging relationships with customers over these mediums.
Marketers are doing everything they can to acquire new customers while retaining existing customers [Remarketing]. Notably, there are many channels of digital marketing and each channel work differently for different marketers. Influencer marketing might turn out to be a good investment for brands belonging to the technology niche. While brand integration is great for FMCG brands. Many brands are even profiting using the traditional (yet new) targeted native advertisements on social media.
Here is a list of the trends that are shaping up the scenario of digital marketing in 2018 and how marketers are making use of these trends for their own advantages.
Influencer Marketing
The search volume of the term 'influencer marketing' has increased by 325% over 2017, making it one of the most important digital marketing trend of the year.
Be it products, services, ideas or just the way of living; influencers in 2018 have the power to influence and direct the choices of the people who look up to them.
The trend is growing at an unbelievable pace and is said to be valued at billions of dollars. According to Statista, the global Instagram influencer market size will increase from 1.07 billion in 2017 to 2.38 billion in 2019.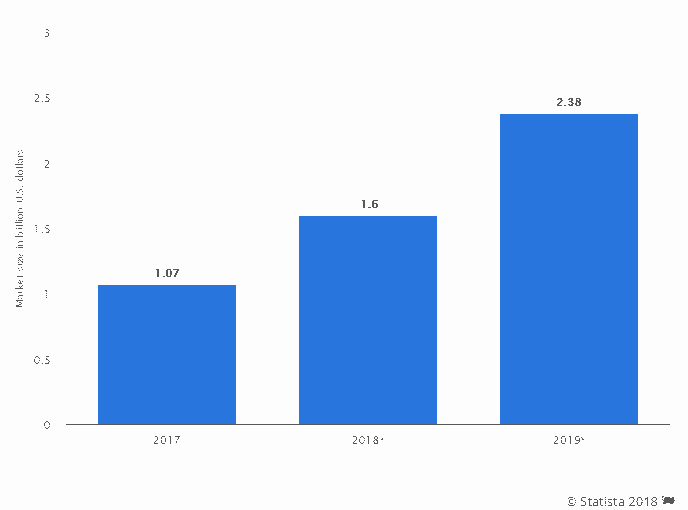 As a matter of fact, Federal Trade Commission considers influencer marketing as a form of paid endorsement and imposes regulations concerning transparency on the part of advertisers and influencers. Therefore, this regulation is worth your attention if you're planning to hire influencers to promote your product or services.
What happened in the early days was that a lot of influencers were creating Instagram posts, YouTube videos and other forms of content without disclosing that they were getting paid for it. That's where the Federal Trade Commission decided to regulate this market, set rules and regulations, and asked brands and influencers to be transparent and clear when working on sponsored content.
The rising trend of influencer marketing has led to the rise of several influencer marketing tools and platforms to make the lives of marketers and influencers much easier. Platforms like TapInfluence, Upfluence and Buzzsumo provide sophisticated tools like a 360 degree view of the influencer for getting the best match, audience intelligence which provides information about the influencers audience, advanced demographic data like income levels, metrics for comparison and even providing analytical software for knowing what influencers are saying about you, monitoring other competitors in the market, and even measuring KPI's like impressions, clicks and other data.
Augmented Reality
According to IDC (International Data Centre), spending on augmented reality and virtual reality will increase 95% and will reach $17.8 billion in 2018.
Fun fact to note is that Pokémon Go, the mobile game which revolutionized the AR industry, had more sales in the last two years than the entire virtual reality business. Experts also estimate that the AR is valued three times more than VR but may take a longer time to develop. These facts are alone enough to not to underestimate the potential of AR, and because of this scenario tech behemoths like Apple and Google have launched AR development kits for the marketers and developers out there. These kits provide advanced algorithms and capabilities for developing apps and offerings for immersive experiences.
Google has also launched ARCore, another software development kit for building augmented reality experiences. These kits provide various tools for rendering, optimisation and other features for immersive and fascinating AR experience thus developing and taking the concept of digital marketing several notches higher.
Another new trend to ponder over is AR shopping. Major retailers like Target and Ikea are already on this wagon and have developed technologies which lets the users to digitally try or place the products in their home before purchasing.
According to a recent study, 40% of the users are willing to pay more for your product if they have the chance to experience through AR.
Artificial Intelligence
Artificial intelligence has a strong role in the prevailing marketing scenario. It has made tasks simpler by giving it a more meaningful and sensible perspective and has provided results and success which even the human efforts can't.
Some of the trends and developments in the artificial intelligence industry which are shaping up the 2018 digital marketing industry are chatbots and machine learning.
A machine learning technique known as sentiment analysis help organisers understand how their participants feel and is used for better understanding the user emotion for providing a better experience. Development of voice bots, and AI together will help marketers to gain better insights into customer conversations and store the data for analytical purposes. There are also talks of embedding blockchain technology into chatbots for better security and reliability. We have heard many controversies surrounding the privacy and personal data of the users, but with this technology, chatbots will be given a trust rating score that provides a chance to the user whether to make the purchase with the help of a chatbot or not. This trust rating will be based on previous and successful orders and the details of the order will be stored by the chatbot (other than personal details) in a distributed ledger system which provides other customers with an opportunity to minimise risks.
Blockchain Technology
Experts say 2018 is going to be a massive year for the Blockchain technology. This comes as a good news to marketers as they now have better technology and avenues to target their advertisements better. The removal of the middlemen like Google, and Facebook, and less adfraud results in better ROI now than before.
With blockchain technology, marketers can also work simultaneously on a single project and have the ability to see when an edit was made, who made it and where. Moreover, according to the blockchain's distributed ledger system, no single marketer or user can have the ownership of the project.
The blockchain is even speculated to give rise to a new trend by affecting Facebook altogether. Blockchain is the potential solution to the recent problem related to the privacy breach. The transparent p2p network makes the users the real owners of their data and makes them decide who has an access to it.
GENERATION Z
Generation Z refers to the demographic cohort which is more challenging than millennials. These are those group of people who have been using the internet since a very young age, sometimes at the age of 2; are usually very tech-savvy and are comfortable living around and surrounded by the gadgets. These are those people who have more influence and effect in today's marketing world as they are very updated on the trends and spend a majority of their time online on desktops or mobiles. They process information very quickly and their attention spans are lower than millennials. That's why marketers need to focus their strategies and make their offerings interesting to grab their interest.
The digital media audience is filled up with the people belonging to generation z. Marketers can hugely benefit from this group of people as they care less about prices and are very social and open about their opinions which may work in favour of marketers as any positive feedback will spread quickly through their network of people.
Micro Influencers
We have seen influencer marketing work its magic, but what about those small and niche areas of the market which also deserve equal attention? Micro-influencers are just the thing which is shaping up 2018 and delivering the outcome. So what's attracting digital marketers to micro-influencers?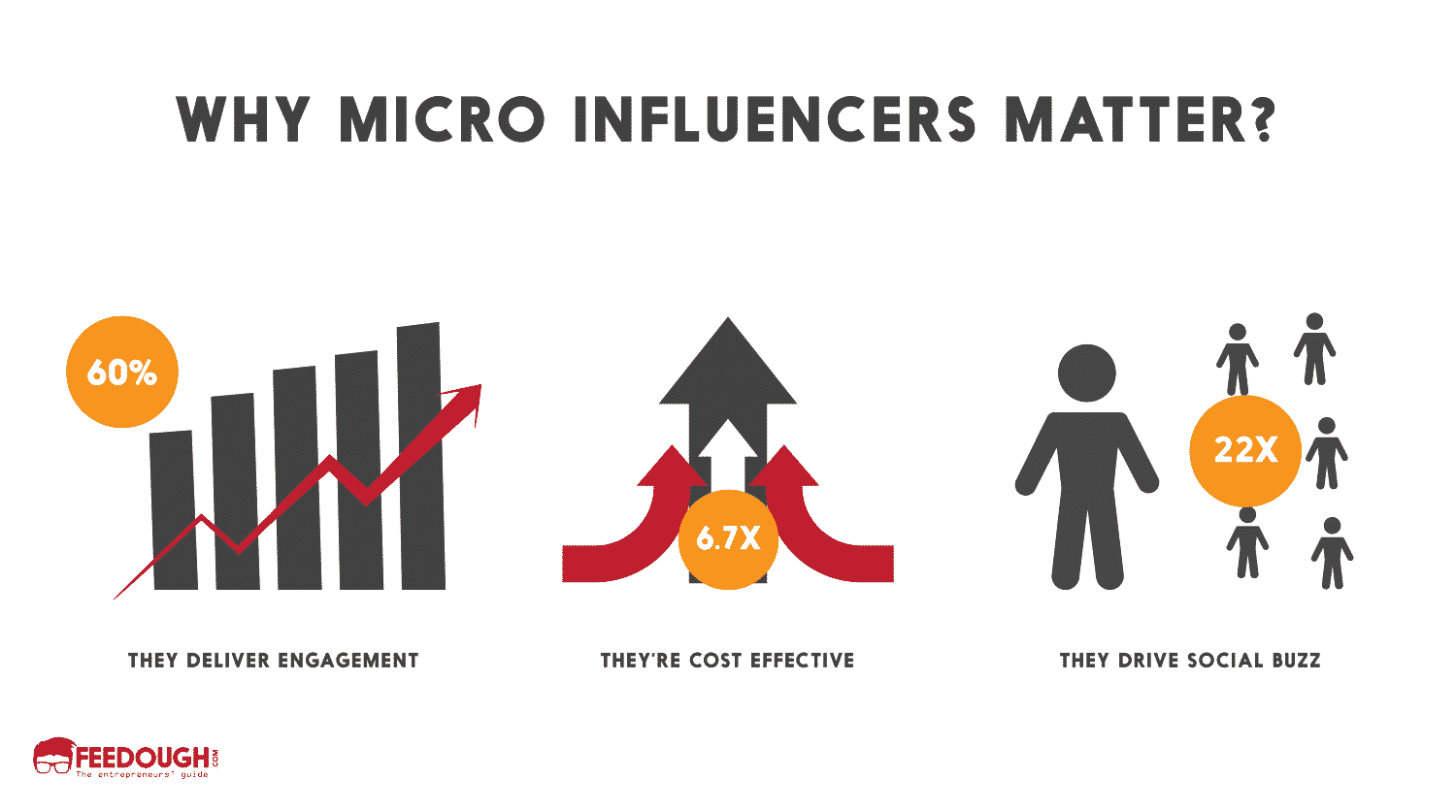 Micro-influencers are cost-effective. Not just that, research has shown them to be more effective and have higher engagement rates than people with large followings. Micro-influencers drive 22.2 more weekly conversations than the average customer.
They are a reliable and trustworthy community who like their work and personally invest their time to give you benefits. How? They engage consistently through new trends like storytelling, YouTube marketing and reviews about your product and give that fresh look to your products.
Video Marketing
One of the trends digital marketing in 2018 has witnessed is the reduction in the costs of video marketing. High quality and useful tools for developing, producing, editing and sharing attractive videos are on the rise and even hiring professionals have become reasonable. The market is being democratised for getting gigs for everyone.
Marketers have started using Facebook Creator App for videos and have taken their video marketing to next level. Even LinkedIn will roll out the ability to upload native video to personal profiles, although not available to businesses but this feature will help gain more engagement, views and potential customers through LinkedIn.
Privacy
Recent controversies and all the accusations over the years on marketers and companies for data misuse and unethical practices has sparked a need for a new trend- 'To prepare for the new data regulations and reforms'.
European Union has decided to jump in with the Global Data Protection Regulation Act(GDPR). It is aimed at providing data protection and privacy for all individuals within the European Union. It will replace the 1995 Data Protection Directive, and the GDPR extends to the scope of all the foreign companies processing data of EU residents. If failed to comply marketers and brands would be slapped with the penalties of 4% of their annual turnover or 20 million euros, whichever is higher. Each brand and marketer or company would be accountable for their actions and will have to comply with the new data protection laws.
However, the main highlight of this trend will be concentrating on the 'personal data part'. It would require companies to be fully transparent, clear on their intent of collecting personal data from their customers and this whole process would function on the system of customer's consent or approval. Companies would also have to conduct privacy impact assessments, strengthen the way they seek permission to use the data and document the ways personal data is being used.
Voice Search
Google is said to drive the voice search more and more with its sophisticated developments and algorithms. AI is said to enable this by optimising the searches and functions in Google search engine to deliver more value. Particularly this could be highlighted in mobile and desktop users who use the content.
This year and over the years mobile searches and usage have been on the rise and more than desktop searches but the new thing is focusing specifically on mobile. This is done through techniques of mobile first indexing, which means basically that Google will create and rank its search listings based on the mobile version of the content, even for listings that are shown to desktop users. This new development provides an opportunity to marketers who would want to target mobile users more and create new offerings for this segment. Through the technology of mobile first indexing, mobile will be and is a new trend for the mobile optimised type of content and marketing.
Therefore, we can say that Google will be playing a major role in 2018 to boost the scenario of marketing through two ventures. Use of AI to create even better AI which will use techniques for making accurate human-like predictions and mobile first indexing for an enhanced experience.
Automation
Machine learning, natural language processing and deep learning techniques are on the rise this year to provide hyper personalised experiences to users. Netflix and Starbucks have already incorporated these techniques in their recommendation engines and this user behavioural data will be used for future campaigns and touch points for these users. Also, prognostic lead scoring is another thing that has become a part of automation for marketers to implement. It is a system of lead scoring to identify which leads are sales ready and which ones could be potential buyers.
Machine learning techniques would be in action in this type of system of identifying which leads would benefit the most. Further ABM (Account Based Marketing) Systems will play a main role in marketing this year. Modern ABM systems would change the scenario of traditional account-based marketing by testing and identifying specific attributes of specific campaigns for targeting and engaging clients.
Go On, Tell Us What You Think!
Did we miss something?  Come on! Tell us what you think about our article on 10 Digital Marketing Trends That Are Shaping 2018 in the comments section.
Self-motivated and focused individual who has one sole reason for existence- Grow through life and learning.