Compared to generating interest towards your company, getting people to see your website or visit your stands and sign-on to become leads is much, much more difficult.
When we talk about lead vs demand generation, the former — i.e., lead generation — requires multiple steps. However, with the right amount of expertise and access to the necessary tools, no B2B business will have trouble in generating high-quality leads.
B2B Lead Generation Techniques That Actually Work
Yes, B2B lead generation does involve some luck, but the results are determined by timing and execution. Let's start with these 10 proven B2B lead generation techniques.
Trade Shows
Setting-up a pavilion at trade shows and exhibitions provide value in terms of both lead and demand generation.
You generate demand by exposing your brand to a relevant audience, and that too at a place where they are interested in seeing what the market has to offer.
However, the lead generation aspect kicks in from there by giving your marketing and sales teams the opportunity to directly speak with that audience and acquire leads or, in some cases, kick-off actual sales talks.
Offer Trials, Demonstrations, and Other Tangibles
What better way to get a prospect invested in engaging you and becoming a lead than by providing them with something they can use free of charge (or at a very low cost)?
You can acquire leads by simply offering prospects software trials or product demos.
In fact, these leads are particularly valuable because they will are willing to buying (hence the testing) and, by giving them a demo, you will have a leg-up in terms of proving the benefits of your offerings.
Product-oriented B2B companies such as software-as-a-service vendors and device original equipment manufacturers have an advantage in this area.
Leverage Search Engine Optimization (SEO)
According to a 2018 survey by Clutch, 87% of B2B readers find business-relevant data and information by using Google and other search engines.
In a way, ranking on the first page for Google is a demand generation tactic — it puts your brand front and center with your target audience.
However, if you rank for your target audience's specific questions and queries, you will have a higher chance of converting those readers into leads.
How?
Those readers are searching for answers to their problems, so they are predisposed to engaging with a helpful resource. This is why SEO for B2B companies heavily focuses on ranking for search terms that are not directly related to your brand and offerings, but on the problems you are solving.
Publish Credible Blogs, eBooks, and White Papers
This is a continuation of the previous point, but if you are attracting organic traffic (or paid traffic for that matter), then you must deliver on the reader's expectations.
First, B2B decision-makers take content very seriously.
According to Demand Gen Report's 2018 Content Preferences Survey Report, B2B buyers read between 3 and 7 pieces before making a decision.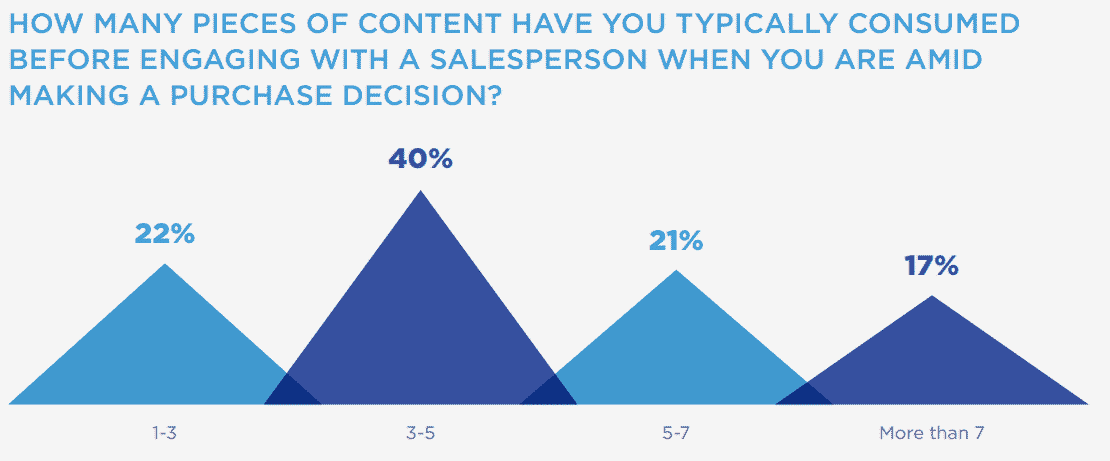 Second, 78% of B2B decision-makers place a high emphasis on the credibility or trustworthiness of the content. So, when making content, you must prioritize examples, statistics, testimonials, and other proofs first and foremost.
Third, you must also map your content for each stage of the marketing funnel or buyer's journey. Not doing so would mean missing key pain points of your reader, which you will have defined in your buyer personas.
The chart below offers insight into what types of content you can map to each stage of the buyer's journey.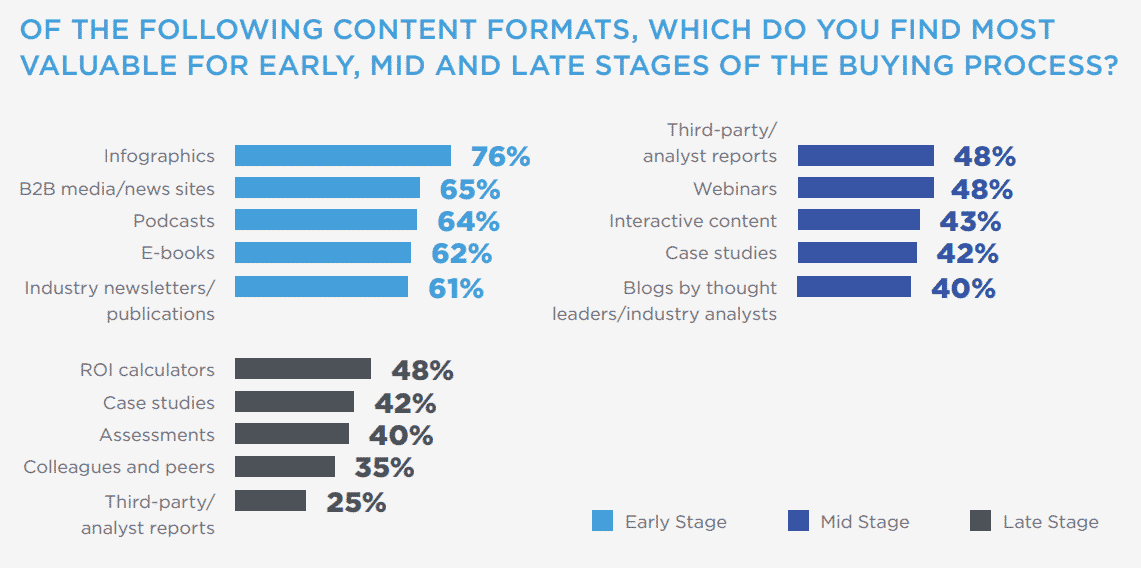 For clarity on what these stages mean, think of it as the following:
Early Stage
This content typically helps the reader understand their problem.
For example, they might search for information about the symptom or are simply looking for insights about their industry.
Your goal is to help the reader understand the root cause of their problem and, in turn, direct them to examine solutions.
Middle Stage
This is where you familiarize your reader about the solutions to their problem.
These solutions can involve your own as well as those of your competitors. In terms of the latter, you should work to dissuade your reader from considering competing solutions. For example, if you're a staffing agency, you want to use your middle stage content to debunk the merits of hiring in-house.
Late Stage
At this stage, your reader agrees on your solution, but now you must convince them to sign-on to your services. This is where proof — including demos, trials, case studies, etc — will be critical.
Invest in Interactive Content
Earlier, we noted how product-oriented B2B companies have the advantage of offering trials and demos of their offerings to potential leads. Unfortunately, service-oriented B2B companies may not have that flexibility, but that doesn't mean they're unable to offer value before inking a sale.
Interactive content, such as an ROI calculator, provide you the ability to demonstrate the benefits of your offerings to your reader. It's a tangible asset that 48% of B2B buyers will look for when engaging late stage content (Demand Gen Report).
Make Use Of Targeted Digital Outbound Marketing
Though inbound digital marketing has cemented itself as an integral piece to B2B lead generation, digital outbound marketing hasn't gone obsolete — it has evolved.
Today, we can target audiences for outreach based on their firmographics (e.g., the size of their company, geography, etc), demographics (e.g., age, gender, title, etc), and even their technographics (e.g., the technology stack their company website is using).
Yes, cold calling such people isn't easy, but compared to the past, you have a far greater chance of generating leads so long as you're targeting the right people.
You can extend this targeting to online advertising — i.e., retargeting — wherein you can display ads to your target audience (to the exclusion of all others).
You can also reach out using social media, especially LinkedIn as it reportedly generates 80% of B2B social media leads, eclipsing Facebook and Twitter.
Use Call-to-Action (CTA)
Your content won't generate leads if there's no mechanism to actually get your readers to provide their contact information.
This is where CTAs are vital. They serve as mechanisms to gate your content, prompting readers to provide something in exchange for access.
Seek Referrals from Your Existing Customers
Your existing customers can be among your strongest lead generation assets.
If existing users trust your software, devices, or services, then you should empower them using incentives and support to promote you and your offerings.
Seeing how referral leads are already predisposed to buying from you, there's no excuse for missing referral lead generation in your company growth plan.
Don't Scoff at Sending Emails
Between SEO, content marketing, and social media, the use of email marketing might seem out of vogue, but it isn't.
This is an extension of your targeted outbound efforts, but you should go a step further by personalizing your messages. However, this isn't easy when you have thousands or tens of thousands of email addresses.
Use email automation software to scale your efforts and collect data on how readers are engaging your emails. Avoid unorganized data, and instead, use lead scoring to identify which of your readers are more engaged. You can dedicate more resources and nurture those strong prospects into leads.
Get Your Sales and Marketing Teams on the Same Page
Ultimately, your lead generation efforts must result in sales.
But this will not happen without aligning your sales and marketing teams. If marketing is giving sales weak leads, then sales will have trouble succeeding.
By not leveraging sales' knowledge and experience of the prospects, marketing is also missing out on a lot of practical insights. These insights include key pain points, goals or interests, and triggers that get leads moving towards a purchase.
From sharing KPIs, closely collaborating across content, SEO, and social media, to agreeing to what qualifies as a sales-ready lead, marketing and sales alignment will unlock a lot of your lead generation and sales potential.
Next Steps
It's unrealistic to expect one or two people to manage and implement every one of these lead generation techniques. However, you will not get the results you want by skipping on even one of these, you must implement it as a holistic strategy. Thus, your next step should be to build a team or work with an existing one in a specialized digital marketing agency.
Go On, Tell Us What You Think!
Did we miss something?  Come on! Tell us what you think about our article on B2B Lead Generation Techniques in the comments section.
Zamir Javer is the CEO of Jumpfactor, a Growth500 listed B2B marketing, and lead generation agency. Jumpfactor helps you drive increased sales and grow 5X faster through more leads at higher ROI.