Diving into eCommerce is not a walk in the park.
You need to be selling the right types of products to the right audience, have a high-converting website, and you need to have a solid marketing strategy to draw clients into your online store.
With all the moving parts involved in running a successful eCommerce store, you'd be hardpressed to figure out what you ought to do to start getting those sales.
If you're in that situation right now and you're just about ready to give up because of the sheer feeling of overwhelm that you're experiencing, then allow me to help you.
Allow me to share with you several eCommerce hacks that seasoned entrepreneurs are using to get more sales.
Do you like what you're reading so far? Let's hop right in.
1. Use Automation
Having to manually update everything on your website and check each corner now and then could put a strain on you and your business.
More and more online entrepreneurs are now placing their trust in tools that can help them automate certain aspects of their marketing like campaigns and inventory updates.
Oberlo is an eCommerce solution that helps dropshippers integrate products from trusted suppliers to their eCommerce website with a single click — it also does so much more.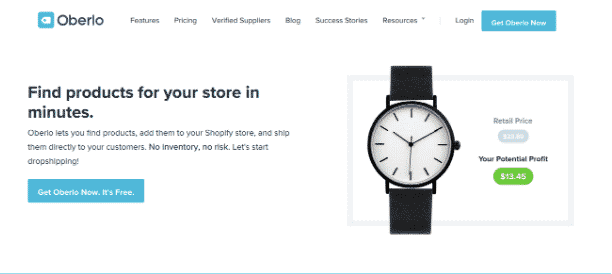 Because of the kind of automation that Oberlo does, dropshippers no longer need to spend truckloads of cash just to hire people to integrate products or look for reliable suppliers — which can be very costly.
With just a single click, the product can be imported from the supplier to the ecommerce site owner's Shopify store.
In the screenshot above, you can simply click the Add to Import List button from a supplier's Oberlo product page, and the product will be automatically added to your product list.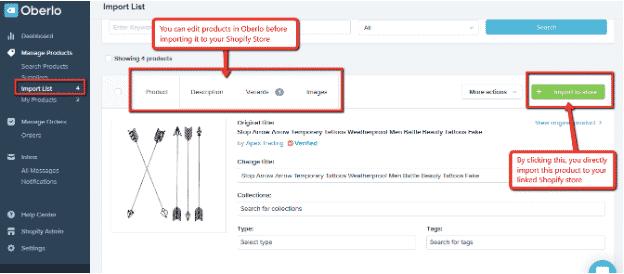 Once the product you want to sell is in your Import List, you can edit the product details straight in the Oberlo plug-in and send it straight to your Shopify store without copying and pasting anything.
You can also download the Oberlo AliExpress extension for Chrome to make reselling easier. With this, the Oberlo Chrome Extension lets you process orders from AliExpress suppliers much faster than doing it one by one.

Oberlo also doesn't complicate things for you.
As a user, you won't find it difficult to track your sales since the Oberlo's dashboard is organized with simplicity in mind.
Automatic updates on your supplier's physical inventory are one of Oberlo's automation features. With this, you will never end up selling a product that is out of stock.
Also part of their automation system is the automatic updating of prices. Oberlo will instantly notify you, the Shopify seller, in case your supplier increases or lowers their rates.
2. Check Your Site's Loading Speed
Have you ever wondered how long it would take for your customers to lose interest in your website if it takes quite some time to load?
Two seconds. That's it.
More than half of consumers will abandon your site if your pages load longer than two seconds.
Even worse, every second of loading delay increases the danger of your website's conversion rate to reduce by 7%.
A 7% loss of your conversions could be a big hit, especially when you're a big business or are used to generating sales with six figures trailing.
That loss could mean up to a thousand dollars worth of sales down the drain! So you can avoid losing clients due to your pages having a slow load time, here are a few tips you can follow to improve your site's load speed:
Check Your Loading Speed.
When it comes to finding solutions to your problems, the internet always delivers.
There's a myriad of tools on the web you can use for free to check your site's loading speed.
One tool you can use is GTMetrix.
To show you how it works, we'll use the website https://moz.com as an example.
Type in Moz.com on GTMetrix's landing page and voila!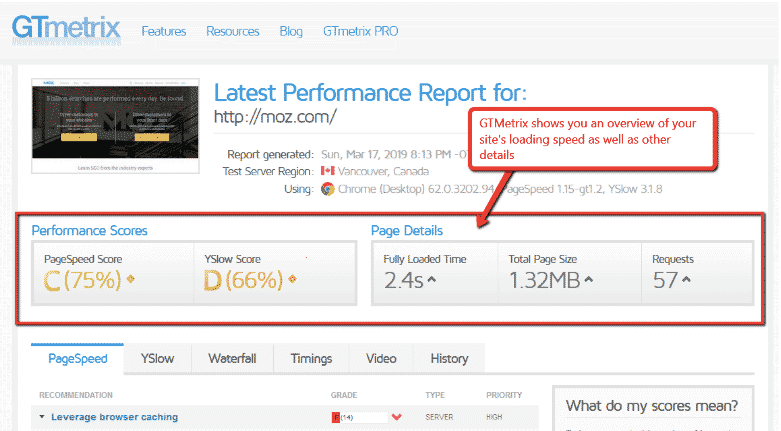 The tool gives you a straightforward overview of how your website performs when it comes to loading speed.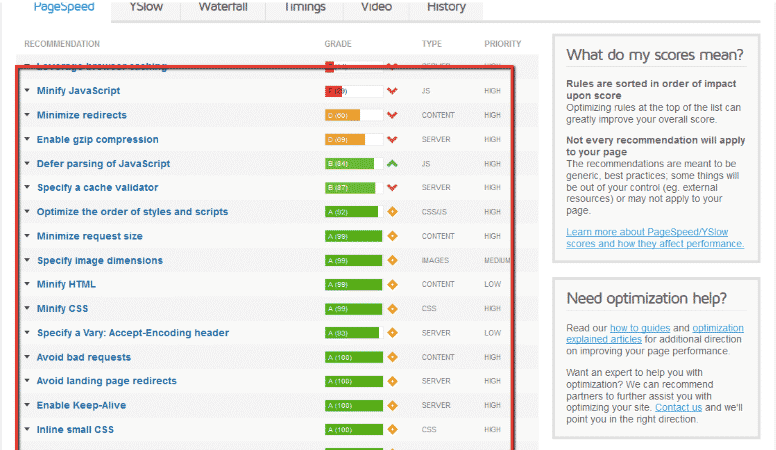 GTMetrix doesn't hold back with its suggestions on how you can speed up your loading time.
When you click on every recommendation, you can find in-depth information for each of them.
While not every recommendation may be a personal priority for you, everything is worth checking out and considering if you want to boost your site's load speed.
Consider Getting A High-Performing Hosting Plan
A majority of web hosting companies offer different hosting plans for their clients depending on their needs.
As an e-business owner, you have to make sure the hosting plan you're subscribed to isn't the reason why your pages are loading at a snail's pace.
Get a plan that explicitly offers better performance when it comes to loading speed.
Measure Your Loading Speed
A tool like Google PageSpeed can be useful to check your site's baseline speed.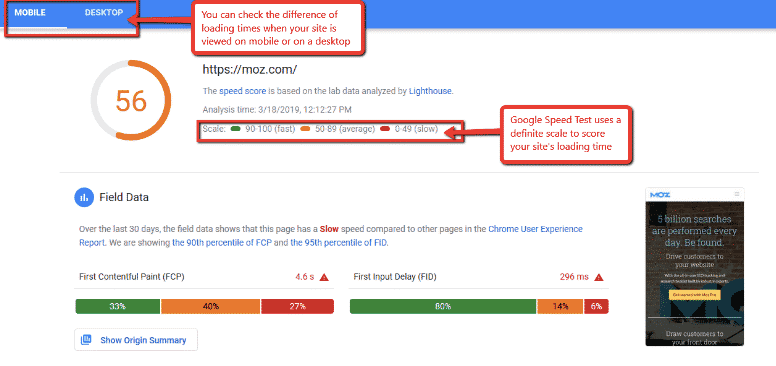 You can check your website's load speed when it's viewed on both mobile and desktop through the tool just by entering your website's URL.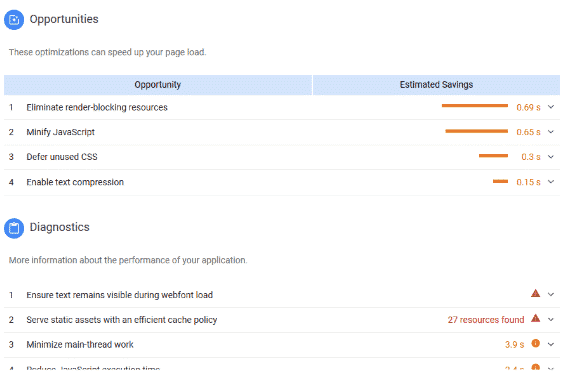 The tools diagnose your load speed and give you suggestions to optimize your website to lessen its loading time.
It's a must for you to learn where your site's load speed stands at the moment so you'd know how to improve your website's speed.
3. Always Do Split Testing
Split testing, also known as the A/B Test, could raise your e-store to its maximum potential in today's digital market.
This method demonstrates to you if your marketing campaign is working and tells you if you need to implement changes to improve your site overall.
Below are steps you can do to utilize split testing:
Pick the best split testing tool for you: There are a variety of tools in the market, but the majority are designed for enterprise customers like B2B companies. If you're a start-up, Google Optimize can be an excellent tool for you. The tool not only delivers what you need, but it's free, too. Another powerful yet affordable split testing tool you can use is Zoho PageSense.
Test only essential pages: Each eCommerce store always has a few products that sell better than the rest of their stocks. You should kick-off your split testing by choosing only your top performing pages to test. It's recommended you select at least one from every major category you have in your site. After testing, you can implement the changes to pages in that specific category.
Figure out what you want, set it up, and run your tests: Split testing isn't merely about changing fonts or background colours. Prepare a hypothesis and test it by controlling several variables.
Spelling out what you're doing and your expected outcome is vital to this systematic process. That way, you can learn from the tests you run and document them.
You only need a straightforward format: If you do A, then you expect B to happen due to C.
An example would be: If you change the button's colour from blue to red then you expect conversions to rise because the pushbutton is now more visible or eye-catching.
If the test increased your bottom line then implement the change across the category and begin a new test.
If the test didn't create any significant increase in conversions, junk it and start a new trial.
Constant testing is key!
4. Don't Complicate The Checkout Process
It is highly recommended that you offer an option where guests can check out products from your website.
It's always good to have customers registered to your site. But an increasing number of users are now making purchases on mobile, making the registration process feel like a hassle now.
All your customers want to do is buy your product. Don't make it harder for them to do so.
Forcing customers to register before they're able to buy can make them abandon their carts, and leave you hanging and broken (financially and psychologically).
E-shopping sites like Sephora have utilized guest checkout to make the buying process smoother, and it has clearly done a lot of good for the brand.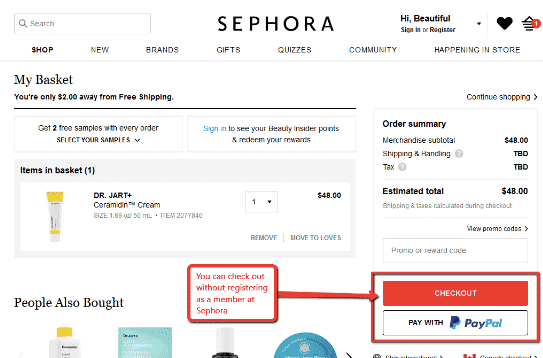 You can sign in or register, but Sephora doesn't require you to sign up to purchase.
If you're hesitant to do away with site registration, you can always test it out first and see if offering guest checkout makes significant and positive changes to your bottom line.
Studies over the recent years have consistently shown that guest checkouts could be the deal-breaker between completing a sale and getting a deserted cart.
5. Show Product Reviews
Did you know most consumers go through online reviews before ultimately deciding to click on the checkout button?
Or that showing reviews on your product page can raise your conversion by almost 300%?
Stellar 5-star reviews are not required (though, preferred!) to show potential customers why they ought to buy your product; 4-star reviews help increase sales, too!
This generation is all about product reviews, and it's the perfect opportunity for enterprises of all types to take advantage of them. Here's a short guide you can use:
Step 1: Ask permission from your manufacturer/supplier to upload their reviews on your site
If you are in the reselling business, chances are, the products you get from your manufacturer or supplier already have stunning product reviews.
Aside from asking your customers to review your products, you can always ask your supplier if you can post their reviews on your website, too.
Step 2: Include the review section on your product page
Your supplier would want to make sure you're properly crediting them for the review you pulled from their site and pasted on yours.
It's also sound business practice to be consistently upfront with your buyers.
When you integrate your supplier's review on your website, make sure to add something similar to "taken from [manufacturer/supplier's site]."
Target effectively uses this hack through Bazaarvoice: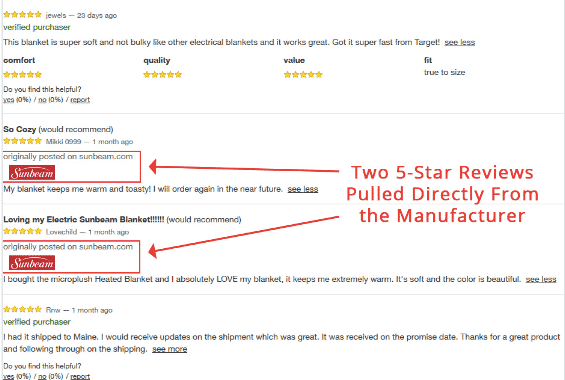 Target pulled out a few reviews for their product from their manufacturer's website and adequately attributed the source of the review.
But ingenuity does not stop there.
We know some products don't have reviews or if they do have any, have poor-to-mediocre ones.
Borrowing four and five-star reviews straight from the supplier can instantly give such products a massive breakthrough in ratings.
If you're worried about customers seeing that such reviews aren't posted originally on your website, you can relax.
You can optimize your review section wherein customers can only know that the reviews are from your supplier if they click the "See More" button.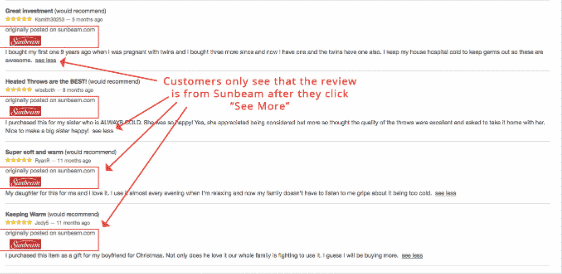 Go On, Tell Us What You Think!
Did we miss something? Come on! Tell us what you think about our article on 5 Actionable Ecommerce Tips to Skyrocket Your Sales in the comments section.
A startup consultant, digital marketer, traveller, and philomath. Aashish has worked with over 20 startups and successfully helped them ideate, raise money, and succeed. When not working, he can be found hiking, camping, and stargazing.