Nothing has ever disrupted the startup ecosystem like the ecommerce. T-shirts, shoes, jewellery, software, and even houses are being sold online. But the only setback of the ecommerce business model is that not everyone succeeds in running a profitable ecommerce store.
No matter how tempting it looks, you can't expect your products to sell just because you've created an ecommerce store. You need to draft some good branding, marketing, and promotion strategies to sell your products. Here are five tips on how you can increase your ecommerce store sales.
Focus On Creating A Brand
When people think of a brand, they usually think of the visual aspect of the brand. However, deep down in their subconscious mind, the brand has a huge role in influencing their purchase decision. Besides the visual image, associations, experience, message and personality are significant for any brand to stand out.
From a practical perspective, your customers create an image of your brand based on their personal experience with your company and/or your products; for example, how good looking is your ecommerce store? How well do your product and services perform? And what was their experience in interacting with your company and your company's support team?
From a psychological perspective, your customers associate your brand with how your company and its products make them feel; that is, what change does your brand brings in their life? Does their association with your brand change the way they are viewed by others? Does it add to their lifestyle? Do they feel more confident?
Building a brand and marketing it is one of the prerequisites of running a successful ecommerce store. The combination of these practical and psychological standpoints has a huge role in deciding whether the customer will conduct business with you or will continue to do business with you.
Here are a few tips for you to create an attractive brand for your ecommerce store:
Spend some time in developing your brand message. Focus on how you'll deliver it too. An example of proper implementation and execution of brand messaging is 'Save money. Live better.'. Walmart has developed its brand image by delivering what it promises – goods at low prices. Some good examples of niche-based brand messages of ecommerce stores could be: 'we bring out the hippie in you', 'We test before we list', etc.
Create an eye-catching logo which resonates with your brand message. The other visual elements should also match your brand message. For example, using a green layout for an ecommerce store selling plants could be a good idea.
Apply your visuals to every marketing tool you use, even to the images of your products as it builds the trust among your customers.
Branding is important, but you need extensive research to come up with the message that'll resonate with your customers' needs, wants, and desires.
Pay Attention to The Design, Security, & Mobile Experience
According to a study, a person is more likely to eat two pieces of cheese with holes in them but only one if it is solid?
Aesthetics play a huge role in influencing the sales of an ecommerce store. A neat looking website, good arrangement and assortment of the items, excellent photographs, right fonts, colors, and use of shapes, etc. are essential in gaining the trust of the customer.
But there are cases where even after setting things right in the ways explained above some ecommerce stores tend to confuse their customers with their layout.
How and why?
They tend to commit these two ecommerce design and performance mistakes:
Offering Too Many Choices
You don't want your customers to get lost in a crowd of product offerings.
According to a guide by Shopify, When you offer more products for sale, more people will visit your store, but fewer people will make a purchase.
Too many choices lead your customers to the state of "choice overload," or "analysis paralysis."
We're not suggesting you take down your extra products, just assort them in a way that it's less likely for the customer to feel paralyzed by the choices. For example, this easy-to-view and understand graphical representation by Apple is a good layout technique to avoid over-choice.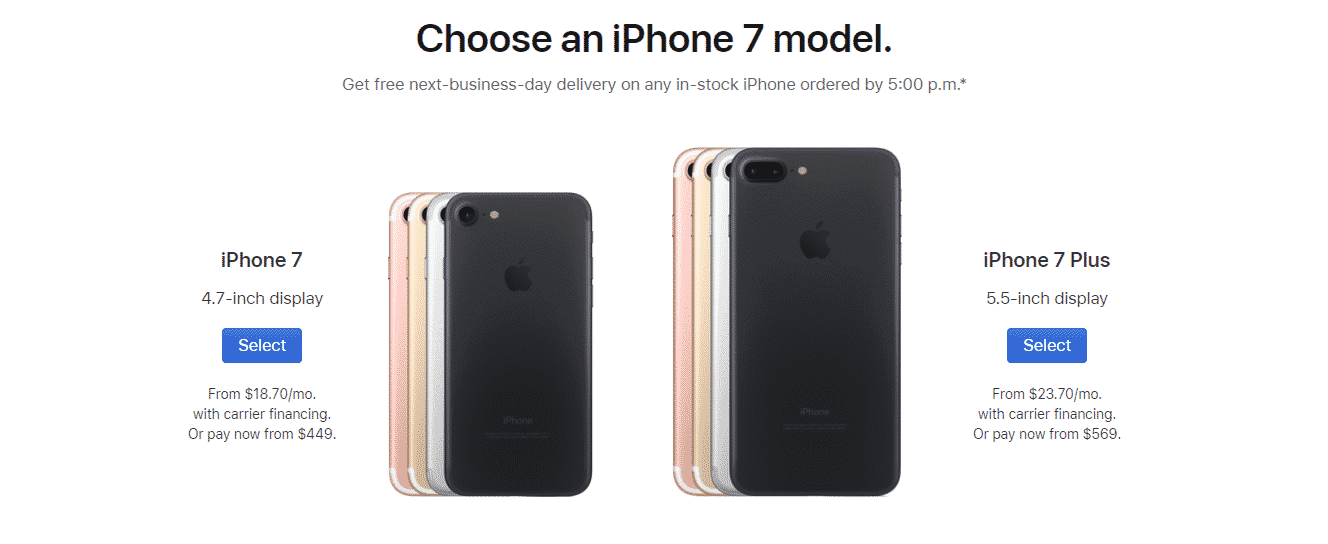 Another strategy is to keep different products under different heads; like this:

An offer like the following image is most likely to cause choice overload as the customer might not be able to decide what's right for him/her.

Not Focusing On Security & Performance
Other essential front-end factors influencing the sales of your ecommerce store are the security, speed, and mobile responsiveness of your store.
Customers are educated enough to not to trust an ecommerce store that doesn't have an HTTPS certificate. An HTTPS certificate implies that all the communication between the customer and your store is encrypted and their data is secure. This increases the trust among the customers and makes them shop without worrying about their data being breached or exposed to hackers.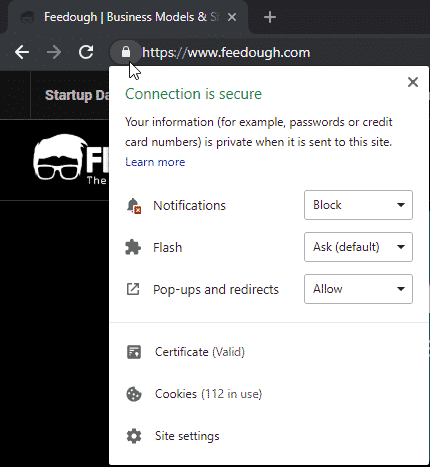 Website speed and mobile responsiveness play a vital role too. According to Google, If people have a negative experience on mobile, they're 62% less likely to purchase from you in the future.
This mobile experience is further fuelled by the site speed. A slow site speed doesn't just frustrate the customers but also limits your business. According to the same study by Google – A one-second delay in mobile load times can impact mobile conversions by up to 20%.
So if you want your eCommerce sales to rise (or to not to fall), you need to focus on the mobile experience as well.
Well Drafted Paid Campaigns Yield Good Results
You must have already come across people who exclaim that paid traffic is just a waste of money for a new or any ecommerce store, but these statements must be a result of bad experience due to some common newbie mistakes.
Because if they're doing it, it won't be such a bad investment.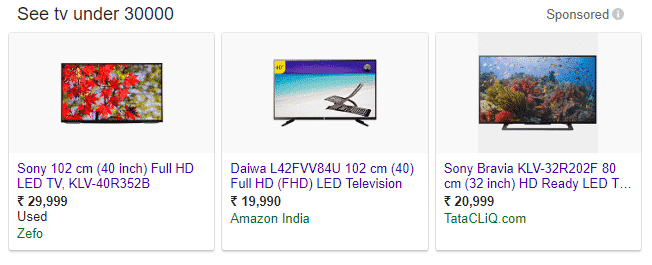 First thing first, always spend a few dollars to test the waters before going all in. No matter how sure you're that it's the best campaign for your paid traffic strategy, shed out as low as $50 before to test its performance just to be 'surer'.
We'd also suggest you run multiple campaigns and multiple variations of those campaigns to see which one works best.
Moreover, you should plan the paid campaign based on who your customer is and what he wants. Having a sound knowledge of your customers make your advertisements more targeted and increases the probability of conversions. Furthermore, knowing at what stage is the customer in his decision-making process gives you an idea of whether to run a cold traffic campaign (to make them aware that your brand exists) or the remarketing campaign (to make them consider and/or complete their purchase).
You can either opt for search engine marketing or run ads on social media networks like Facebook & Twitter. No matter what you select, a sound knowledge of long tail keywords is a must. Here are a few other tips to help you increase your ecommerce sales using paid advertisements:
Only run ads on platforms where your customers are: Running ads on Linkedin while your audience is on Facebook will only result in bad results. The only way to find this out is to test the waters before launching the full-fledged campaign. You should also take into account which type of ad performs best for your audience. Display ads, even though are most attractive, don't suit every business and textual ads (google search ads) require extensive keyword research and A/B headline tests. Make sure to place your best foot forward at the best platform.
Tracking is essential: Sign up for Google Analytics before running your advertisements as it'll be the best tool to see your overall advertisement performance. You can also track your conversions in the Facebook Ad Manager if you run an ad on Facebook.
Create a landing page: It's not a good idea to send your paid traffic to your homepage. Draft a unique page (called the landing page) for your every ad and customize the message for your incoming visitors. Use this landing page to showcase your products which you had advertised, answer the questions which your advertisement must have raised in the minds of the visitors, and add a call of action to push them toward a specific action. You can either create your landing pages using the industry experts like Leadpages or Clickfunnels, or you can build (and test) your own landing pages.
Use Remarketing to increase the chances of conversion: Remarketing is a process to turn window shoppers into actual customers of the products by using targeted marketing strategies. The main motive of remarketing is to convert those who didn't convert into customers at the first visit. You can craft a remarketing campaign and target the window shoppers using paid ads to make them convert as 3 out of 4 customers notice retargeted ads.
Improve Trust Within Your Funnel
Even though having an HTTPS certificate and a good brand adds to building up the trust among your visitors, they aren't enough.
Now, visitor's trust in an ecommerce store can be increased in two ways; social validation and more personal presence. While social validation is the presence of user-generated content on your ecommerce store, personal presence means 'you' are available to answer the pre-sale, sale, and post-sale queries of your customers.
Social Validation
You need social validation to make more visitors convert. Now, the question that might be lingering in your mind is what exactly is social validation and why is it essential.
Social validation is a psychological phenomenon which represents a kind of chain reaction where your existing customers validate your and your products' trustworthiness to the new visitors/prospective customers.
Today, the internet is filled with innumerable brands and ecommerce stores. People have grown to distrust even big brands and rely on peer reviews and peer actions over other means of justifications.
Customer ratings, customer reviews, blogs, advice, etc. have gained more importance than ever. One of the reasons ecommerce store visitors trust social validation over other justifications is that presence of social validation tools forces the ecommerce store to deliver quality products as no one would want a bad review to hurt his store's reputation.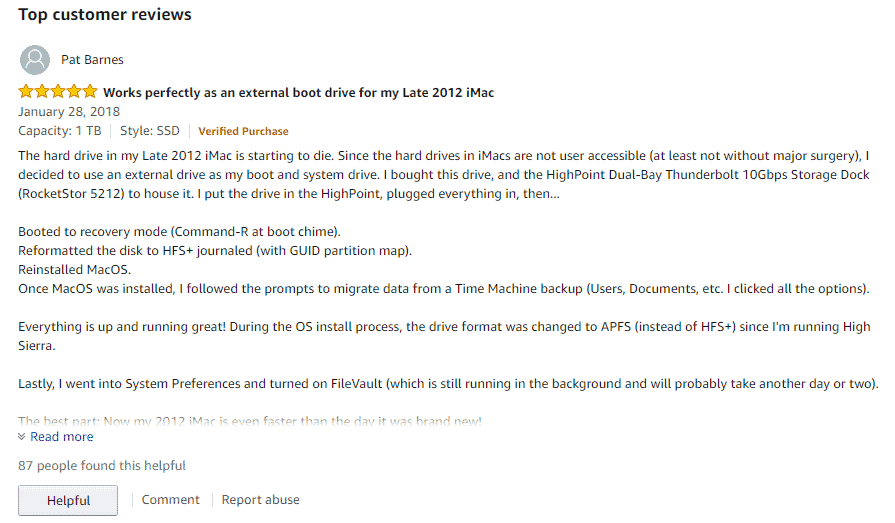 The upcoming generation (generation z) conduct even more in-depth research than the millennials or other generations. This makes it even more important for marketers and entrepreneurs dealing in ecommerce to make use of social validation to make their offering attractive.
Here are a few tips to help you:
Draft a good email strategy which asks your existing customers to give feedback on the products they've bought from your store.
Run a campaign to reward your existing customers if they write a testimonial for you. The reward could be a discount coupon or anything else which is of value to them.
Include ratings in your product pages as ratings result in rich snippets on Google search results and drive more traffic.

Personal Presence
It's taken that a percentage of customers always have some questions before making the purchase. Personal presence is a great tactic to answer them and assure them yourself to build the trust and increase the chances of conversion.
A perfect example of personal presence is live chat. Live chat support increases both the number of sales as well as average value order as compared to email support. The real-time replies and the seller's presence increases the customer's trust in the store and reduces the customer exit rate.
This even helps you understand the customer purchase behaviour and create a better landing page to increase the conversions.
Subscriptions, Upselling & Cross-Selling
We'll hardly find any opposing arguments if we say subscription is among the best strategies to earn recurring income from an ecommerce store. However, the only sad thing about the subscription business model is that it doesn't suit every ecommerce store.
According to a survey by Mckinsey, 15 per cent of online shoppers have signed up for one or more subscriptions to receive products on a recurring basis and 46 per cent of consumers have subscribed to an online streaming-media service, such as Netflix.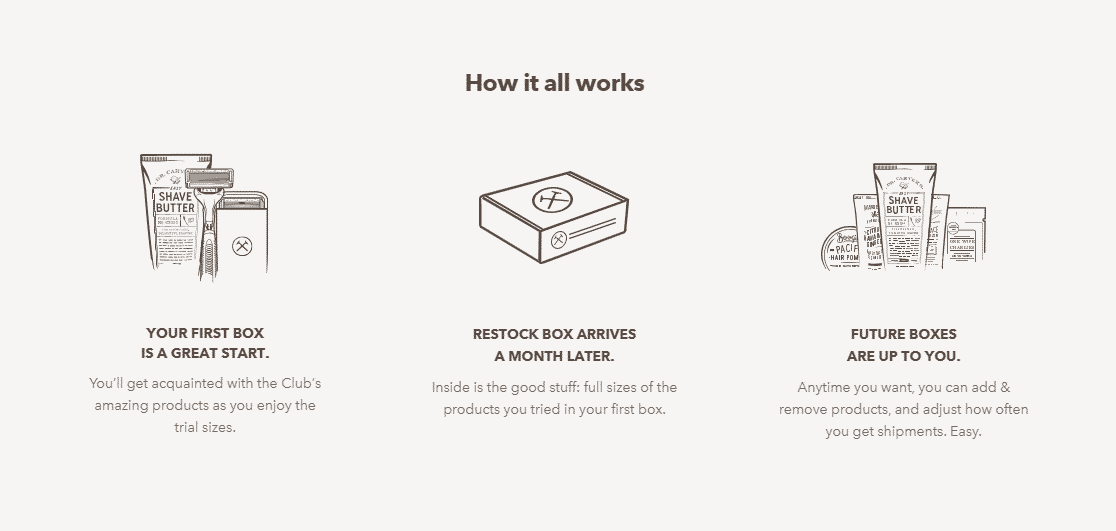 Subscriptions not only results in recurring income, but it also helps you in better inventory management and revenue predictions.
If you're a product which has a recurring demand, go for subscriptions.
If you're selling a SAAS, go for subscriptions.
If you're selling a service, give subscriptions a try.
But if subscription doesn't suit your product or service, you can always rely on upselling and cross-selling strategies to increase the revenue of your ecommerce store.
Upselling is a sales strategy where the seller encourages the customer to spend more by recommending an expensive, an upgraded, or a premium alternative of the current consideration so as to maximize the value of their purchase.
Read everything about how to implement upselling strategies in this article.
Cross-selling is a sales strategy where the seller encourages the customer to spend more by recommending related products that complement what is being bought already.
Read everything about how to implement cross-selling strategies in this article.
Go On, Tell Us What You Think!
Did we miss something? Come on! Tell us what you think about our article on how to increase ecommerce sales in the comments section.
A startup consultant, digital marketer, traveller, and philomath. Aashish has worked with over 20 startups and successfully helped them ideate, raise money, and succeed. When not working, he can be found hiking, camping, and stargazing.