Want to get ahead with marketing? You need to stand out!
From making viral videos to placing huge blocks of ice in front of competitors place of business, startups have gone far and wide to market themselves and capture people's attention. It's about time you too started to do so.
Standing out isn't bad as long as it embodies your startup's ethos.
Apart from the usual marketing methods such as improving upon your social media presence and marketing yourself at trade shows, here are 7 marketing strategies that you can use to distinguish your startup from the rest of the crowd.
Use Reddit To Your Advantage
Many tend to miss out on the bulk of focussed user bases by focussing on the regular ho-hum marketing methods. Here's how you go about marketing on the front page of the internet, Reddit:
Figure Out Your Niche And Audience
Choose the Right Subreddit
You could try paid advertising on Reddit – Reddit Ads are a great way to increase your brand awareness if not reach your target market.
Become an Active Redditor – The "I'm Just Going to Leave This Sales Pitch Here" approach is never going to work and you must never attempt this on Reddit. The only way you're going to make it is by actually contributing relevant and quality content.
Reddit is a collection of communities, attracting like-minded users together to share posts, images, and videos. But unlike on forums, Reddit allows for the users to vote on the posts – upvote brings you higher in the ranking, improving chances of it getting even more exposure and vice-versa. This means actual news and information relevant or important usually tends to reach the front page with thousands of users upvoting them.
With over 330 Million monthly visitors, Reddit is currently ranked as the 6th most-visited website in the world. Reddit also boasts quite high user-retention rates, with an average visit length of 16 minutes per user, people tend to stay for longer than on any other site.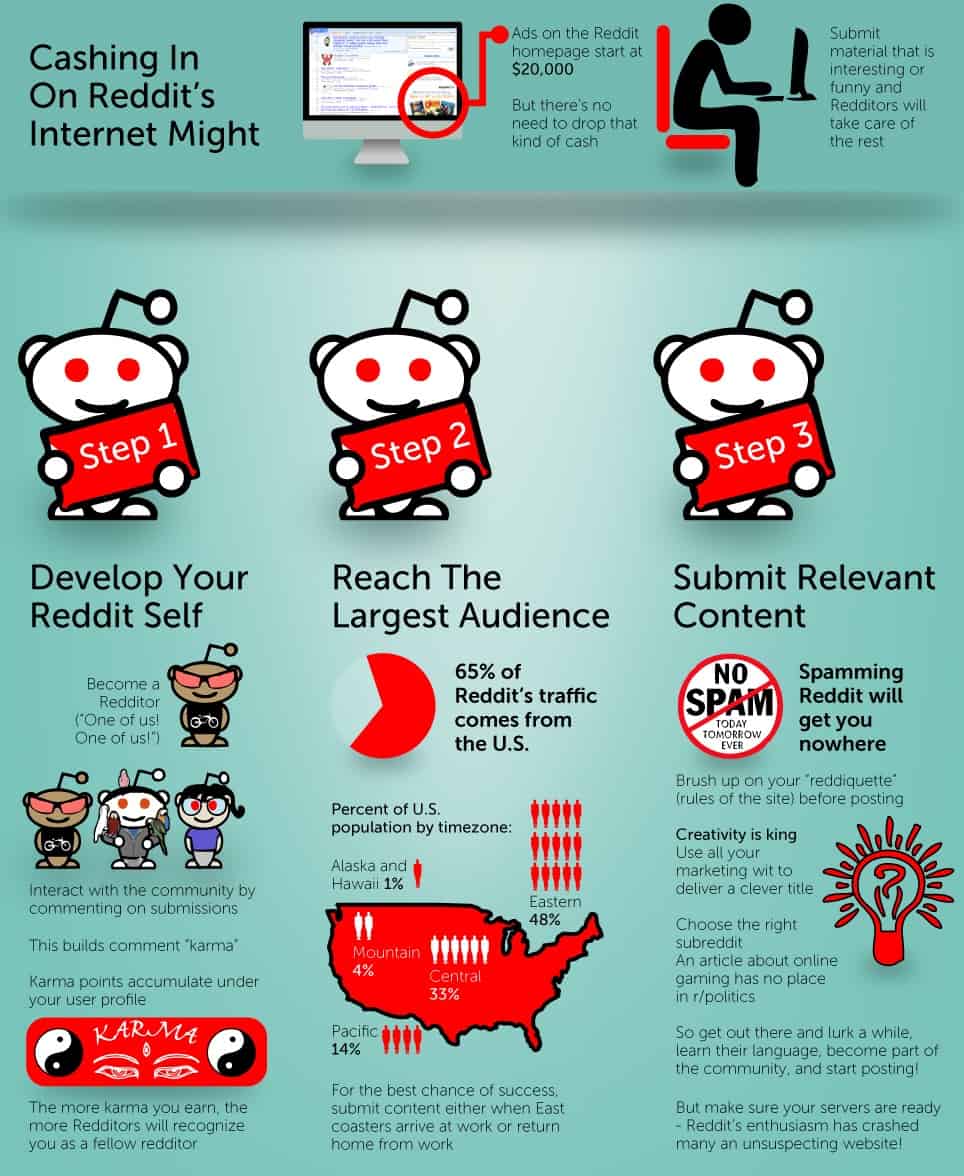 To say that it has a considerably large user base would be an understatement. So, use it to your advantage.
Reddit Marketing Success Story
BeardBrand, an online company that sells beard care products, is an example of a Reddit marketing done right.
They went to the r/beards subreddit (unsurprisingly), found a topic of common interest and just started answering their questions and interacted with their comments, but with no links back to their site!
When users started asking questions, Beardbrand was there to answer. They never marketed themselves. They were gaining trust and credibility by contributing to the community.
If you take a look at BeardBrand CEO's Reddit profile, you can see how much value he's provided to the Reddit community.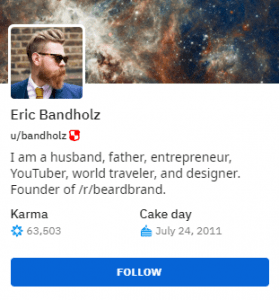 With Karma points of 63,000 (Karma is the points you gain from upvotes which lends you more credibility, showing that you contributed to the community), people trusted the brand and were eager to try their products on their own. Talk about organic customers!
Start With An Invite-Only Access
By creating "Invite-Only" access for a product or service, you tend to create a sense of exclusivity.
If you plan on going the "invite-only" way then make sure you have a credible product at hand (it could even be a beta) and be prepared to handle the sudden changes and spike in usage that come along with it.
You are capitalizing on people's FOMO (Fear Of Missing Out) to drive your marketing. By creating a sense of exclusivity and scarcity, people's psych tends to no miss out on the action or at the very least, try to get to what the fuss is all about.
But do know that "Invite-only" is easy to envision but requires quite an effort to implement. You must be able to deliver on what you promised and deliver it to all those who have gained access via the invites.
This has been used by many startups to get their first set of users.
Mailbox, an email startup, used an invite-only email strategy to create massive growth. To kick it off, they created a compelling demo video which led the users to their site. With them showing on their site how many other users were in line in front of them created the kind of social proof that said, "Your friends or family too might be using it, so get on this list fast."
This is what you were greeted with: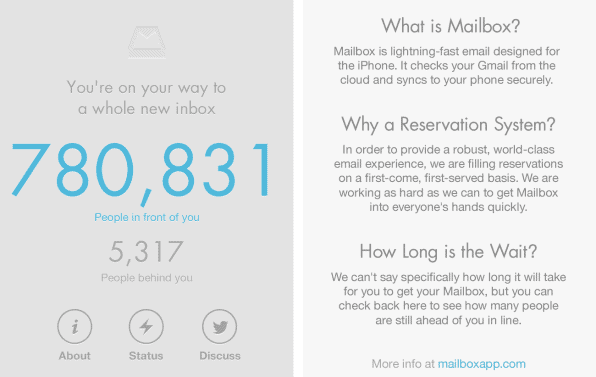 They created a sense of scarcity and exclusivity. And it worked. Within six weeks, hundreds of thousands of users had signed up and eagerly waiting for the service.
Giveaways
Marketing your products as a giveaway is a great way of spreading the word around. It helps you gain brand awareness much more easily and with much less effort.
While contests and challenges require you to have an established user base, sweepstakes can be done by anyone and are great for those just starting to dabble into marketing.
You could go about it any fashion you see fit, but it benefits if you've got it planned advance. This helps you get back on track if you lose focus along the way of designing your contests.
Here are the key stages in contest marketing planning to help get you started:
Strategy: Set out to find out your audience market. Once identified, define your goal for holding the contest and the message that you'd like to convey to your audience.
Prizing: Ensure you have a product that is valuable to your audience or create one.
Implementation: Make sure that your contest abides by all the rules set up by sites for running contests before you execute your plan. Focus on making it more user-friendly. Use the contest to gain more data about your market, audience, and reception to your program.
Dove used a similar tactic and ran a contest on Facebook where they asked their fans to fill in a form with their friend's name and write two things that make them beautiful. The winners of the contest were offered a chance to become the next face of Dove.
This contest not only grabbed a lot of attention, but it also reached consumers in the right way. The campaign emphasized their company's aim all the while driving sales and awareness to their brand and newer initiatives.
Advanced SEO
Don't let the term "advanced" put you off. Appearing first on the search isn't the end of the road. To stay on top of the Search Engine Results Pages (SERPs), you need to constantly adapt and improvise your sites.
It's time you moved onto more reliable ways of capitalizing on your current traffic. You can look forward to making your sites rank even higher by:
Obtaining "quality" backlinks – disavow backlinks from spammy sites.
Directing the incoming traffic to lesser ranked pages and sites.
Including Latent Semantic Index (LSI) and Long Tail keywords in your posts and sites.
Trying to gain more backlinks.
List up on sites like Google My Business to get more coverage.
Include Customer Feedbacks and Reviews at places of traffic to lend you more credibility.
Optimize your sites for mobile.
Regularly update all your most-viewed content.
Posting articles at the optimum time to get the best reception possible.
SEO is comparatively cost-effective compared to other marketing campaigns. Knowing to optimize your content to reach its target audience will help you gain traction in no time.
And remember, SEO is a long-term play.
Times change and algorithms keep changing. Newer content always keeps appearing, affecting the rank of your sites. So don't settle thinking that performing SEO once is enough.
Make it a thing to optimize your site frequently.
Guest Blogging
Guest blogging is one of the few methods of marketing that many tend to overlook since it consumes your resources and time to publish content on sites other than on your own.
But what they don't take into account are the returns you get out of guest blogging – it helps improve your traffic and your reputation. Since you're writing for another site, you could include a word or two on what your startup does and include a link back to your startup. It also lends to your credibility to yourself and your startup when people see your article on other sites since you wouldn't be allowed to post unless it was up to their standards. So start from lesser-known publications to get the hang of it and then move onto notable ones that are relevant to your field.
Imagine gaining thousands of customers solely by proper guest blogging alone. That was the case for Design Pickle, a site that was created to make graphic design a more convenient and available service.
They centred their launch strategy around guest blogging and wrote blog posts on marketing and design and posted them on affiliate blogs. But unlike marketing on Reddit, they were able to offer promotions and information about their services.
With this strategy, they were able to capture their first 1,200 customers and gone on to generate $4.7M in recurring revenue by the end of 2017, just 2 years after launch.
Market Before Your Product Is Out
The generic way of marketing a startup goes something like this:
Generating an idea first, validating it, building a product/service, and launching it… and only after launching your product do we focus on marketing it.
Here's what you should be doing:
Generate an idea, validate it, build a product/service, market it and then launch.
There are many ways to market and build hype before launch. Billboards, banners, PPC ads, cold emailing, enabling pre-orders, cashing in on a competitors exit from the market; there's an endless amount of opportunity here. Stick to what fits your startup's niche and try it out.
You stand to gain a wealth of information – you get to gauge the reception for your product and such. The earlier you begin more is the anticipation for your launch. You also profit from gaining potential users for your product once it releases.
Mint, a personal finance app, employed a similar marketing strategy to gain 20,000 customers even before they released their app.
By marketing themselves using their blog, and by putting up finance tips, videos, and news roundups, they were able to gain a lot of followers even before they had launched their app. When the Mint app was finally launched, they were able to drive substantial traffic to the app from their already existing user base of 20,000 subscribers.
Convert Users Of A Competing Product
Competition is good for business. Competition indirectly allows you to test the waters for what is working and what isn't in the current market.
But, what if you could capture the users of your competitors?
Well here's how you go about it:
Think about the market sectors your startup is targeting. Figure out your target market and audience.
Find out what your competitors are offering. Social media can be a great tool to assess your market.
If possible, ask your customers what goods or services they would love to see become available.
You now have an idea of what your customers want or what your competitors are offering. That's your analysis part completed. You could use any method as long as it is viable and economical enough in the current market conditions. This includes:
Developing upon your findings to offer something unique – something that is missing from the market or your current product lineup.
Targeting users whose interests include your competitors.
Disrupting your competitors' videos with your ads.
Lowering your prices – enough to break even, but to outcut the rest of the competition.
Your competitor's mistakes are opportunities for you to gain more customers.
WePay, an integrated payments platform, followed the last point to a tee. They used an ingenious marketing stunt to capitalize on the competitors' flaw which helped them increase their customer numbers by 255%.
They found out that their biggest rival, PayPal, had some negative publicity in the past around the issue of freezing some of its members' accounts. So they decided to let everyone know about the possibility of their PayPal accounts getting frozen and that they would not experience the account freeze issue if they were using the WePay system.
And they did just that: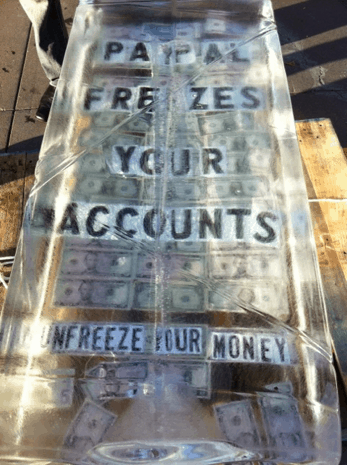 They wheeled a massive block of ice within which was frozen money and a message saying: "PayPal Freezes Your Accounts" to a PayPal conference that was attended by its customers and developers.
This stunt instantly led to them getting massive coverage from news and media outlets from all around. This, in turn, led to them gaining:
300% increase in weekly traffic
225% increase in registrations
Quite an effective stunt – well, the numbers sure say so.
Go On, Tell Us What You Think!
Did we miss something? Come on! Tell us what you think about our article on 7 Marketing Strategies For Startups in the comments section.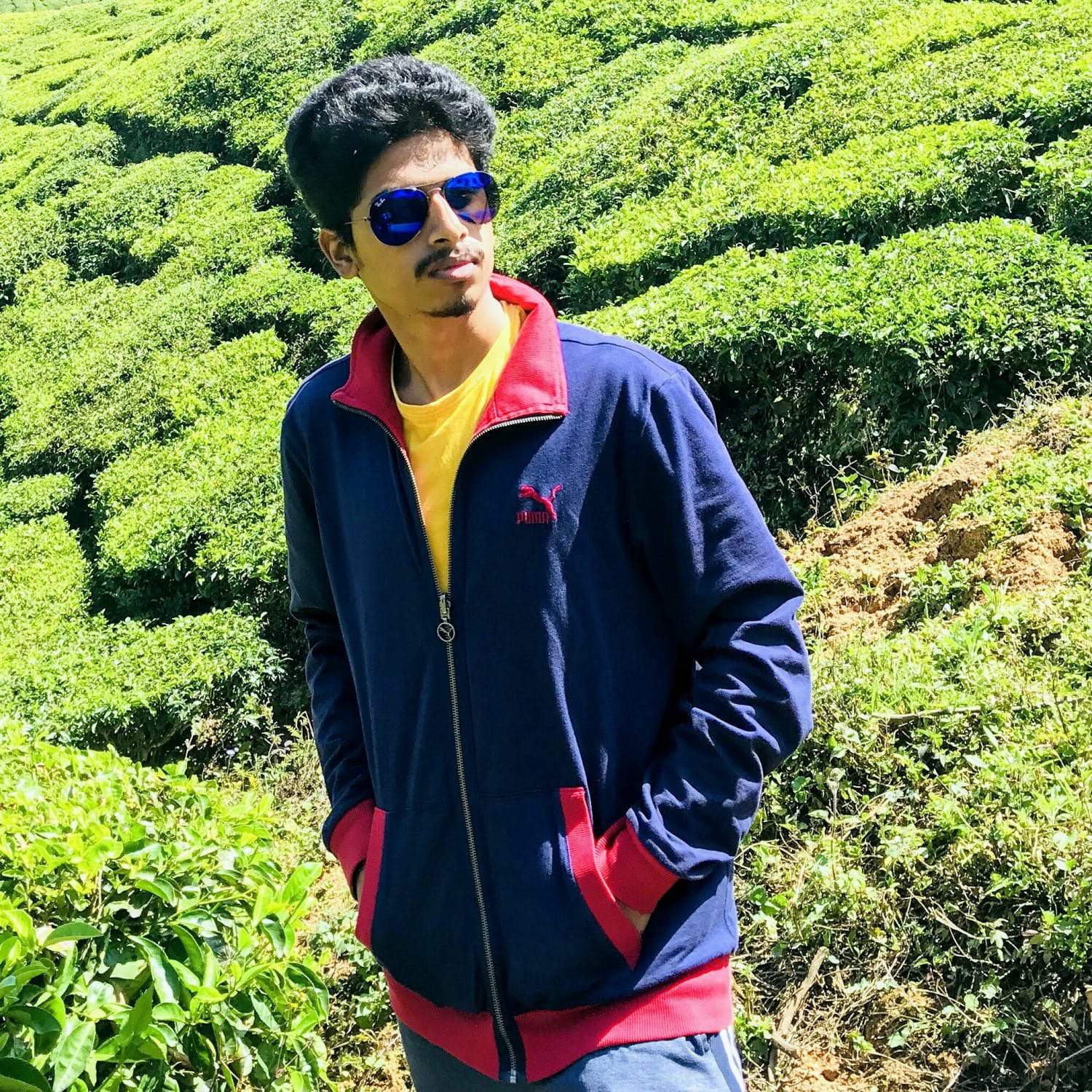 Started out to become a developer but felt at home in the home of startups. The journey started from a single novel. Been an entrepreneur since schooling days. Interested in coding, reading and movies.