If you're a new business owner, you may not realize how important invoices are. In many cases, you won't get paid for your hard work unless you submit an invoice that explains what you're owed.
An invoice that's incomplete or hard to read can delay payment. And, if you don't keep good records, invoicing can become a huge, time-sucking chore. Use these six tips to easily create invoices that are ready for your customers to pay.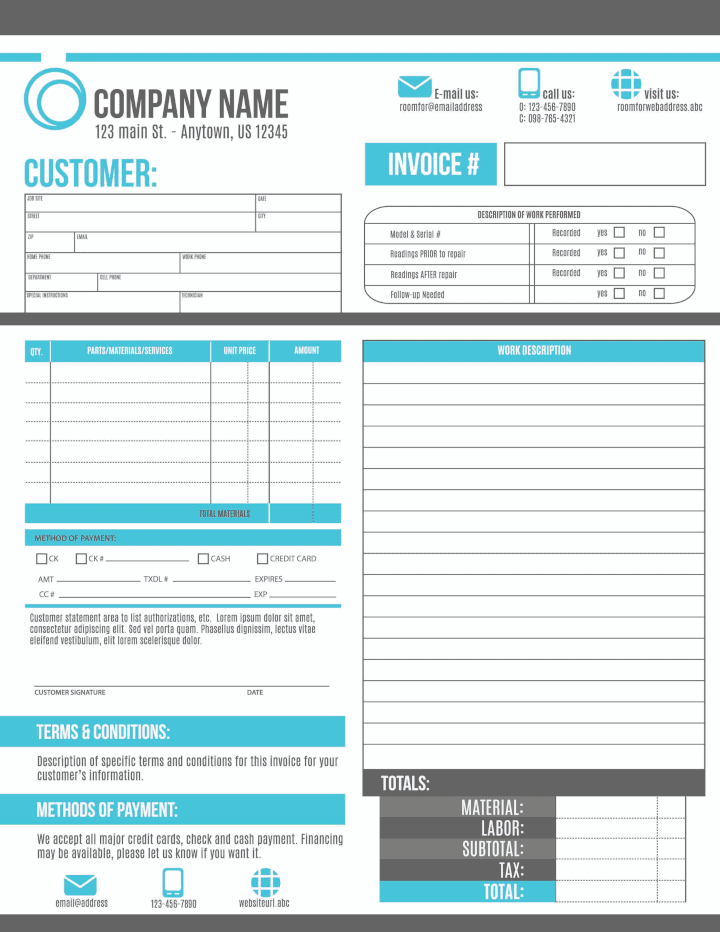 1. Use an Invoice Template
You're not the first person who ever had to make an invoice, so take advantage of what others have done and use a template. A template will create a professional-looking invoice, with all the important information in the right place.
You can research invoices that other companies have created and use them to make your own invoice template. Or, a simpler approach is to use an online template. Once you've provided the necessary information, you'll be able to download, print and send an invoice in minutes.
2. Keep Good Records
Nothing can gum up the invoicing process like poor record-keeping. If you bill on an hourly basis, for example, it's hard to recreate what you did three weeks ago, but forgot to write down. Fumbling through paperwork to find orders, sales or other information also can make invoicing take much longer than it needs to.
Keep good records from the beginning using a spreadsheet, accounting program or other software. Then, when it comes time to create invoices, you've got the information you need at your fingertips. When you do send invoices, number them so it will be easier to track what's been paid.
3. Get the Contact Information Right
Your invoice should have your business name, address, phone number, and email near the top, along with your company's logo, if you have one. This makes it easy for customers and clients to pay you or contact you about the amount owed.
Also, make sure you include the name and address of the person or business that owes you the money. If it's a business, find out if there is a specific person you should direct the invoice to, and their address or email. Many organizations assign tasks to different departments and, if you send your invoice to the wrong place, it may get buried, unpaid, on someone's desk.
4. Include the Amount Due and an Explanation
Obviously, your invoice should include the amount owed. But it can be just as important to explain what the invoice is for. Many businesses receive lots of invoices, and yours stands a better chance of being paid quickly if it's easy to understand. For example:
If your customer or client has an internal account number, project number or order number assigned to the item you're invoicing for, include that number.
Include a brief description of each product or service you're invoicing for, along with the price of that item.
If multiple items or jobs are included in a single invoice, list them separately.
If you are required to charge sales tax, or if there are shipping charges, list these separately.
Your invoice should clearly show the total amount due. If you sell unique, valuable or titled items, you may also need to provide a bill of sale.
5. Set a Due Date
Without a due date, your customer may assume the invoice can just be paid "whenever." But that's probably not what you have in mind. Many invoices are due 30 days from the date sent, but 60 days also is common. Give your customer a reasonable amount of time to pay, but not so much time that your invoice is likely to be forgotten.
Due dates commonly appear after the listing of the charges on the invoice. Sometimes the due date is written as "net 30 days." This is also the place to notify your customer of any penalties for late payment.
6. Include Payment Methods
If you don't tell your customers how to pay your invoice, they'll assume they need to drop a check in the mail. But you may get paid more quickly if your invoice includes some other convenient payment options.
For example, you may take payments through an online payment service like PayPal. You may accept credit cards on your website. If you email your invoices, you can link directly to your payment methods in the invoice.
Good record-keeping and simple, clear invoices can get you paid faster and more easily. And that means you'll have more time and money to build a successful business.
Go On, Tell Us What You Think!
Did we miss something? Come on! Tell us what you think about our article on creating invoices in the comments section.
Stewart is a content manager working with LegalZoom. He's an avid reader of Stephen King books and player of football.