Have you ever heard of a company that managed to stay successful without following digital marketing trends? Neither did we.
Many companies today find their way into the market as startups. Although they have higher failure rates during the first few years, they can grow out to be hugely successful in the long-term.
Some of the reasons startups fail to stay on the market are the lack of interest from potential customers, lousy budgeting, choosing the wrong team, or making wrong decisions in digital marketing. Luckily, we compiled a list of digital marketing trends you should focus on if you own a startup.
Using the Right Social Media Channel
The first digital marketing trend to follow is the extensive use of social media. Every single one of your potential customers uses at least one social profile on a daily basis. According to a Q2 Global Digital Statshot, there are currently 3.49 billion active social media users. You only need to find out which channel is their favourite so that your startup can generate more traffic to the site and grow.
Moreover, social channels can boost your brand voice and help you gain a greater customer base and online visibility, sometimes at no cost.
If generation z population likes your product, the first social media to think of is Instagram. After you decide which to choose, you will have to come up with an appropriate strategy.
As said, it can be free of charge if you lack the funds for paid advertising, just get a little creative. Make content that people will share to expand your reach. Nevertheless, most social sites have moderate prices for their paid ads, so if you want to take the paid ad path, make sure to check if it fits your budget.
Last, social media gives you information about current customers. Social analytics can take valuable data to improve your local online presence, your product, as well as customer experience.
For example, companies that have a product where visual representation is the decisive buying factor, such as Adidas Originals, use Instagram almost daily to promote new products and events. The use of hashtags is essential since people often search for products with hashtags.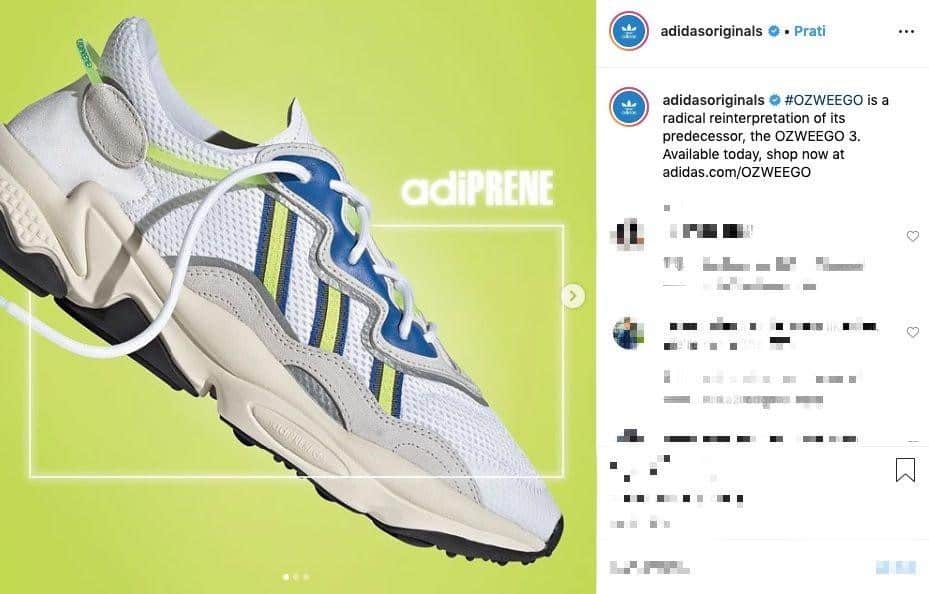 Improved Personalization
Personalization is one of the most used terms in digital marketing in the last few years. However, the "regular" personalization tactics, such as newsletters with customers' names on them don't do the trick anymore.
As stated by a study from Evergage with more than 200 marketers, 96% of respondents said that personalization advances customer relationships. What's more, 63% of them reported an increase in conversion rates as a result of their personalization tactics.
As an ever-evolving field, digital marketing brought new expectations from the customers. They demand from the brands to understand them and to give them everything they want and at any given time. Now, once a customer looks for your product online, you have to provide them with the incentive to buy it.
Improved personalization means you'll have to go beyond personalized newsletters and tracking online behaviour. Your startup should either employ an expert on customer data analysis or dedicate more time for not losing your customers and reaching out to them.
Amazon, for instance, recommends products similar to what you're currently looking for or what you bought.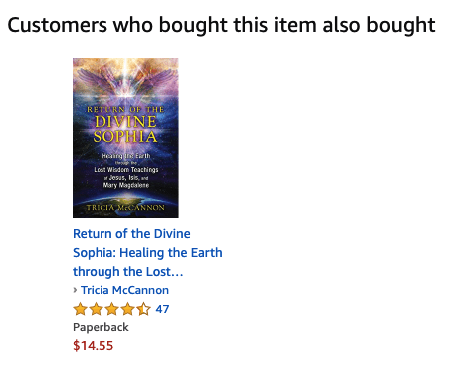 Big Data and AI
Big data drives your data-based marketing. It's the market trends, customer data, and inter-operational information. If it weren't for the enormous amounts of information about your past, present, and future customers, you wouldn't be able to offer them what they need.
The valuable information can transform your digital marketing strategies with the help of AI. AI can find patterns and find trends with predictive analytics. It is especially useful to predict how a customer will move through the site, what type of content they want, and which products they're most likely to buy.
https://www.youtube.com/watch?v=-T_QZ6dmrLs
We can link big data to the previous trend. If there is no data on customers, you can't personalize the customer experience.
Big data and AI are the invisible parts of your digital marketing tactics that can turn any startup into a profitable company. Sadly, many startup owners lack knowledge about the benefits of big data to incorporate it into their strategy. Others know they need it, but believe it's too expensive and give up the whole idea. If you decide to take advantage of big data, it's best if you start researching how it can help your business and how much it will cost you.
Cloudera and RapidMiner are the big data analytics platforms you can use to collect and analyze data and predict trends.
Niche-Specific Content
As mentioned, succeeding in digital marketing involves not only choosing the right means of communication with the customers and getting to know them but requires innovative content. If you're posting or sending out the same content in every campaign, people will think of it as incredibly boring.
It has to give answers to the prospects' questions. Even if you're not mentioning the product, you have to be niche-specific.
For example, a skincare company, Cedar and Stone uses niche-specific content. They publish articles about skincare routines or self-care that go beyond the product itself. In the article, they explain how to use their products if the customer decides to buy them.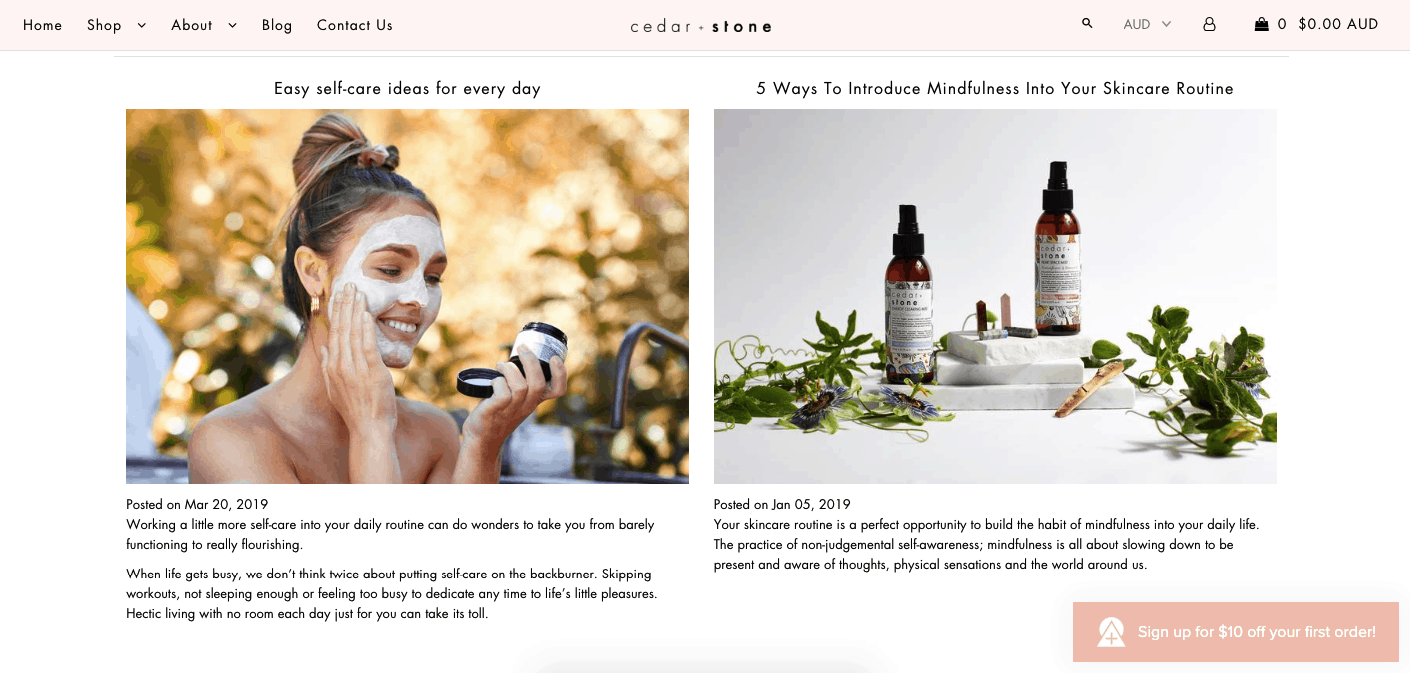 The key is to entice the viewer every time they see a video or read an email. Again, it will take a considerable chunk of your time (which you probably allocated for other things). Still, you have to put customers' needs first. In other words, imagine you need your product. Following are the questions to ask yourself before creating the content.
What information would you like to know about the niche before purchasing the product?
How would you go about using it?
Do you need instructions for using it?
Which other interests you have?
When are you checking your News Feed?
Which other brands do you like?
Once you find answers to these questions, you can tailor the content to the customer's wishes. Nevertheless, it can only be done with the help of big data and AI.
Chatbot Technology
Chatbots, or software that generates automated messages to your customers' queries, took off in 2017. They save time and the personnel that would usually work in customer support. Moreover, they are available 24/7, whereas it's often unprofitable for startups to employ people who will chat with the prospects.
The cheapest option for a startup is to use Facebook chatbots with the software of your choice. If you own a website, you will have to implement an outside software as well.
Whole Foods, for example, uses chatbots to assist customers with recipes, among other queries.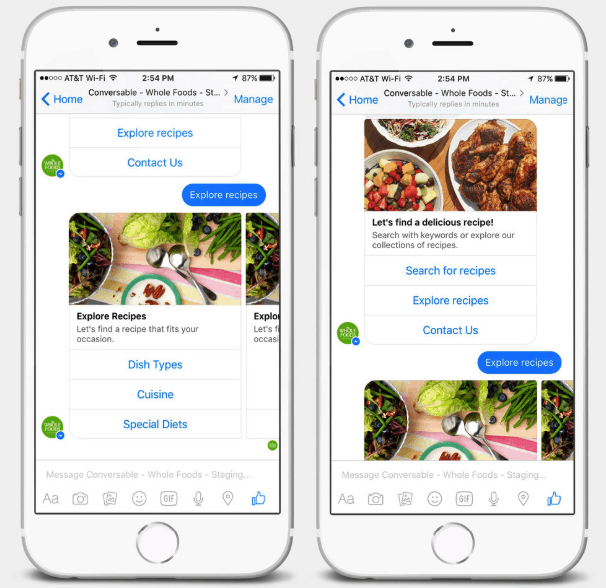 Which Digital Marketing Trends Would You Focus On?
Of all digital marketing trends we enlisted, your startup should consider the social media, creative content, and a big data element. Your final decision will depend on your customers and the type of product you're selling. However, take some time, analyze, test and decide what works best. Only then will you see a rise in your traffic and a boost in your conversion rates.
Lastly, remember that the customer always goes first. Respect their needs and wishes and put yourself in their shoes before making any important marketing decision.
Go On, Tell Us What You Think!
Did we miss something?  Come on! Tell us what you think about our article on Digital Marketing Trends in the comments section.
Meggie is one of the web analytics specialists at Omnicore Agency and a data junkie with more than six years of experience in the field. Aside from being a marketing nerd, she loves taking her life to the extreme with bungee jumping and skydiving when she feels some freedom.