Ever since 2015, Facebook's obsession with the videos was clearly evident when it launched live videos on its platform. Since then, we've witnessed 360 videos, Facebook stories, and an increased number of short and even long length videos in our Facebook newsfeeds. On the date of writing this article, 100 million hours of video content are watched on Facebook every day.
We all knew and waited for Facebook to monetize on this trend but weren't sure about its future plans. But now with the launch of Facebook Watch, predicting its future plans seems easy.
What is Facebook Watch?
Facebook watch is an exclusive video platform launched to host shows. These shows constitute live and recorded shows by selected publishers and follow a theme or storyline which can result in forming a community of viewers and followers.
Facebook watch is essentially a remake of Facebook's video tab and an addition to the main Facebook application. It is Facebook's effort to create its own original content and to compete with the video hosting giants like Youtube, Netflix, and Amazon Prime.
Why Facebook Watch?
The main objective of every company is to earn as much profit as it can by capitalizing on as many available resources as possible. This is what Facebook is trying to do. It wants to you to spend as much time on Facebook as you can (currently a person spends 18 hours, 24 minutes on the platform per month)  and monetize your attention by making the social network a destination for TV shows.
A TV?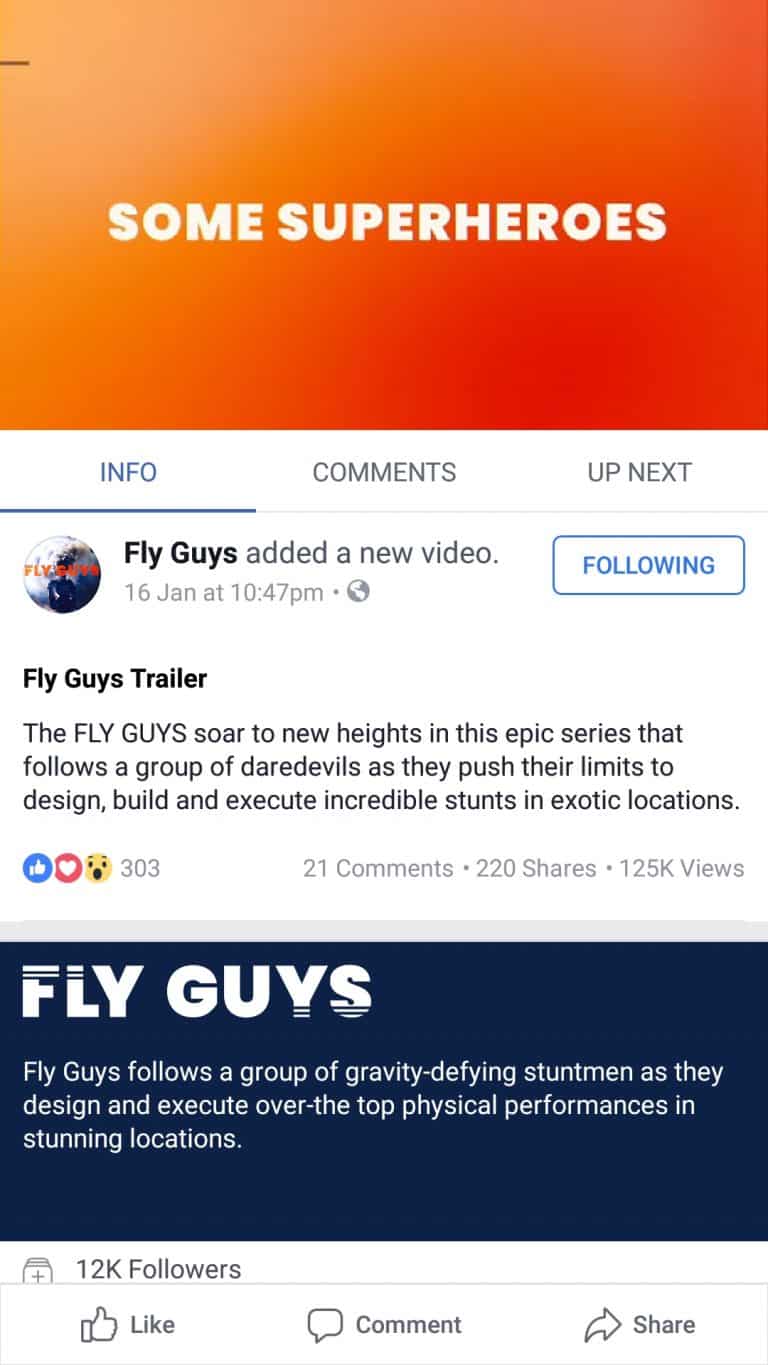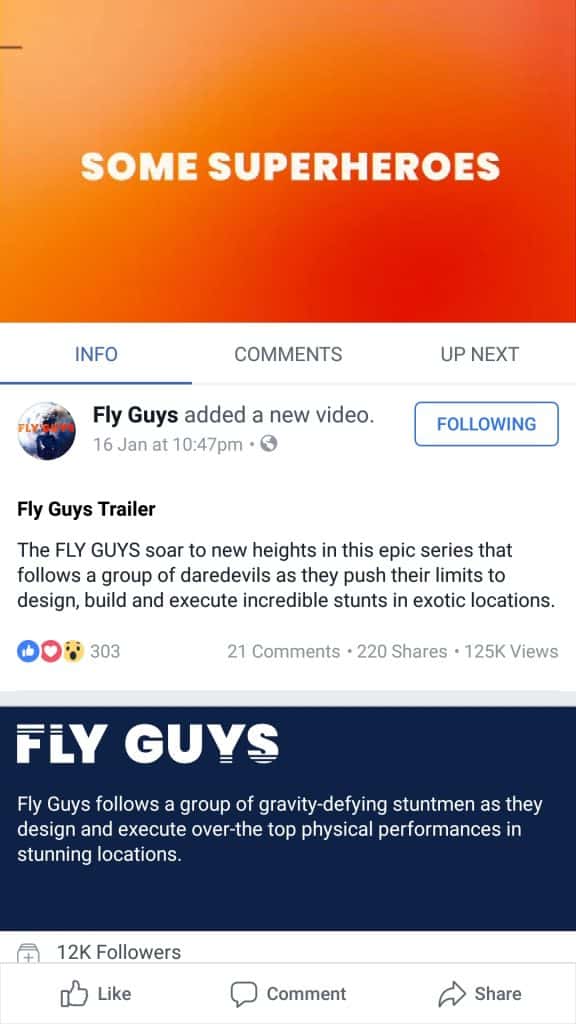 Yes, Facebook has new plans for becoming the new 'social TV' for the users where it'll offer original recorded and live shows (and advertisements just like a TV broadcast). Facebook is aiming for this positioning as it hasn't been capitalized on by any of its competitors like Youtube, Netflix, Hulu, etc. yet.
What Kind Of Content Can You Expect?
Creating and differentiating its content from other giants is going to be a huge challenge for Facebook as according to a research, nearly 500 scripted shows are in production in the U.S. But Facebook is planning its content to be substantially different from Netflix or Amazon. Even though it'll be scripted, the content will be more community-based.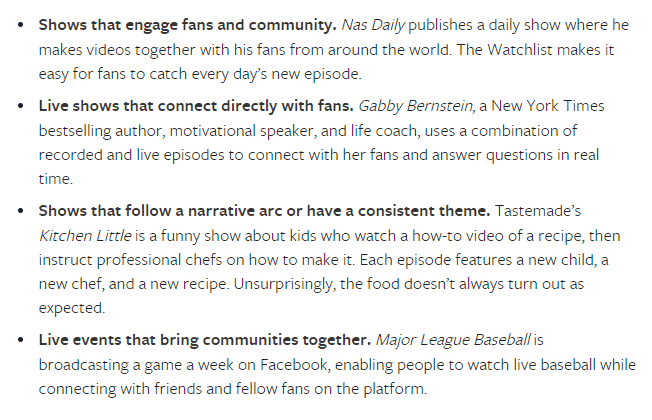 The brand has selected six broad genres of content to be streamed on Facebook Watch. These include science (nature and animal content), sports, pop culture, lifestyle, gaming, and teens. The company also has partnered with 30 content publishers including Mashable, Attn, People are Awesome, Attn, Refinery29, Condé Nast Entertainment, etc. to create community-specific original content.
The content will be two-tiered:
Tv-sized half-hour shows
Shorter spotlight 5-15 minutes series.
These content publishers are funded by Facebook to create original content like "Fly Guys" by People are Awesome,  "Kitchen Little" and "Struggle Meal" by Tastemade, etc.
The company also has plans to sign secure broadcasting deals with major pro sports leagues to stream them live on its platform.
Facebook is following the footsteps of Netflix and Amazon and is willing to pay millions for exclusive rights to more premium and longer shows. However, short length shows will be permitted to be hosted/streamed on other channels after their exclusive debut in Watch.
Who's The Target Audience?
According to the sources, Facebook wants to target users belonging to the age range of 13-34 while focusing on 17-30 age group.
Unlike Netflix, Facebook has plans to focus more on popular reality programs rather than shows about teens, political drama, or shows with nudity and rough language.
Will Facebook Create All The Content?
Facebook has partnered with a small group of content creators and is funding them to create original content so the company can attract more and more users to try the platform. This strategy, however, will transform into a revenue sharing strategy (like Youtube's) once the platform gets specified amount of users and content creators on board.
Ads On Facebook Videos?
The Facebook Watch platform will be similar to Youtube and will host ads within the video content. The company doesn't have plans to make the premium version of the platform at the moment and hence will monetize only through ads.
The ads will also be two-tiered:
In-stream video ads – A youtube-like in video ad strategy to serve audience network advertisements within videos.
Ad Breaks – More focused on long shows and live videos. This is a TV-like ad strategy where the publishers can take short breaks of 10-20 seconds for ads during their shows.
Facebook Watch vs. Youtube
Facebook Watch's biggest competitor will be Youtube as both the platforms rely on third-party publishers and short to medium length videos. The advertisement revenue sharing ratio of 45:55 will be the same for both the platforms.
By launching Facebook Watch, the company will take a different direction from being a discovery platform to video streaming platform. Till now the users open Facebook to discover new videos and content but this step will change their perception of the platform. They'll now use the platform specifically to watch and browse through shows.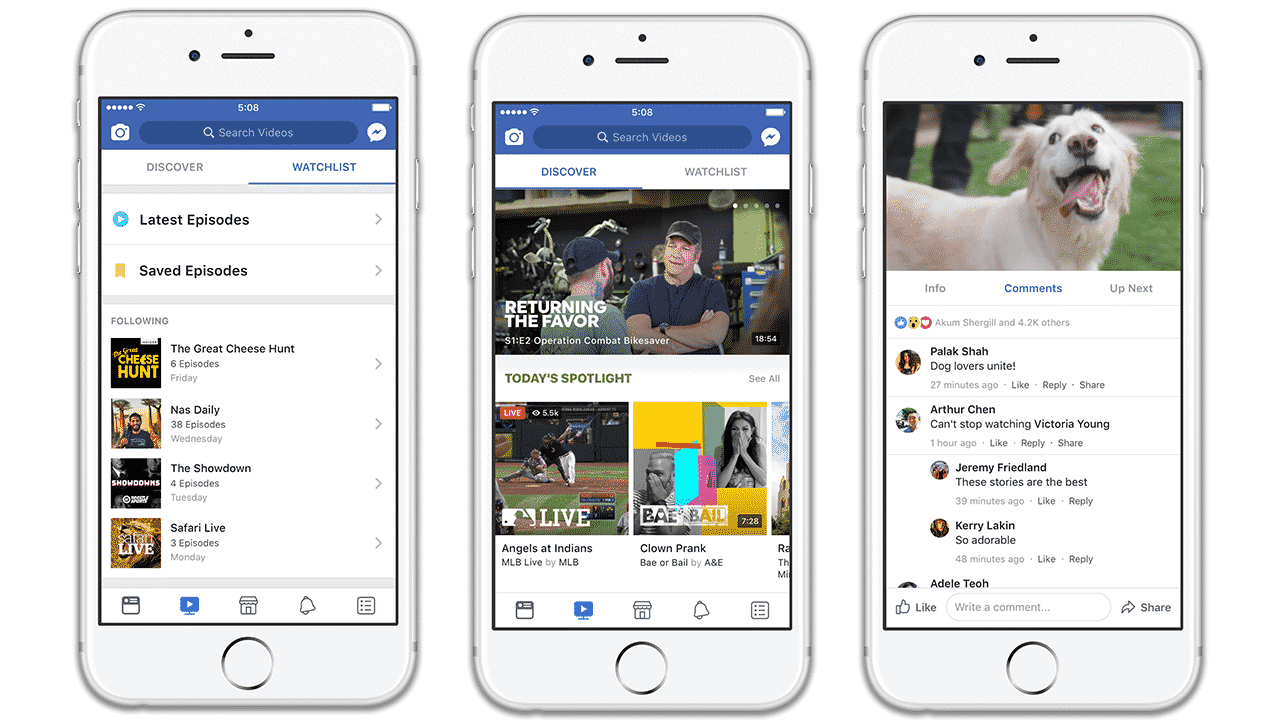 However, Facebook has plans for more community focused 'shows' rather than one or two videos from independent publishers.
Facebook Watch vs. Netflix
Facebook Watch differs from Netflix substantially. The platform's revenue model will be advertisement based and not subscription based, all the episodes will not be released at the same time, and the focus will be more on reality and community targeted scripted shows (comedy, sports, DIY, etc.) which differ from the shows streamed on Netflix.
What The Future Holds?
The video streaming platform is currently launched as an addition to the main application but it may soon be converted into a standalone application like messenger once it gets wide acceptance by the users. Merging the new platform with the main application also boosts the scalability of the idea as the application already as 2.01 billion monthly active users. Plus the community-based approach may also result in more engagement of the viewers as compared to the competitors.
Moreover, this is a great way to make the users accustomed to videos before the VR and AR go mainstream (Facebook also owns a VR company – Oculus).
The platform is currently launched in the USA and soon will be launched all over the world.
Go On, Tell Us What You Think!
Did we miss something?  Come on! Tell us what you think about our article on Facebook Watch in the comments section.
A startup consultant, digital marketer, traveller, and philomath. Aashish has worked with over 20 startups and successfully helped them ideate, raise money, and succeed. When not working, he can be found hiking, camping, and stargazing.