In 2018, the UN released a report announcing that we have only 12 years to prevent devastating climate change. And if you own a business and use fuel, energy, or any refrigeration, fire protection, and air conditioning equipment, you're contributing to that climate change.
While there are several sustainable techniques and equipment that you can use to reduce your carbon footprint, the least you can do is plant a tree.
But often the carbon emission is so huge that it might require numerous trees that you can't plant yourself. Moreover, why would you want to focus your attention on a non-core activity when there's a company helping you to remain carbon positive?
Welcome, Forestmatic.
Forestmatic – Startup Review By Feedough
A company that plants trees for you to help you offset your carbon footprint.
Forestmatic is a sustainability tech company that empowers any brand or business to start planting trees to offset CO2 of products and services sold, workforce employed, and any other business or brand activities. Essentially it ties the planting of a tree to any commercial, social or operational trigger of its client.
The Concept
The concept that Forestmatic built its solution on is simple – charging money to offset the carbon footprint of its clients.
Now, why would a business pay someone to plant trees?
Well, because –
The governments of several countries demand businesses to reduce their carbon footprint.
It builds brand image and boosts marketing
Besides this, the company developed a self-sustaining and low-cost business model by partnering with local farmers so their land can become a part of the planting site.
Mattia Curmà, the growth and marketing manager of Forestmatic, elaborated the concept furthermore –
Forestmatic brings tree data to life and tracks all relevant KPIs, including CO2 sequestration. Because the difference between planting and growing is in the data. This is why we publicly display all of them in customer-focused dashboards to transparently verify the when, what, where, and how of brands and businesses' reforestation activities. We build direct relationships with local farmers so their lands can become part of the overall planting site (many farmers' lands together as one big tree planting site/space). By doing so, we are providing the infrastructure (e.g., tree nurseries), education, and guidance allowing local communities to gain additional incomes. Through an operation called coppicing, these trees once reached the 5-year mark and when they are ready to, will be used to generate additional trees from the exiting roots and stomps after harvesting (these grow with near +300% biomass). This process repeats itself for a second cycle, third cycle, and over again. Local communities can then farm trees for sustainable tree-based production, preserving existing forests and trees that are hundreds of years old and would normally be deforested for that purpose.
The Offering
Forestmatic boasts itself as a perfect solution for any business to compensate for its CO2 emissions. The company currently has 3 base-pricing models –
One Time Offset model – Buy a one-time offset bulk of trees with a dashboard profile for one year included. Every tree compensates for a specific amount of CO2. For example, by buying 1000 trees, a company may claim to be offsetting 63 tons of CO2 while tracking the survival of its trees.
All You Can Plant model – For an annual service fee, the client may plant as many trees as they want, with a monthly maximum frequency limit. This allows companies to tie trees to specific activities, users, or stakeholders: trees for participants of events, trees for new subscriptions, trees to offset corporate travels, trees to activate users, etc.
Automated Tree Planting for Ecommerce – For an annual service fee, we integrate with any online store or e-commerce so that every time the store makes a transaction, we plant a tree automatically.
Custom integrations that require custom code development from the Forestmatic team.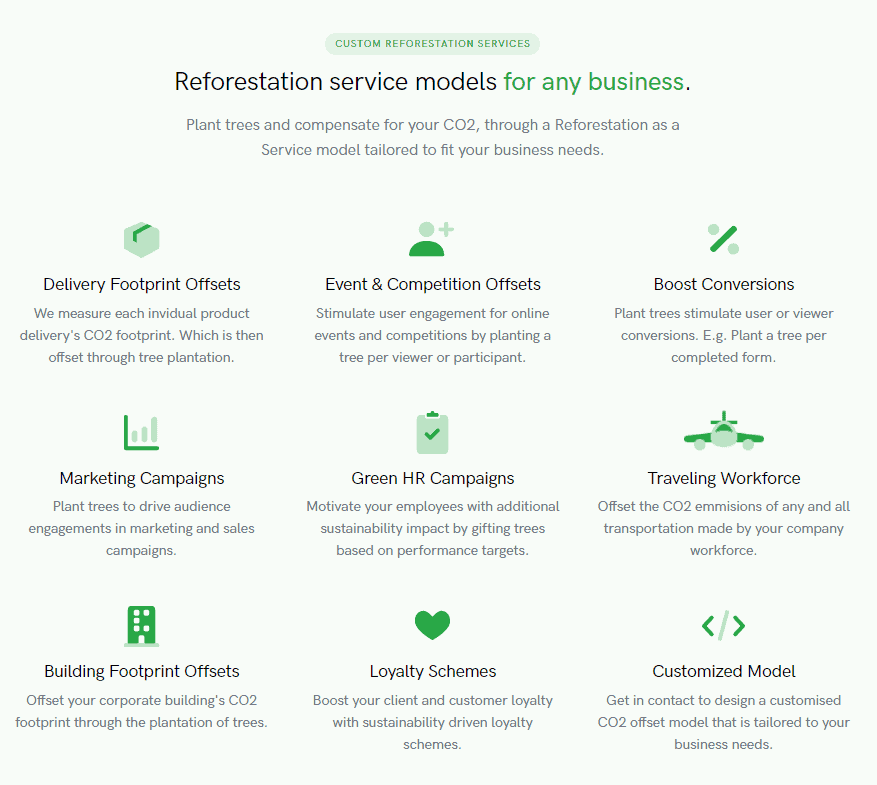 The Value Proposition
Forestmatic isn't the first company to offer a service to plant trees to reduce carbon footprint. However, it still disrupts the market for –
Serving businesses and helping them reduce their carbon footprint while being transparent about the provided services.
Making sure that the trees aren't planted for namesake. The company makes sure that the planted trees grow well and serve the purpose they were planted for.
We mix remote sensing and monitoring with the capacity to obtain data from our trees directly on the ground, thanks to the farmers we empower. With the data obtained, we can monitor the growth of our trees during the most dangerous phase, 1st year of growth, providing assistance and maintenance directly on the field, thus increasing the survival rate of trees up to 90%. We are looking to expand our data analysis capabilities to the tree captures to extrapolate additional information such as bark diameter, height, and weight, and perform allometric equations to provide precise carbon sequestration of the individual tree starting from its biomass.
The Interview
We discussed the startup's concept, vision, and prospects with Mattia Curmà, the cofounder of Forestmatic. Here are his thoughts on the startup –
How is your offering disrupting the industry?
A frictionless digital connection to disrupt the real world for good. Forestmatic easily connects brands and businesses with high-impact tree-planting projects through a data-filled platform, a dashboard where to track the growth of all trees with real photographs and relevant information to unlock a transparent commitment for all stakeholders to the concept of sustainability.
What about the competition? How are you better than others?
We are collaborators in the opensource system Greenstand; a digital ledger used to obtain the necessary data from our planting partners on the ground. We are mixing remote sensing and monitoring with the capacity to obtain data from our trees directly on the ground, thanks to the farmers we collaborate with.
With a simple-to-use app designed for remote, rural places with no access to the internet, farmers are rewarded and empowered to grow the trees we plant. The system allows a dual advantage:
The environmental benefit, thanks to the newly planted trees which will act as carbon sinks and the avoided emissions from deforestation;
The social benefit, thanks to the empowerment of rural communities in becoming ecosystem protectors, while increasing their capacity to generate revenue and grow their lands into sustainable farms.
How it all started? What made this startup happen?
Alexander Verresen once bought a pair of shoes online. When the box arrived, he opened it to read: "Thank you. With this pair of shoes you have has just planted a tree". Yet, this was all the information to be found. Where was this tree planted? Who was taking care of it? What species of tree are we even talking about?
The three founding partners of Forestmatic met during their master's degree at IE School of Human Sciences and Technology, in Madrid. The devastating effects of the current climate crisis were very clear. They understood nature and technology's role in driving change and deeply influencing the corporate world to lessen and reverse this crisis. For their final thesis, they prototyped the first concept of what Forestmatic would become. After obtaining the best mark, they decided to pursue the project and found their own company. An angel investor and advisor also decided to join this opportunity right after their incorporation.
Tell us about your team
We are a very diverse team both in terms of geography, ethnicity, and age.
Alexander Verresen, 26 (Belgium) – CEO
Tarek Ayoub, 29 (Lebanon) – Business Development & Sales
Mattia Curmà, 31 (Italy) – Growth & Marketing
Lauren Savant, 25 (USA) – Communication & Content Development
Claudio Bertoldo, 34 (Brazil) – Fullstack developer
Marcos Eguillor, 46 (Spain) – Advisor
What's the progress till now, and what are you expecting in the future?
Since our tech launched in December, we have been able to obtain revenues without being profitable.
We have onboarded a total of 8 clients with one-year subscriptions to our service. We plan to onboard three new clients a month to break even.
Feedough's Take On Forestmatic
With the increased demand for being carbon neutral or negative, the demand of what Forestmatic has to offer will only increase in the future. Moreover, the transparency it provides adds to green marketing that will benefit the company and the planet at large.
So, according to us, the company is on the right track and will find its hockey stick growth soon.
Get Your Startup Reviewed By Feedough!
Get discovered by over 500,000 monthly visitors. Explain your offering to thousands of potential investors, customers, and top blogs.
Startup reviews are custom-written posts by our experienced team, who'll work closely with your team to create the best pitch possible. The review article will be posted and shared with thousands of our subscribers over emails, social media posts, and push notifications.
Use this form to get in touch.
A startup consultant, dreamer, traveller, and philomath. Aashish has worked with over 50 startups and successfully helped them ideate, raise money, and succeed. When not working, he can be found hiking, camping, and stargazing.