Where does success come from? Some will say that successful people are lucky from the very start and have talent, money, influential acquaintances, and much more. But it's not entirely true. These components may not always lead to business prosperity.
Let's assume you want to create a startup. Everything begins with an idea, but the first step towards implementation is always the most challenging part. For example, you decide to build an online store based on a trending headless commerce approach. Then you need a team of seasoned developers, experts in eCommerce sales, funding, a business plan, and at least one client.
It all seems impossible at this point. Different thoughts creep into your mind about failure and hardship. But many motivating success stories prove that desire and hard work will sooner or later bear fruit.
We present four inspiring startup stories to you in this article. These companies survived in a highly competitive environment by offering their users value. They were able to reach incredible heights and worldwide popularity.
Four Inspiring Examples of How Startups Came to the Top
Loóna, Inc.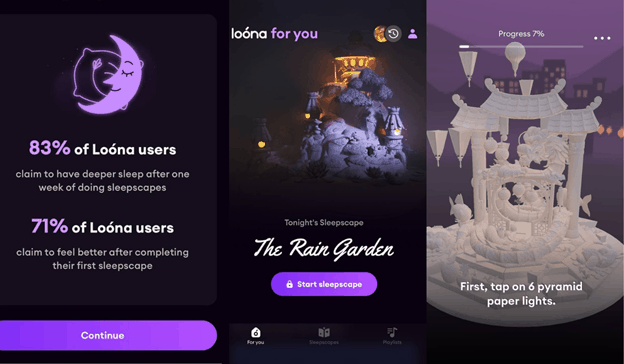 First of all, what is Loóna? It's an application to relax and fall asleep quickly. This Belarusian startup helps thousands of even the most stressed people to forget their daily anxiety and unwind. It's essential for active people who find it difficult to do classical meditation, focus, and think about breathing.
But it's more than just a meditation app. It's a ground-breaking mixture of play, colouring, and meditative music. The sound is unique and tailored to each episode, and you hear a pleasant soothing voice that tells you stories as you complete simple tasks.
The team did extensive medical research and consulted with doctors. So, this app has a medical base and provides combinations of various relaxation methods, including tactile sensations, visual experiences, and storytelling. And all these things allow you to deliver the most profound experience and immersion.
How It Started
The team behind Loóna started from a famous AR-based app MSQRD. A group of talented guys in their early 20s launched the product that was instantly purchased by Facebook and then integrated into Instagram Stories. The prospects of working for the giant corporation were great. Despite this, Andrew Yanchurevich and part of the team left Facebook's office in London and returned to Minsk.
They wanted to create something for the Health and Fitness category in app stores. Eventually, they came up with Loóna's prototype. After the pitch, one of the first potential investors was still in doubt about the concept. But then he tested the app… and quickly fell asleep right with his iPad in hand. The following day, he called and said: "Guys, it's working! I'm in!"
How It's Going
Today, the application has a rating of 4.8 in the App Store and more than 100,000 users. After all, it won the Apple Design Award 2021. Among its investors are such well-known public figures as Natalia Vodianova, Matthew Freud (the great-grandson of Sigmund Freud), Mark Vranesh as an angel investor, and others.
This app has a victorious present, and a promising future as its owners aren't planning on selling the company. Their primary goal is to make a good product, be helpful, and make people happy.
Flo Health, Inc.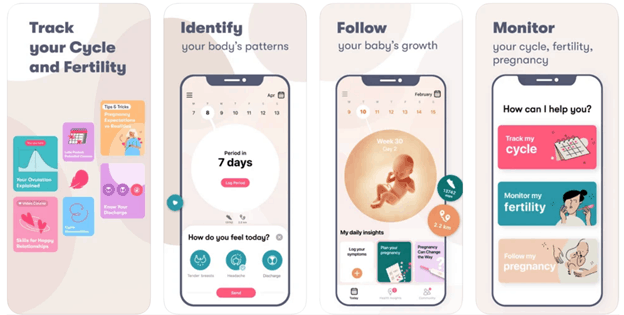 Flo Health, Inc. is another Belarusian company that has achieved success in the global market. It's an application for tracking women's health and cycle using neural networks. The app is more than a regular calendar and includes:
personalised health articles;
a social network;
chatbots;
reminders;
tips for a healthy lifestyle;
notifications about the possible diseases.
The Flo creators provide women with individual, exciting, and medically accurate information through short text articles, illustrations, infographics, and videos.
How It Started
One day experienced IT entrepreneurs Dmitry and Yuri Gurski noticed that the market significantly overlooks women's health. Almost all professionals in the industry were men, and they found this subject neither interesting nor comprehensible. On the contrary, research revealed that the audience needed this kind of product. So the work began.
Initially, two apps were launched in 2015: Flo (a simpler one) and OW (with rich functionality). Users downloaded the former more actively than the latter. The company realised that even the most complicated product requires a simple user experience. So they shifted focus to Flo. This concept attracted $12 million in Round A and achieved a $200 million valuation.
How It's Going
Flo has been number one in the Health and Fitness segment in the App Store for two years in a row. The active monthly audience is 35 million with 200 million overall installs. As a comparison, Clue, Flo's closest competitor, has 12 million active users while being launched two years earlier than Flo.
The secret of the company's success lies in the balance between simplicity of user experience, powerful functionality, and great value.
Patreon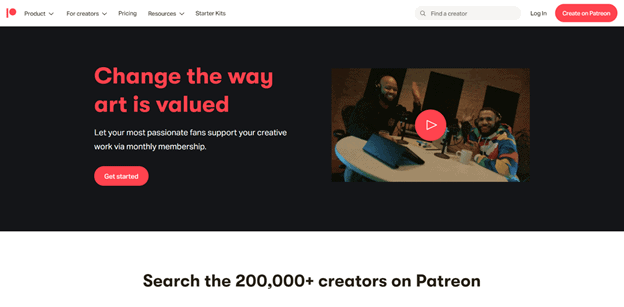 Content creators can capitalise on their work or knowledge on Patreon. It's a crowdfunding platform where professionals and enthusiasts receive cash donations, often in monthly payments.
How It Started
Patreon.com emerged in 2013. Its founder is an American musician Jack Conte, who recorded covers of famous songs and uploaded them to YouTube with about 100 000 followers. At that moment, he was depressed since he couldn't make enough money from advertising.
Jack Conte thought that a part of his audience doesn't mind supporting him financially. He ideated a platform for doing so and turned to his former roommate at Stanford, a developer Sam Yam. Together, they launched a platform where donors, or patrons, pay content creators.
At the very beginning of this undertaking, there were just three accounts on Patreon. Conte offered 40 creators to join the website, but no one got interested. But when Conte started to receive thousands of dollars from patrons, hundreds of creative people began signing up.
How It's Going
Who can earn on Patreon? Various professionals can make money on this site, such as:
artists;
video bloggers;
musicians;
podcasters;
designers;
programmers;
game developers;
and many others.
Patrons may subscribe to the author's work, paying them a certain amount every month (starting from $1). In addition, creators can ask patrons for one-time payments for specific purposes, for example, the preparation of a training video, and promise them various extra bonuses, including:
early access to a game;
a question/answer session;
etc.
How is Patreon monetised? It receives a commission from 5% to 12% from payments, depending on the plan's terms.
Patreon is a pretty popular platform. According to Backlinko, there are over six million patrons, and four million of them have signed up within the last three years. Speaking of creators, there are more than 187,000 professionals with at least one supporter.
The most famous user of the site has long been the Chapo Trap House podcast. It receives $161,222 per month from over 36,000 subscribers. However, the True Crime Obsessed podcast is now heading the list; it has 45,000+ patrons.
Duolingo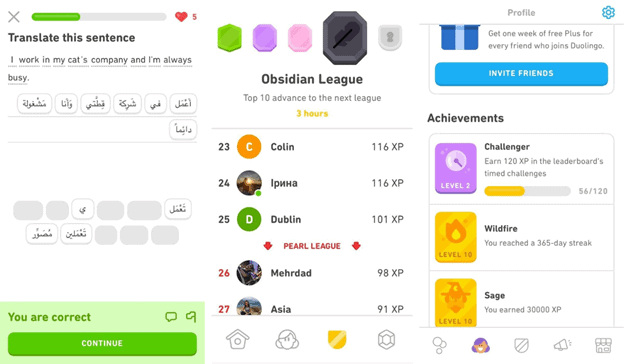 Duolingo is a mobile service for learning more than 30 languages in a game format for free. One thing that makes the app stand out is that there are solutions for different age groups. Therefore, both children and adults can use it.
The service divides the language into elements, i.e., skills. They include topics such as:
food;
weather;
nature;
health;
etc.
How does the system reward people? By completing tasks, users unlock new levels and earn crowns for their achievements. The lessons are short, and they usually don't require using your voice. So, you can take them while standing in line at the supermarket, for example.
Gamification, responsiveness, and rewards of Duolingo attract people who have never even thought about learning a foreign language before.
How It Started
In 2009 Luis von Ahn, a professor from Carnegie Mellon University, decided to make millions of language learners happy. He was brought up in Guatemala where for ordinary people, it was unaffordable to learn English. His post-graduate student Severin Hacker joined the project as he believed that "free education will really change the world".
They created the app but had no experience in teaching foreign languages. Therefore, they conducted A/B testing and learned from their mistakes to improve their methods.
But monetising the company became a critical question. Initially, Duolingo attracted investors with the ability to translate content on the Internet on a large scale. So, people went through tasks and translated sentences. And companies paid the resource for these translations.
How It's Going
It took more than ten years for Duolingo to become the app it is today. Based on statistics, over 500 million people have registered in Duolingo, and 42 million are active at least once a month. They can learn 40 languages with the help of 106 available courses.
Currently, Duolingo continues to develop and adds new courses at a more complex CEFR level. According to Duo creators, the company will also make audio tutorials, podcasts, and freeform writing tasks.
Duolingo now makes money in other ways, namely:
premium subscription;
ads;
language proficiency tests.
In 2020, Duolingo made $161 million in sales and was valued at $2.4 billion.
Wrapping Up
Many factors contribute to business success. But even the most incredible success stories prove that everything depends on the person and hard work. In the startup space, it's always hard to make a name for yourself and gain the trust of investors and users. The main thing is to offer people solutions that will improve their daily life, entertain, or make them more educated. And then your startup will definitely hit the big time.
Go On, Tell Us What You Think!
Did we miss something? Come on! Tell us what you think of this article on inspiring startup stories in the comments section.
Kate Parish, chief marketing officer at Onilab, with 8+ years in Digital Marketing and eCommerce web development promotion. Kate constantly upgrades her knowledge and skillset to stay fit in the progressing online world. She always does exhaustive research in such spheres as SEO, Magento PWA development, and SMM before sharing her expertise with a broad audience.