2017 has been a year of the battle royale games and there is no denying that two games won big in this race. They are (obviously) Fortnite and PUBG. With an ever-increasing player base, the popularity of these games is off the charts. You probably play these addictive titles and have a preference for one of them over other, but how exactly did these titles turn themselves into internet sensations?

If you aren't aware of how battle royale games work, here are the basics. 100 players are dropped onto an island where they fight for resources, weapons and eliminate everyone else. The last man standing claims victory over the corpse of his 99 opponents. Sounds dark, but it sure is fun.
How did Battle Royale games blow up in just a year?
Well, the reason is simple. Psychology.
Battle Royale games work on the principle 'Lose by a little, Win by a lot' this is a gaming technique where gamers are deceived that they just lost by a little. If you have played any of these games, you'd realize better what I am trying to imply here. Every time you die, you probably scream out the same expression 'I almost had him'. That is because the game dynamics are deceptively designed such that when you pick a fight with an opponent, you are likely to lose by a very tiny margin giving you hopes for the 'next match'.
Another reason behind the huge success of PUBG & Fortnite is the multiplayer strategy. Both of these games are multiplayer games and can be played with or against your friends. According to Timothy O'Shea from analyst firm Jefferies, this multiplayer experience
is a social experience at heart, encouraging friends to play together
Fortnite is a freemium game. The PC & mobile (iOS) version of the game can be downloaded and played for free. However, the gamers can buy in-game rewards like cosmetics, emotes and battle passes (~$10) by conducting in-game microtransactions. While these rewards sound tempting, the game developers have made sure that owning them doesn't give anyone a competitive advantage over other 'non-paying' gamers.
PUBG has chosen the premium game business model for its PC version which sells on Steam platform for $29.99. The same game, however, is available for free on Android and iOS platforms and uses the similar freemium game strategy as used by Fortnite.
Fortnite vs Pubg
Coming back to the point: Is Fortnite really the king of the hill? Let us discuss this over numbers:
Player count
Epic games (the company behind Fortnite) are usually quiet about numbers but this February they confirmed that Fortnite witnessed a whopping 3.4 million concurrent players on 4th February.
The Steam charts, however, show a drop in the player count for Player Unknown's Battlegrounds (PUBG) during February and the numbers have struggled since. So if we are doing a head to head comparison PUBG was at 2.9 million peak concurrent players during February 18.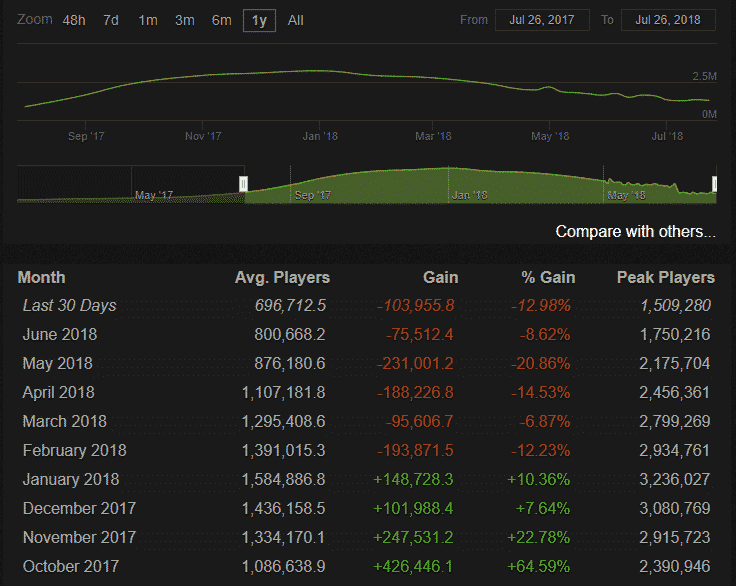 Revenue
According to Superdata research, Fortnite passed PUBG in total revenue on PC and console ($126M vs $103M) this February.
Moreover, from October 2017 to May 2018, Fortnite also generated more than $1 billion in revenue from in-game purchases alone.
Now Fortnite: Battle Royale is a freemium game and the only way for them to obtain money from players is through battle pass, cosmetics and emotes. None of these giving any advantage whatsoever in the actual game. Whereas PUBG is a paid game which costs 30$ on Steam or Xbox live. PUBG has cosmetics too, but hardly any lucrative enough for people to hype about.
Popularity
Fortnite with its cartoonish looks and gameplay is quite kid friendly and not to forget that it has some really cool emotes to dance off after you eliminate your enemy. Fortnite's popularity can be easily seen as players have started Fornite emotes as their celebration in sports (Antoine Greizmann celebrating with 'take the L' after scoring a goal) or record-breaking Twitch streams when Drake teamed up with popular streamer Ninja for a match of Fortnite breaking Twitch stream record for a non-E-sports stream. Not to forget that the building mechanics in Fortnite has given streamers enough space to run their creativity wild and build insane forts with traps keeping their viewers entertained throughout.
PUBG was no doubt first to introduce the Battle Royale mode in a large third-person shooting mode. The realistic look and feel, inventory management, vehicle system catered to a lot of people who preferred realistic gameplay. The learning curve to understand and play PUBG is slightly sharper as it incorporates inventory management and camping strategies.
Nevertheless, both of these games have an edge over each other depending upon the platform they're played on. Fortnite tops the console popularity charts but trails behind PUBG when it comes to PC (Steam's sale provides PUBG with a massive boost). Moreover, Fortnite isn't available on the Android platform till yet and hence is no competition to PUBG when it comes to Android games. But after the huge success of Fortnite on iOS platform, the company is planning to launch the Android version really soon.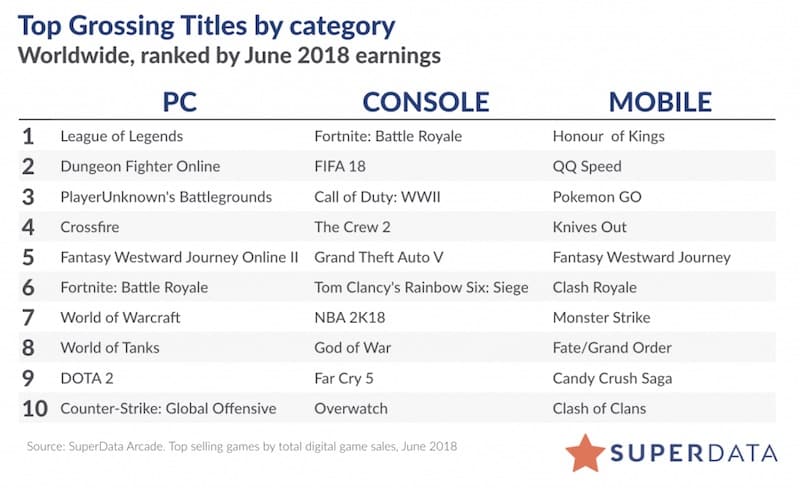 Mobile platform
Both these games entered the mobile platform and 2018 has been about it so far.
PUBG mobile won in numbers as PUBG mobile was released on Android as well as IOS whereas Fortnite mobile was limited to IOS. Now the numbers usually mean a steady hold on the market. PUBG has twice as many players on the mobile platform as that of Fortnite on mobile.
However, Fortnite generated $92 million over PUBG's $19 million in the first 11 weeks since Fortnite's release on mobile. This sounds insane but 60% of Fortnite's market is from the US as the Asian market (which is dominated by Android relying players) still goes with PUBG.
Thus, Fortnite took the mobile market by the storm too (Pun intended).
Takeaway
Both games exploit the 'Lose by little, Win by a lot' principle but a better execution has been done by Fortnite as its immersive gameplay and deceptively low health and shield makes us feel we almost had the other guy as compared to PUBG's camping strategies where you might die from a guy camping in some far off building where it is really hard to spot him.
Fortnite constantly updates its existing map with new seasons and keep bringing in new content for players to always be hooked on. PUBG has introduced two new maps over time but is unable to concentrate completely on pushing new content as cheating is still a major issue in this game and developers are constantly trying to fix that. Of course, Bluehole (PUBG developers) is much smaller than Epic Games (Fortnite developers) and thus it is easier for Fortnite to release updates easily.
Fortnite has put up a free game with funny customizations and traps. Thus it is much easier to troll players on Fortnite and create amazing content as contrary to the serious gamers we find in the paid environment of military-style PUBG. Thus, it hails to the pop culture and a lot of gameplays in Fortnite can be 'Memed upon'.
The numbers clearly show that Fortnite has comfortably captured the market and is on its way for the 'Victory royale' leaving PUBG at the second spot.
Go On, Tell Us What You Think!
Do you play PUBG or Fortnite? Do you feel we have missed a few points? Are you dissatisfied with the verdict? Let us know in the comments below.
Engineer by education. Writer by choice. I learn about new things by writing about them.