In a world where mobile apps and websites play a pivotal role in our lives, there is an industry that goes unnoticed yet is crucial – testing. The process of ensuring that these technological marvels function flawlessly is often overlooked, leading to user frustration and wasted resources.
But fear not, for there is a startup that aims to streamline this complex web of testing. TestGrid, an end-to-end testing solution, emerges as the knight in shining armour for QA professionals, software engineers, DevOps, and technocrats alike.
By offering a platform that combines all testing needs under one roof, TestGrid revolutionises how mobile apps and websites are tested. Gone are the days of juggling multiple testing tools; TestGrid is here to provide a seamless experience.
Stepping into the shoes of AWS, their ambition knows no bounds. With a global user base spanning 100+ countries, TestGrid has found its sweet spot in this crowded market, achieving exceptional growth and making strides towards becoming the go-to testing platform. So, take a moment to appreciate the unsung heroes of the tech world, and prepare to be amazed by the wonders of TestGrid.
What Is TestGrid? 
TestGrid is a comprehensive testing solution for mobile apps and websites. Its primary purpose is to streamline the complex testing process, making it more accessible and cost-effective. Their target audience includes professionals from various tech backgrounds, such as QA analysts, software engineers, and decision-makers like CTOs and CEOs. 
If you're a developer trying to ensure your app or website runs smoothly, you'd typically need multiple tools for different tests. TestGrid, however, serves as a singular platform offering end-to-end testing facilities, thereby eliminating the need for any other apparatus.
Through its sophisticated architecture, TestGrid echoes Amazon Web Services (AWS) but adjusts its focus to exclusively address testing needs. Unlike other market players concentrating on distinct features, TestGrid differs in its all-encompassing approach.
Their platform not only fulfils end-to-end test automation requirements but also provides testing infrastructure, making it versatile. Users of TestGrid hail from over a hundred countries, utilising the platform to perform comprehensive, codeless tests on a range of over a thousand real mobile devices and browsers.
In a nutshell, TestGrid is the definitive cloud and on-prem testing solution, simplifying a complex process into one user-friendly interface.
TestGrid Founders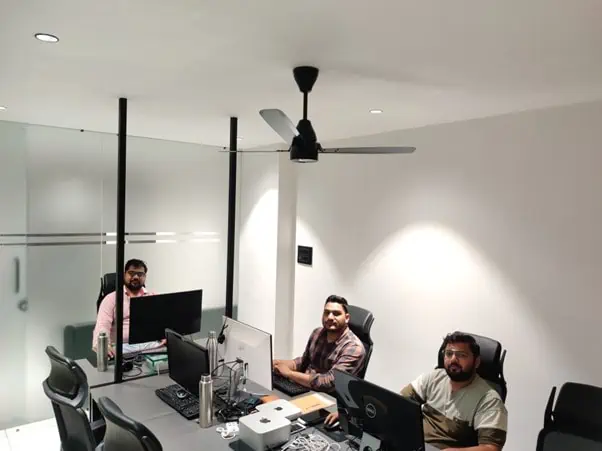 TestGrid was brought to life by Junaid Ahmed, who serves as the Chief Marketing Officer. Propelled by the grandeur of tech giants like Amazon Web Services (AWS), Ahmed sought to put a spin on the testing industry, creating TestGrid to become 'AWS for testing.'
His background, heavily steeped in marketing, allowed him to understand the dynamics of an overcrowded market and expertly carve out a unique space for TestGrid. This took not just professional expertise but personal determination too.
In the early days of TestGrid, Ahmed and his team faced the enormous task of identifying and validating a pervasive tech problem. Today, their steadfast focus on creating an encompassing testing solution is a testament to their perseverance and vision.
Interview with Junaid Ahmed, CMO of TestGrid
Recently, I had the opportunity to sit down with Junaid Ahmed, the Chief Marketing Officer of TestGrid, to learn more about this groundbreaking startup and its mission to revolutionise the mobile app and website testing industry. Here are the key takeaways from our conversation:
Q: Can you briefly describe what TestGrid is and what it aims to achieve?
Junaid: TestGrid is an end-to-end cloud and on-prem testing solution for mobile apps and websites. Our primary goal is to streamline the testing process, making it easier and more affordable for professionals in the tech industry. We aim to provide a singular platform that eliminates the need for multiple testing tools and offers a comprehensive testing experience.
Q: Who is the target audience for TestGrid?
Junaid: Our target audience includes QA analysts, software engineers, DevOps professionals, and decision-makers such as CTOs and CEOs. Basically, anyone involved in the development and testing of mobile apps and websites can benefit from using our platform.
Q: How does TestGrid differentiate itself from competitors in the market?
Junaid: Unlike our competitors, who tend to focus on solving specific testing problems, TestGrid takes an all-encompassing approach. We offer not only end-to-end test automation but also provide testing infrastructure, making our platform versatile and user-friendly. We aim to become the AWS of testing.
Q: Can you share with us some insights into the early days of TestGrid?
Junaid: One of the main challenges we faced in the early days was understanding the problem we wanted to solve and determining if it was significant enough. Once we identified the need for a comprehensive testing solution, we focused on assembling a team that shared the same mindset and vision as us.
Q: What are TestGrid's plans for the future?
Junaid: Moving forward, we plan to make our AI-powered test automation available to a wider audience. We want to democratise access to advanced testing capabilities and ensure that developers and testers have an easy-to-use, all-in-one platform at their disposal.
Q: What advice do you have for aspiring entrepreneurs looking to start their own business?
Junaid: My advice would be to find a problem that you are genuinely passionate about and dig deep to understand if it is significant enough. If the problem is big enough, give your heart and soul to solving it. Building a successful startup requires dedication, resilience, and a genuine desire to make a difference.
Q: Is there anything else you would like to share about TestGrid's journey?
Junaid: TestGrid has been around for a couple of years now, and we have experienced both ups and downs. However, in the last 12 months, we have achieved remarkable growth in terms of users and paid subscribers. We have carved out a unique space in the crowded testing market and are excited about what the future holds.
Feedough's Take on TestGrid 
TestGrid is revolutionising the labyrinth of testing, shifting the paradigm and making waves in an often-overlooked sector. Their holistic platform transcends existing fragmentary solutions, establishing itself as the one-stop solution for diverse testing needs.
Its future looks promising, with a "disruptive hero" status already achieved in the overcrowded tech arena, backed by astute marketing strategies. As it expands its artificial intelligence-powered functionalities, the accessibility to advanced testing is expected to rise significantly.
However, the challenge lies in maintaining this momentum and continuous innovation to keep ahead in the race. Therefore, expect more breakthroughs from TestGrid as they aim to further simplify and democratise testing.
Get Your Startup Reviewed By Feedough!
Get discovered by over 500,000 monthly visitors. Explain your offering to thousands of potential investors, customers, and top blogs.
Startup reviews are custom-written posts by our experienced team, who'll work closely with your team to create the best pitch possible. The review article will be posted and shared with thousands of our subscribers over emails, social media posts, and push notifications.
Use this form to get in touch.
A startup consultant, digital marketer, traveller, and philomath. Aashish has worked with over 20 startups and successfully helped them ideate, raise money, and succeed. When not working, he can be found hiking, camping, and stargazing.