Change is the only constant in the tech industry. Every day an incredible new startup comes out with unbelievable products and service to fascinate us. There are many debates on whether tech startups are the future or not. But one thing which is certain is that the tech startups are the pathways to future. The growth of these tech startups all around the world have put some weight on our side of the argument too. Take Facebook for example. How, once a simple social media platform, is planning to provide free internet to the world?
Of all the different kinds of startups, tech startups are the perfect fusion of raw ideas and technology with disruptive technology being the triumph card of almost all.
What exactly is a Tech Startup?
There are countless debates on the true definition of a tech startup. Is it a company dealing with technology products? Or is it a company which enables technology to run? Just like the definition of a startup, the true definition of a tech startup also needs some digging. Mark Zandi, the chief economist at Moody's Analytics refers to tech as:
"Tech means more than just producing hardware or software. It is synonymous with innovation, research and development, long-term thinking."
Most of the companies presently referred to as tech startups don't, in fact, utilize any type of technology at the core of their working. These companies use technology as a working component of their business. Alex Payne, Co-founder of Simple, a business startup gives a clean angle to the definition of a tech startup.
"You are a technology company if you are in the business of selling technology–if you make money by selling applied scientific knowledge that solves a concrete problem."
In short, a company which brings technology services or products into the market is called a tech startup.
Top 10 Promising Tech Startups of 2017
Whilst it is not easy to choose the top tech startups due to the numerous criteria to be taken into account, we've conducted an extensive research and listed the top 10 tech startups of 2017 (so far). Each of these tech startups is unique and the functions offered by it is far different from the rest. Even though some of these tech startups have similar ideas to some existing companies, we found them promising because of the disruptive technologies they've used.
what3words

What3words, founded by Chris Sheldrick, Jack Waley-Cohen, Mohan Ganesalingam, and Michael Dent, is a geocoding tech startup which came up with a simple way for the transmission of location. This London based tech startup divided the entire planet into a grid design of 57000 billion squares having size 3m x 3m and gave each square a distinctive address. Since every other location determining networks display the location in a string of characters, this startup was considered as a breakthrough.  What3words generate revenue by charging businesses extensive volume use of their API in their apps, websites and processes.
Organisations like United Nations and the Red Cross have been using what3words in disaster zones to help move their personnel from one location to another. Mercedes Benz has been reported to be saying that selected car models from 2018 onwards will be having this unique address system.
What3words has won the 'Hottest Technology Innovation' award at the Europas 2017. It was also declared as the HOME category winner at INDEX 2017.
128 Technologies
128 Technologies, headquartered in Massachusetts, is a tech startup which provides 128T Networking Platform. It was founded by Patrick MeLampy and Andy Orly. Network-based security, control and discernment across data centres, WAN and edge locations for firms, cloud companies and service providers are the available tech solutions. Secure Vector Routing (SVR) is a new approach to networking, thanks to 128 Technologies.  It can identify and command stateful, bi-directional traffic of data which are then routed across networks. It can be used everywhere as it is based on software entirely, which makes the network web easier to handle than before.
CRN, which is a brand of The Channel Company, has listed 128 Technology in its '2017 Emerging Vendors list in the Networking/VoIP category.
Exabeam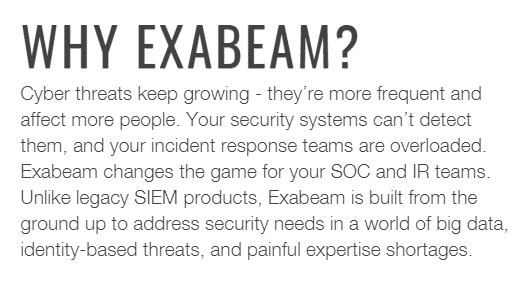 Exabeam, having its base in California, is a cybersecurity tech startup. It was founded by Sylvain Gil, Domingo Mihovilovic, and Nir Polak. It protects the data of enterprises with breakthrough user behaviour intelligence solutions. The methods in which cyber attacks and insider threat are discovered have been taken to a new level by Exambeam. It unravels security operations by pivoting on the behaviour of attacker instead of malware which changes from time to time.  Exambeam was assembled by experienced security and IT veterans from ArcSight, Imperva and Sumo Logic.
Exambeam won the 'Best Emerging Technology' award at the SC Magazine 2017 awards. It was also designated at Cybersecurity Leader of 2017. It has been recognised in different lists compiled by CRN including 2017 Emerging Vendor for Security and 2017 10 Coolest Big Data Protection And Security Analytics Software Vendors.
Armis
Armis, an IoT security tech startup based in California, was founded by Tomer Schwartz, Nadir Izrael and Yevgeny Dibrov. What makes it different from the rest of Internet of Things (IoT) network is that Armis provides an agentless IoT security platform which lets businesses observe and control any network or device. It removed the IoT security blind spot which enabled the businesses to immediately see and control rogue networks or devices without putting the company at risk.
Armis has been recognized in the 'Emerging Vendors 2017: IoT Startups You Need To Know' list compiled by CRN.
Mist system

Mist was founded by Brett Galloway, Sujai Hajela and Bob Friday. This California based tech startup delivers wireless entry, the world's first Artificial Intelligent wireless network, for hotels and other enterprises that can also deliver location-awareness apps to the customers.  Arif Janmohamed, one of the members of the Board of Director, says,
"This is the first company since the advent of the iPhone and the adoption of the cloud to build an enterprise wireless company from the ground up. The founders previously ran Cisco's multibillion-dollar wireless group and since founding Mist two years ago have shipped their first product, signed up dozens of customers and partners,"
Mist has been recognized as a 2017 Emerging Vendor by CRN.
Artomatix

Artomatix, a tech startup based in Ireland, was founded by Bart Kiss, Neal O'Gorman and Eric Risser. This tech startup utilizes Artificial Intelligence to automatically develop a hyper-realistic 3D world, thus helping graphics and game designers and Hollywood. Artomatix was one of the proud startups to have several Fortune 500 companies as initial clients. It is a physically based rendering (PBR) texture suite that organizes the work of the artists, entrusted with the creation of 3D models, efficiently.
Artomatix's Example-Based Content Creation Technology, as it was called, varied from other methods of 3D image generation as its end result was the most perfect in town. Unity and Unreal game engines run on Artomatix and other game engines are soon expected to follow.
InfluxData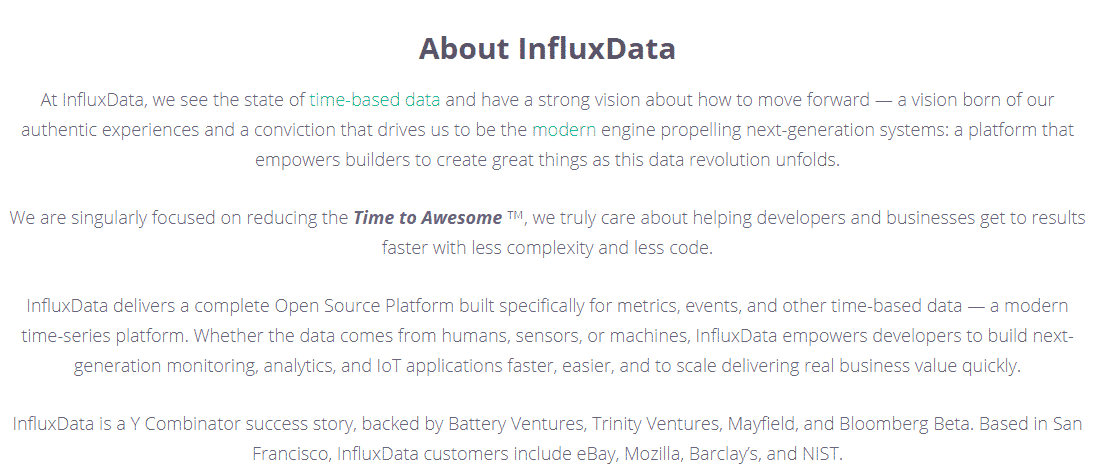 InfluxData, a tech startup based in San Fransisco, was founded by Paul Dix and Todd Persen. "TICK stack (Telegraf, InfluxDB, Chronograf, Kapacitor)", an open source platform for overseeing Internet of Things (IoT) time series data, was developed by InfluxData. Every element of the TICK stack is open source. It provides an entire platform built discretely for events, matrices and IoT data.  Businesses like eBay, Solar City, Mozilla, Cisco, AXA are already utilizing it. Dharmesh Thakker, a Board member of InfluzData says,
"There's a big need for time-series data, especially thanks to the billions of sensors being deployed as part of the Internet of Things (IoT). 2017 will be the year to watch, as time-series data goes mainstream, driving high-value business decisions, whether for IT professionals managing a cloud infrastructure or facilities managers analyzing the efficiency of smart buildings to auto engineers leveraging time-series data to program autonomous driving cars,"
InfluxData was named 'Advanced Tier Technology Partner' in Amazon Web Services (AWS) Partner Network.
Nexla

Nexla, a tech startup based in California, was founded by Saket Saurabh and Jeff Williams. It had created a data operations platform that utilizes machine learning technology to observe, adjust and securely transfer data between businesses in real time. It came into the limelight when it offered a data operation platform where customers can set their data operations automatically. Saket Saurabh, co-founder and CEO says,
"At high-level data, Nexla is building a data operations platform and making it scalable and repeatable. As people work with more data sets with higher frequency and volume of data, it becomes more complicated, especially when you're getting data from a third party"
Nexla secured the top prize in the Startup Showcase at the Strata + Hadoop World conference 2017.
Illusive Networks

Illusive Networks, a cybersecurity tech startup headquartered in Tel Aviv, Israel, was founded by Ofer Israeli. It was the first startup to be introduced by the Tel Aviv-based incubator, Team8. It was one of the few tech startups which use deception technology to apprehend hackers. The 'agentless approach' by positioning false data into devices, servers and data centres by Deception Everywhere hopes to resolve challenges in security.  It designed an alternate reality which was then transparently grafted into any prevailing network.
Illusive Network got a boost when Microsoft Ventures, the software company's young investment arm, became its newest strategic investor. It was acknowledged by Momentum Partners as one of the 10 cybersecurity firms on their Watch List: Q2 2017. It was also recognized as the Gold winner in the 13th Annual 2017 Info Security PG's Global Excellence Awards in Advanced Persistent Threat (APT) Detection and Response.
Wasabi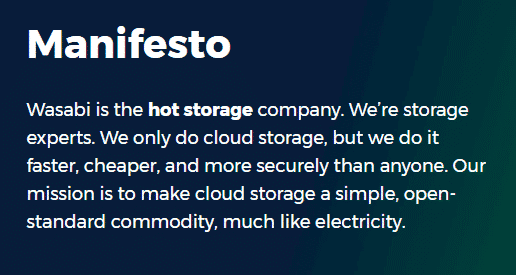 Wasabi, a Cloud storage tech startup based in Massachusetts, was founded by Jeff Flowers and David Friend.  Its capability to be a hot storage company, to store data of customers in its cloud with a speed six times the speed Amazon S3 takes, made it popular in the tech world. The stored data can be recovered with at least six times as fast as the data recovered from S3.
Wasabi could be the only tech startup which aims to displace the domination of Amazon in the cloud computing market which other tech giants couldn't. Its approach of eliminating pricing tiers and pivoting solely on storage is the weapon it is using against Amazon. David Friend, CEO and Co-founder says,
"Our vision is that cloud storage ought to be like electricity. It ought to be just a utility in the cloud,"
Go On, Tell Us What You Think!
Did we miss something?  Come on! Tell us what you think of our article on  Top 10 Promising Tech Startups of 2017 in the comments section.
A startup enthusiast who believes anything can be built if you do that required research and get the base ready.