So you work with a virtual team with members spread across the globe.
The problem?
Oftentimes, it becomes difficult for you to coordinate with all your employees, and you're not able to keep track of their productivity levels.
The bigger problem?
These problems seem to pile up.
Here's the deal:
It is quite possible to find yourself overwhelmed by the challenges posed by working with remote employees. There may be issues in communicating exactly what you want, you might be unsatisfied with the quality of work, and, at times, you might be confused if you're even allotting the right tasks or not.
It can be difficult to maintain high morale amongst the employees and ensure productivity doesn't dip.
But fret not, here's your guide on how to efficiently manage a remote team and overcome all challenges that come your way.
Lack of Communication
A lack of communication is evident when your employees seem unsure of the task they've been assigned. It might seem like some of your employees are uninterested in the task you give them, or someone might be withdrawing from work altogether. You may get unsatisfactory reports or start to lose confidence in the quality of their work.
So, how can you overcome this?
#1 Use Project Management Apps
Project Management Apps make planning and execution easier. It leads to more clarity in the work assigned and ensures projects are delivered timely. This way, your employees stay in the loop and also stick to their deadlines.
Some easy to use Project Management Apps are Hubstaff and Trello.
These tools allow you to create a board and sort all the tasks you wish to complete by a stipulated deadline. You can create individual boards with your employees and, this way, keep track of how far along they are with the assigned task.
You can create a board with all your team members where everyone can see each other's work. This will also lead you to equally distribute the work.
Using such applications instils a sense of discipline and seriousness regarding the allotted task as your employees are aware that you keep track of the work they're doing.
#2 Create a Communicative Environment
As a leader, you should lead by example. You need to create a virtual workplace wherein everyone is comfortable putting forth their views. Be an approachable leader and make yourself available. Use online chat tools like Workplace and Slack.
These are casual, less formal platforms that allow you to build a rapport with your employees and cut down the need for back-and-forth emails and frequent meetings for approval of small tasks.
#3 Notice The Levels of Participation
It is easy for employees to disconnect from work when there are no daily in-person interactions. You must always look for signs of withdrawal to make sure your employees don't feel lonely or secluded.
The following are certain indicators that your employee is withdrawing:
Someone who is usually vocal in meetings has suddenly stopped participating as much
An employee might be working extra hours a day to prove himself. Overwork can be very stressful and is a leading cause of burnout. It can cause people to pull all-nighters to complete the work and develop an improper sleep schedule and other health illnesses.
Wait until after one task is completed to give another task. This way, you lower the pressure on your employees. Moreover, trust your instincts and reach out to employees who you think might be withdrawing. Humanize the work environment and be more empathetic towards your employees.
#4 Enthusiastic Response
Mutual trust develops when your employees are appreciated and feel valued. This is rather easy to put into action. Following are simple ways by which your employees develop an emotional connection with the company:
Celebrate occasions like birthdays, anniversaries, etc.
Commemorate years of service.
Offered paid leaves during times of emergency.
Inefficient Scheduling
If your employees are spread across different time zones it can get difficult to decide on one time that is convenient for everyone. If such is the case, then –
Divide your employees into groups based on their time zones
Schedule a meeting with one group, record it and share the same with the other group, asking for their input.
If you think you can manage two meetings with both groups, incorporate that instead. Otherwise, you should alternate between the groups for meetings.
If it is favourable for your employees to work together then schedule meetings at a common time. You obviously can't expect your employees to work from 9 to 5, instead, create a routine with shorter work hours. For example, you can schedule a meeting for your employees three days a week from 9 am to 1 pm EST and 8 am to 12 pm CST.
Low Productivity
Low productivity is a very common issue that many managers like you face when they work with remote teams. Make sure you ask these questions often –
Are you certain you know how efficiently your employees are working?
Are you giving them enough work or overburdening them?
Are you sure you're not underutilizing them?
#1 Use Productivity Tracker Apps
You need to be able to trust your employees when you assign them to work, but at the same time, you need to keep track of the work they're doing. Using Productivity Tracker Apps allows you to easily check their progress and holds them accountable for the output at the end of each day.
TimeDoctor is one such application which you can use. It allows you to calculate –
Attendance
Task the employee is currently working on
Task allocation based on their productivity level
Sites they visit
Number of times they log in and out
Used by companies like Apple and Verizon, TimeDoctor ensures employees stay focused and don't waste their time on social media and other websites. In case they do, a notification like the following pops up on their screen.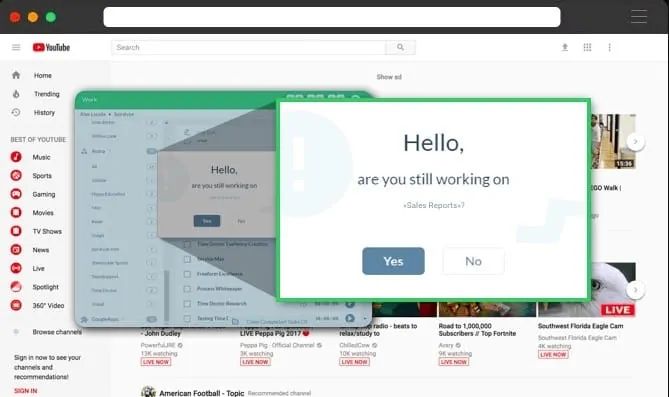 TimeDoctor Chrome Extension also works with Trello Cards, and you can keep track of how much time each card takes to complete.
#2 Monthly Performance Appraisal
A regular monthly performance appraisal has the following benefits –
Makes employees feel included and valued
Identifies areas for improvement
Motivates employees
You should evaluate your remote employees on the basis of the quality of their work and output. Give them honest feedback, and also remember that it is a good opportunity for employees to talk about any issues they might be facing in their professional life or personal life.
Often, especially with remote teams, work can take priority above all else and discussions on career opportunities can be easily forgotten. Discuss the future of your employees and take the time to understand what their expectations and goals are.
Performance appraisals are very important but often neglected, especially in bigger firms. They boost morale and give the employees time to sit back and reflect upon their role in the company.
Go On, Tell Us What You Think!
Did we miss something? Come on! Tell us what you think about our article on Managing remote teams better in the comments section.
An entrepreneur with a background in management, looking for opportunities to learn and grow every day.