"Company X recently organized a product launch whereby it made special arrangements for games and gift cards for the audience. A team of experts was invited to comment on their newly launched product and coupons were given to a few lucky people from the audience. A Q&A round was specially organized so that the audience can get their queries answered by the most accountable people in the organization."
At the end of the day, company X didn't just gain new customers but it also strengthened its bond with its previous customers.
The above example shows how marketing can be done creatively without involving any external sources.
For a long time, business houses have depended upon digital marketers for their marketing activities. However, with the advent of experiential marketing, business owners are ready to take the charge. But what exactly is experiential marketing and how is it capable of transforming the marketing structure of companies?
Read on to find more.
What is Experiential Marketing?
Experiential marketing, also called engagement marketing, is a marketing strategy of generating experiences for the customers by immersing them in real-world interaction with the brand and its offerings
This type of marketing makes use of participatory and hands-on strategies to create immersive and memorable experiences which help the brand –
Communicate to the customers its value proposition and what it stands for, and
Create long term relationships with the customers
Experiential marketing is the new A game of big brands capable of investing large sums into their business. From Nike to Volkswagen to Sprite, the list contains some of the biggest names of the sector.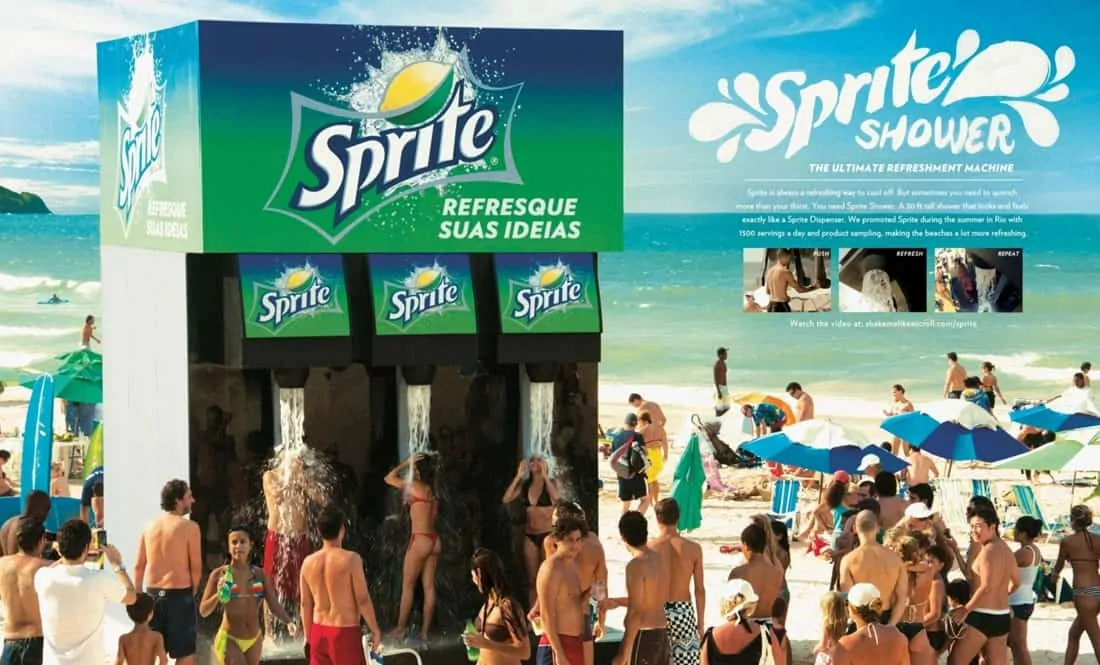 At first instance, experiential marketing might sound like event marketing. And both these could also be an alternative to 'brand experience.' But before making any further assumptions, let us try to distinguish between these three terms.
Experiential marketing vs Event marketing
Experiential marketing and event marketing might have certain common features if represented through Venn diagrams. However, they differ on certain clear grounds which are mentioned below.
Experiential marketing isn't limited to events, it includes engagement activities and strategies which can be online, personalized, and even be launched as an advertising campaign; the drinkable ad campaign by Coca-Cola, for example.
Event marketing, however, is an important element of experiential marketing.
Customer Engagement
Event marketing just focuses on communicating the brand's objective, aim or target to the audience through promotional events.
Experiential marketing, on the other hand, focuses on facilitating two-way communication with customers where they can not only listen to the brand's perspective but also respond and interrogate.
Subjective vs Collective Experience
Event marketing creates a collective experience in the sense that all the customers are considered to be an audience in general, thus ignoring the subjectivity factor.
Experiential marketing gives proper attention to each customer, thereby providing an individualistic and subjective experience to all.
Objective
The final aim of event marketing is to popularise a product or an activity under the brand's purview. Experiential marketing aims to strengthen the brand's image amongst the various stakeholders of the business.
To understand this difference better, let us take the example of 2 companies using one of the above two strategies of marketing.
Brand 'P' and brand 'Q' planned to launch their new phone into the market. Brand 'P' organized a grand product launch event where customers, competitors, and media persons were invited. The brand announced the product and also talked about the features. Finally, the event concluded with a vote of thanks to the company's director and associates.
Brand 'Q' also organized a product launch event where all the company employees could be seen wearing the same T-shirt and adhering to customer queries. Customers were also asked about the problems they faced with their recent product purchases. A meet and greet lunch was also organized for all the attendees.
From the above example, it is clear that Brand 'P' indulged in event marketing whereas brand 'Q' went for experiential marketing.
However, considering the cost involved with experiential marketing, small brands often neglect the advantages that it has to offer. So, are the advantages superseding the cost involved or is it just another of those marketing gimmicks? Let's find out.
Benefits Of Experiential Marketing
One of the best parts of experiential marketing is the fact that it has something for everyone. From brands to customers, the marketing structure aims to benefit all the parties involved in some way or the other.
Benefits To Brands
Targeted marketing
This type of marketing helps the brand to focus on customers with a pre-existing interest in their product, hence avoiding unnecessary costs.
Improved long term engagement with customers
Experiential marketing targets the senses and hence facilitates a life long relationship with customers based on trust.
Benefits To Customer
Enhanced customer support
Brands opting for experiential marketing put customers on the top of their priority. Hence, there are greater chances of getting instant customer support from such brands.
Easy to make judgments
Quick judgments can be facilitated as customers are already aware of the experience that the brand will provide.
Benefits To The Employees
Quick feedbacks help in making instant changes
Employees can learn of customer reviews instantly, which further helps in making necessary changes in the product or service.
A direct link with customers
Employees get in touch with their customers which helps in further analysis and up-gradation of their product.
But, how exactly a brand commits to experiential marketing and what are the steps involved? let's find out.
Steps Involved In Experiential Marketing
Although different strategies require different steps to be followed, 5 essential steps form the crux of putting this marketing plan forward.
Defining The Aim
First of all, it is important to define the aim of the event. Whether it is the general objective of establishing a better relationship with customers or a specific aim of answering customer queries, stating an aim in advance helps in proper management.
Strategizing The Route
Now, brand leaders need to define a clear strategy to achieve the aim that has been finalized.
Spreading The Message
The idea of the brand or the message to be communicated needs to be emboldened into the experience in a manner as to affect the customer's final decision.
Creating A Retainable And Impactful Experience
The experience is bound to result in positive sales if it manages to get stuck in the customer's memory and impact his/her decision.
Designing A Step By Step Guide
This guide should help the employees to string together all the small parts which will all together form the entire experience for the customer.
Focusing On Creating A Chain
Well, the experience needs to be advertised further by customers who intend to enjoy it repeatedly. This will help in further attracting other potential customers.
Now that we are aware of the steps, let us enlighten ourselves about the various routes which can be used to implement this type of marketing.
Experiential Marketing Strategies
Marketing experts consider a lot of options before finally putting the strategy forward. These strategies are designed and implemented after properly analyzing the brand investment and customer base.
Organise Events To Introduce Features
This particular strategy will not only create a much-required hype for the event but will also help in establishing direct contact with the customer.
For example Brand, 'X' organized a pool party to introduce their energy drink to the audience.
Product Launch Events
Well, these are specifically organized to introduce a product to the audience. However, brands should be extra careful while resorting to this option as the first impression is often the last.
For example, Mobile companies often organize product launch events to introduce a newly designed phone.
Virtual Reality Experiences
Certain companies sell VR kits to their customers which helps them to experience the product or the service wholly.
For example, Certain car companies give VR kits to their customers so that they can enjoy a virtual ride without actually moving from their place.
Guerilla Marketing
This involves indulging in a small conversation with the customers and introducing surprises in between to make it more interesting.
For example Brand, 'X' calls upon a customer, initiates small conversation and surprises him with some gift hampers for quick answers.
Stunts And Actions
A strategy involving a stunt has a higher chance of remaining in the customer's brain for a long time.
For example, Company B invites 10 customers for a group conversation but each one is invited to a different location. This will be a bit surprising for the customers as and when they come to know about it.
Experiential Marketing Examples
Most of the big brands we talk about have tried their luck in experiential marketing. Here are some examples of brands with really innovative experiential marketing strategies –
Converse Rubber Tracks
Converse built a community-based professional recording studio in Brooklyn, NY, to engage more with its target audience and create a purposeful relationship with them. This studio is free for artists to record their music and they also maintain the right to their own music.
IKEA Big Sleepover
IKEA, to promote their bedroom range and develop a meaningful relationship with its customers, launched an experiential marketing campaign called 'The Big Sleepover' which let 100 competition winners spend the night in their Lakeside store. The store had sleep experts who advised the participants on how to choose the best mattress. Besides this, the experience was also made fun by offering massages, manicures, cake and milk and a local reality star who read bedtime stories to the participants.
Experiential Marketing- Future Of Retailing?
Well, experiential marketing does provide a lot of benefits over another form of marketing. However, the decision to use it or not depends on the company's investment size and the required IT professionals. But no doubt, if used properly, this marketing technique can work wonders for any brand.
Go On, Tell Us What You Think!
Did we miss something? Come on! Tell us what you think of our article on experiential marketing in the comments section.
A startup analyst who believes that every big project is the result of numerous small efforts that go into the way. Giving anything below 100% is a huge setback to my natural capabilities.