D2C model stands for direct to consumer. It is based on the premise that brands want to control how their products are produced and marketed fully and not rely on a third party like retailers, wholesalers, marketplaces, etc. Many global brands use this model and some of the best examples would be Nike.com, Apple.com, and even YouTube.com.
Today, D2C companies are booming in the e-commerce industry. Though many companies are operating using the direct-to-consumer (D2C) model, what exactly is a D2C company? How do they operate? What are the main marketing techniques that they use to produce a positive customer experience? And why do consumers love shopping from D2C companies? Here's a look into the inner workings of D2C companies and why customers love shopping from them.
What Is Direct-To-Consumer (D2C)?
A direct-to-consumer (D2C) business is a way to sell goods and services directly to consumers without going through third-party vendors or retailers.
Also known as over-the-counter (OTC), D2C is a consumer-oriented sales model that bypasses intermediaries such as wholesalers, distributors, and retailers. By eliminating the middlemen from the supply chain, prices can be lowered for the consumer. The term "direct-to-consumer" is sometimes used as a synonym for companies that use ecommerce platforms to sell directly to end-users. The term is also used to identify companies that do not rely on wholesale distribution to reach end-users. An example of this is the UGG brand, which sells directly to consumers through its own ecommerce website. Other examples of D2C companies include Warby Parker, 1-800-Flowers, and Everlane.
Businesses can use a direct-to-consumer model to reach out to a wider audience, especially in markets that are otherwise difficult to enter. For example, some business owners choose to sell their goods directly to consumers on their own websites or even on their own real estate. It's not just about products, however. Services can be sold directly to customers via a D2C business model as well. For example, a dentist's office can sell its services directly to the patient on its website.
How D2C Business Model Works?
The D2C model is a business model that is a hybrid of traditional B2C and ecommerce. You can think of it as a traditional shop, but instead of the customer going to a shop, the shop comes to them in the form of an application or website.
A traditional business model includes a manufacturer who sells the offerings to wholesalers who then sell the offerings to retailers who eventually offer the same to the final customer at a premium price. Moreover, there may also be agents (carry and forwarding agents, super stockists, etc.) present at all these stages. This sales model involves heavy negotiations at each production and delivery stage that increase both the price and the time required by the product to reach the end consumer. Moreover, the customers never interact or engage with the brand directly. If there's feedback, it usually goes from retailers to wholesalers to the ultimate manufacturer in a chain.
D2C model, on the other hand, disrupted this sales model. With the advent of the internet, it becomes possible for brands to connect directly with their customers, take orders, pack, distribute, and ship their products directly to customers' homes.
However, this doesn't mean that the brand employs its own resources to do all the sales tasks. Usually, D2C brands partner with several packaging, delivery, and logistics handling companies that help the brands deliver their promise to the customers.
The Benefits of D2C Model
D2C (Direct to consumer) is an innovative business model that has changed the way people do business and buy products. This business model has a lot of advantages if managed carefully.
Better control of the sales funnels: Since the D2C model removes the intermediaries, it gives the offering provider more control over the sales funnel and lets them choose what suits the customer's needs better.
More control over customer relationships: D2C allows a company to have a direct relationship with its customers, which can be used to understand consumer desires and preferences. Moreover, brands can even focus more on personalised offerings if they opt for D2C model.
Better feedback: Some argue that the biggest advantage of the D2C model is that the customers get to connect and engage with the brand directly. This helps the brand get customer feedback directly and not through intermediaries like retailers, wholesalers, etc.
Increased brand profitability: D2C strategies allow companies to cut out the middleman, which can lower costs and increase margins.
Provides more opportunities: The D2C model opens up more opportunities for the offering provider to market, price, and even offer its offerings. They can go for subscription-based pricing, market free trials, offer personalised gifts, etc., and maintain better and longer relationships with the customers.
Improves business agility: The D2C business model improves business agility and increases their ability to react and change to the changing environment, trends, and requirements better.
The Challenges To D2C Model
E-commerce and consumer-driven marketing are driving the D2C boom and have placed pressure on traditional retail outlets, for example, department stores and clothing stores. Today, everyone wants to own a brand that caters directly to consumers via the internet. However, the D2C model comes with its own set of challenges. The challenges range from consumer's perception of the brand and service, lack of experience in the market, to competition from the traditional retail channels.
Competing with existing retailers: The biggest challenge a D2C brand face is that it has to compete with existing retailer giants that already have a substantial market share and use economies of scale to provide lesser-priced items.
Order fulfillment: D2C brands also need to take care of packaging, delivery, and order fulfillment themselves instead of delegating the same to wholesalers and retailers.
Brand building: Building a trustable brand and making customers feel and believe that they are buying directly from a real person is a big challenge for D2C brands as customers take time to put their trust in new brands.
Marketing and customer service: Unlike the traditional retailing model where the final touchpoint marketing is taken care of by the distribution channel personnel, the D2C model asks the brand to take full control of marketing before, during, and after the sale has taken place.
Sales Pressure: D2C model puts great pressure on the company to find prospects, convert them into leads, and into final customers themselves without relying on retailers or agents. This requires a good sales strategy, dedication, and a well-performing team.
D2C Brands Examples
Today, thousands of brands ranging from garment stores, restaurants, to even Spas operate on a D2C model. Here are some notable D2C brands that one should know of.
Famous D2C Brands In The USA
D2C model has proven to be a massive success in the United States of America. Here are some renowned D2C brands that operate in the country:
Chewy
Chewy boasts to be the most trusted and convenient online destination for pet parents to shop for pet food, toys, and accessories.
The D2C brand saw annual net sales of $2.14 billion in the first quarter of 2021 by selling over 45000 products to customers.
StitchFix
StitchFix disrupted the fashion industry with its recommendation algorithm that personalise clothing items based on the customers' size, budget, and style. The company lets the customer take a style quiz and find the perfect size and fit for them which they can buy instantly on their website.
Famous D2C Brands In India
India is the home to booming D2C startups, many of which have even reached the unicorn company level. Here are a few D2C examples:s
Lenskart
Lenskart is a D2C eyewear brand operating in India that manufactures and sells hundreds of thousands of glasses every month. The company is valued at $2.5 billion and became the first D2C brand in india to become a unicorn company.
Country Delight
India is a leading producer and consumer of dairy products but the industry was largely untapped in the D2C segment. This is where Country Delight found an opening and started delivering farm-fresh cow and buffalo milk directly to homes. The platform operated on the website and an application and made dairy products purchase process easier for the Indian customers.
Famous D2C Brands In The UK
UK has seen a huge rise of D2C brands selling a wide variety of products ranging from keychains to big house equipments. Some of the famous D2C companies operating in the UK are:
Grind
Grind is a coffee brand that sells coffee, cocktails, and all-day dining across London in its stores, website, and application. It is one of London's fastest-growing and most exciting hospitality brands.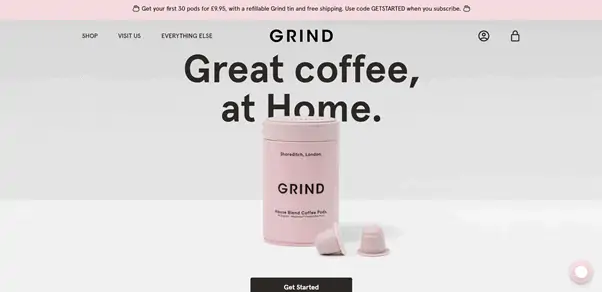 Ugly
Ugly sells sparkling water, flavored seltzers, and energy drinks in the UK. The company boasts about the natural flavours it puts in its products. Even though Ugly started off as a retail brand, the company moved towards being a D2C brand and now sells its offerings on its website.
Go On, Tell Us What You Think!
Did we miss something? Come on! Tell us what you think of this article on D2C business model in the comments section.
A startup consultant, digital marketer, traveller, and philomath. Aashish has worked with over 20 startups and successfully helped them ideate, raise money, and succeed. When not working, he can be found hiking, camping, and stargazing.