Google's parent holding company Alphabet became the most "cash-rich" company in the world (for the second time) recently in terms of market capitalization with over $117 billion in cash – outperforming its tech-rival Apple.
Google has over a billion users on at least seven of its existing products in its business model – YouTube, Chrome, Gmail, Search, Google Play and Chrome. Google serves over 75,000 queries per second, which translates to over 2 trillion searches per year.
All this has led to increasing speculations on how much is Google worth –let's find it out.
Market Capitalization & Net Worth Of Google
Google's Market Capitalization
$990.25 billion (€875 billion) [as of June 2020]
Google's market capitalization currently stands close to a trillion dollars as of December 2019 – $927 billion to be exact according to Yahoo! Finance. Google has steadily grown since its IPO in 2004 to this point and might even hit the $1 trillion mark soon enough.
Update: In January 2020, Google's parent company Alphabet became the fourth company in the world to reach a trillion dollar market capitalisation. As of June 2020, Alphabet had a market valuation of $990 billion.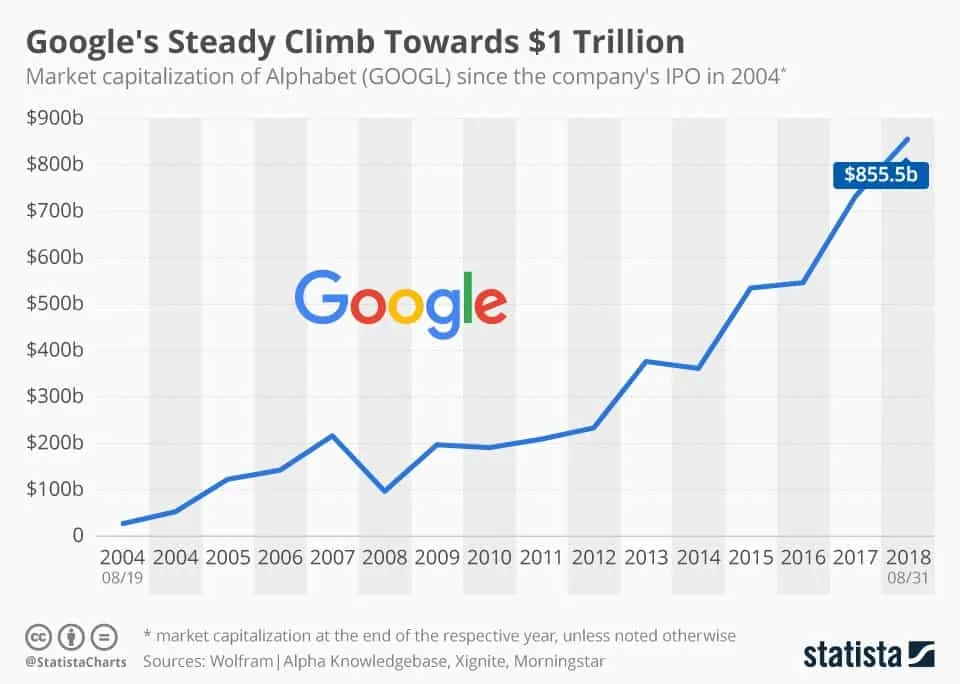 Market capitalization is important as it helps show the size of a company and provides the overall risks and investor sentiments towards a company. For Google to become the most valuable company in terms of market cap, even for a short while, it will help show the rise in value and earnings.
Google was founded in 1998 by Sergey Brin and Larry Page as a search-based tech company. They had an incredible start – being able to narrowly avoid the dot-com bubble and have great reception to their Initial Public Offering in 2004.
Google Net Worth
$279.3 billion (€251.8 billion)
Market caps change hourly and indicate the market sentiment towards the company. It does not include measurable figures such as current assets, debts and revenue. According to GOBankingRates, Google as a company is worth just under $280 billion. This was obtained by taking the revenue and profits of the company from the last three years into account.
Do note that there are different methods of business valuation and these valuations can vary as they depend on various external factors.
Google is not just a search engine – it had branched out to encompass a huge range of products such as Google Fiber, DeepMind, GV, Calico, CapitalG, X, Jigsaw, Makani, Sidewalk Labs, Verily, Waymo, Loon, and Wing, Android, YouTube, Gmail, Google Business Suite, Google Maps, Google Docs, Google Drive and so on. This was one reason why Google was renamed into Alphabet.
Google & Alphabet
Google has been steadily expanding into AI, shopping, venture capital, smart homes, self-driving cars and other things that don't fit well under the search-engine tech brand.
In order to accommodate this and separate other ventures from the search engine side, the founders of Google restructured itself as Alphabet – a holding company that owns several other companies, including Google.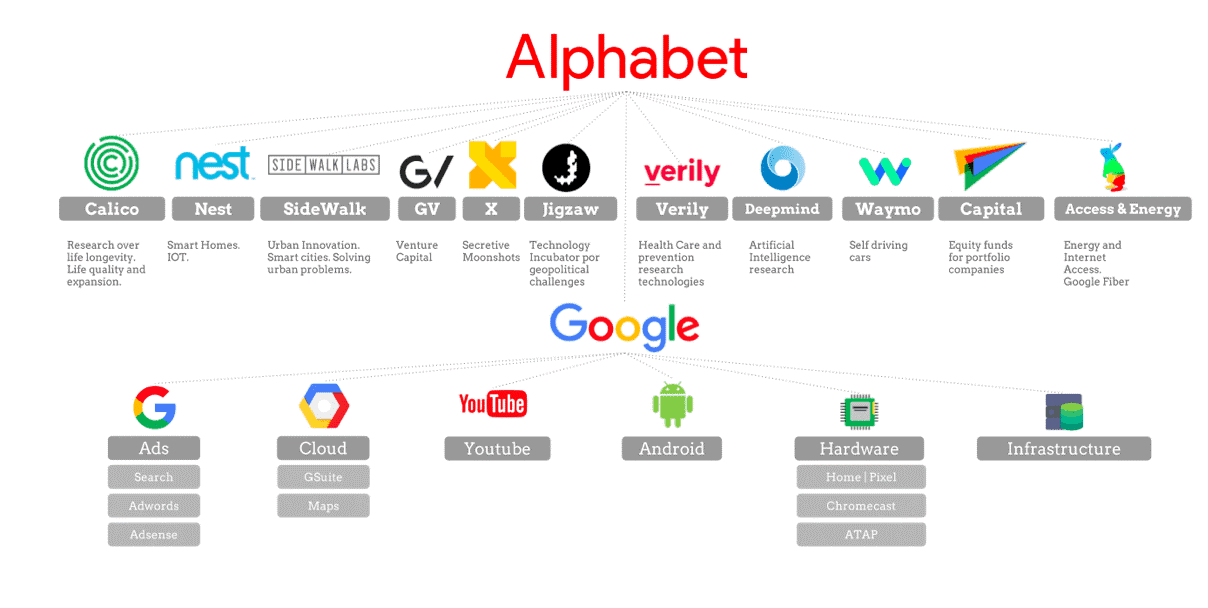 This has allowed Google to more easily and logically expand into domains outside of internet search/advertising and become a technology conglomerate. Acting as the umbrella company, Alphabet also helped shield Google from the failures of its different ventures tarnishing its image.
There was also the reason for the founders wanting to have more control over the company as possible, which is why you see two ticker symbols on NASDAQ stock exchange for Alphabet Inc.
Two Ticker Symbols: GOOG vs GOOGL
There are two ticker symbols for Alphabet Inc. on the NASDAQ stock exchange: GOOG and GOOGL. This is due to the stock split, an attempt by the co-founders of Google, Sergey Brin, Larry Page, and Eric Schmidt, to retain as much control of the company as possible.
They represent two different share classes: A (GOOGL) and C (GOOG). There are also the B shares that are still in the possession of Sergey Brin, Larry Page, Eric Schmidt and a few other directors and are not traded publicly.
Google's Founders, CEO & Recent Changes
Recently, there has been a shuffle in the internal organization of Alphabet and Google. On 3rd of December 2019, Larry Page and Sergey Brin stepped down from their roles as CEO and President of Alphabet respectively. Instead, Google's CEO, Sundar Pichai was appointed as the CEO of Alphabet, along with Google.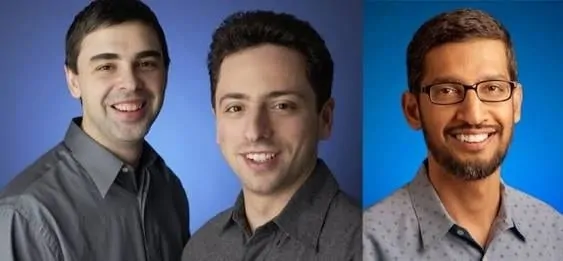 At the time of leaving, Larry Page and Sergey Brin were said to be among the world's richest tech billionaires in 2019, with a net worth of $62.7 billion and $58.9 billion respectively.
Sundar Pichai, who joined Google 15 years ago, now has a net worth of about $600 million. This is just before he was appointed as the CEO of both Alphabet and Google.
Go On, Tell Us What You Think!
Did we miss something? Come on! Tell us what you think about our article on How Much Is Google Worth in the comments section.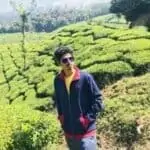 Started out to become a Developer but felt at home expressing myself via writing. The journey started from a single novel. Been a writer since schooling days. Interested in coding, reading and movies.