Your strategy for making your startup work for you will decide its competitiveness in the market. You would want to gain a sustainable advantage over your competitors and that starts with the right business model.
Now that you know what a business model is and the various types of business models, it's time to learn what key elements constitute a business model and how to develop a perfectly sustainable business model for your company.
A great business model focuses on creating and delivering great value to the customers while simultaneously delivering great margins. A great business model should also look to avoid customer dissatisfaction or dissonance and funding problems. It should also incorporate plans and methods to achieve and maintain market leadership.
Developing the right business model requires similar efforts as developing the right product. Here's how you can have an ideal business model:
Size your product's value in the market
You should match your prices with those of the competitor products. If your product is priced too high, the sales will dip and if too low, the margins will not be high enough for long-term sustainability.
Acquire high-value customers
High-value customers are those customers from whom you gain maximum value while keeping your costs as low as possible. They help you achieve your business targets. You can reach these customers with minimal marketing expenses.
Ensure sufficiently high margins
Keeping manufacturing costs low by either outsourcing the manufacturing or having an improved process helps in keeping higher margins. Your product can have features that provide enhanced value to the customer and thus allow you to charge a premium for it. You can even opt for a low-touch model to reduce manpower costs. There are various ways to make sure that the margins are high enough to sustain the business in the long run.
See if your product is the best solution available
The prototype phase already takes care of how most of the stakeholders feel about your product. You have to see that the pain point you are trying to address is solved by your solution and it is the best at what it does. A lacklustre product cannot be saved even by the best business model.
Ensure customer satisfaction
Acquiring a new customer is far more expensive than keeping an existing customer satisfied. A satisfied customer is also a promoter of the brand. Quality after-sales customer service is one of the ways to ensure customer satisfaction but the associated costs are high and do not bring in any revenue for the company. These costs cannot be avoided but should ideally be either restricted or transferred to a third party.
Decide on the channel and distribution strategy
A great product will not be great if the distribution or marketing is poor. Test all the elements of your channel strategy in detail. An efficient distribution channel keeps margins high.
Maintain market position
A good business model will include plans to make the business sustainable and improve its market position. So it will have to take into account all the growth opportunities and external threats, and incorporate a long-term product roadmap. You do not want to rely on just a few customers for most of your product. You also would not want almost the entire distribution to be controlled by your competition or your competitors to be better funded than you. Technology is rapidly evolving making new product development risky but you would not want to be left behind too. You have to consider all such factors and decide how you plan to maintain and then continuously improve your
Formulate funding strategy
Your long-term sustainability depends on funding your business. By funding, we are not referring to only funding by investors. Your company can be bootstrapped yet it will require a constant flow of funds to sustain itself. Personnel costs, operating capital and various other overheads are required to be borne by any business, not just a start-up. Start-ups require even more funding as most of them have to spend significantly more on customer acquisition and retention than established businesses. You would want your revenues to take care of all of these. Ideally, your initial funding rounds should allow you to multiply your sales manifold so that external funding is no longer required.
Execute a pilot rollout
A pilot limited rollout is a great opportunity for you to test everything associated with your product, from costs to quality to pricing. It is a low-risk, high-speed way for fine-tuning pricing and channel strategy before the final launch.
Alexander Osterwalder, the founder of Strategyzer, has developed perhaps the most comprehensive template for business models, called the Business Model Canvas. After you are done with the above steps, you would be in a position to fill the Business Model Canvas and decide on the entry or growth strategy. Let us dive into its details.
Business Model Canvas
Giants like P&G, GE, Nestlé etc. use the Business Model Canvas to discuss their existing and new businesses in a structured and tangible manner. While new companies use it to search for the right business model, established businesses use it to manage their strategy and create new growth avenues.
The Business Model Canvas has 9 elements:
Customer Segments
For whom are you creating value? What products and services are you offering to each customer segment?
Value Propositions
What value are you going to deliver to the customer? Which customer pain-points are you addressing?
Channels
Which channels are to be focused on to reach the desired customer segments? How are those channels integrated? Which ones are the most cost-effective?
Customer Relationships
What type of relationship do you maintain with each customer segment? What are the expectations of your customers? How to establish them? What would be the associated costs?
Revenue Streams
What are the customers willing to pay and for what value? How would they prefer to pay? How are they currently paying? How does each stream add up to the total revenue?
Key Resources
What key resources do your value propositions require? Your distribution channels? Customer relationships? Revenue streams?
Key Activities
What key activities do your value propositions require? Your distribution channels? Customer relationships? Revenue streams?
Key Partners
Who are your key partners? Your key suppliers? Which key resources are you acquiring from them? Which key activities do your partners perform?
Cost Structure
What are the most important cost drivers in your business model? Which key resources and activities are most expensive?
This is how the Business Model Canvas looks. It is your entire business model on a single sheet of paper.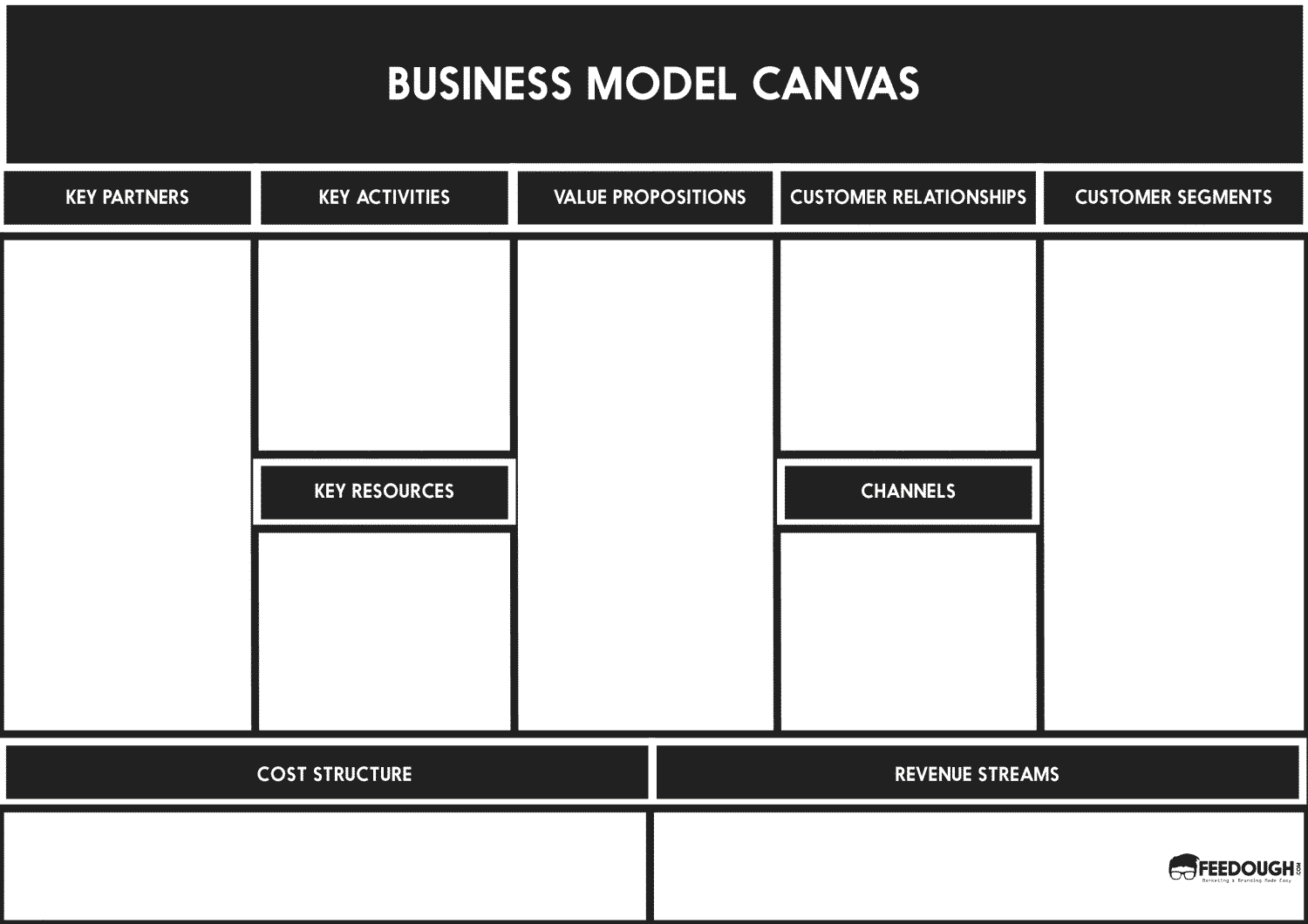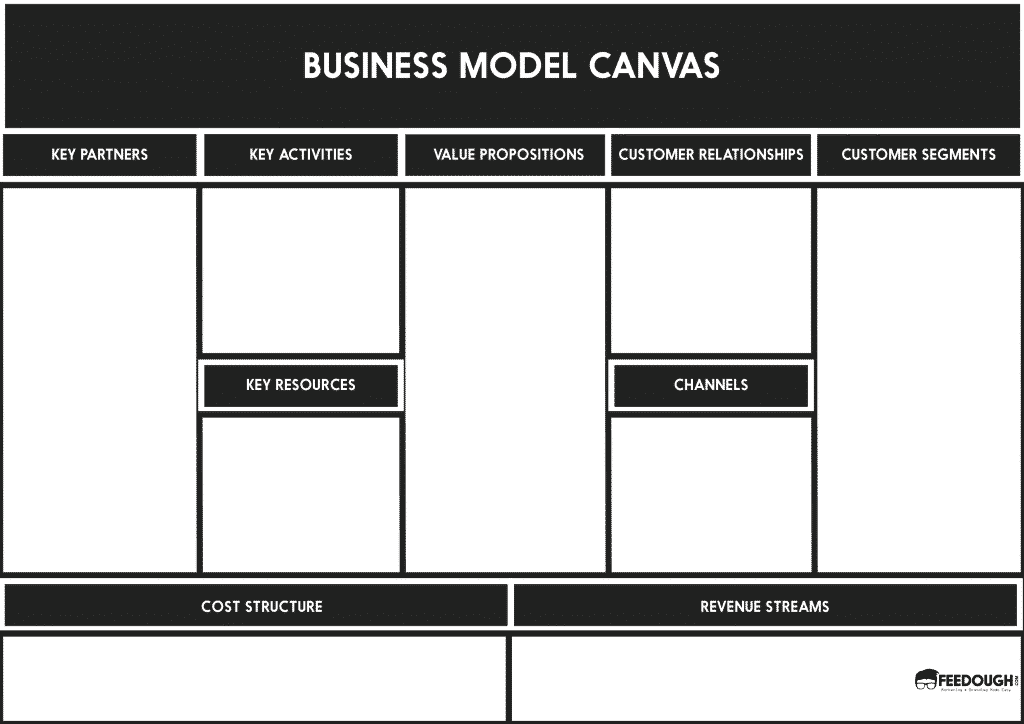 Now, you have all the tools necessary for developing a winning business model. Your business model is as important as your product, if not more. While you might think that your product is the best there is and is sure to be a grand success, the ground reality might be different. Developing and visually mapping your business model lets you compare yourself with the market competition and identify underlying trends. A business model is an encapsulation of everything your business stands for and hence it needs utmost care and attention from your side to devise one.
The Startup Process
We know how important your dream business is to you. Therefore, we've come up with an all in one guide: The Startup Process to help you turn your vision into reality.
Product Guy. Introverted Marketer. Engineer by education. Movie and TV Geek by nature. Can be seen reading comics and non-fiction books when not binging on movies and Netflix shows. Pop-culture junkie. Out and out foodie. Wee bit self-obsessed."