Alexander Osterwalder, the founder of Strategyzer.com, in 2008, introduced perhaps the most comprehensive template for business models, called the Business Model Canvas (BMC).
What Is Business Model Canvas?
The Business Model Canvas is a strategic tool for developing new business models or documenting and improving existing ones. Giants like P&G, GE, Nestlé etc. use the Business Model Canvas to discuss their existing and new businesses in a structured and tangible manner. It helps a company align its activities by understanding the potential trade-offs. BMC is a great tool that offers focus, flexibility, and transparency. You no longer require tens of pages of a traditional business plan to understand the intricacies of the business. BMC in a single page explains the core elements that drive the business and leaves out all the unnecessary stuff. The BMC is easier to tweak and far more lucid and coherent. Let us dive into its details.
Osterwalder's Business Model Canvas Template
The right side of the Business Model Canvas is focused on the customer, while the left side on the business. The right and left side come together with Value Propositions in the centre to signify the exchange of value between your business and the customers.
This is how the Business Model Canvas looks. It is your entire business model on a single sheet of paper.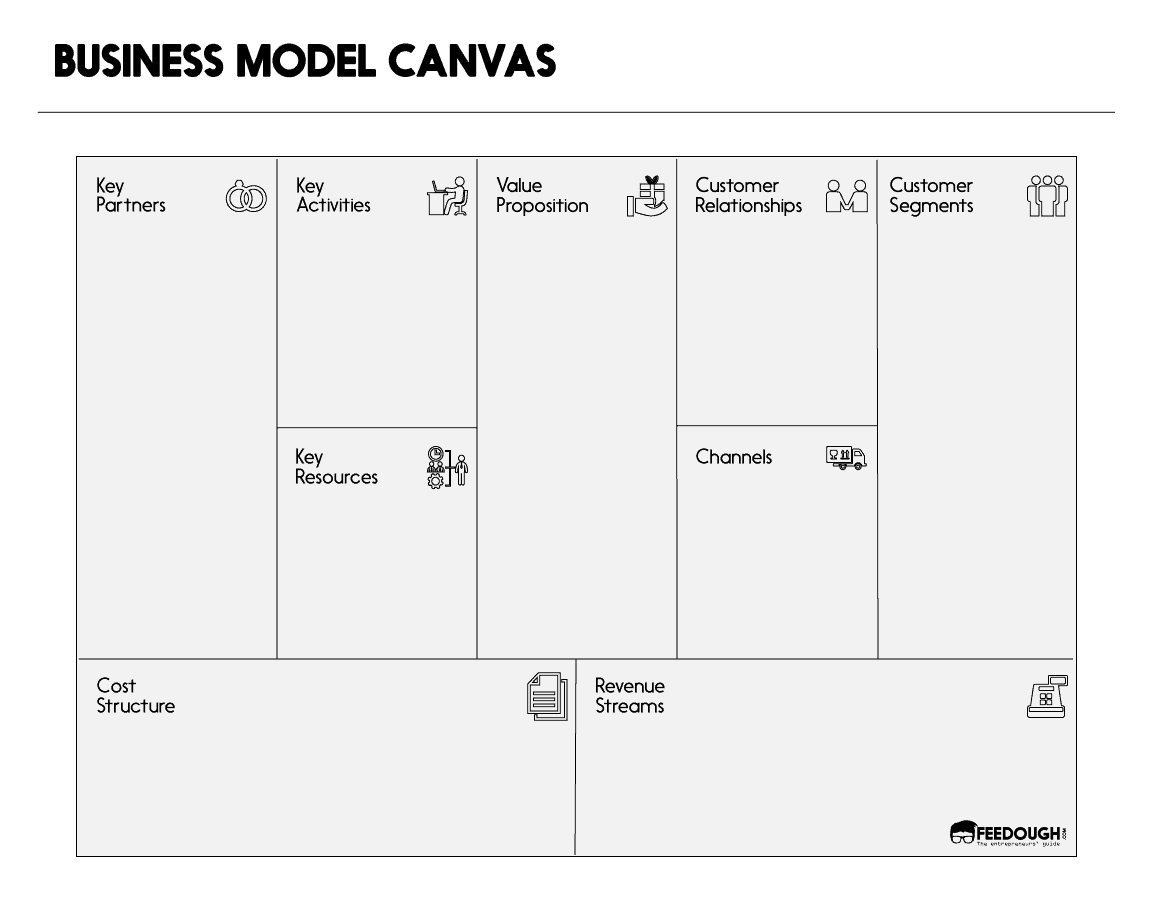 (To download this business model canvas template right click on the above image and select 'save image as' or you can click here to get a printable PDF version of the same.)
Components of Business Model Canvas
Customer Segments
For whom are you creating value? What products and services are you offering to each customer segment?
The output should be a list of personas according to the customer segment. You should be thorough with what these personas think and feel about your product.
Value Propositions
What value are you going to deliver to the customer? Which customer pain-points are you addressing?
The value propositions can either be quantitative (price, efficiency) or qualitative (customer experience). The output should be a list of value propositions arranged by priority, which are then linked to the applicable personas.
Channels
Which channels are to be focused on to reach the desired customer segments? How are those channels integrated? Which ones are the most cost-effective?
A company can reach its clients either through its own channels or partner channels. The output should be a list of all channels that are then linked to the corresponding segments or personas. Make sure your channels provide you with enough visibility into each user persona.
Customer Relationships
What type of relationship do you maintain with each customer segment? What are the expectations of your customers? How to establish them? What would be the associated costs?
You can decide what relationship you want to have with your customers. As a company, you can opt for dedicated personal assistance, self-service, automated services, co-creation etc.
Revenue Streams
What are the customers willing to pay and for what value? How would they prefer to pay? How are they currently paying? How does each stream add up to the total revenue?
There are various ways to generate a revenue stream for your company such as asset sale, subscription fees, leasing, licensing, advertising etc. These revenue streams should be linked to the personas or segments and the value propositions.
Key Activities
How do you deliver value to you key customers? What are the offerings you provide? What's the value delivery process?
These include your product distribution, research and development, strategy etc.
Key Resources
What key resources do your value propositions require? Your distribution channels? Customer relationships? Revenue streams?
These can be things like your office, hosting requirements, human resources, transportation, electricity etc. These resources should be mapped to the key activities.
Key Partners
Who are your key partners? Your key suppliers? Which key resources are you acquiring from them? Which key activities do your partners perform?
Key partners are the external companies or suppliers that you would need to perform your key activities and deliver value to the customers. Buyer-seller relationships are necessary to optimise operations and reduce the risks associated with a business. You can form business alliances with your partners through joint ventures and strategic alliances as well. Just like the key resources, these key partners should be mapped to the key activities too.
Cost Structure
What are the most important cost drivers in your business model? Which key resources and activities are most expensive?
Your business can be either cost-driven or value-driven. A cost-driven company looks to minimise all costs while a value-driven company is more focused on delivering great customer value in terms of quality or prestige.
Business Model Canvas Examples
We shall present some examples of Osterwalder's Business Model Canvas in the following section.
Google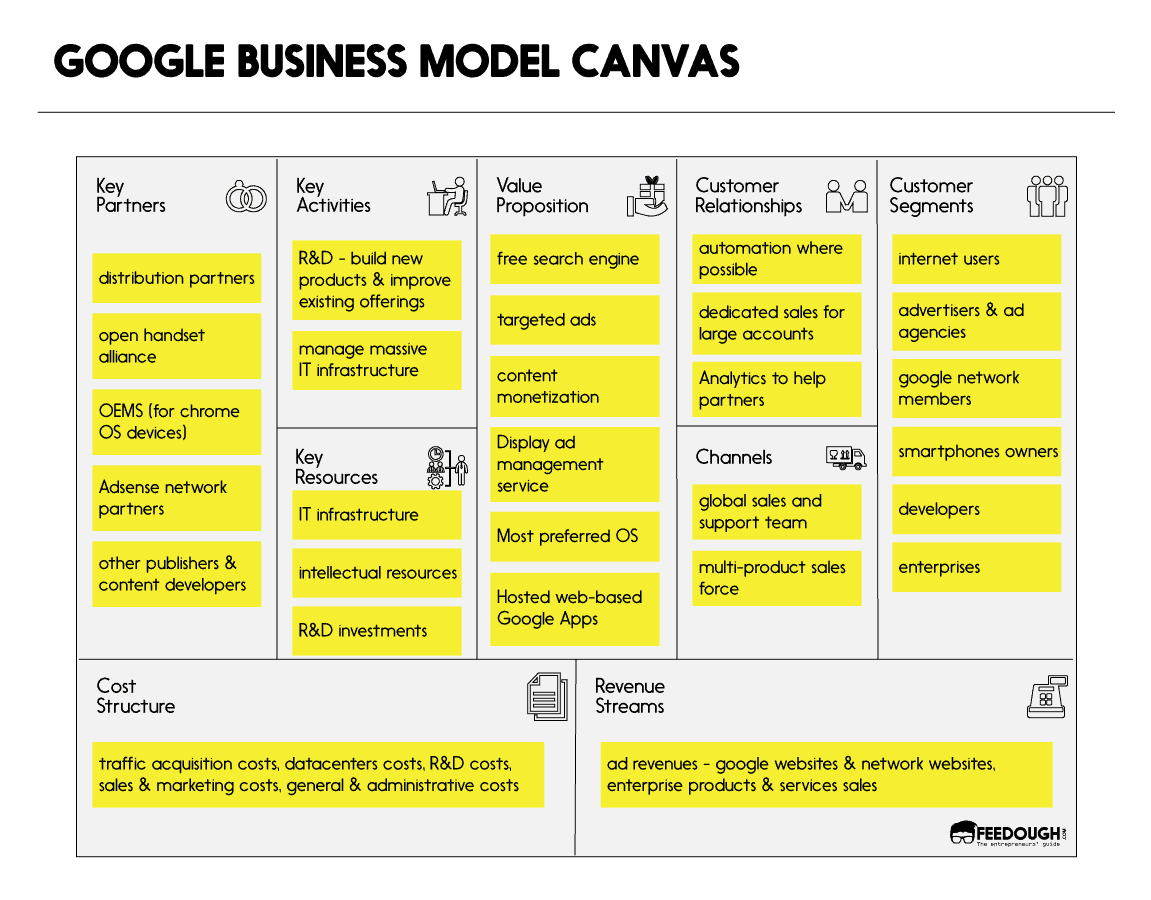 Linkedin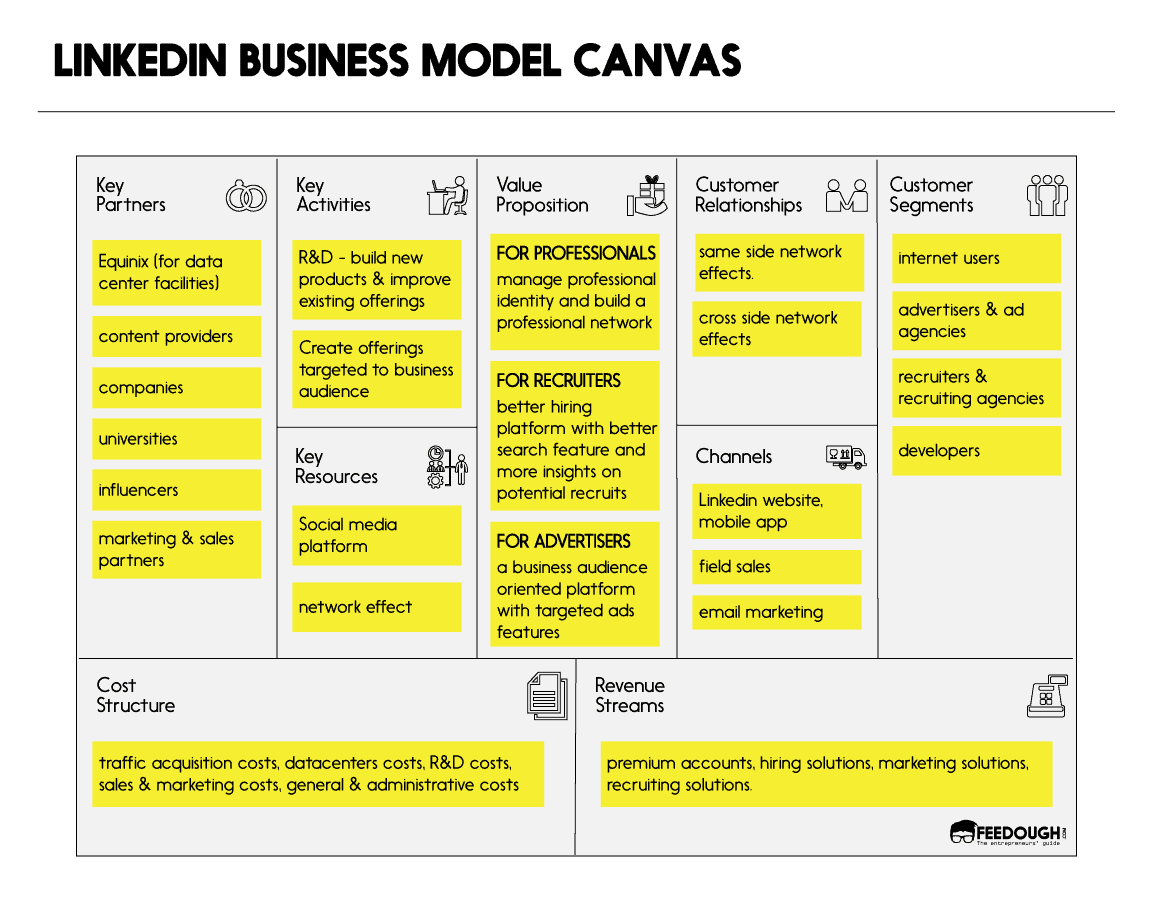 Facebook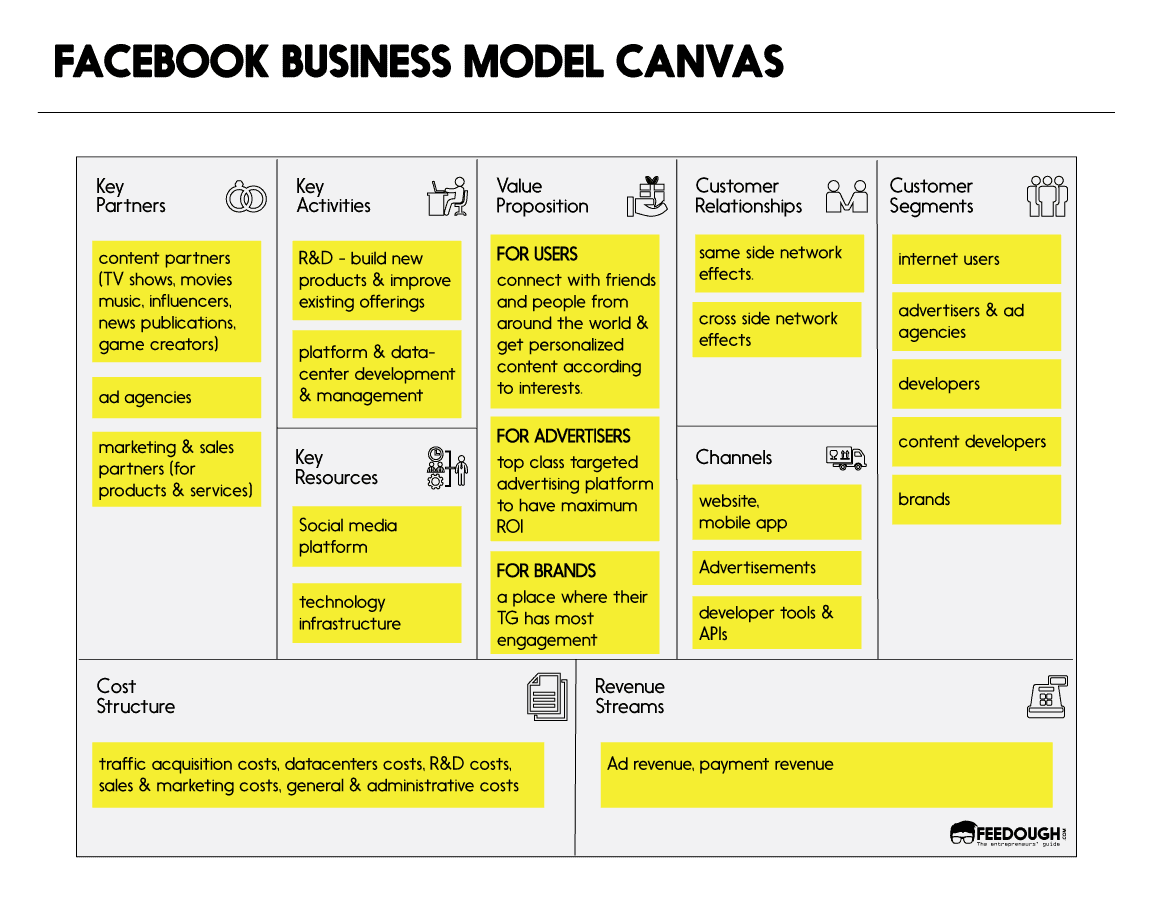 Banks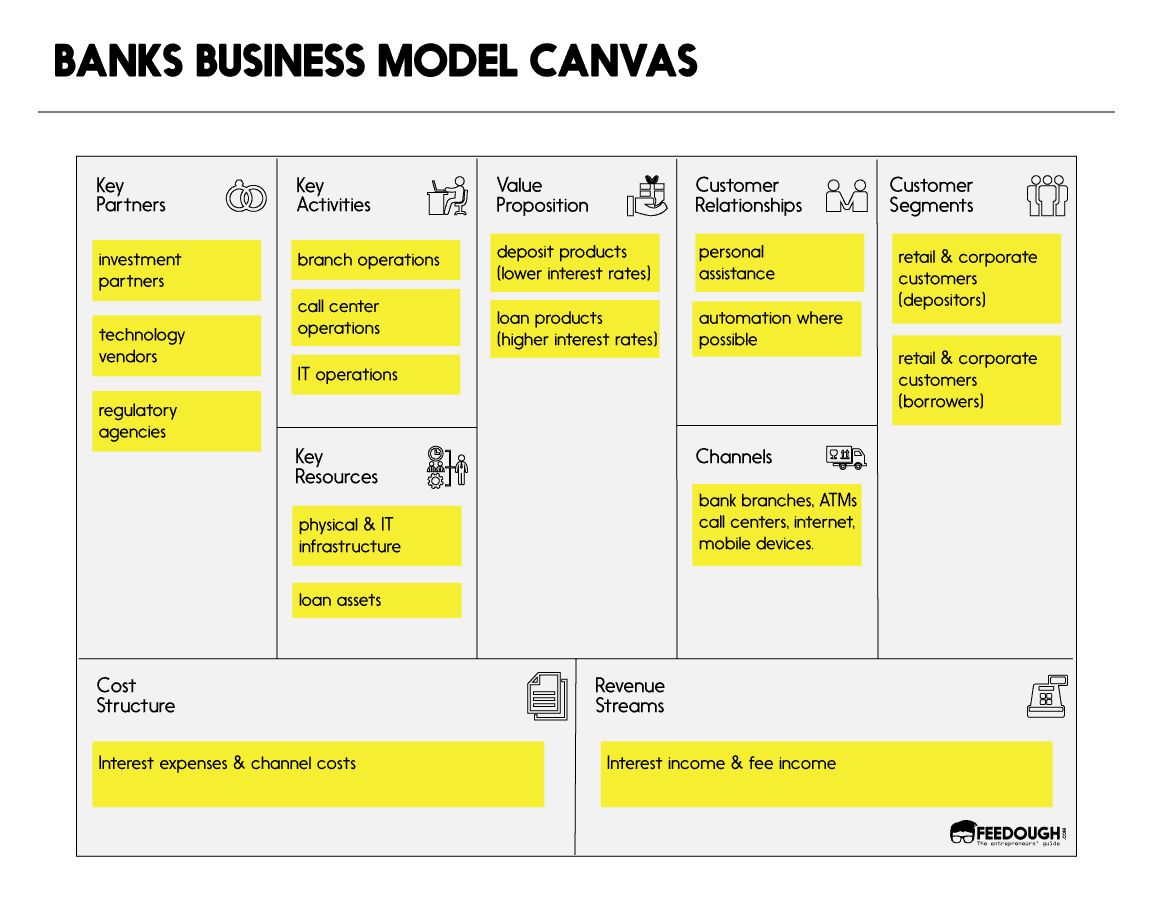 You should see how your canvas helps you make your business or product better. Putting the Business Model Canvas on a huge board and asking your whole team to collaborate on it is a great way to make sure that everyone important understands and agrees to what you have in mind. A collaborative approach also brings up new ideas. The focus should not be to limit yourself to the current business model but continuously improve it too. The canvas is a great tool to figure out your business but you would also want to understand the external environment i.e. all the threats and opportunities and how to maintain a competitive advantage in the long run.
The Startup Process
We know how important your dream business is to you. Therefore, we've come up with an all in one guide: The Startup Process to help you turn your vision into reality.
Product Guy. Introverted Marketer. Engineer by education. Movie and TV Geek by nature. Can be seen reading comics and non-fiction books when not binging on movies and Netflix shows. Pop-culture junkie. Out and out foodie. Wee bit self-obsessed."