In a world saturated with podcasts, finding the time to listen to every episode can be overwhelming. That's where Scribbler.so comes in, an ingenious startup that understands the struggles of podcast enthusiasts.
Powered by artificial intelligence, Scribbler.so delivers key insights from any podcast directly to you. With a library of thousands of top podcasts, you can get a summary on demand, perfect for those on the go or anyone seeking a quick download of their favourite episodes.
This startup is not just another AI tool but a team of podcast enthusiasts with a mission to enhance how we consume information on the web. With a recent launch of their web app and over 300 users signed up in the first week, Scribbler.so is already making waves in the industry.
What Is Scribbler.so?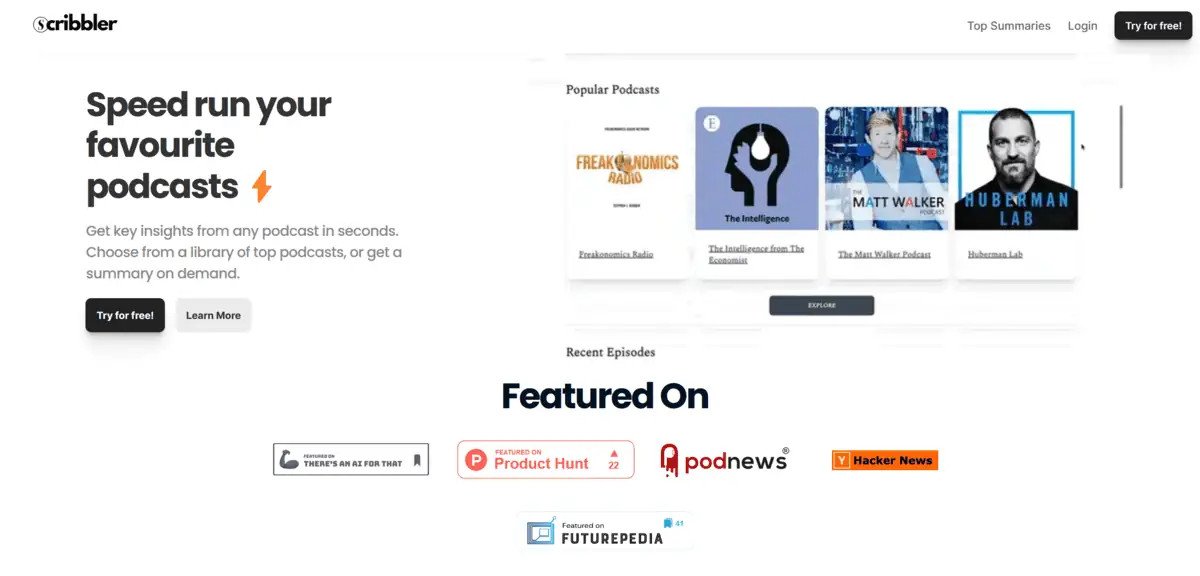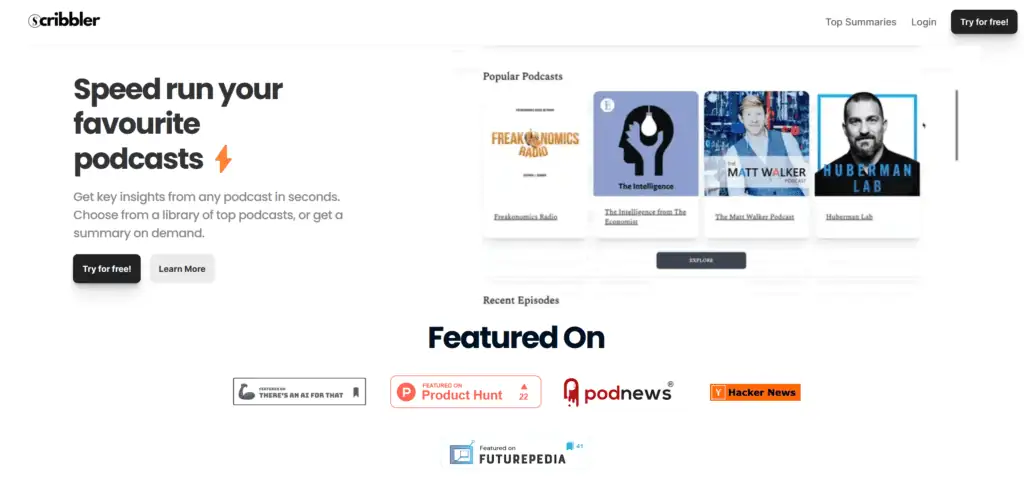 Scribbler.so is a game-changer for podcast enthusiasts. Aimed at servicing a unique niche of podcast listeners, it takes away the wastage of time often incurred when committing oneself to listen to an entire episode. Its primary aim is to provide succinct summaries of your favourite podcasts, focusing on key points and insights to save time and provide on-the-go knowledge.
The developers have successfully employed artificial Intelligence to create an AI-powered summary that provides key insights and breaks the podcast into decipherable sections. If something catches your attention during the summary, you can skip straight to the highlighted timestamp for a more in-depth understanding.
Distinctively crafted by podcast enthusiasts for podcast enthusiasts, Scribbler.so stands out for its commitment to value generation rather than being another entry into the AI race. This allows users to transform their web-based information consumption efficiently and effectively. The focus is solely on providing a tool that genuinely improves people's daily lives. Now, imagine catching up on your favourite podcast's latest episodes in mere minutes. Efficiency served your way; that's Scribbler.so.
Scribbler.so Founders
Scribbler.so was born out of the shared vision of three co-founders headed by Jervis Koo. Each of the founders brings unique skills, a blend of technical expertise and marketing acumen, which adds to the firm's competitive edge.
Struck by the common problem of spending countless hours sifting through podcasts for valuable information, the trio decided to take the leap and venture into the thrilling world of AI and podcasting.
The technical hurdles they faced during the early days were effectively combated by roping in a marketing expert, paving the way for the AI-driven podcast summariser to cut through the noise in the market.
Despite being in an AI-dense field, their commitment stemmed from their desire to create value and create a devouring change in how podcasts are consumed, thus leading to the creation of Scribbler.so.
Interview with Jervis, Co-founder of Scribbler.so
In our interview with Jervis, Scribbler's co-founder, we discussed how this innovative startup aims to simplify the podcast experience and revolutionise how users consume information online.
Can you tell us a bit about yourself and your role at Scribbler.so?
I am Jervis, one of the co-founders of Scribbler.so. As a team, we are all podcast enthusiasts and understand the struggle of finding valuable insights within long episodes. My role is to oversee the operations and ensure we deliver a top-notch product to our users.
What does Scribbler.so do?
Scribbler.so leverages artificial intelligence to provide critical insights from any podcast directly to the users. We have a vast library of top podcasts to choose from, and users can get a summary on demand. Our target audience is podcast listeners who want to save time by quickly understanding the main points of an episode before committing to listening to the entire thing.
What inspired you to venture into this particular industry?
A: Spending hours listening to podcast episodes only to find a few valuable insights can be frustrating. That's why we created Scribbler.so. We wanted to create a tool that condenses podcast episodes into bite-sized summaries for busy individuals who still want to stay informed.
A: In the early days, one of our key challenges was getting our product to market and standing out amidst the noise of other AI tools. However, having technical co-founders and bringing a marketing expert on board helped us tremendously.
How does Scribbler.so differentiate itself from competitors in the market?
A: As podcast enthusiasts ourselves, we are driven by a genuine desire to add value to people's lives rather than simply following the AI bandwagon. We believe in leveraging AI to enhance how we consume information, and our focus is solely on creating a product that genuinely improves our users' daily lives.
Has Scribbler.so received any external funding?
No, we haven't received any external funding at this stage.
What are your plans for the future of Scribbler.so?
A: Our plans involve expanding beyond podcast summaries and creating a tool that can summarise all types of web content, including videos, audio, news, and more. We also aim to incorporate interactive features like Q&A to allow users to engage and interact with the content.
Do you have any advice for aspiring entrepreneurs?
My advice to aspiring entrepreneurs is to pursue a problem that resonates with you personally. Passion and genuine belief in your product will drive you through the challenges and bring out the best in you.
We started with building a Telegram bot and gained initial traction. The recent launch of our web app has been promising, with over 300 sign-ups in the first week and ten paid users. It may not be glamorous, but we are incredibly proud of our progress so far.
Do you have any industry or startup statistics that our readers might find interesting?
While we don't have specific industry statistics at the moment, our early traction indicates a growing demand for tools that simplify podcast consumption and provide quick access to valuable insights.
As Scribbler.so continues to grow and innovate, it aims to transform how users consume podcasts by delivering efficient and effective summaries. With their focus on adding value to people's lives and their plans for expanding to summarise various forms of web content, Scribbler.so proves to be a startup worth watching in the ever-evolving world of AI-powered tools.
Feedough's Take on Scribbler.so
Scribbler.so showcases promising disruptive potential in the burgeoning podcasting industry. Its value proposition is clear – maximum insights with minimum use of time, a proposition that resonates well in our fast-paced, information-driven era. Its early metrics indicate a strong product-market fit and a robust user engagement underpinned by AI. However, it faces a scalability challenge, specifically its plan to expand into summarising all forms of web content. Success there will significantly increase its market size and appeal. Scribbler.so's intention to introduce interactive features foreshadows a truly interactive media experience and, perhaps, sparks a new wave of media consumption. Overall, Scribbler.so seems poised for impressive growth and a bright future.
A startup consultant, digital marketer, traveller, and philomath. Aashish has worked with over 20 startups and successfully helped them ideate, raise money, and succeed. When not working, he can be found hiking, camping, and stargazing.