You had an idea. You developed a product based on that idea. You succeeded in getting investment based on your pitch and now you own a company with some talented employees.
The problem – the startup isn't taking off well. Your hypothesis isn't turning into reality and investors have started to doubt your competence.
The actual problem – probably your product isn't a good market fit or you've selected the wrong market for your product.
Fret not, even Java couldn't find the right product-market fit the first time. The language was originally designed for interactive television but was too advanced for the digital cable television industry at that time.
Here's a comprehensive guide to help you understand what exactly does product-market fit mean, why is it so important, and how can you find one.
What Is Product-Market Fit?
Product-market fit refers to having a product which is desired by the market and has the capability to satisfy its need.
This definition of product-market fit can be divided into two parts –
A product that is desired by the market (Desirability) – There should be a problem in the first place. A solution without a problem isn't needed in the market. You can either find what's not working (like what Uber did) or make them believe how the things should work (like what Coca-Cola and other soft drinks company did to sell mineral water).
A product that has the capability to satisfy the market (Feasibility) – The product should have an inherent capability to satisfy a need. It should stand out in its own unique way. The market should remember the product whenever they face the stated problem.
How Do You Know If Your Product Is Fit For The Market?
The 40% Rule
The 40% rule is among the top most factors in determining whether your offering is fit for the market. It involves taking feedback from the existing customers on how would they feel if they no longer have access to the offering. If at least 40% of them indicate that they will be "very disappointed", your product is a good fit for the market.
Repeat Purchases
If your product is fit for the market, customers will show that they understand its value by repeating the purchases. If you experience an increasing percentage of repeat purchases every month, your product might be a good market fit. However, if the repeat purchase graph of your offering remains stagnant or falls every month, you need to reconsider your product and positioning strategy.
Word Of Mouth
A good product-market fit leads to word of mouth which brings in more customers. If you witness organic word of mouth marketing, good reviews, coverage on publications and social media; probably your product is a good fit in the market.
Growth
A company with the perfect product-market fit scales up faster than other companies with not so good product-market fit. If your company is having an average annualized growth of at least 20% in the past 3 years, you're good to go.
Sales Cycle
A sales cycle encompasses all activities associated with closing a sale. If your product is a good market fit, you don't have to put much effort into selling it which results in deals closing quickly and a smaller sales cycle.
Product-Market Fit Process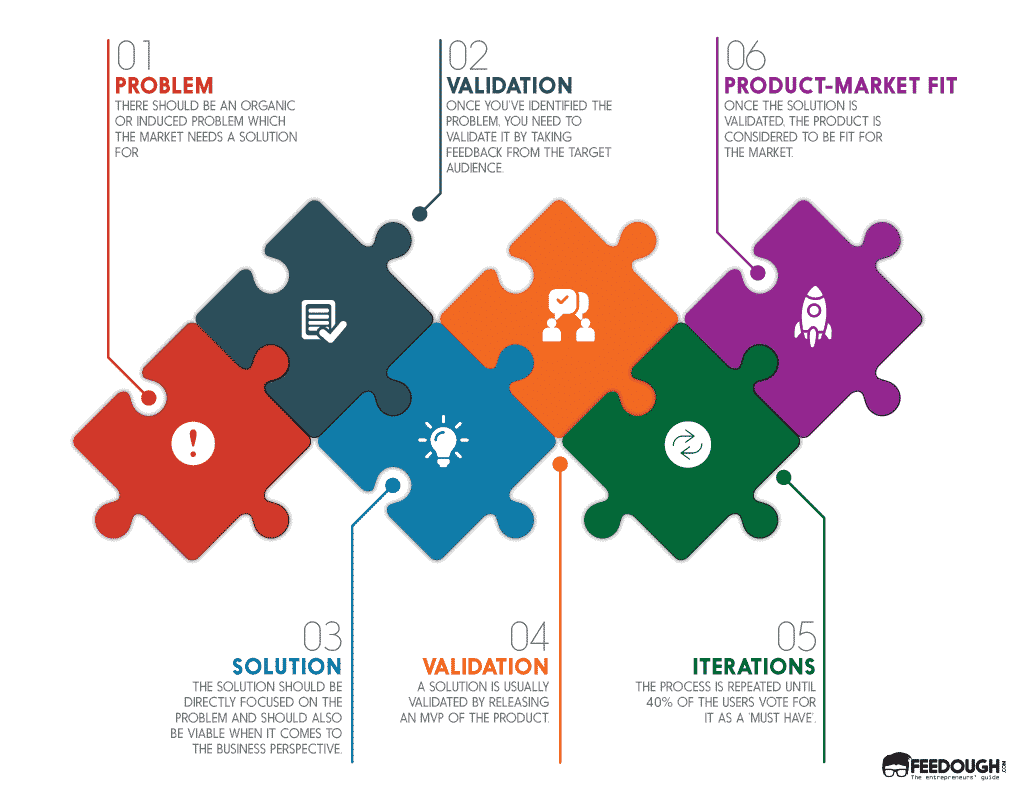 There are times when your first idea could lead you to the Product/Market Fit. Other times, you might require some U-turns, iterations, alterations, and outside perspective to get to the same. Nevertheless, once you get the big picture, there's no looking back. Here's the product/market fit process to help you reach your goals.
Problem
The product/market fit process starts with the identification of the problem. There should be an organic or induced problem which the market needs a solution for. You need to look at the big picture here and combine the desirability with the viability. You need a problem on which you can capitalize on for a long time.
Problem Validation
Once you've identified the problem, you need to validate it. Sometimes, what we think is a problem is not actually a problem after all. This stage of the product-market fit process involves taking feedback from the actual target audience to validate the problem hypothesis.
Solution
Once the problem is validated, you build a solution to capitalize on it. The solution should be directly focused on the problem and should also be viable when it comes to the business perspective.
Solution Validation
A solution is usually validated by releasing an MVP of the product. It is the first saleable version of your product designed with minimum yet sufficient features to validate the assumptions of usability and demand based on which the final product will be developed.
Alterations & Iterations
The solution is considered valid when at least 40% of the users vote for it as a 'must have'. The process involves alterations and iterations until the time this percentage is met.
Product-Market Fit
Once the solution is validated, the product is considered fit to be launched in the market. A business model is built around the problem and solution and the product is branded and positioned keeping in mind the customer persona, competition, and the predicted demand.
Go On, Tell Us What You Think!
Did we miss something? Come on! Tell us what you think about our article on product/market fit in the comments section.
A startup consultant, dreamer, traveller, and philomath. Aashish has worked with over 50 startups and successfully helped them ideate, raise money, and succeed. When not working, he can be found hiking, camping, and stargazing.