In earlier times, brands would shoot their communication messages out to the world and hope that if enough people who fall under their target group hear the message, they will respond. For many companies, this 'spray and pray' approach worked brilliantly back then.
But now, with immense growth in technology and competition, customers have become more aware, they know what they want, how to get it and they will buy from the brand that best suits their needs. Amongst the clutter, there are high chances your brand may get ignored. Hence, aimless communication will not work efficiently anymore.
Before forming a business or marketing plan, you need to know and understand to whom you are designing the plan for. You have to be cognizant of who your customer is, what do they do, where do they do it, what are their exact needs, what is their personality like, etc.
What Is Customer Profiling?
Customer profiling is the process of identifying and describing integrated profiles of your ideal customers, segmented based on different variables, namely demographic, geographic, psychographic, behavioural, RFM (Recency, Frequency, Monetary), as well as other personalised dimensions that help you to address the right kind of audience for selling your product/service.
Customer profiles, also referred to as buyer personas, are specific customer types created from an understanding of your company's general target audience and they represent the typical users of your product/service.
Elements Of A Customer Profile
Before compiling your customer avatar, let's look at the essential information you need to include in the customer profile.
Demographics: First begin with describing the name, age, gender, race/ethnicity of your customer.
Socio-economics: This includes your customer's highest level of education, their current occupation, income range per month and household structure. The household description should consist of the family makeup, whether they are single, married, have kids, single with kids or living with a partner, etc.
Geographic: The geographic location should encompass your customer's hometown, their current residential location and what characterizes the neighbourhood, town or area they live in.
Psychographic: Once the demographics are clear, identify the psychographics, that is your customer's behaviours and beliefs, including their personality, hobbies, interests, lifestyle, values. This can also include their worries, fears, hopes and dreams, which will assist you in understanding how your business can help with that.
Behavioural: Define what influences your customer's buying decisions, in terms of their product choice, price factor or promotions; whether the influence is external or internal; what motivates them to make the purchase and why.
RFM:

Recency- How recently has your customer made a purchase
Frequency- How often has your customer made the purchase
Monetary Value- How much money does your customer spend on the purchase
(Note: Every customer profile does not necessarily have all of the above information. You may use what is required depending on your company type or marketing objectives.)
Customer Profiling Examples
Your customer profile can either be one cumulated sketch of the user persona that represents the ideal consumer of your brand or it can be a customised profile based on the kind of business you're running.
Several profiles can be made if you are a company that has various products and services to offer or if there is more than one problem that you can solve. It depends on the type of your company. An ideal customer profile is made for customised products/services or for just defining a model representative customer that best fits in your target audience.
Here are some customer profiling examples to help you create your own.
Customer Profile for a home/kitchen appliances company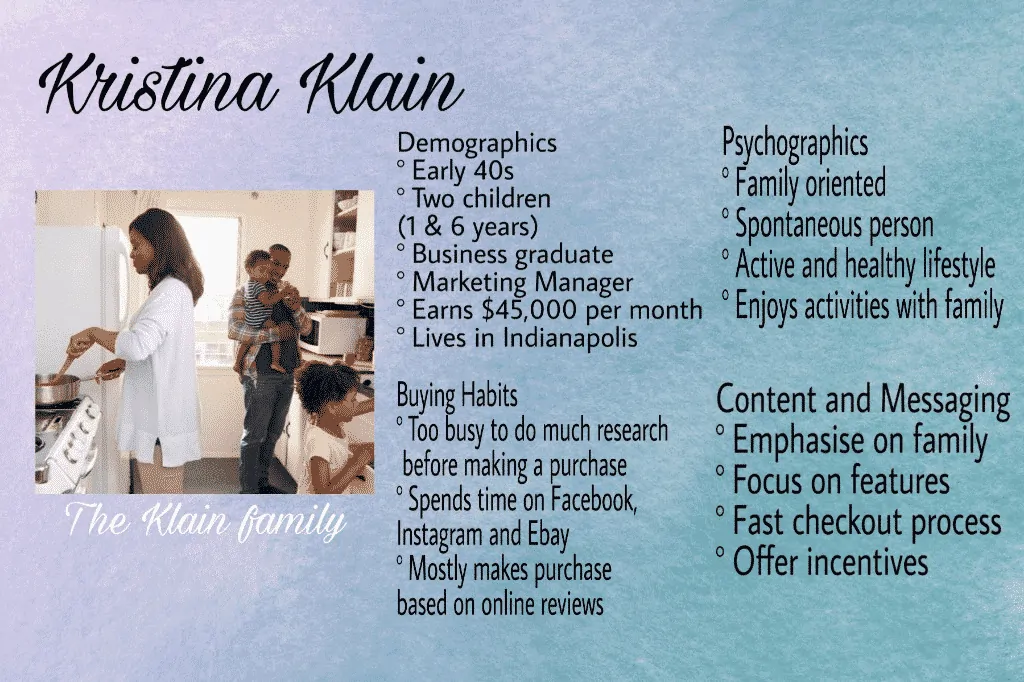 In this buyer persona example, you can get a good idea of who Kristina is by learning about her background, buying habits and her priorities. Accordingly, you can draft your communication message that will reach her more efficiently.
Customer Profile for Salon/Hair products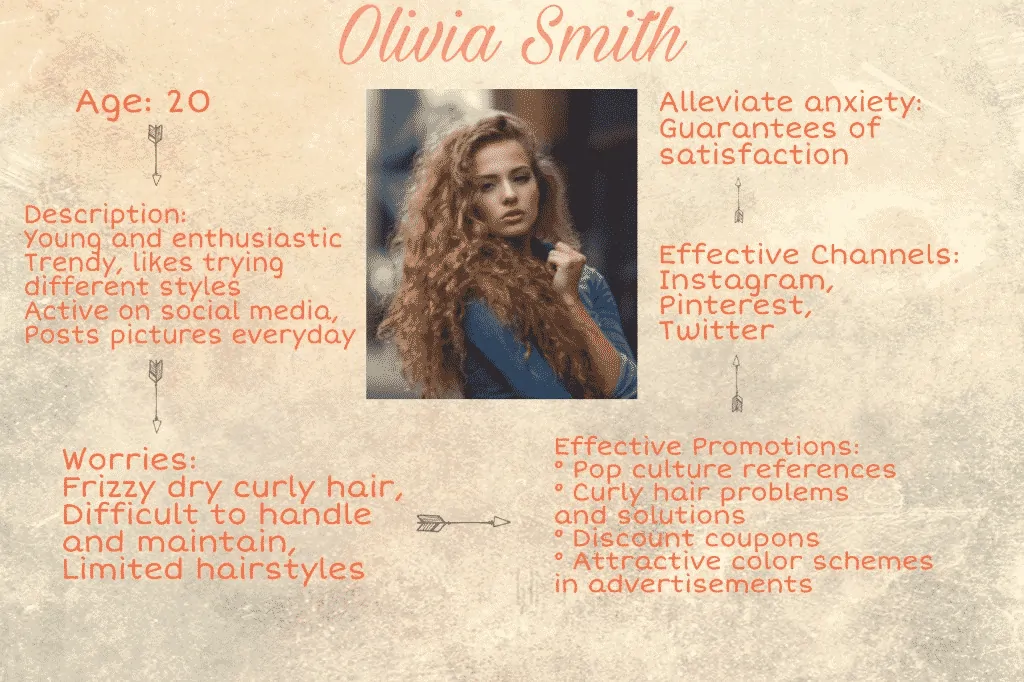 Your persona can be short and sweet as long as it includes the essential information. This example has the basic description of the kind of person Olivia is, what her pain points are, hence how you can promote your service effectively and through what channels will your message get through the right way, thus solving her problem.
Customer Profile for a Coffee shop/ Restaurant/ Cafe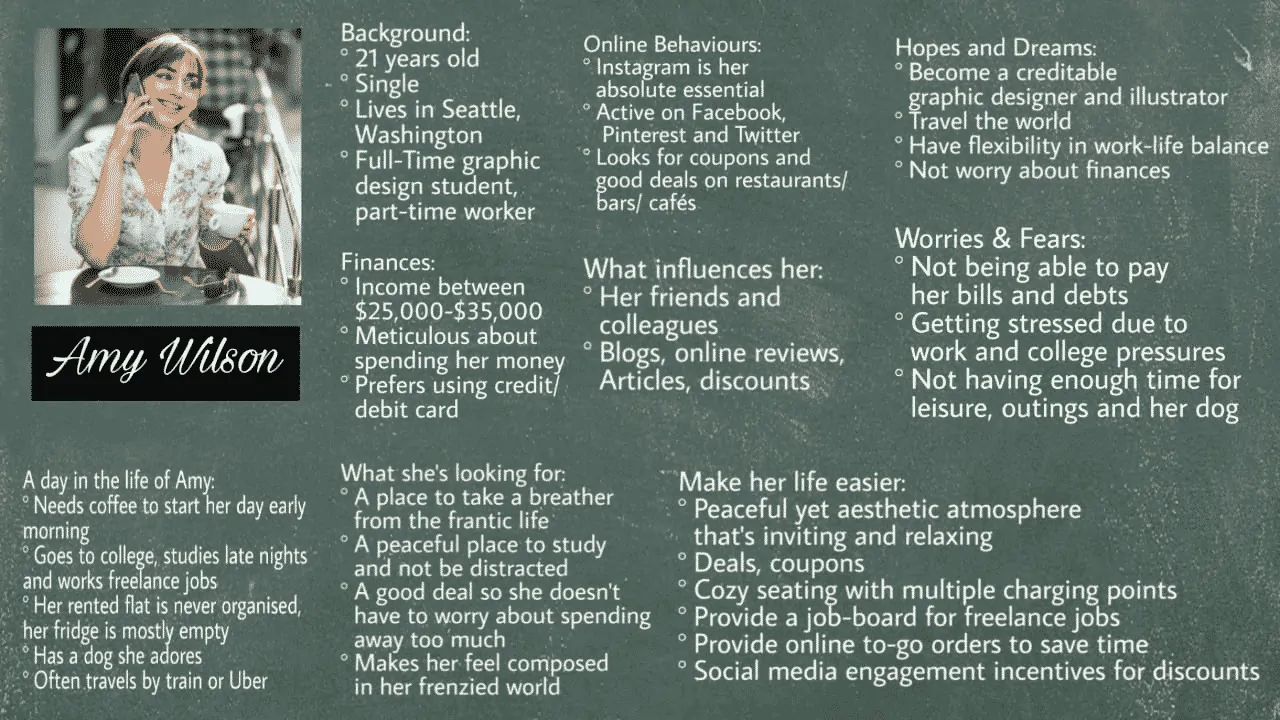 This description explains how your brand can associate with Amy's life. It explains her personality in-depth, with an insight into her daily life and her struggles, and as a brand, how can you help her. If you ever get stuck creating your ideal profile, visualizing a day of their life can give you more clarity.
Customer Profile for a Clothing/ Accessories Company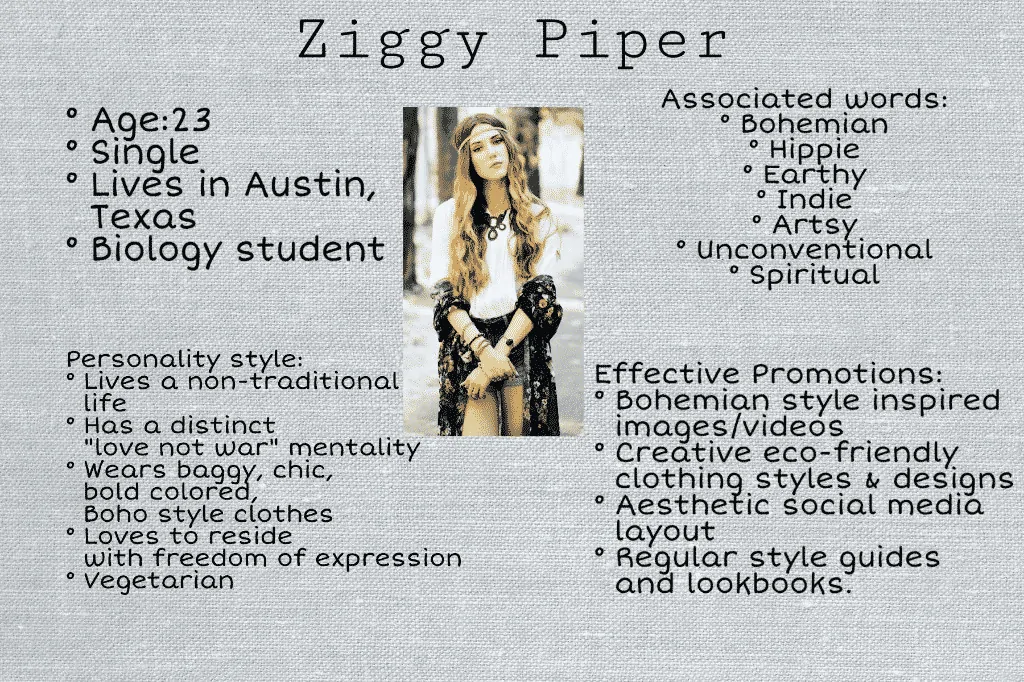 This is a more personality based example. If your brand has a niche audience, getting an insight into their lifestyle and mindset can help you design your ideas and strategies more accurately.
Customised Customer Profile for a Wedding Planning agency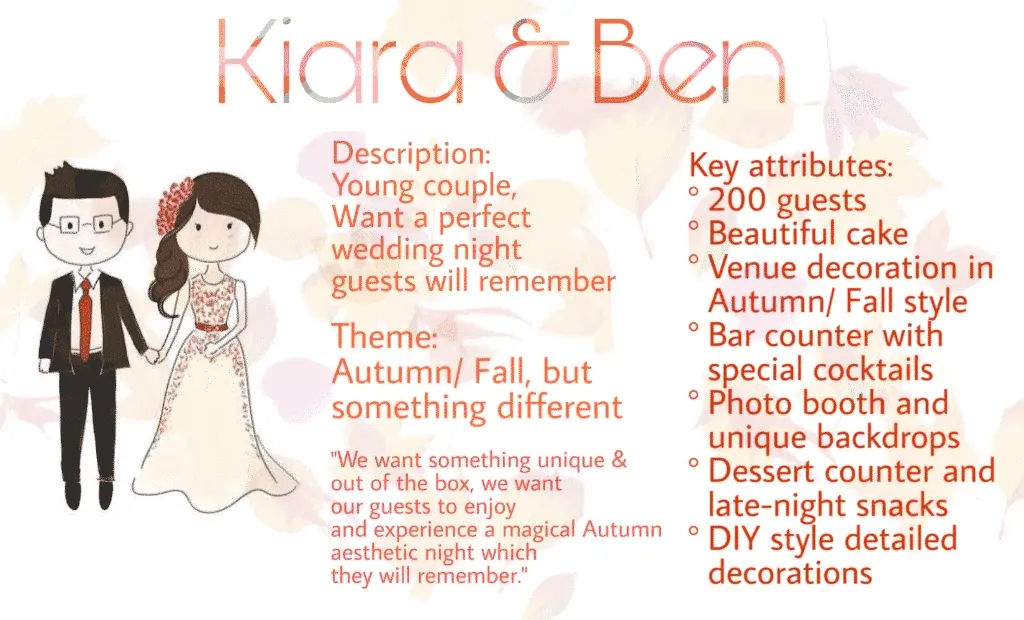 With a plethora of options available, people now demand something unique, custom, tailor-made and that which is more personal to them. If you're a brand that specializes in customized products/services, you need to pay attention to details, understand exactly what your customer has envisioned and deliver meticulously.
B2B Customer Profile for a Digital Marketing agency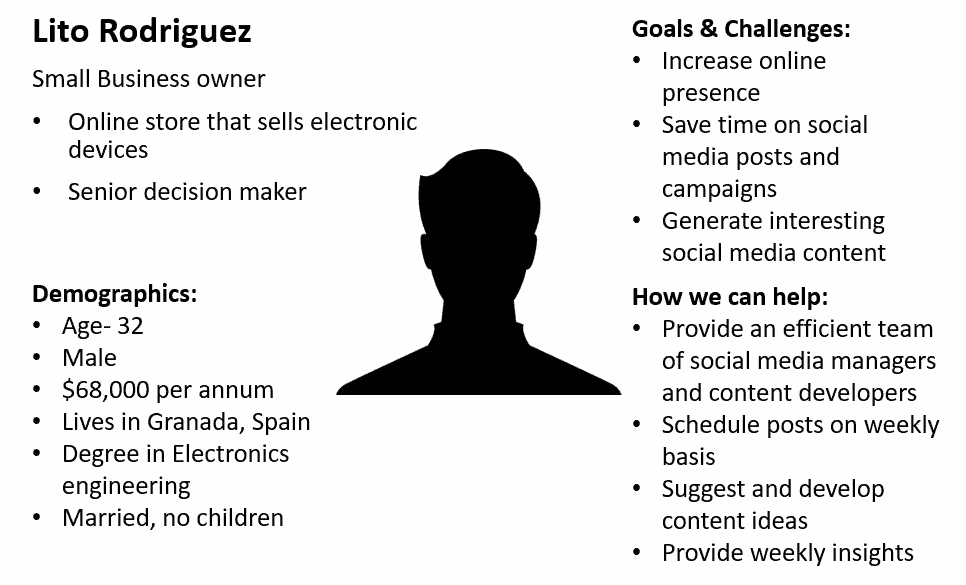 If you're a B2B company, focusing on your ideal customer profile will allow you to figure out who you should be targeting, be able to identify and attract high-quality leads, increase sales and customer lifetime value and may even get more referrals. The better you know your client, the better services you can provide to accommodate their needs.
Bottom-Line?
Customer profiling is a key tool for understanding your audience accurately and increasing the performance and efficiency of your advertisements and promotional activities.
Customers are your greatest asset. It is crucial to enhance their experience and boost the relevancy of your message. Insights gained from doing customer profiling exercises will yield product upgrades and maximum customer satisfaction.
So try creating your own customer profile for your brand and look for any empty spaces your company can fill in. It might even help you come up with new promotional ideas which will be more target-oriented.
Go On, Tell Us What You Think!
Did we miss something? Come on! Tell us what you think of our article on what is customer profiling in the comments section
A startup consultant, digital marketer, traveller, and philomath. Aashish has worked with over 20 startups and successfully helped them ideate, raise money, and succeed. When not working, he can be found hiking, camping, and stargazing.