Can your small family grocery company become world's most sought-after discount supermarket? Well, if you remain in the market for around a century, focus more on great quality at less price, employ less but more efficient employees, ditch big brands and other middlemen and create your own brands by sourcing locally, focus less on marketing and more on customer satisfaction, you might give a close competition to one such company, Aldi.
Aldi with its revolutionary business model was the first discounter in the world, the first self-service store, and the mind behind several efficient ideas to increase productivity, profits, and consumer satisfaction.
What is ALDI?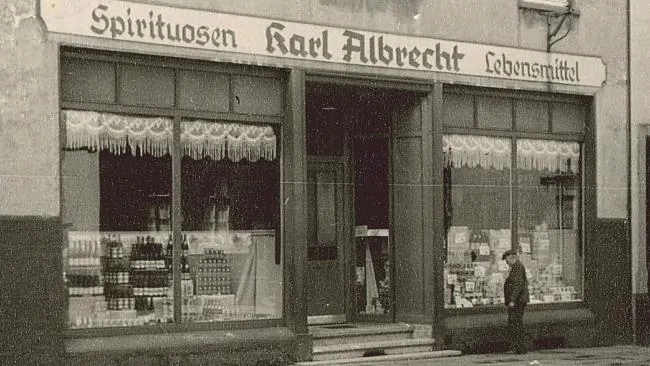 ALDI is a brand of two German discount supermarket chains with over 10,000 stores in 18 countries. The brand was founded and split into two in 1961 when two brothers who inherited their mother's business "Albrecht Diskont supermarket" split over a dispute on whether they should sell cigarettes or not.
Karl Albrecht owned and operated ALDI Nord which is now present in north Germany, Denmark, France, the Benelux countries, the Iberian Peninsula and Poland, and Theo Albrecht owned and operated ALDI Süd which is now present in south Germany, Ireland, the United Kingdom, Hungary, Greece, Switzerland, Austria, Slovenia and Australia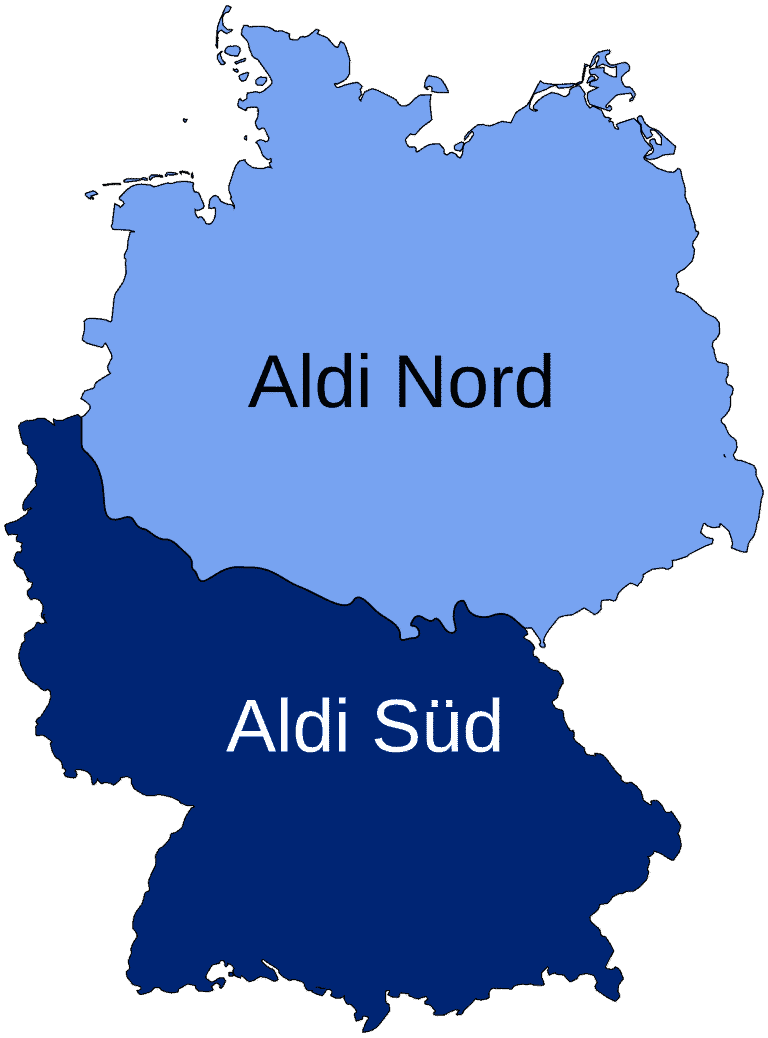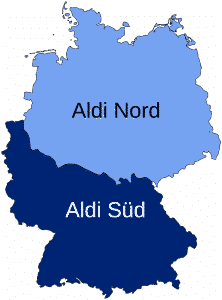 ALDI Facts
Company's first store (Karl Albrecht Spiritousen and Lebensmittel grocery store) was opened by Karl's and Theo's mother in 1913 in Essen.
The brothers retired as CEO's in 1993 and the control of ALDI Süd was passed on to Siepmann Foundation and ALDI Nord to Markus Foundation.
At the time of his death in 2014, Karl Albrecht was the richest man in Germany with the fortune of about $29 billion.
Theo Albrecht was Germany's second richest man until his death in July 2010
ALDI Nord is headquartered in Essen and ALDI Süd (South) is headquartered in Mulheim an der Ruhr.
In the USA, the brand "ALDI" is owned and operated by ALDI Süd and Trader Joe's is owned and operated by ALDI Nord.
ALDI Süd operates as Hofer in Austria and Slovenia.
Why is ALDI so cheap?
ALDI has maintained its discount supermarket reputation by providing products at up to 50% discount as compared to competitors. The products at ALDI are even cheaper (around 30%) to those at Walmart.
But how can ALDI afford to be so cheap?
The answer lies in ALDI's business model. The company focuses on a no-frills shopping experience and limits its inventory to a lean selection of private-label items. 90% of the products sold are from its own brand line. Moreover, the company sources most of its products from the local vendors.
Let's look more into the detailed analysis of ALDI's business model.
ALDI Business Model
ALDI business model is built upon 3 core values which are still central to the strategic direction and decision-making principles today. These three values are:
Consistency
Unlike other supermarkets, ALDI doesn't entertain seasonal discount coupons and is more focused on providing products at a cheaper price 24×7. Moreover, the company is consistent in dealing with their employees, customers, and store.
Consistency leads to reliability and has positioned the brand as an everyday discount supermarket.
Simplicity
ALDI focuses on a no-frills shopping experience characterised by simplicity, efficiency, and clarity.
Responsibility
The company values its employees, customers, and other parties it deals with. It pays its employees well enough to increase their efficiency, focuses more on customer satisfaction and less on marketing, and sources most of its products locally.
Contours of ALDI Business Model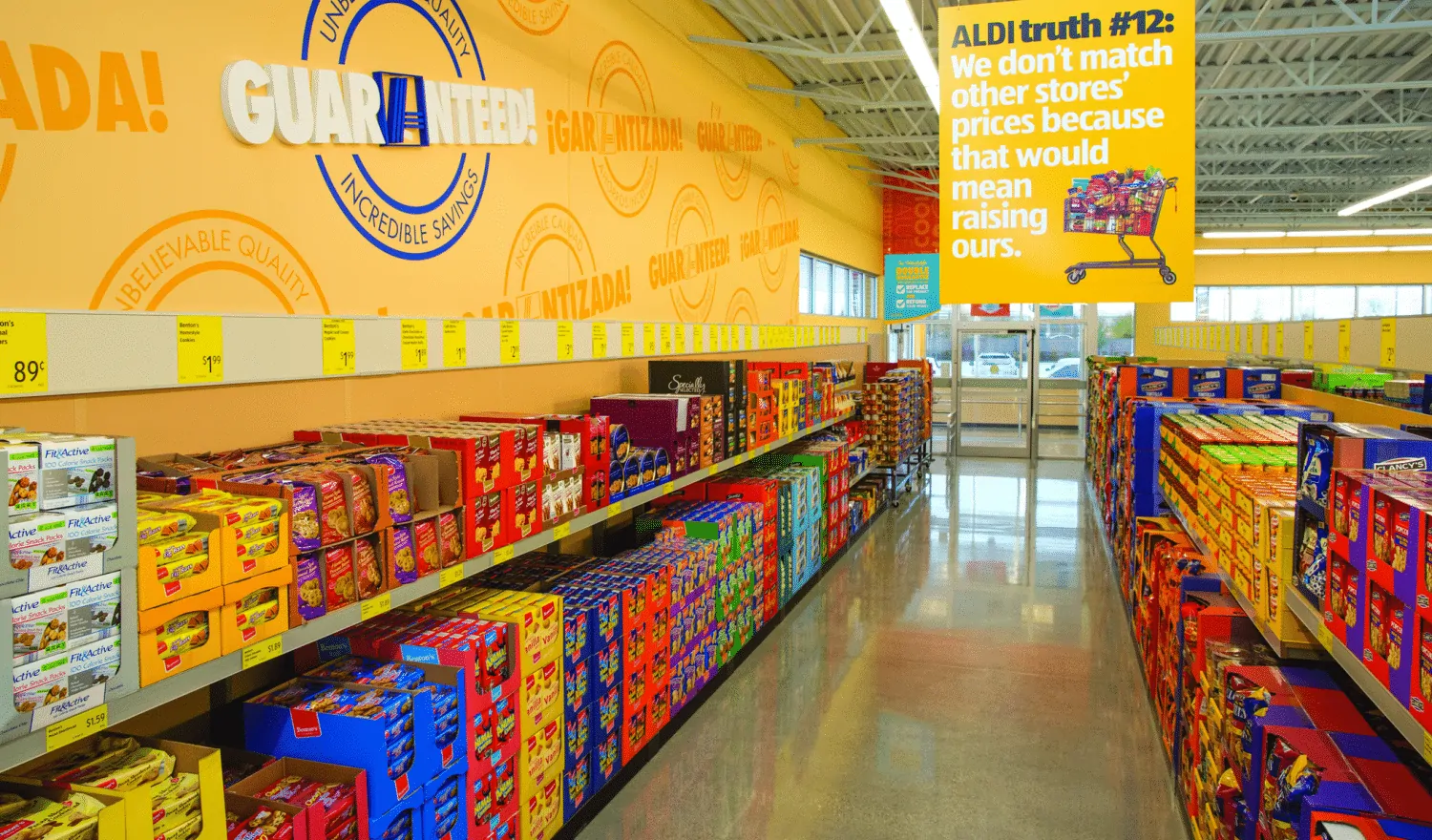 ALDI's business strategy is well known for employing thrifty ways to earn a good profit while providing great quality products at low prices. The thrift-conscious brothers devised a simple yet successful business strategy from the start where they kept the prices low by stocking only non-perishable products and removing the slow sellers from the shelves. They focused less on advertising and relied more on word of mouth marketing. The brothers even converted the store into the first self-service store to save employees costs.
The ALDI business model turned out to be successful because of smart strategies in the following business contours:
Employees
ALDI has an efficient human resource strategy which resonates with rest of its business strategies. The company focuses on less but more efficient employees. To ensure efficiency, the company uses thrifty strategies like: the customers have to pay a quarter to use the shopping cart, which they get back when they return the cart. This reduces the requirement for extra workers to collect and return the stray carts.
The minimum hourly pay offered by ALDI ($10.50) is more than the average payout which reduces the employee turnover and motivates them to give more effort to the work.
No-Frills
The company follows a dedicated no-frills policy to save time, money, and get most out of the effort. Unlike other big supermarkets, the company doesn't own huge stores and doesn't stock numerous products. Only the high selling products with good demand are stocked in the store.
All the products are sold in their original shipping containers. This saves the time of the employees by making stocking easier. This also prevents the company from spending on branded shelves. The products are also stocked from the back so as to sell the previous stock before the new stock to avoid wastage.
The company even endorses recycling of shopping bags and charge for every bag you take to carry your products. Most of the branches don't even accept credit cards as a payment option to forgo the interest charges.
Unlike big supermarket stores, the company also saves money by operating limited hours. Most of the branches are open from 8/9 a.m. to 8/9 p.m. This strategy of closing after peak business hours reduces the wastage of money by catering to very few customers just to build up the brand reputation.
Discount
The company focuses on providing products at low prices all the time of the time of the year and doesn't entertain coupons and special seasonal discounts.
Brands
ALDI doesn't sell products of most of the big brands as the company believes that these brands make the customers pay for all their marketing expenses. The company, to counter this, partners with the local vendors and sell private label brands at much lesser prices but similar quality. 90% of the products on the shelf of an ALDI store are from its own brand line.
Selling private label brands also enables the company to negotiate prices, cut out middlemen, and reduce marketing costs.
Marketing
The brand has a policy of no advertising in Germany and relies mainly on weekly offline and online newsletter called "ALDI Informs". This reduces the expenses of the company and results in more discounts to the customers.
In other parts of the world, the company, to compete with other business giants like Walmart and Costco, advertises in newspapers and on television where it compares its products with the common name-brand products. Other strategies like simpler store layout and fewer employees remain the same everywhere.
ALDI subsidiaries
ALDI Nord and Süd also generate revenue by operating their subsidiaries: Aldi Talk, Aldi Mobile, Aldi Liquor and Diskont.
ALDI Talk
Founded in 2005, ALDI Talk is a mobile virtual network operator in Germany, Belgium, and the Netherlands.
ALDImobile
ALDI also operates a mobile virtual network using Telstra's 4G network in Austrailia called ALDImobile.
ALDI Liquor
ALDI also sells low-cost liquor in its liquor only stores – ALDI Liquor.
Diskont
Diskont is the no-frills Austrian petrol station brand owned by ALDI (Hofer) in a joint venture with petrol retailer Free Energy (FE).
ALDI vs. Trader Joe's
ALDI and Trader Joe's in the USA, though owned by ALDI, can't be considered as sister brands as ALDI is owned and operated by ALDI Süd and Trader Joe's is operated by ALDI Nord.
ALDI vs Walmart
Walmart, even though is the world's largest brick-and-mortar retailer, faces a strong competition from ALDI which provides similar quality of goods at a 30% cheaper rate than Walmart. Nevertheless, Aldi stock very less products when compared to Walmart.
Aldi vs Lidl
Following Aldi's success in Germany, a new competitor with similar USP started its operation in 1977 under the name Lidl. Both the companies now own over 10,000 stores worldwide and are well known for their thrifty practices and less price.
The only difference between the two lies in their selection of brands. While Aldi relies on its private-labeled brands and doesn't actually entertain other imported and big brands, Lidl sells its own brands, imported brands and other non-own brands at competitive prices.
Go On, Tell Us What You Think!
Did we miss something?  Come on! Tell us what you think about our article on ALDI Business Model in the comments section.
A startup consultant, digital marketer, traveller, and philomath. Aashish has worked with over 20 startups and successfully helped them ideate, raise money, and succeed. When not working, he can be found hiking, camping, and stargazing.