Amazon has experienced rapid growth in the past few years especially with the introduction of AWS and the onset of the pandemic. The company has an enormous ecosystem with a number of business models in place. Thus, it becomes crucial to look at the various Amazon statistics and trends in its user base, revenue generation, and the number of active sellers on the marketplace to understand the company's complex business model.
So, dive in to learn all about Amazon statistics!
What Is Amazon?
Amazon was started as an online bookstore in the basement of its founder, Jeff Bezos. Today the company sells about 353 million products on its marketplace and is popularly called 'the everything store.'
The Amazon marketplace is an online two-sided ecommerce platform that connects buyers to third-party sellers. The marketplace provides a platform for buyers and sellers to interact and trade with each other. The buyers get to choose from multiple options available on Amazon, whereas the sellers get to connect with an established base of buyers and sell their products.
Amazon Statistics: Users And Other Demographics
Number of active Amazon users: 300 million (Amazon)
Number of paid Amazon Prime users: 200 million (Amazon)
Number of unique visitors per month: 213.56 million (Statista)
Number of countries Amazon is present in: 200+ countries (Amazon)
Amazon operates 13 countries and offers Prime in 10 of them. The Prime-eligible countries are the United States, United Kingdom, Spain, Japan, Italy, Germany, France, Canada, Austria, and India.
Around 46% of Amazon's customers are from the age group 25-44 years. The number of Prime subscribers has been increasing continuously since the past few years, as the company reported 150 million members at the end of the fourth quarter of 2019. Amazon saw an increase of 33% in its Prime user base in just one year, mostly because of the pandemic.
In 2021, Amazon stood at the 11th position in global internet traffic engagement. A whopping 63.5% of the total traffic on the platform is from the United States. Furthermore, 48% of these consumers visit the platform at least once a week, while 89% visit once a month.
It is the most popular shopping app in the United States. In September 2019, 150.6 million mobile users accessed the Amazon app, whereas Walmart, the second most popular shopping application, had a monthly mobile app audience of only 76.45 million users.
According to Amazon Prime members statistics by eMarketer, the favourite Prime subscription benefits are free two-day shipping (83%), video and music streaming (10%), exclusive deals at Whole Foods (5%), free audiobooks & magazines (1%), and others (1%). And the most frequently bought products on the site are shown below:

Amazon Business Statistics
Number of packages shipped per day: 6.84 million (Forbes)
Number of acquisitions: spent $34.89 billion in 84 acquisitions (Tracxn)
Number of investments made: 74 (Tracxn)
11th position in global internet traffic engagement (Alexa)
Customer satisfaction score in 2020: 79 out of 100 ASCI points (Statista)
Most popular shopping app in the United States
Moreover, 26% of the visitors on Amazon buy the first product they see on the Amazon search results page. While 46% of them scroll through at most two pages before buying a product. Amazon often ranks at the top of shoppers' list for price checking as 9 out of 10 shoppers check out the marketplace for price comparison, customer service, and shipping speed.
Amazon Seller Statistics
Number of sellers that join Amazon marketplace every day: 1000 (MarketplacePulse)
Number of active sellers on Amazon marketplace: 1.5 million (Marketplacepulse)
Number of products sold on Amazon: 3 billion (Scrapehero)
Percentage of sales by third-party sellers: 56% (Statista)
Percentage of sellers that also sell on other platforms: 80% (Vox)
Amazon Marketplace sells about 353 million products, out of which 12 million are sold by Amazon itself. Moreover, More than 1000 sellers join the Amazon marketplace every day. The company's statistics show that around 6.3 million sellers are using the platform currently. There are 1.5 million active sellers of these, as the rest do not have any product listed on the platform.
In the first quarter of 2021, 55% of the sales were done by third-party sellers. Whereas, Prime day 2020 proved to be a record-breaker for the vendors as they exceeded $3.5 billion in sales. In the second quarter of 2021, the third-party sellers sold 56% of the units on Amazon. The number increased by 6% since last year from 53.0%.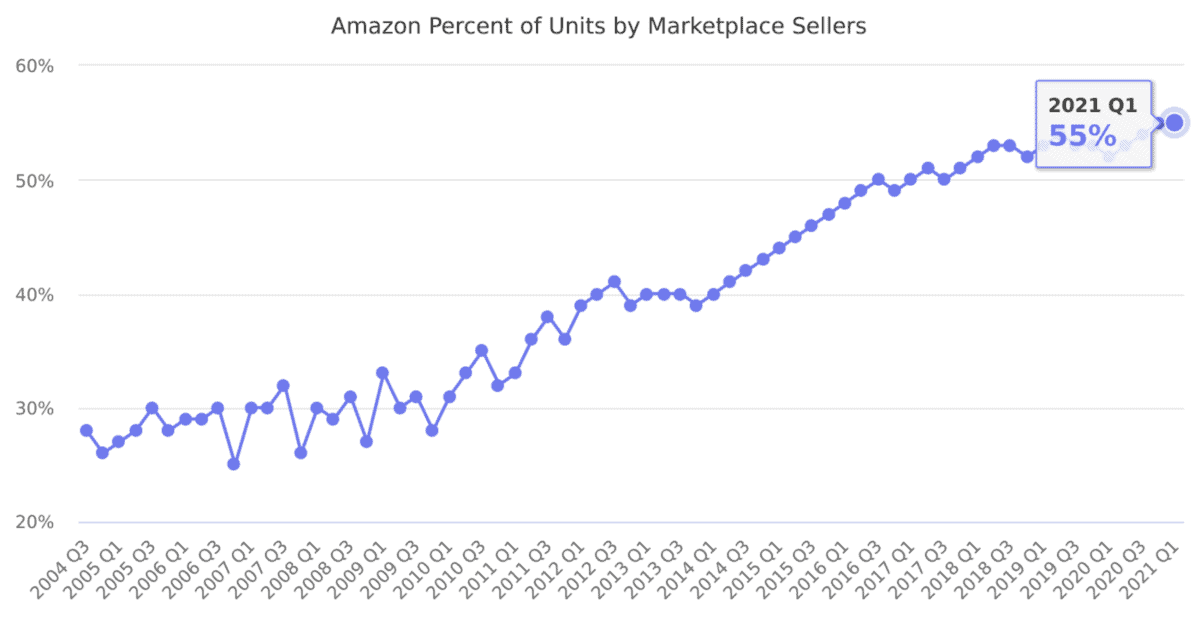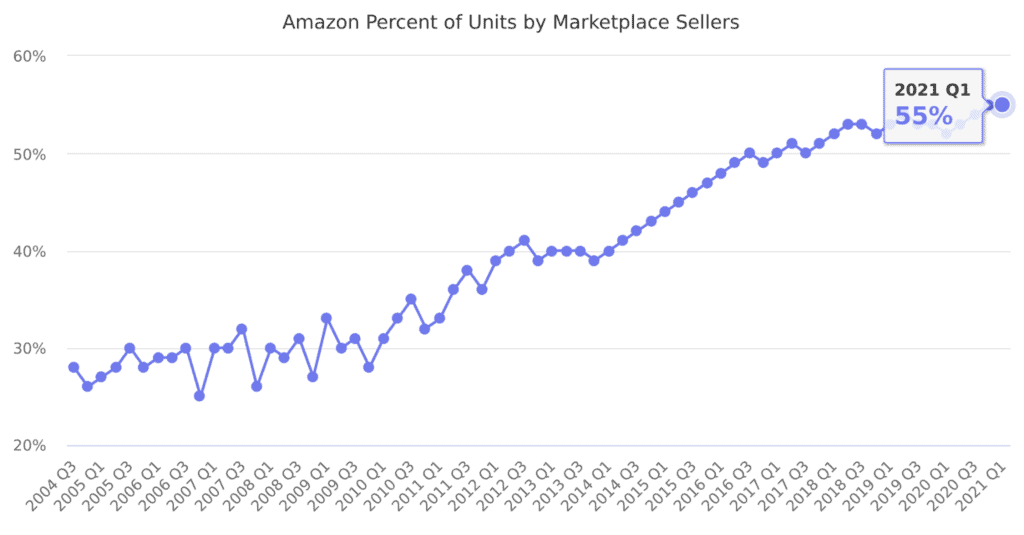 Amazon Revenue Statistics
Net income in 2021: $7,778 million (Marketplacepulse)
Amazon Market capitalisation in 2021: $1.694 trillion (Companiesmarketcap)
Cash conversion cycle in 2021: -33.99 days (Marketplacepulse)
Gross merchandise value: $475 billion (Statista)
Total revenue in 2020: $386 billion (BusinessofApps)
Average money spent by Prime members: $1400 per year (Statista)
Average money spent by non-Prime members: $600 per year (Statista)
4th company to reach $1 trillion market capitalisation (BusinessofApps)
The third largest public company by revenue in the world (BusinessofApps)
Amazon's revenue grew 37.6% in the financial year 2020. The company saw the largest percentage increase in revenue since 2011. The revenue from third-party sellers, which was $80.6 billion, was the second-largest revenue source for the company after retail product sales. Amazon also witnessed an increase of 48% from last year's income in Q2 2021. Its income in Q2 2020 was $5423 million, while in Q2 2021, the income grew to $7778 million.
Amazon was not very profitable for the first 15 years of its existence, as most of the profits were reinvested into the company. But, with the onset of AWS, the company has been witnessing booming profits of over $10 billion in 2018 and more than $20 billion in 2020.
In 2021 Q2, Amazon's cash conversion cycle was -33.99, up by 20% year-over-year from -28.35. This means that, on average, the company took in cash from customers 33 days before it paid it out to suppliers. The cash conversion cycle measures the time lag between when a company has to pay its suppliers and when it gets paid by its customers.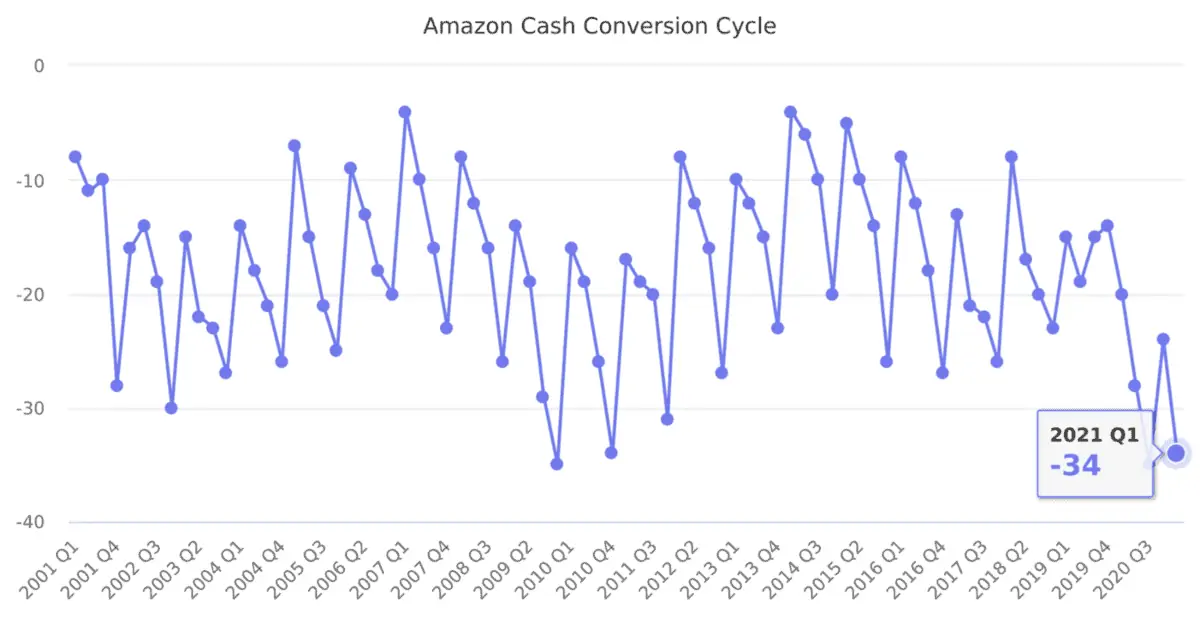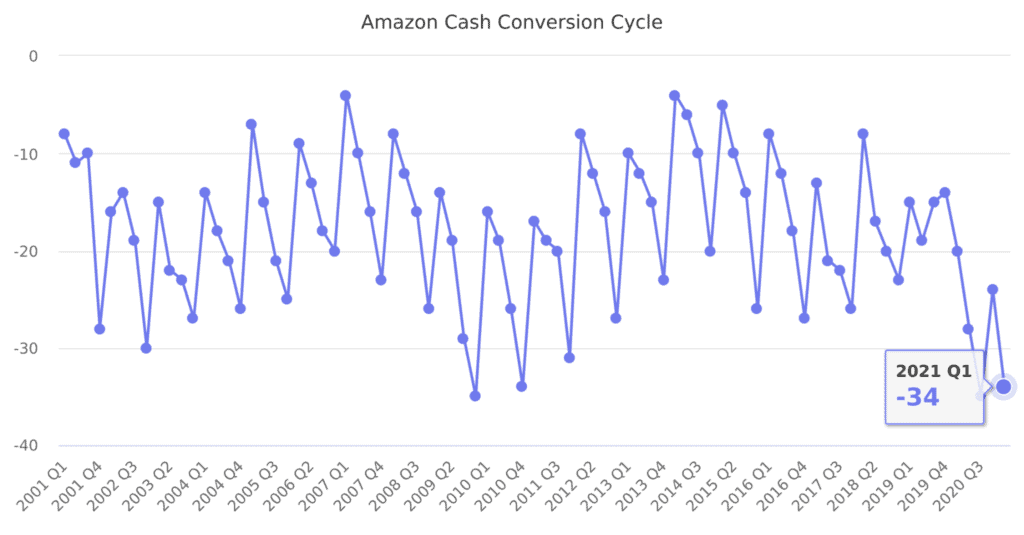 In 2020, Amazon marketplace became the third most popular online marketplace with a 475 billion dollars gross merchandise value. Taobao was the most popular, while Tmall ranked second.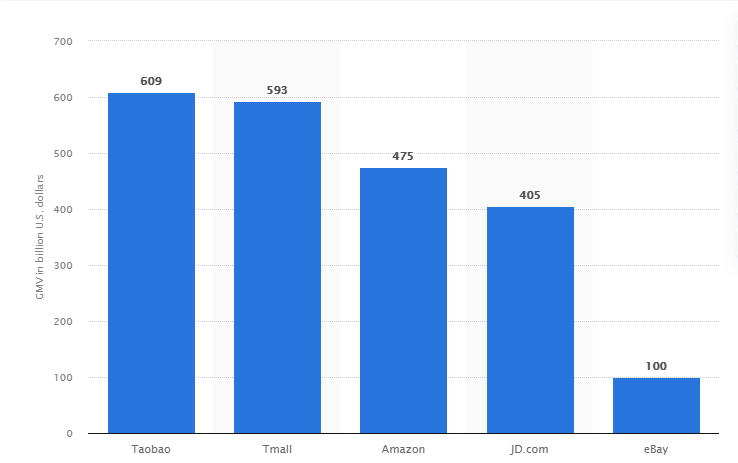 Amazon Employee Statistics
Number of employees in 2020: 1.3 million full and part-time (Statista)
Highest ranked tech company based on number of employees in 2020 (Statista)
Percentage of women in the global workforce: 44.6% (AboutAmazon)
Cents earned by women for every dollar earned by men: 100 cents (AboutAmazon)
In 2020, Amazon employed around 1.3 million full and part-time employees. This was a 62.66% increase from 798000 employees in 2019. In 2020, the company was the highest-ranked tech company based on the number of employees. Facebook had 58,604 full-time employees, Alphabet had 135,301 full-time employees, whereas Amazon had 1,298,000 employees in the same period.
According to Amazon, the company's global workforce includes 44.6% of women. The numbers have constantly improved as Amazon employed 41.9% females in 2018 and 42.7% in 2019. The company also states that women earned 100 cents for every dollar that men earned performing the same jobs. Also, minorities earned 99.2 cents for every dollar that white employees earned performing these same jobs.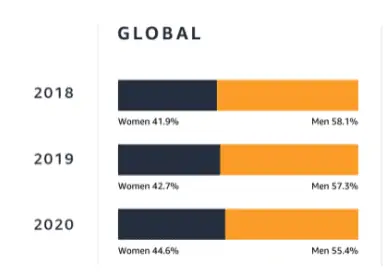 Amazon Web Services Statistics
Number of websites using AWS in January 2021: 16 million (Builtwith)
Revenue generated by AWS in Q3 2020: $11.601 billion (Amazon)
Operating income of AWS in 2020: $13.5 billion (Statista)
AWS is responsible for a major proportion of Amazon's revenue. In the third quarter of 2020, the segment generated $11.601 billion in net sales, an increase from $10.808 billion generated in Q2 2020. In 2020, it was one of the four largest public cloud providers with strong revenue growth at 29% after Alibaba (59%), Microsoft Azure (47%), and Google Cloud (43%). Moreover, AWS was responsible for 33% of enterprise spending on cloud infrastructure services, followed by Microsoft (18%). One of the biggest clients of AWS is Netflix which uses the company's services to store its data throughout the world.
Sources
Go On, Tell Us What You Think!
Did we miss something? Come on! Tell us what you think of this article on Amazon statistics in the comments section.
An enthusiastic human being with determination and zeal to explore new ventures. Tanya is an entrepreneurial spirit searching for changes and learning to exploit them as opportunities and impacting people for good.