Started as a digital bookstore set up in the garage of Jeff Bezos, Amazon is now the world's biggest online retailer dealing in every possible product and service you can think of. From books, music, videos, groceries, software, to web services, game studios, publishing houses, patents, etc. Amazon Business Model consists of all.
Amazon Business Model
Amazon has evolved to become an ecosystem over the past 20 years. Everyone who has ever accessed internet must have encountered an Amazon service. Amazon's business strategy is so well planned and well-designed that it has multiple and independent revenue sources which are somehow connected.
How big is Amazon's business model, you ask?
Amazon Marketplace – Revenue generated through commissions and other charges from sellers.
Amazon Books – The company earns revenue by selling books on Amazon marketplace, book depository, and AbeBooks, audio books on audible, comics on ComiXology, and through Amazon publishing. It also created an all new e-book demand by introducing Kindle in the market. Amazon also owns physical bookstores in some countries.
Amazon Music and Videos – Amazon Business Model includes star websites like IMDB and twitch.tv which makes loads of money for Amazon. Amazon Music and Videos also add to the revenue.
Amazon Gaming – Amazon's subsidiary, Amazon Game Studios, is one of the renowned names in the game development industry. Amazon Digital Game Store sell third-party games as well.
Amazon Web Services – The company is among the top IT infrastructure providers in the world which also provide support to CIA and Netflix.
Amazon Fire Products – Amazon launched its fire range of products which include phones, tablets, Tv and Mobile OS.
Amazon Prime – The company provides premium membership to its every service through Amazon prime.
Amazon Patents – Amazon holds more than 1000 patents many of which are licensed by other companies.
To dig more intensely about Amazon Business Model, we have to first learn about How Big is Amazon and what all products and services it offers.
Amazon Marketplace
Amazon Marketplace (amazon.com) is an e-commerce platform where products from Amazon and third parties are sold to the users.
Amazon Marketplace operates just like any other usual eCommerce marketplace – by the interaction of sellers and buyers. Amazon just provides the world-class facilities to them.
Unlike the basic marketplace business model of Alibaba.com, Items sold on Amazon by third-party sellers are either Fulfilled By Merchant (FBM) or Fulfilled By Amazon (FBA). FBM goods are kept in the third-party seller's inventory, and shipping and customer service are handled by the third-party merchant. FBA goods are stored in Amazon's fulfilment centres, and shipping and customer service are handled by Amazon.
Amazon charge commission (referral fee) from third-party sellers. These commissions differ for different types of goods sold.  FBA fee, which includes a pick, pack, and weight charge, is also charged from third-party sellers who choose to use FBA.
With millions of active user accounts and a worldwide reach, Amazon also charges its sellers to advertise and promote their brands and products by listing them on the top of the search results (and on the homepage).


Amazon Books
The company still makes money from books and it is not limited to the marketplace. Amazon business model has been diversified to include many online book retailers, book catalogues, comics' distribution platforms, and other books and e-book services.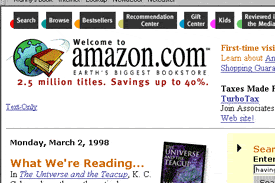 Though revenue is generated only from a few of the services (like Audible, Goodreads, Abebooks, Amazon Books, Comixology, Book Depository, Amazon Publishing, and Amazon Kindle), other services (like LibraryThing, Omnivoracious, Bookfinder, etc) in Amazon business model act as affiliates and/or helps Amazon in other marketing related strategies.
Audible
Audible is a digital store that sells digital audiobooks, radio and TV programs, and audio versions of magazines and newspapers.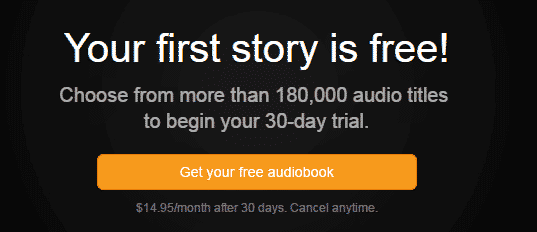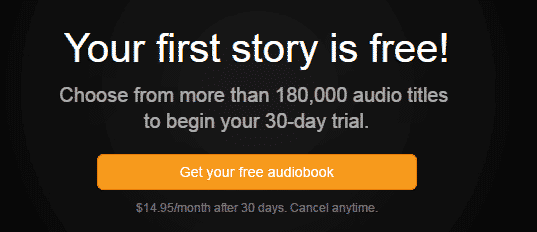 Amazon Books
Online bookstore on Amazon websites.


It also owns physical bookstores in some countries.
Goodreads
Goodreads is the world's largest site for readers and book recommendations. It generates revenue from advertisements and affiliates.
Abebooks.com
Amazon-owned online marketplace for brand new books, used books, rare books, and out-of-print books.
Comixology
Amazon-owned cloud-based digital distribution platform for comics with over 200 million comic downloads across Android, iOS, Kindle Fire, Windows 8, and the Internet.
Book Depository
BookDepository.com is the fastest growing bookseller in Europe, offering over 16 million titles to the customers of over 100 countries. It was acquired by Amazon in 2011.
LibraryThing
Amazon-owned cataloguing and social networking site for book lovers.
BookFinder.com
E-commerce search engine for books which has partnered with major online listings services and bookstores, aggregating the inventories of well over 150,000 booksellers on their site.
Omnivoracious.com
Also known as The Amazon Book Review. It has served as the place for the Amazon Books editors to talk about their passions for fiction, nonfiction, cookbooks, kids' books, mysteries, romance, and science fiction.
Amazon Publishing
Amazon's book publishing unit, composed of a number of imprints including AmazonEncore, AmazonCrossing, Montlake Romance, Thomas & Mercer, 47 North, and Powered by Amazon. It was launched in 2009.
Amazon Kindle
Amazon Kindle is a series of e-readers designed and marketed by Amazon which enable users to browse, buy, download and read e-books, newspapers, magazines and other digital media via wireless networking to the Kindle Store. The USP of Kindle over other devices is the use of electrowetting technology (colour e-paper video screens) which Amazon acquired when it bought Liquovista.
Kindle Store is an online e-book e-commerce store operated by Amazon to supplement its Kindle series. Kindle store can be accessed on any device ranging from Kindle devices to Android, iPhone, and PC.
Amazon Music and Videos
Amazon has expanded its revenue model to make money from the rising music and videos market. Nearly all of them generate revenue for Amazon.
IMDB
The Internet Movie Database is world's most popular and authoritative source for movie, TV and celebrity content with a searchable database of more than 185 million data items including more than 3.5 million movies, TV, and entertainment programs and 7 million cast and crew members.
IMDB earns through advertisements, subscriptions (IMDB Pro.), content licensing, and through publicity photo customers who upload their photos for promotion. IMDB was acquired by Amazon in 1998.


Twitch.tv
Twitch is the world's leading social video platform and community for gamers, video game culture, and the creative arts. It is the most popular streaming website for live video games. Just like other video websites like Youtube, Twitch makes money through advertisements, and through paid memberships (twitch turbo).
Amazon Echo and Alexa
Amazon Echo is a smart speaker which is capable of voice interaction, music playback, making to-do lists, setting alarms, streaming podcasts, playing audiobooks, and providing weather, traffic, and other real-time information.
Amazon's Alexa, just like Apple's Siri and Microsoft's Cortana, is an intelligent personal assistant made popular by the Echo (Alexa is integrated into Echo).
Amazon Music
Amazon Music is an online music store and music locker operated by Amazon. Just like Spotify and other competitors, Amazon Music provides users subscription for unlimited music at a fixed cost per month.
Amazon Video
Amazon Video is an Internet video-on-demand service developed and operated by Amazon. It offers television shows and films for rental or purchase and as part of Amazon's Prime subscription.
Like competitors, Amazon has pursued a number of exclusive content deals to differentiate its service.
Amazon Gaming
Amazon owns Amazon game studios, game developers based in the US. This company has been merged with Reflexive Entertainment and Double Helix Games after their acquisition by amazon.com.
Amazon Digital Game Store is a digital video game distribution service owned by Amazon. These games are sold on amazon.com.
Amazon Web Services
In 2006, Amazon Web Services (AWS) began offering IT infrastructure services to businesses in the form of web services — now commonly known as cloud computing. Today, Amazon Web Services provides a highly reliable, scalable, low-cost infrastructure platform in the cloud that powers hundreds of thousands of businesses in 190 countries around the world.
Amazon Fire
In addition to other product ranges, Amazon has also launched its fire range which deals mainly with computers, phones, and tablets.
Kindle Fire is a tablet computer developed by Amazon.
Fire Phone is a smartphone developed and launched by Amazon in 2014.
Amazon Fire OS is an Android-based mobile OS produced by Amazon for its Fire range of products.
Amazon Prime
Amazon Prime is the premium subscription offer for users of Amazon at a price of $99 per year or $10.99 per month.
Amazon Prime includes –
Free Two-Day Shipping with Amazon Prime
Instant access to video streaming
Over two million songs on Amazon Music. Thousands of playlists and stations.
Original audio series from Audible
Twitch Prime
Free unlimited photo storage
30-minute early access to select Amazon Lightning Deals
Amazon Patents
Amazon owns a total of 1263 Patents which has guaranteed its stay in the market for long. One of the most valuable patents owned by Amazon is 1 click buying which is a technique of allowing customers to make online purchases with a single click. This patent has been licensed to Apple to use it in their online store, Itunes Store, and iphoto.
Other Amazon products and services
Amazon business model also includes –
Alexa.com – Intuitive analytics products
Curse Inc. – Game Tools
Amazon Dash – Button to reorder easily.
Diapers.com – The largest online speciality retailer of baby products
Dpreview.com – World's most popular dedicated enthusiast digital photography site.
Woot – Multiple daily deals and other short-term sales of products.
Amazon Appstore – Appstore for Android
Zappos.com – E-commerce marketplace for footwear.
[Also read – Facebook Business Model]
Go On, Tell Us What You Think!
Did we miss something?  Come on! Tell us what you think about Amazon Business Model and Amazon Revenue Model in the comment section.
A startup consultant, dreamer, traveller, and philomath. Aashish has worked with over a 50 startups and successfully helped them ideate, raise money, and succeed. When not working, he can be found hiking, camping, and stargazing.