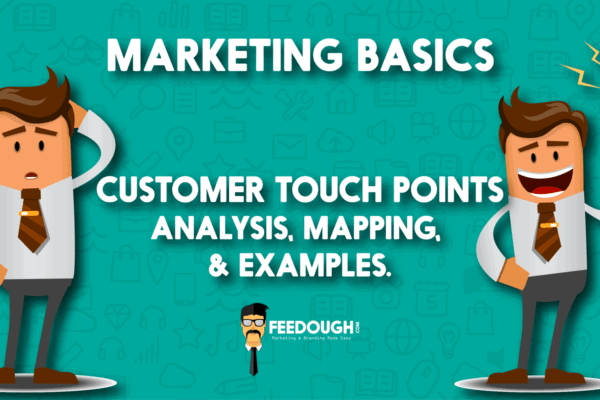 What are Customer Touchpoints? Analysis, Mapping, & Examples.
A company interacts with the customers on many levels and at many places. These interactions are necessary for a company to carry out its marketing & branding strategies and to build their brand value. On average, you are exposed to 4,000 – 10,000 advertisements in a day most of which you don't even recognize as advertisements. That's where customer touchpoints come into play. Customer touchpoints analysis is necessary for any business to succeed as they are an integral part of any communication to take place.
What Are Customer Touchpoints?
Customer touchpoints refer to the points of interaction of the brand and the customer. These interactions take place at various places (online and offline) and at various times. Brands tend to tap every place a customer visit to get most of the impressions and to fulfill strategical marketing targets.
Importance of Customer Touch Points in Marketing
Mapping and Tapping of customer touchpoints is very important for a business to fulfill their –
Sales and other short term needs
Customer touch points are present at every stage of buying decision process. Business just have to map it and tap it effectively.
Relationship and other long term needs
A customer can easily be made brand loyal if certain customer touchpoints like tapped effectively. Sales should not be the only factor for the formation of marketing strategies as it results in marketing myopia. Relationships can be built using platforms different online and offline platforms like social media networks, event sponsoring, etc.
Mapping & Tapping of Customer Touch Points
Before carrying out any marketing strategy it is important for the business to know where all does the company and customer interact and how to open new gates to create more touchpoints.
As already discussed, touch points are present in every stage of buying decision process –
Touchpoints in Purchase Decision Process
Need/want recognition
Advertising and other promotional strategies are used to create a demand by generating the need within the customer's mind.
Information Search
Customer tries to find information about the brands/products which can satisfy his need. Company's website, word of mouth marketing, affiliates, and other online and offline information portals can be tapped to make user aware of the brand / product.
Evaluation of Alternatives
User completes his purchase after evaluating different products/brands. His involvement is of greater importance at this stage. The more he interacts with the brand, get involved with the brand, etc. more is the chances of him buying that brand's product.
Purchase
Company can still change a user's purchase preference by tapping touchpoints present at the purchase locations. These touchpoints include –
Collaterals like danglers, leaflets, standees, etc. (offline purchases)
Affiliates and advertisements (online purchases )
Post Purchase
After-sale support is a very important factor in maintaining the relationship with the customer and producing repeated sales. Once the brand has a customer, different techniques can be used to retain them and to convince them to carry out word of mouth marketing.
Other Touchpoints for Relationship Marketing
Touchpoints aren't limited to purchase decision making process stages. They are present everywhere customer's eye rolls. It's up to the business whether to tap it or not.
An average human is exposed to around 10,000 marketing messages per day. These messages involve touchpoints present both online and offline, ranging from that company logo on the ceiling fan at his house(actual product) to a post shared by one of his friends on Facebook (content marketing) or that carry bag he used to take his lunch to office (packaging), a touchpoint can be anything.
Customer Touch Points Examples
Touchpoints are everywhere. Companies just have to know what exactly customer needs, wants, likes, etc. and that can result in the creation of a new customer touchpoint. A customer touchpoint is anything that leads to company/brand and customer's interaction. Be it a stylish wrist band, T-Shirt, blog post, social media post, any useful resource, event sponsoring, marketing collateral, web affiliates, advertisements, promotional activities, etc.
Go On, Tell Us What You Think!
Did we miss something?  Come on! Tell us what you think of this article in the comment section.