Technology continues to disrupt traditional industries, while new roles keep emerging in response to the needs of the 21st-century economy. A study by the World Economic Forum suggests that 85 million jobs will get taken over by automation by 2025, but those new technologies will create 97 million new jobs. Another study suggests 44% of workers' skills will be disrupted in the next five years.
In today's rapidly changing job market, those who keep up with the latest trends will be better positioned for success. That's why we're here with this article to help you understand what's happening in the employment world. We'll be looking closely at the big changes that are shaking up how we work in 2023.
Remote and Hybrid Work Settings Will Continue to Be the Norm.
The year 2022 proved to businesses and companies that employees could be trusted to work from home; it also showed that the majority of workers preferred this arrangement and wanted to keep it just as it is.
According to a Talent Tech Outlook Study, 82% of respondents agreed that they prefer working remotely to working from the office. The study further revealed that 64% of employees experienced higher productivity working from home as compared to working from the office.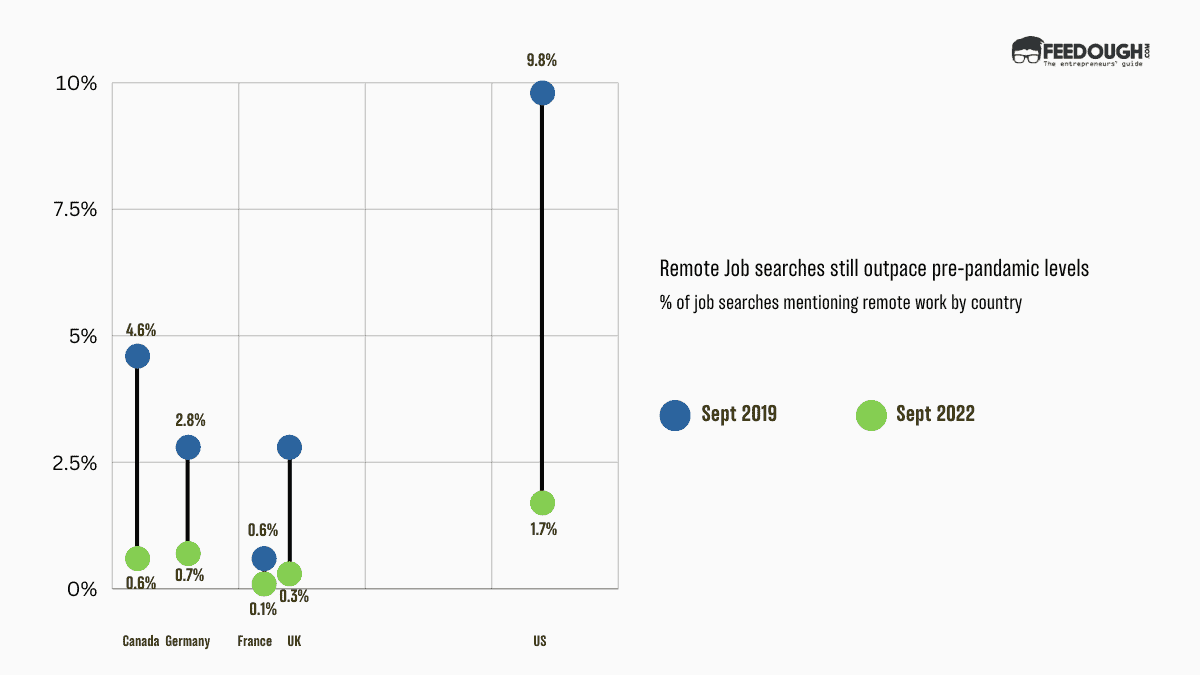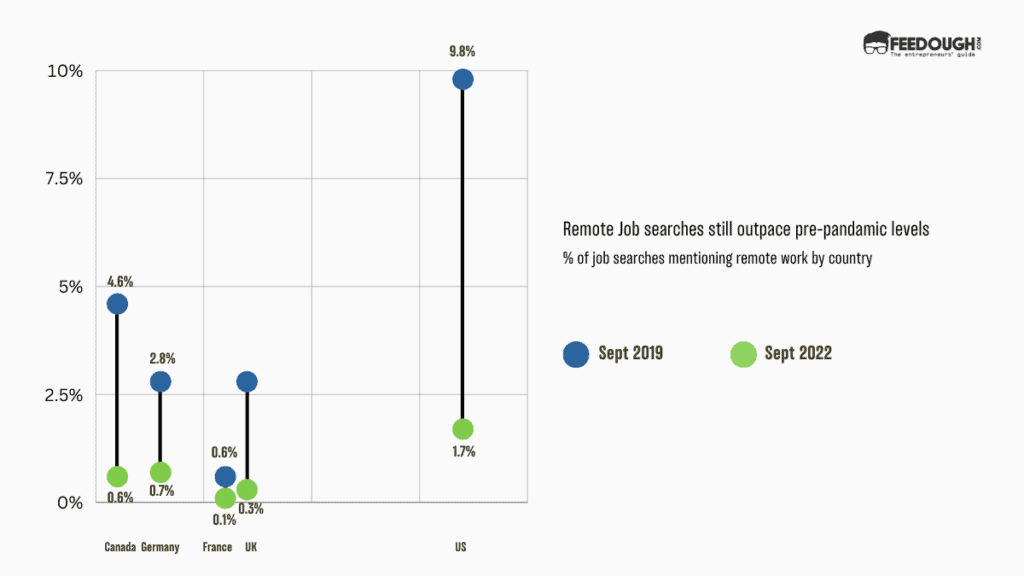 AI Replacing Jobs
According to a Global Mckinsey report, at least 12 million workers in the U.S. will have to change occupations by the end of 2030 due to automation and artificial intelligence. According to the study, the four categories most affected would be the demand for clerks, administrative assistants, retail salespersons, and cashiers.
The estimated decline for each category is over 600,000 jobs by 2030 since these jobs involve a high share of repetitive tasks, data collection, and elementary data processing, all activities that automated systems are very well equipped to handle efficiently.
Prompt Engineering Will Become a New Job Profile
As generative AI continues to influence the employment landscape, a new category of professionals is emerging, i.e. prompt engineers. Prompt engineers are a new breed of AI engineers who specialise in crafting specific instructions, also known as "prompts" for AI chatbots. They work with a variety of tools and techniques to create prompts that are clear, concise, and informative, ensuring the chatbot produces the desired output.
With salaries up to $375,000 per year and no strict requirement for a tech degree, prompt engineering is surely becoming a highly-desired career path in the current AI-driven market. Goldman Sachs estimates that the total addressable market for generative AI software is estimated to be $150 billion, compared to the global software industry, which is $685 billion.
Algorithmic Bias Comes Up As a New Challenge
Algorithmic bias is the tendency of AI systems to make repeatable errors to create "unfair" or "discriminatory" outcomes. As organisations increasingly rely on AI for recruiting talent, the potential for algorithmic bias also becomes a growing concern.
For instance, if an AI system is trained on a dataset of resumes from mostly white males, it may be more likely to rank white male candidates higher than other candidates of colour or gender.
Therefore, organisations are required to be more transparent about how they are using AI, publicise their data audit, and give employees and candidates a choice to opt out of AI-led processes.
Diversity, Equity, and Inclusion Will Be in Focus
In the year 2023, diversity, equity, and inclusion (DEI) efforts remain a top priority for organisations worldwide.
According to a recent GoodHire survey, it was found that 81% of respondents would seriously quit their jobs if their company failed to display a genuine commitment to DEI.
According to Indeed Glassdoor Workplace Trends Report 2022, 72% of workers (age group: 18-34) said they might turn down a job offer or leave the company if they think their manager (or potential manager) didn't support DEI initiatives.
In addition to potential turnover issues, companies that fail to prioritise DEI may have to face major financial losses. According to a report by Accenture, it's been found that organisations are losing over a trillion dollars in a year due to their lack of DEI initiatives.
Social Media Recruiting
Social media recruiting has emerged as an increasingly popular employment trend among hiring professionals and recruiters. It is intriguing to note that a significant proportion of job seekers, eight out of ten precisely, use social media to seek employment. In fact, 73% of these job seekers aged between 18-34 found their last job successfully and did so via social media channels.
LinkedIn, a prominent networking platform, further underscores this trend. In fact, as per the platform's own statistics, eight people are hired every minute through its network.
However, making social media a part of the hiring process extends beyond just finding the right candidates. 70% of hiring decision-makers firmly believe in screening all applicants' social media profiles. Additionally, 67% of these hiring decision-makers acknowledge resorting to social networking sites to research potential job candidates.
Web3, DAO's and Metaverse Opens A New World of Opportunities
Recently, the world of work has experienced a transformative shift due to the emergence of two significant trends: DAOs and the Metaverse.
The 2022 Global Workforce of the Future study revealed that nearly half (46%) of Gen Z workers think that the Metaverse will become part of their work life in the future. Moreover, this demographic not only envisions a future within the Metaverse but actively wants to work in it too.
Although decentralised autonomous organisations (DAOs) are less familiar to Gen Z workers, 67% of them have already worked in one or are considering doing so.
The number of DAOs, and the number of participants in them, have increased significantly. In 2021, the number of participants from 13,000 to 1.7 million people worldwide.
The same goes for the Metaverse. While the adoption of remote and hybrid work has rapidly accelerated, what remains missing for many is the need for a more interactive, cohesive remote work experience.
Metaverse, while dismissed as a place for trivial socialising by many, can help bridge this gap. As the metaverse continues to evolve, the digital simulation of physical workspaces could fulfil the desire for connection and interaction with colleagues and team members, effectively improving company culture and engagement.
Gen Z Lacks the Social Skills Needed to Enter the Workforce
According to a few studies, Gen Z lacks the necessary soft skills, such as communication and public speaking, to enter the workforce. While remote work and Zoom meetings did make access to a large pool of talent quite easy, it also led to a soft-skills deficiency, which is more difficult to develop remotely.
A career-confidence coach, Sam DeMase, highlights this issue and says, "Working remotely for so long, they don't have the same confidence that millennials and older generations have with public speaking and networking".
She further adds, "A hard skill is something you can learn on the job, but communication is a set of skills that takes time to develop."
Therefore if companies want to recruit young, new talent, they need to ensure extensive training is provided in these areas from their end.
Quiet Hiring
Everyone could recall that viral trend of "quiet quitting" or the "Great Resignation" that took over the news, mainly in the latter part of 2022. It was all about workers valuing their mental well-being and deciding not to go "above and beyond" in their jobs and simply doing the bare minimum. But for companies, this posed a challenge – they had the staff but were losing out on valuable skills and abilities. And to tackle this issue, HR leaders came up with a solution, i.e. "Quiet Hiring."
"Quiet hiring" is emerging as the new workplace trend embraced by companies worldwide as of late. Quiet hiring refers to when companies are able to acquire new skills without hiring new employees. This is done by promoting existing employees to new roles, expanding their scope of responsibilities through upskilling opportunities, or hiring gig workers to undertake specific tasks.
Even big names like Facebook came under fire for their issues regarding data privacy. This shows that despite all the advancements that technology has made in the past, our data is still at risk. The new technology suggests that flux and complexity that big organisations are experiencing will continue well into 2019, despite attempts at securing data.
Digital Skills Will Be High in Demand
As workplaces increasingly become more digital, with new technologies being introduced to us left-to-right, developing digital skills becomes extremely paramount.
Technologies like machine learning, robotics, augmented reality, artificial intelligence, and the cloud are making inroads into just about every industry and job description that one could imagine. Research conducted by Gallup and AWS states that advanced digital skills will raise global GDP by an estimated $6.3 trillion each year.
As per the same study, it was also noted that U.S workers with advanced digital skills saw a pay raise (58%) than those with intermediate digital skills (40%) or those with basic digital skills (33%) compared to those who do not possess digital skills and apply them at work.
Green Jobs Continue to Grow in Numbers
Green jobs are occupations or employment opportunities that contribute to preserving and restoring the environment. These jobs play a crucial role in mitigating climate change, lessening greenhouse gas emissions and decarbonising the economy.
The range of sectors offering green jobs is quite vast, including renewable energy, energy efficiency, waste management, sustainable agriculture, forestry, etc. Green jobs also span across different skill levels, from entry-level positions like recycling workers and energy auditors to highly specialised roles like solar engineers and sustainability consultants.
Many businesses and corporations are committing to achieving net-zero carbon targets by 2050 or earlier, posing a great opportunity for job seekers who are interested in sustainability and wish to leave a positive environmental impact through green careers.
In fact, this sentiment is mirrored in data from LinkedIn, showing hiring for green jobs consistently outpaces overall hiring.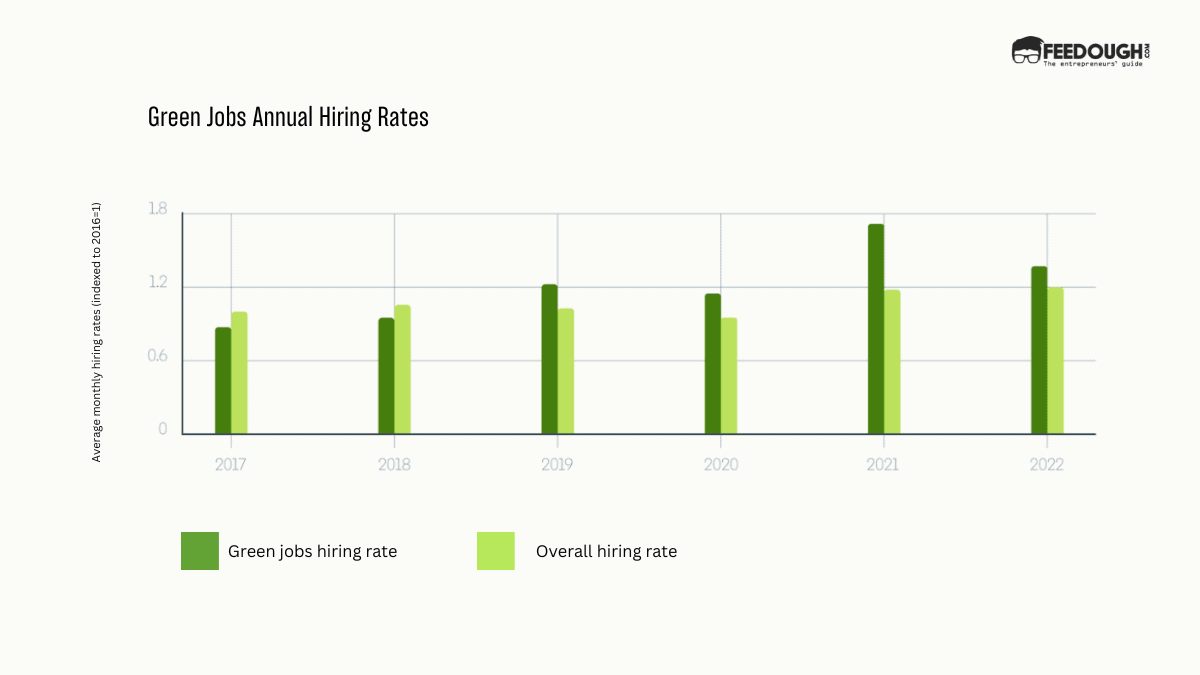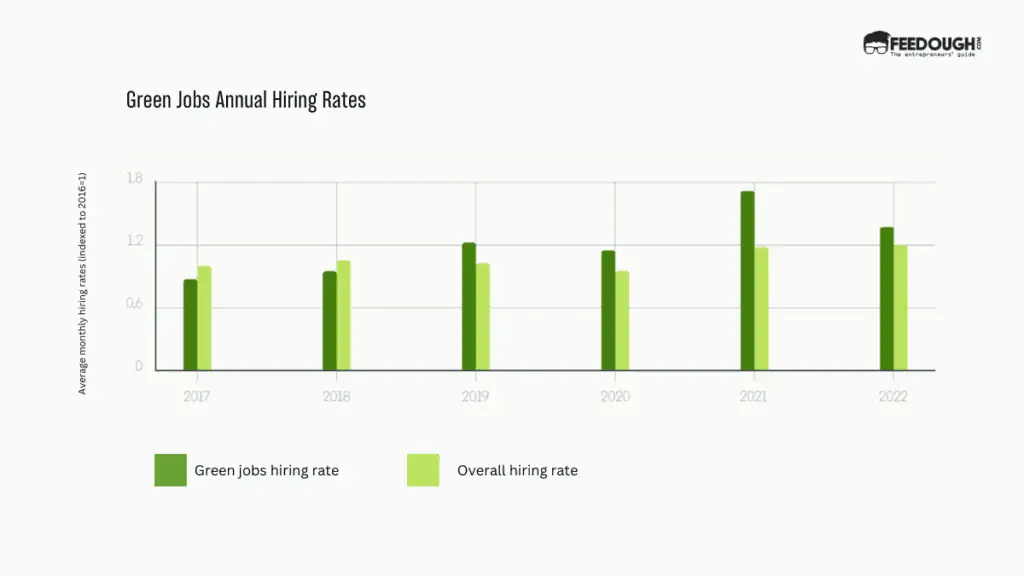 A recent survey found that 1 in 4 (26%) of adults in Europe consider sustainability to be one of their top non-negotiables when evaluating a company's culture and values.
According to a report published by Deloitte, more than 300 million additional green-collar jobs can be created by 2050. This projection further highlights the profound impact that the green economy is having on job creation and economic development.
Gig Economy Will Bloom 
A gig economy is a labour market in which independent workers are recruited for short-term commitments rather than full-time, salaried employees. In this free market system, temporary work positions are common, and work is often characterised as small contracts known as "gigs".
According to Statista, it is projected that the gig economy will generate $455.2 billion in gross volume in 2023. Gig work is becoming more than just a side hustle for many people now. By 2027, there might be more gig workers than full-time employees. While gig work has mostly been a part of the service industries, skilled workers like nurses and lawyers are also doing gig jobs through platforms like Incredible Health and Docketly.
Even businesses are relying on gig work to tackle issues like not having enough workers, prices going up, and the economy not doing well. In fact, about six out of ten business leaders think that gig workers will replace full-time employees a lot in the next three years.
Employee Mental Health and Well-Being 
Companies have increasingly been focusing on creating a healthy work-life balance for their employees and prioritising their mental health. This will remain one of the key workplace trends of 2023. According to Indeed and Glassdoor Hiring and Workplace Trends Report, 90% of individuals are of the opinion that how we feel at work matters, yet only 49% report their organisation is focused on measuring and improving their well-being.
While employees still care about how much they get paid and the benefits they receive, it's also really important for companies to create a positive work environment. This is even more crucial now as the majority of the employees operate from remote settings.
In fact, 86% of the individuals say that how they feel at work influences how they feel at home. In fact, after pay considerations, stress, lack of satisfaction and happiness are the leading factors people start to look for new job opportunities.
Skills Over Jobs 
In 2023, more companies are more likely to consider alternative credential programs like short courses or certificates during the hiring process and to increase their spending on in-house upskilling efforts.
Leaders are realising that upskilling employees and creating career paths can help their organisations close skills gaps. As per the World Economic Forum's Future of Jobs 2022 report, Business Leaders said that about 40% of their workforce will need reskilling in the near future. Another report reveals that upskilling and reskilling are top priorities for today's workers.
The 4-Day Work Week 
The trials of a 4-day working week have been quite a success so far. In the 4-Day Week Global Study, 67% of the companies involved decided to stick to it rather than going back to the regular 5-day pattern.
Despite fears to the contrary, the amount of work done either increased or stayed the same during the trial, and employee satisfaction and wellness also improved. Another study from Henley Business School found that companies that tried and implemented the 4-day week saved about £104 billion, which is around 2.2% of their total turnover.
According to a survey, 79% of recruiters think that by 2030, most companies will have a 4-day workweek where people still get paid the same. This means that it's likely this idea is here to stay.
Bottom Line?
So far, 2023 has brought about a significant shift in how both job seekers and employers approach employment. From AI's impact on the job market to the rise of gig economies and a deeper focus on employee well-being, it's clear that adaptability and skills are key. As we navigate these changes, embracing flexibility, upskilling, and a focus on employee satisfaction will be key to thriving in this new era of work.
An ardent reader, full-time writer and a lover of all things purple. Riya is an entrepreneurial spirit, making her way in the start-up industry through her expressive writing. When not working, you can find her jamming to music, watching period films, eating sushi, or petting cats.