It all started in 2009 during the financial crisis. People were unemployed and made their living by gigging – working many part-time jobs. Who would have thought that this short term employment will become a lifestyle for the new generation in the coming years?
Full-time employment, something which people craved for a decade back has now become just another boring alternative to working gigs. The gig economy or the Uberization of work, as Forbes name it, is the new trend among the millennials. The advent of the internet, laptops, and smartphones have made it easier to connect with people of the world and create an income from short term tasks without committing to one single company for long.
But before we go on to explain what is gig economy and how it works, it's important to understand the true meaning of the word 'gig'.
What Is A Gig?
Originally derived from the music industry, a gig is a short-term job, a project or a performance that pays. Often referred to a freelance job or a project-based job, a simple definition of gig could be 'a job for a short period of time'.
Some common examples of gigs are –
A live music performance or a theatre act
A ride for an Uber driver
A project to write an article for a website
A consulting project
Gig based employees include freelancers, independent contractors (consultants, brokers), project-based workers, contingent employees, and other outsourced, temporary and part-time hires.
What Is Gig Economy?
The gig economy is a free market system where the transactions are task-based and the workers work independently without being bound to long-term contracts with any company.
This economy is very broad. It includes all short-term gigs which range from music to consultancy. The workers who are a part of the gig economy can be part-time jazz musicians, full-time Uber drivers, or full-time independent consultants. The only factor which differentiates and drives this economy is the absence of any long-term employment contract; anyone can work with anyone for as much time as he wants and gets paid for only the amount of work he has done.
Ever since the financial crisis of 2008-2009, people and companies have become more inclined towards task-based labour. According to a report by HBR, approximately 150 million workers in North America and Western Europe have left their stable jobs to work as independent contractors or giggers.
Now, giggers are simply the people who do gig work. These giggers often club together different gigs, work with more than one company and choose the time of work which suits them the most. They are no less than individual brands who thrive just on the work they provide.
Gig Economy Trend – The Rise Of Gig Economy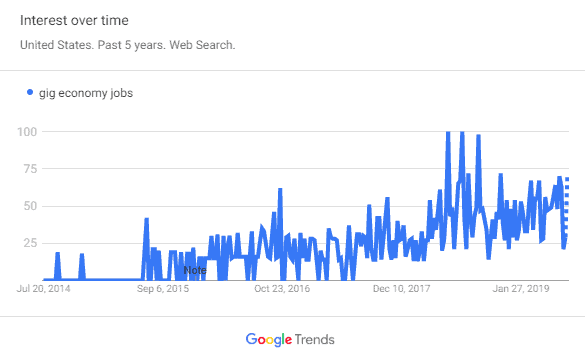 According to the Intuit 2020 report, the number of contingent workers will exceed 40 percent of the workforce by 2020. Another report by Upwork (Future Workforce Report), 59% of U.S. companies now use contingent workforces to some degree – which include part-time workers and freelancers.
Big corporates and even many small businesses are moving towards creating their own collaborative networks of part-time workers to reduce costs, get more work done, and expand their available talent pool. A perfect example of this is Uber. The company owns no cars, yet it is the biggest cab operator brand in the world.
This new form of work has gained the attention of both companies as well as the workers. For the companies, the workers act as partners and it has no obligations to fulfil like healthcare, social security, or taxes. For the workers, they get more freedom, can work with anyone who pays more, and are free to work at the time they want (mostly).
Many companies have capitalized on this rising trend and established their brand as a marketplace for hiring freelancers. Some of these are Fiverr, Upwork, Freelancer, etc.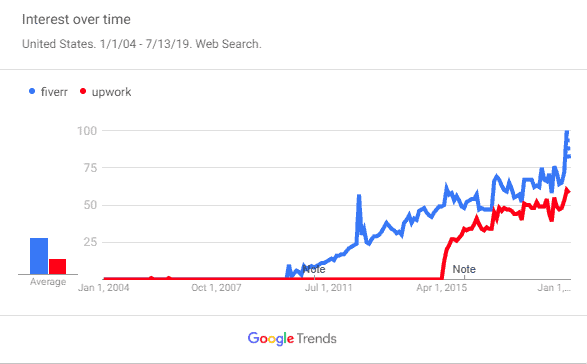 Digitization owns a major credit in the decrease of normal jobs and increase in the gig-based work culture. People in developed countries now have access to the workforce from less developed or developing countries, which come at a very economical rate. The improvement in communication tech has also fueled the growth as major of the work is done remotely.
Moreover, even the governments are helping boost the growth of the gig economy by creating laws like "Freelancing is not Free" to ensure that freelancers are paid for the work they do.
Characteristics Of Gig Economy
Over 76% of gig workers say they would not leave freelance work behind for a full-time job.
Why, you ask?
Because of these convincing features and characteristics.
You Get Paid For The Work You Do
Unlike the usual corporate jobs, gig work includes a price for everything. The client pays more if he wants more.
You Quote The Price Of Your Work
The most attractive characteristic of the gig economy which attracts many gig workers is that they get to quote the price of their work. This usually works in favour of the talented and more skilled workforce and increases their satisfaction and fulfils their self-actualization needs.
Clear Commitments, Requirements, And Terms
Gigs usually include clear work requirements, deadlines, and terms. This makes it easy for the gigger (gig worker) to allot time for specific jobs and personal jobs.
Focus Is Only On The Work
Usually, all the clients care for is the work to be done as per the brief and within the deadline. They don't care about whether the gig worker is working with other companies or how he will be able to complete the tasks.
The gig worker is paid only when he completes the tasks given to him.
More Focus On Brand
This new form of working has made it possible for the companies to put more focus on the building and marketing the brand than spending money on healthcare and other wooing policies for employees. Uber and Lyft, for example, thrive on such an ideology. They give nothing but the promised work money (and offer money sometimes) to their drivers.
Gig Economy Examples
The gig economy is very vast. It encompasses almost all jobs which are provided on a temporary and/or flexible basis. Here are some examples of jobs in the gig economy –
Artists – event-based paid performances by music artists, drama performance by theatre artists, etc.
Freelancers – project-based experts like content writers, graphic designers, music producers, etc.
Two-sided Partnerships – two-sided partnerships like that of Uber and drivers where both the parties work together only when there is work.
Contingent Employees – non-permanent employees of corporates who are hired on a per-project basis.
The Pros And Cons Of Gig Economy
Like every lifestyle, living life working gigs also has its own perks and cons.
The Benefits Of Gig Economy
To Businesses
Fewer Resources Needed: With the workforce being gig-based (which usually works remotely), the companies don't have to spend a lot of money on renting fancy offices and providing attractive benefits like healthcare and social security, etc. Moreover, since the worker is already expert in his own field, the businesses don't have to spend on his training as well.
Expert Pool: Business gets to appoint the experts for the work. This reduces friction and increases productivity.
More Flexibility: If the company relies more on contingent workers, it becomes easy to adjust and change the workforce according to the need of the moment.
To Gig Workers
More Flexibility: Working gigs provide more flexibility regarding the time and place of work and even the employer. This improves the work-life balance of the workers.
More Satisfaction: The workers quote their own price and pick the jobs that seem most interesting. This increases their motivation and satisfaction.
More Money: Gigs are where your work speaks. If you're good at what you do, you get paid more. Moreover, there is a price for everything when it comes to gigs. If your client wants more, he pays more.
Gig Economy vs. Contract Employment
No matter how similar it seems, gig work is different from contract employment.
Contract employees are employees retained by companies for a predetermined job and at a predetermined time period. These are just like normal employees who are required to reach the office on time and perform routine employee duties. The only characteristic which separates them from a normal employee is that they don't receive employee benefits like taxes, social security, etc.
Gig workers, on the other hand, are totally independent individuals who work as partners with the clients and not as employees. They have contracts which relate only to the work that needs to be done and they don't have to act like employees to the organisation.
Finding Good Gig Economy Jobs
Disclaimer: Before you think of moving to make a living out of working gigs, make sure you're good at what you do or it'll be really hard for you to live in this economy for long.
Here are the 5 best websites to find gig work on.
Here's our detailed list of best outsourcing websites if you want more options.
Go On, Tell Us What You Think!
Did we miss something? Come on! Tell us what you think about this article on gig economy in the comments section.
A startup consultant, digital marketer, traveller, and philomath. Aashish has worked with over 20 startups and successfully helped them ideate, raise money, and succeed. When not working, he can be found hiking, camping, and stargazing.