With the growing popularity of remote work, people have started to rely on technology for almost everything. The Internet is being used as a marketplace for businesses to promote and sell their products and services to the people.
But as the number of offerings increases online, push notifications and emails are not that helpful anymore. You have to switch to different tools to make your marketing game stronger.
Webinars are a popular way of conducting live events from a remote location. Research shows that it can be a powerful marketing tool for businesses. 73% of B2B marketers claim it to be the most powerful way of generating high-quality leads.
So, how can you use webinar as a marketing tool to sell your offerings? Here's a guide.
What Is A Webinar?
A webinar is a digitised seminar hosted by organisations to communicate and share powerpoint presentations, videos, websites, pages etc. They are screened live to a selected audience. Marketers use it to engage large audiences and establish their company as a brand.
Most of these webinars have a host who manages the flow of the stream and shares the videos and presentations. The audience can interact with the moderator and ask questions in real time.
What Can You Sell Using A Webinar?
Webinar marketing is one of the favourite tactics amongst B2B marketers. Popular across various industries, it is used as a leverage to drive sales and boost revenues effectively. 73% of marketers say that webinars are the most powerful and inexpensive way of lead generation for businesses.
Online Courses
Selling online courses using webinars is easier as it allows you to connect with the audience directly as you speak. You can easily explain them the course's features and benefits which helps you sell it effectively.
If the audience believes and trusts the content you display, their chances of enrolling in specialised online courses increase. Experts like Russel Brunson, Neil Patel and Frank Kern use webinars as a strategy to sell courses worth $1000-1500.
To get the viewer's interest, they start by highlighting a hot issue and the need for a solution. Later they use this audience's curiosity to sell their course at the end.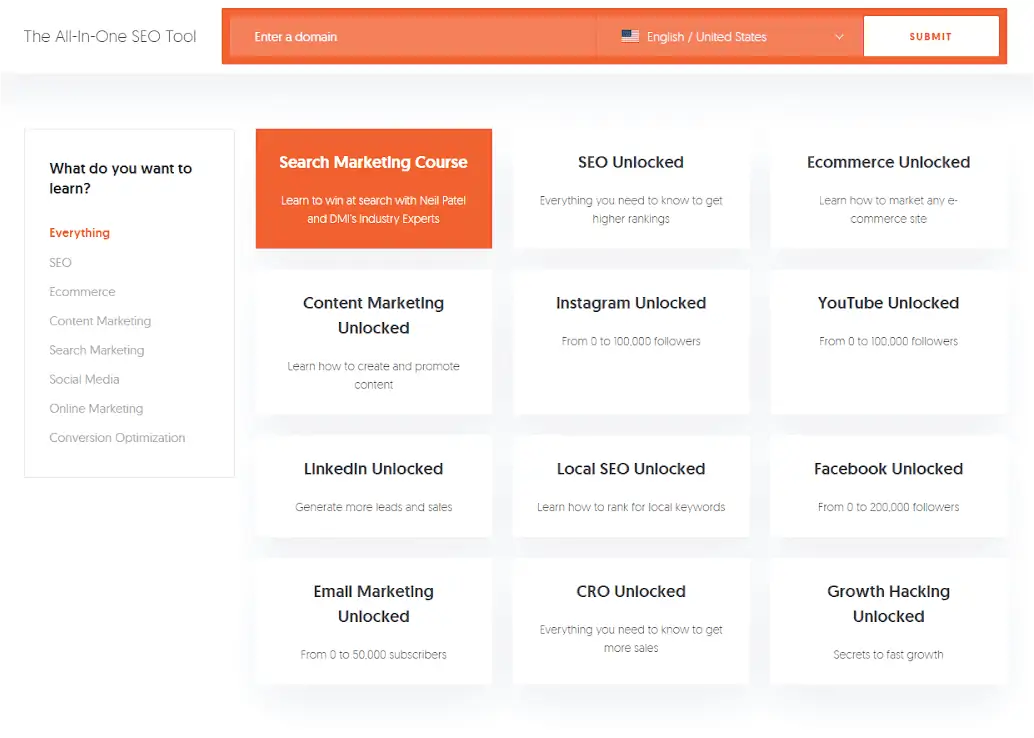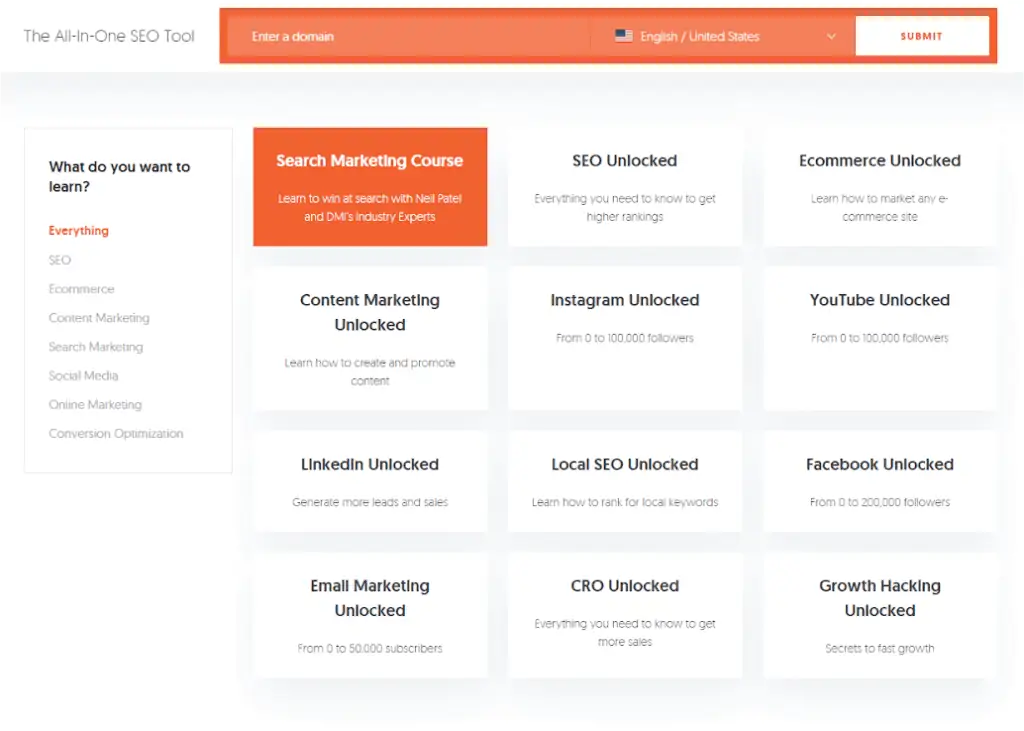 SaaS Products
Getting maximum traffic to your site is the fundamental requirement of running a SaaS website. The next step is to convert these visitors into actual customers for your services and increase sales.
Webinars are one of the best ways to nurture and gather leads for your products. The way you present your offering to your audience will determine how they perceive your product.
Salesforce, Leadpages, SEO Moz and many other SaaS-based companies use webinars to enrol clients into their products and market their software. They offer value to their customers by educating them about how they can solve their problems better and then offering their products that do the same but more effectively and efficiently.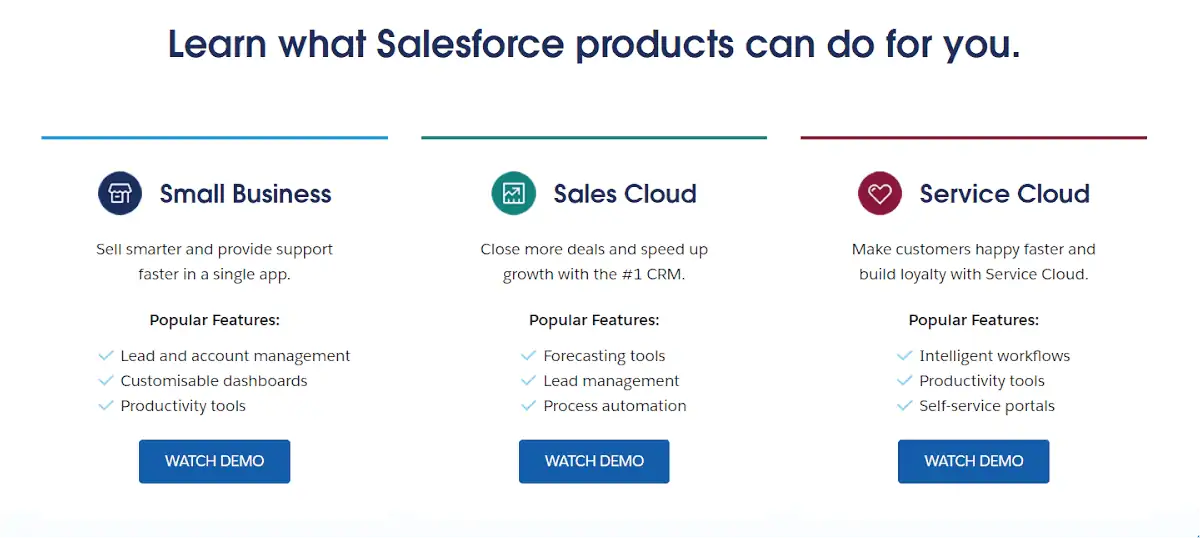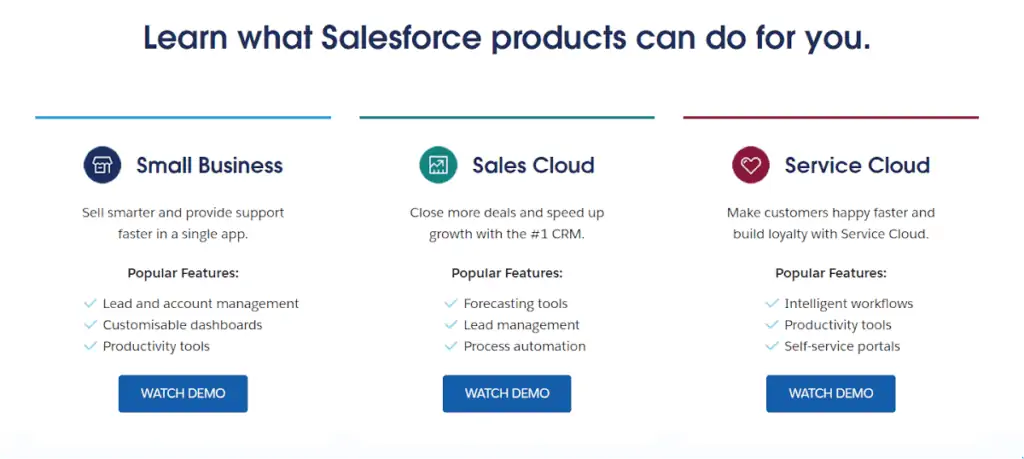 Freelance Services
Being a freelancer, you need to position yourself as an expert to gain the customer's trust. You have a higher chance of convincing someone to use your service when they see and hear you talk.
Webinars are a great platform to demonstrate your knowledge to the people whom you expect to hire you. Besides, a good way to make the viewer trust you when you offer your knowledge as a service is to give some away for free.
Freelancing websites like Fiverr and Upwork host webinars to educate their audience about the variety of freelance experts they have in almost every field. They then use it as a medium to market their offerings to the viewer.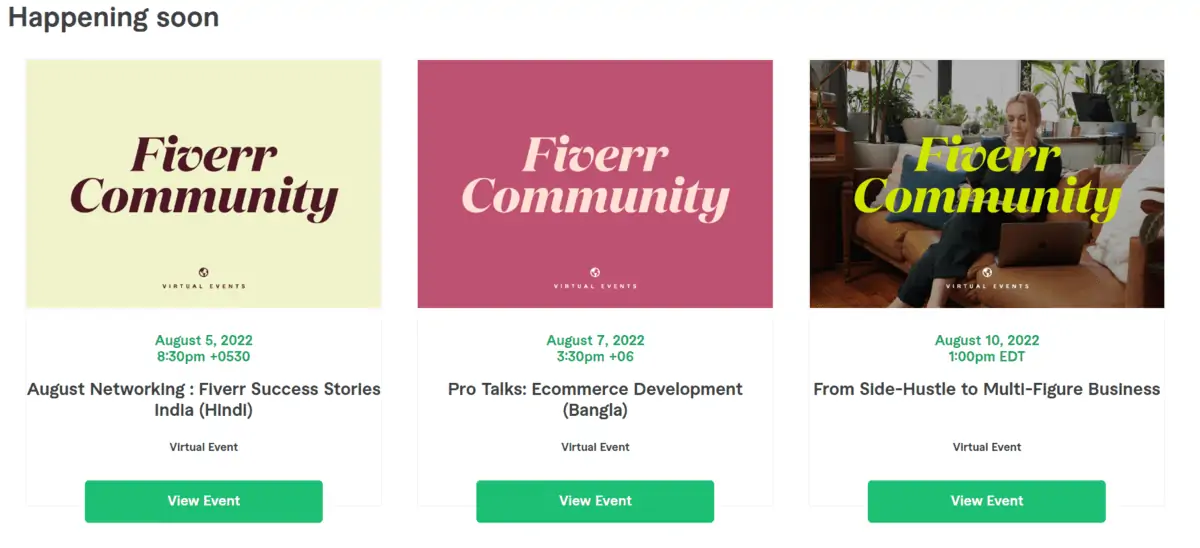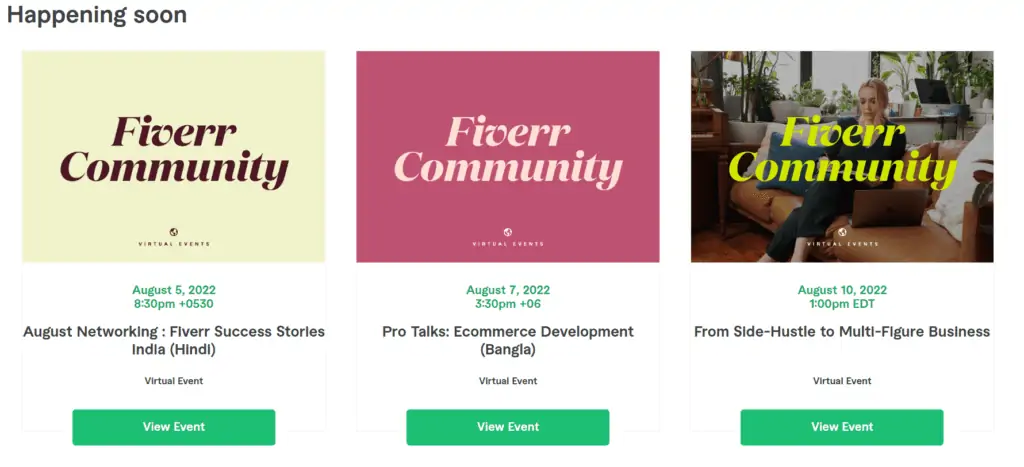 Digital Products
A webinar is an online sales presentation tool for selling a digital product. It gives you the best chance of selling your product to a potential customer by proving how it is the best solution.
You can plan your pitch to work out the minutest details and begin with a perfectly well-crafted script adjusted for tonality and modulation. It serves as the best chance to educate your viewer on your product besides a face to face meeting.
Many companies use webinars as a lead conversion tool to sell apps, eBooks, webinars, audiobooks and member subscriptions online.
How To Sell Your Products Using Webinars?
Webinar marketing plays an integral part in your sales funnel. You can't boost your sales just by getting people to sign up for your webinar. You must ensure they are excited to attend it and look forward to learning something from it. Moreover, the webinar should also be immensely valuable, selling a solution for their problem. This is the premise for pitching your products and making your audience move down the funnel.
But first, you must ensure that you target the right audience. Let's have a look at the detailed process of selling your products through a webinar.
Define Your Target Audience
Before you choose a topic for your webinar, you need to choose and define a target audience for your webinar. For example, a webinar on 'how to make money on social media' will bode well for school or college students, but it would drive very little interest among marketers.
Accordingly, you need to research your audience well before choosing the appropriate topic to cater to them. It's a good idea to create a customer persona before actually finalising a topic.
Conduct surveys and study the purchasing habits of the customers who have bought similar products to what you have to offer. This will help you identify their pains and challenges, ultimately letting you finalise the webinar's topic and flow.
Begin by defining your audience's characteristics like age, gender, location, purchasing habits, interests, education etc. This makes it easier for you to carry on your next step: picking a topic.
Pick A Topic For Your Webinar
Once you define the target audience, you need to identify a topic for your webinar. Identify the customer's itch and find a way to scratch it for them. Consider these dos and don'ts before choosing a topic for the webinar.
Dos
Give a solution: The title should focus on the solution to the customer's problem. Identify the audience's greatest pain point and mould it to create the topic for your webinar using 'how-to' in the title.
Collect information: Take the help of social media to find out the way in which social issues are presented to the people on a daily basis. Find groups or pages that unite your target audience or simply google the challenges faced by the people to pick up engaging topics.
Use a captivating title: Choose a topic and put it in such a way that it becomes irresistible for the viewer to look away from it. Make the webinar current by emphasising the present time. Example: 'Top photography trends for 2022'. You can even use simple hacks like using the word 'new' in the title. Example: New digital marketing tactic to increase your sales by 10x. This will prompt the targeted customer to gather more information on it and even register for it.
Don'ts
Don't mislead: Make sure that the webinar's topic aligns with the content you are willing to present in it. The title shouldn't make any promises that you won't fulfil later.
Not too fancy: Try to simplify the audience's problem and pick a topic accordingly. Don't make it too fancy by using typical vocabulary that would make it difficult for the audience to understand your objective.
Not too long: Don't make the webinar title too long to read. Keep it short and crisp such that it conveys the message accurately.
Plan The Webinar Content
The next step is preparing the content that you will present to your audience, which should primarily focus on solving the customer's problem.
Grab The Audience's Attention
Firstly, you need to give your audience a reason why they should watch the entire webinar. Start by listing what all they can achieve if they stay through the session and follow the steps you mention. Prove your case by showing them yours or industry statistics.
For example: If the webinar topic is 'Proven tactics to invest money in the stock market', then you can display some statistics showing how much people have benefited by utilising the same.
Content
Once the people find a reason to stay, you need to look out to keep them hooked throughout the session. The most effective way is to create a webinar presentation for the same.
Having a good speaker who can keep audiences engaged will certainly serve as an advantage, but sometimes, all you get is a PowerPoint presentation. So while making the presentation, you need to remember that the audience is looking to learn something from you.
Explain to them how they can achieve what you claim to be true through your statistics. Illustrate the steps that they need to follow and elaborate on each detail.
Call To Action
Now that the viewers know what to do, you offer them help by telling them how to do it. Demonstrate how you can help them by displaying any online courses or products that you offer. Convince the viewers that you can help them achieve what you claimed at the start of your webinar if they avail of your services.
This is the best time to sell your offerings to your viewers. They know how to use your product and understand its need. Enforce a call to action upon them by showing them pricing plans, links to your website, demos of your products etc.
Don't forget to focus on a unique selling point.
Branding Your Webinar
Most webinars have a setup where the speaker is in a small window with a presentation pinned to the meeting. So the slides must be engaging and eye-catching to keep the audience hooked throughout the webinar.
No large texts: Don't use text-heavy presentation slides which make the webinar tiring and dull. Burdening the audience with statistics and facts at once might overwhelm them. Instead, you can use charts and graphics to make the content more readable and bullets to break your information into paragraphs.
Use visuals: To make the presentation attractive, you need to add tons of charts, graphics and videos to visualise data wherever possible. Use videos or animations in place of monotonous texts for explaining things. Insert video examples for case studies to make them connect with the real world.
You can use online platforms like InVideo, Wave.video, Adobe Express, Clipchamp etc., specifically curated for video creation. They have distinct options to make videos from complete scratch, text to video conversion or image compilations.
| Features | InVideo | WaveVideo | Adobe Creative Cloud | Clipchamp |
| --- | --- | --- | --- | --- |
| Templates | ✅ | ✅ | ✅ | ✅ |
| Export without watermark  | ✅ | ❌ | ❌ | ✅ |
| Stock library | ✅ | ✅ | ✅ | ✅ |
| Audio effects  | ✅ | ✅ | ✅ | ✅ |
| HD resolution | ✅ | ✅ | ✅ | ❌ |
Polls: Ask questions and conduct polls to keep the session interactive the whole time. This prevents your audience from getting bored. At the same time, this serves as a medium to collect statistics for your future webinars.
Stick to the title: While you may deliver a variety of content on inter-related topics, you also need to ensure that it should revolve around one master topic. You should not divert from the mainframe while preparing the content to include any extra information that does not have much significance.
Prepare a narrative: While the speaker may be extremely skilled, they still might struggle to maintain the flow when the webinar goes on for a long time. To counter this, you can create an outline of the points that need to be covered and insert a slide in between. This helps both the speaker and the people to be in sync with the flow of the webinar.
Define The Agenda On Your Registration Page
Once you've built the audience, you need to define an agenda to sell them the idea of attending your webinar. This includes
Learning objectives, what they will learn and how it will benefit them
Exclusive insights
Type of Q&As, if any
Free resource or sample at the end if you will to offer
Speaker line-up
So, along with the designed agenda, you should mention all the necessary details like the date, time, and duration of the webinar on your landing page, so the viewer is compelled to register for the webinar.
The conversion rate on a landing page can be as high as 51%. So, once they land on the page, a compelling title and meta descriptions become an essential ingredient to guide them through. Perhaps a short video explaining the general registration process convinces them to click through the registration form.
You can use WordPress, a content management website that allows you to build and host websites and blogs.
Capitalise on countdown timers to show the urgency and encourage them to take action and generate thrill.
Ensure that the page is easy to navigate, and people don't have to fill in a lot of information to sign up for the webinar.
Promote Your Webinar
Even if people register for your webinar, the attendance rate for the same can be as low as 44%. After creating your webinar, you need to figure out how to tell about it to your target audience. Focus on driving maximum traffic to your registration page.
Ads
The best way to promote your webinar is by developing engaging ads or short promos and putting them in circulation all over social media. You can either use image-based ads or video-based ads. However, videos are always the better choice as they have a larger and longer visual impact on the audience's minds.
Online platforms like InVideo and Wave Video offer an extensive list of ready-to-use and customisable templates to help make videos. You can create, edit and design premium stock videos without any prior experience and their super user-friendly interface makes it easier for you to navigate around.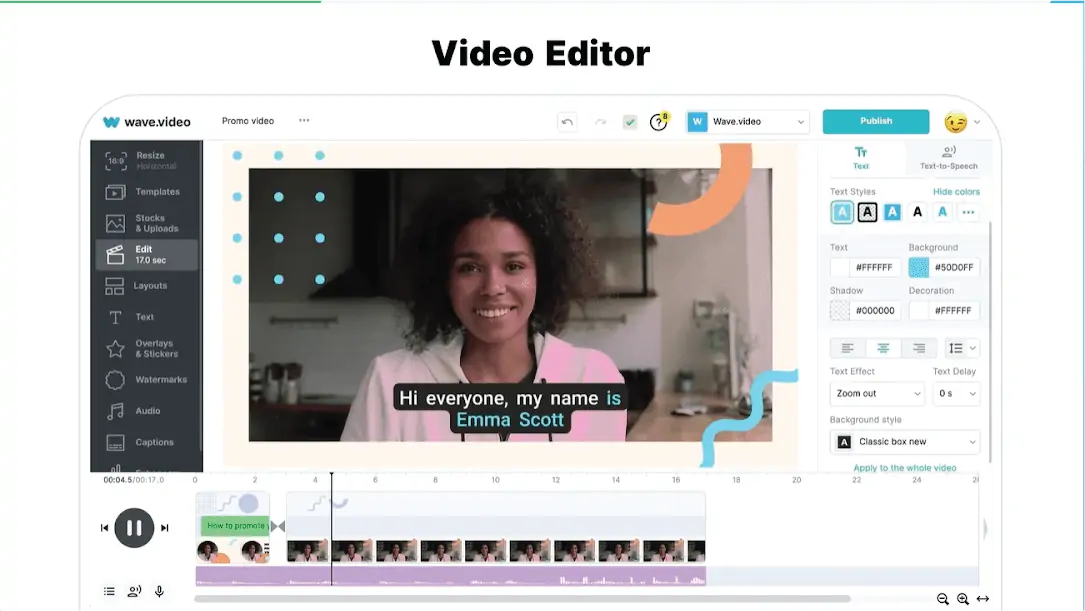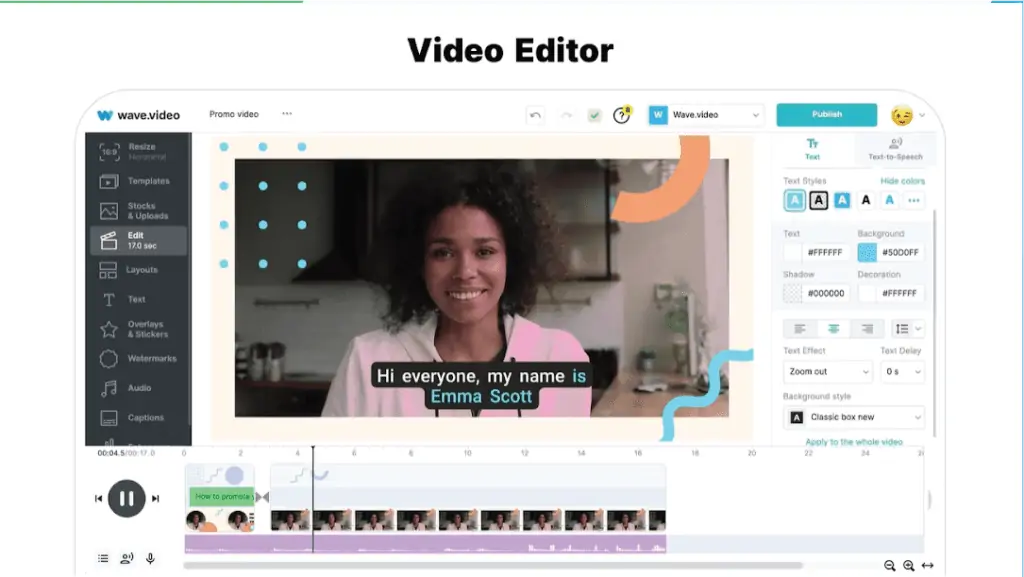 For image-based ads, you can even use Canva to design posters, graphics or charts to insert in between the presentation slides.
Emails
Email marketing can be an effective tool, especially for webinars. If you have a list of customer emails or subscribers for newsletters, draft your mail giving an invitation to join the webinar. Shoot a series of emails their way encouraging them to register for the webinar.
Make a point by sending them the emails for webinars after certain intervals like a week before, a few days before and then a few hours ago.
Website
Add action buttons and promo videos on your website as well. Choose strategic locations like homepage, footer, sidebars or maybe pop-ups to display banners or ads for your webinar.
Ensure you include all the relevant information and a brief description so people come prepared on what to expect.
Social media
Publish your ads in short and engaging posts on social media platforms to encourage your followers to attend your webinar. Create interactive stories and ask your friends and colleagues to do the same.
You can also market your offering by mentioning 'A surprise at the end' or 'Wait till the end for a reveal' in your posts and stories to keep them hooked till the end.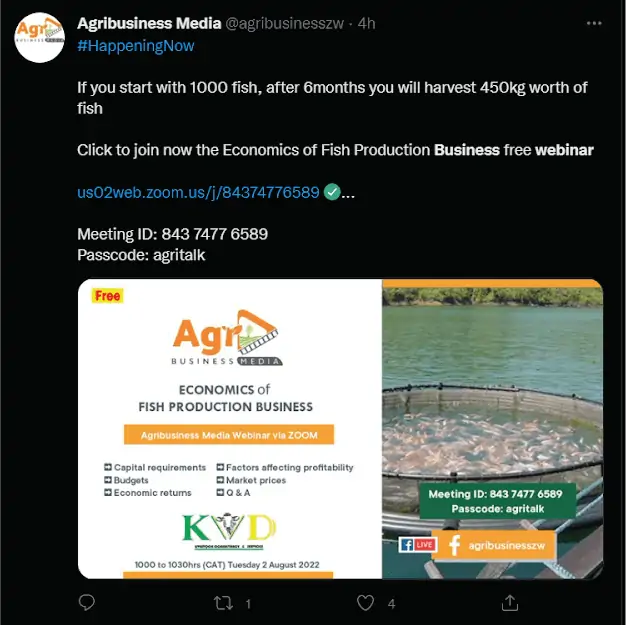 Blogs
If you have a blogging website, you can post relevant blogs about the same or related topics you will cover in your webinar to provoke interest. You can add a registration link at the blog's start or end to spread the word about your webinar.
But ensure to create a strong call to action to encourage people to actually attend the webinar.
Follow Up After The Webinar
Say you marketed the idea of a product or any course that requires registering on a link, then make sure that you follow up with the viewers after the webinar. Some people might have watched the webinar but couldn't register for it for some reason.
Contacting them after gives them a chance to inquire about anything else and finally register for the same.
Sending a thank you email for attending the webinar along with a summary of what was discussed or maybe even a recording of the webinar.
A feedback form asking for suggestions or improvements for the next time.
You can also email them a link to the webinar recording to show them what they missed.
Discounts or price drops within a timeframe compelling them to avail the offer
This increases the number of people availing and registering for your services through webinars and ultimately helps increase your sales.
Bottom-Line?
Webinars are an extremely effective tool for boosting your sales, and if you haven't considered them yet as a marketing tool, then it's time you reconsider your choices.
Following the steps demonstrated above will help you create and craft good webinars, generate leads and convert them into sales to boost your revenues.
Go On, Tell Us What You Think!
Did we miss something? Come on! Tell us what you think about our article on webinar as a marketing tool in the comments section.
A startup enthusiast, optimist and full time learner. With keen interest in finance and management, Khushi believes communication to be the key to every management. Always ready to explore more and walking that extra mile in putting efforts.