Slack has been quite prominent in the project management space for a while.
That is not to say Slack is the only service out there that.
Before we jump to the alternatives to Slack, let's look at the reasons why you might have started using Slack.
What is Slack?
Slack is an instant-messaging platform that runs on the cloud and allows for its users to be able to send and receive messages right from within the app. What helps is the fact that Slack allows for many other existing services to be integrated into it and vice-versa.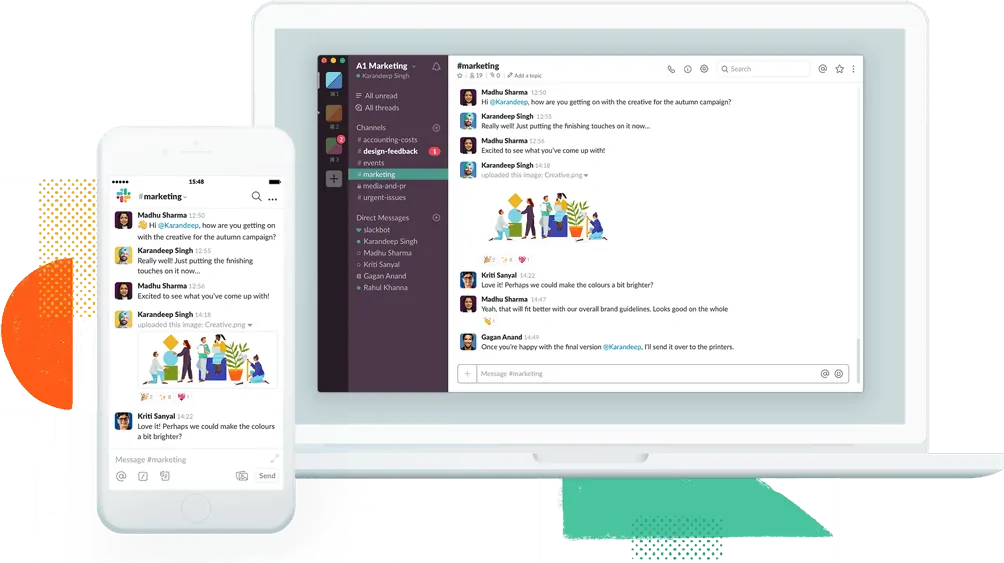 This means that you can receive your e-mails, files, messages, notifications, and others right from within Slack. Think of it as an aggregator of different services that also provides its own messaging service.
Everything is put under either channels (group messages) or direct messages (DMs). This makes it much easier to keep you and share stuff since it is all under one roof.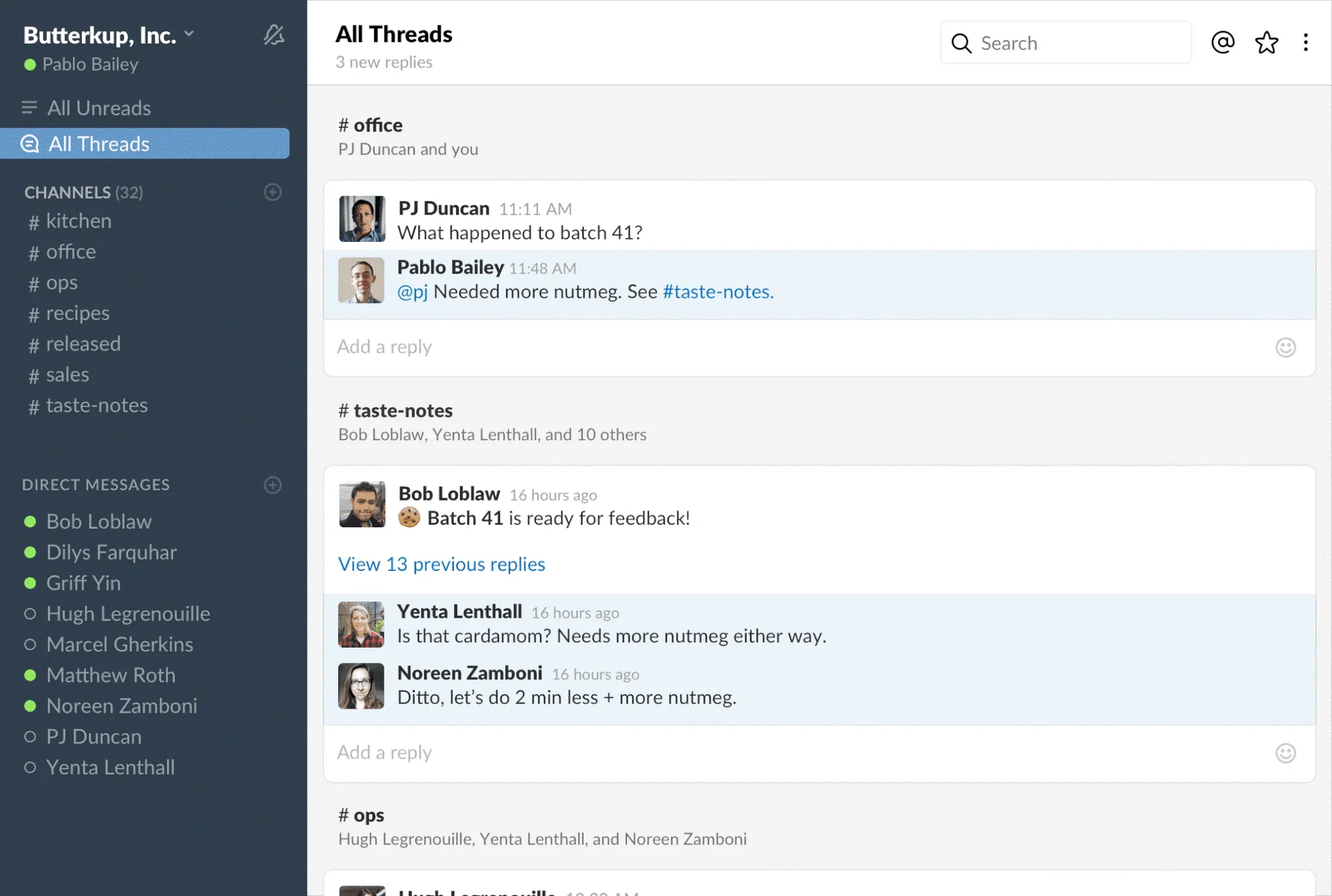 Knowing what brought you to Slack will help you hone in on the things to look out for in the alternatives that we have listed next.
Now, let's move onto –
The 10 alternatives to Slack that might fit your needs the best.
10 Slack Alternatives
RocketChat
RocketChat is an open-source alternative to Slack which allows for you to set up your very own customized team chat and for free.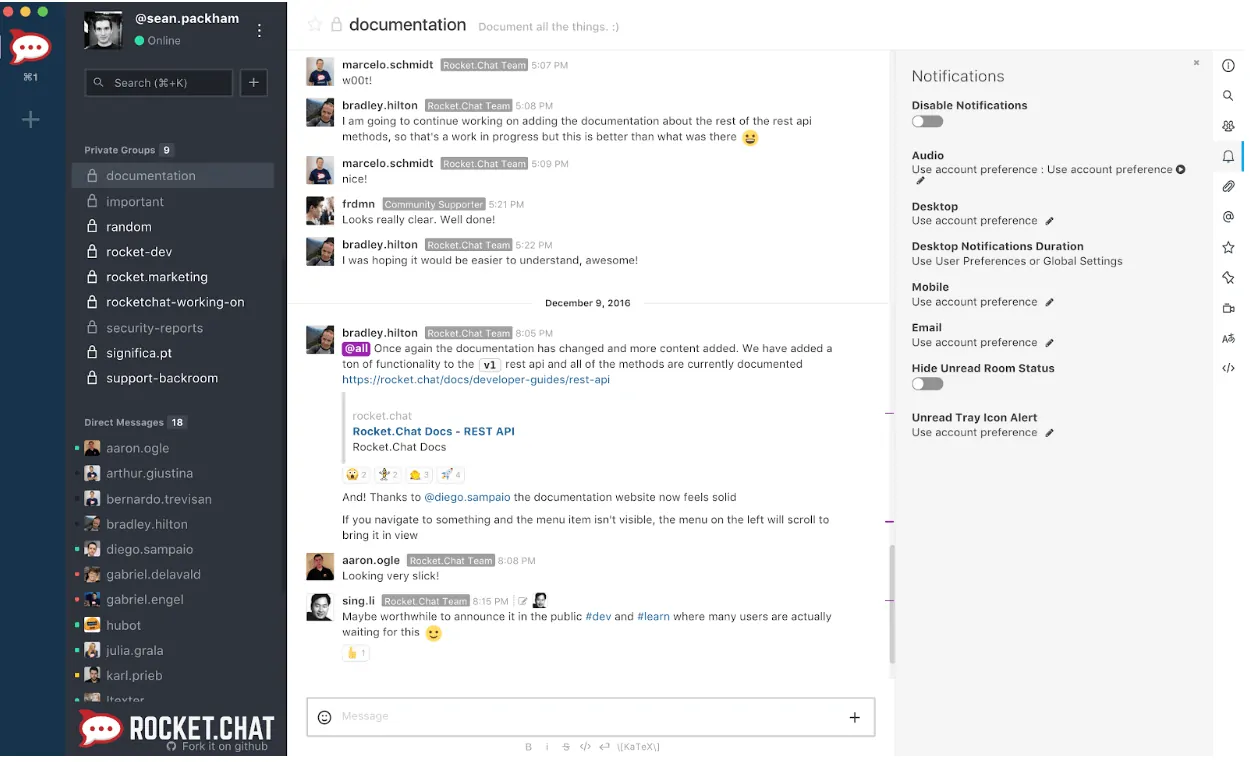 With RocketChat being open-source, you can customize it to your wish when you deploy it on your own servers. In case, you find that daunting and want a simpler experience, they also offer to run the service on their private cloud – for a monthly fee.
RocketChat allows for easy migration from other services such as Slack – all that you got to do is to export your files from Slack and upload it to RocketChat and you're all good to go. RocketChat is great in terms of the features it offers; they are quite similar to Slack's offerings –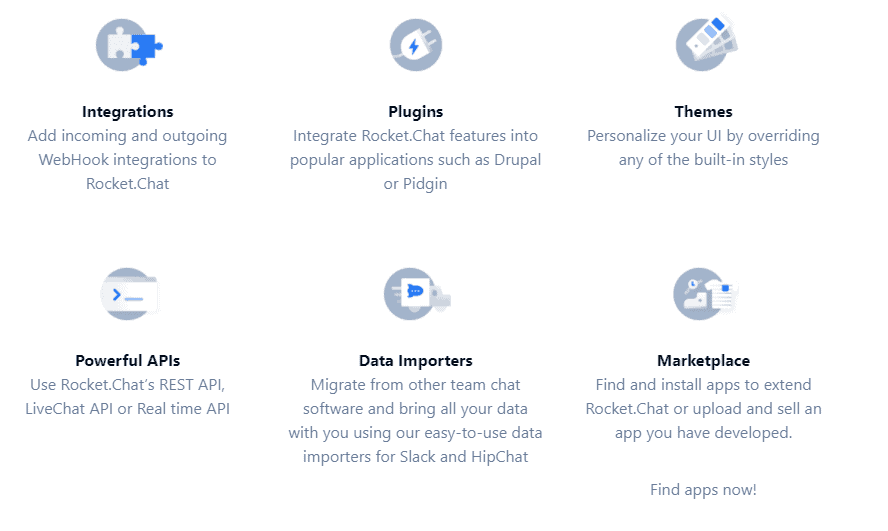 Real-time translation
Live chat client
End-to-End encryption
Creation of channels and groups
Integration with various external services and APIs
Customizable themes
Here's RocketChat's pricing for self-managed server –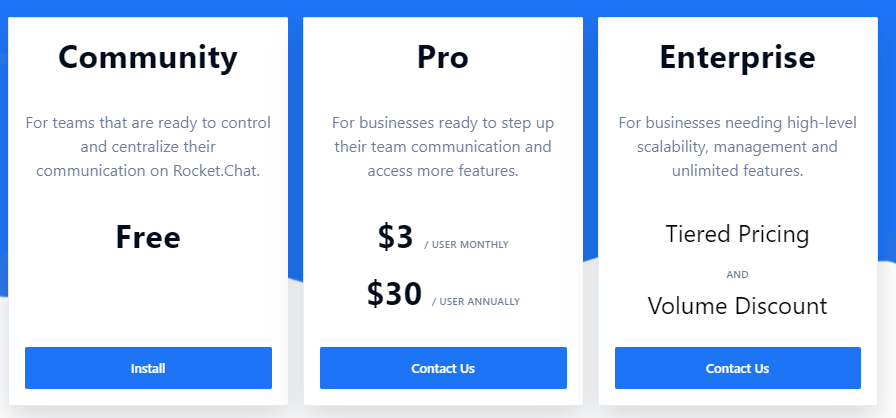 Here's the pricing for their cloud-based service –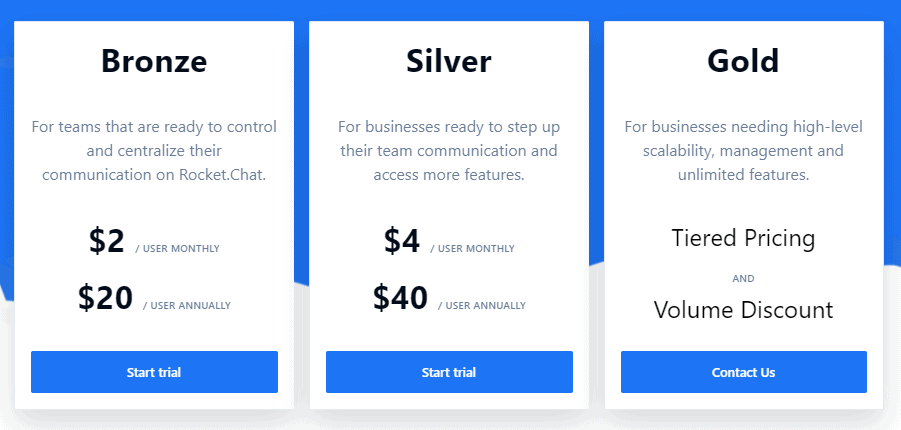 Hive
Hive can be considered as Slack – but on steroids. While being very much similar to Slack it also builds and improves upon Slack's existing features while putting everything – emails, lists, files, and messages – under one single page.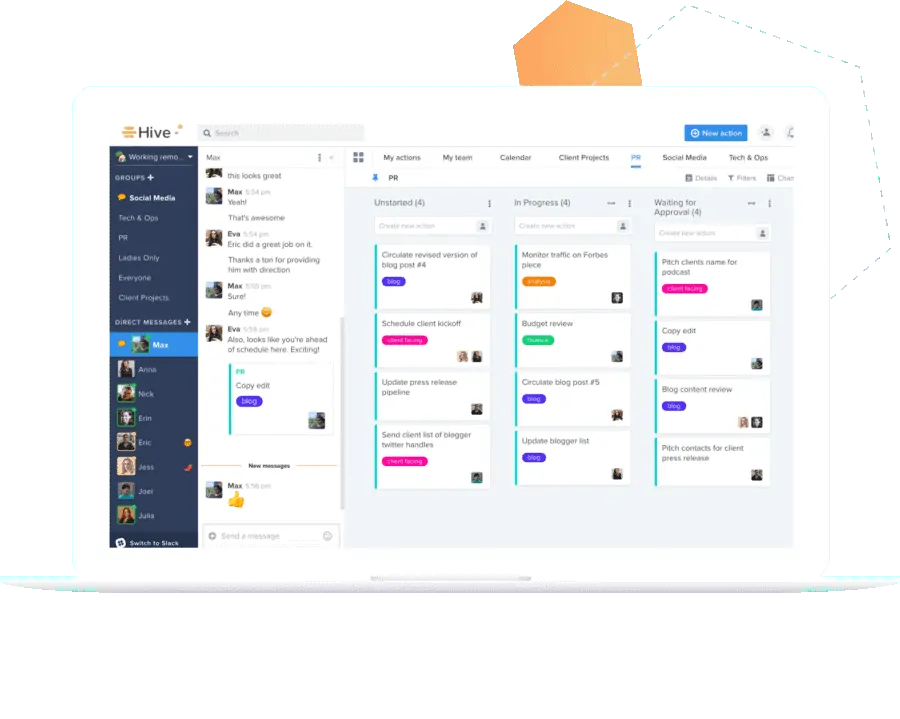 Hive is more suitable for enterprise users or large teams, as they can utilize the features on offer.

Hive's user-interface is also quite similar to Slack and even offers easy integration to merge your existing Slack account and all its data into Hive.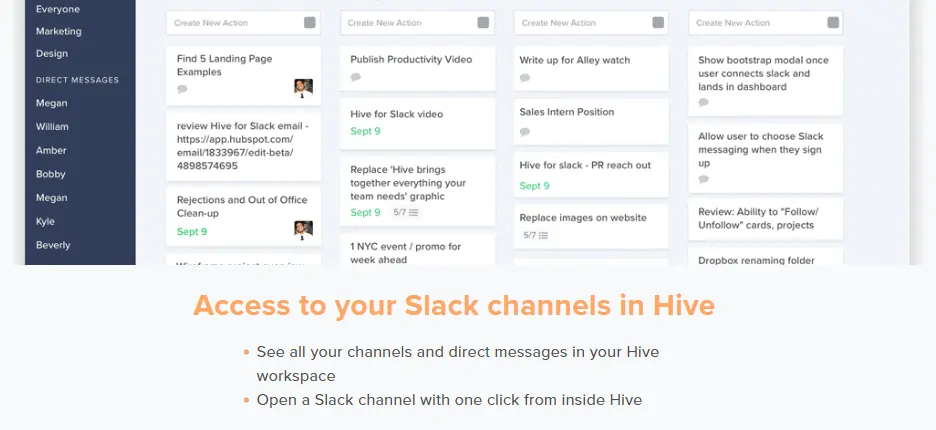 Hive's pricing is quite straightforward – $16/month/user if you subscribe just for a month or $12/month/user when billed annually.

Microsoft Teams
Microsoft Teams is great for large teams and enterprises than small businesses or teams and includes all the essential features – instant chats, audio/video calls, and external services integrations (Microsoft's products as well as 180 custom apps).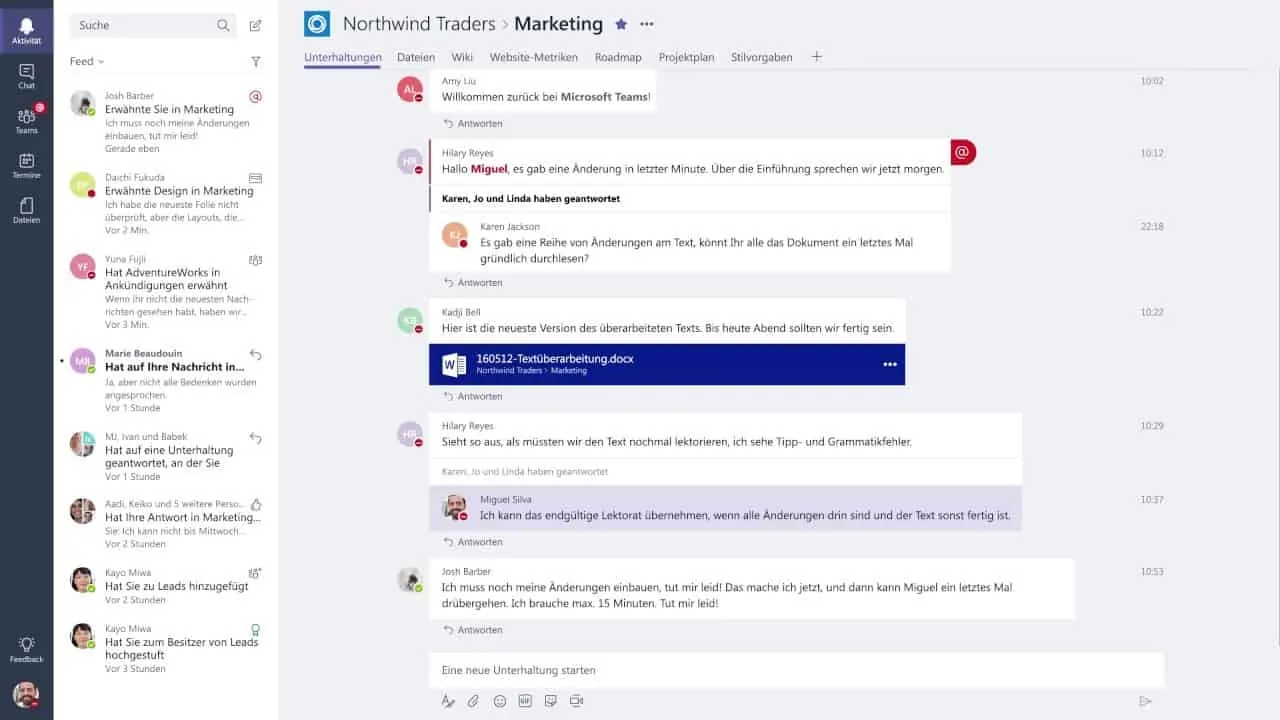 Available On: Smartphones: iOS and Android; Desktops: Windows, macOS, and Web
Geared towards enterprises.
Microsoft Teams is secure and all the data sent via it are encrypted. It also supports the creation and usage of bots within the service. It is more of a traditional enterprise tool and the next step for those looking to upgrade from Slack. Microsoft Teams comes as a part of the bundle with Business Essentials ($5/month) or Business Premium ($12.50/month) Microsoft Office 365 plans (billed annually).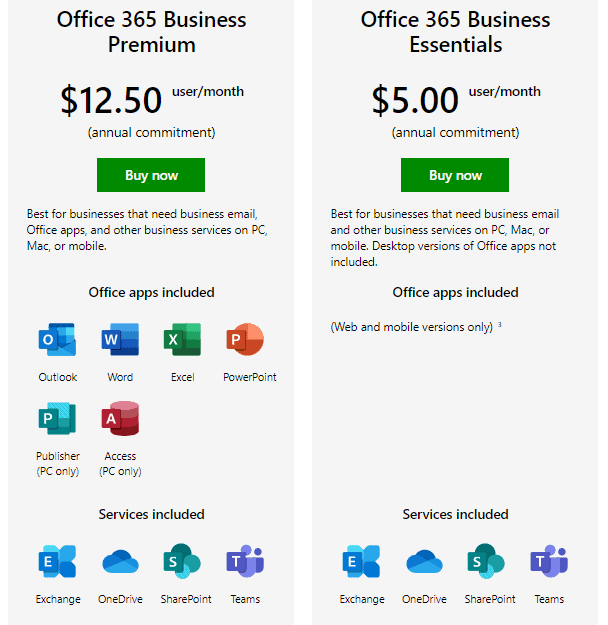 Google Hangouts
Google Hangouts for businesses is currently split into two services under the G Suite – Hangouts Meet (Calls & Conferencing) and Hangouts Chats (Instant Messaging). It allows for instant messaging, sharing of files and voice/video-conferencing with anybody from the inside or outside your team/organization.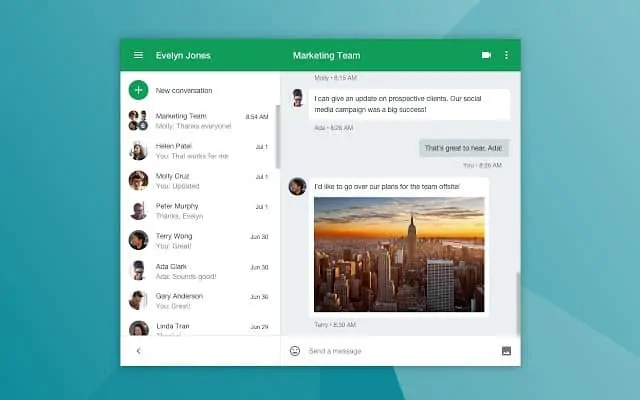 While Google Hangouts is free for regular consumers, businesses and teams have a lot to gain by signing up for Google's G Suite (starts at around $6/month/user) –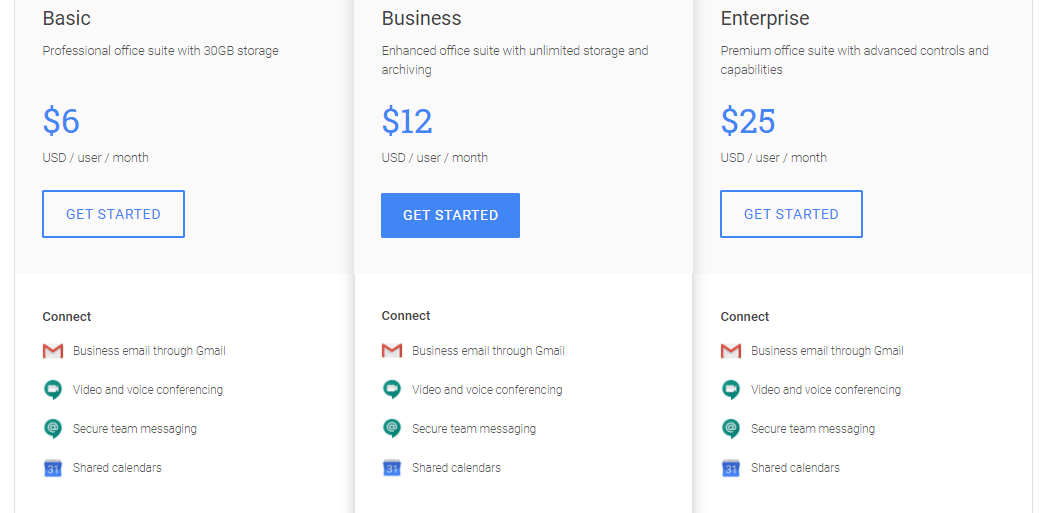 G-Suite users get access to lot more features on Hangouts than the free users –
Up to 25 members per call (30 for G Suite Enterprise users) and the ability to call into meetings with a dial-in number
Allows for screen-sharing to present documents, spreadsheets, or presentations
Encrypts all data being sent
Can enable real-time, AI-generated closed captioning while on calls
With Hangouts being a Google product, it integrates well with the plethora of Google services – Gmail, Analytics, Docs, Sheets, Google Drive and such – very well. It allows for the creation of groups but not the creations of specific channels as in the case of Slack.
Chanty
Chanty is a simple team chat tool that is more suitable for small and medium-sized teams and businesses.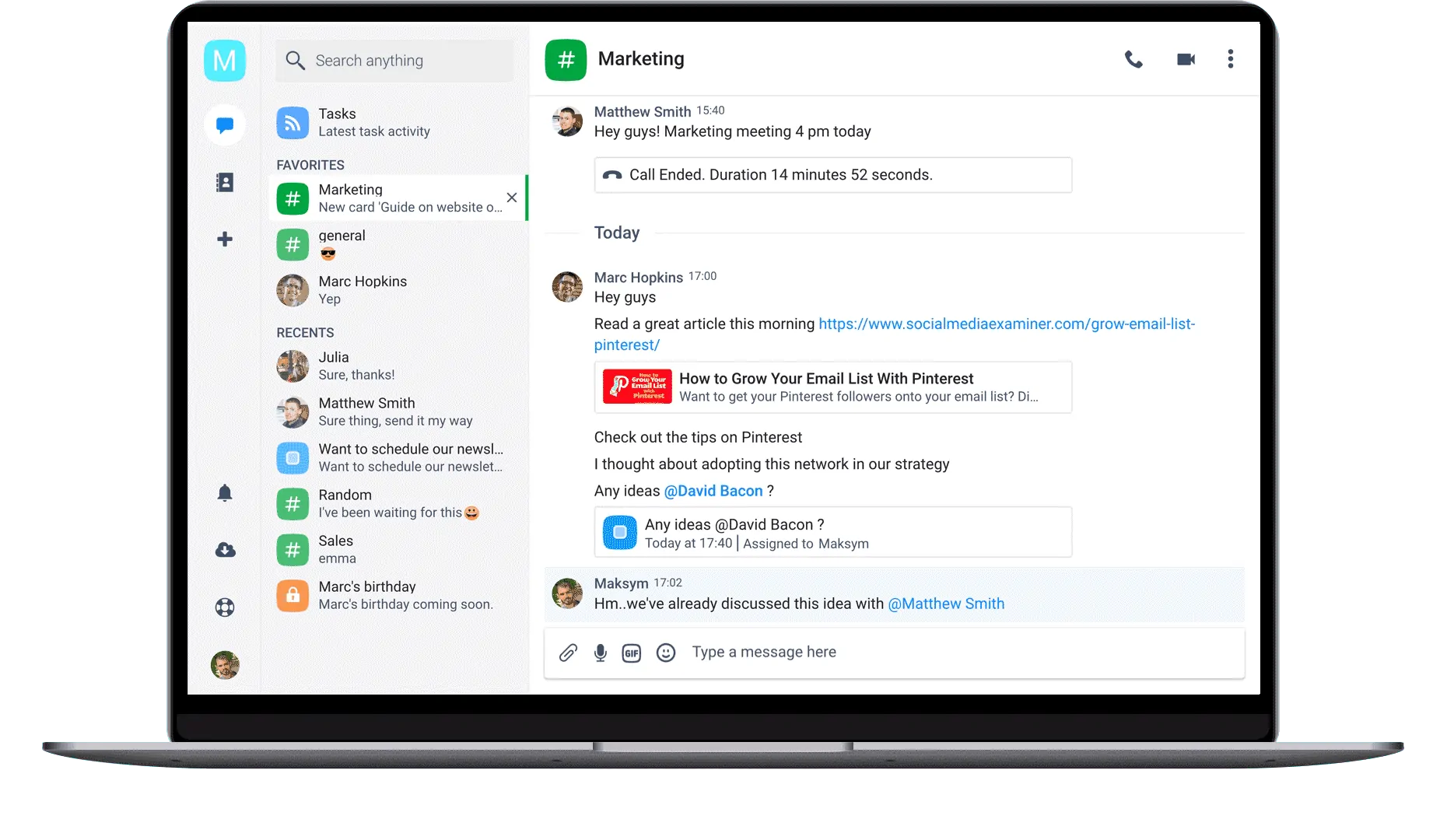 Chanty can be seen as Slack's lightweight counterpart – that in no way means Chanty is lean on features or functions. Chanty provides pretty much all the features that are available on Slack along with a few more – it doesn't limit its searchable message history.
Chanty, unlike Slack, also automatically organizes all your files, tasks, links, and conversations into folders in a feature called Teambook.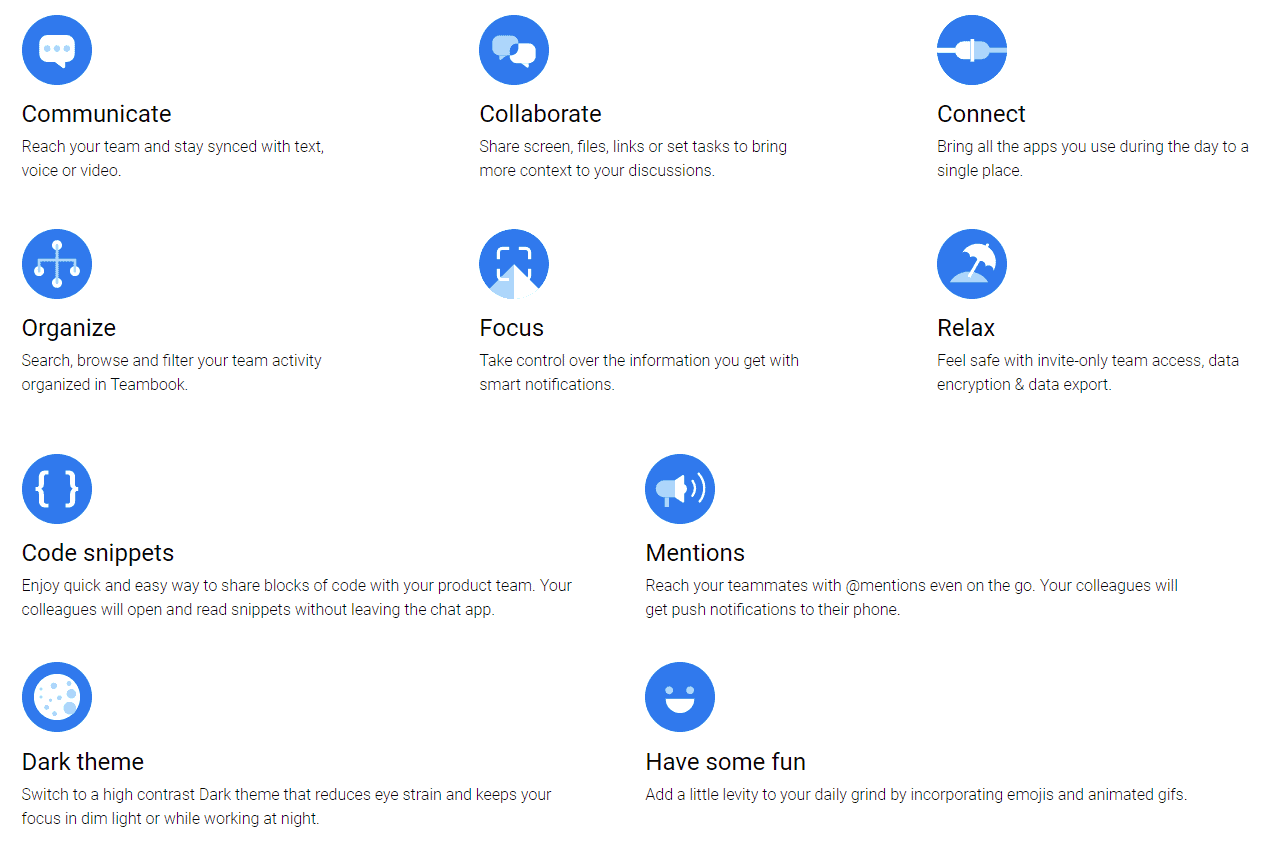 Chanty is available for free (up to 10 people) and the paid plans start at $3 per user for each month (when billed annually) with additional features such as extra cloud storage, unlimited integrations with external services and dedicated support line.

Mattermost
Mattermost is a private cloud, open-source alternative to Slack. It is quite similar to RocketChat in the fact that it can be deployed by you within your business for free (if you know what you're doing) and customize it to your needs.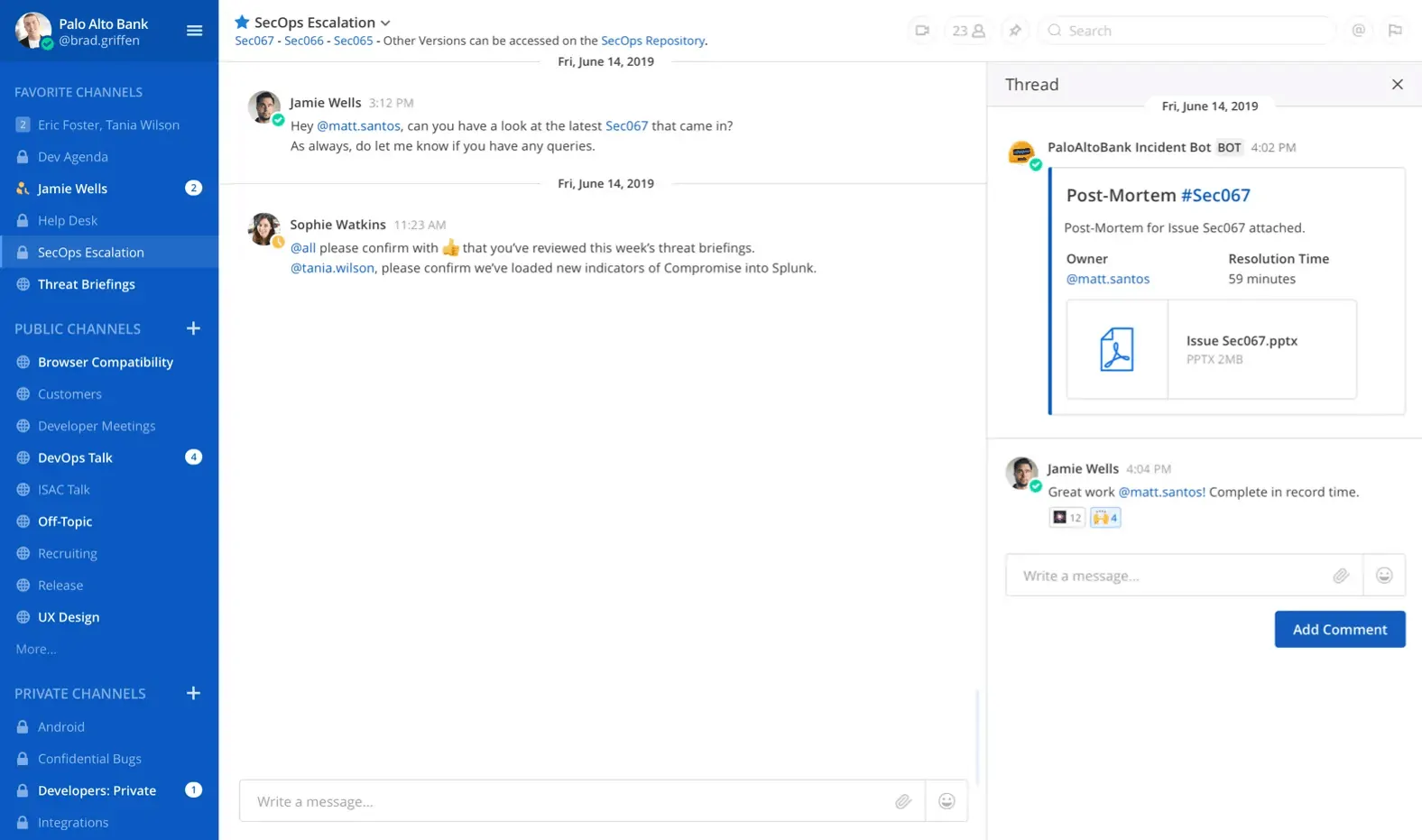 When compared to Slack, Mattermost offers a lot of data security and privacy since it is either self-hosted or run on private cloud services –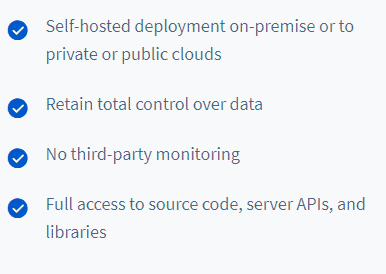 It offers features that are similar to those offered by Slack, along with the ability to organize conversations under different threads –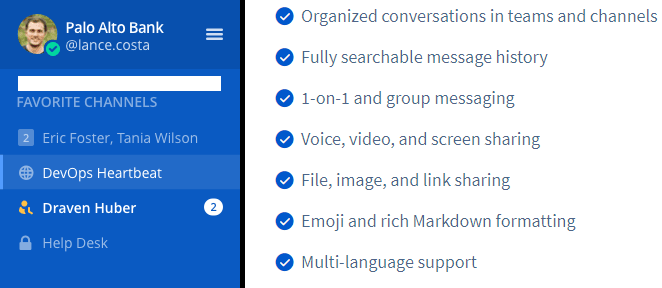 Mattermost also offers paid plans that help run it on its private cloud with added features such as – additional security, customization, and dedicated support channels.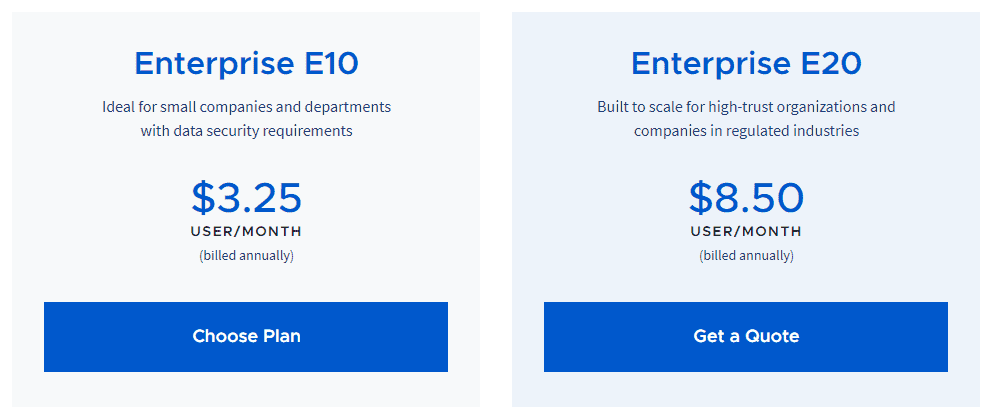 Mattermost also provides individual solution services for the following industries/use cases –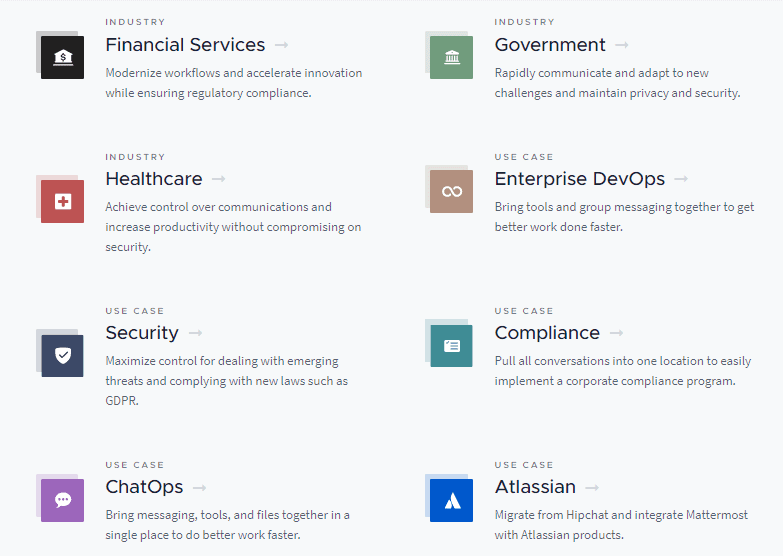 Fleep
Fleep is quite similar to Slack in terms of the ability to put conversations and messages into threads. Fleep shines over Slack in the fact that it allows the use of just a single account even when you want to communicate with ones outside your team or organization.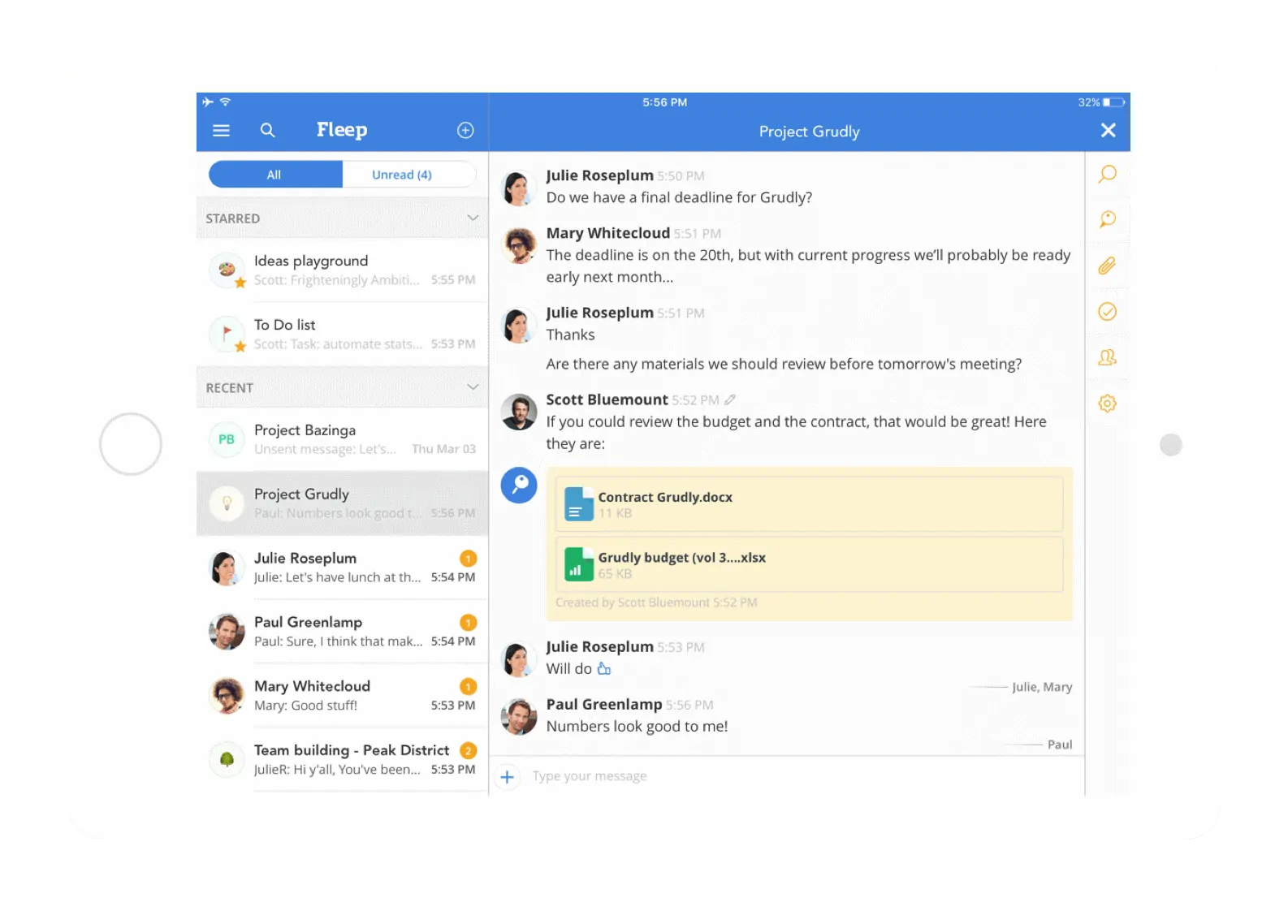 This makes Fleep a great choice in case you found managing multiple workspaces on Slack a chore when you had to communicate between teams/organizations that were on different workspaces.

Fleep offers a freemium plan that allows for unlimited direct messages, up to 3 groups, and 10 GB of cloud storage. The paid plans start at around $5/month/user (billed annually) and provide added features such as support for teams and organization settings.

Flock
Flock is a great Slack alternative. Even its user interface is quite reminiscent of Slack –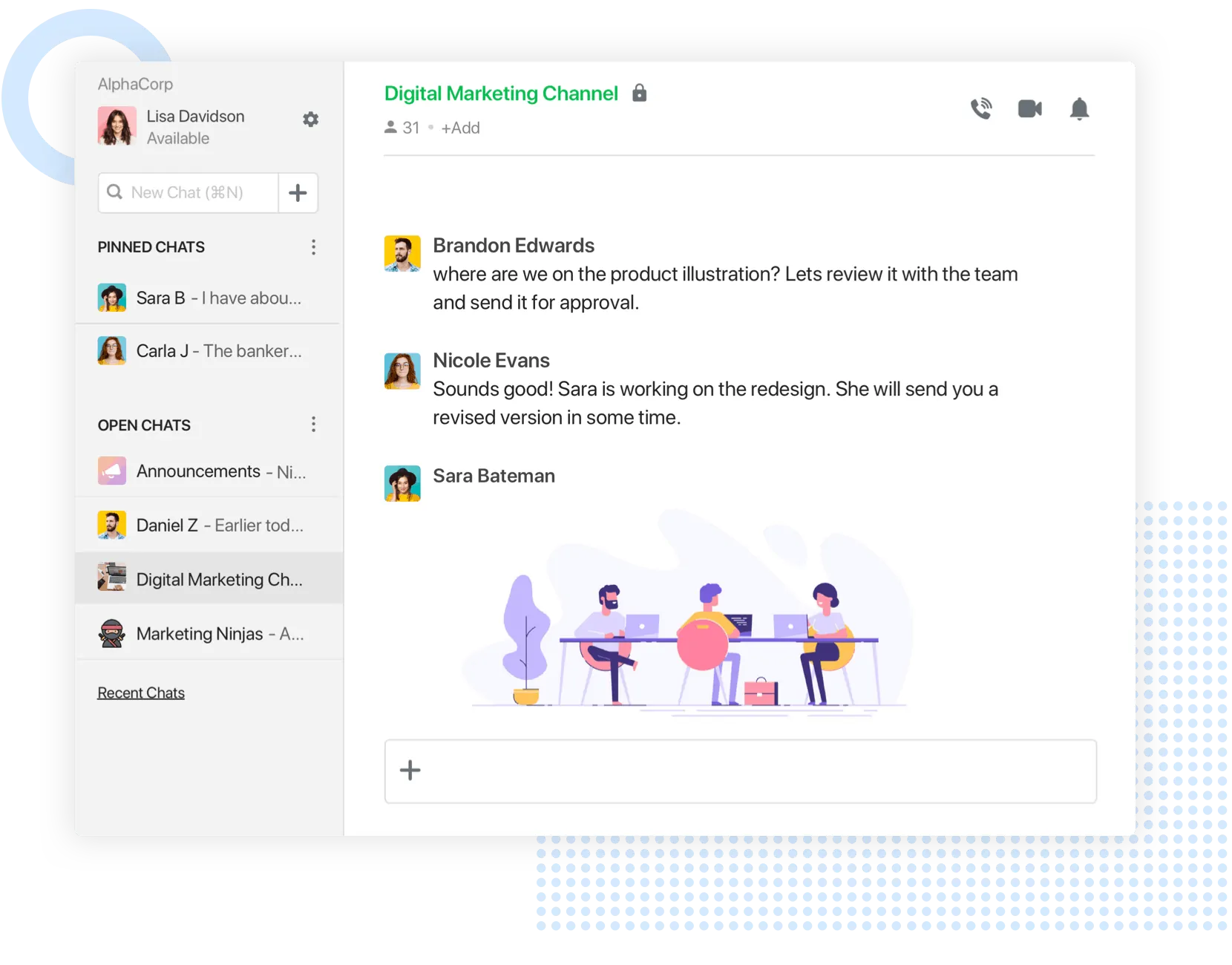 But Flock sets itself apart by claiming to run its services more efficiently and faster than Slack. Flock offers similar features to the ones available on Slack –

Flock offers a freemium plan that suits well for very small groups and provides integration to up to 50 apps. Flock's paid plans start at around $3.5/month/user (billed annually) and provide additional features such as – multiple team admins, 10GB/member of cloud storage, group video calls and unlimited public/private channels.
Flowdock
Flowdock is another great alternative to Slack and allows you to organize conversations and messages into threads. The other features available on Slack such as – integrations, channels, file sharing and video conferencing – are also available on Flowdock.
The thing that sets Flowdock apart is the fact that it allows for up to 5 members teams to use the service, with all the features, for free. For the rest, Flowdock offers a 30-day free trial and paid plans that start at around $3/month/user (billed monthly) which provides added features and benefits like – unlimited integrations and chat history.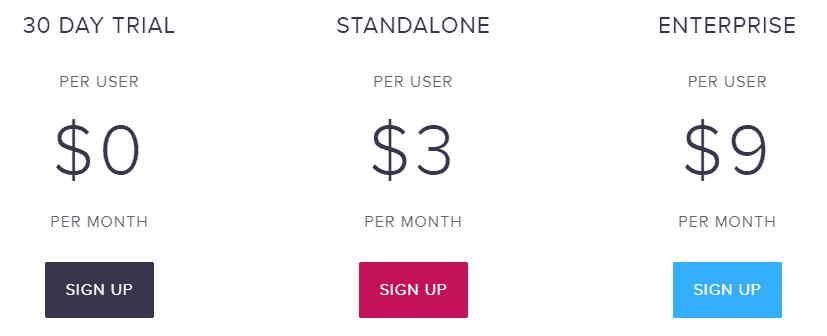 Discord
Discord is a voice and text chat that was actually built for gamers since the other service that was on offer had a lot of hassle in terms of setting up or were quite costly. Discord is so well-built that it is being used by many as yet another team/project management app.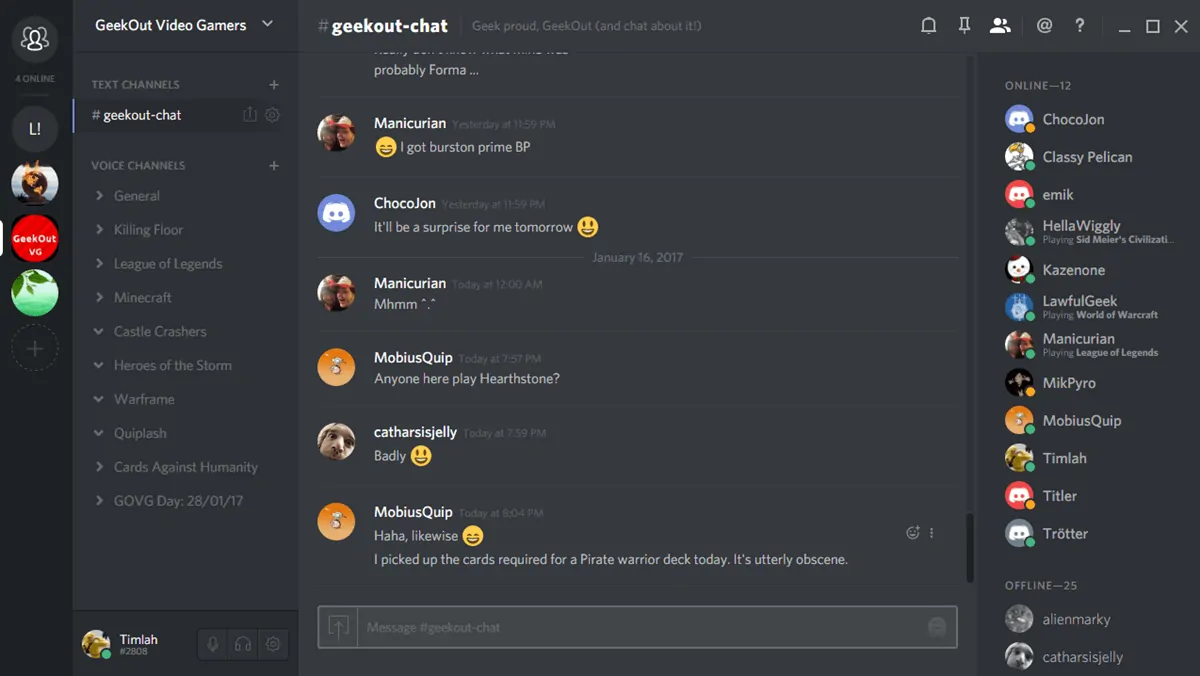 You can replicate the public and private channels of Slack quite easily on Discord using its own public and private channel settings. Best of all – Discord is free. Also, Discord's paid offering (Nitro) provides you with nothing but improved aesthetics and gaming-related features – none of which help boost productivity in any way.
Discord also offers push-to-talk which could be handy in case your team or business can utilize and benefit from it.

But with Discord not being built for team/project management, it does not allow for integrations with external apps and services quite easily – especially the productivity-based services.
Go On, Tell Us What You Think!
Did we miss something? Come on! Tell us what you think about our article on 10 Best Slack Alternatives in the comments section.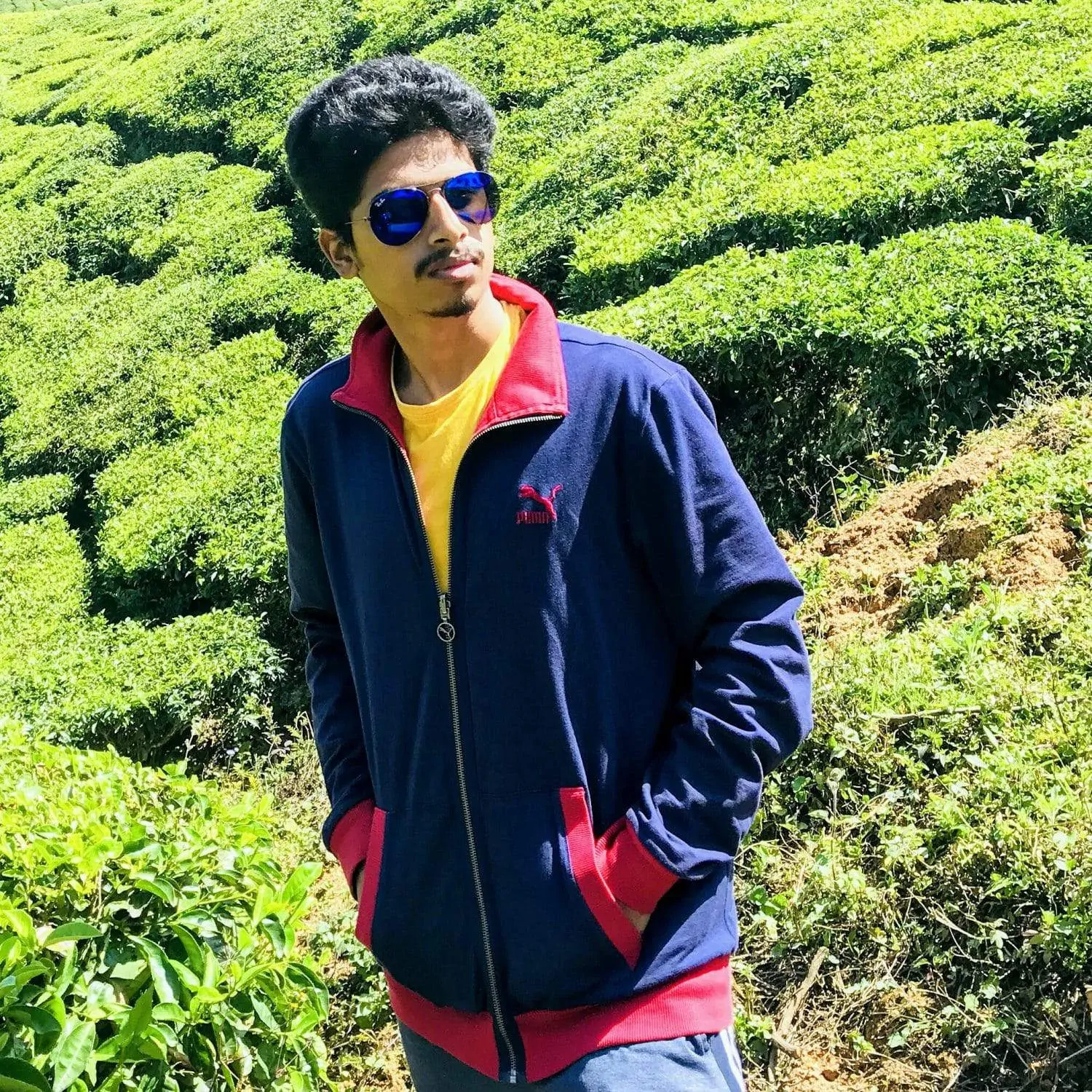 Started out to become a developer but felt at home in the home of startups. The journey started from a single novel. Been an entrepreneur since schooling days. Interested in coding, reading and movies.