In a world where gamers are constantly seeking seamless communication platforms, one name stands out – Discord. Even after taking the gaming community by storm, Discord did not rest on its laurels and instead continued to expand its offerings. What started as a basic chat service has now evolved into a full-fledged video streaming and messaging app used by people from all walks of life.
Let's dive into some fascinating Discord statistics and facts, including user demographics, revenue, investments, and acquisitions.
What is Discord?
Discord is a chat service that provides voice, text, video, and streaming services to users around the globe. It is majorly used by gamers and related communities as streaming and communication platforms and can be operated over a desktop and a mobile phone.
Website: discord.com
Launch date: May 13, 2015
Headquarters: San Francisco, California
Founder: Jason Citron
Key Managerial Personnel: Jason Citron (CEO), Stanislav Vishnevskiy (Chief Technology Officer & co-founder)
Discord was initially launched as an audio and text service. With its increasing popularity, more features were added with time.
Discord Usage Statistics
Total registered users: 390 million as of 2021 
Highest concurrent user count: 8.2 million in 2018 to 10.6 million in 2020 (BusinessofApps)
Downloads: 800,000 per day as of November 2020 (TechCrunch)
Total visits: 87.83 million in 2021 till July, 1.2 billion in total (Similarweb) (Craft)
Monthly visits: 17,310,182 as of July 2021 (Crunchbase)
Daily active users: more than 20 million as of 2021 (Referralcandy)
Monthly active users: 100 million in 2020 to 150 million in 2021 (Discord)
Monthly growth in users: 16.67% as of December 2020. (Techcrunch)
As of January 2023, United States was the top country sending desktop traffic to discord.com
| | |
| --- | --- |
| United States | 22.05% |
| Brazil | 4.28% |
| Phillipines | 3.98% |
| India | 3.68% |
| Turkey | 3.41% |
| Others | 62.60% |
(Souce: Similarweb)
In August 2022, communication and social platform Discord reported its users exchanged approximately four billion messages daily. This is an increase from the 850 million daily messages the platform witnessed in May 2018. (Source: Statista)
Average Number of Daily Messages Sent on Discord Per Year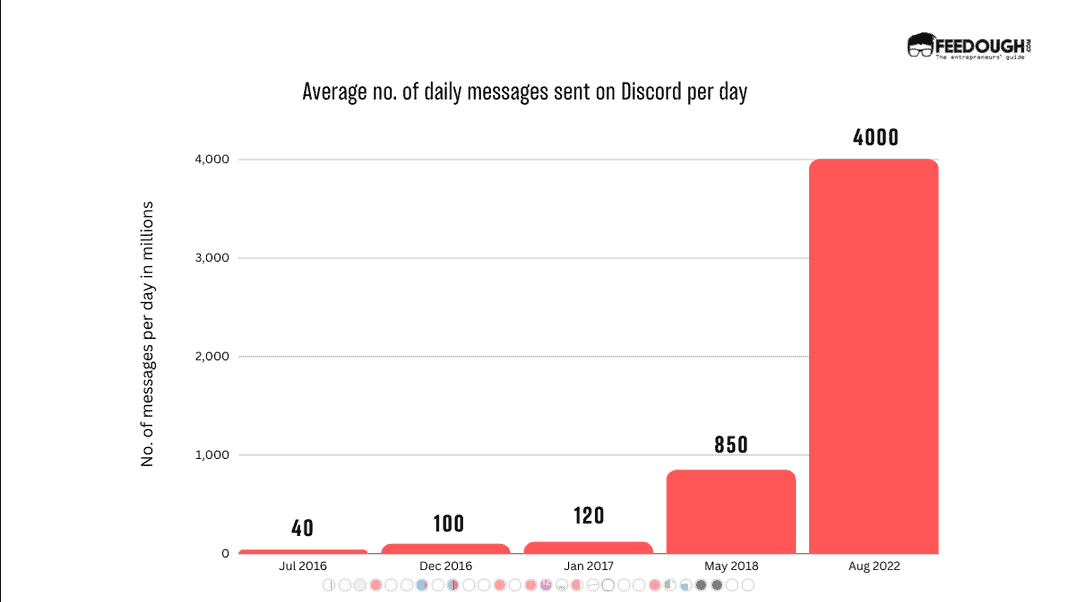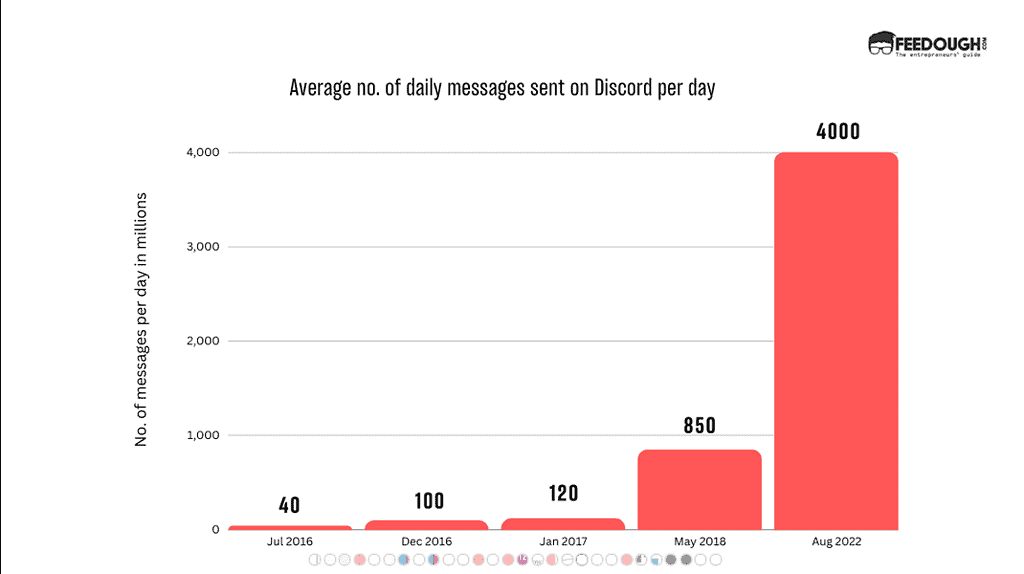 Demographics
As per their stated guidelines, a user must be at least 13 years old to sign up.
Gaming Discord users: 70% in 2020 (CNBC)
Non-gaming Discord users: 30% – TV shows, sports, movies, memes, dating (CNBC)
Among US teenagers, 3% of the users confirm Discord to be their favourite social platform.
As of May 2022, users between the ages of 25 to 34 years accounted for the biggest share of Discord.com users worldwide, making up over 42 per cent of the platform's audience. Younger users between 16 and 24 years comprised 22.2 per cent of the Discord user base. (Source: Statista)
The average age of Discord users is between 16-20. (Source: Ampere)
42% of 16–64-year-old internet users in the US have used Discord in the last year, with 18% saying they use it daily.
During the first quarter of 2022, Discord had 65.5% of male users, with only 34.5% female users. (Source: Statista)
Discord Servers
Discord has more than 19 million active users.
| Year | Number of Active Users | Growth |
| --- | --- | --- |
| 2022 | 19 million | +40.7% |
| 2021 | 13.5 million | +101.5% |
| 2022 | 6.7 million | |
(Source: Discord, Wersm)
Around 90% of Discord servers have less than 15 members (Fast Company)
Genshin Impact Official is the biggest discord server: 988,432 (Source: Statista) 
Leading Discord servers among users worldwide as of January 2023, by number of members: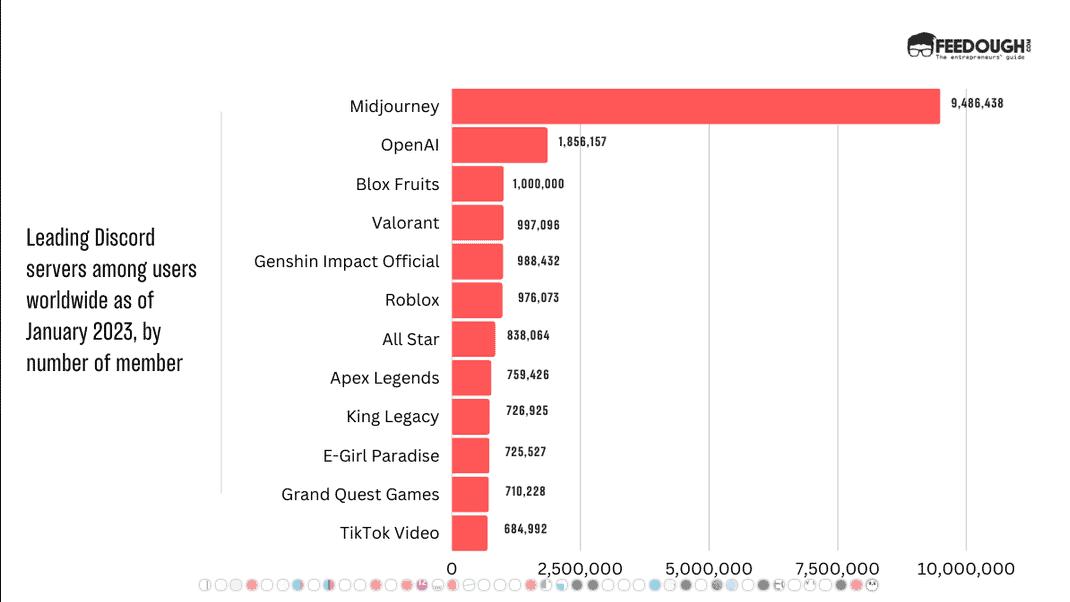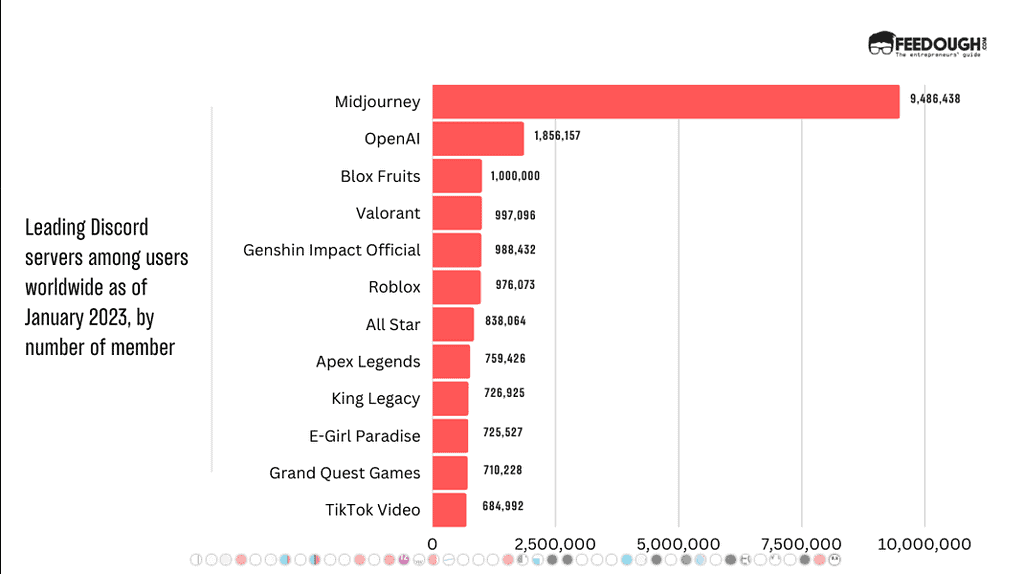 Leading Countries for Monthly Traffic (July 2022)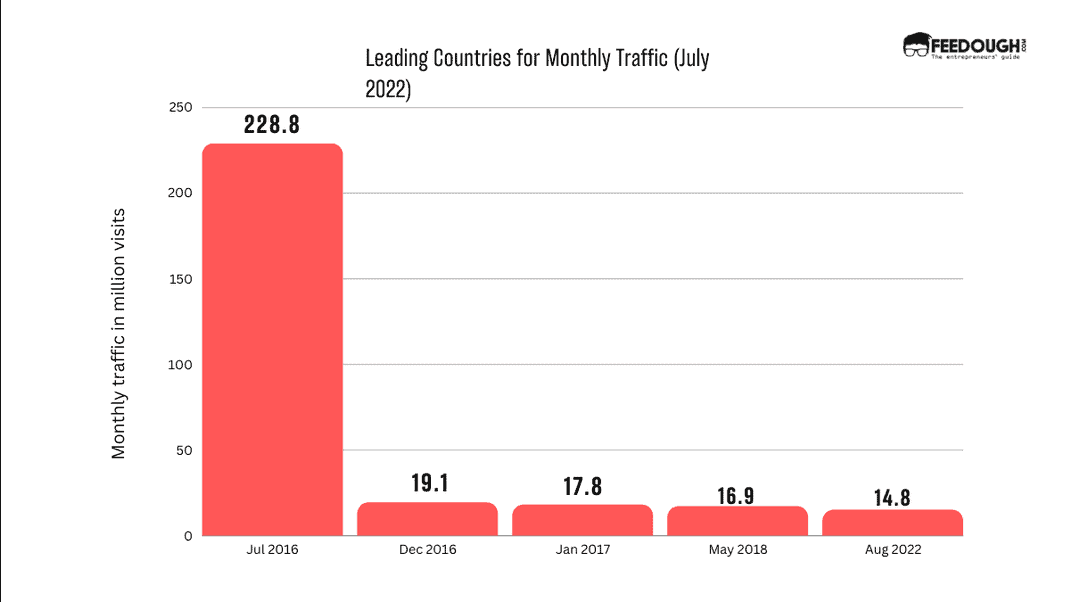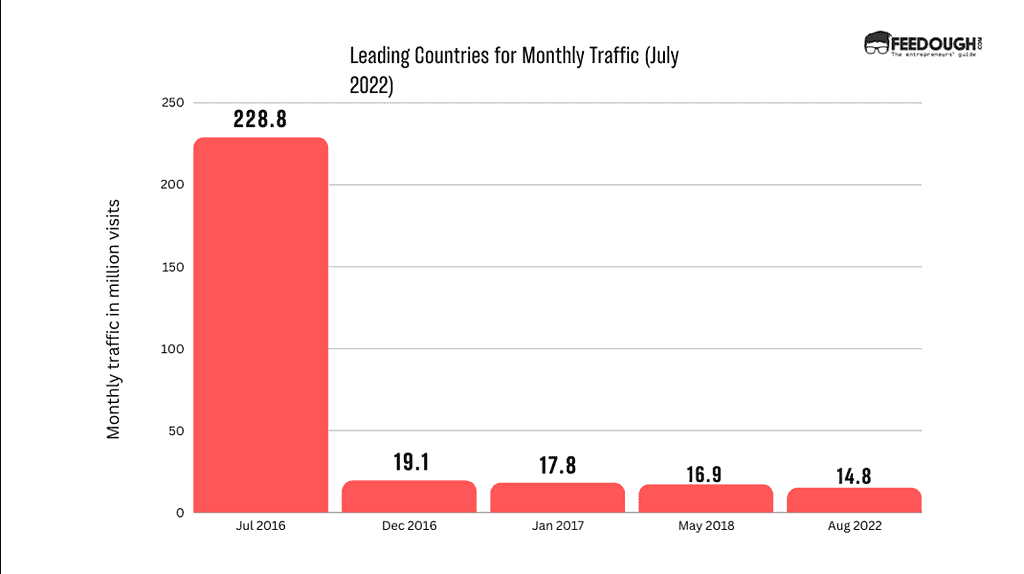 Discord Revenue Statistics
Annual revenue: $45 million in 2019 to $130 million in 2020 (WSJ)
Number of employees: 1039 as of July 2021 (Craft)
Average salary of employees: $131,679 per year or $63 per hour. (Comparably)
Median salary: $152,902(Comparably)
Discord recorded a 188.88% increase in its revenue from 2019 to 2020.
Sources: WSJ, Craft, Comparably
In-app purchase revenue of Discord mobile app worldwide from 1st quarter of 2020 to 4th quarter 2022.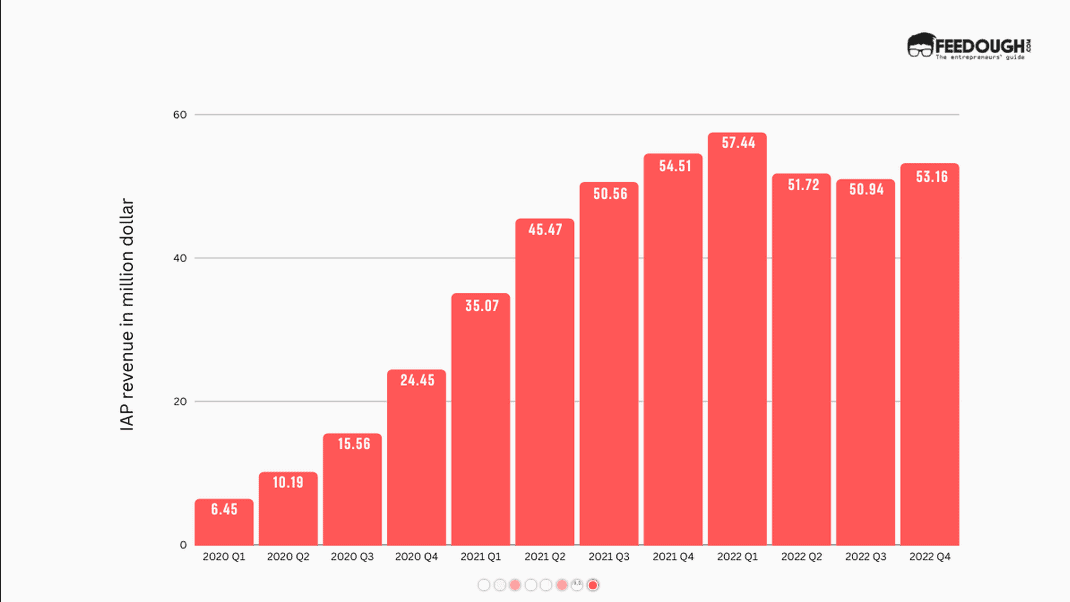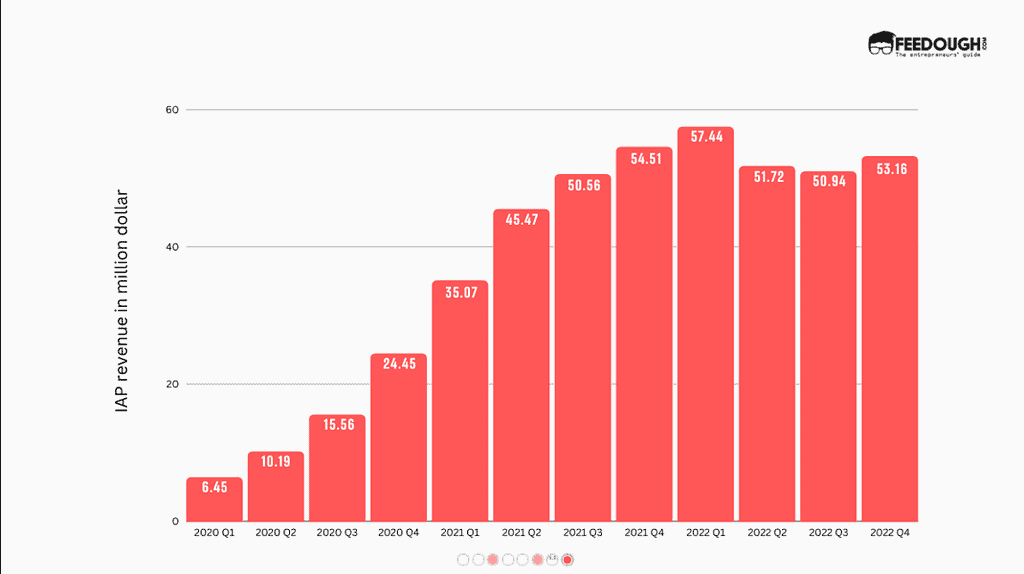 Third most popular messaging app in the US, with a 9% share in Q1 2022.
| Messaging Application  | Share in Q1 (2022) | Share in Q1 (2021) | Share in Q1 (2020) |
| --- | --- | --- | --- |
| Messenger | 52% | 55% | 58% |
| Whatsapp | 26% | 25% | 28% |
| Discord | 9% | 8% | 3% |
| Line | 3% | 2% | 2% |
| Others | 10% | 10% | 9% |
(Source: eMarketer 2)
Discord Nitro Statistics
The revenue engine of Discord is mainly fueled by the paid subscription service – Nitro.
Discord doesn't make any money through advertising — even the free tiers are ad-free, so subscriptions make up the bulk of the platform's income.
In a 2017 tweet, Discord claimed to have more than 40% of the total users to be registered as Nitro users.
According to estimates, more than 1 million users have subscribed to the Nitro service in 2020.
As of July 2020, Discord was expected to generate $120 million from its paid service – Nitro.
Subscription per month: $9.99, Nitro classic – $4.99 (Discord Nitro)
Subscription per year: $99.99, Nitro classic – $49.99 (Discord Nitro)
The difference between the two is that the latter allows for a larger maximum file upload size, higher quality video and two server boosts (Nitro Classic has just one server boost).
Source: Discord Nitro
Discord Valuation And Funding
Discord valuation: $3.5 billion in 2020 to $7 billion as of 2021 (TechCrunch). Discord doubled its valuation in the year 2021 after raising a massive amount of $140 million from funding.
Total funding: Discord has raised a total of $995.4M in funding over 16 rounds as of 2022 (Crunchbase)
Number of investors: 10 lead investors out a total of 31 investors. Arcane Group and Flat Capital are the most recent investors (Crunchbase)
Their latest funding was raised on March 12, 2022 from a Secondary Market round.
Acquisitions: 3 as of Jan 17, 2023. (Crunchbase)
Latest Acquisition: Gas (Crunchbase)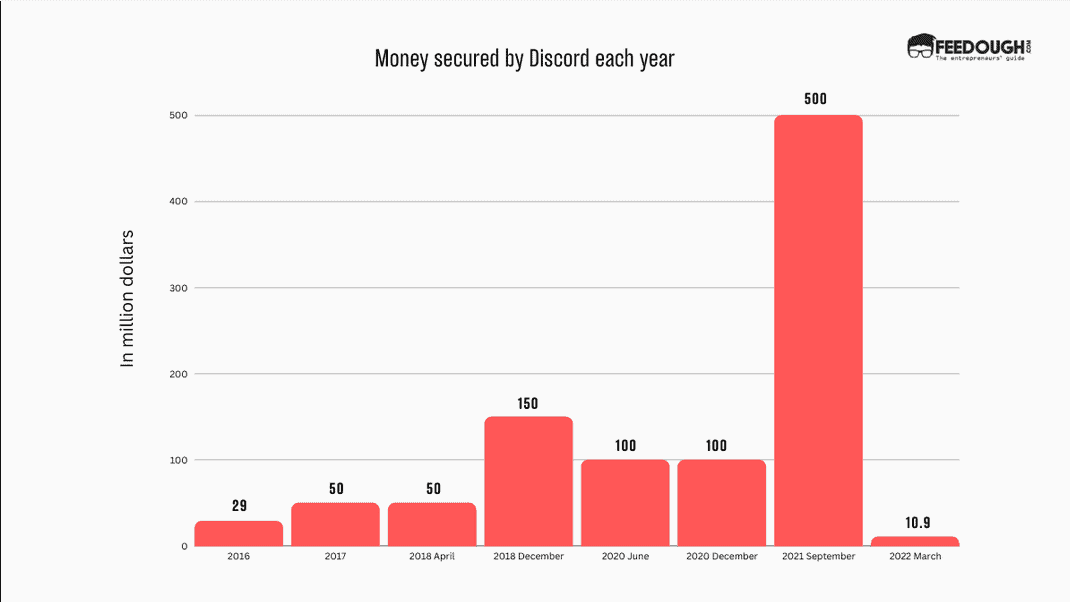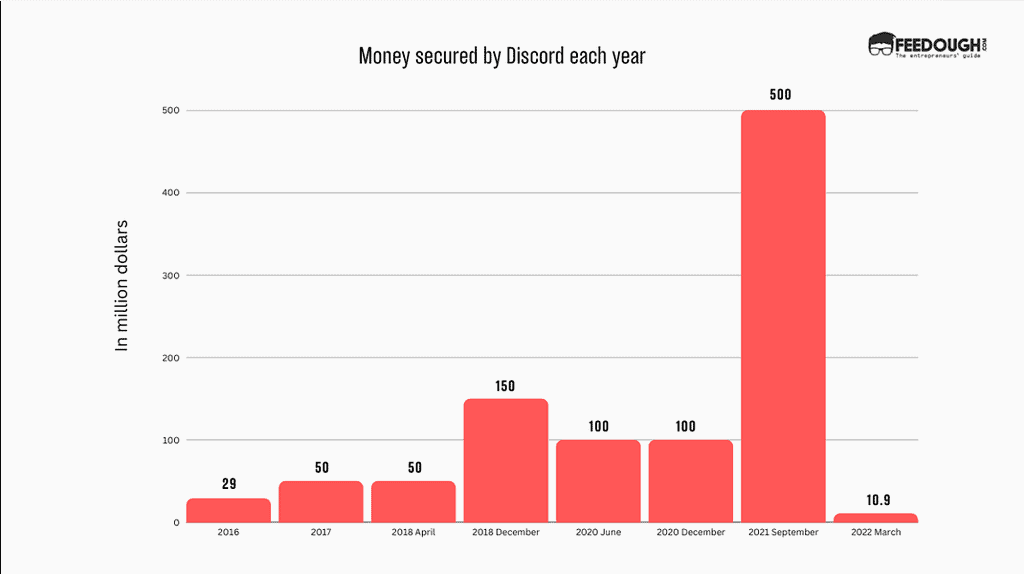 Other Key Discord Stats And Facts
An average of 963 million messages are sent daily on Discord via direct messages and servers.
Over 2.2 billion messages are sent via Discord on a weekly basis.
The most visited Discord Server is Mr Beast Gaming with a total of 700,004 members.
The use of Discord was first popularised majorly by the platforms Fortnite and then Among Us.
Microsoft tried to acquire Discord for $10 billion in 2021.
An ardent reader, full-time writer and a lover of all things purple. Riya is an entrepreneurial spirit, making her way in the start-up industry through her expressive writing. When not working, you can find her jamming to music, watching period films, eating sushi, or petting cats.