Brands distinguish their products from competitors through various factors like a name, promise, positioning. But how do they distinguish between their own products? What is the difference between Dell Inspiron 14 and Dell Inspiron 15, other than the product features?
The difference is denoted by an architectural factor, known as 'brand hierarchy'.
What Is Brand Hierarchy?
A brand hierarchy is the systematic branching structure of a brand's distinctive elements for its sub-products.
When companies begin to diversify their products, with new products and different positioning schemes, they graph a brand hierarchy to help with the identification of their products and services. A brand hierarchy helps inculcate the vital brand elements and modifications within the products.
For example, think of Amazon. Amazon provides e-books services, e-shopping services, AI products, etc. But people do not refer to Amazon for all this at once. They refer to Amazon Kindle or Amazon Prime or other hierarchies that Amazon has developed. These hierarchies contain distinctive elements through their name, logo, and brand identity that helps differentiate between the products as well as reduces confusion for customers.
Brand Hierarchy Levels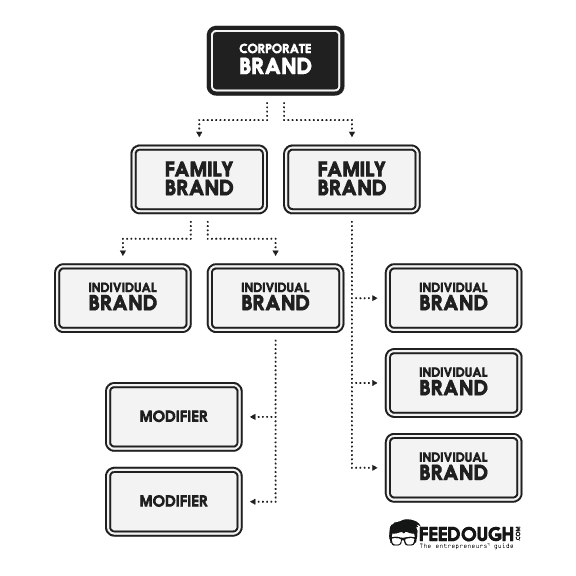 As the name suggests, brand hierarchy is a hierarchical structure. It constitutes multiple levels. These levels start from the corporate brand to the family brand, to individual brand, and lastly to the modifier and descriptor. Here is a comprehensive description of all the levels with the example of Mercedes: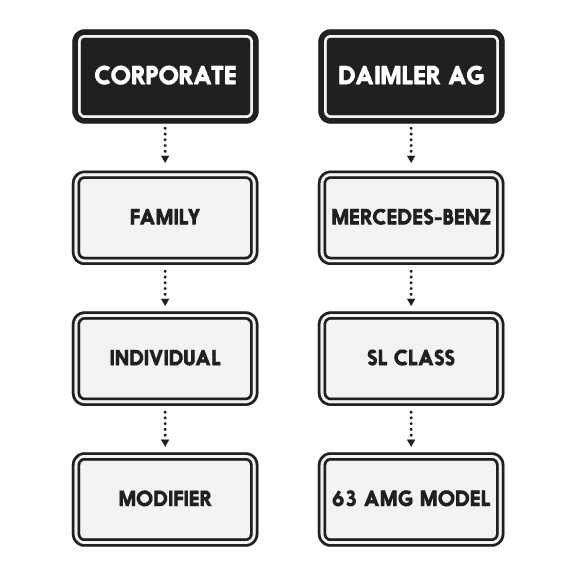 Corporate Brand
The highest level of the brand hierarchy is the corporate brand. This is the main company/corporate brand.
For instance, we commonly refer to Mercedes cars as part of the brand Mercedes. But the corporate brand of Mercedes is actually Daimler AG. Daimler is the over-arching corporate brand to other family brands under it.
Family Brand
The next lower level in the hierarchy is the family brand. It is also known as the 'range brand' or the 'umbrella brand'. It is called the 'family' brand because it may have a range of products under it, but it is not the corporate brand.
For instance, Mercedes-Benz Cars & Vans, and Daimler Trucks and Buses are the family brands to Daimler AG. Then under Mercedes-Benz Cars, they have various classes and cars.
Many times firms may not have a corporate brand over them. In such a case the corporate brand level and family brand level collapse as one. A very famous example of this is Apple Inc. It is the corporate brand and family brand for itself since:
It has no corporate brand
It has a range of products under it
Individual Brand
Individual brands are linked only to a single product category. This doesn't mean it has only one product. It can have multiple product versions, models, colours, etc.
For instance, the Mercedes family brand has individual brands like the SL class and GLC class. So SL class is one individual brand below the family brand – Mercedes.
Product Modifier And Descriptor
The product modifier and descriptor is the smallest and lowest part of the brand hierarchy. It helps customers identify the various products under the individual brand.
For instance, under the SL Class individual brand, there are various models like – 63 AMG, 65 AMG Roadster, etc. These models are the product descriptor. They are not further sub-divided, but they give more information about the product model and help customers differentiate between models of the same individual brand.
How To Create A Brand Hierarchy
Brand hierarchy strategies are created when you begin to engage with multiple product lines. In such a situation it becomes stressful for a business to manage the diverse range of products, and it becomes confusing for customers. Brands also tend to take heavily passionate decisions and release distinctive ranges of products but execute the management poorly. Have a look at Sony for example. Sony has not been able to ace the tech industry despite its exceptional quality. This is largely because it uses the same corporate brand for all it's products whether mobiles, cameras, digital books, toys, and even its music label.
Luckily, creating a blueprint for your brand hierarchy is not as hard as it may seem. Here are 3 simple steps to help you build your brand hierarchy:
Identify Your Product Groups
Begin with identifying what are the products or services that your brand is offering. Ask yourself the question –
Can these products be separated and segregated into categories?
The first step is all about analysing your current brand structure. To do so, you can analyse what your employees and consumers find confusing about your product range. When your brand's name comes up are they too confused about what you sell? Based on this analysis divide all individual products into broader categories.
For example, if you are Procter and Gamble. Your product lines are – detergent, grooming products, baby care products, etc. These are far too diverse and so you must create a brand hierarchy.
Determine Your Levels
Now that you know about your product categories, you need to determine how many levels do you want to divide the products on. To determine your levels, make sue of two principles:
Principle Of Simplicity
Do not complicate your hierarchy with multiple divisions and sub-divisions. Keep it simple. If you need 2 levels, stick to 2. If you need 4 levels, stick to 4.
For instance, Starbucks sells a wide range of products like – Coffee, Tea, Mineral Water, and Kitchen merchandise. Their products are different, but not majorly different. Therefore, they decided to stick to two levels. The corporate brand and the family and individual brands were combined with the products. Though a few descriptors like freshly brewed, cold brewed, etc. do exist to avoid confusion of customers.
Principle Of Clarity
Make sure your hierarchy is clear. The purpose of a brand hierarchy is to minimise confusion, not create more. Let's say your product mix constitutes mobiles, buildings, and insurance policies, like Samsung you definitely require a brand hierarchy. But if it is not very diverse, and closely related then you must have a minimum number of fo levels clear for your consumers to understand.
Creating The Brand For Each Level
Your brand hierarchy is coming alive. You have separate brand categories ready to be launched. But before you complete this, you need to plan your branding strategies for the brand at each level.
Brand Elements
Create associations for your brand through brand elements. This step may be a lengthy and time-consuming step. But by creating a brand hierarchy you have given birth to smaller brands and product models under a larger corporate brand. As any new brand would require you to create the brand elements from scratch so do these new baby brands.
Principle Of Commonality
While moulding your new individual brands find a common aspect for your customers to cling onto. For instance, Apple uses the alphabet 'I' with its products, McDonalds uses 'Mc' with all its dishes. Such common aspects intrigue the interest of customers and help them create associations with your products.
Marketing Strategies
A big part of creating your brand is determining the marketing channels for your brand. Will a referral marketing strategy suit your product or an influencer marketing strategy? While determining your marketing plan you will also have to make note of :
What are your marketing goals?
Who is your target audience?
What are the metrics that you want to track?
What is your budget?
Importance Of Brand Hierarchy
Marketers create brand hierarchies for numerous reasons. Brand hierarchies are important because as products become more different it becomes difficult for brands to retain their product meaning for consumers and employees. Therefore, through a brand hierarchy brands can evoke specific associations across numerous products. The following are reasons why brand hierarchies have become increasingly important today:
Prevents Customer Confusion
When customers are offered too many choices under one brand name it creates confusion. Confused customers will never understand your offering and therefore may not buy your products at all. Through a brand hierarchy, consumers can understand what brand sells exactly what products. It simplifies the choices that consumers need to make.
Helps Future Business Planning
Successful branding is affected by numerous factors, but a planned out hierarchy if one of the important elements. If a proper structure is not in place, it gets hard to allocate resources and budgets. With a brand hierarchy, every new brand can build its own elements, associations, and style guide. Brand hierarchies also help plan what marketing materials and financial resources would each brand need.
Attracts Focused Attention
When your brands are segregated through a hierarchy you can build a specific brand strategy for each product. This way you prevent brands from competing with each other. Each brand will have its own story to tell and it's own target audience to market to. This difference will serve as a guiding focus for the purchasing decisions of your target audience.
Provides A Clear Overview
Brand hierarchy is important because it helps understand a brand's architecture from a bird's eye view. If you have multiple products under one corporate brand with no division, your brand structure will look too unorganised and muddled. Therefore, a brand hierarchy helps in having all your specilised brands and products at one glance.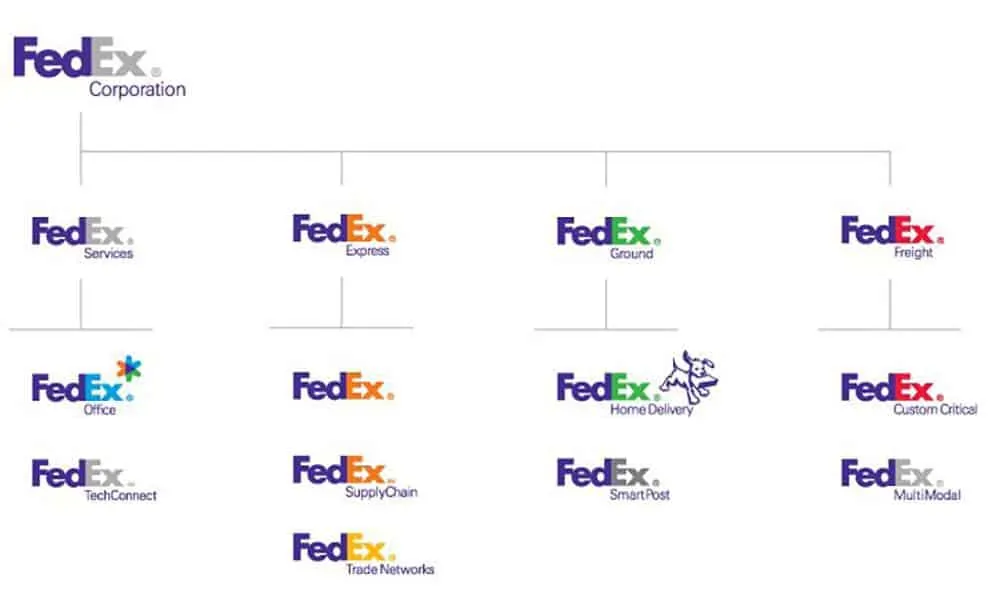 Brand Hierarchy Examples
Numerous brand hierarchies exist in the real world today. Here are a few examples of the most well-known ones:
Fiat Chrysler Automobiles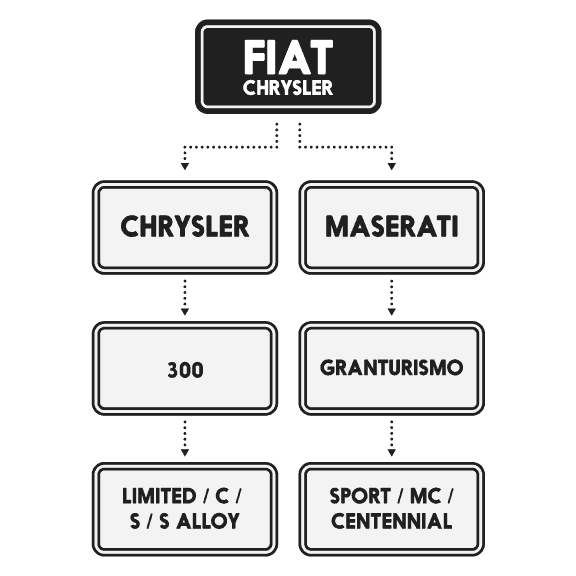 The FCA group designs, manufactures, and sells vehicles and their parts worldwide. They are the corporate brand with numerous family and individual brands under them.
The brand hierarchy looks something like:
Corporate brand: Fiat
Family brands: Abarth, Alfa Romeo, Chrysler, Dodge, Fiat, Jeep, Maserati, etc.
Individual brands: Jeep Compass, Maserati GranTurismo, Chrysler 300, etc.
Descriptors: Jeep Compass sport plus, Maserati GranTurismo Sport, etc.
Mondelez International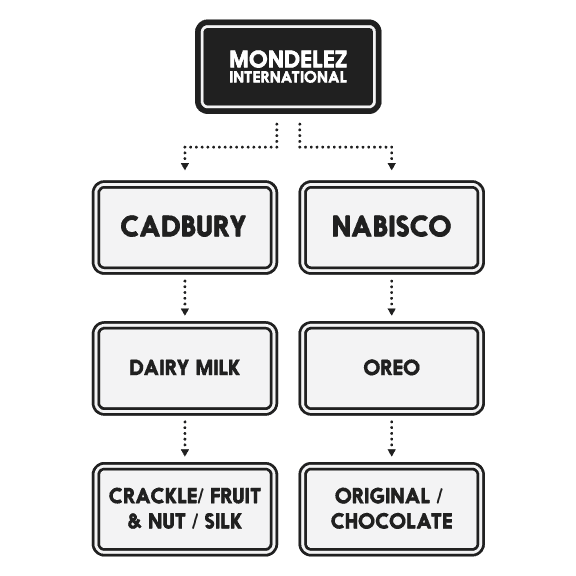 The Mondelez International group is one of the largest snack companies in the world. Ever heard of Oreo, Cadbury, Toblerone, Chips Ahoy cookies, etc.? Did you know these are all family brands under the corporate Mondelez International.
The brand hierarchy looks like this:
Corporate brand – Mondelez International
Family brands – Cadbury, LU biscuits, Nabisco, etc.
Individual brands – Dairy Milk, 5 Star, LU Prince, Oreo etc.
Descriptors – Dairy Milk Crackle, Dairy Milk Silk, Oreo Strawberry, etc.
Pepsico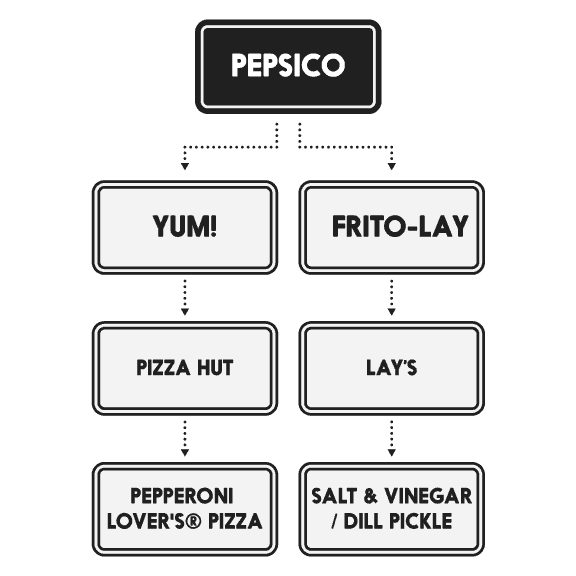 Pepsi Co. is another large snack and beverage company in the world. But did you know that Pepsico also owns Taco Bell, Pizza Hut, and KFC?
Let's have a look at Pepsico's brand hierarchy:
Corporate brand: Pepsico Inc.
Family brand: Pepsi, Frito-Lay, Yum, Quaker, etc.
Individual brand: Diet Pepsi, Lay's, Pizza Hut, Taco Bell, Lipton, Tropicana, etc.
Descriptors: Doritos Cheese, Lays Classic, Lipton Lemon, etc.
Go On, Tell Us What You Think!
Did we miss something? Come on! Tell us what you think about our article on brand hierarchy in the comments section.
A marketer with a specialisation in Economics, Law and Computer Studies. Performed social media marketing for McDonald's, GoIbibo, and LaughGuru.