As the company grows, it expands its product portfolio. Some of these new products are extensions, updates, and remakes of the existing ones, while some belong to a totally new and different category. These different categories are often launched as different product brands.
For example, Coca-Cola has around 3,500 product category brands like Minute Maid, Costa Coffee, Smartwater, etc. These brands, even though different from each other, are controlled and operated by a single parent brand – Coca-Cola.
These different product categories (or brands) are called product lines of the parent brand.
What Is Product Line?
A product line is a group of related products marketed and sold under a specific brand, offered by a particular company.
A few keyphrases to focus on to understand this definition of product line are –
Group of related products: Product lines are product groups consisting of related products based on – target audience, value proposition, technology used, customer preference, etc.
Sold under a specific brand: These products are grouped together under a single sub-brand or offered directly under the name of the parent brand, and they carry a similar brand personality.
Here's an example to explain the definition better –
Nike is a multinational company that sells product lines of sports shoes, sportswear, and sports equipment. These three categories further divided into several sub-product lines based on sports and uses.
Product Mix And Product Line
Product mix and product line, even though often confused to be the same, are considerably different.
A product line is a unique product category or product brand a company offers. It can be considered to be a product group that consists of all the related products that fall into that category.
Product mix, on the other hand, is the total number of product lines a company offers to its customers.
In simple terms, product line is a subset of product mix.
Let's take an example of a dairy company that sells –
Milk
Cheese
Butter
Diet Products
Now, let's assume that this company sells 3 types of milk, 15 cheese products, 2 butter products, and 10 diet products.
These product groups are the product lines and an assortment of these product lines is the product mix of the company.
Product Line Examples
Examples of product lines are seen in almost every company that sells more than offering. Here are some notable ones –
Product Line Of Nestle
Marketing over 8500 brands and 30,000 products, Nestle is the largest food company in the world.
According to the company's website, some of the important product lines of Nestle are –
Nespresso
Nescafe
Milo
Illuma
NAN
Garden of Life
Purina ONE
Felix
Merrick
Nido
Haagen Dazs
Maggi
Kit Kat
Pure Life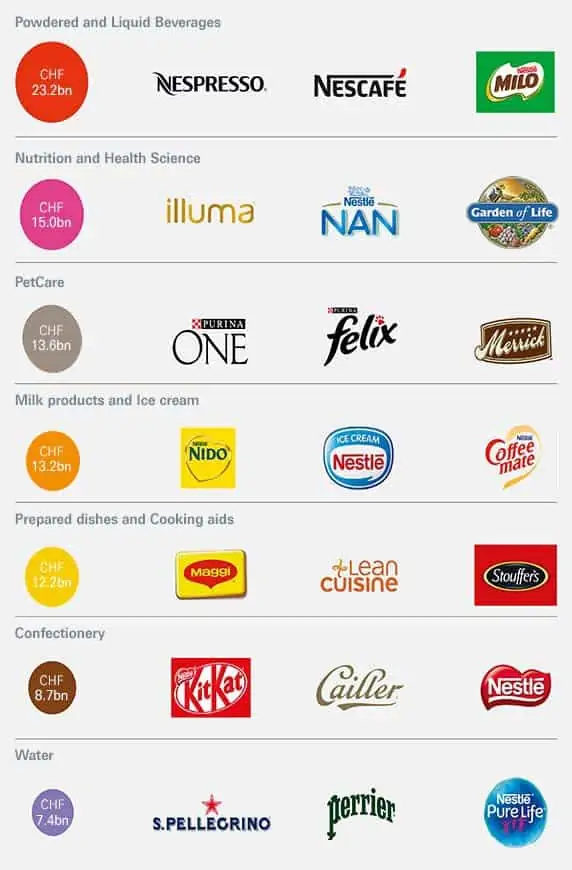 Product Line Of Coca-Cola
Coca-Cola markets over 500 brands under its name, and almost every brand forms its product line. Some of the popular product lines of Coca-Cola are –
Coca-Cola
Sprite
Fanta
Dasani
Smartwater
Minute Maid
Innocent
Simply
Georgia Coffee
Costa Coffee
Fuze Tea
Honest
Fairlife
Fresca
Aquarius
How Product Lines Work
Product lines are developed as a marketing strategy to make the most of the customers of the brand. The strategy works on the operating principle that customers are more likely to respond positively to brands that they are aware of and are more willing to buy the new products based on their positive experiences with the brand in the past.
Different product lines are added under the same name of the brand to borrow the goodwill of the parent brand. The company also often goes for product line extensions where new products or items are added to the same product category under the same brand name, like new flavours, forms, colours, ingredients, etc.
Product Line Decisions
Product line decisions refers to decisions relating to the addition or deletion or product(s) from existing product lines. Such decisions are further divided into –
Line Filling Decisions: It involves adding a new product in the existing product line to face competition and increase the shelf life and customer base.
Line Pruning Decisions: It involves removing an unprofitable product from the existing product line to avoid losses and increase average profits.
Go On, Tell Us What You Think!
Did we miss something? Come on! Tell us what you think of this article on product line in the comments section.
A startup consultant, digital marketer, traveller, and philomath. Aashish has worked with over 20 startups and successfully helped them ideate, raise money, and succeed. When not working, he can be found hiking, camping, and stargazing.