The commission-based business models have existed from long before the advent of the internet. Even though this model doesn't involve developing a product to sell, they make use of their expertise of influencing buyers to buy a partner's product while taking commissions for the same.
With the advent of the internet, this business model has even gotten a new name – affiliate marketing, and the people who exercise affiliate marketing have come out to be known as affiliate marketers.
If you're new to affiliate marketing and want to know how affiliate marketing works and how you can make money out of it, you're at the right place. Here's a complete guide to the affiliate marketing business and revenue model.
What is Affiliate Marketing?
Affiliate marketing is a revenue earning strategy of promoting other company's products and charging commissions for every sale that you make.
Affiliate marketing used to be a sought after passive income source some years ago when affiliate marketers used channels like blogs, videos, and even social media profiles and pages to promote partners' products. However, with an increasing number of people and companies opting for this revenue earning strategy, affiliate marketing has now become a full-fledged online business model where the entire business is developed to promote and earn money by making people buy other company's products.
Affiliate Marketing Business Model
If you've ever searched for smartphones reviews before making a decision, you've come across an affiliate marketing business. These businesses attract the audience by posting reviews, tutorials, rankings, deals, suggestions, etc. and give the users a link to buy from the partner website. Whenever a user completes a purchase after he has clicked on that link, these businesses earn a commission.
Mostly the affiliate business model involves the interaction of 3 or 4 parties depending upon the type of partnership between the affiliate and the company which owns the product. These parties are:
Affiliate (Publisher): the party which dedicates its time and resources to promote a third party product to its target audience in return for commissions on every successful sale referred by it. Affiliate consists of bloggers, vloggers, social media influencers, etc.
Merchant (Advertiser): the actual seller of the product. It partners with the affiliates to increase the sales of his products. A merchant can be an individual selling a small course to a big company like Amazon selling millions of products.
Network: Most of the times, there's a middleman which connects the merchant and the affiliate and also takes care of the payments and the product delivery of the merchant. In such cases, the affiliate is in the direct contact with the network and not the merchant.
Customer: The customer is the actual person who ends up buying the product after being referred by the affiliate. He might or might not know about the partnership between the affiliate and the merchant.
How Affiliate Marketing Works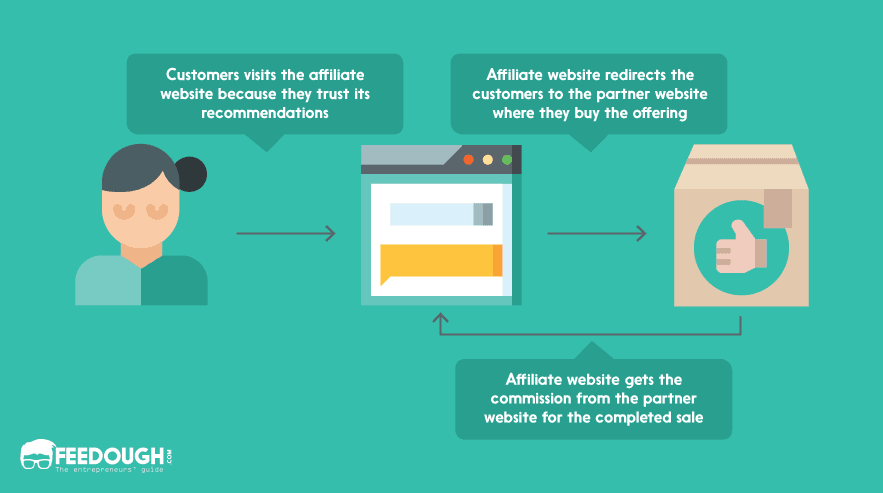 As we've already discussed, the affiliate business model works on the principle of commission. Merchants advertise and sell their products through partner (affiliate) websites and other mediums but don't usually pay anything for just the placements of the ads and links. They pay commissions for the actual sales or measurable success like leads collected.
The way affiliate marketing works is very easy to understand. It is a pay-for-performance model. Affiliates are provided with a unique link which includes their unique identity code. Every click, lead, and sale coming from this link is tracked by the merchant or the network and the affiliates are paid according to the contract (per visitor referred, per lead collected, or per sale).
This model is a win-win situation where the affiliates receive the benefit in a similar proportion to what they help merchants make.
Some merchants even pay a commission every time the referred customer renews his subscription or buys the product again. This is known as rebill.
How To Start An Affiliate Marketing Business
Starting an affiliate marketing business is as easy as starting a website and as hard as selling your own product.
It is a different venture altogether.
You need to gain the trust of your audience as a neutral brand and form strategies to make them buy the products you refer to them. Here's a detailed guide explaining the affiliate marketing process to help you get on the right course.
Choose Your Niche
The niche is the backbone of the affiliate business. While most people are inclined towards the tech or similar niches, affiliate marketing isn't limited to technology products and services.
Pick a niche that you're passionate about. Affiliate marketing is a game of patience. One can easily get bored of the niche he's not passionate about.
There is an affiliate opportunity for almost any niche you can think of.
Like home décor? Designer Living offers an affiliate program.
Interested in Makeup? There are 50+ companies offering you commission to sell their products.
Pick a niche which is profitable. There'll be no one to stop you if you find a profitable niche that you are passionate about. Pick a niche where either the demand of the products is high or the products are sold at a price where you'll get a good commission. You can check Amazon's bestseller page, ClickBank, Google Trends, Pinterest, Etsy, Aliexpress, Reddit, etc. to find what's working and what's not.
Choose a niche where there is room for another affiliate marketer. Niches like smartphones, laptops, etc. are so competitive that new affiliate marketers have a very less chance of succeeding.
Research Affiliate Programs
Once you select the niche your business will be based on, it's time to select the offering. The offering can be in the form of physical products like makeup kits, smartphone, headphones; digital products like ebook; or service like SAAS, course, etc.
Head over to ClickBank, Commission Junction, or Amazon Affiliates and look out for the affiliate marketing program and products that suits you best.
It's better to select an offering having niche demand and low affiliate competition. Select a product where you'll get enough return; where commission you'll get is enough (over $40) or where you expect high sales.
Build & Market A Channel
Once everything is ready. Start building your channel. It could be a website, a youtube channel, or a social media profile.
Affiliate marketing websites either save the effort and time or the money of their users. That is, you can either develop a brand identity of an influencer or a niche expert and post reviews, tutorials, rankings, suggestions, etc. or create a deal website where you stand out as a channel which lets the users save money.
Promote The Affiliate Product
We suggest not starting with the product promotion right from the start. Build an authority first. Post quality content and build trust among your visitors by interacting with them and answering their questions. It makes more sense to take off with your revenue earning strategies once the trust is built.
Repeat
Keep on adding more products and better quality content on your channel to grow.
Best Affiliate Marketing Websites Examples
While there are innumerable affiliate marketing businesses out there, here are three notable examples of profitable affiliate marketing websites.
LifeWire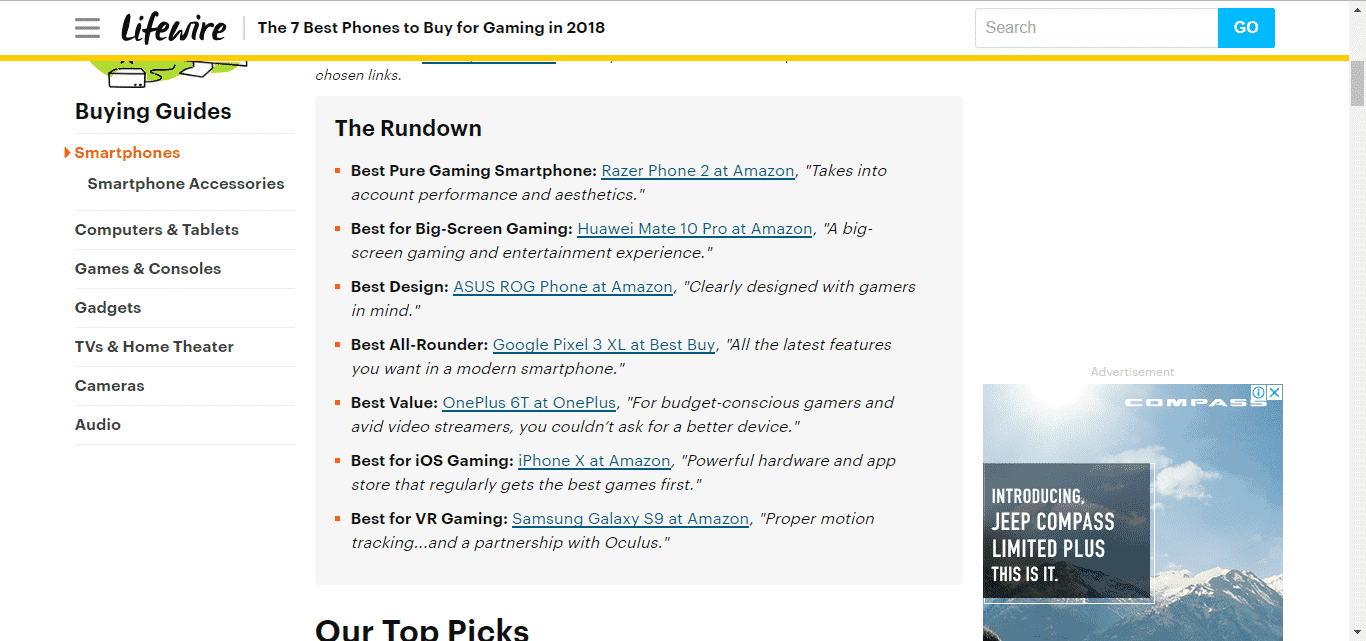 LifeWire is among the best tech affiliate marketing websites. The website posts tech related content like how-to guides, buying guides, fixing guides, etc. to build the authority and trust and capitalizes on the same to sell affiliate products like best gaming phones, Bluetooth keyboards, etc.
WireCutter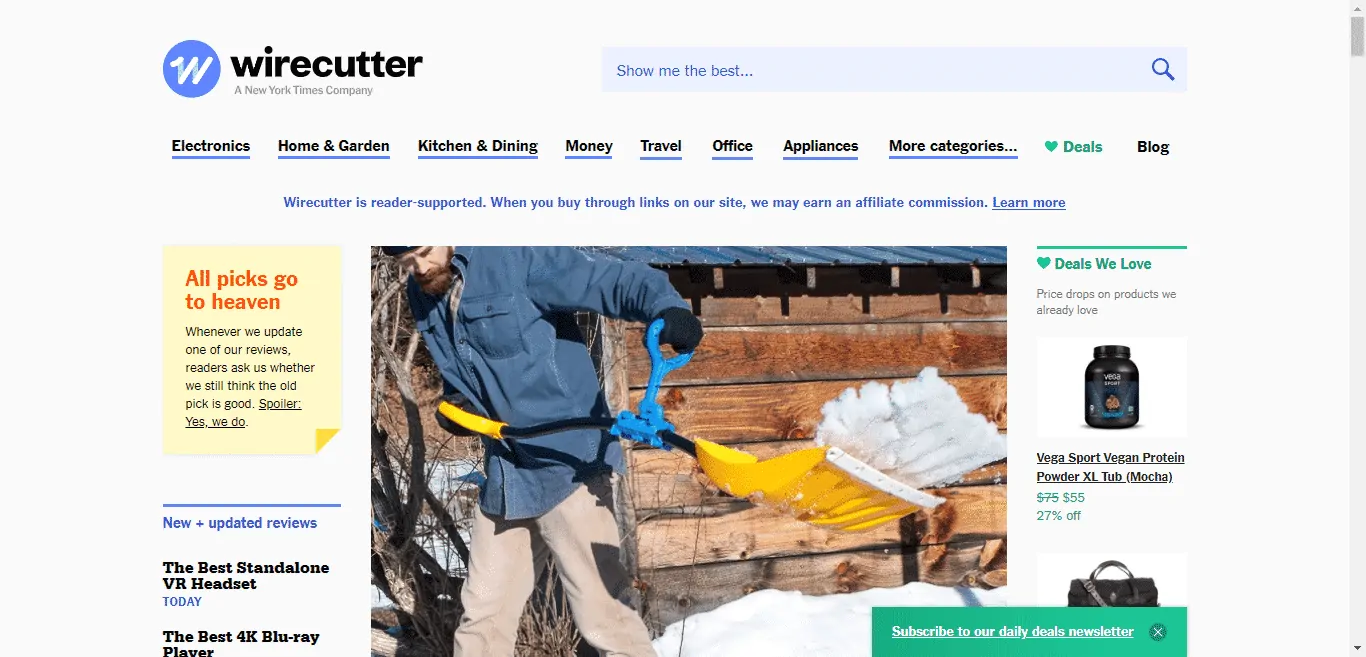 WireCutter is a multi-niche affiliate marketing website which has built its authority by posting product reviews and suggestions. The team consists of niche-experts who try the products before posting anything about them. This guarantee has increased the trust among the buyers who tend to choose the products referred by WireCutter than any other website.
ShoutMeLoud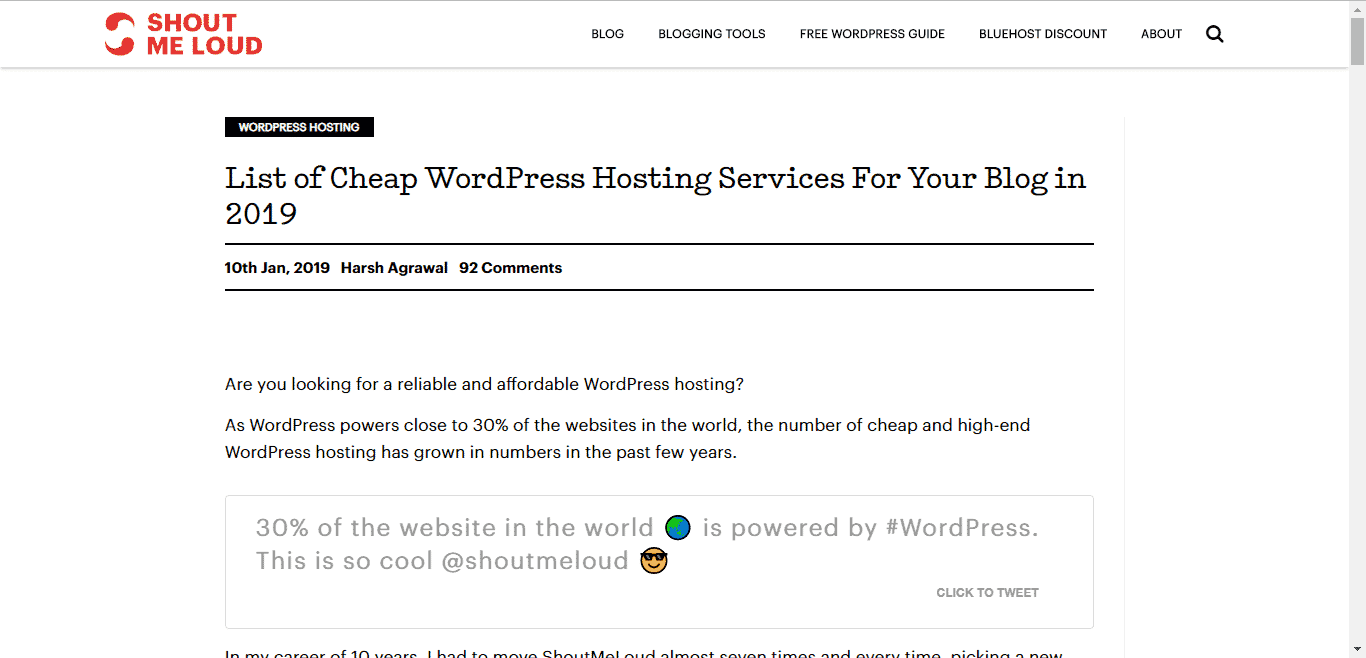 Harsh Agrawal is a blogging guru followed by thousands of bloggers. He capitalizes on this trust to suggest blogging tools (affiliate products) to his followers and other website visitors.
Go On, Tell Us What You Think!
Did we miss something? Come on! Tell us what you think about our article on affiliate marketing business model in the comments section.
A startup consultant, digital marketer, traveller, and philomath. Aashish has worked with over 20 startups and successfully helped them ideate, raise money, and succeed. When not working, he can be found hiking, camping, and stargazing.