It was not that AI tools did not exist before ChatGPT, but after ChatGPT was made widely available last fall, it seems to be revolutionising various industries and transforming the way we interact with technology.
Since its launch, it has dominated the news headlines, social media and preoccupied the minds of tech giants running Google, Twitter, Microsoft, Amazon, Meta, and governments worldwide.
So, if you have seen everyone around you using ChatGPT to revolutionise their workflows, streamline tasks, and achieve unparalleled productivity, now you want to master the art of using ChatGPT too. But for that, you need to start from the basics.
Let's read on and get acknowledged to the fundamentals of using ChatGPT effectively, where you'll explore its features, chatGPT vs ChatGPT plus, prompts to use, and get answers to widely asked questions related to ChatGPT.
What Is Chatgpt, And How Does It Work?
ChatGPT is a generative AI trained on 300 Billion words, which are scraped from books, web texts, Wikipedia, social media, articles and other pieces available on the internet. At its core, it is designed to generate human-like responses based on the received inputs.
This chatbot works on prompts. When you provide it with the prompt in a question or a query form, it generates the answers or the text that aligns with the given input.
For example, if you ask it to write an Instagram caption for a post (which you need to describe a bit), you'll receive creative captions with relevant emojis added to the text and also relevant keywords.
Create A Chatgpt Account
To get started with ChatGPT, you will need to create an account with ChatGPT. Here are the steps you need to go through.
Go To chat.openai.com And Register
Start by going to chat.openai.com and signup with your email address or using a Google or Microsoft account.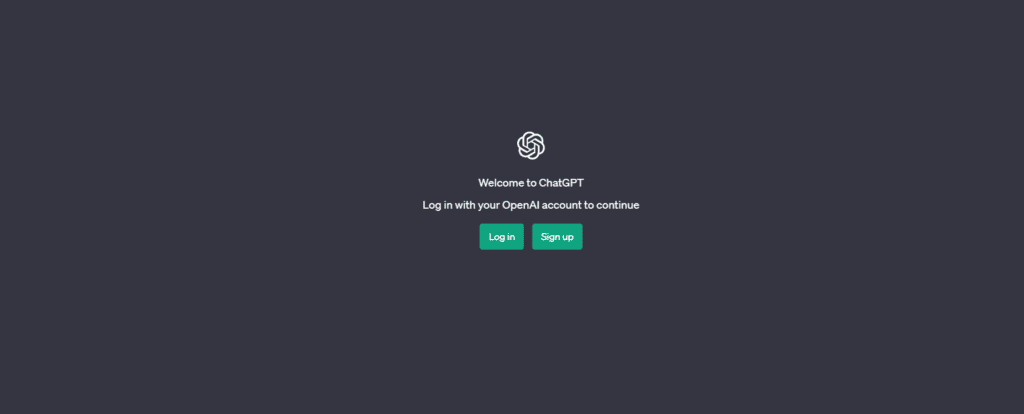 Add Your Details & Verify Your Phone Number
If you have never created an account on ChatGPT, click 'Sign up' and follow the steps to enter your information. You'll be asked to add your name and date of birth. It would also require a valid OpenAI phone number to verify your identity while creating an account. And then, you are all set to have a conversation with this chatbot.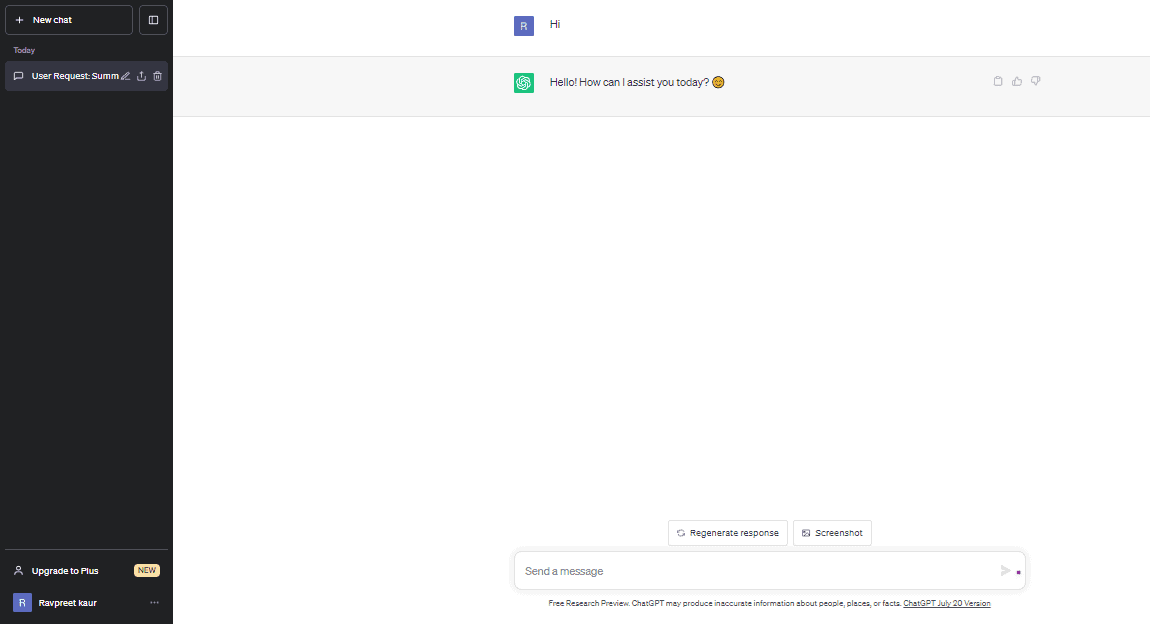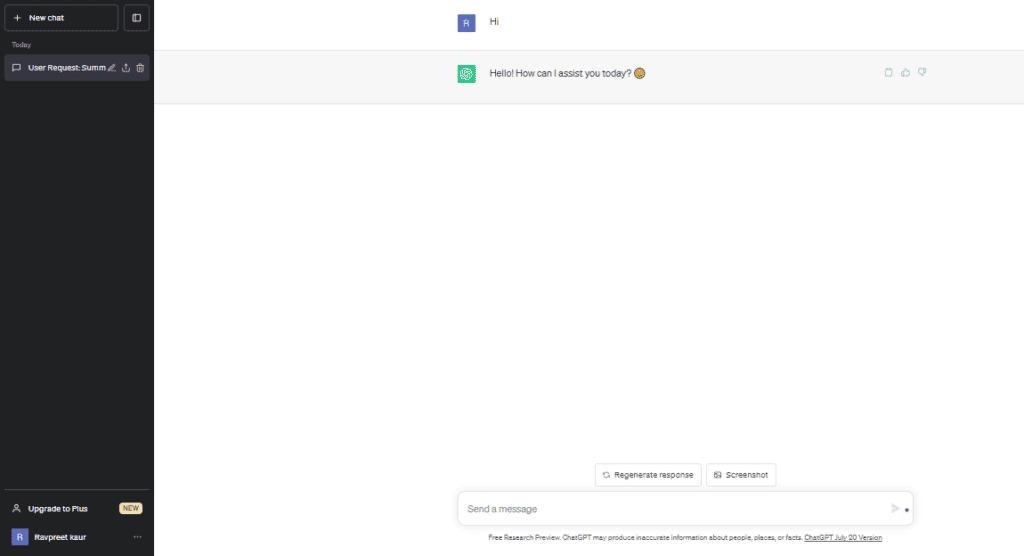 ChatGPT Features
Now that you have logged in to ChatGPT let's get acknowledged with its entire window. Here's the breakdown of what you'll see on the ChatGPT to make navigation easier.
New Chat
On the left top corner of the window, you'll see a 'New Chat' option. You choose this to start a fresh conversation or when you want to start talking on a different topic.
On the left-hand side of your screen, you'll see a button for 'New chat' that you can click on to start a fresh conversation at any time. This feature is useful because the ChatGPT model remembers what was previously discussed in a conversation and will respond with context. So when you want to discuss a new topic, starting a new chat will create a new discussion without prejudice or context.

This small icon on the right side of the new chat feature allows you to hide the sidebar. This provides you with a clutter-free interface to have a better chat experience.

You can click on this toggle available on the left side of the screen to get back the visibility of the sidebar.
Chat History
The sidebar at the left also displays the history of all your previous and current chats. It allows you to review previous interactions and refer back to earlier responses from ChatGPT.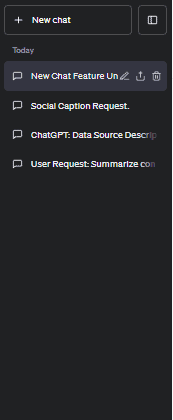 Account
At the bottom of the sidebar, click on your name or email address, and you'll get access to your account information, including help & FAQ, settings, and an option to log out.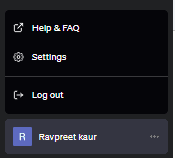 When you click on any chat, you'll get these three options that you can see in the image, which are edit, share, and delete.

You can click on the middle option (share icon) to get a link created on the chat. You can copy the link of the chat and share it with anyone to allow them to read and contribute to the chat.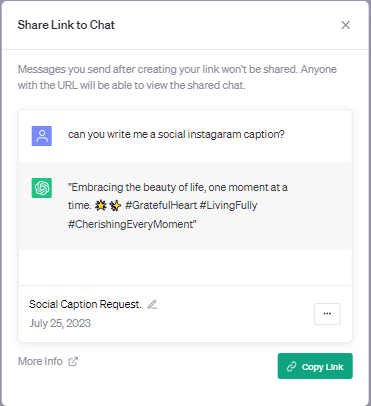 How To Use Chatgpt?
Using ChatGPT is easy. You simply have to input a query or prompt, treating it like you are having a conversation. As you converge with it, it will generate human-like text-based responses for your input. So treat it like your converging partner and talk to the AI.
If you think the generated responses are not upto the mark and need more context, you can iterate and refine your prompts to get the desired output. Sometimes, rephrasing or providing additional context can lead the chatbot to generate more precise answers. Besides, you can always experiment with different types of prompts and mention what kind of answer you expect, including creative, informative examples, problem-solving insights, or more.
Moreover, you also need to remember that even though ChatGPT is highly advanced, it may not always come up with the correct answers on the first attempt. So you can always regenerate the responses or give additional prompts to get better answers.
You need to write your prompts in the long horizontal bar given at the bottom of the page in the middle. Keep your prompts as conversational as possible to make the AI generate the best responses.

Type Your Prompt
ChatGPTis versatility has no bounds, so if you are seeking informative, creative, problem-solving, or even a funny response, you can give a prompt to it and get suitable responses.
Here are some different types of prompts you can use to expect various kinds of responses from this AI language model:
A Few Examples Of Prompt Engineering
As the tool is ready to take prompts for any niche and is capable of answering any questions, here are a few use cases I would like to cover to help you learn prompt engineering. Using these examples and learning from them, you can create your own prompts for your requirements.
One tip about ChatGPT is that if you simply ask the chatbot to write you an article on a specific topic, chances are, you might receive a generic response which can be similar to what it would provide to anyone else asking about the same subject.
So to get unique responses, try starting with a warm-up.
For example, you can begin with a friendly prompt like, "Hey! Do you think you can help me with a blog? I am an SEO expert who needs this blog for my website." By introducing yourself and the company and later providing the topic to ChatGPT, chances are higher that you will receive distinctive and personalised responses instead of generalised ones.
Let's begin with ChatGPT prompt examples:
ChatGPT Prompts For Marketing
So, I started with a warm-up and here's the prompt I gave and the output I received.
Prompt:
Today, my newsletter is about how to use ChatGPT and ChatGPT tutorials.
So do you think you can suggest me an attention-grabbing subject line for this newsletter?
Output
Here are the suggestions ChatGPT came up with –
"Mastering ChatGPT: Your Gateway to Next-Level Conversations!"
"Unleash the Power of ChatGPT: Tips and Tutorials Inside!"
"ChatGPT Uncovered: Insider's Guide to Productive Conversations"
"ChatGPT Awesomeness: Boost Your Chats with Pro Tips & Tutorials!"
"Level Up Your Conversations with ChatGPT: Expert Tutorials Inside"
"Conversational Wizardry: Unraveling ChatGPT's Secrets + Tutorials"
"Your ChatGPT Companion: Expert Tutorials for Incredible Chats!"
"Supercharge Your Dialogues: ChatGPT Tutorials Revealed!"
"Unlocking ChatGPT's Potential: Must-Try Tutorials Inside"
"ChatGPT: Your Ultimate Conversational Ally! Tutorials Within!"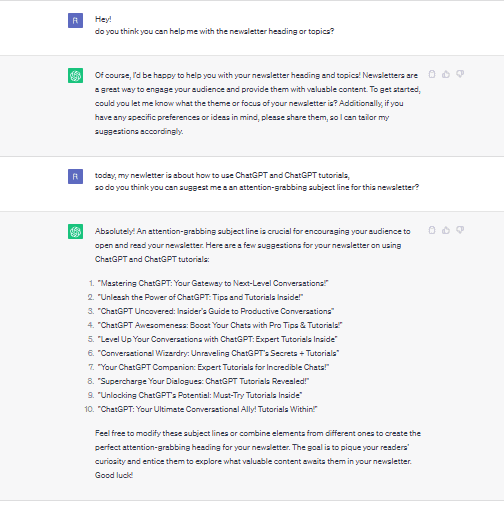 Prompt:
Develop a powerful tagline to attract startups to get themselves registered in our startup directory.
write 10 suggestions.
Output:
"Elevate Your Startup: Unleash Your Potential with Our Directory."
Discover Limitless Opportunities: Join the Ultimate Startup Network.
"Empowering Dreams, One Startup at a Time: Register Today!"
Fuel Your Success: Get Listed in the Leading Startup Directory."
"Climb to New Heights: Join Our Startup Directory Now!"
"Ignite Your Growth: Find Your Place in Our Startup Community."
"Opening Doors to Success: Register Your Startup Today."
"Where Innovators Thrive: Add Your Startup to Our Directory."
"Your Startup's Gateway to Excellence: Join Our Directory Today!"
"Unite, Prosper, Succeed: Get Enlisted in Our Startup Directory."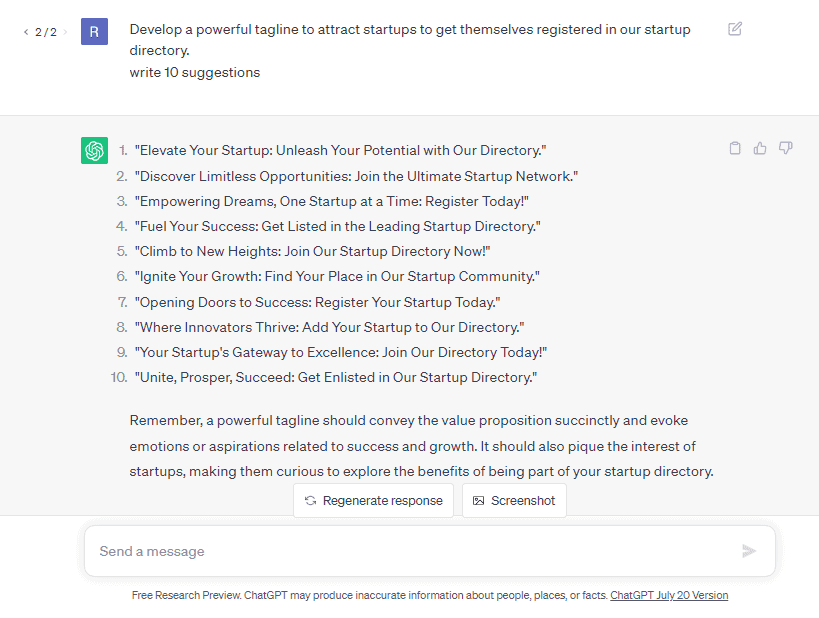 ChatGPT Prompts For Writing And Content Creation
Prompt
Write an outline of 12 things to pack for trips to mountain areas.
Output
To my surprise, when I expected a simple outline of just 12 things, it gave me a detailed outline with 12 different sections, each with a list of essentials.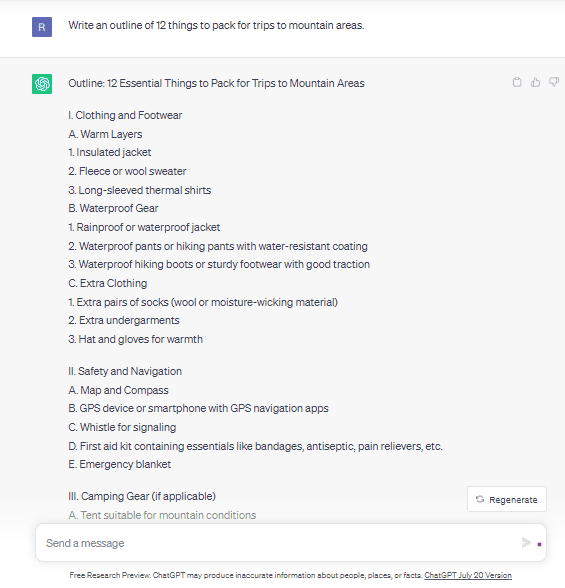 Prompt
Write a short story about a mysterious journey through a hidden forest.
Output
It wrote a really mysterious story for me, creating visual imagery. You can read the initials of the story it generated here.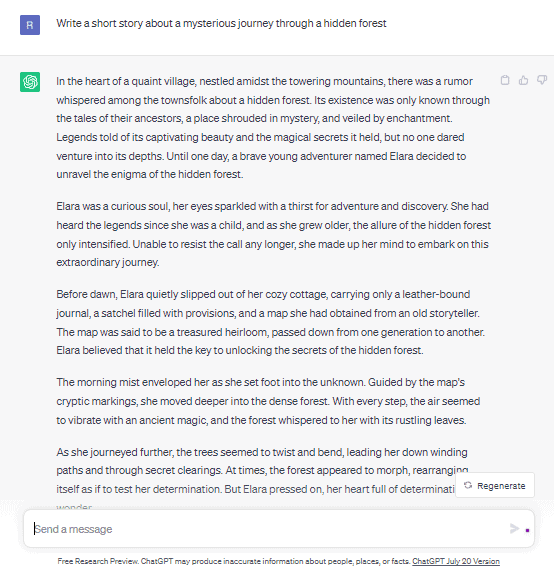 ChatGPT Prompts For Business
Businesses can use ChatGPT for various purposes. They can generate content calendars, make it create business strategies, take help in customer support, legal compliance support, and more.
For example,
Prompt
Create a social media content calendar for the upcoming quarter, focusing on engaging our target audience.
We deal in fitness and wellness
Output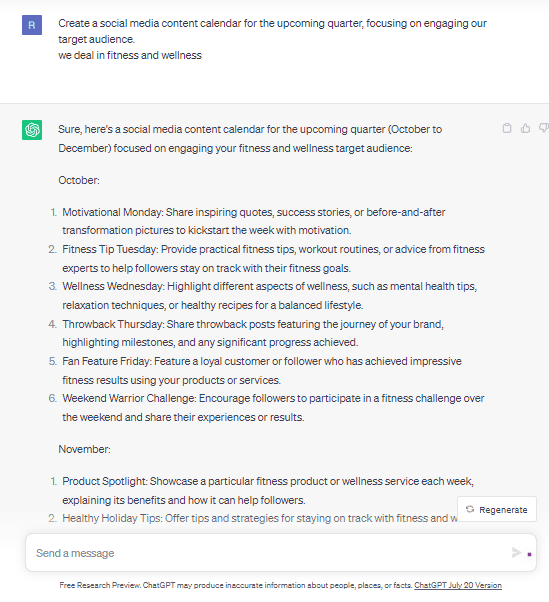 Prompt
I am a newly appointed Chief Strategy Officer of my Company, a publishing website facing increased competition and market disruptions. Develop a comprehensive business strategy that positions the company for sustained growth and success. Consider all the necessary points like risk, finances, and more.
Output
Here's the strategy it gave me as the output.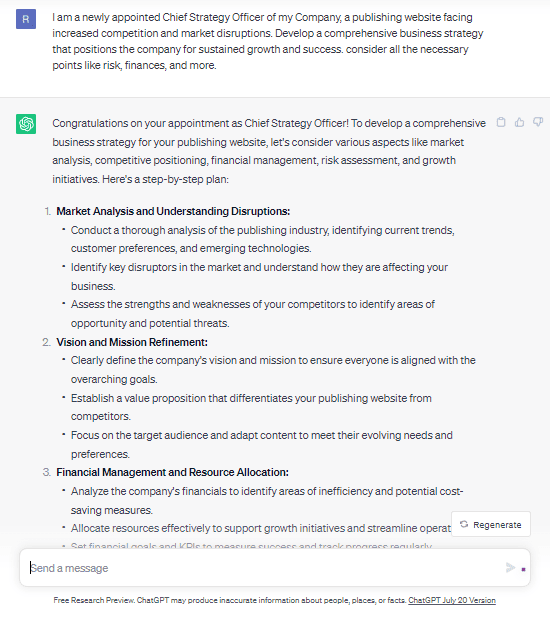 ChatGPT Prompts For Coding
Prompt
Write a Python program to calculate the factorial of a given number using a recursive function.
Output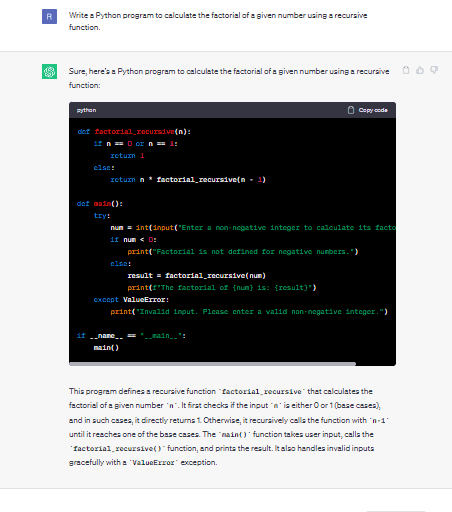 Prompt
Implement a Java class representing a "Person" with properties like name, age, and email address. Include methods to get and set these properties.
Output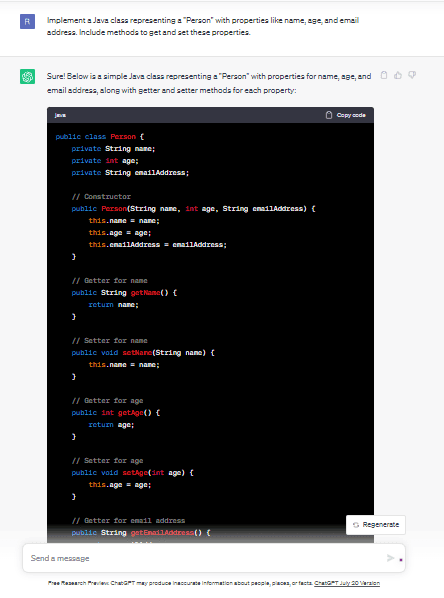 ChatGPT Prompts For Midjourney
To generate Midjourney prompts using ChatGPT, I followed this process –
● Trained ChatGPT using Midjourney's documentation found on its website.
● Gave prompt ideas using simple English.
● Got technical Midjourney prompts with technical attributes.
For example, I asked ChatGPT to generate the prompts for 'elon musk as a Barbie character, full Barbie background', and here is the prompt it generated for me:
Prompt
Elon Musk as a Barbie character, with a vibrant pink background, sparkling accessories, and a futuristic Barbie Dreamhouse –ar 2:3 –s 150 –c 5 –v 5.2
Midjourney Output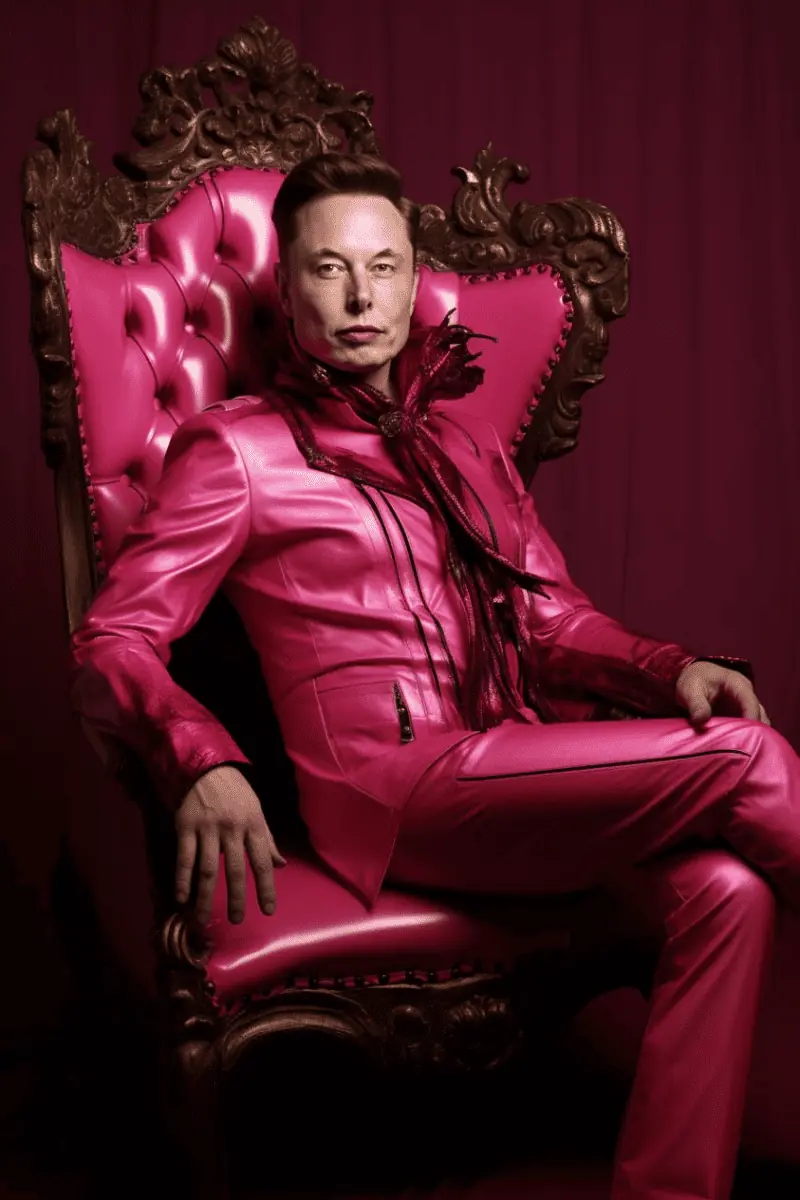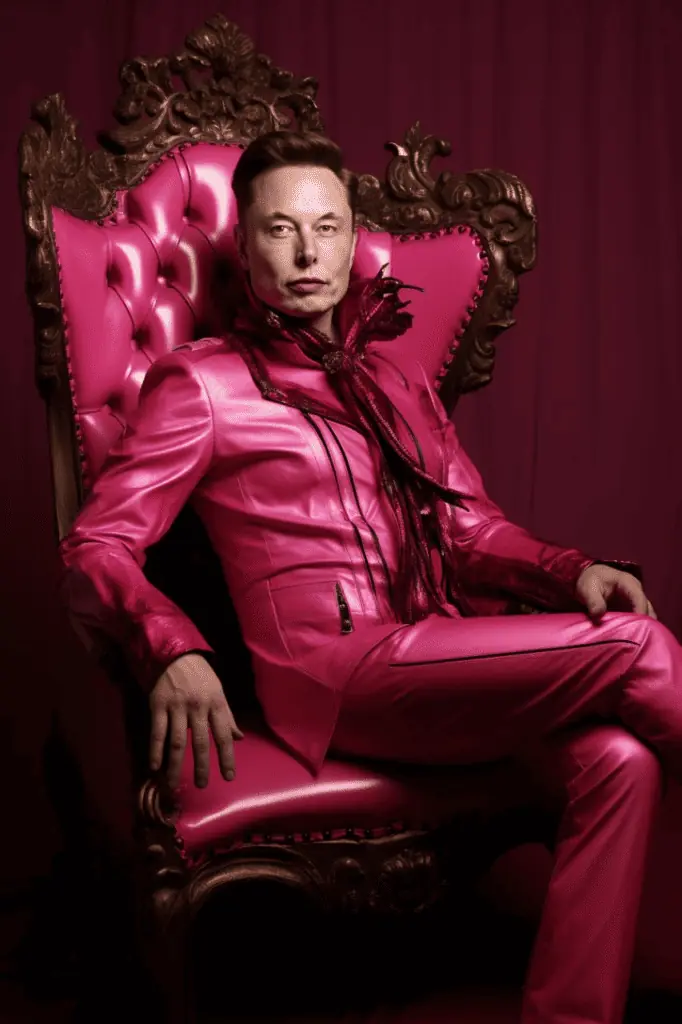 What Is ChatGPT Plus?
ChatGPT Plus is a premium subscription plan that OpenAI offers to ChatGPT users. The ChatGPT plus costs $20/month.
It offers a number of benefits over the ChatGPT free plan. The features you get access to include:
Priority access to ChatGPT, even during peak times
Faster responses during busy hours
Early access to new features and improvements before they are released to the general public.
Use the code interpreter
Access to the GPT-4 model
Getting responses to image content
Access to plugins and more
ChatGPT vs ChatGPT Plus
ChatGPT ad ChatGPT Plus are both conversational AI chatbots, but they both differ as the Plus subscription offers additional features and benefits.
With ChatGPT free version, you can:
Chat with the AI and get your answers
Use GPT 3.5 model
Generate, regenerate responses, and even iterate the prompts.
Access the chat history to refer back to responses you liked.
Access the tool for free.
With ChatGPT plus version, you can:
Converge with the Chatbot
Set the creativity level of the responses
Use the code interpreter
Access the GPT 4 model and keep switching between 3.5 and 4 as per requirements.
You can access the ChatGPT plugin store, install the relevant plugins and use them to boost your productivity.
Access to internet
Pay $20 per month to access Plus features and benefits
Get early access to new features
Get priority during peak hours
How To Use ChatGT Plus?
To get started with ChatGPT Plus and access the features that the ChatGPT Plus plan entails, first, go to the Upgrade to Plus option. It is at the bottom of the left sidebar just above your profile name.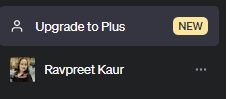 Another way to upgrade is to go to the GPT-4 toggle above the chat area and click on the same to go to the next step.

After clicking Upgrade to Plus or GPT-4 toggle, you'll see this window showing ChatGPT plans. Here, you need to click on the Upgrade to Plus plan to move further.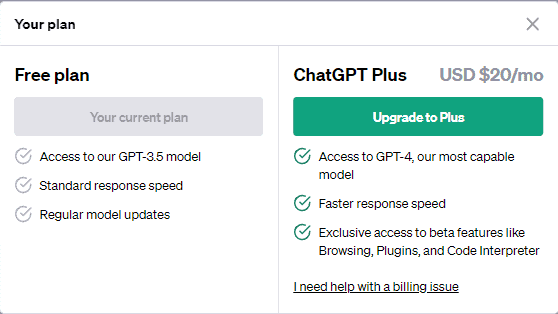 After you click on the Upgrade to Plus, you'll be redirected to a window where you'll need to fill in your details to buy the plan. Once you have added the details, you'll have your ChatGPT Plus account.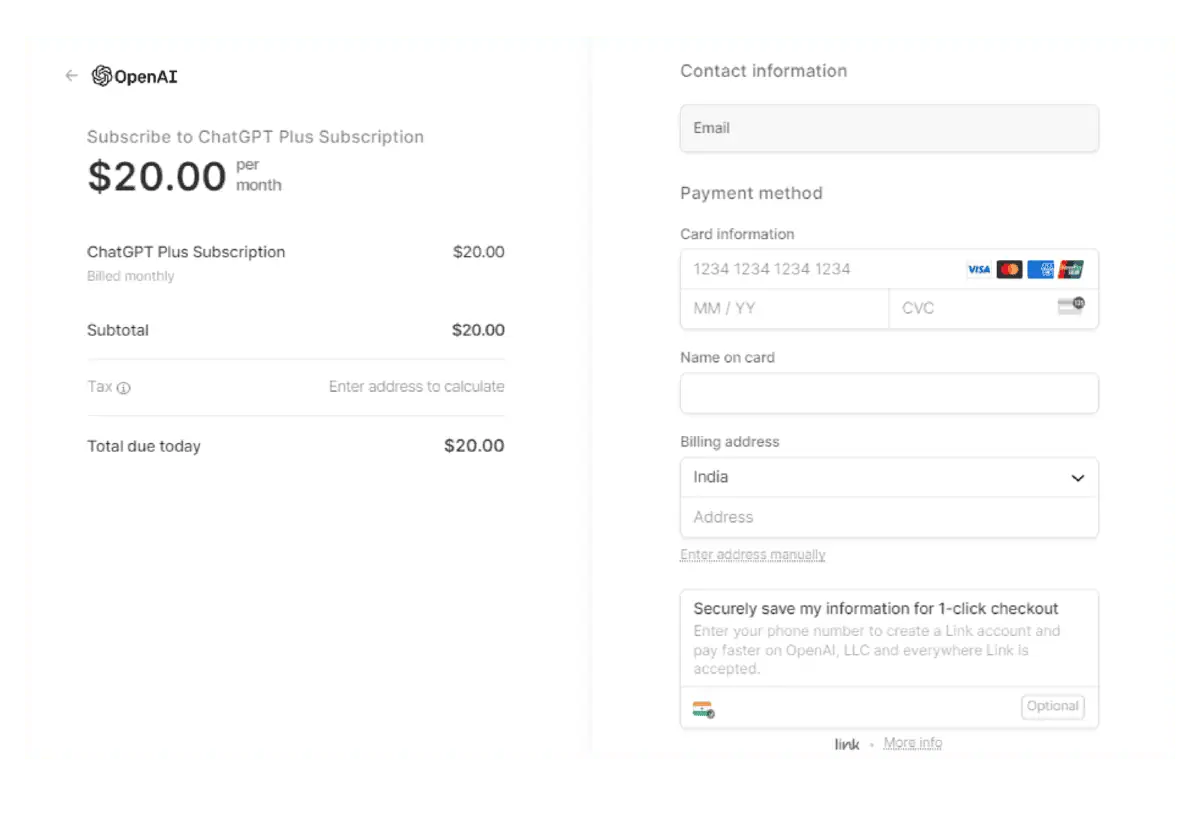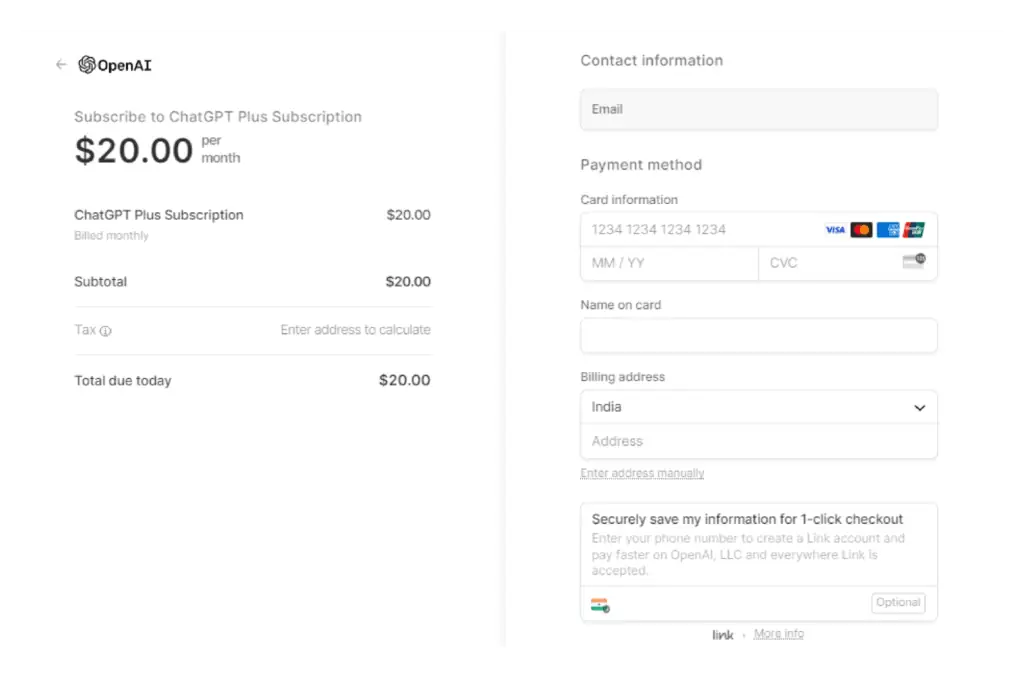 ChatGPT Plus is a subscription plan that offers enhanced features and benefits to you. If you've subscribed to ChatGPT Plus, here's how you can use it to make the most out of its features:
ChatGPT Plus Features
Code interpreter: You can run Python code in a live working environment using a code interpreter. It is essentially a sandboxed Python environment where you can execute Python code to perform many programming and data tasks. It can be used for a variety of tasks, including:
Data analysis & formatting: Using Code Interpreter, you can instantly give a format to the data and create charts, analyse data, and execute mathematical operations.
Edit Images & Videos: You can convert images to different formats, resize images, add filters to the images and videos, and create gifs.
Edit Codes: You can use a code interpreter to edit Python code, run unit tests, and debug code.
First, enable the plugin in your ChatGPT settings. Once the plugin is enabled, you can start editing Python code by typing 'code' followed by your code in the ChatGPT chatbox. For example, to edit the code print ("Hello, world!"), you would type code print ("Hello, world!") in the ChatGPT chatbox. In the sandboxed Python environment opened by ChatGPT, you can edit the code and also run a test by typing 'run' in the chatbox.
Web Browser: The Web Browser feature in ChatGPT Plus allows you to browse the web directly from within the ChatGPT interface. To use this feature, go to the settings, go to 'new features', and enable web browsing. Then, select GPT-4 in the model switcher and choose 'Browse with Bing' in the drop-down.
You can then start browsing the web by typing 'browse' with your search query in the ChatGPT chatbox.
Plugins: As a ChatGPT Plus subscriber, you can use plugins to extend the functionality of ChatGPT. You can use hundreds of ChatGPT Plus Plugins to add new features to ChatGPT, out of which some are Zapier, Ai Tool Hunt, Link Reader, and many more.
To use a plugin, you first need to install it. You can install a Plugin by going to the ChatGPT plugin store and clicking on the 'Install' button next to the plugin that you want to install. Once the plugin is installed, you can start using it by typing the plugin's command in the ChatGPT chatbox.
For example, to use the Ai Tool Hunt plugin, type' ai tool hunt generate text', and then ChatGPT will return a list of AI tools relevant to your search term.
To use the ChatGPT 4 model on ChatGPT Plus, you need to do the following:
Subscribe to ChatGPT Plus.
In the left sidebar, click on your profile to go to 'Settings'
In the 'Settings' menu, click on the "Beta features" tab
Switch on the toggle next to "ChatGPT 4" to enable the feature
Once you have enabled the ChatGPT 4 feature, you can start using it by typing 'model 4′ followed by your request in the ChatGPT chatbox. For example, to generate text using the ChatGPT 4 model, type 'model 4 generate text', and ChatGPT will then generate text using the ChatGPT 4 model.
To switch between the GPT-3.5 and GPT-4 models on ChatGPT Plus, you need to undertake the following steps:
In the ChatGPT interface, click on the 'Settings' icon in the top right corner of the screen.
Click on the 'Beta features' tab in the' Settings' menu.
Switch the toggle next to the model that you want to use.
For example, to switch to the GPT-3.5 model, you would switch on the toggle next to "ChatGPT 3.5".
Once you have switched models, you will need to restart ChatGPT for the changes to take effect.
ChatGPT Subscription Plans
There are only two subscription plans of ChatGPT, free and plus.
ChatGPT Free Plan – Anyone can access the free plan of ChatGPT. It offers a basic functionality level, allowing you to generate text, translate languages, and write different kinds of creative content. However, the free plan may be unavailable during peak times, and response times may be slower.
ChatGPT Plus Plan – The Plus plan of ChatGPT offers a number of additional benefits over the free plan, including:
Access to general ChatGPT, even during peak times.
Get faster responses
Get priority access to new features and improvements.
Access to the GPT-4 model.
Convergence with the Chatbot.
Set the creativity level of the responses
Access to internet
Keep switching between 3.5 and 4 as per requirements.
Access the ChatGPT plugin store
The cost of the Plus plan is $20 per month
Is Chatgpt Plus Worth It?
Yes, for people who want access to a code interpreter, writing assistance with the latest updates using the internet, advanced language model of GPT 4 and other features, ChatGPT Plus is beneficial for them.
But, for the ones who want just a bit of writing assistance or do not have heavy tasks to do, ChatGPT free version is enough for them.
FAQs
What is ChatGPT?
ChatGPT is an AI chatbot that uses natural processing language to generate human-like responses. It is a generative AI that generates responses to the given prompts or queries. This advanced language model is trained and developed on a database of 300 billion words that are sourced from books, blogs, social media content, articles and more text available online.
What is ChatGPT Plus?
ChatGPT Plus is a subscription plan offered by OpenAI for its ChatGPT users to get more advanced features in ChatGPT Plus. The advanced features include priority access to ChatGPT during peak times, access to plugins, getting responses to images, access to the higher word limit, improved accuracy with gpt4, and more.
How to manage your data in ChatGPT?
To manage your data, head to your profile, go to settings and click on the section called 'Data Control'. If you do not want the ChatGPT to read your conversations, you can switch off the 'chat history & training'. This will remove all your previous chats and other data that ChatGPT has collected from your chats. Here you can also manage your shared chat links, export the data, or delete the account.
How to turn off your chat history in ChatGPT?
To turn off your cha history, you can simply go to the settings, which you can find when you click on your profile given at the button of the left sidebar. Find the 'Data control' section and turn off the 'chat history & training' toggle to remove all your chat history.
How to delete your ChatGPT history?
Start by clicking on your profile given at the bottom of the left sidebar. Go to the settings and click on 'Data control'. Here the last option is 'Delete account'. You can click on the Delete button to delete your account permanently. Remember, you can not undo the given command.
Can ChatGPT refuse to answer my prompts?
Well, yes, ChatGPT can refuse to answer your prompts, as it is an AI model which has to adhere to certain ethical guidelines and usage policies. But it does not directly refuses. It says, "As an AI language model, I must adhere to ethical guidelines, which include avoiding discussions or generating content that is explicit, inappropriate, or offensive. If you have any other questions or need assistance with other topics that are appropriate and within ethical boundaries, feel free to ask, and I'll be more than happy to help!"
How to use ChatGPT?
Using ChatGPT is user-friendly and easy. All you need to do is, create an account, compose your prompts, and simply converge as you would talk to any of your peers. When you interact with the chatbot using your prompts, and queries, you can counter the arguments, regenerate responses, iterate your prompts, and you will keep getting the relevant answers.
Or, if you want to receive the responses in your language, talk to the AI, give it some of your previously written work, and ask it to generate responses in the same tone and language.
How to use ChatGPT Plugins?
To use ChatGPT plugins, you need to have access to ChatGPT Plus or ChatGPT API. Once you have that, you can browse the available plugins in the ChatGPT plugins store and install the ones you like. Some of the best ChatGPT plugins are Prompt Perfect, OpenTable, Zapier, Wolfram, Speak, and more.
Is there ChatGPT official app for Android?
Yes, there is an official ChatGPT official app for Android. You can install and use it for free. It offers the same features as that of the web version of ChatGPT.
Does ChatGPT have an app?
Yes, ChatGPT has apps for iOS devices and Android. You can download the app from the App Store or Play Store for free. These apps have the same features as that of the web version of the ChatGPT.
Is ChatGPT Plus connected to the internet?
Yes, OpenAI ChatGPT has access to the internet and is capable of producing more accurate responses even related to the current happenings.
How to use ChatGPT 4?
The only way to use ChatGPT4 is to get the ChatGPT Plus subscription. You can go to your ChatGPT profile, click on the option called 'upgrade to plus', choose the Plus plan, pay, and you can use the ChatGPT4 easily.
How to use ChatGPT 4 for free?
If you want to use ChatGPT 4 for free, there is no way you can use it without paying $20 per month. However, if you want to use GPT4 for free, you can use Microsoft Bing. Microsoft Bing is an AI-powered search engine that runs on OpenAI's GPT-4 model.
Is ChatGPT Plus worth it?
Yes, ChatGPT Plus is worth it for people who have heavy lifting to do with the content, coding, and editing. As ChatGPT Plus allows you additional features, including:
●     General access to ChatGPT, even during peak times
●     Priority access to new features and improvements
●     Access to the GPT-4 model
●     Have access to the internet
●     Set the creativity level of the responses
●     Keep switching between 3.5 and 4 as per requirements
●     Access the ChatGPT plugin store, and more
Ravpreet is an avid writer, prone to penning compelling content that hits the right chord. A startup enthusiast, Ravpreet has written content about startups for over three years and helped them succeed. You can also find her cooking, making singing videos, or walking on quiet streets in her free time.