Just a few years back, if someone said we'd be chatting with bots to get answers, discuss ideas, or seek help, we simply wouldn't have believed it. But as freaky as it sounds, that's our reality now. And who do we have to thank for it? None other than the amazing ChatGPT!
This smart AI chatbot can do it all, from creative work like writing essays to crunching numbers and writing codes. Interestingly enough, people are now using ChatGPT's AI capabilities to make money on the side.
If you, too, are keen on tapping into the money-making potential of ChatGPT, then keep reading to discover sixteen different ways to make money with ChatGPT's innovative chatbot platform.
Become A Content Writer
Before, being a content writer meant being creative, conducting extensive research, and constantly coming up with new ideas until you find the perfect one. Not everyone could do it. But now, with ChatGPT, literally anyone can try their hands at content writing and see if it works for them.
You can offer various paid content-writing services, including:
Writing content for profitable blog niches.
Writing sponsored content for brands.
Writing product descriptions for ecommerce stores.
Writing content for social media posts.
Writing content for landing pages, email campaigns, sales letters and social media ads.
You can use prompts like:
"Help me write a compelling product description for my online boutique that offers high-quality, handmade home accessories for a touch of elegance."
Write an engaging blog post for a health and wellness website featuring some of the best wellness retreats worldwide, ideal for relaxation and rejuvenation.
"Compose an ad for an Etsy gift shop specialising in customisable keepsakes, emphasising their uniqueness and sentimental value for recipients."
Become a Content Editor and Proofreader
With ChatGPT, you can effortlessly proofread and refine any written content. Let's say you need to proofread and edit a blog. You can ask ChatGPT to identify potential grammatical, punctuation, or spelling errors in the text. However, make sure to review the content alongside ChatGPT's suggestions to correct any mistakes and ensure the final draft is error-free and polished.
You can use prompts like:
"Check this text for subject-verb agreement errors."
"Find any instances of passive voice in this text and rewrite them in active voice."
"Suggest alternative vocabulary choices to improve the readability of this text."
"Find any overused words or phrases in this text and suggest alternatives."
"Check this text for clarity and flow, and suggest any improvements."
You can create content editing packages utilising ChatGPT as part of the service. You can offer different tiers of editing, with the ChatGPT assisting in basic proofreading, grammar checks, and sentence structure improvements, while human editors handle more complex editing tasks.
Become a Social Media Manager
Social media is a huge part of marketing and brand promotions today. And guess what? With ChatGPT's assistance, you can level up your skills and become a full-fledged social media manager. Think about this: you'll get to curate content, write high-converting social media posts, and even plan content calendars. And the best part of it all? You can offer your services to businesses worldwide and make some serious money with ChatGPT.
Here are some prompt ideas to help you get started:
Write a social media strategy for a small business that is trying to increase brand awareness."
"Create a social media campaign for a product launch to generate excitement and buzz."
"Plan a social media content calendar for a month"
Try Email Affiliate Marketing
Email affiliate marketing is a great way to make money using ChatGPT. ChatGPT can write emails that are persuasive and engaging, and it can also include affiliate links in the emails. You can promote various offerings to your email list and earn a commission on any sales you generate.
To start with email affiliate marketing, you must choose an affiliate program. With so many affiliate programs available online, find the one that sells the products or services you are interested in.
Once you have chosen an affiliate program, you must build an email list. To do so, you can offer lead magnets, such as free ebooks or webinars, in exchange for email addresses.
Once you finish your email list, you can craft compelling email campaigns. ChatGPT can help you write emails tailored to your audience and persuade them to click on your affiliate links.
You can use a prompt like, "Write an email campaign promoting *mention the affiliate product* from Amazon."
Keep track of click-through and conversion rates to determine your campaigns' performance and adjust as needed.
Work As a Virtual Assistant
With so many businesses switching to remote settings nowadays, the demand for virtual assistants has also risen significantly. And you know what VA jobs entail, right? Lots of clerical stuff like sending emails, researching, writing invoices, preparing documents and whatnot. ChatGPT can help you to easily streamline these tasks, get things done faster, and be productive.
Platforms like Wishup, Toptal, Fiverr, Upwork, etc., are a great place to start with your virtual assistant career.
Translation Services
ChatGPT can be really good with translations, but only a few know this fact. You can use this to your benefit and kick-start your AI translation services. ChatGPT works best for basic text translations, you know, all the simple ones like website content, product descriptions and various marketing materials.
For instance, you can use a prompt like "Translate this product description from English to French: [copy and paste your text here]."
These types of translations are often in high demand, especially by entrepreneurs starting a new business overseas or entering a foreign market with their existing offerings. Hiring a human translator can be pretty costly, and that's the pain point you can focus on. This is how you can sell yourself, "We're an AI translation service that can provide you with human-like content at a fraction of the cost and 10 times faster than traditional methods!"
For more complex tasks, like translating a manual or a legal document, you can offer premium services, which could include a detailed human review of the ChatGPT translation, ensuring the translation is free of errors and 100% culturally accurate. To take it a step further, you can also offer region-specific or industry-specific AI translation services that are tailor-made for businesses' translation requirements.
Audio and Video Transcription Services
In the past, transcribing stuff from audio and video has been a real pain – it took forever, and mistakes would slip in all too often. But with ChatGPT, that's not the case. It pretty much automates the entire transcription process, making it much faster and more accurate.
Moreover, ChatGPT can handle quite a few languages, which is a major advantage for companies and organisations that operate across different foreign countries. No matter how complex the language is or how low the quality of the recording is, ChatGPT can transcribe audio and video files in any language.
Here are some prompts you can try:
For audio:
"Transcribe this audio file into text, including the speaker's name and any other relevant information."
"Transcribe this audio file and identify the key points of the conversation."
For video:
"Transcribe this video and include the speaker's name and any other relevant information."
"Transcribe this video and create a summary of the main points."
Resume and Cover Letter Writing Services
You can ask ChatGPT to write a customised resume or cover letter based on a job description, and the AI chatbot will produce a nearly complete document, just missing a few basic details, like your name and address.
Here are a few prompts to help you out:
"Write a resume for a [job title] position highlighting my skills and experience."
"Generate a resume that is tailored to the [company name] job posting."
"Come up with a list of keywords that I should include in my resume for the [job title] position."
"Write a cover letter for the [job title] position at [company name] that highlights my qualifications and enthusiasm."
"Come up with a list of reasons why I am the best candidate for the [job title] position."
Create and Sell Online Courses
You can create a course using ChatGPT and sell it on platforms such as Skillshare, Udemy, Thinkific, etc. In addition to creating a course outline, you can also use ChatGPT to produce advertising copies to promote your course online.
Here's an example of an outline for 4 weeks, a 1-hour-per-day course created by ChatGPT: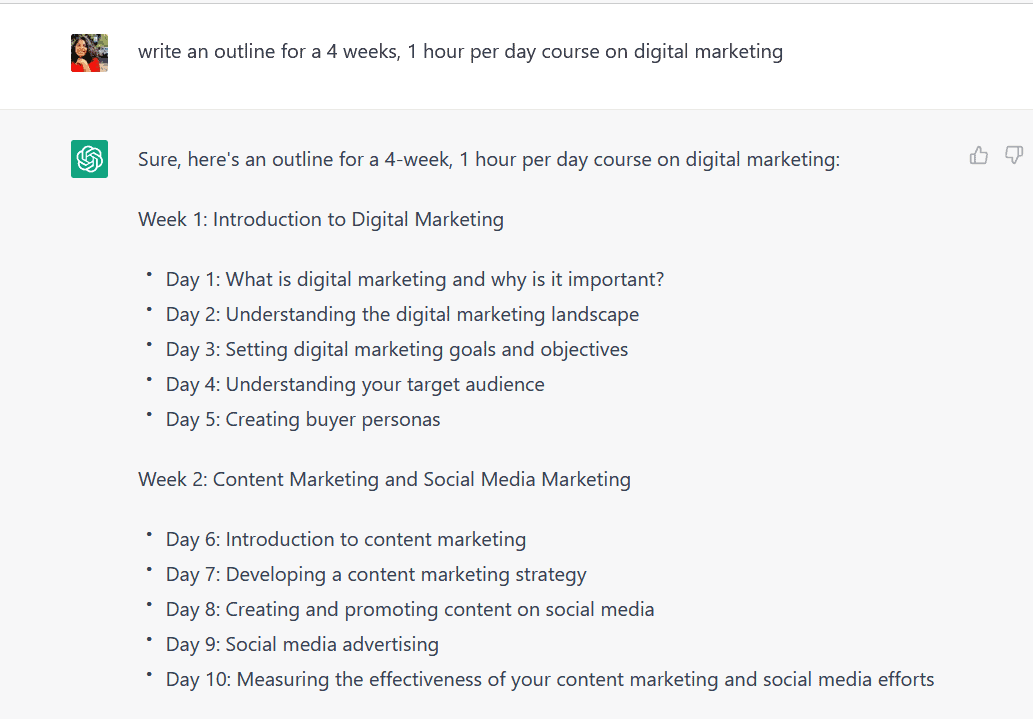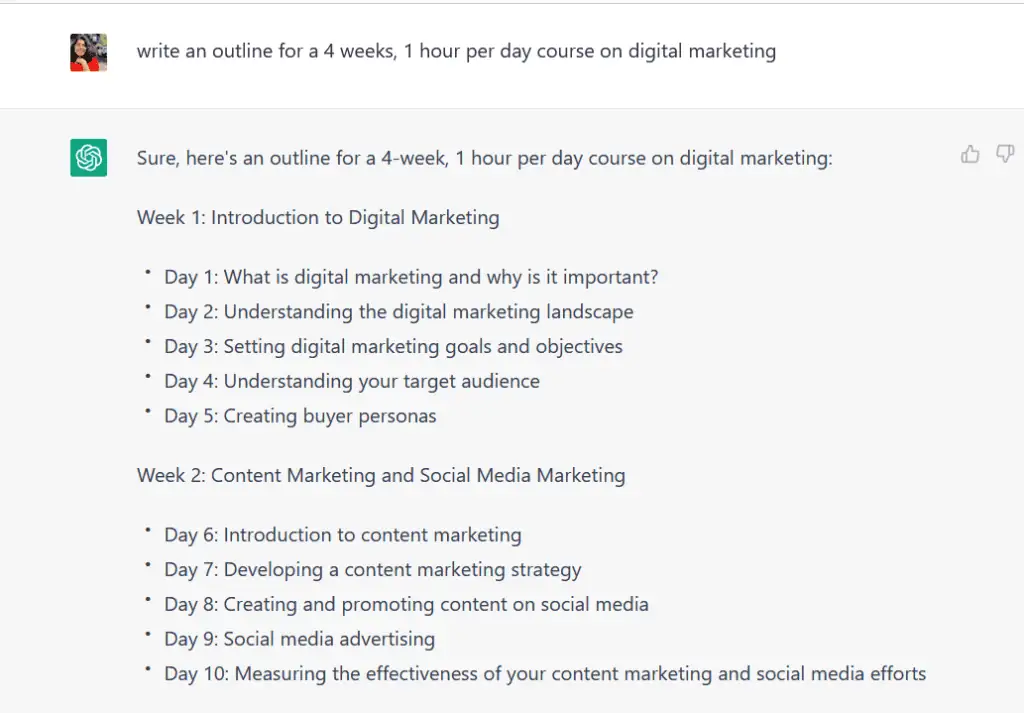 Here's the advertising copy that ChatGPT created for the same course: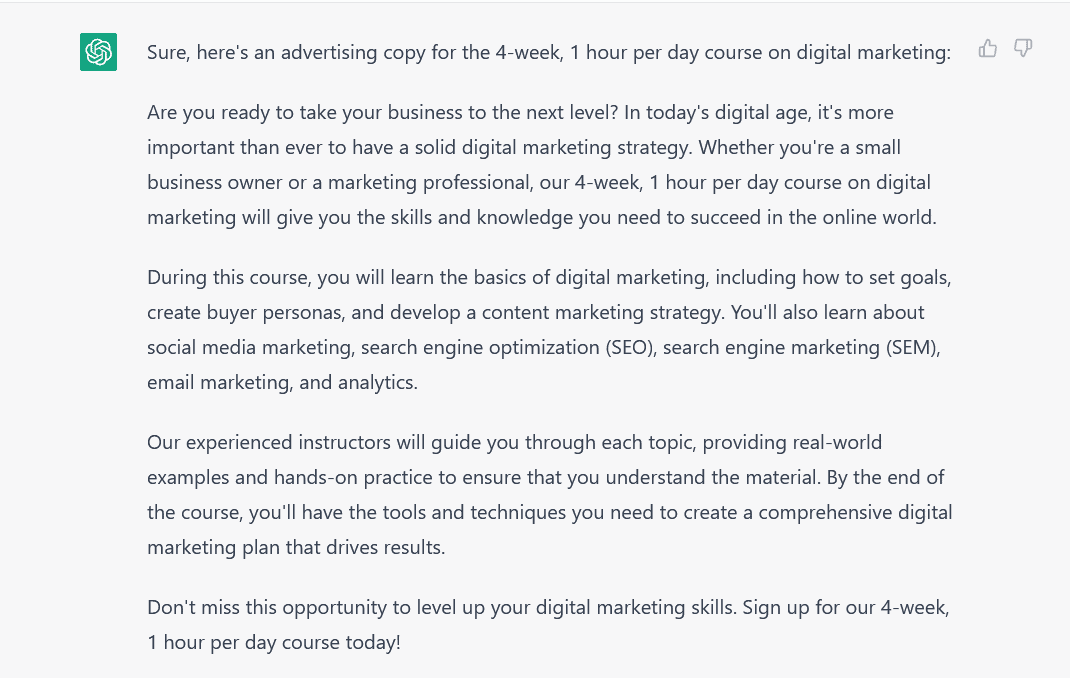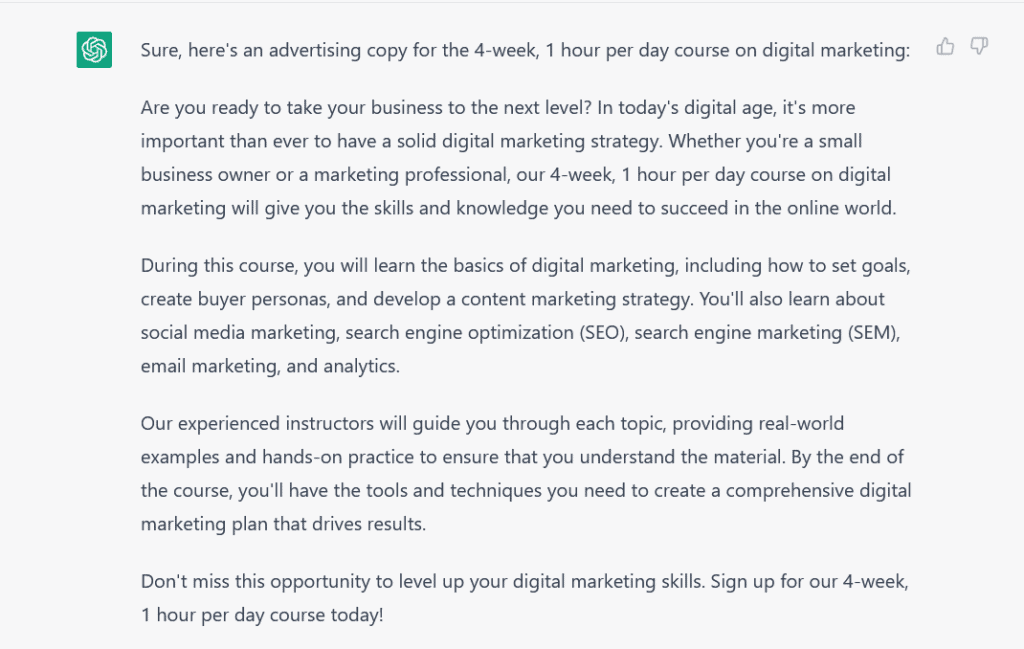 Create and Monetise a Faceless YouTube Channel
You don't always have to show your face to make good money on YouTube. But how? Well, that's where faceless YouTube channels come in! And they are pretty easy to make.
You can simply start by selecting a stock video depending on the niche you're focusing on and use ChatGPT to generate a script for the same. Here's one example: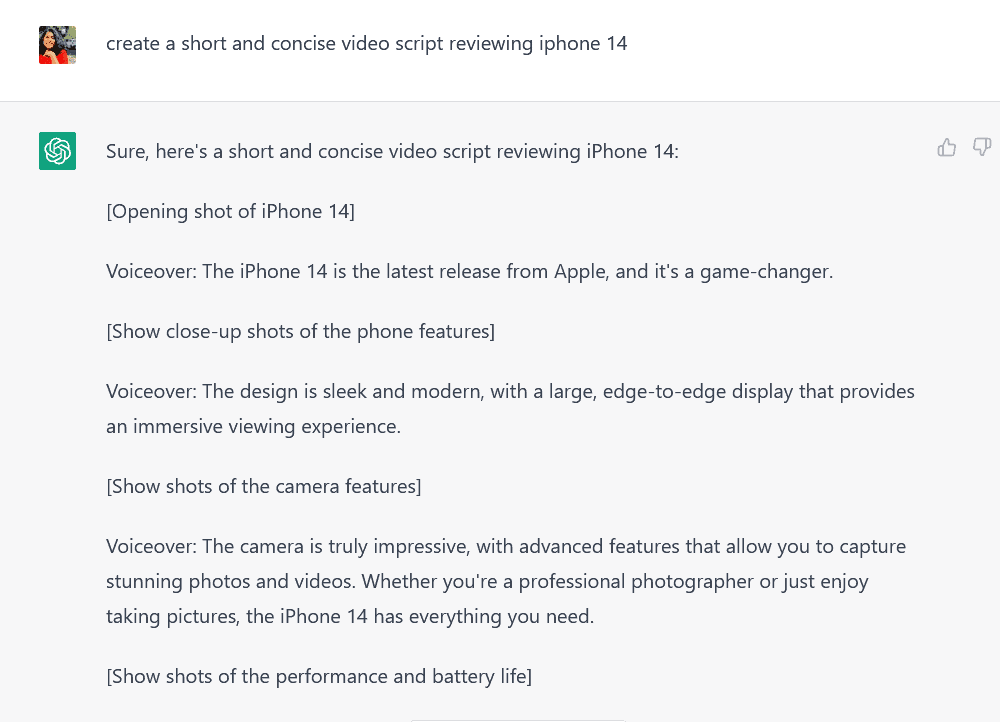 Once the script is ready, you can use Speechify's voice-over generator to turn that script into a natural-sounding audio narration. Moreover, you can convert your script into a video using Synthesia AI. That way, you'll have a complete video with a voice-over without ever showing your face.
ChatGPT can also help you optimise your videos' titles, descriptions, and tags to ensure search engines properly index them and ensure people can find your content more easily.
Become a Scriptwriter
ChatGPT is surprisingly good at creating functional scripts for short films or TV shows. While the scripts it generates aren't always perfect, you can use them as a good starting point for writing something more detailed or accurate.
Here are some prompts to get started with ChatGPT for script writing:
Brainstorming ideas:
"Write a logline for a short film about a group of friends who go on a road trip."
"Generate a list of character archetypes for a TV show about a teenage love story."
Generating dialogue:
"Generate a monologue for a character who is trying to convince someone to do something they don't want to do."
"Write a scene for a comedy about two people who are trying to flirt with each other."
Structuring a script:
"Write an outline for a short film about a character trying to solve a mystery."
"Come up with a plot for a horror movie about a group of people trapped in a cabin in the woods."
Write and Self-Publish E-books
According to a report published by Reuters this year, writing and selling AI-written ebooks on Amazon has gained massive popularity. So much so that people are making a career out of it. And the good news is, you, too, can be a part of it. Simply select the niche that you wish to target, think of a rough idea of what you want the story to be about, type it as a prompt, and ChatGPT will instantly come up with a story for you.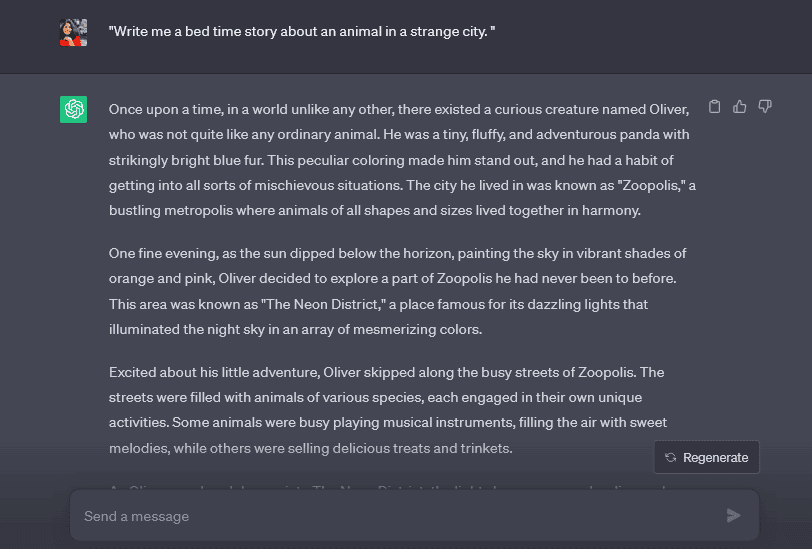 Create an AI Chatbot
One of the best ways to make money with ChatGPT is to create chatbots that can provide customer service, handle support requests, and even close deals for businesses and organisations. Kind of like having an automated customer care and assistant.
And here's how you can do it, too: to create a chatbot, you'll need to train ChatGPT on the business's information. This includes details like hours of operation, the services or offerings, and frequently asked questions. You can also provide sample responses to some questions to train ChatGPT on how you'd like it to answer them.
Once trained, the chatbot can respond to customer enquiries based on your provided information. Just be sure to test the chatbot thoroughly to ensure it behaves as desired. Refine the prompts, adjust parameters, and improve based on user feedback.
Develop and Sell Apps, Chrome Extensions and Plug-Ins
With ChatGPT, coding has become simpler than ever, offering a golden opportunity to earn money using ChatGPT. If you've ever dreamt of creating your very own Chrome extension, plug-ins or apps, then ChatGPT can help you get there.
For ideas or general instructions, try entering a prompt like "Help me design a mobile phone app in the style of Gardenscapes."
Once you've narrowed down the idea and know exactly what you want your app or extension to do, you can give specific prompts to ChatGPT and create the code you need.
Start with a general prompt, like "Code a simple text adventure game in Python,". Then, build on the basic code that ChatGPT has generated for you to add your own custom characters, levels, locations, and other features.
If you have a particular idea in mind, you can give ChatGPT more detailed prompts, such as "Create a Google Sheets add-on that lets users enter a list of tasks and their due dates and then generates a calendar view of the tasks."
Sell AI Prompts
Here's a secret not everyone knows about, i.e. you can make money with ChatGPT by creating and selling AI prompts. Prompts are the specific instructions you give based on what the AI gives you as an output. And If you are good at writing effective AI prompts, you can sell them to people who want to use ChatGPT for their own projects.
There are a few different ways to sell AI prompts:
You can create your own blog or a website to sell your prompts individually or in packs.
You can join a marketplace for AI prompts, such as PromptBase or FlowGPT.
You can offer your prompts as a service, where you will write custom prompts for people based on their specific needs.
You can promote your prompts on social media and other online channels.
Here are some additional tips for creating and selling AI prompts:
Make sure your prompts are clear and concise.
Focus on keywords that people likely search for.
Offer a free trial or sample of your prompts.
Provide excellent customer service.
Become a ChatGPT Consultant
By becoming a ChatGPT consultant, you can help businesses to improve their operations, increase productivity, and generate new insights. This can be considered a reliable way to make money with ChatGPT.
You need to do a few things to become a ChatGPT consultant. First, you need to have a strong understanding of ChatGPT and how it works. You should also be familiar with how ChatGPT is utilised in business in the landscape.
Once you understand ChatGPT well, you need to start building your network. Talk to businesses about their needs and how ChatGPT can help them. You can also offer free consultations to businesses to demonstrate your skills.
As you build your network, you will attract more clients. Once you have a list of clients ready, you can start to charge for your services. You can also start to offer training and workshops on how to use ChatGPT in business.
Bottom-Line?
Although ChatGPT is far from perfect, what it generates often needs more editing and input than it's worth. However, the possibilities for what can be accomplished with ChatGPT are endless, making it a valuable tool for anyone who wishes to make money with ChatGPT. So, why not take advantage of it? Discover how you can start raking in the dough using ChatGPT and find the approach that suits you best.
An ardent reader, full-time writer and a lover of all things purple. Riya is an entrepreneurial spirit, making her way in the start-up industry through her expressive writing. When not working, you can find her jamming to music, watching period films, eating sushi, or petting cats.