Seems like putting a meditating old Baba on the top of your brand name isn't good enough to guarantee that your brand is herbal. Patanjali has taken this to a new level with their brand ambassador, a real yoga guru, Baba Ramdev. Patanjali, or as Forbes has labelled it – India's Body Shop, has taken over the markets with a storm posing a real threat to the existing market leaders like Colgate, Unilever, Nestle, and GlaxoSmithKline.
But what could be the reason behind such popularity and the ever-increasing demand of Patanjali?
Patanjali Success Study
All the success, the popularity, and the goodwill can be credited to something we refer to as the "Incidental Branding".
The branding wasn't accidental. It was well planned. But there were a lot of incidents that shaped the brand personality and that too happened before its formation. The brand ambassador (who surprisingly has no equity in the business) is the reason the 'brand' happened. Mind it that I'm referring to the brand and not the business. Hence Baba Ramdev's Patanjali.
But how a holy man, who doesn't even know the basic marketing strategies, who did nothing but yoga all his life, could make all the market leaders sweat?
Reason Behind Patanjali's Success
It all started in 2002 when Baba Ramdev's mass yoga camps telecasted through the leading spiritual channels (which were the new trend then) across the country. These camps, besides being free yoga classes for the television viewers, built a big brand for Baba Ramdev and placed him in a positive light as a person you can trust. These yoga camps also somehow kindled a new interest in healthy exercises and Ayur Veda.
What next? Baba was in the limelight as he became a part of many political as well as non-political (and rather silly) controversies like cure of Cancer, AIDS, and homosexuality by yoga. His argument for the replacement of sex education in schools with yoga education and his speeches that stated western medicine companies as the con was a part of hundreds of controversies he was a part of.
Between all this, Patanjali was born in 2006. Or rather, as researchers say, was being planned from 2003 itself. Patanjali is actually managed by Acharya Balkrishna (Ramdev's partner since 1995). The products were initially marketed and promoted during the yoga camps (which has been attended by around 20 crores, or almost a sixth of the Indian population till now). Since the yoga classes were conducted for free, people were convinced that the Baba was not in it for the money (this trick always work)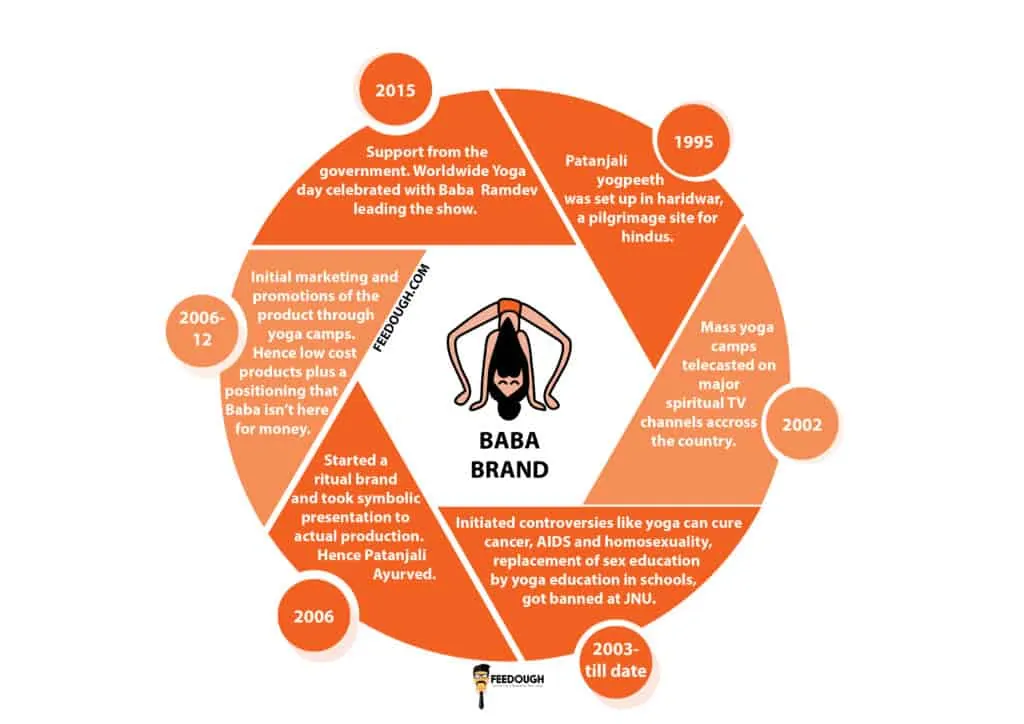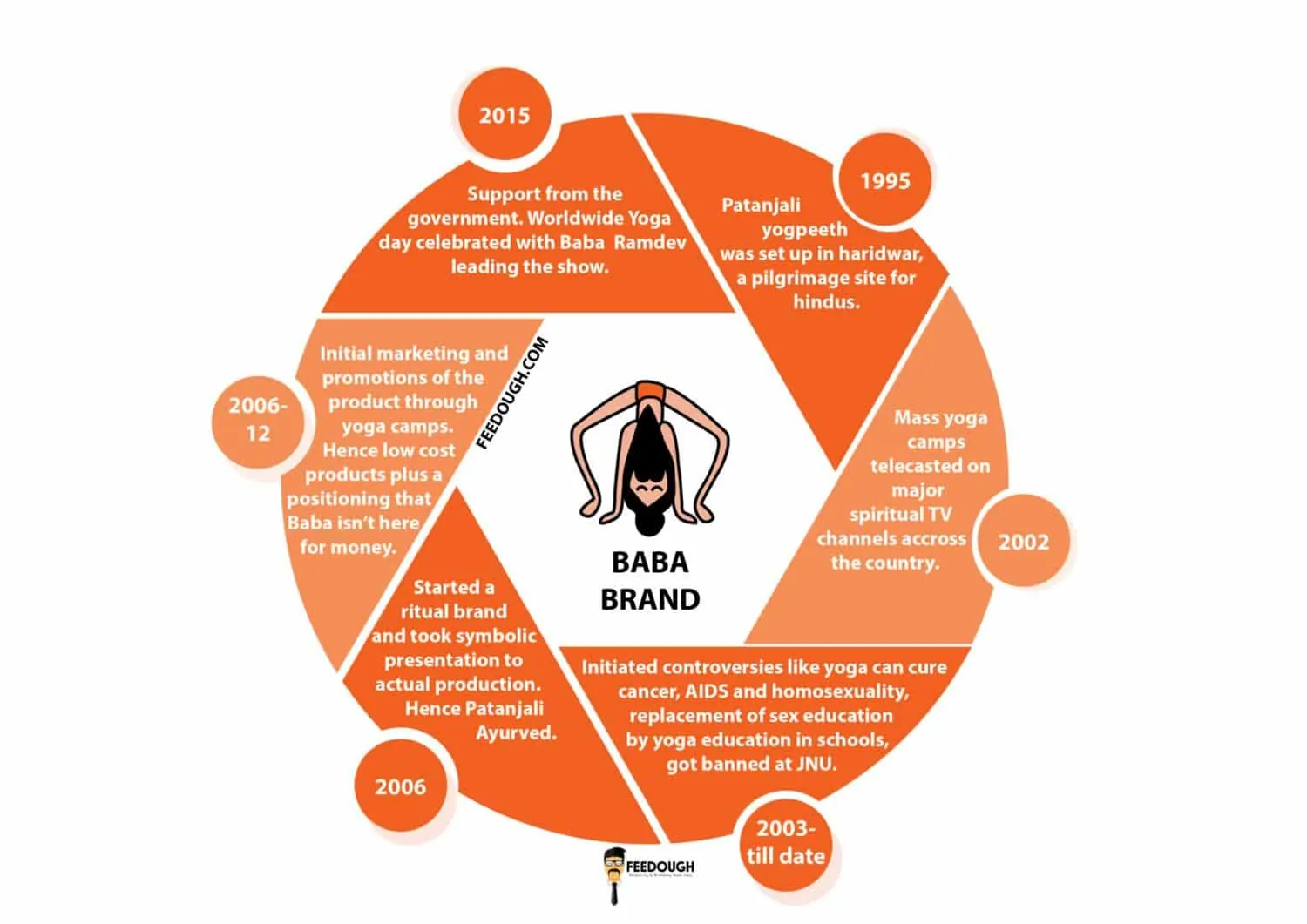 Patanjali Yogpeeth was a set up in Haridwar; a Hindu pilgrimage site, Baba wore saffron, propagated swadeshi psyche, and the main focus was on Yoga and Ayurvedic medicines. The Patanjali brand was set, years prior to the foundation of the actual FMCG Company. The key player here was a simple business whose brand identity and brand image were in line. Unlike other herbal brands, it had its brand ambassador as a real-life yoga guru who preached yoga and Ayurveda all his life and hence their brand identity and brand image was in the same line. Celebrities like Amitabh Bachchan did promote herbal brands like Dabur, but it was hard for people to associate a film star with a herbal brand.
Since the brand was directly associated with the Baba, all his network which is –
• 577,000 Twitter Followers
• 53,248 Subscribers with 13,191,201 Video Views on YouTube
• 6936960 likes on Facebook with 408359 talking about Baba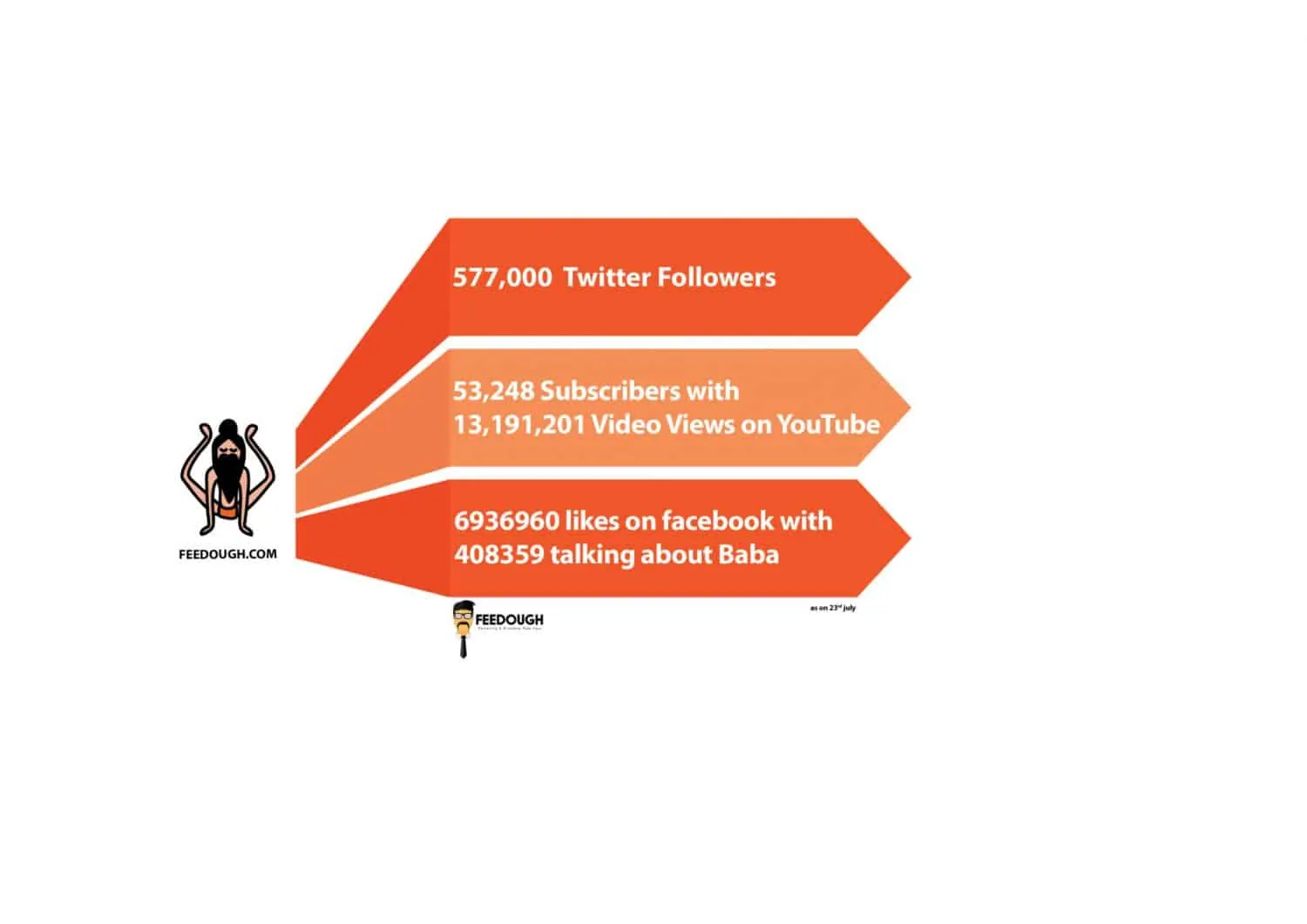 This, being a lot more than his competitor companies, was used to promote the products.
Baba Ramdev also had good support from the BJP government as they always had his back during the time of controversies. He was also called to lead the world yoga day celebration on 21st June 2015 by the prime minister himself.
Luck can do wonders sometimes, but when used with brains. Baba Ramdev was successful in making a ₹3000 crore company just by his own name. But this could backfire on him as well.  His every action, every social media post, every word he speaks has been associated with the brand and hence Baba Brand has to be a bit more cautious in everything he does, speak, eat, type, or wear.
Go On, Tell Us What You Think!
Did we miss something?  Come on! Tell us what you think of this article about the Reason behind Patanjali's success (Patanjali Case Study) in the comment section.
A startup consultant, digital marketer, traveller, and philomath. Aashish has worked with over 20 startups and successfully helped them ideate, raise money, and succeed. When not working, he can be found hiking, camping, and stargazing.