Social media sites have become the primary place where startups and entrepreneurs go to get feedback from their peers, collaborate with other startups and connect with other entrepreneurs. 
It also helps them to reach out to new audiences, build brand awareness, and create a new community around their startups.
There are thousands of startup communities on Facebook, LinkedIn, Instagram, Reddit, and other social networks that startups should take advantage of.
These startup communities can provide invaluable insights into your target audience's problems and can also serve as a great way to generate leads.
Here's a list of the best startup communities you should join.
Rundown
Here's a quick rundown of the communities we'll be covering:
Discord
Slack
Facebook
LinkedIn
Quora
Reddit
Discord
Even though Discord has built a reputation for being a gamer-centric platform, it still has a variety of servers dedicated to business and startups and boasts a robust community of entrepreneurs who use its services.
Some of the major startup communities on Discord are:
Furlough Community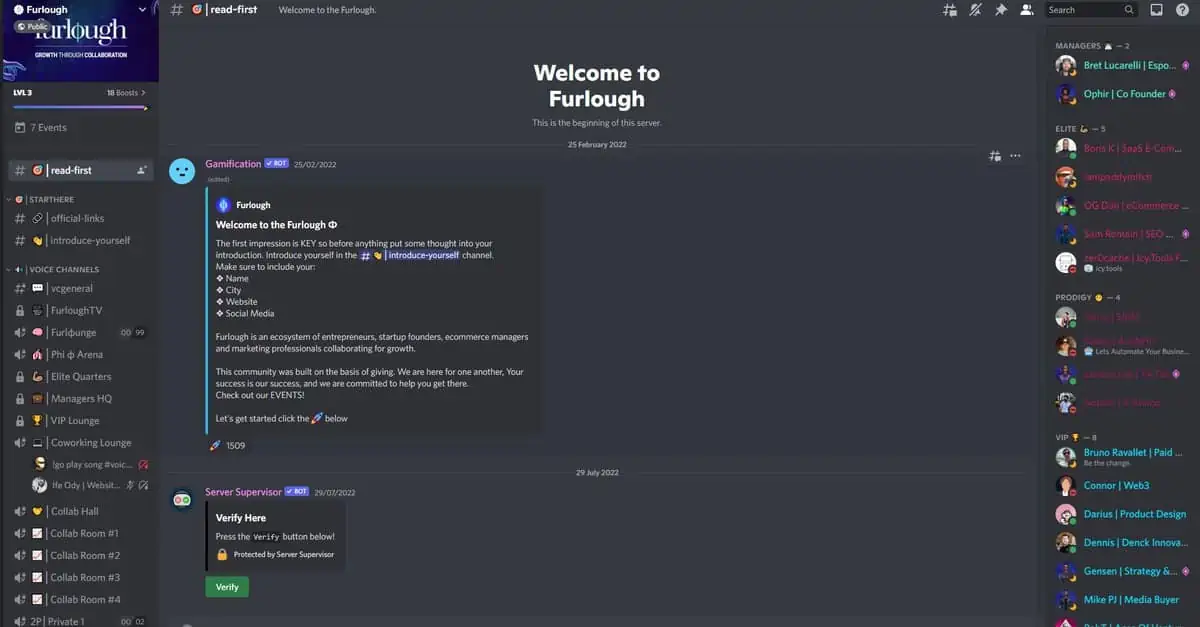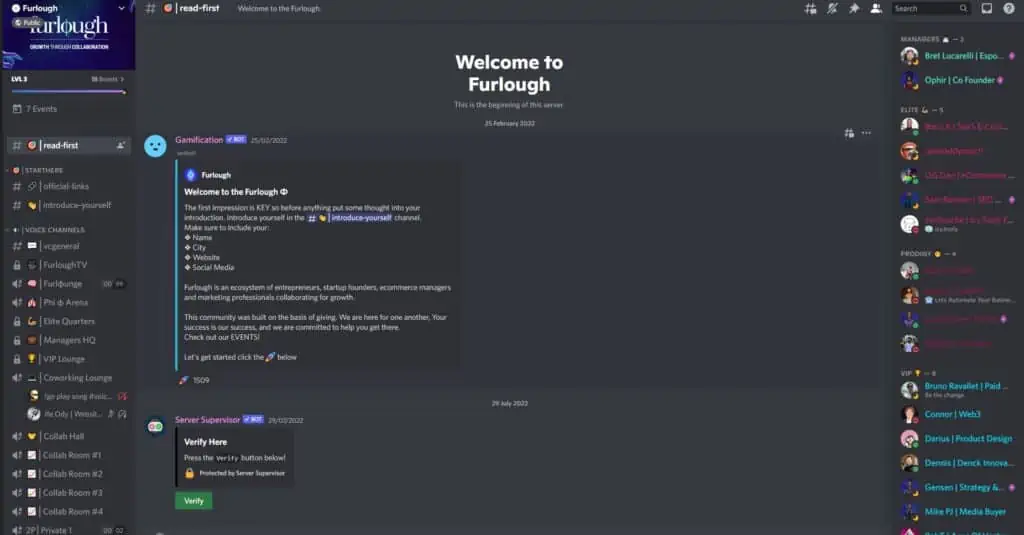 Furlough community is a Discord server built for marketers, entrepreneurs, business owners, professionals and more, with almost 8k members. It is a community made to assist entrepreneurs, professionals and businesses in collaborating and supporting each other as well as bring brands, businesses and startups together in one ecosystem.
Triba Business Community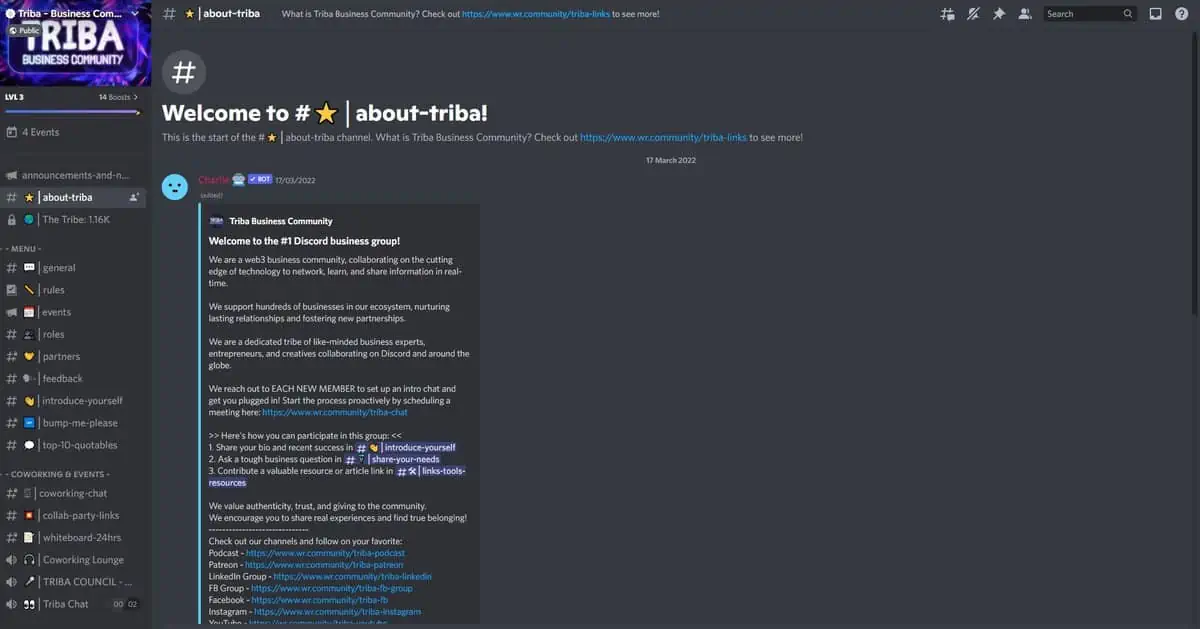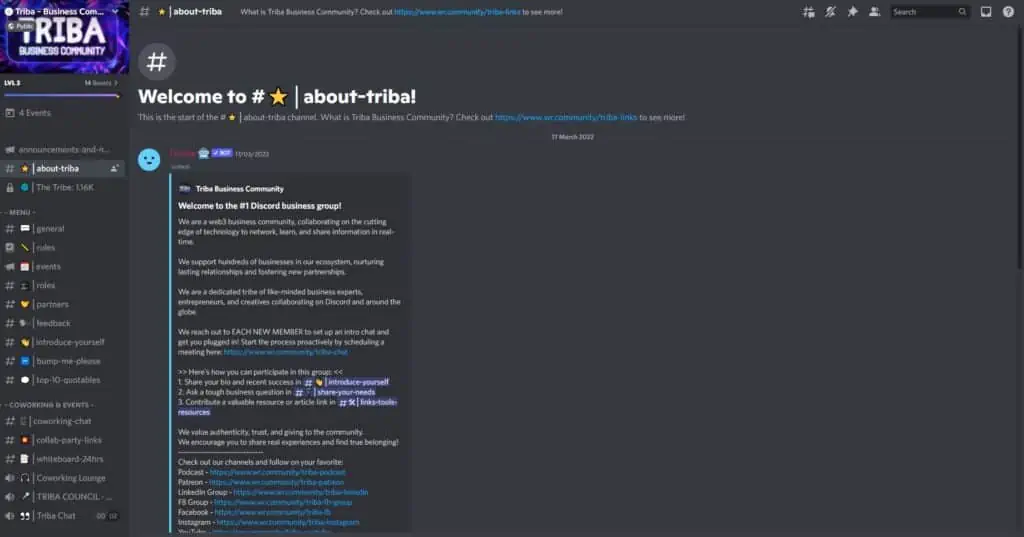 A community of around 1.5k members, it aims to create a network of clients, investors, and consultants. It offers a friendly environment to engage with businesses, meet new friends, and grow personal and professional connections.
It is a place for experts and entrepreneurs to connect and build business relationships.
Tech Startup Community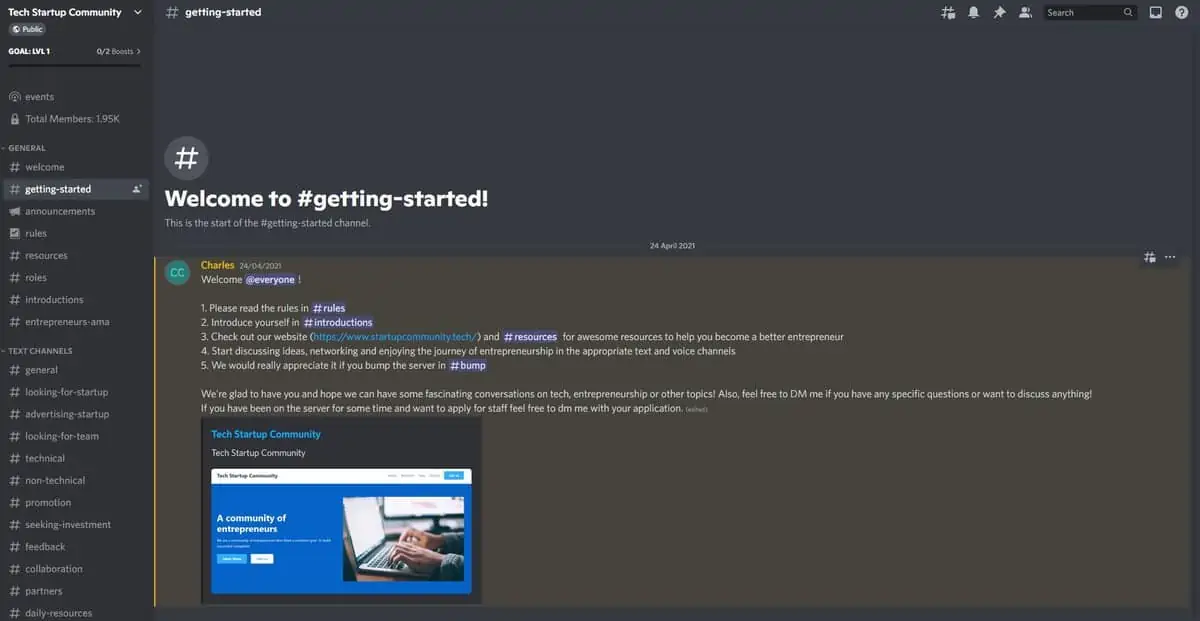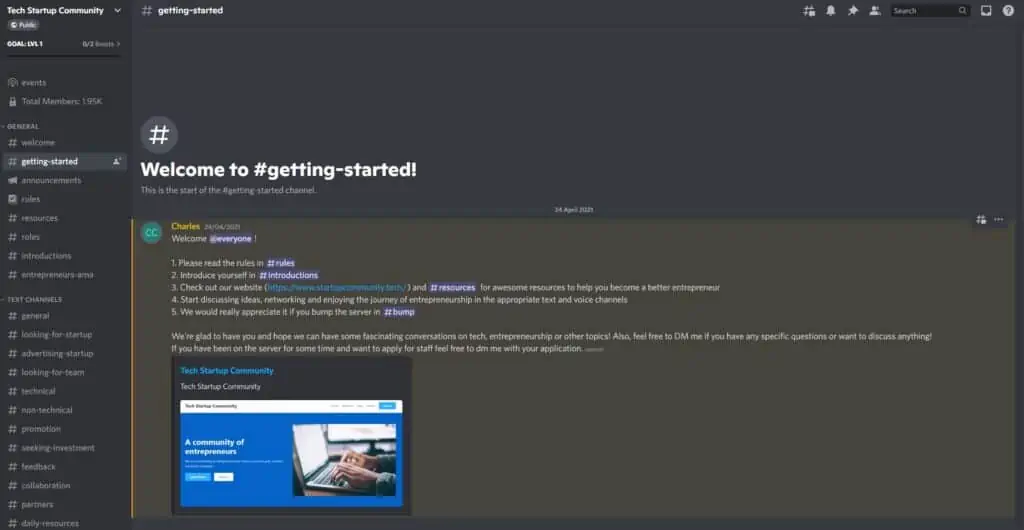 An amazing community for startup entrepreneurs to meet and discuss about the startup industry. It has around 1.9k members from different fields and backgrounds, starting from software development to marketing, who collaborate to build successful companies.
It is a great community for people who want to get advice from other entrepreneurs, like-minded individuals, co-founders or developers, build a network and get feedback on business ideas.
Startic Field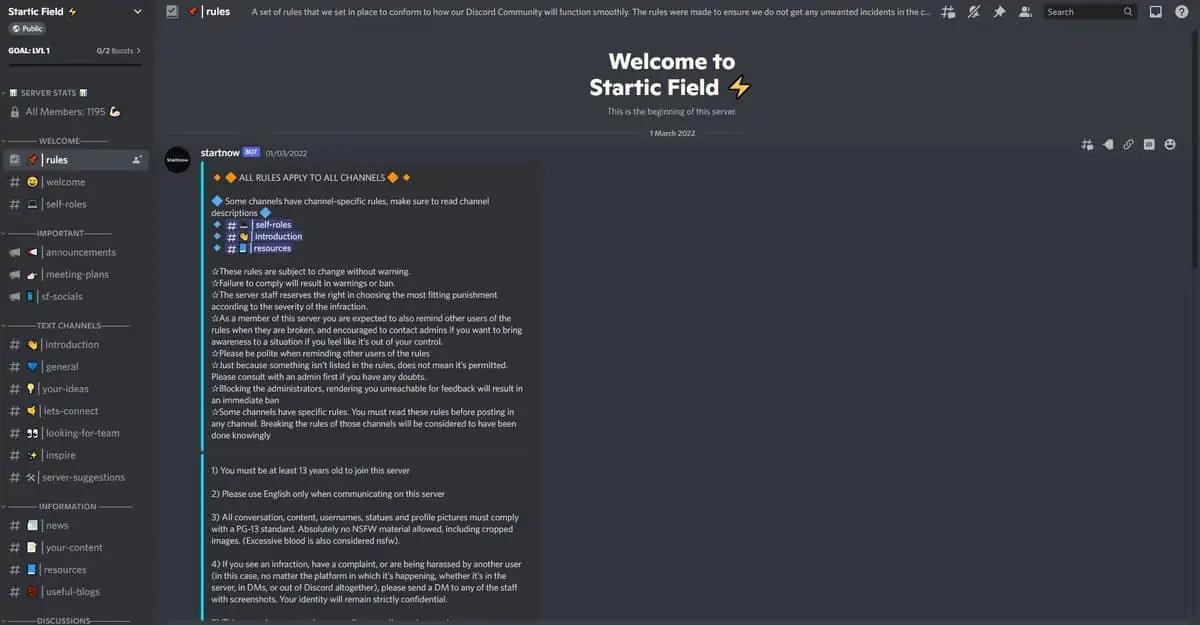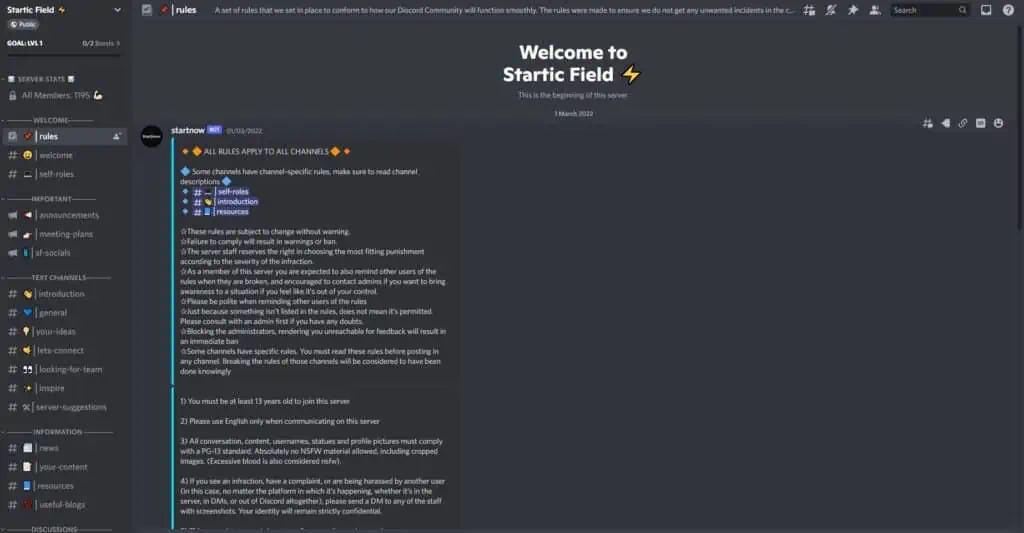 A community for budding and innovative founders who want to connect with like-minded people from all over the world and get an idea on how to build a startup or simply clarify their ideas.
It has more than 1k members who help these aspiring entrepreneurs change their ideas to sustainable companies with business mentors.
MakersHQ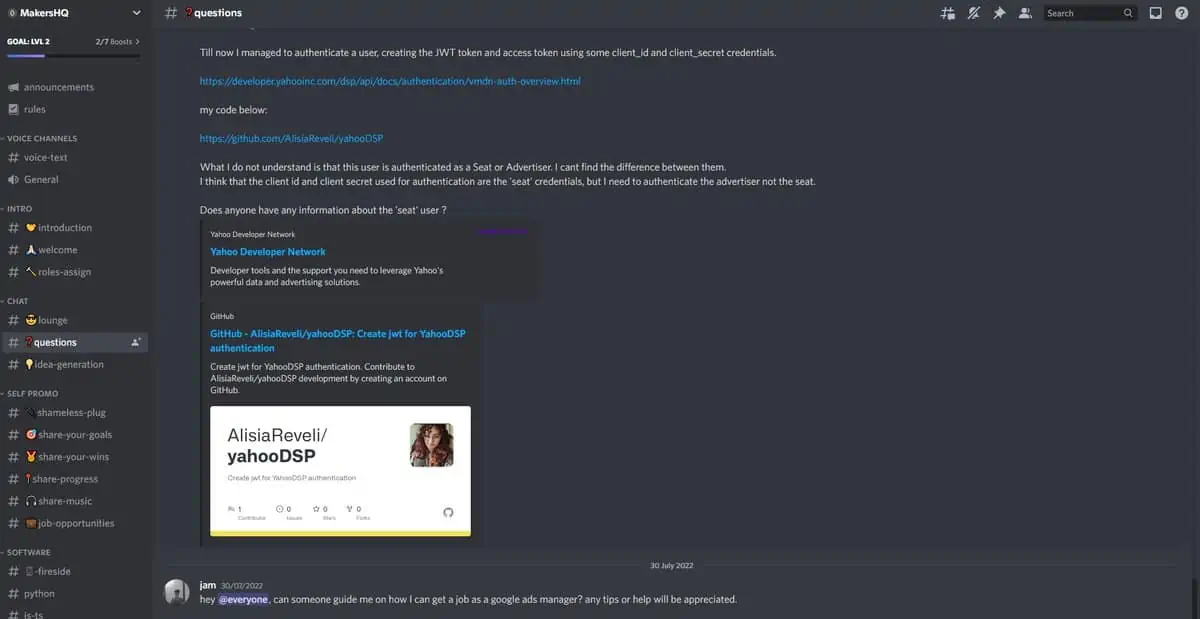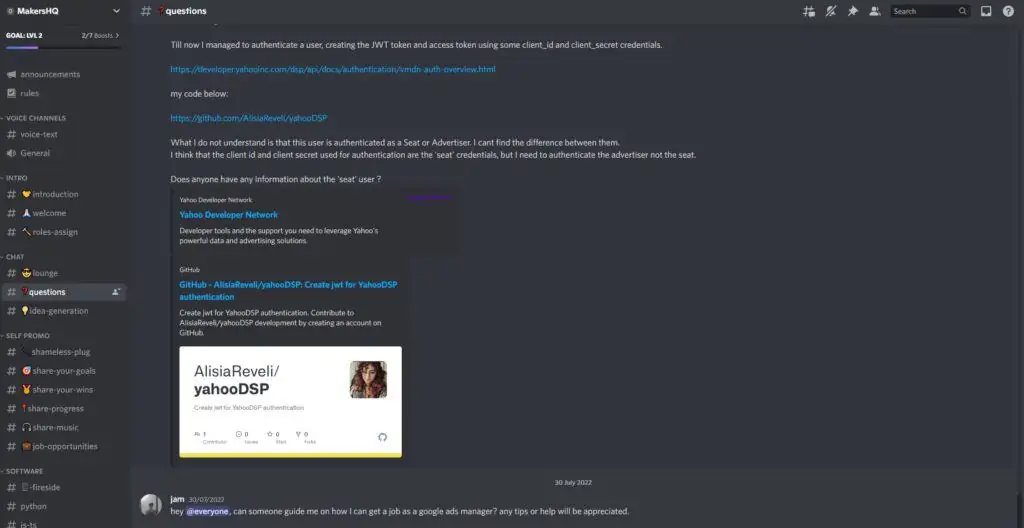 A community for all entrepreneurs and business owners to find new people, share their startup ideas, build teams, find co-founders, collaborate, and chat about all things business.
It has more than 500 members on the server with varied interests and from various fields, all keen on the startup industry.
Slack
Slack is a professional space for professionals to communicate with their teams in an organised and safer manner.
Slack also provides for the creation of dedicated spaces called channels that bring order and clarity to work.
Some of the most prominent Slack channels are:
Growmance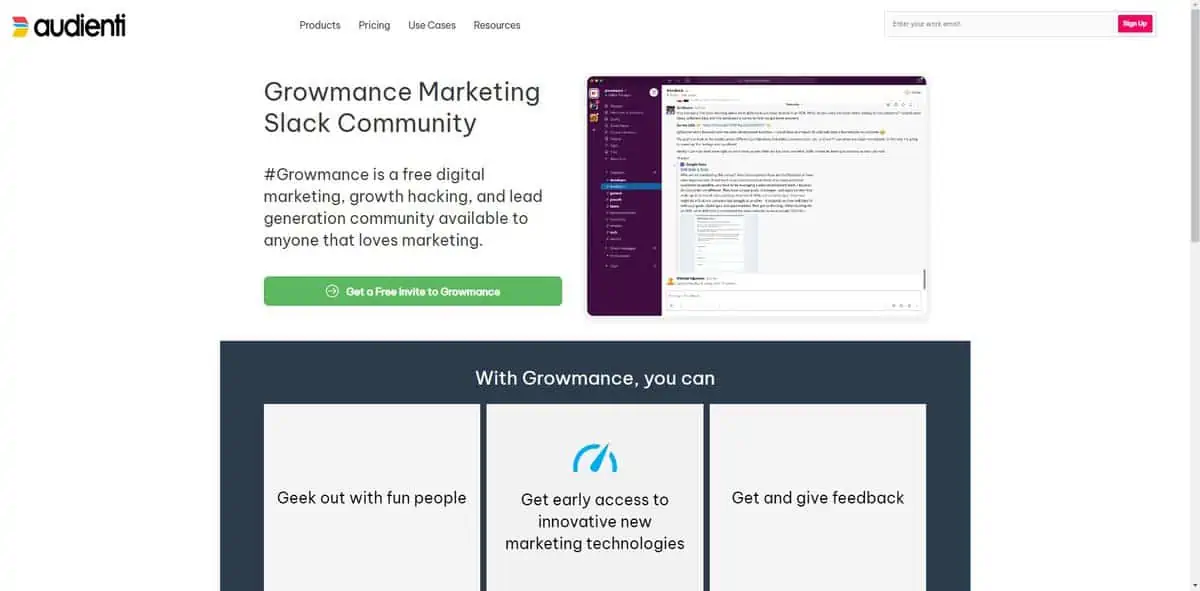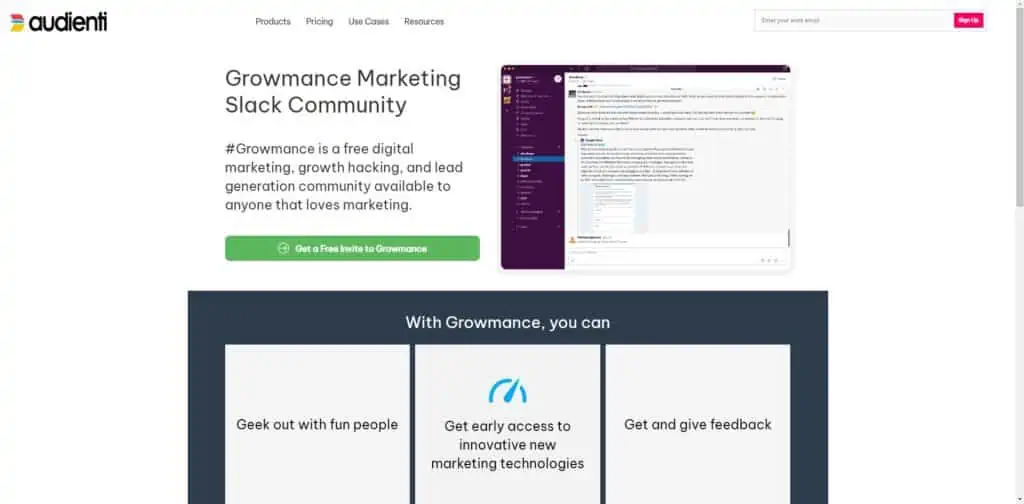 A community with more than 13k members is a free digital marketing, growth hacking, and lead generation community available to anyone who wants to increase the growth of their businesses.
It helps growth hackers to discuss strategies and get help from other marketers and entrepreneurs.
Indie Worldwide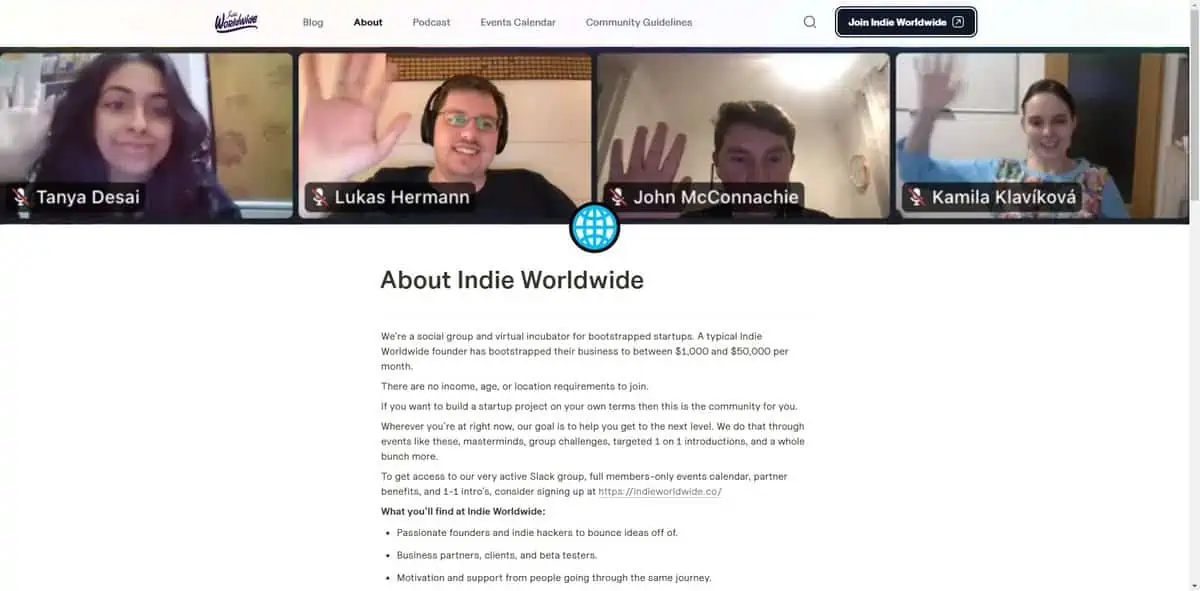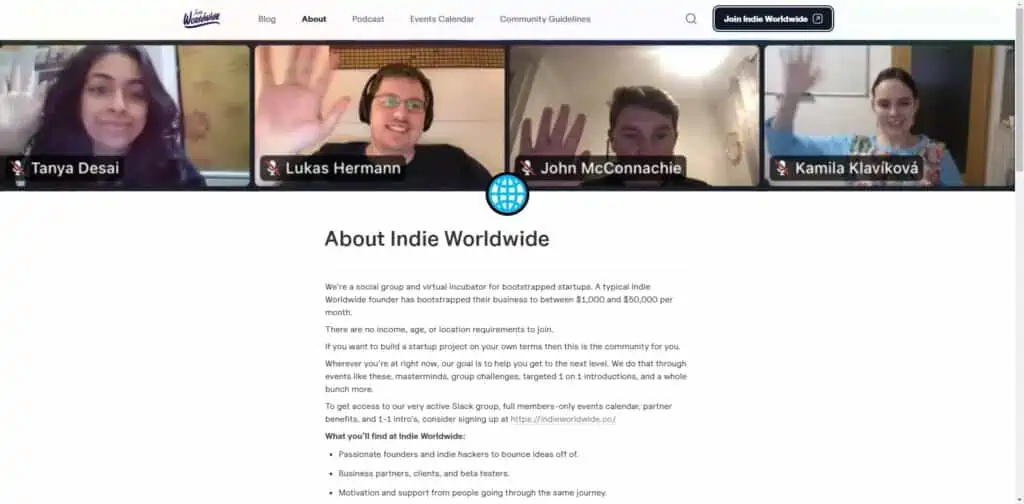 Indie Worldwide is a social club and virtual incubator for startup founders with more than 2k members.
It is a community made to meet and network with other entrepreneurs, find new clients, and get advice online.
#Launch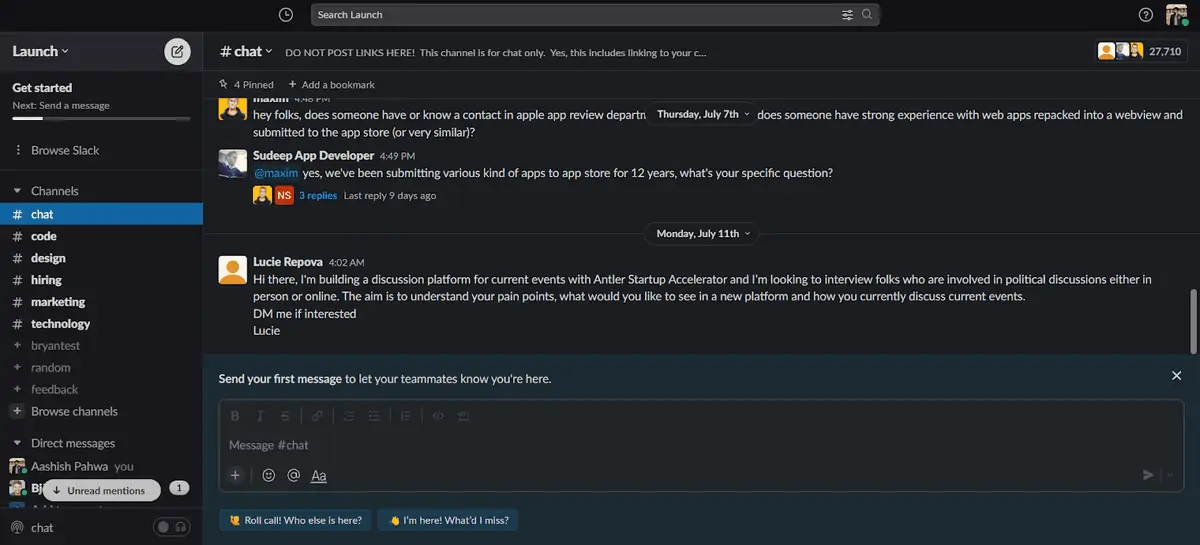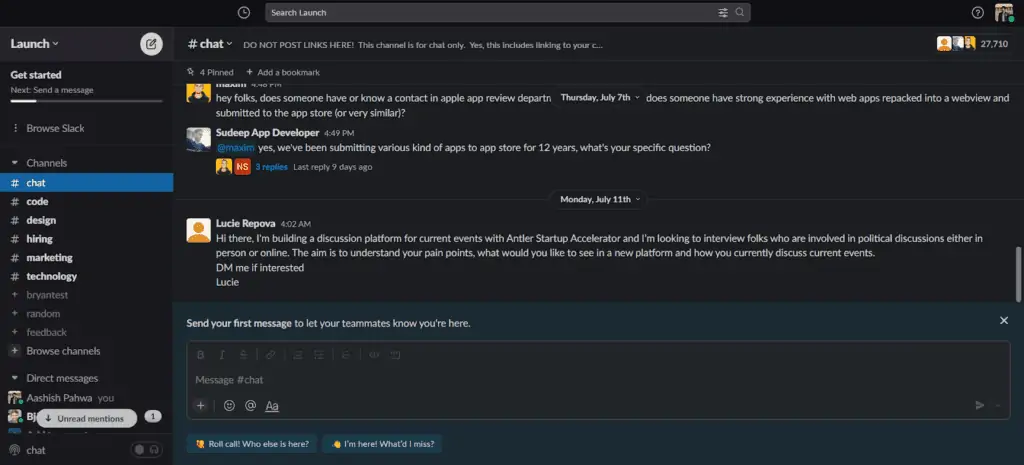 One of the largest Slack communities with over 8k members, it is a place to collaborate with other startup partners, discuss new products, ask for feedback on different fields of a startup, and find a co-founder.
Startup Chat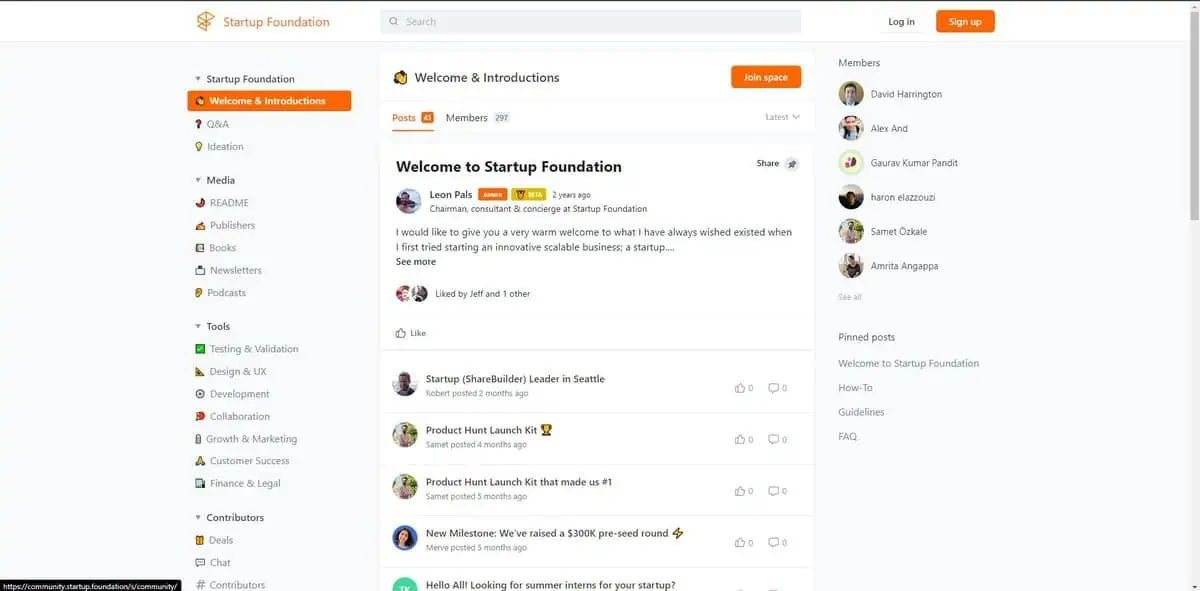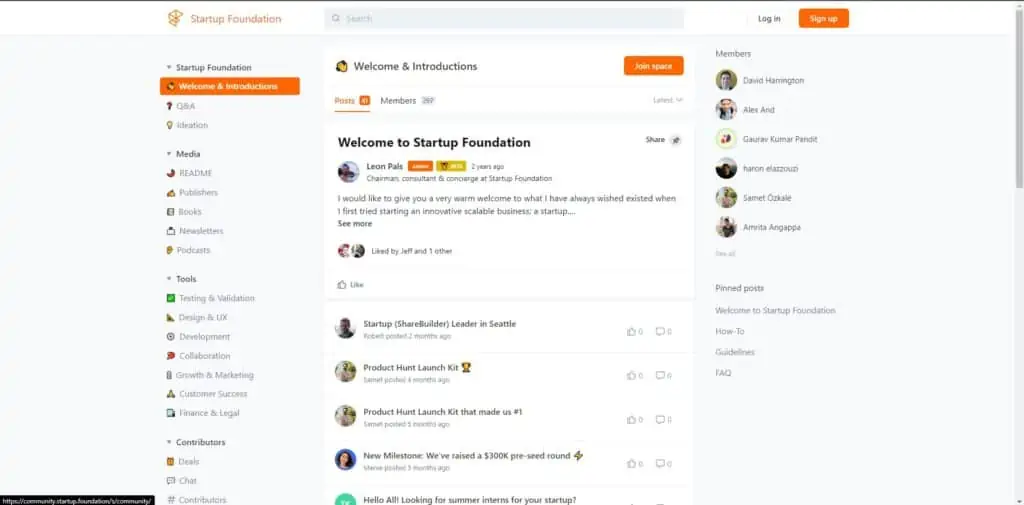 The ultimate startup community with over 6,5k members, built and run by the Startup Foundation, an independent non-profit organisation by founders for founders. It features engaging discussions among members on the topics of startups and entrepreneurship.
Founderopedia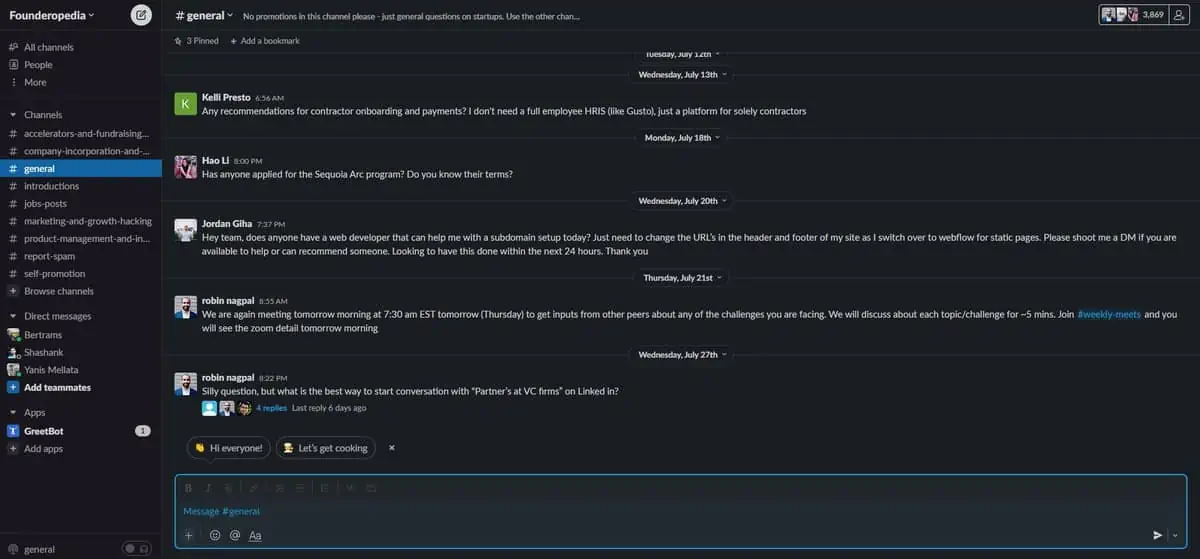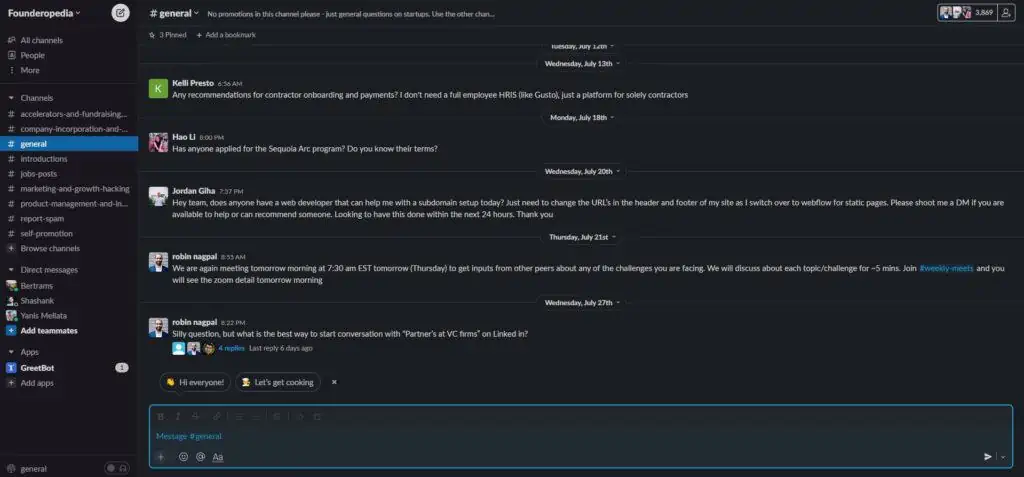 A Slack community of founders to discuss and share best practices for building a product, scaling your company, growth hacks and marketing, team management, fundraising and attracting investors. It is also a place to look for co-founders and users. It has over 3.8k members.
Facebook
The biggest social media site in the world with more than a billion users. It is no surprise that Facebook hosts some of the most active startup communities on its platform.
The most popular among these are:
Badass Marketers & Founders (BAMF)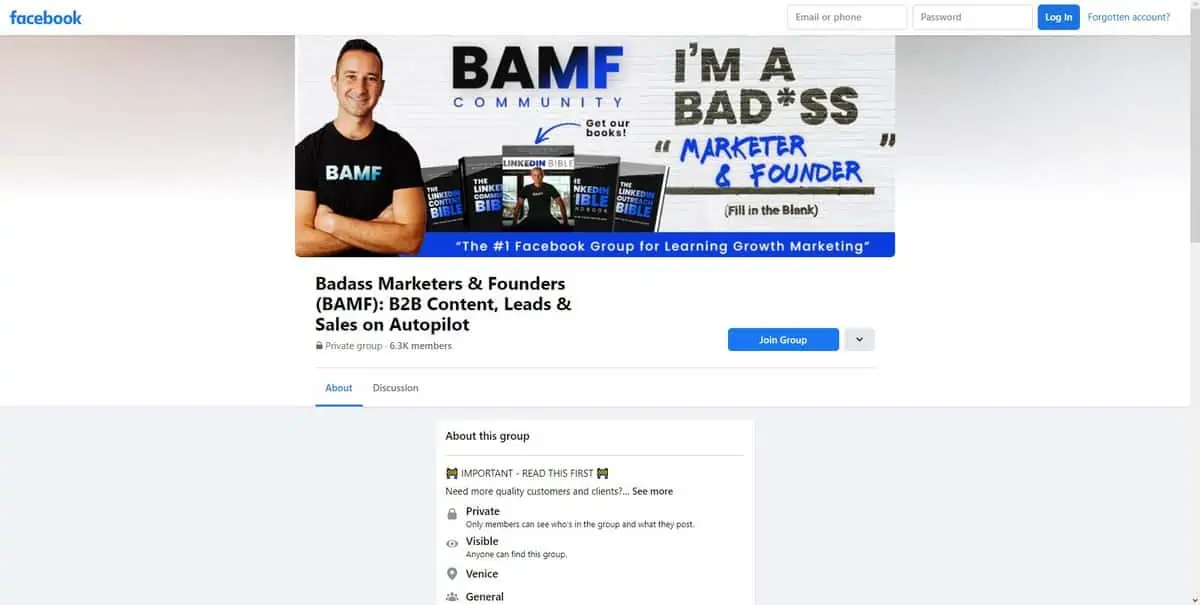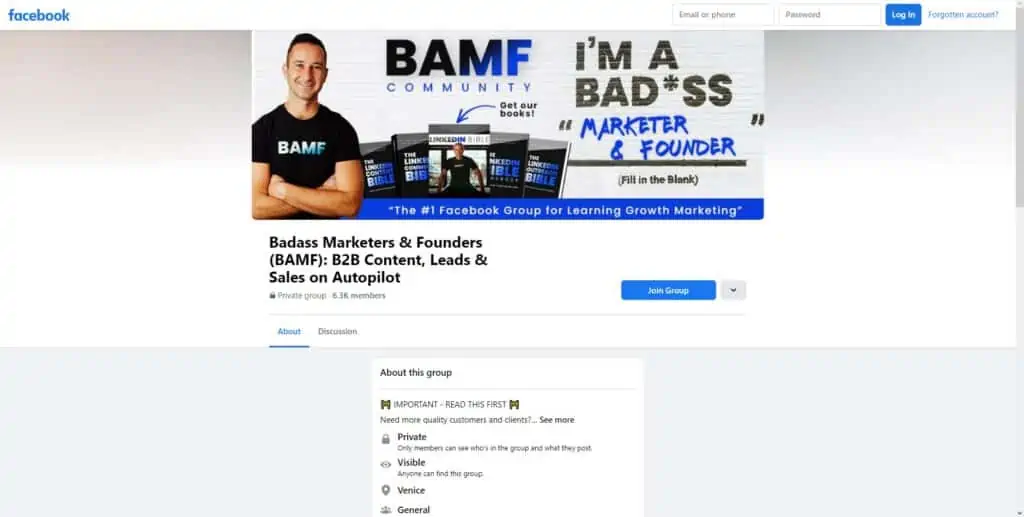 Badass Marketers and Founders (BAMF) is an invite-only community of 2k members centred around marketing, customer acquisition, and growth marketing.
It provides an environment where founders, entrepreneurs, and business owners can interact and gain broader knowledge by getting marketing advice and expert feedback on customer acquisition and growth.
Intrepid Entrepreneurs Community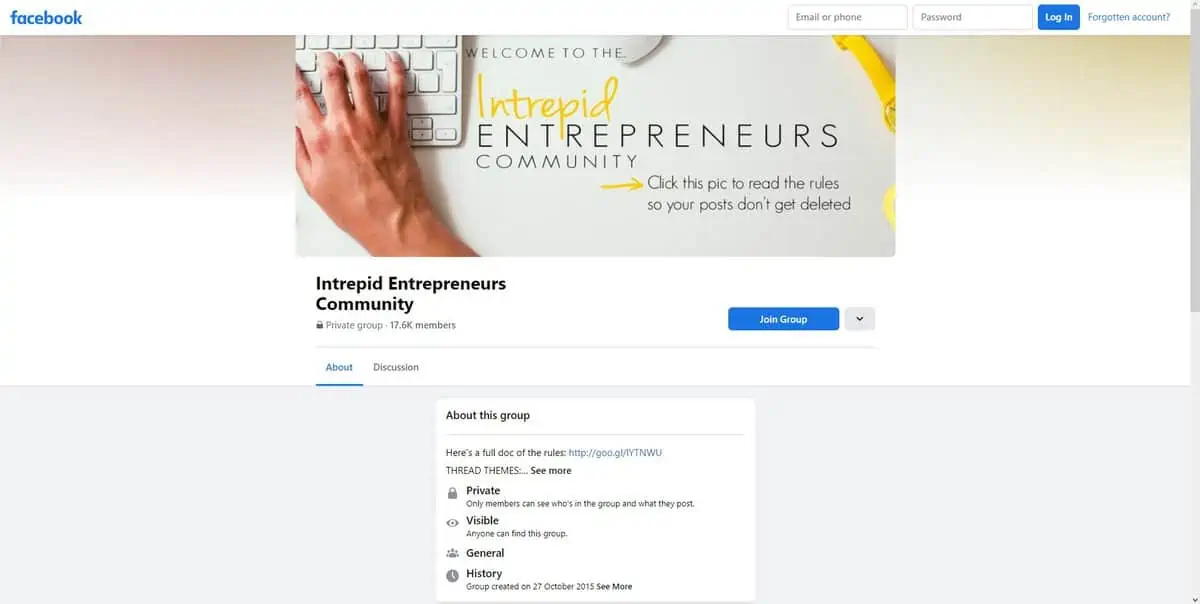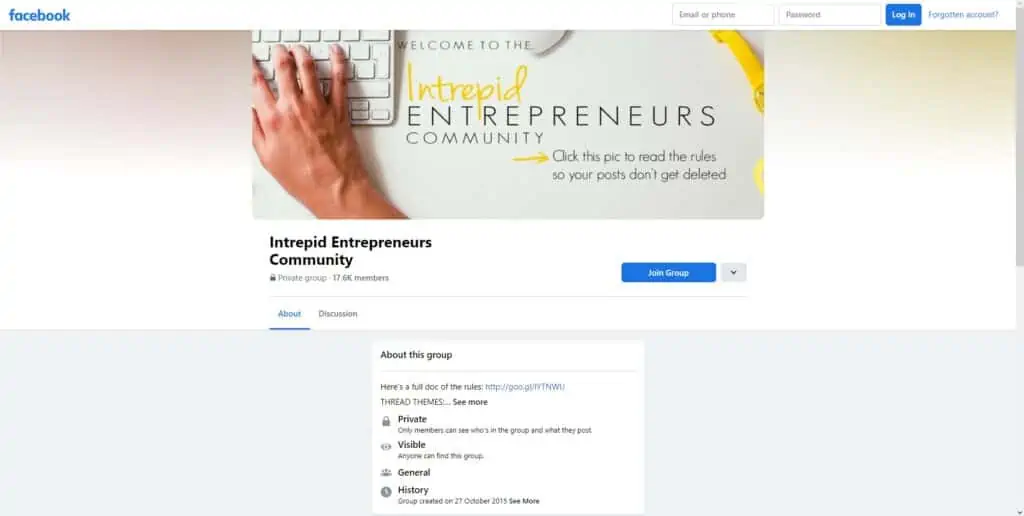 A community with 16k members for entrepreneurial discussions with different themes or topics for discussion each day of the week. It encourages its members to have positive interactions, share their accomplishments, and provide feedback and information on various business-related topics.
The Front Row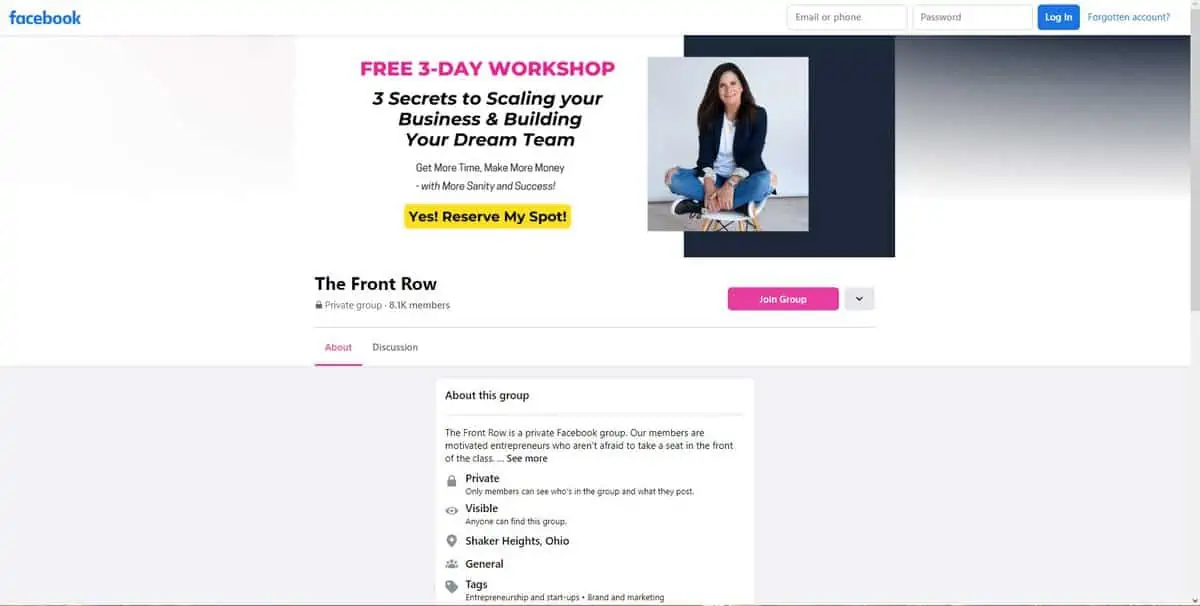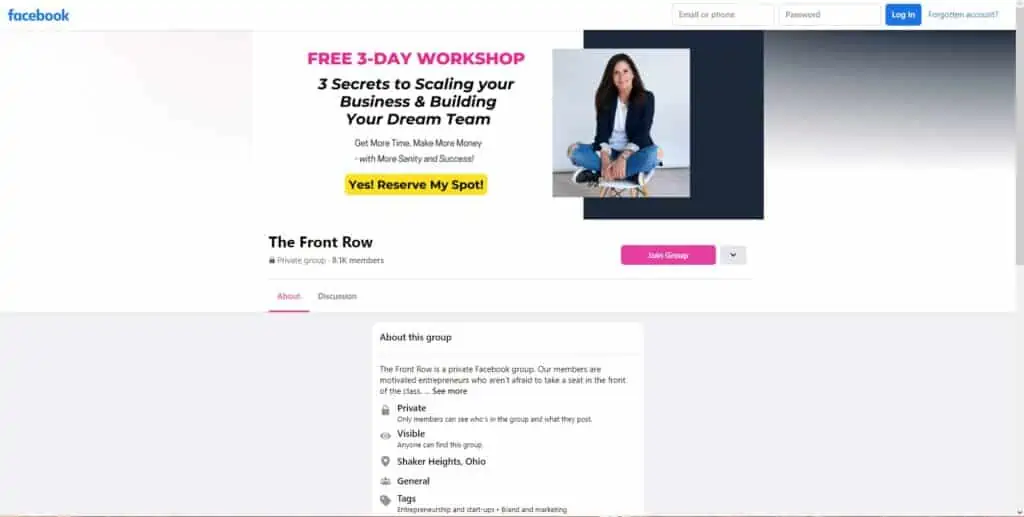 A Facebook community with almost 6k members, it shares business tactics and strategies with its members. It also helps to solve business problems of any kind and provides expert help in digital marketing and social media marketing.
The Cosmos With Kimra Luna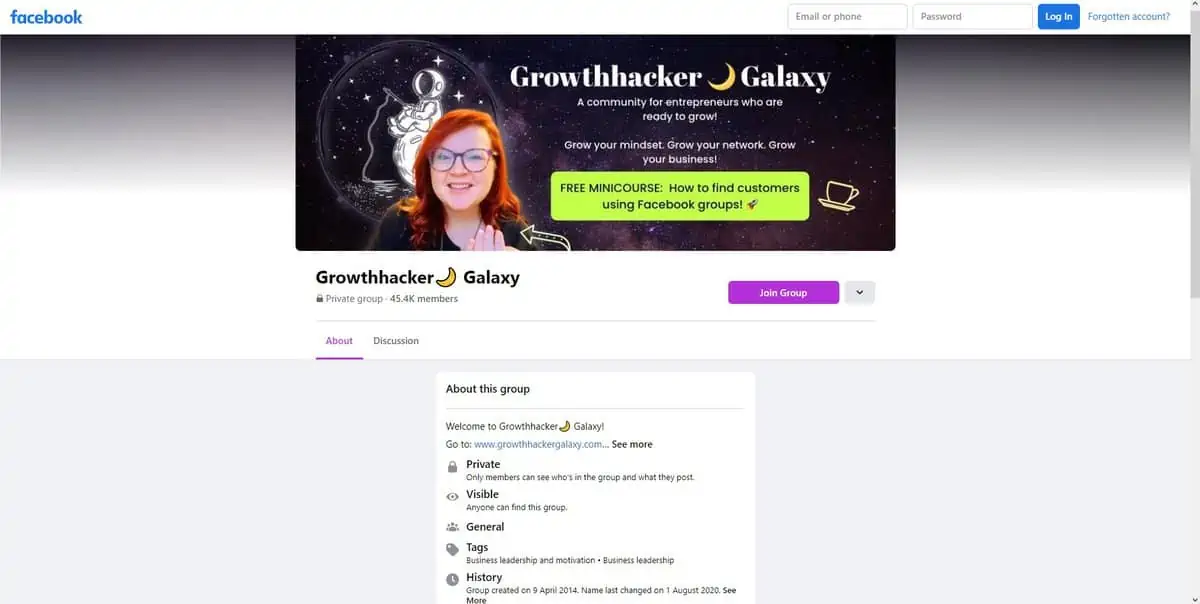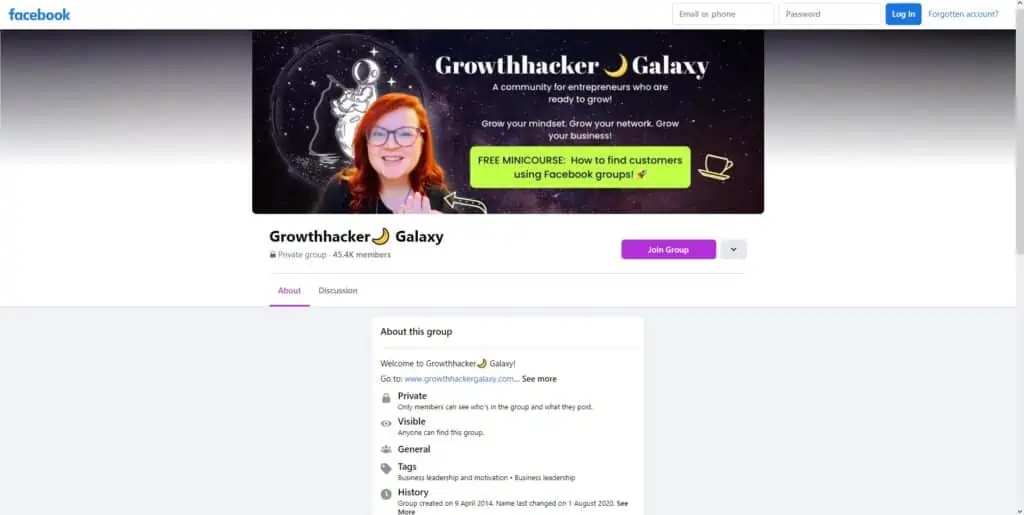 A community for free-spirited entrepreneurs who want to share their ideas and motivate other aspiring entrepreneurs and business owners. It has more than 63k members who share ideas on startups, collaborate on projects, grow their network and support each other for mutual growth.
Millennial Entrepreneur Community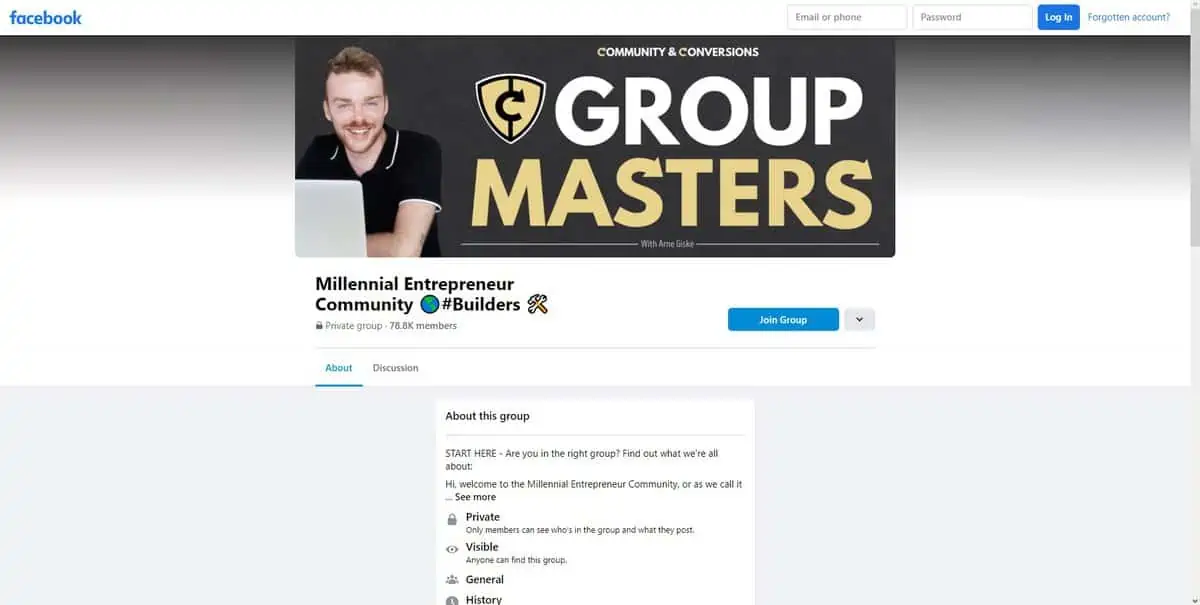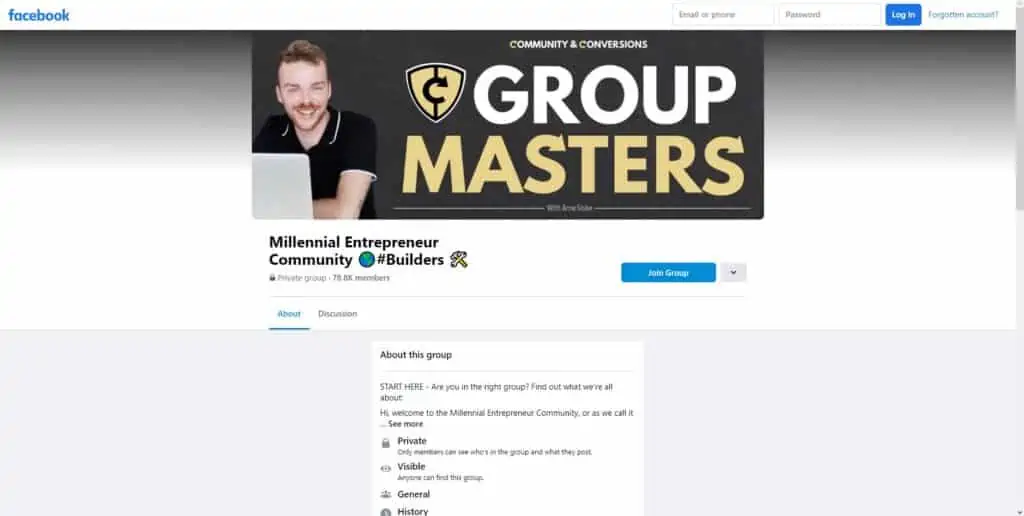 A community with 78k members that connect, collaborate, and share strategies with other entrepreneurs and founders. It is a place comprised of business builders from all over the world.
Members can share posts, pictures, videos, tips, and ideas that might bring value to the group and network and collaborate with each other.
LinkedIn
A platform exclusively made for professionals to connect and network with each other across various fields. Likewise, it's a great place for startup founders and entrepreneurs to find and connect with others in the same field.
Some of the best LinkedIn communities for startups are:
Entrepreneur's Network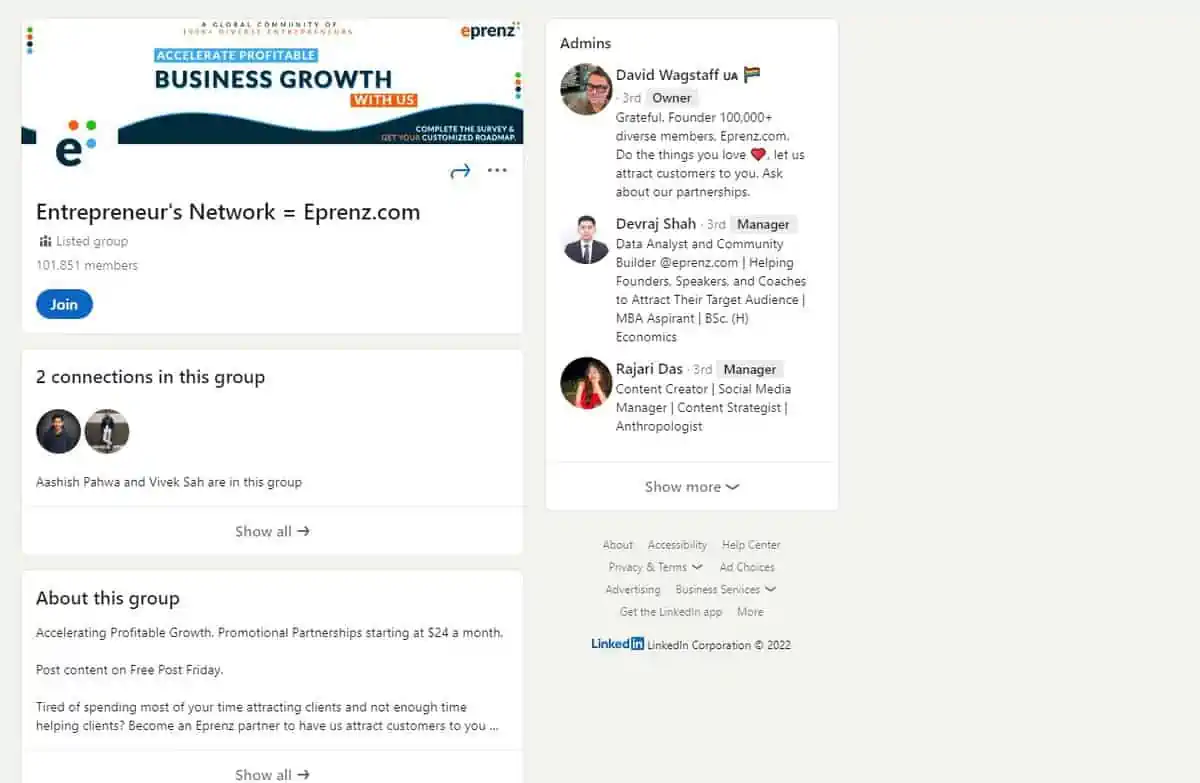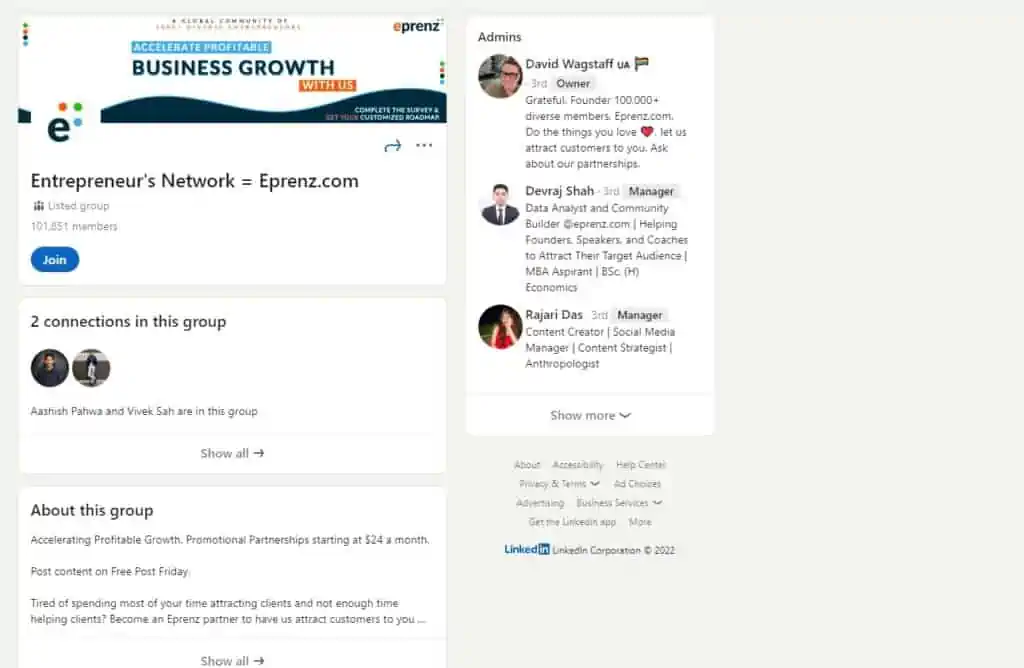 A community with over 20k entrepreneurs and founders, it is a place where aspiring business owners can ask questions, find answers to their problems, and increase their network.
It also has entrepreneur meetups, articles, content, mentorship, peer advisory groups, lead referral groups, a membership directory, webinars, and more.
Band Of Entrepreneurs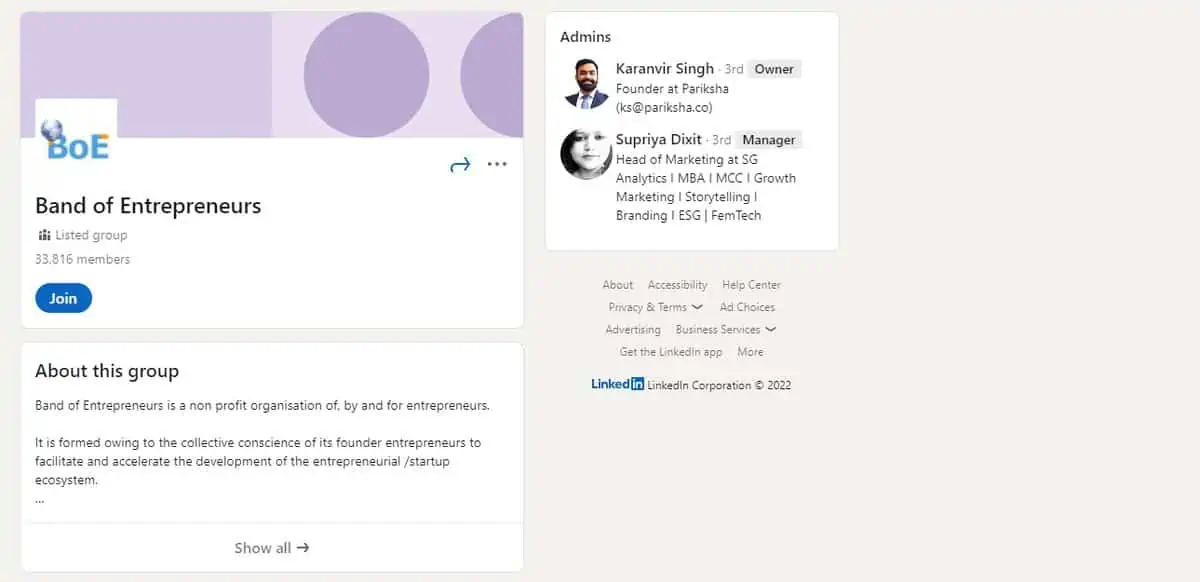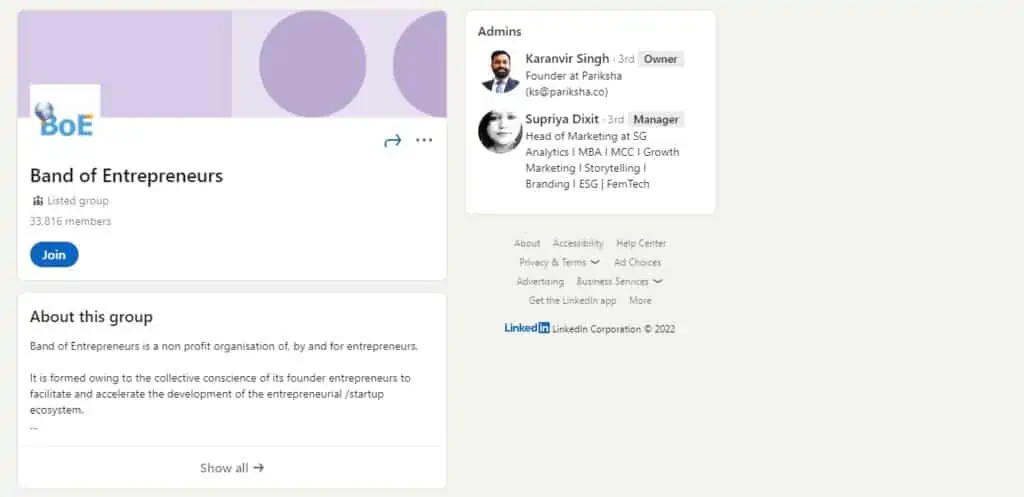 It is primarily a non-profit organisation of, by and for entrepreneurs with more than 30k members. Its primary goal is to facilitate and accelerate the development of the entrepreneurial /startup ecosystem.
It also provides support and resources necessary to boost startups like legal help, HR, Public Relations, Technology, Finance, Marketing and discount on products and services.
A Startup Specialists Group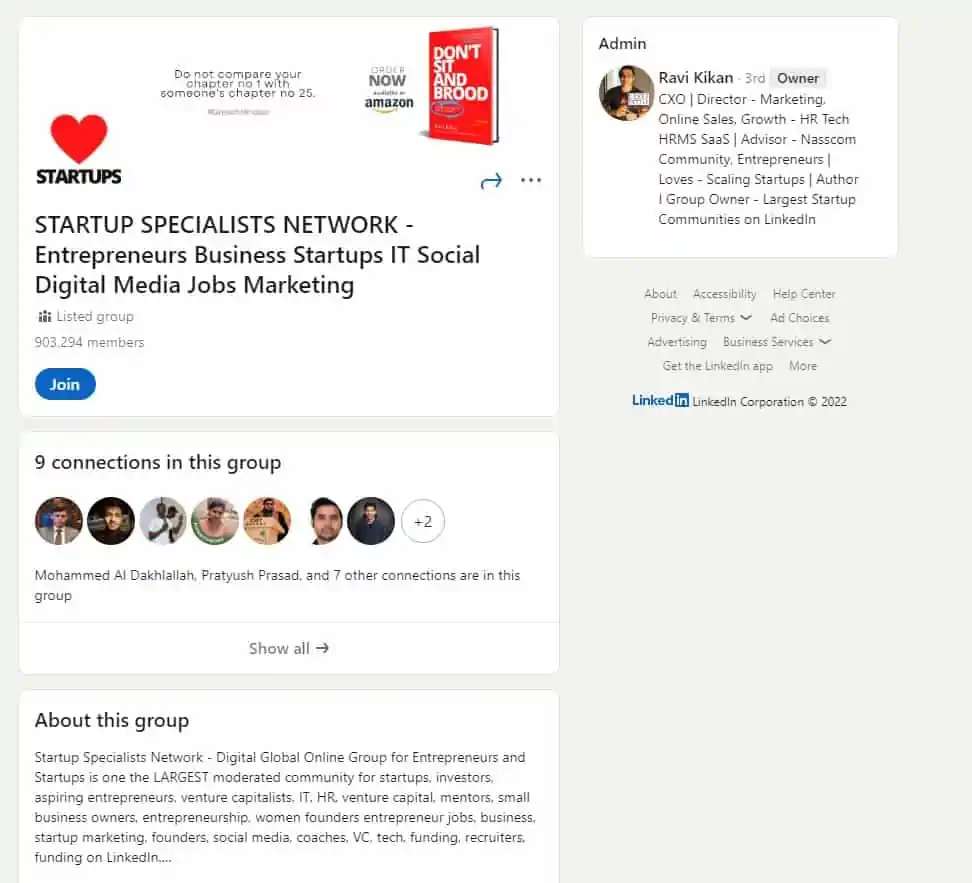 One of the largest LinkedIn groups with over 900,00 members, it provides a community for a wide range of startup professionals like investors, venture capitalists, mentors, small business owners, women founders, etc.
It also provides guidance and mentorship to aspiring entrepreneurs in various startup fields to help them scale up their businesses.
Executive Suite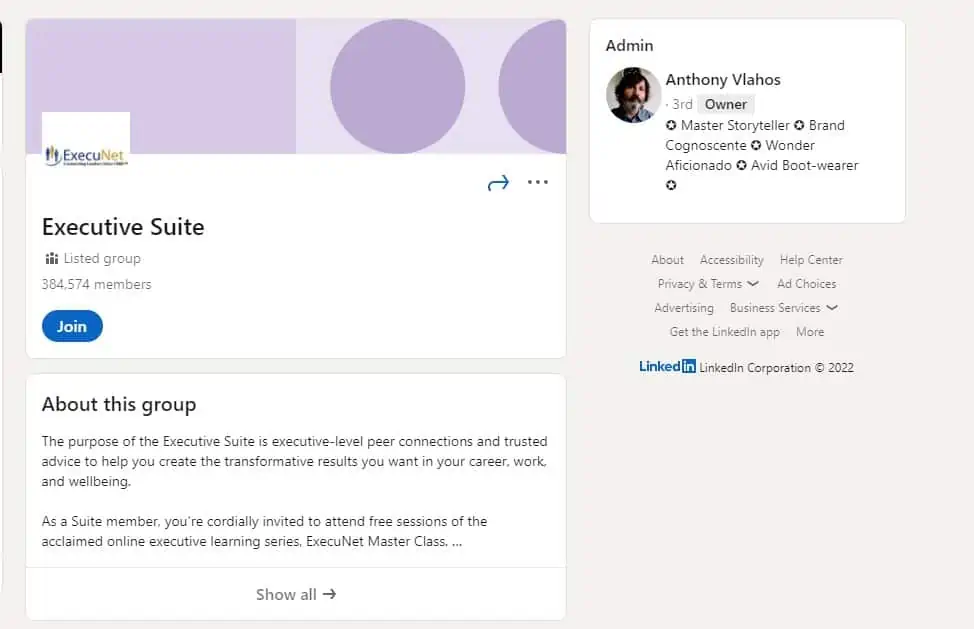 A community that connects different company executives to share their views on leadership, decision-making, practical advice and more. It has more than 375k members who give advice on career, work, and well-being.
Bright Ideas & Entrepreneurs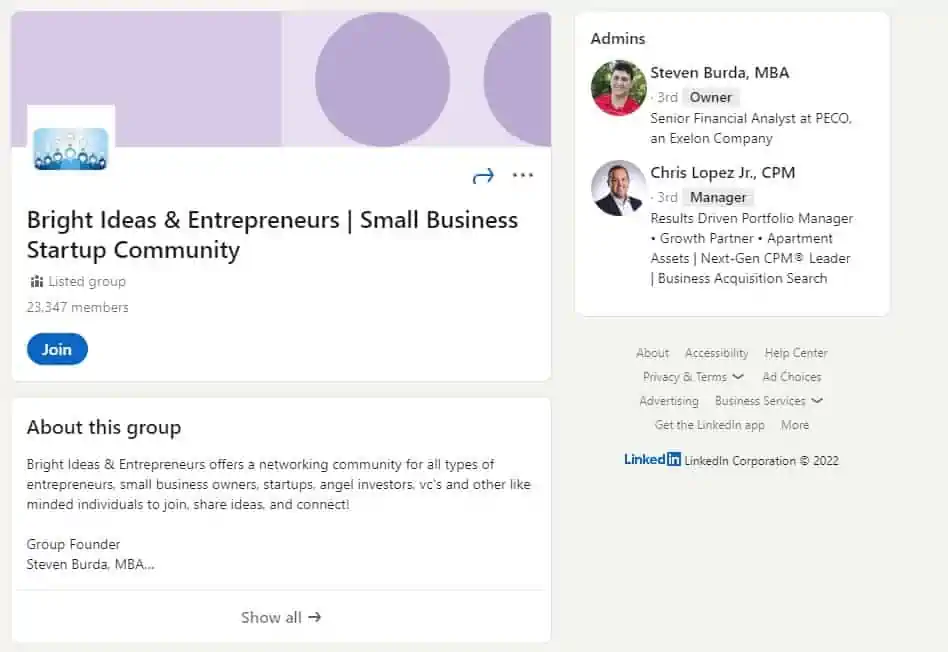 A community with 21k members that facilitates discussion among entrepreneurs all over the world. It offers a platform for all types of entrepreneurs, small business owners, startups, angel investors, VCs and other like-minded professionals to share their ideas and connect.
Quora
Quora is basically a question-answer platform that has a vast community of experts from almost every field who share their thoughts and views on various subjects.
It has communities called spaces where people can ask niche-specific questions to get more relevant answers from people within the industry.
It also provides several startup-related spaces where entrepreneurs and business owners can join to solve their problems. Some of the biggest ones are:
Startup Founder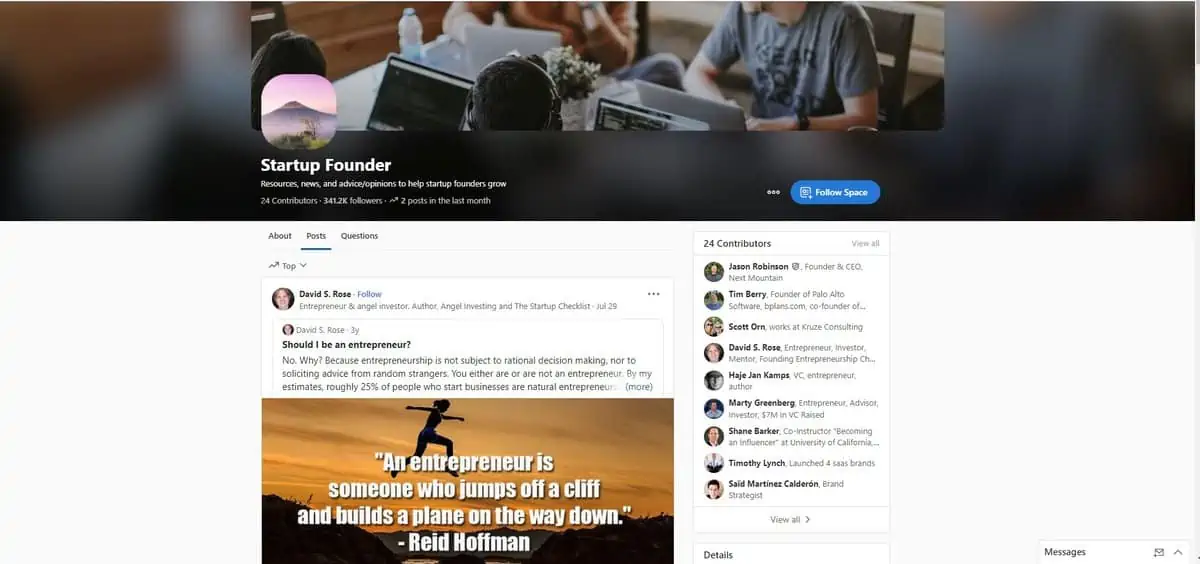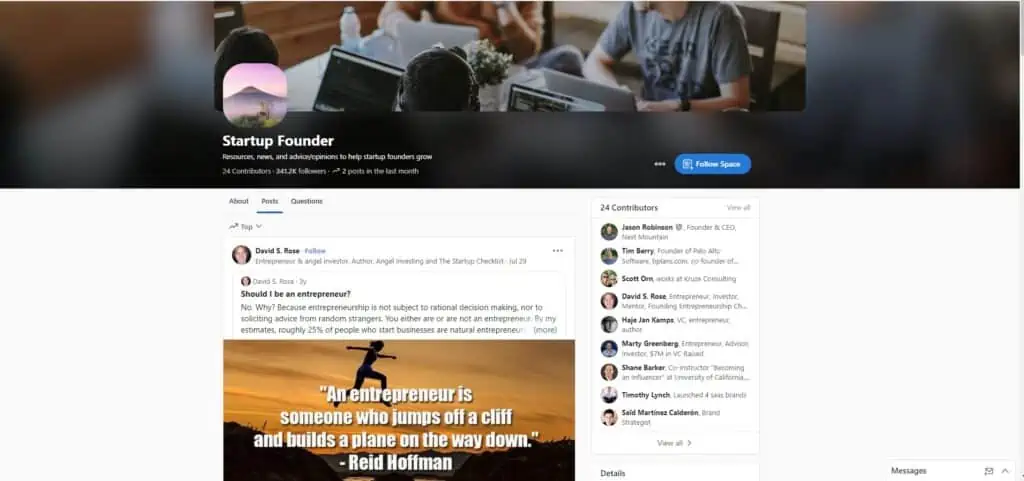 A community with more than 330k followers, it provides helpful content and a forum for discussion on everything related to startups.
It encourages established entrepreneurs to share their advice, experiences, and questions for aspiring business owners to improve their startups.
Entrepreneurial Mindset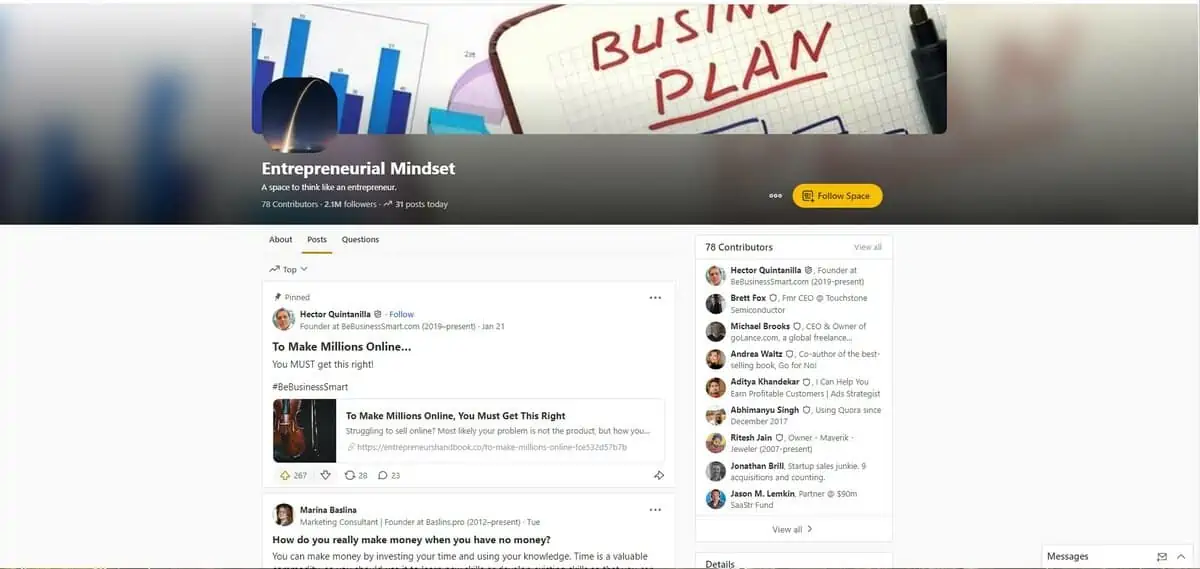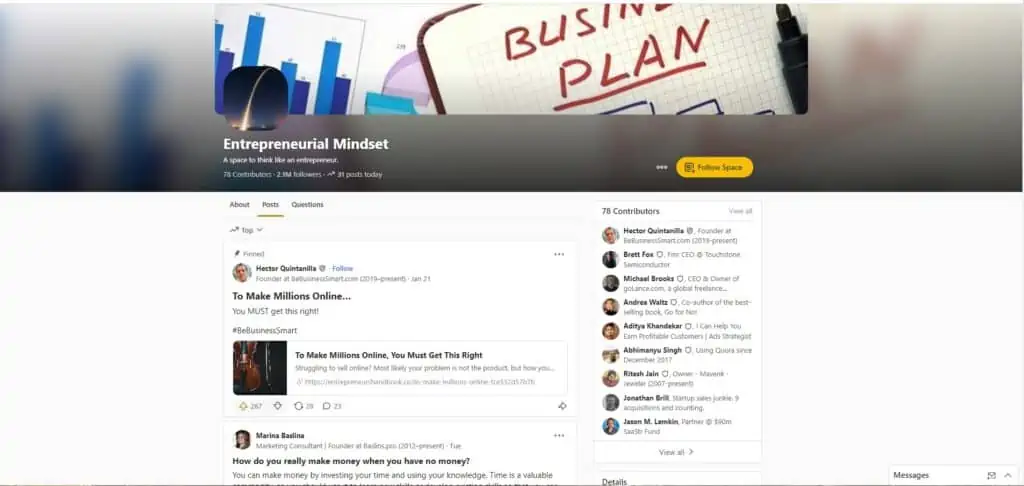 With 2.1M followers, it is one of the biggest startup communities on Quora. It is a platform where entrepreneurs can share proven business hacks and help other aspiring entrepreneurs.
It helps to create an entrepreneurial mindset that enables business owners to solve problems and create value.
Startup Marketing + Growth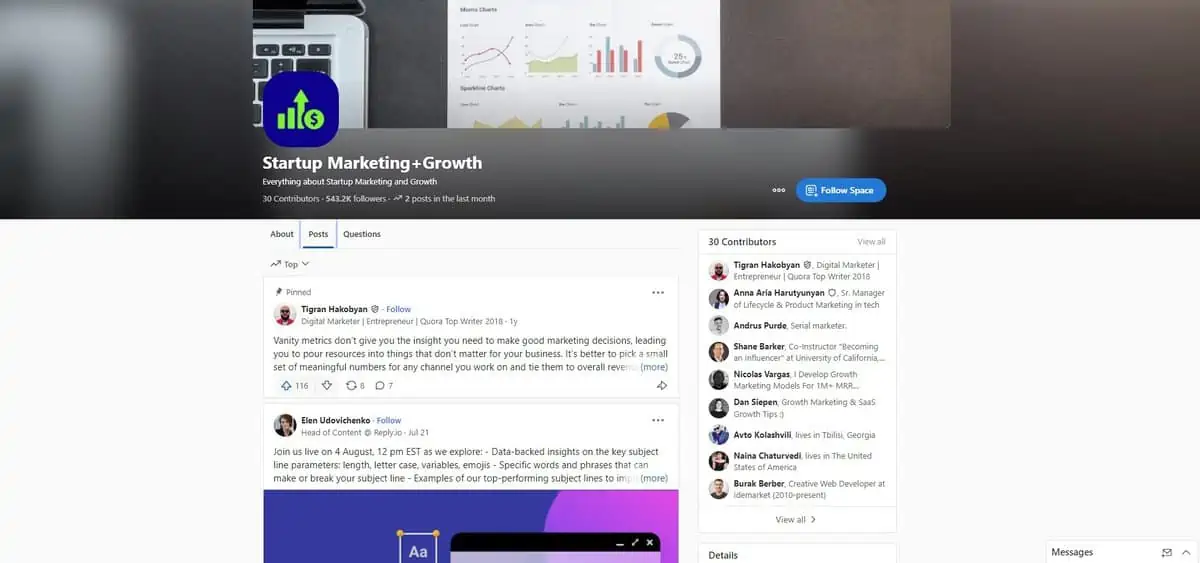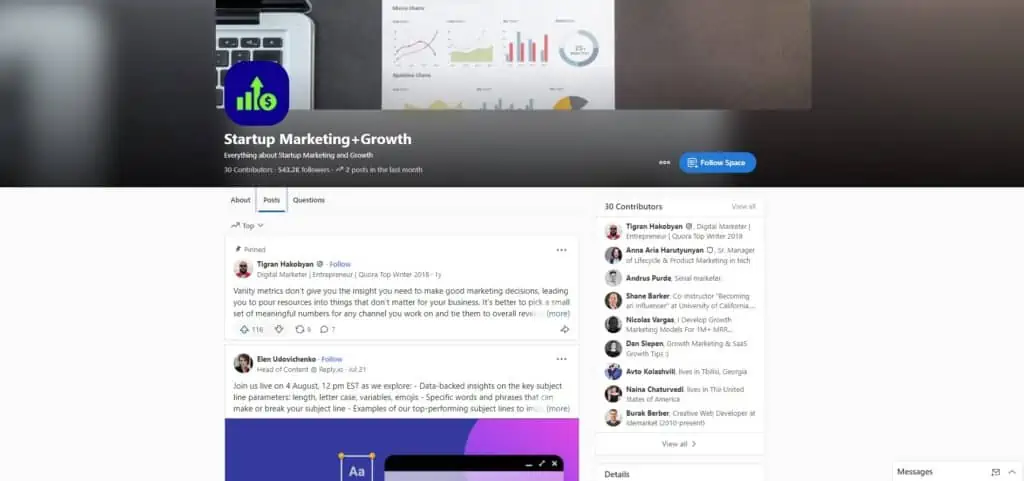 A community with almost 540k members, it is a place to share strategies, tactics, learnings and more about startup topics like marketing, SEO, social media, PPC, growth hacking, business analytics and more. It is a community to learn everything about marketing and growth.
Business & Marketing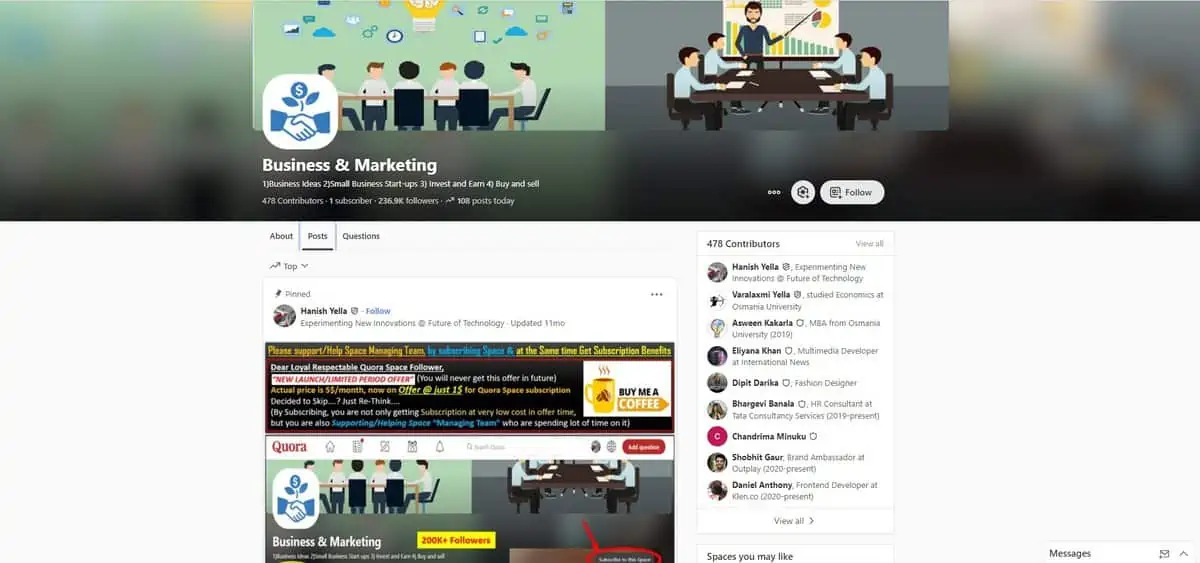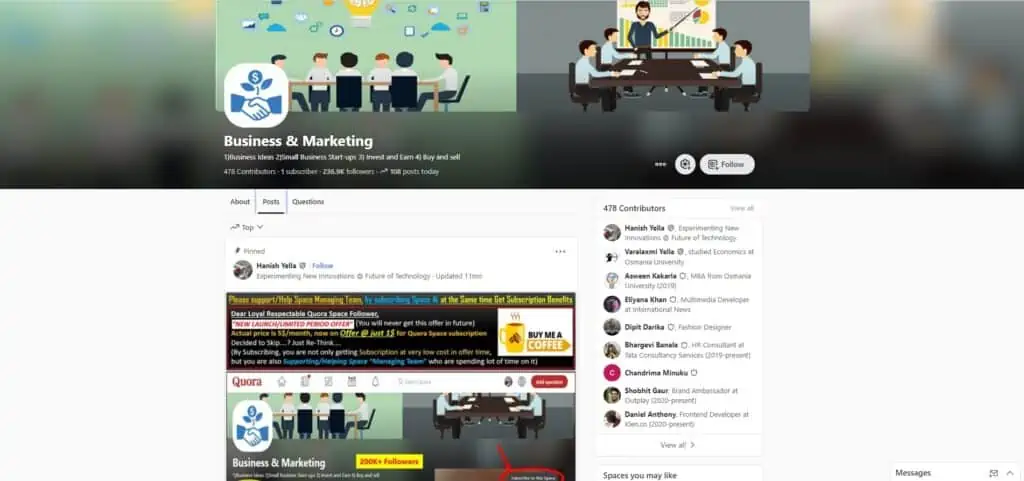 A community of 233k members focused on sharing business ideas and tactics, as well as giving advice to small business ideas on investments and earning. It is a community dedicated to answering startup-related doubts and questions.
Money Business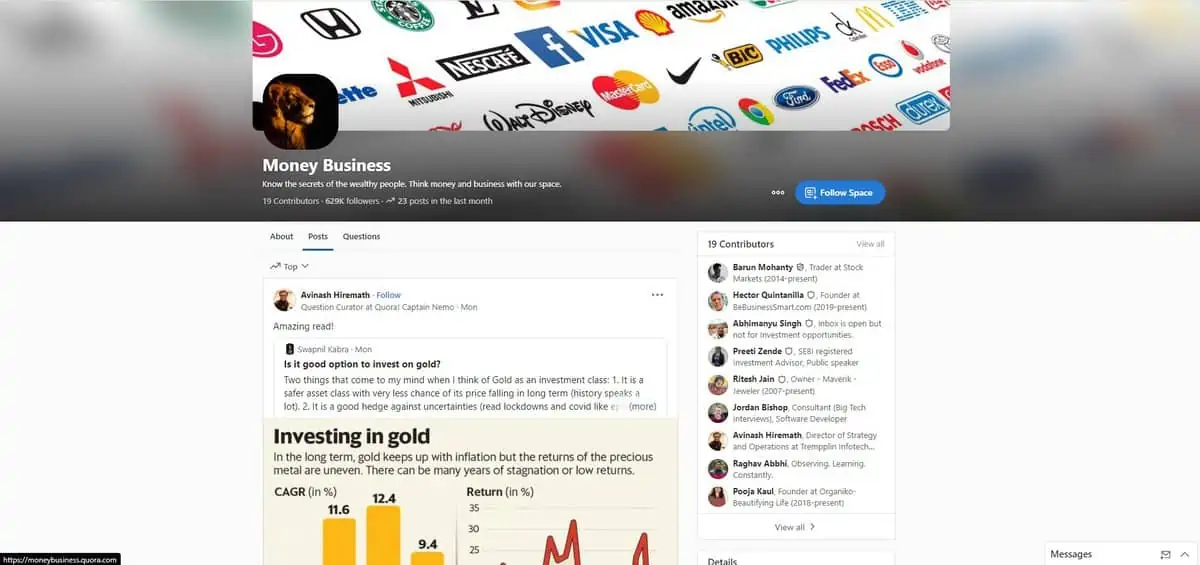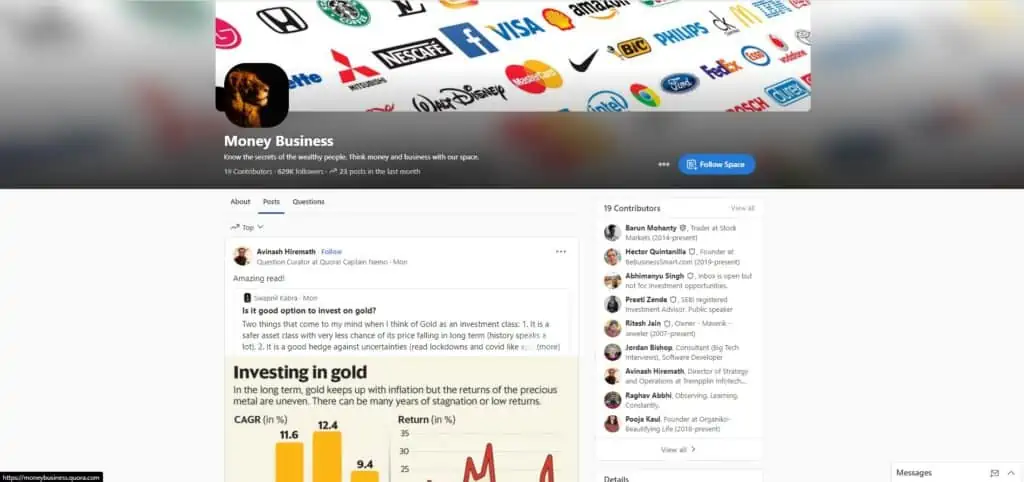 A community with 625k members, it brings together successful entrepreneurs who have expertise in money, business, finance, investing, entrepreneurship, personal finance, technology and startups to mentor, motivate and give feedback to aspiring startup founders.
Reddit
Reddit is a unique social media platform with a community for everything worldwide. These communities are called 'subreddits'.
So naturally, it has several communities based on startups and entrepreneurship that offer a forum where current and aspiring business owners to discuss startup-related topics.
Some of the most well-known subreddits are:
r/Entrepreneur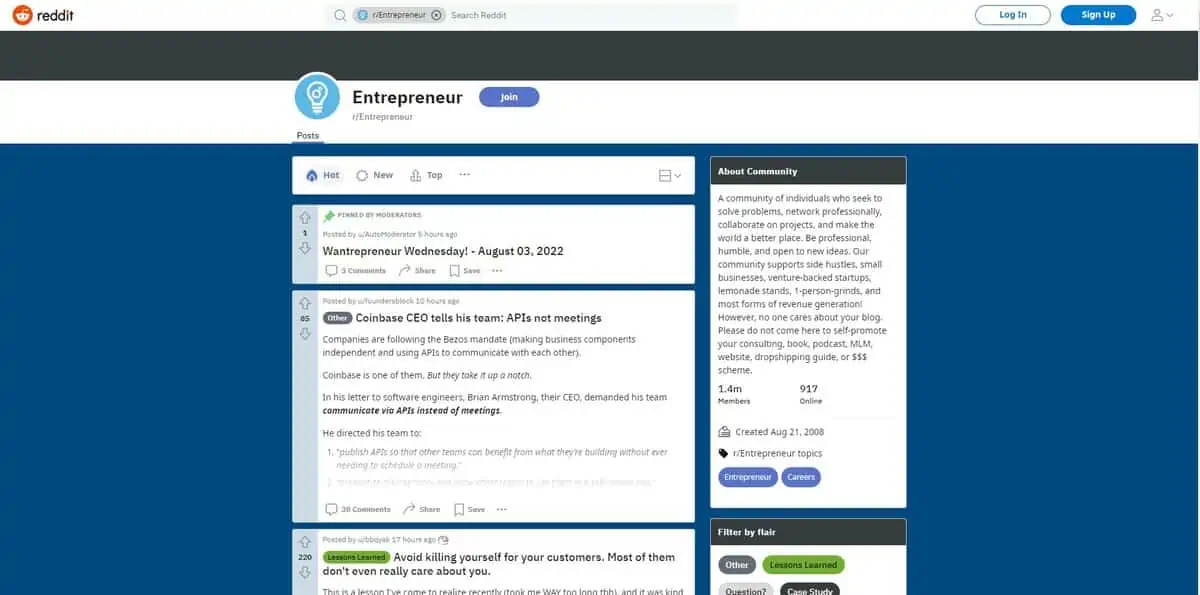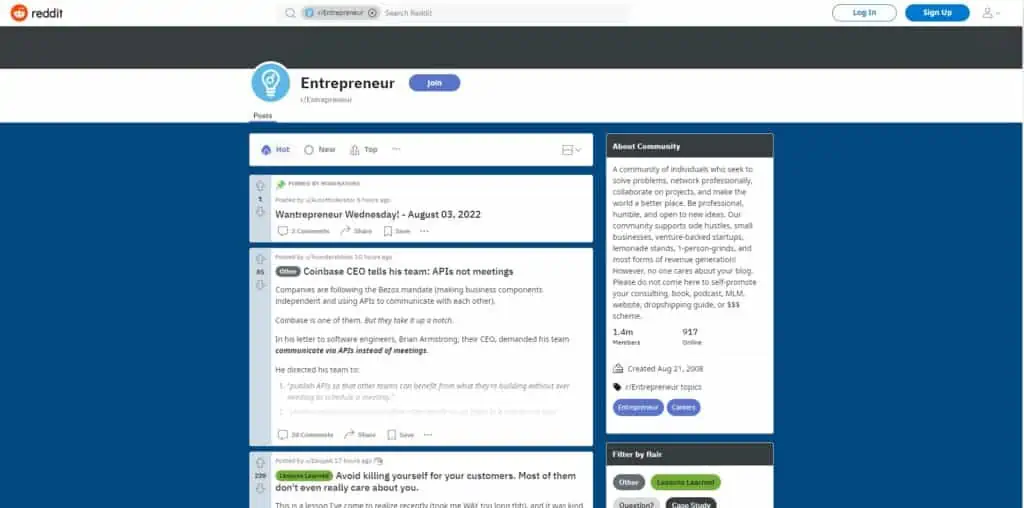 This subreddit is a place for entrepreneurs to solve problems, network professionally, collaborate on projects, and offer their thoughts on starting a business.
It is also a platform where members can ask for help and feedback on their business strategies and learn from others.
It's a great place for startup discussions and networking.
r/GrowMyBusiness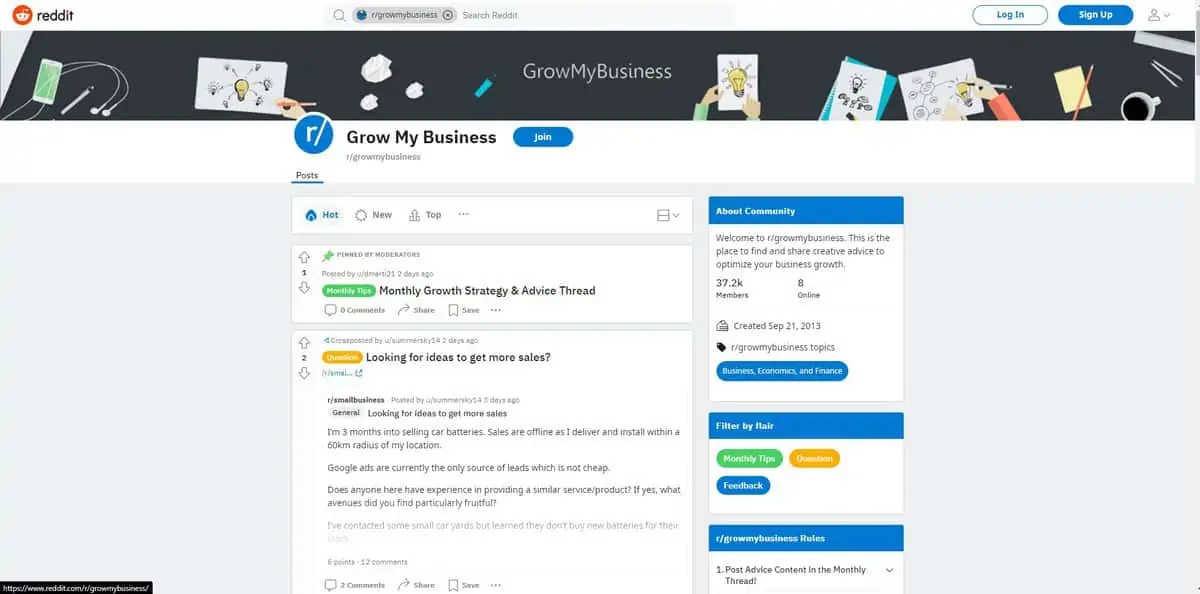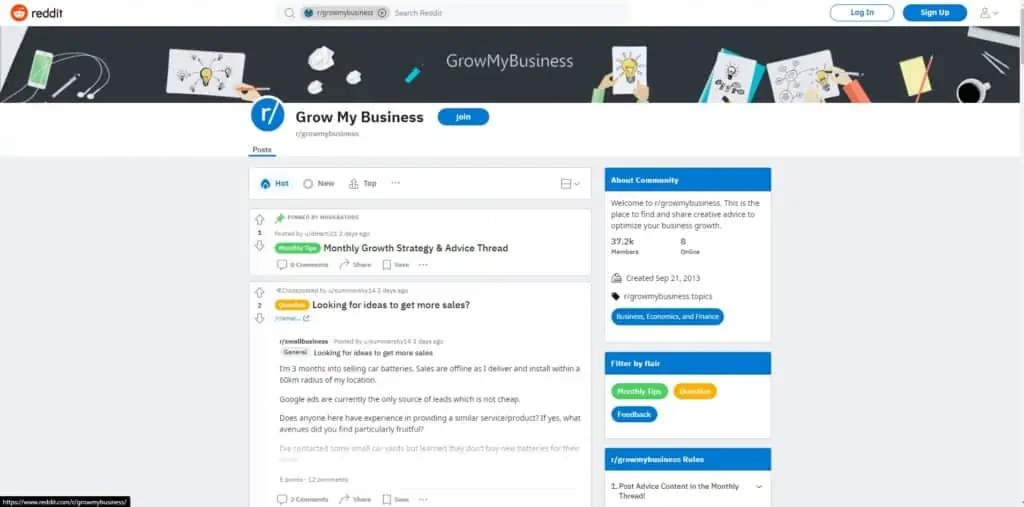 A subreddit which focuses on giving creative advice to entrepreneurs to grow their businesses. It has around 37k members in the community who share their ideas for increasing and fostering business growth.
It also provides feedback on marketing and business concepts, discusses ways to fund Kickstarter campaigns, and helps with other startup-related things.
r/Startups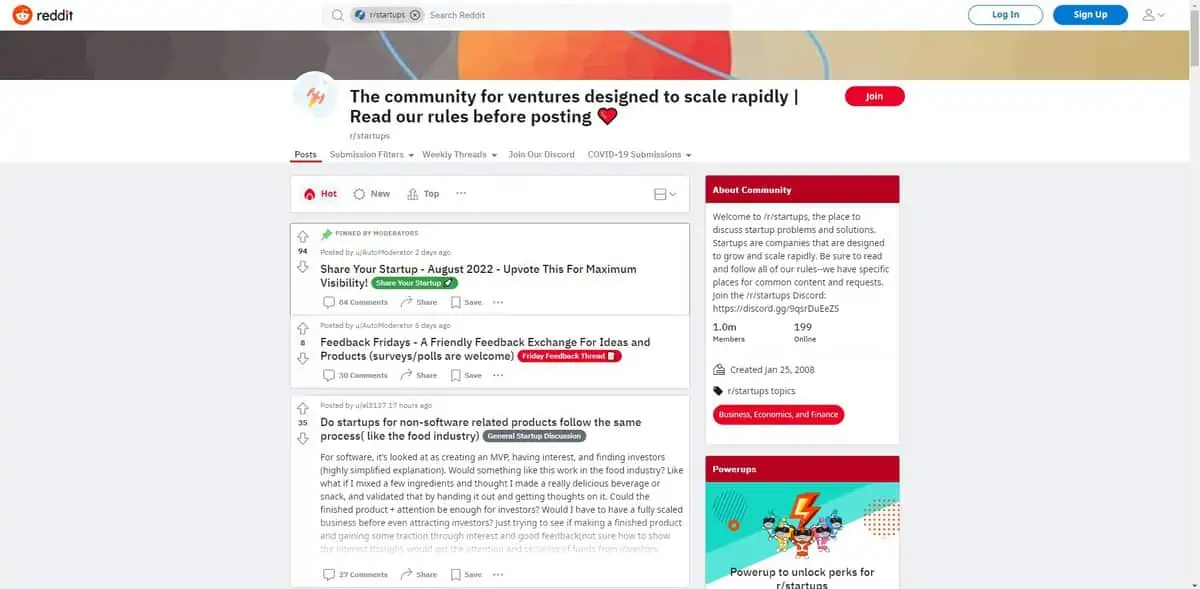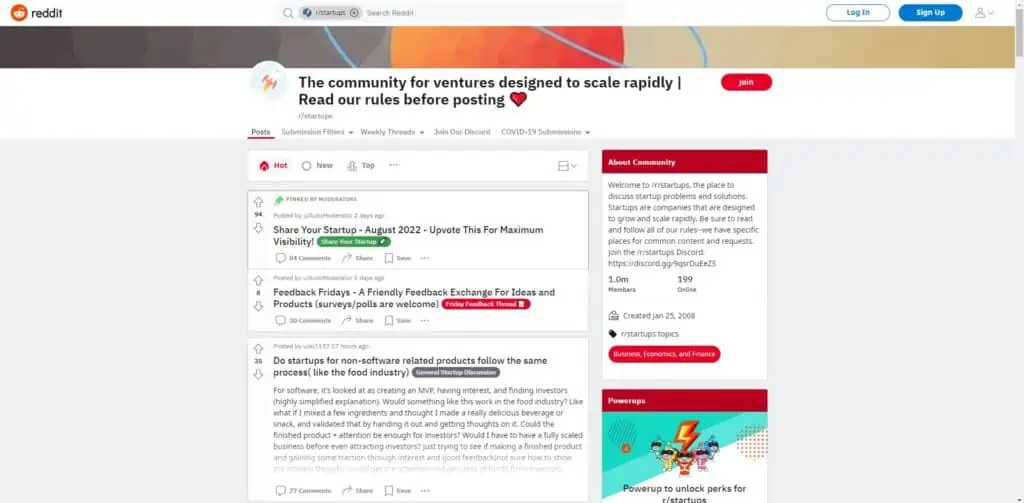 A community made to discuss startup problems and solutions. It has more than 1.0M members who share a ton of information about startups and businesses and what it takes to start and run one.
It also hosts frequent interviews and AMA sessions with famous entrepreneurs to help aspiring entrepreneurs and keep the entrepreneurial spirit alive.
r/IndieBiz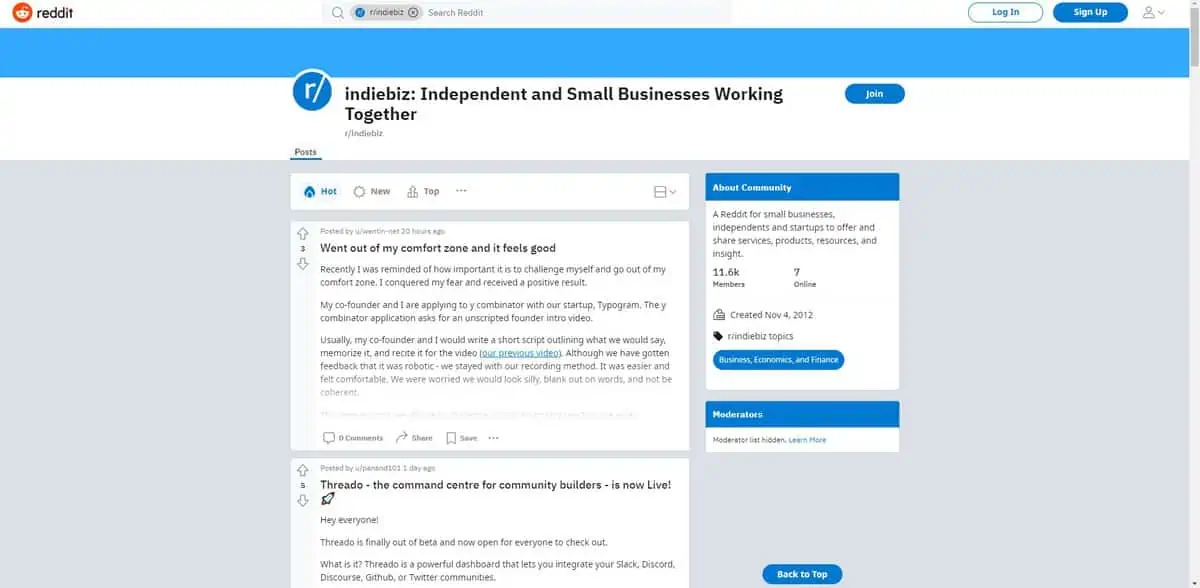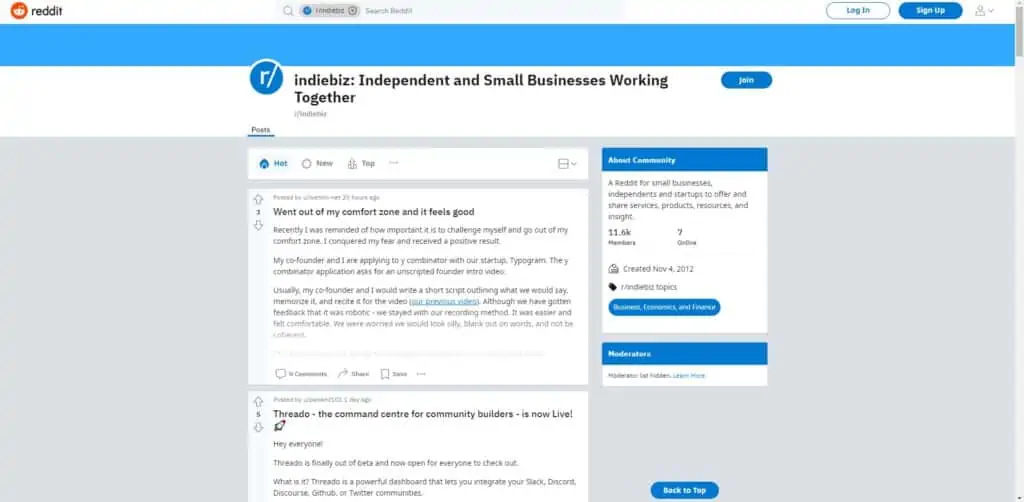 A community of 11k members who share services, products, resources, and insight to help small and independent businesses and startups to grow, network, share their ideas, ask for feedback and support each other.
r/EntrepreneurRideAlong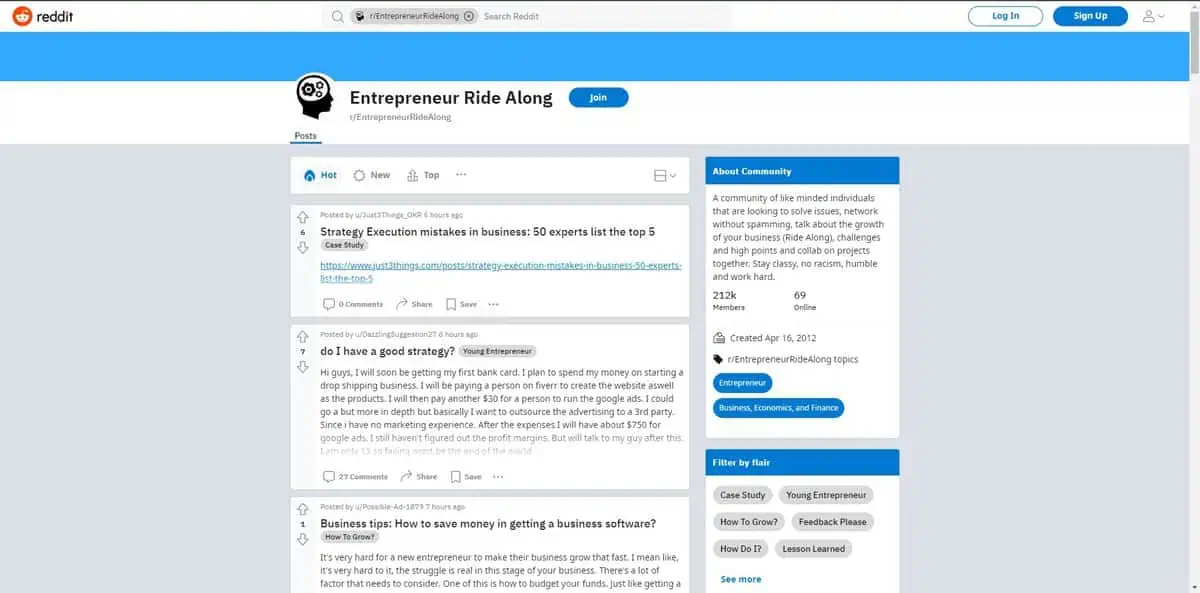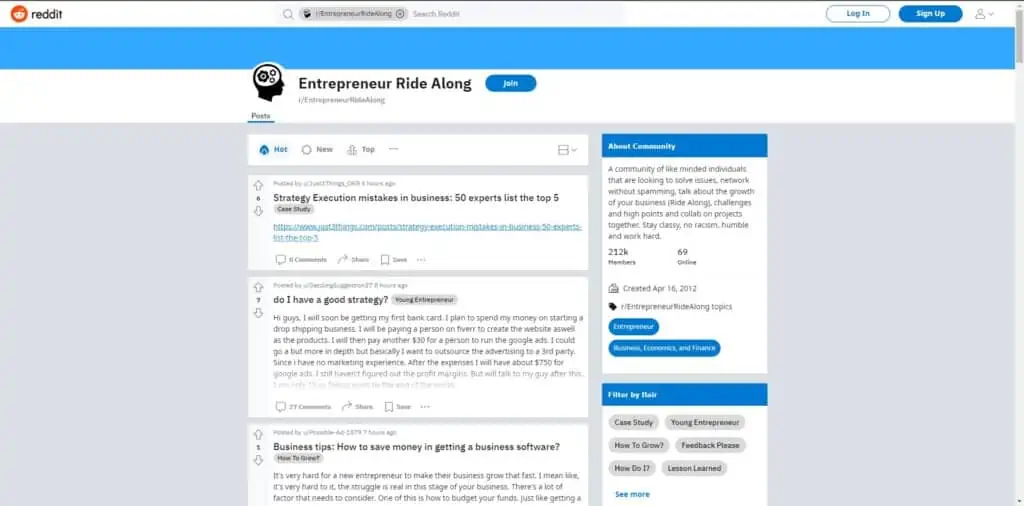 A community of 211k members who solve startup issues, network and grow their connections, discuss growth strategies for businesses and startups, discuss business challenges and high points as well as collab on projects together.
Go On, Tell Us What You Think!
Did we miss something? Come on! Tell us what you think about our article on startup communities in the comments section.
A lawyer dealing with corporate laws, a voracious reader and a keen writer. Satyaroop has a broad experience in the legal and startup industries and has worked with more than 15 companies, startups and legal publications on research-oriented projects. In his spare time, he enjoys reading fiction, biking and playing video games.