A startup isn't a single-player game. It's a team sport. In fact, 23% of startups fail just because they don't have the right team.
And one of the most important members of your startup team is your cofounder.
Your cofounder is your business partner. They are the one you'll be spending long hours with in the trenches, building your business from the ground up.
So, it's critical that you choose your cofounder wisely.
But we understand that you must have your own doubts. Doubts regarding why you need a cofounder in the first place, where to find one and how to pick the right person for your startup.
We will answer all these questions to make your startup process a lot smoother.
Why Do You Need A Cofounder?
Starting up is hard. You will face a lot of challenges along the way, and there will be times when you feel like giving up. This is where a cofounder comes in. A good cofounder is that perfect puzzle piece that fits in and helps you build a strong foundation for your startup.
They will be your sounding board when you're feeling lost, will help you make tough decisions, and will push you to do better.
In short, there are more chances of you succeeding with a cofounder than going solo.
Moreover, here are some more reasons why you need a cofounder:
To balance your skills and knowledge: A cofounder will have different skills and knowledge than you, which will help balance out your weaknesses. For example, if you're great at marketing but not so good with numbers, then you can find a cofounder who's good with finances. This way, you can complement each other and build a well-rounded business.
To Share The Load: Starting up is a lot of work. There will be long days and sleepless nights. It's not possible for one person to handle everything on their own. A cofounder will help share the load and make your journey a little less daunting.
To Get A Different Perspective: It's easy to get tunnel vision when you're working on your own. A cofounder will be able to provide a different perspective and help you see things that you might have missed. This is especially helpful when making key decisions for your business.
To Grow Your Network: A cofounder comes with their own set of connections which can help you take your business to the next level. This is especially helpful in the early stages when you're trying to get your foot in the door.
Now that we've answered the question of why you need a cofounder, let's move on to where you can find one.
Where To Find A Cofounder?
The best cofounder is a person who you already know and trust. This could be a friend, family member or someone you've worked with in the past.
If you don't know anyone who fits the bill, don't worry. There are plenty of other places where you can find a cofounder. Here are a few options:
YCombinator's Startup School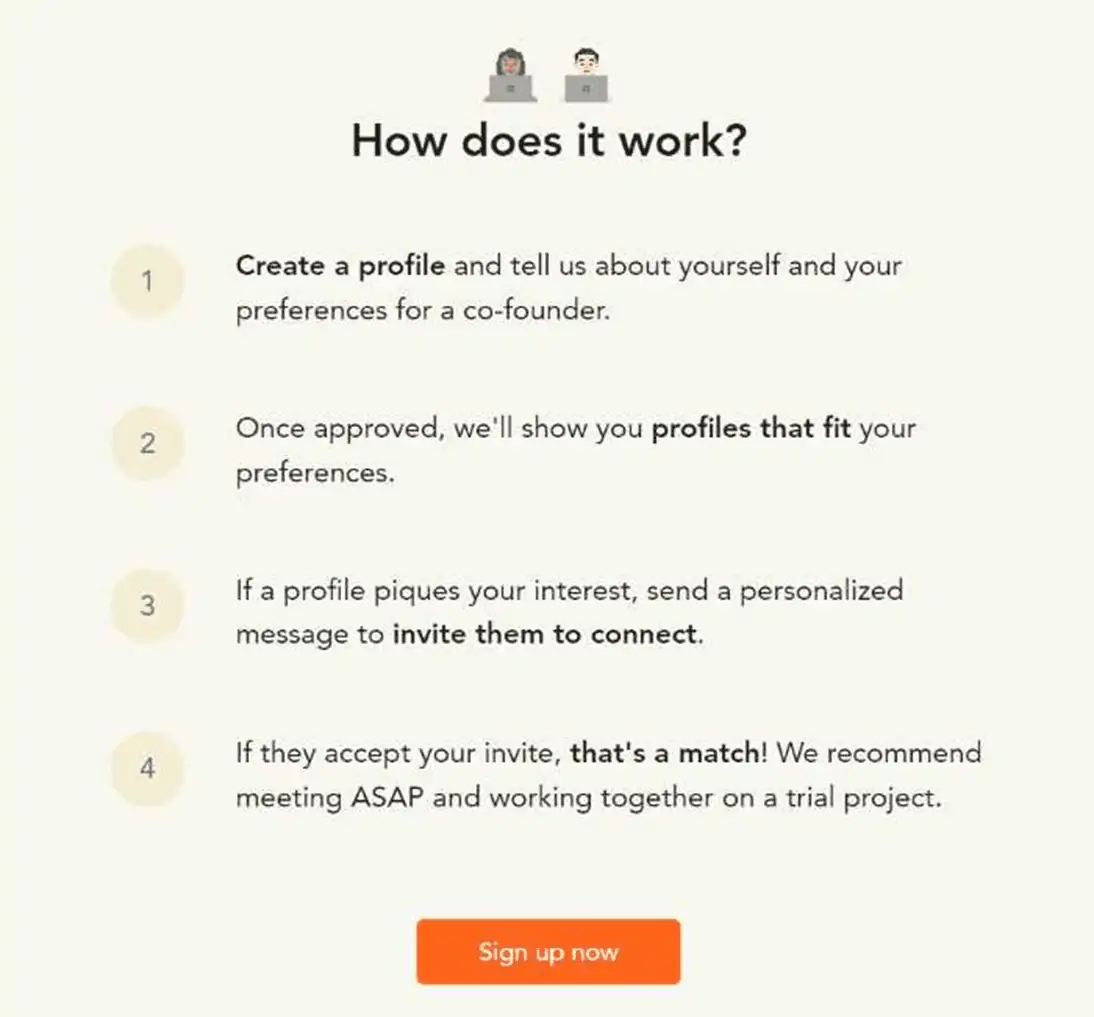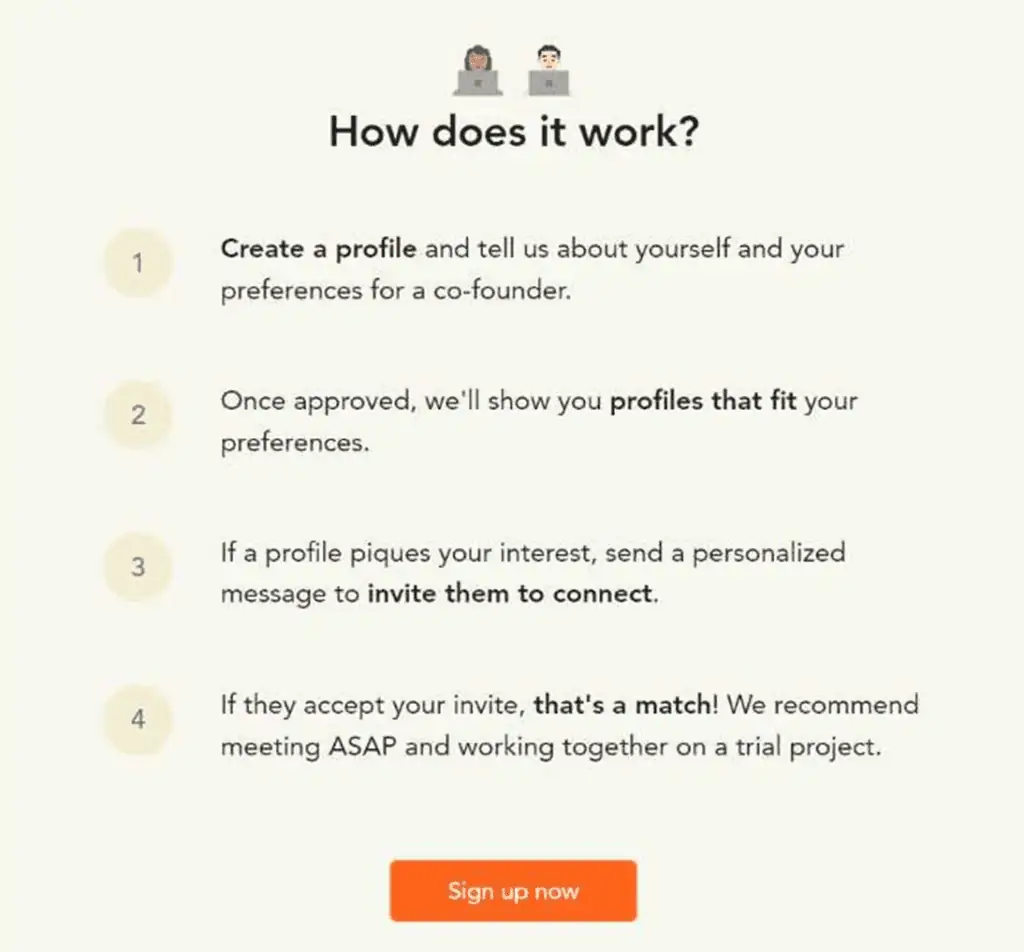 YCombinator is one of the most popular startup accelerators in the world. They have a Startup School program, a free 10-week online course to help you start your own company.
One of the best parts about this program is that it has a cofounder matching feature. This means that you can find other entrepreneurs who are looking for a cofounder with a similar skillset and vision.
CoFoundersLab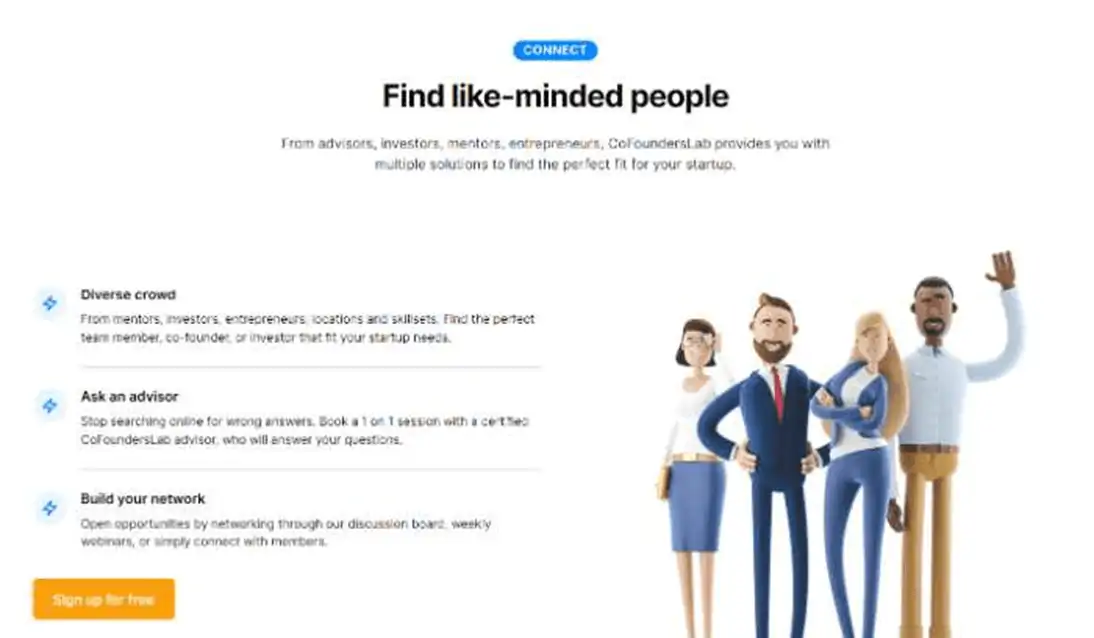 Boasting itself as the world's largest network of entrepreneurs, CoFoundersLab is a great platform to find a cofounder for your startup. They have a database of over 100,000 entrepreneurs from all around the world.
You can use their advanced search feature to find someone who meets your specific criteria. You can also attend their events which are held in various cities across the globe.
Besides networking, CoFoundersLab also offers helpful resources on their website, from foundational startup knowledge to mentoring programs.
Intch
Intch is an AI-powered networking platform that helps entrepreneurs connect with the right people. All you have to do is sign up and answer a few questions about yourself.
After that, their algorithm will match you daily with five people who have complementary skills and knowledge or who are looking for your expertise. You can also use their platform to find investors, mentors, and advisors for your startup.
StartHawk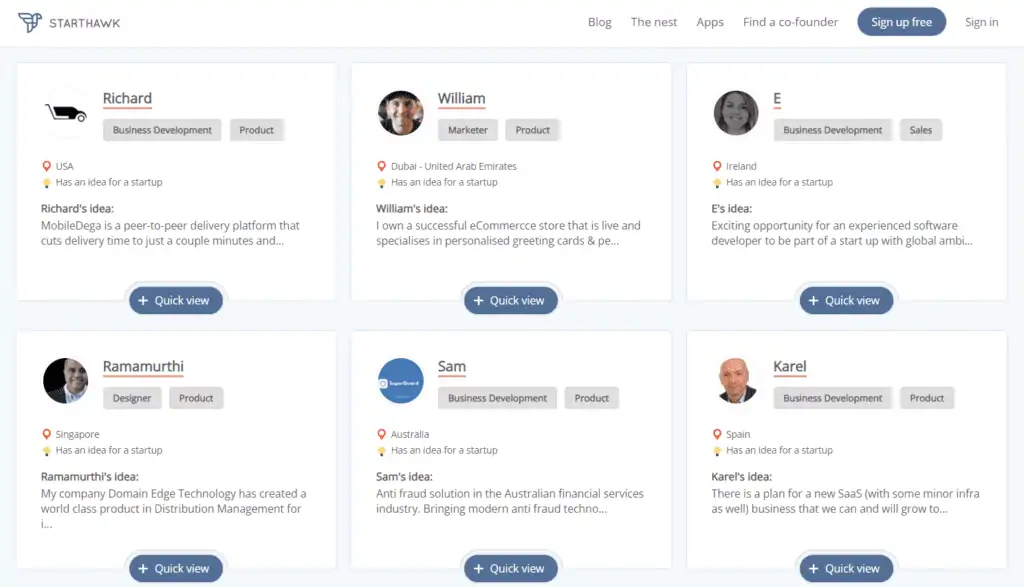 StartHawk is a "founder listing" platform that helps entrepreneurs find the perfect cofounder for their startup by browsing and filtering the list of available entrepreneurs who are willing to collab on their idea or are open to working on another.
All you have to do is sign up and fill in your personal and company or idea details. After that, their algorithm will add you to the list of potential cofounders who match your criteria.
You can also use their platform to look for suitable cofounders based on their skills, experience, and location.
Lunchclub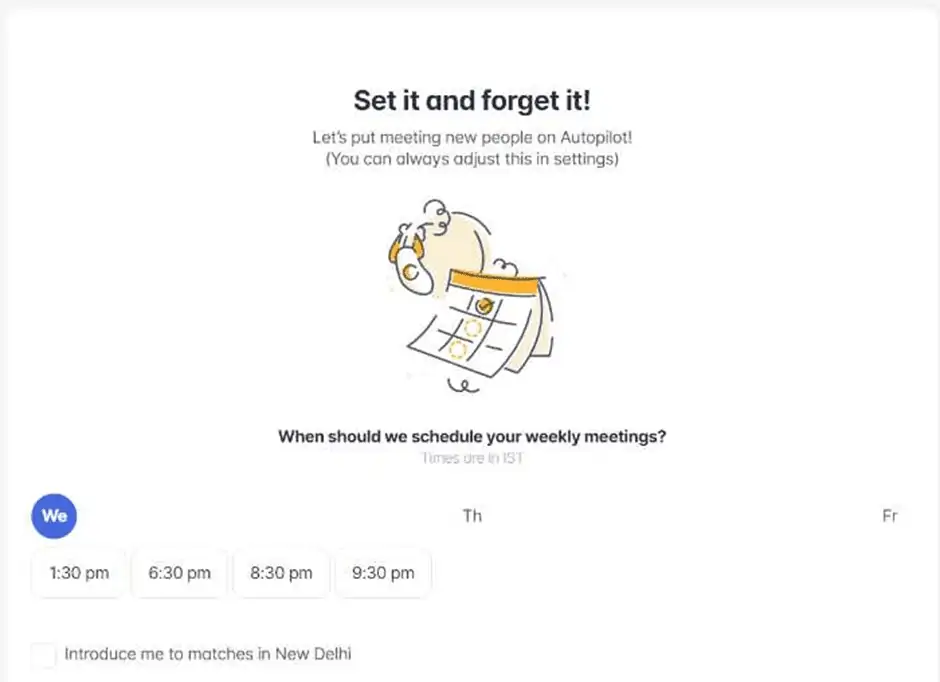 Lunchclub is an AI and ML fueled social networking platform focused highly on connecting users with common interests and objectives.
To begin, sign up and answer a few questions about yourself and what you're looking for and select the date and time you're comfortable with for an online meeting. Lunchclub's algorithm will then match you with someone who it thinks would be a good fit.
The platform is backed by Lightspeed, Coatue, and a16z and boasts its 1:1 meeting success rate.
Indie Hackers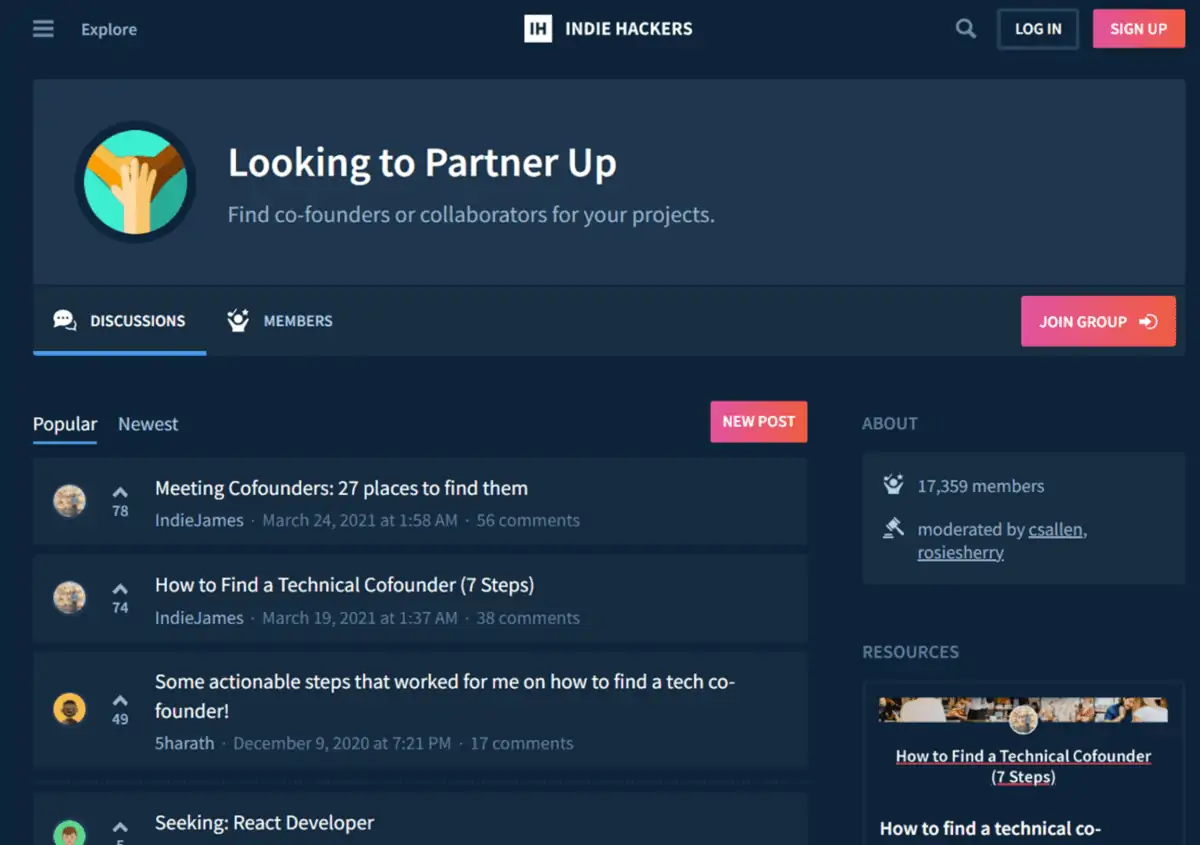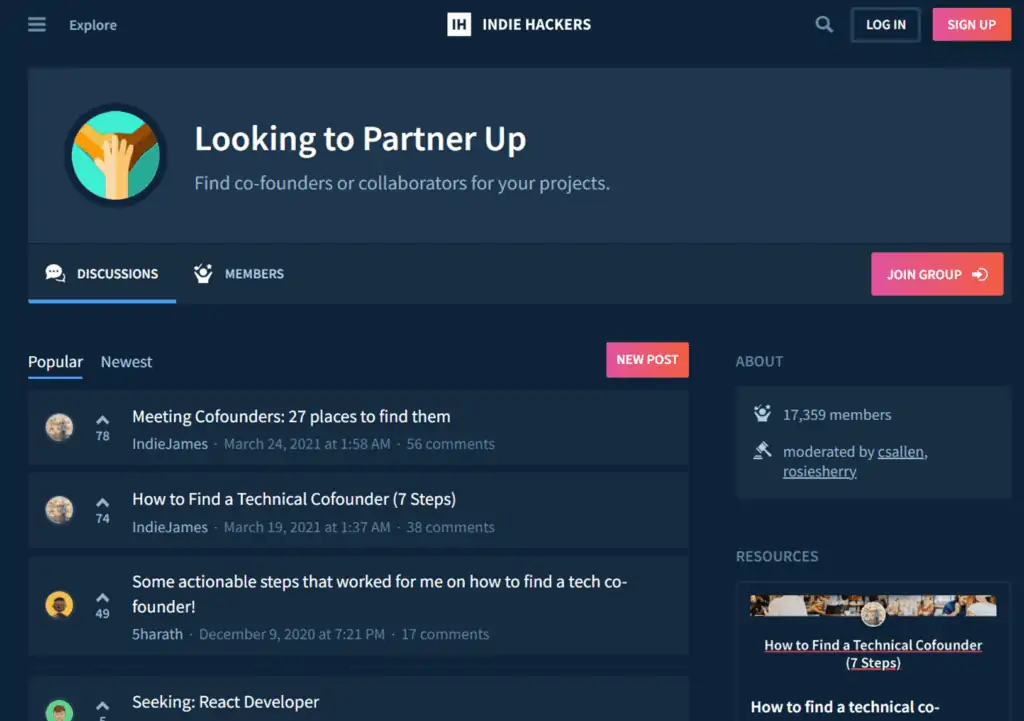 Indie Hackers is a podcast and community for entrepreneurs who are bootstrapping their businesses.
The platform also has a section dedicated to helping you find your cofounder by posting your requirements and expectations in a cofounder forum. Besides this, the community is really supportive in whatever you are planning and makes sure you succeed in every venture – be it finding a cofounder, building your MVP, or planning your go-to-market strategy.
Product Hunt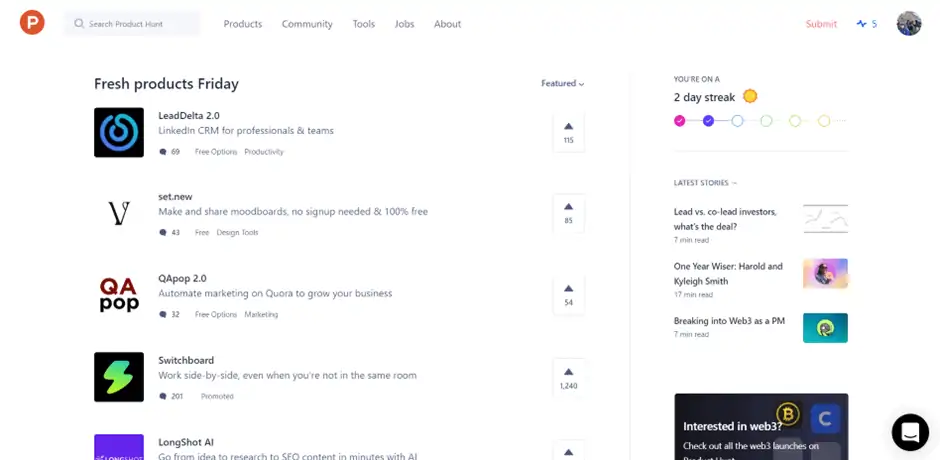 Product Hunt is a product discovery platform focused majorly on technology offerings and SAAS. You'll find several tech-oriented people willing to partner with you on your next venture as your tech cofounders.
You can use their community section to connect with people, find answers, and find networking events to widen your existing network and find the perfect cofounder you were looking for.
Startup Weekend
Techstar's Startup Weekend is a 54-hour event where developers, designers, marketers, product managers, and startup enthusiasts come together to share ideas, form teams, and launch startups.
You can use their platform to find upcoming events in your city or even organise one yourself. These events are a great way to meet like-minded people, find a cofounder for your startup, and get feedback on your ideas.
Founder Institute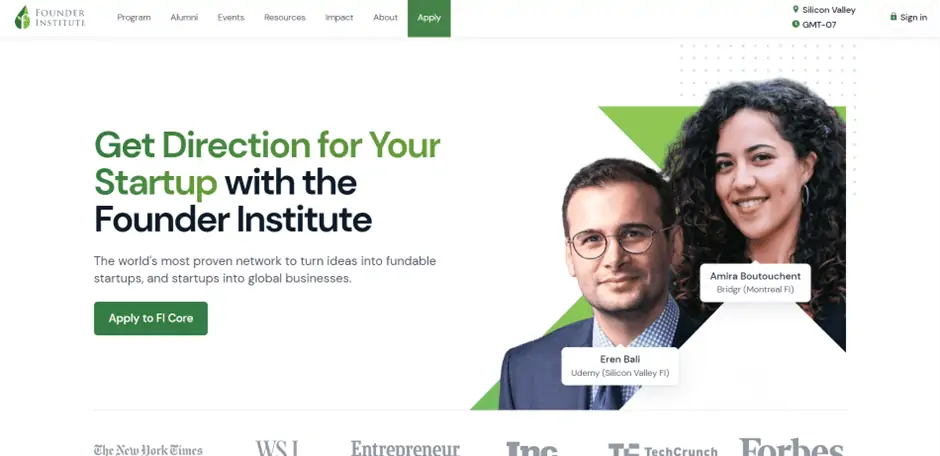 Founder Institute is a global startup accelerator that helps entrepreneurs launch their businesses with the help of experienced mentors, resources, and a structured curriculum.
You can apply to their program to get access to their resources, network, and mentorship. The accelerator also hosts virtual cofounder networking events where you can find cofounders for your startup along with free mentorship sessions.
F6S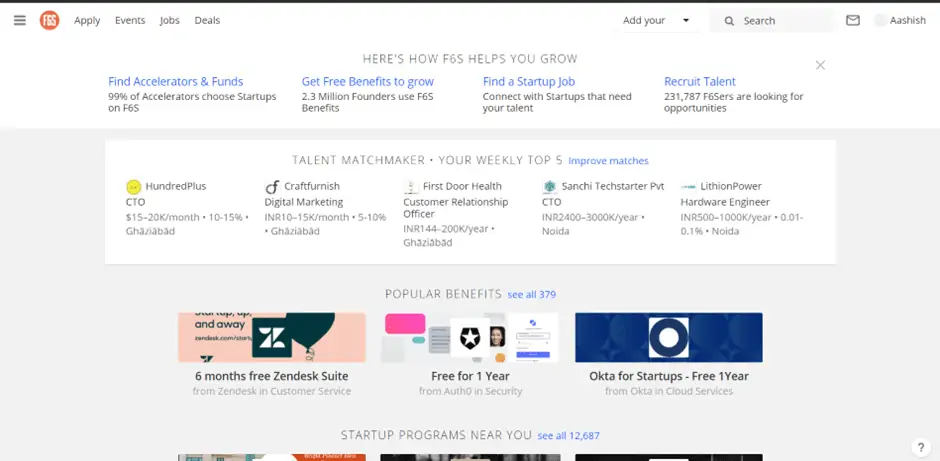 F6S is a community of startup founders with over 1 million members. They offer resources such as free access to startup programs, deals, discounts, and networking events.
You can use their platform to find cofounders for your startup by browsing through their member directory or attending one of their events.
No Code Founders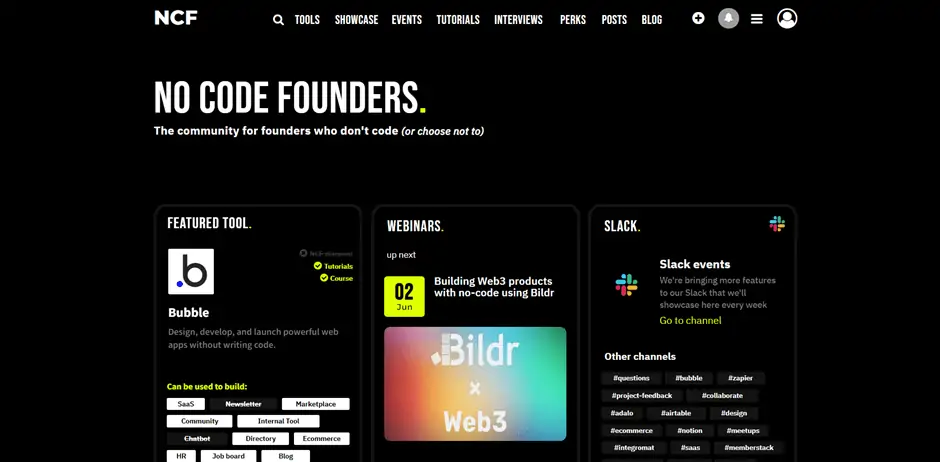 No code founders is a premium Slack community of over 12,000+ founders who are building and launching successful companies without a single line of code.
You can use their platform to connect with like-minded individuals, find collaborators, and get feedback on your ideas. They also have a directory of no-code tools with special offers that you can use to build your business.
Angel List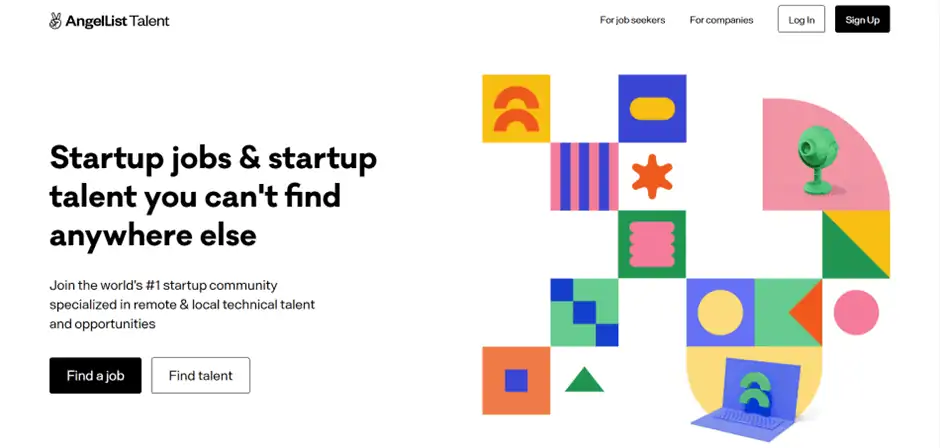 Angel List boasts itself as the #1 startup community specialising in connecting startups with talent.
You can use their platform to browse through startup jobs, find a cofounder for your startup, and get access to resources such as funding, advice, and mentorship.
What sets this platform apart is:
The database of 8 million registered active users
Great UI that will help you find the apt cofounder in less than 10 minutes
A free applicant tracking system
Linkedin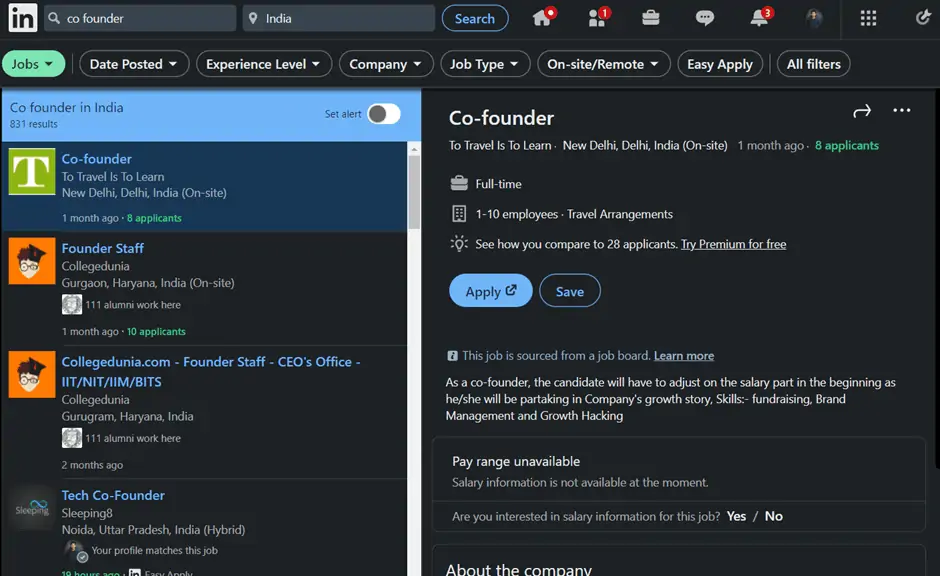 Linkedin is the best platform for connecting with professionals from all walks of life. You can easily find people with the same interests and objectives as you and connect with them to discuss potential business opportunities.
There are a number of ways you can use Linkedin to find a cofounder for your startup:
Browse through LinkedIn Groups: There are many groups on LinkedIn dedicated to startups and entrepreneurship. You can browse through these groups to find potential cofounders for your startup.
Connect with 2nd or 3rd degree connections: LinkedIn allows you to connect with people who are not in your immediate network. This is a great way to expand your network and find a cofounder for your startup.
Post a cofounder job: You can use LinkedIn's job board to post a job listing for your startup. This is a great way to find qualified candidates for your cofounder position.
Use Linkedin premium: You can use Linkedin's advanced search features to find potential cofounders with the specific skills and experience you are looking for.
Reddit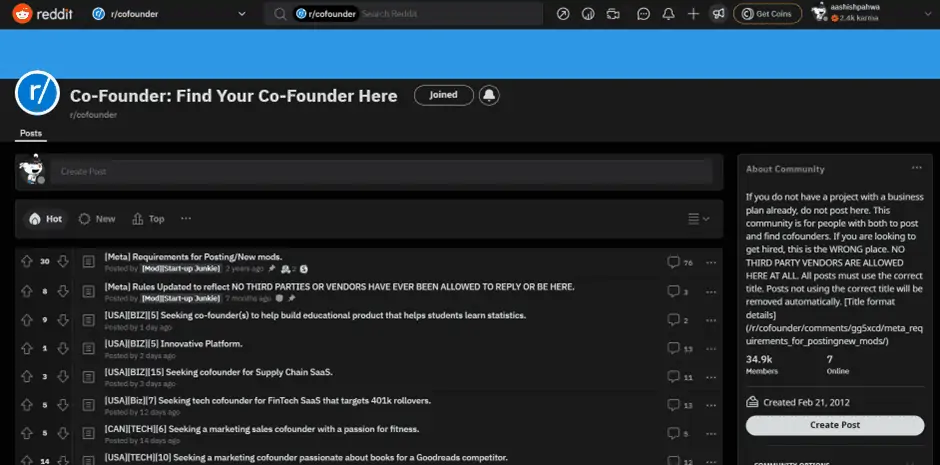 Reddit is a community of several niche communities where you can find the perfect person to complement your skills. You can use this platform to:
Moreover, several subreddits like r/cofounder and r/startups are great places to find potential cofounders for your startup. You can also use Reddit's search feature to find other relevant subreddits where you can connect with potential cofounders.
Meetup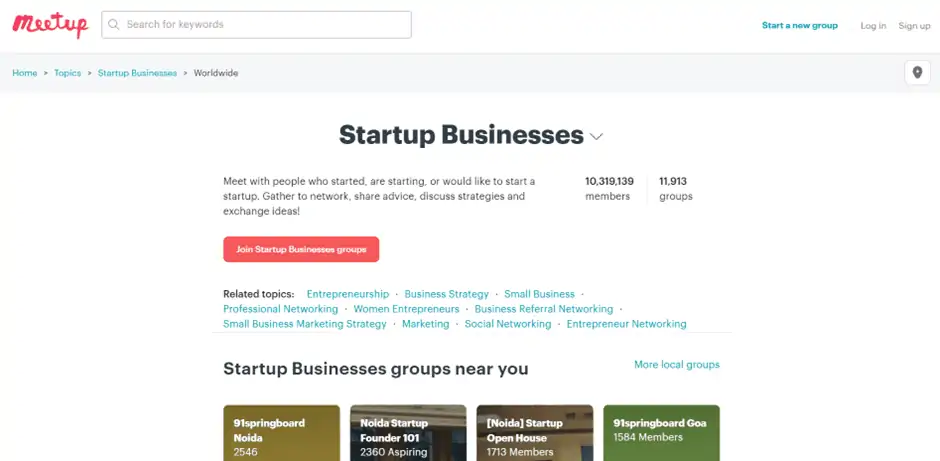 Meetup.com is an event-listing platform that helps people with similar interests connect and meet in person.
You can use their platform to find relevant startup or networking meetups in your area. This is a great way to meet potential cofounders for your startup and get feedback on your business idea.
How To Evaluate A Prospective Cofounder?
Finding some people who have skills that complement you in your startup journey is just the first step. And speaking out of the experience, it's the easiest part.
The difficult part is evaluating them to make sure they will actually be a good fit for your startup journey. Because, let's face it, not everyone is cut out to be a cofounder.
There are a number of factors you should consider when evaluating a prospective cofounder. But before you start looking for such factors, make sure you already know who you're looking for – what skills do you lack and what core tasks would you want a helping hand in?
Your first task should be to develop a job description of the cofounder you're looking for. This isn't a usual job description that you'd post on a job hunting site, but a list of skills you'd want to see in your prospective cofounder. Once done, evaluate the person.
Look for:
Complementary skills: A good cofounder should have complementary skills to yours. This will help you build a well-rounded team with the necessary skills to succeed.
Complementary temperament: Your cofounder should also have a complementary temperament to yours. That is, if you tend to be more impulsive, your cofounder should be more level-headed. If you tend to be more risk-averse, your cofounder should be more willing to take risks.
A shared vision: Look for a cofounder who shares your vision for the company. This will help ensure that you are both working towards the same goal and help avoid disagreements down the road.
A compatible work style: Compatibility is key when it comes to working together. You should look for a cofounder whose work style is compatible with yours. For example, if you like to work during certain hours of the day, your cofounder should be someone who is also available to work during those hours.
Self-sufficient: Your cofounder should be someone who is self-sufficient and doesn't need to be micromanaged. This will help you avoid any potential power struggles down the road.
To evaluate your compatibility with a prospective cofounder, you can:
Have candid conversations: Have candid conversations with your prospective cofounder about your business idea, your vision for the company, and your expectations for the role of a cofounder. This will help you get to know them better and see if you are compatible.
Do a trial run: You can also do a trial run with your prospective cofounder to see how well you work together. This could involve working on a small project together or attending a few meetups together. If you find that you are compatible, then you can move forward with the relationship.
The Way Forward
If you're serious about starting a company, ask yourself if you're capable enough to do it all alone.
If not, then you need to find a cofounder. And finding the right cofounder can be the difference between success and failure.
The best cofounders are those who have complementary skills, temperaments, and visions to yours. They are also self-sufficient and have a compatible work style.
Make sure to evaluate them carefully before moving forward. The last thing you want is to end up with a cofounder who isn't a good fit for your company.
Go On, Tell Us What You Think!
Did we miss something? Come on! Tell us what you think of this article on where and how to find a cofounder in the comments section.
A startup consultant, digital marketer, traveller, and philomath. Aashish has worked with over 20 startups and successfully helped them ideate, raise money, and succeed. When not working, he can be found hiking, camping, and stargazing.