How do you choose whom to ask your questions from when it comes to digital marketing and social media?
Well, now you can check for what every expert has to offer on the digital marketing experts marketplace.
What's more? You even get your answers for free.
That's Smooper for you.
Smooper – Startup Review By Feedough
Smooper is a digital marketing experts marketplace developed on the idea of letting users reach the right social media / digital marketing experts for resolving their marketing roadblocks.
How Smooper Works?
The platform provides you with a list of verified experts in almost every field related to digital marketing like organic publishing, advertising, communities, content, social media management, etc.
All you need to do is to browse the catalogue, find the most suited expert for your problem and book an appointment.
The catalogue looks more like Fiverr than Amazon where the experts pitch in what they are good at and what they can help you with.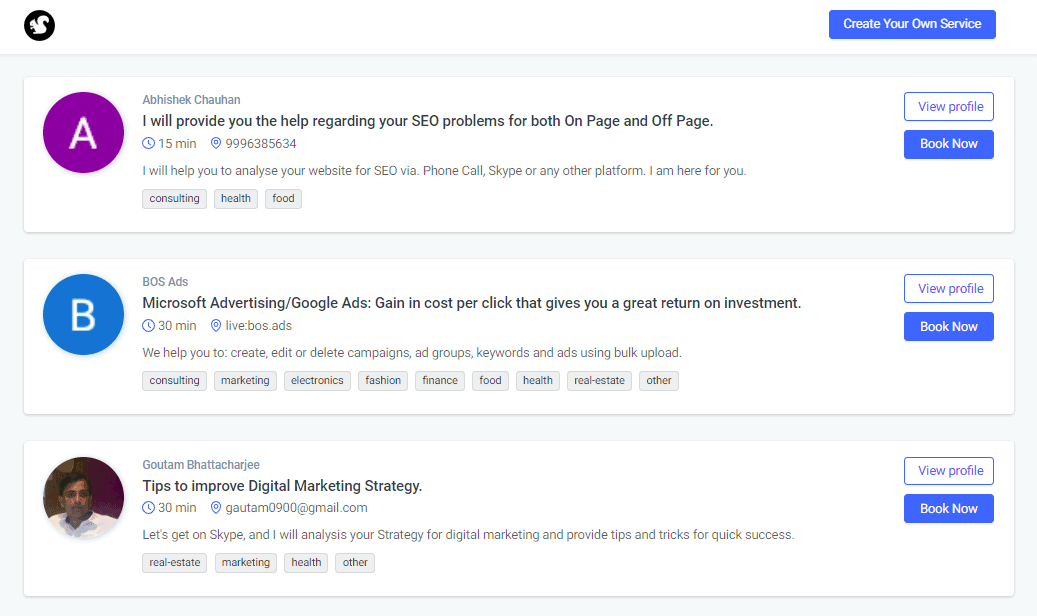 Once you've booked the appointment, the next thing you need to do is to prepare your questions for the sessions. Even though the sessions are free, they are time-bound according to how much time an expert can devote to you.
Now, if the platform is free, what's in there for the experts?
In the words of Rachit Magon, one of the company's founders –
As far as the business model goes, it is completely free as of now and there's no monetization. Experts are interested in it because they can get some soft-selling warm leads while helping others, and business are interested because they're getting free direct support!
The Interview
How is your product/service disrupting the industry?
Marketing for businesses is in a very weird spot right now. There is so much information and so many things which you can do. But you need an expert to either take the load completely off your shoulders or to guide you at the right times. We're building a platform where you can find these experts and book consultation sessions with them to solve your problems or give you guidance.
The history of your startup (how it all started)?
While working for one of the biggest social media management startups in the world I realised that enterprises have their social management teams and pay thousands of dollars for digital marketing but smaller businesses are losing out on this because of many reasons – one of the main being that they can't afford full-time agencies. So we started off by building a hiring tool for freelancers but very soon realised that maintaining quality with such tools is difficult – just like Fiverr. Then we worked as a social media agency for a few months to understand the needs and tricks of the trade. Very soon, we realised that consultations are an important part of the business and there's no tool for the same.
Why did you choose this niche?
Social media is already a game changer in the world, it's here to stay but it is in a mess.
The team
Rachit Magon: I've worked with technology for 8+ years, did my Masters from BITS Pilani and worked with Sprinklr, a social media suite for enterprises before starting Smooper.
Akash Krishnan: A social media strategist who has worked with brands like PMI, Airtel and Nike in creating their social strategies.
What's the progress till now and what are you expecting in future?
We are releasing a Beta product next week! And in the future, we expect to allow experts to take full-blown projects along with consultations.
Feedough's Take On Smooper
We liked the concept Smooper is built on. But the point that there already are some similar platforms in the market which have positioned themselves well makes us think that it's going to be hard for the founders to market their platform.
But,
Keeping the platform free is a very smart decision to bring in more customers. And the fact that experts get leads and can make money using affiliate marketing also attracts many of them.
Even though the business model is still under development, we feel like this startup will be going places.
Interested?
Would you like to get some free advice on your current digital marketing strategies or do you any questions regarding the same? Go check out Smooper and book an appointment.
Get Your Startup Reviewed By Feedough!
Get discovered by over 500,000 monthly visitors. Explain your offering to over thousands of potential investors, customers, and top blogs.
Startup reviews are custom written posts by our experienced team who'll work closely with your team to create the best pitch possible. The review article will be posted and shared with thousands of our subscribers over emails, social media posts, and push notifications.
Use this form to get in touch.
A startup consultant, digital marketer, traveller, and philomath. Aashish has worked with over 20 startups and successfully helped them ideate, raise money, and succeed. When not working, he can be found hiking, camping, and stargazing.