Oyo Rooms is the largest branded network of hotels currently operating 450,000 listings in 5,000 cities in India, Malaysia, UAE, Nepal, China and Indonesia. The company started off its operations by building its business model around the aggregator business model but things have changed since 2018.
Earlier, the company used to organize the partner with hotels, lease some rooms, and sell them under its own brand. Even though the process is still the same, Oyo's business model has changed its route to a new structure.
The main focus, however, still is the quality of the service provided. Hence, to maintain the brand image, they make the partners provide services at predetermined standards while they make them more visible to their user-base.
Oyo Rooms – An Aggregator or A Franchisor?
Oyo Rooms Business Model used to be a hotel aggregator. However, it was different from Airbnb's business model as Oyo didn't focus just on the discoverability of the partners among the users but also on the standardized quality of the services provided.
The customers used to buy the services from the brand Oyo rooms and didn't care who the partner was. Just like Uber, Oyo provided rooms with standardized quality and price.
This model was a mix of aggregator business model and franchise business model.
But as time passed, the company built its brand equity and the founders decided to pivot its business model to a pure franchise business model. The company now gets 90% of its revenue from hotels under the franchise model.
Business Model of Oyo Rooms
Oyo Rooms business model was similar to the usual aggregator business model (Uber for x business model) but had the essence of the franchise business model as well. The company used to –
Lease a part of Hotel's inventory beforehand,
Organize those hotel rooms under their brand name – Oyo Rooms
These partner hotels provided standardized service to customers of those rooms as it was decided in a contract with Oyo
Bookings were made through the Oyo Rooms website and mobile application.
The current operating model of Oyo Rooms is similar to what it was before. It's just the company doesn't lease the hotel rooms anymore, but ask the hotel partners to operate them as franchise. They have good brand equity and boasts a 100% increase in revenue to their partner hotels.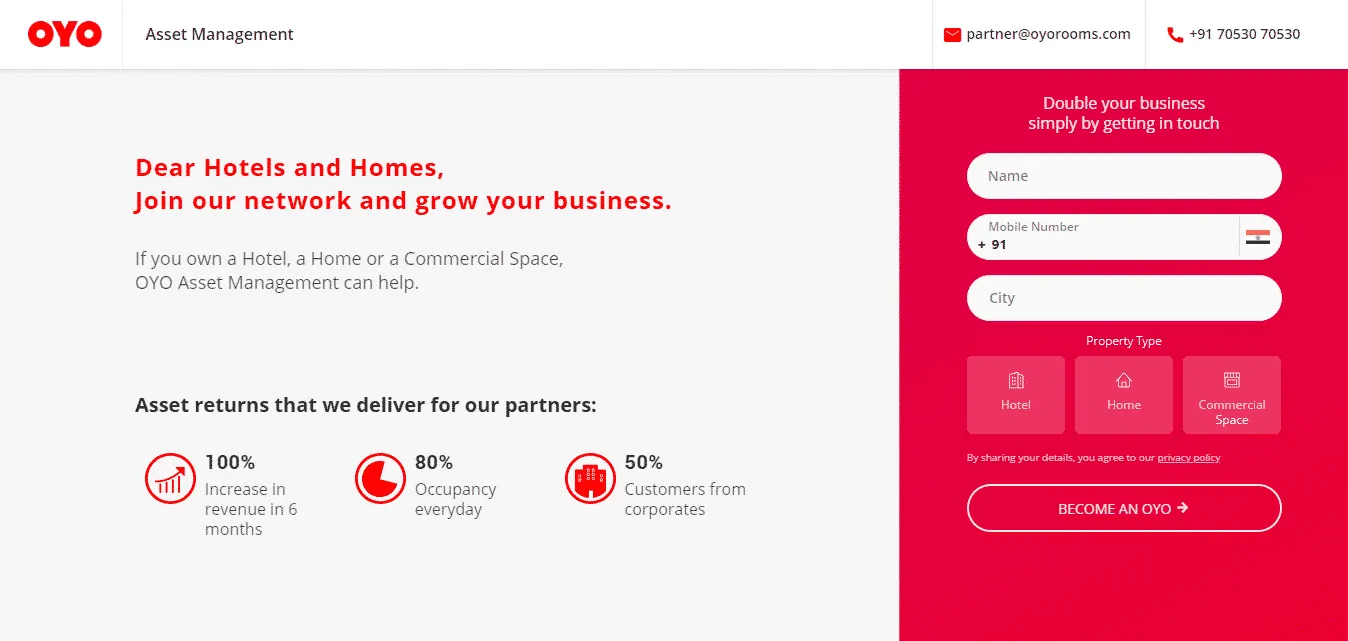 Partnership Model
Oyo Rooms provide visitors with quality hotel room stays at different places around India. They have partnered with hotels and made them work with them under their name.
Services Provided By Oyo Rooms
Oyo Rooms, started and famous as branded hotel rooms aggregator, provides many more services than just hotel rooms to visitors.
The services included in the Oyo Rooms business model are –
Hotel Rooms
Oyo's earlier strategy was to book a part of the hotels' inventory, to maintain it as per the quality standards, and to hold it captive exclusively for Oyo customers. That is, they used to lease some rooms every month and provide them to their own customers at profits.
The only thing that has changed is that the rooms are now not leased but operated as Oyo Rooms franchise. Since the hotels and place owners act as the franchisee, they are bound to operate as per the pre-determined standards. The company even offers plans where it runs the place instead of the hotel staff or owner.
Oyo Flagship
The partners used to book their own hotels when they used to see less prices on the Oyo's platform and this became malpractice benefiting the partners while burning holes in Oyo's pockets. To curb this, and to expand the business, Oyo Rooms has started leasing of hotels and places where it has full control over the day-to-day operations of these establishments.
Oyo Townhouse
The company has recently launched the Oyo Townhouse to hone its value proposition and stand out of the competition when it comes to standardised hospitality. Oyo Townhouse is based on the needs of the millennial traveller. These hotels are planned and built based on the needs and wants of the millennials. They have –
Smarter Rooms – with specially designed beds, showers, sockets, and internet infrastructure. Even TVs have Netflix installed.
Smarter Spaces – common spaces designed to have meetings. Free printer, business services, magazines, coffee and tea in the common area.
Smarter Menus – 24 x 7 Kitchen which lets you order from the mobile application.
.. and many more smart services.
Studio Stays
Apart from providing hotel rooms, Oyo Rooms also provides fully furnished rooms and flats for long stays like internships, corporate stays, etc. The rooms/flats can be rented on single occupancy as well as on twin sharing basis as well (other provisions are also applicable). Rents are paid monthly. Commission (take-up rate) is charged from the owners if the customer comes through Oyo rooms.
Events & Other Long Stays
Just like studio stays. There are many family functions(weddings, parties) as well as corporate functions (seminars, meetings, parties) which involve hotel rooms for their guests to stay for long. This service is also provided by Oyo.
Commercial Places
Oyo has expanded its branches in the domain of the commercial places as well. Now the customers can even book office spaces on Oyo as well.
Oyo Wizard
The company has also launched a subscription model where the subscribers get exclusive discounts, deals, and cashback offers.

Revenue Model of Oyo Rooms
Earlier the brand used to lease hotels at a predetermined price and offered them to the users at a take-up rate. This has been changed to a commission-based revenue model.
Oyo rooms charges a commission of 22% from its hotel partners. However, this commission does vary according to the services provided by the brand.
Future of Oyo Rooms
[Opinionated Content]
Oyo is growing. Though this growth is at a cost, it will be worth it afterwards. According to a source, Oyo Rooms has delivered a 15x annual growth with 2.3 million booked room-night transactions in the first quarter of the calendar year 2016 while its GMV continues to grow substantially every month. This shows the increasing brand equity and demand of Oyo.
Oyo has set its name as the high-quality budget hotel network, which might change in the near future as the prices might increase. But since Oyo has come up with a new franchise model, there are chances that the prices might be kept as they are now.
Go On, Tell Us What You Think!
Did we miss something? Come on! Tell us what you think of this article on Business Model of Oyo Rooms in the comment section.
A startup consultant, digital marketer, traveller, and philomath. Aashish has worked with over 20 startups and successfully helped them ideate, raise money, and succeed. When not working, he can be found hiking, camping, and stargazing.