What started as a simple platform to offer mattresses and home-made breakfast has today revolutionized the way people travel. Airbnb business model is unique, profitable, and has evolved to such a level that the brand is now the world's most loved hospitality brand.
What is Airbnb?

Airbnb is a community based two-sided online marketplace that helps connect travelers with local hosts. What started as a problem for their founders when they could not pay rent, snowballed into this massive venture. They had built a simple website with a map offering mattresses and home-made breakfast. As more and more people started pouring in, they refined the website with money they earned from selling cereal boxes during the 2008 presidential campaign. The click rates improved too as the images of the rented space kept getting better.
Today, Airbnb is present in 34,000+ cities across 190+ countries. The company has 1.5 million listings and has served more than 35 million guests till date. Airbnb sees 140000+ people staying at its home-stays every day. In 2012, it overtook Hilton Hotels in number of nights booked. The company was valued at $31 billion in March 2017 and the personal fortunes of its three founders, Nathan Blecharczyk, Joe Gebbia and Brian Chesky were an astounding $1 billion each. It is headquartered in San Francisco, California, USA.
Airbnb Business Model
Airbnb utilises a Aggregator Business Model, like Uber or the Indian company Oyo Rooms. It does not have a linear business model like the traditional hotel chains such as Marriott, Hilton etc. The traditional hotel businesses have to invest millions in building and maintaining their properties. Airbnb's key resources are people and therefore does not have to do any of that. This enables it to grow incredibly fast at zero marginal cost.
People can list their available space on the platform and earn extra money from what they get as rent for their properties. As a platform, it also enables travelers to connect with local hosts and book home-stays instead of expensive hotels, saving them money and letting them "live like a local". Personal profiles and rating/reviewing systems help travelers make an informed decision about the hosts and what is on offer. Hosts too can choose who to rent out their space to. These help to build trust and reputation in the community.
Besides the travelers and hosts, Airbnb business model also includes a huge network of freelance photographers in all major cities of the world. They visit a property and get high-definition photographs of the property. These high-definition photographs improve the click-rate and help in getting more responses. Airbnb pays these photographers directly.
Airbnb vs. Uber vs. Oyo Rooms Business Model
On the surface, Airbnb, Uber and Oyo Rooms all employ the Aggregator Business Model but the differences arise when dug deeper. Uber has simplified the ride-hailing process, reducing the uncertainty of when and what type of car would arrive.Uber's business model is such that it acts as a middleman between the drivers and riders assuring an expected level of service. This is different from Airbnb business model which thrives on discoverability. The level of service is not standardised. The travelers are free to choose any listing of their choice after going through its reviews. While Uber too has ratings for both drivers and riders, neither are they as elaborate as those on Airbnb nor can a customer choose a particular driver of his/her choice. The most Uber can do is bar a driver or rider if his/her ratings are too low. Uber pays its driver partners through a fixed rate of commission for every ride.
Oyo Rooms' business model is based on standardization. Though both Oyo and Airbnb are in the business of providing affordable stays for travelers, Oyo itself does not strive to be the Airbnb of India. Its founder Ritesh Agarwal has time and again emphasised that he wants to build the Uber for hotels in India. Just like Uber, it guarantees a certain level of service to its customers. Customers book the rooms with the brand Oyo and not with the individual hotels. Unlike Airbnb business model, Oyo books a part of the hotel's inventory beforehand and organises those rooms under its brand. Oyo Rooms has also started leasing of hotels where it has the full control over the day-to-day operations of these establishments. Airbnb has no such control over the quality of the homestay. Also, while Airbnb's revenue model includes income mainly through commissions, Oyo earns through a take-up rate. Since they hire a part of the inventory of a hotel, they pay for it upfront and then offer these rooms to customers at different set prices. It also means suffering losses in case of unbooked inventory. Oyo focuses mainly on hotels and guest houses whereas Airbnb focuses mainly on homestays and allows people to rent out their house or part of their house to travelers, thus earning some extra income for themselves and enabling the travelers to experience the local culture of the place.
How does Airbnb Make Money?
The property owners are provided free listings by Airbnb and the travelers then browse the various properties in a particular location as per their requirements and budget. The booking and monetary transactions are carried out on the Airbnb platform. The company gets its share of revenue from these transactions through two sources:
Commission from Hosts/Owners
Airbnb deducts a flat 10% commission from hosts for every booking done through the platform. Hosts also have to pay a 3% fee for the processing of the payments of the guests.
Transaction fee from Travelers/Guests
6-12% of the booking amount is set as service fee by Airbnb for travelers for every confirmed booking. This fee is non-refundable.
Airbnb reasons that people can save money on booking fees if they book in large numbers.
Depending on the tax laws of the area, users are also charged a value-added tax (VAT). VAT is calculated on the final value of the goods and services. The tax laws vary from country to country and thus Airbnb does not charge VAT for every booking. Moreover, guests who pay in a different currency than the host has chosen are subject to varying exchange rates determined by Airbnb. Hosts are charged VAT based on the income earned from different bookings.
Airbnbmag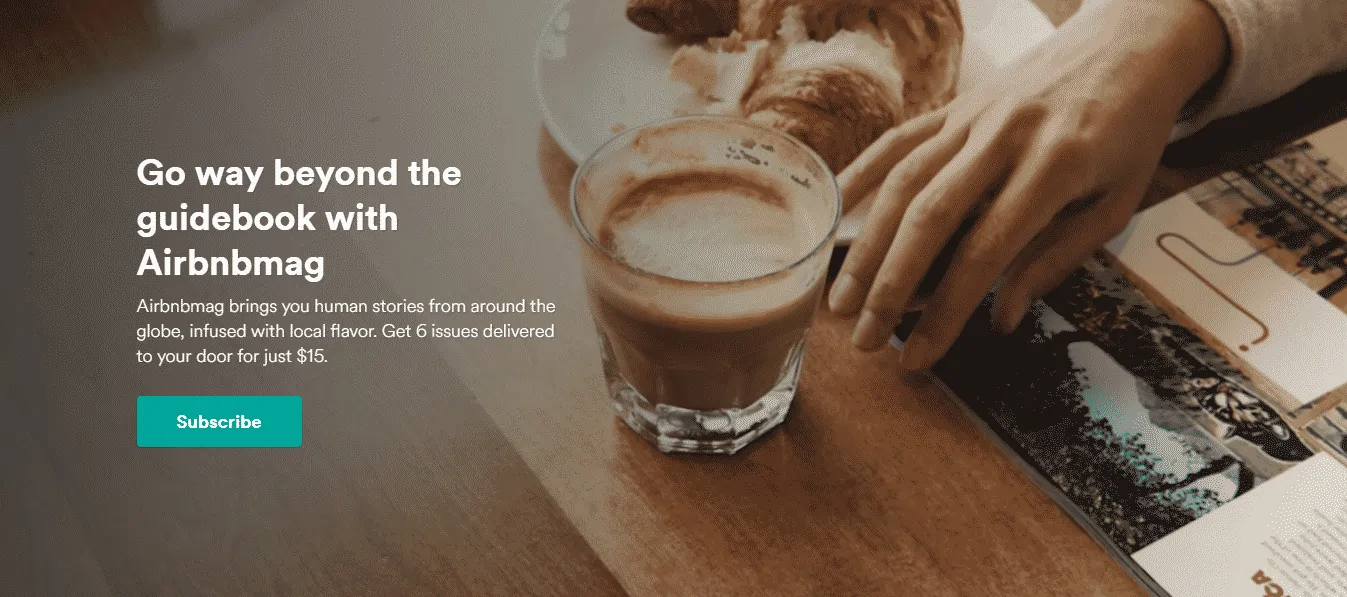 Airbnb has a vision to make travelers feel that they belong to the place they visit. This vision has made them add a new product to their business model – Airbnbmag, which is more than just a normal guidebook. This $15 dollar magazine is a result of partnership between Airbnb and Hearst and is designed to bypass the tourist stomping grounds and help the traveler uncover the place through the eyes of a local.
Business Travel
Airbnb business model also includes business ready homes that fulfill certain requirements for home type, amenities, check-in, reviews, responsiveness, and host commitment. This feature is designed especially for travel managers of the companies to provide better transparency and more accurate reporting for their company.
Challenges
Trust
In spite of providing insurance, trust remains the biggest challenge as the community keeps getting bigger with time.
Regulations
Many cities and countries have started bringing new regulations against renting of properties as they are being misused to avoid paying taxes.
Imitators
Local competition is a big threat and since local players understand the culture better, they have a slight advantage. They also have the first-mover advantage if they respond quickly to Airbnb's expansion.
The Future of Airbnb
Airbnb is a huge company today with presence in almost all the countries. The unique business model of Airbnb has proved to be very strong as people prefer Airbnb over hotels for affordable and comfortable stay in new locations. People get to experience local culture while paying significantly less. Airbnb has used technological innovation to build a platform that connects individuals across the world. It is the largest chain of properties today, without earning a single property. Airbnb's revenue continues to grow as the bookings keep increasing every day though it charges a minimal service fee.
Go On, Tell Us What You Think!
Did we miss something? Come on! Tell us what you think about our article on Airbnb Business Model | How Does Airbnb Make Money? in the comment section.
Product Guy. Introverted Marketer. Engineer by education. Movie and TV Geek by nature. Can be seen reading comics and non-fiction books when not binging on movies and Netflix shows. Pop-culture junkie. Out and out foodie. Wee bit self-obsessed."