On January 6, 2020, Paypal paid a whopping $4 billion to acquire Honey Science Corp., making it the largest acquisition ever made by the company. Honey had been operating under the radar since 2012, but this acquisition quickly turned the tables and exposed it to a glaring spotlight of both heightened interest and ethical scrutiny.
But what makes Honey so unique? How does this business deliver value to its customers and make money?
Let's find out.
What is Honey?
Honey is a free browser extension service that automatically finds the best possible deals (or coupons) on the web for a host of products you purchase from its partner merchant stores. It also has its reward program that gives customers points that can be transformed into gift cards.
The company was founded by entrepreneurs Ryan Hudson and George Ruan in November 2012. In just a matter of months, Honey went viral and acquired over 200,000 organic users (Spring 2013), which only kept increasing at an exponential rate.
Its meteoric rise paved the way for multiple funding opportunities. In the seed funding stage alone, Honey raised a $1.8 million fund invested by six leading investors in 2014. On January 6, 2020, Honey joined the Paypal family of business after an acquisition worth 4 billion dollars.
Honey Business Model
Honey follows an affiliate marketing business model – a model where a business earns a percentage commission per sales of a merchant's offering. As part of this revenue-making strategy, a small affiliate commission is transferred to Honey whenever someone uses Honey service (coupon or Honey Gold) to purchase an item from its partner merchant stores.
With this model, a Honey user can "pull coupons directly from the affiliate network as well as track sales, conversions, and commissions."
Hence, Honey delivers value to its customers in the form of savings or cashback. But who are these customers?
Who Are Honey's Customers?
Honey's target market comprises the eCommerce space, where buyers of products and services aim to save as much money as possible on any offering by finding the most cost-effective deals applicable to it.
Its customer is anyone who buys an item from one of Honey's partner merchants stores and avails Honey service by:
Finding a working coupon and applying it to the item before checkout, or
Redeeming a special electronic currency (called Honey Gold) that the company issues as a free reward system for certain purchases
Honey worked solely as an automatic deal finder at its launch. But as time passed, it came up with more ingenious solutions and offers to keep its customers and stand as a key player in the coupon industry.
What Value Does Honey Deliver To Its Customers?
Honey delivers a host of values to its customers with its suite of powerful tools. Following are the values that Honey delivers to its customers:
Save Money
A customer saves money by using a working coupon found by Honey before checkout or using Honey Gold – its proprietary eCurrency that translates to gift vouchers for its partner stores.
Save Time
With Honey, one does not have to scour through tonnes of coupon websites to find the best deal – it automates the entire process and does the work for its customers at the backend, thereby saving a lot of time.
Track Prices
Honey lets its customers track prices of the products they add in an electronic basket called Droplist. This way, they do not have to repeatedly go through the merchant store to check price-drop, but only wait for a notification from the software.
Smart Purchases
Users can maximize their savings by receiving prompts and notifications that provide additional saving opportunities like free shipping.
How Does Honey Operate?
Honey provides a host of offerings to its customers free of charge. These include:
Savings Finder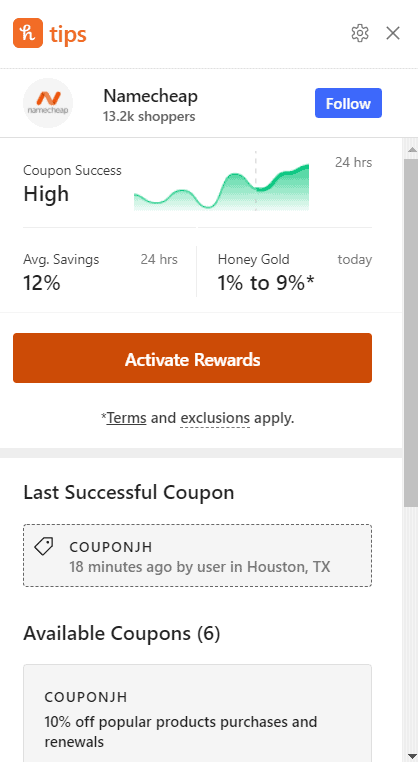 Honey's patented browser extension automatically finds and aggregates the best deals for its users before purchasing an item.
So, How does it work?
Before checkout, click on and run the browser extension to find the available working coupons. If found, Honey automatically applies the coupon and saves money.
Honey Gold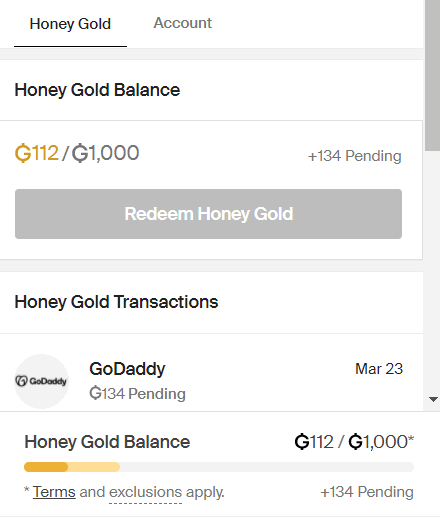 Honey Gold is a point-based reward that user receives when they purchase certain eligible products at select merchant stores. With Honey Gold, customers get a chance to not only find the best deal but also earn money. Partner stores like Macy's, Groupon, Walmart, and eBay use Honey Gold Program.
The Honey Gold program works by first showing the average percentage of gold earned per purchase from a partner store (that opted for the Honey Gold Program). Once an eligible item is purchased, Honey Gold is transferred to the user's account that can be later redeemed for special gift cards.
1000 Honey gold points can be redeemed for a $10 gift voucher at the selected stores.
Honey Offers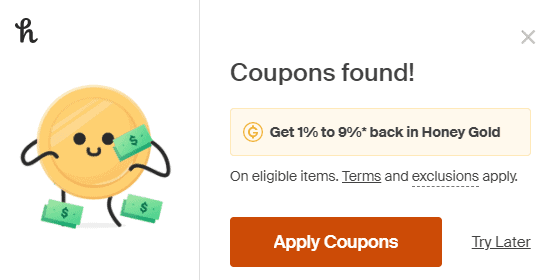 Honey Offers provide a mechanism to receive Honey Gold on the eligible items in the partner stores.
Honey Offers show the amount of Honey Gold that a user receives if they purchase a specific item from the partner store. Once the transaction is completed, Honey sends an email notification confirming the gold added to the user's account.
It must be noted that a partner store can exclude certain ineligible items from Honey Offer. These exclusions vary on a store-to-store basis.
Droplist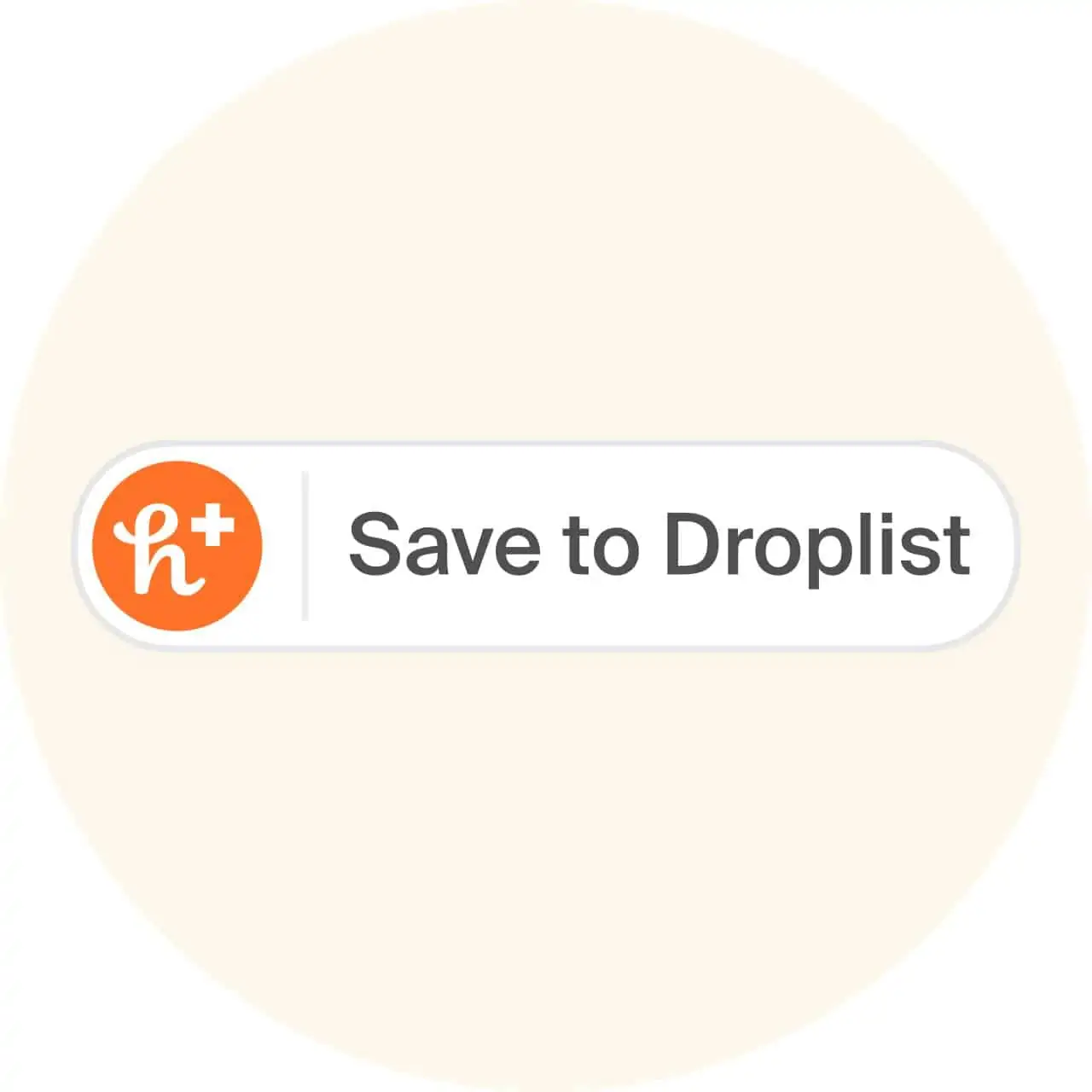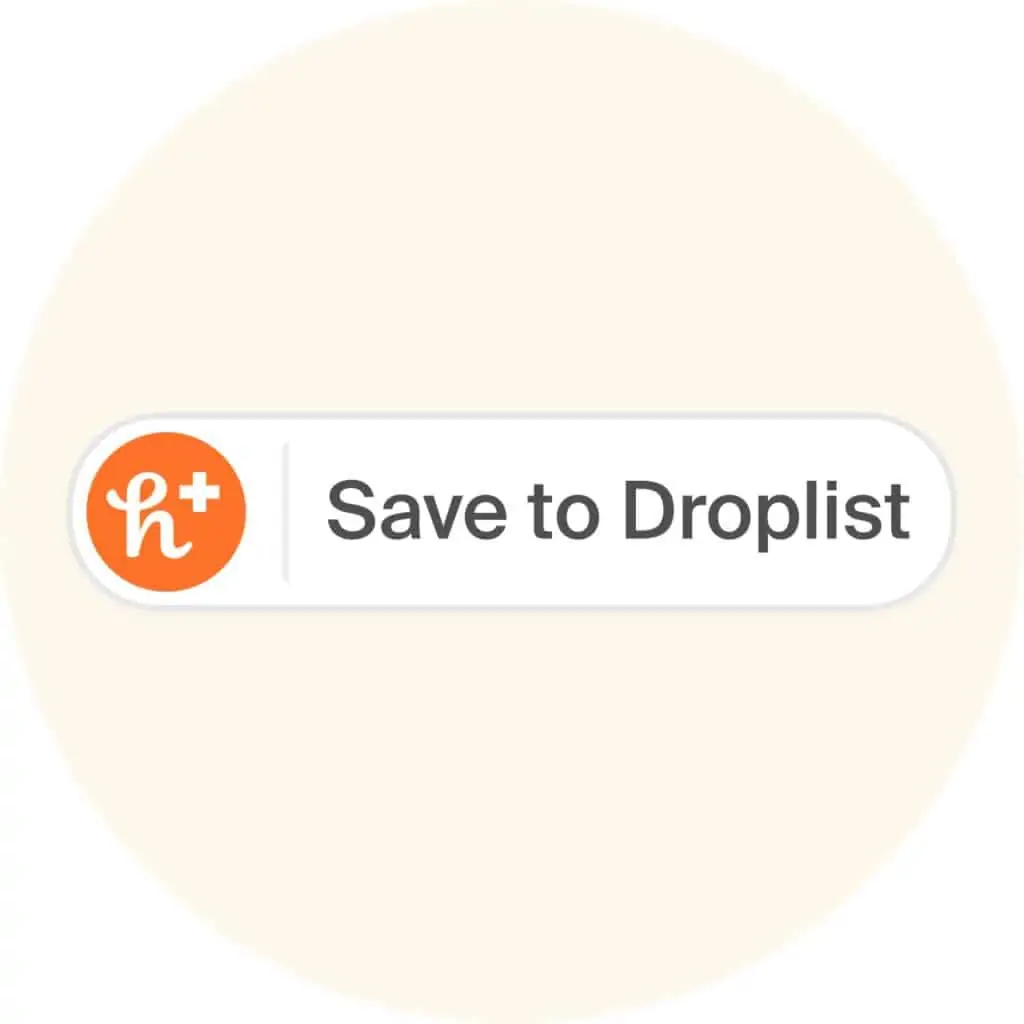 With Droplist, users can track prices of their favourite tools and receive timely notifications signalling price drop.
When a user adds a product to the Droplist, they also select a monitoring period across a 30, 60, 90, or 120 days window and choose the desired price drop (say, 10%).
Honey then sends an email notification when the price is dropped to the desired level within the chosen timeframe.
Smart Coupons
The smart coupon is another money-saving feature that provides a user with a smart prompt or notification before checkout to benefit from free shipping or higher net savings on additional purchases.
It works by sending a prompt or notification to a user with an additional savings option on their cart before checkout (if any such offer is available). A user may add more items in their cart to qualify for the offer, consequently saving a larger sum of money on their final purchase.
Honey Branded Coupons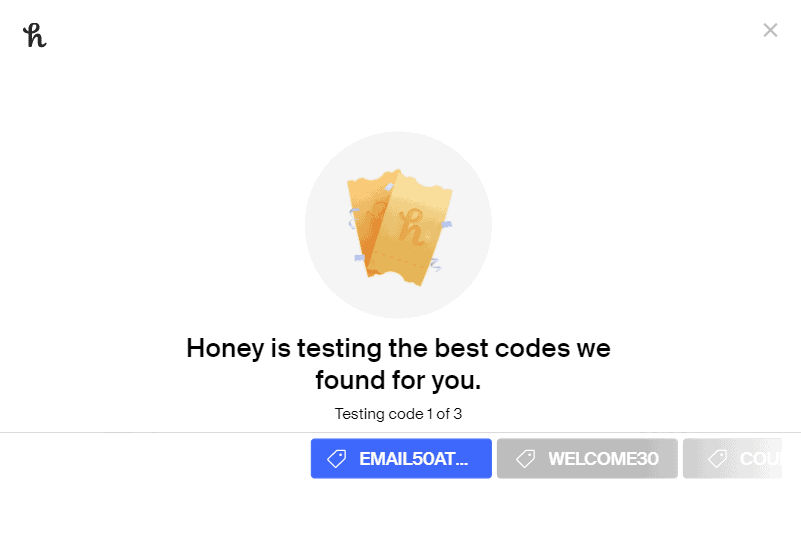 Honey-Branded coupons include the promotional codes and coupons that Honey provides to its users for the best deals.
A partner store may choose to create a Honey Branded Coupon to incentivise users to buy from them.
To avail this coupon, users have to run Honey's Savings Finder, and the Honey Branded Coupon can be automatically applied before checkout.
Honey Tips
Honey Tips provides users with useful analytical information regarding the Honey service on the partner merchant store.
When a user visits a partner merchant store, they see a notification window that includes general analytical information that optimizes shopping experience.
Tips include Coupon Success trends, average savings, Honey Gold cashback rate, last successful coupon codes, available coupons, and many more.
Who are Honey's key partners?
Honey works with the following key partners in its affiliate marketing business model:
Partner Merchant Stores
It includes merchant stores that partner with Honey to avail its offerings like Saving Finder, Honey Gold, Droplist, etc.
Honey works with 40,000+ partner merchant stores including Macy's, J. Crew, Lowe's, Adidas, Stubhub, Ulta, Target, Myntra, Sephora, GameStop, Nike, Pizza Hut, Make My Trip, and many more.
Affiliate Networks
Honey does not deal with merchants directly. Instead, it works with its partner affiliate networks to pull coupons, track sales, conversions, and commissions.
Some of the popular affiliate networks that Honey works with are Affiliate Future, eBay, Groupon, LinkConnector, Rakuten, and many more.
Marketing Partners
It includes marketing channels like Youtube that promote Honey's offerings to the intended audience.
Which channels does Honey use to deliver value to its customers?
Honey delivers value to its customers using its patented browser extension. In addition to that, Honey also runs a website that provides links to its partner merchant stores, live coupon codes, and many more to its users.
Besides, the Honey app is also available for Android and ios devices (availability varies from region to region).
How Does Honey Make Money?
While providing value to the customers in the form of savings, Honey has found its revenue model that's profitable and sustainable at the same time. The company makes money in the form of affiliate commissions.
Honey earns a percentage commission and makes money whenever a user uses Honey to:
Find and apply working coupons before checkout
Redeem Honey Gold in exchange of gift cards
The commission paid to Honey is performance-based and dependent on the contract signed with the partner merchant store.
However, Honey does not work directly with its partner merchant stores. Instead, it forms a so-called affiliate relationship through its partner affiliate networks to extract coupons and track sales, conversions, and commissions.
According to the company's website, "Honey requires a minimum of a 3% commission in order to partner with us which is applied to each purchase a member makes on your site. Honey requires a minimum of a 5% commission in order to for us to enable Honey Gold on purchases members make on your site"
Final Thoughts
According to Grand View Research, "The global honey market size was valued at USD 9.21 billion in 2020 and is expected to grow at a compound annual growth rate (CAGR) of 8.2%". This startling financial figure is attributed to Honey's innovative solutions that revolutionized the entire coupon industry and how the customers redeem money-saving benefits.
Since its acquisition by Paypal, Honey has made international headlines that concerned users with their personal information. However, in a statement released on their website, Honey has clarified that their privacy policy still applies and they are committed to their users' privacy.
Go On, Tell Us What You Think!
Did we miss something? Come on! Tell us what you think about our article on how does Honey make money in the comments section.
Data science enthusiast, bibliophile, and an obsessive reader. Always down for a conversation on technology and a cup of coffee.