Groupon, the fastest company to reach $1 billion valuation milestone, is the pioneer of online deals revolution. The company has well positioned itself as a hyperlocal online platform where users discover and save on things to do, see, eat and buy which makes it fairly easy to guess that Groupon makes money as a middleman by connecting connects local businesses to customers.
But there are many layers attached to it.
The company has been in business since 2008 and the well renowned Groupon business model has changed substantially since then.
What is Groupon?
Groupon is a hyperlocal online platform which connects customers to local businesses by offering them deals at low prices.
The company was started by Andrew Mason with an aim to provide group discounts (hence the name Groupon, group + coupon) but soon changed its operating model to be an e-commerce marketplace that enables local businesses and customers to discover and engage with each other.
Groupon Business Model
Groupon business model has substantially developed over time. The company is a marketplace, just like Amazon or Alibaba, but at the same time it operates differently from a usual marketplace.
Intrigued?
Groupon is the marketplace of deals. The products and services listed on the website are offered at huge discounts and are referred to as deals and the company capitalizes on the scarcity principle to sell them.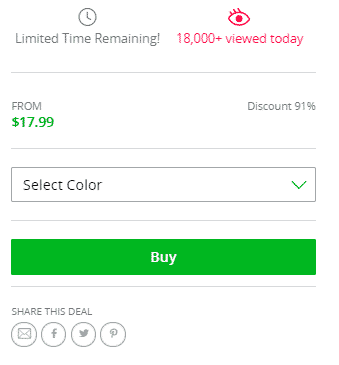 How Does Groupon Work?
Groupon's operating model is pretty simple. It sells deals and discount coupons to customers and earns revenue as commissions for every customer referred to the merchant.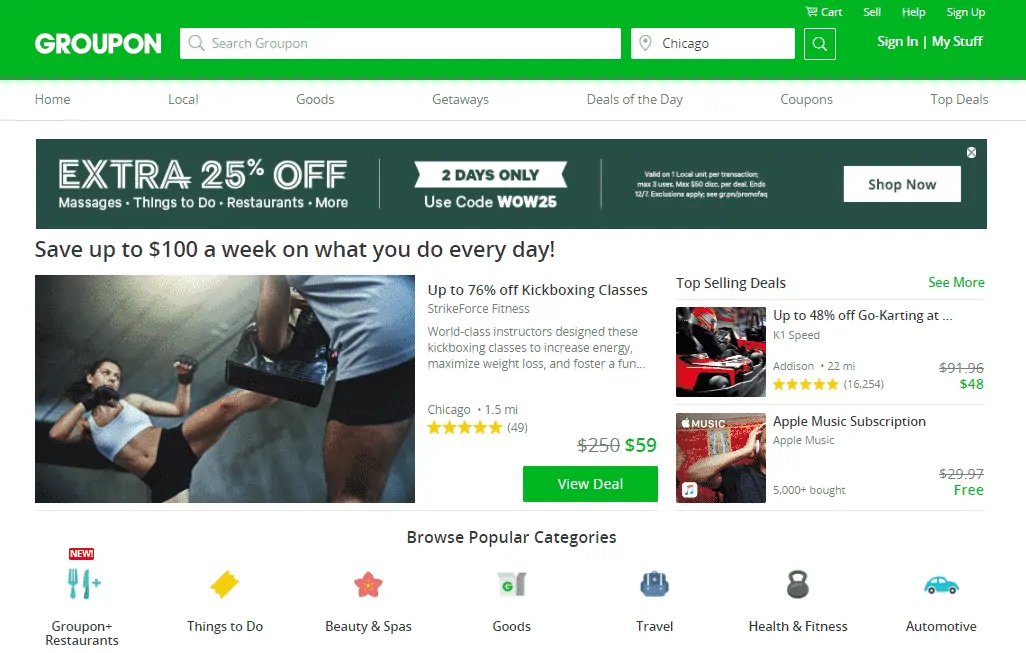 How Does Groupon Work For The Customers?
Groupon is a free deals marketplace which lets customers explore and save on products and services offered by the local businesses. The platform also enhances users' experience by using targetted advertisements and personalized emails which lets them save more on their purchases.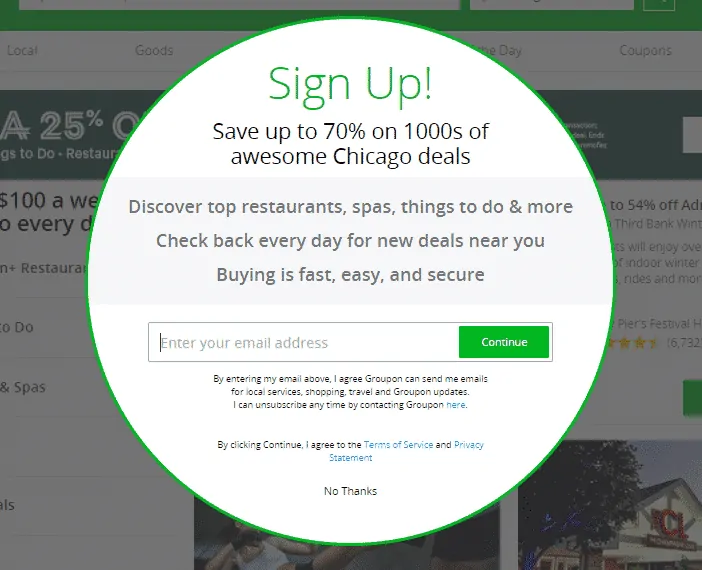 Customers purchase these deals and discounts in the form of electronic coupons which can be redeemed at the merchant's website or servicing area.
Groupon's target audience includes early adopters with highly affluent and disposable income and urban women with a college degree.
How Does Groupon Work For The Sellers?
Groupon brings more customers to the merchants and charges them commissions for the same.
Merchants benefit from partnering with Groupon as not only do they get more customers, but stats say that around 78% of the customers referred by Groupon are likely to visit the merchant again.
The company has worked with over 1 million merchants till date.
Groupon Revenue Model
Groupon has a well-designed revenue model where it earns money from merchants in the form of commissions by providing them customer and marketing tools.
How Does Groupon Make Money?
Groupon makes most of its revenue by marketing and promoting businesses on its website. The platform acts as a middleman between potential customers and the merchants and charge commission on every customer referred to the business.
But this commission revenue model isn't as simple as it seems.
Suppose a merchant 'XYZ' runs a campaign on Groupon to offer his $100 service at 50% off and signs a 50-50% revenue sharing contract with the company. This means for every deal sold on Groupon, XYZ earns $25 dollars and Groupon earns $25.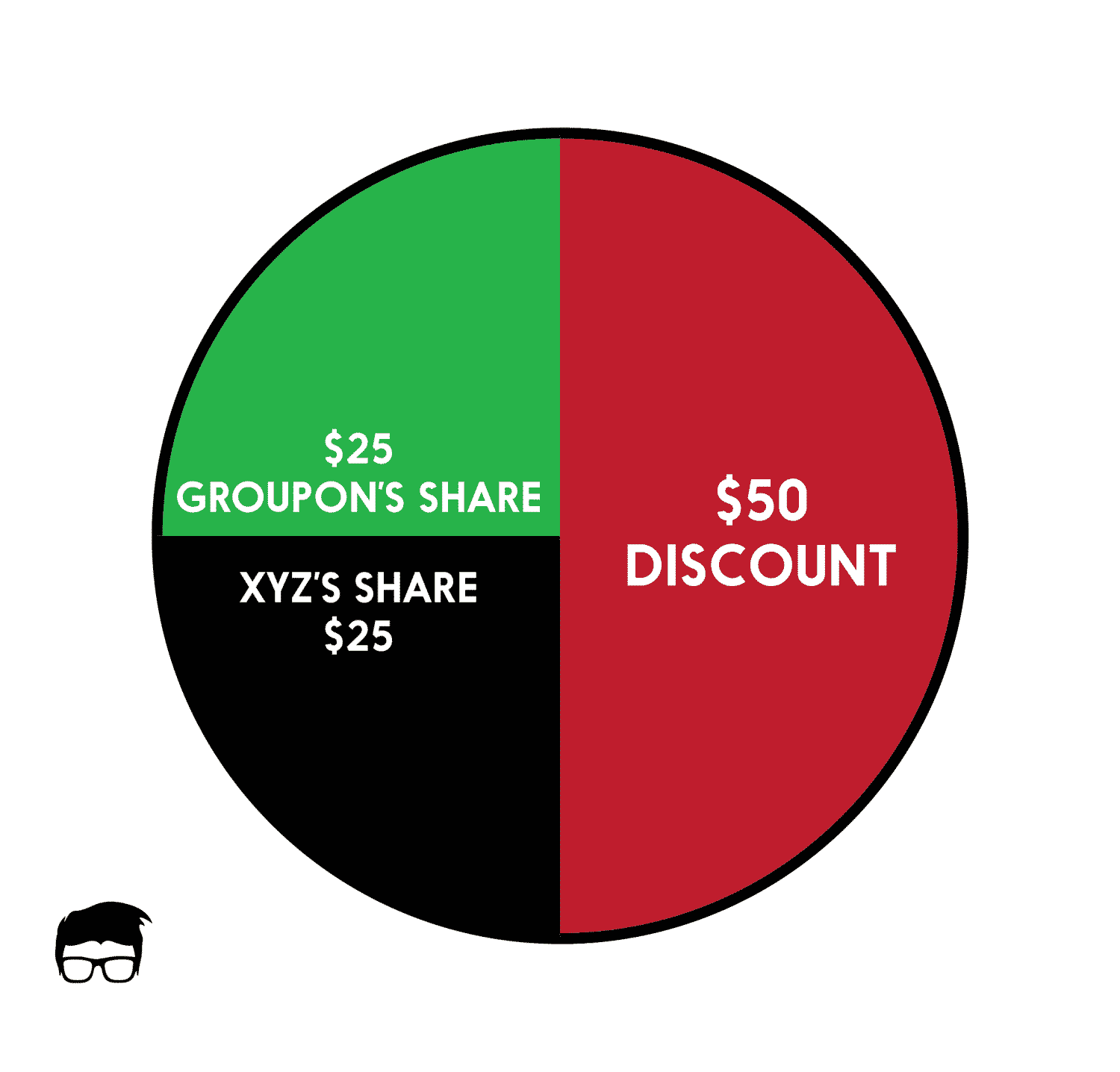 But Groupon only shares the revenue of the deals redeemed at the merchant's store and not the total amount of deals sold. That is – if out of 100 deals sold by Groupon, only 70 were redeemed:
XYZ earns: 70*25= $1750
Groupon earns: (70*25) + (30*50) = $3250
The revenue sharing percentage depends on the negotiations and the marketing tools utilized by the merchant. These tools include product promotion, advertisements, deal of the day listings, etc.
Sources Of Expenses For Groupon
Cost Of Acquisition (Merchants)
This is one of the most expensive tasks for Groupon as the company signs a different contract with different merchants. This is also one of the business aspects where economies of scale don't work. Every new market is tapped separately by the company.
Marketing Costs (Cost of acquisition of customers)
Everyone would agree that the ultimate source of income for Groupon is the customers referred to the merchants. The marketing costs include costs to acquire such customers. These are email marketing costs, referral bonuses, advertisements, etc.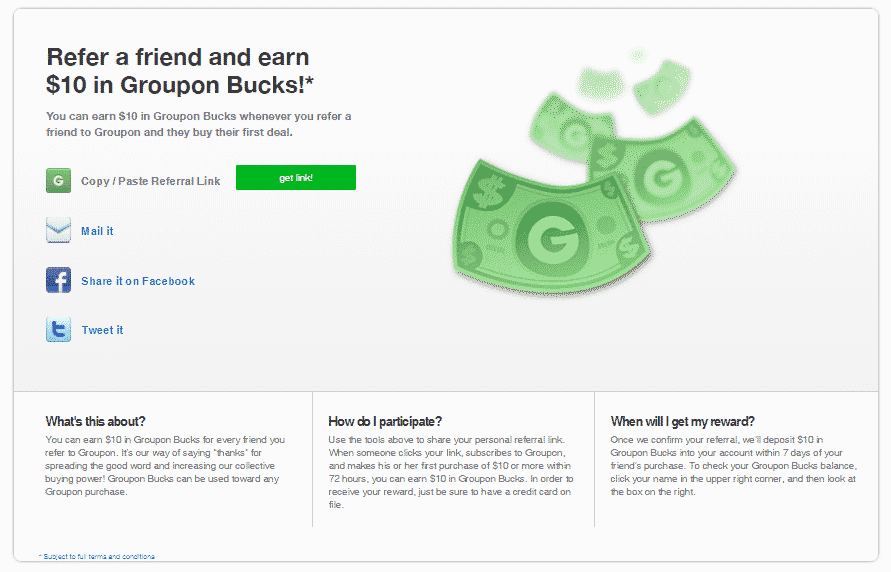 General & Administrative
This includes compensation to the employees of administrative departments and other legal and accounting expenses.
Is Groupon's Business Model Sustainable?
Groupon business model has evolved from a model which utilized economies of scale and economies of networking where the discount was only available if a certain number of people signed up for it to a marketplace where deals are bought and sold.
This new business model is a win-win model for the company as well as the merchant where the merchant gets more customers which tend to visit again (~78%) and Groupon gets more customers by providing more and better deals.
Go On, Tell Us What You Think!
Did we miss something?  Come on! Tell us what you think about our article on Groupon Business Model | How does Groupon make money? in the comments section.
A startup consultant, digital marketer, traveller, and philomath. Aashish has worked with over 20 startups and successfully helped them ideate, raise money, and succeed. When not working, he can be found hiking, camping, and stargazing.