Whether you want to create a logo for your new brand, articulate your thoughts into an eloquent presentation, or make a lasting first impression with a professionally designed resume, Canva has got you covered.
Canva has become the go-to place for non-designers who want to visualise their thoughts and create a design without any prior skill-set. The tool is used by everyone willing to design, be it a social influencer, a company executive, or a high school student. It has a business model that allows the software to be used directly in the web browser, and it focuses on catering to its users' needs whether or not they're fluent with design knowledge.
But what makes Canva so unique? How does Canva make money?
Let's find out!
What Is Canva?
Canva is a design SAAS platform targeted towards non-designers helping them in developing digital and non-digital designs with ease. Unlike Adobe, the user doesn't need a specific operating system or heavy machinery to use Canva. The platform can be easily accessed from a browser.
The platform has several features including various templates for presentations, social media posts, resume, brochures, invitations, certificates, newsletters, etc. The user interface of Canva includes a drag-and-drop editor that makes it extremely easy for the consumer to use the platform without any training. Furthermore, Canva allows users to print and publish their designs on various social media platforms without much hassle.
Canva was launched in 2013, but the company's journey began in 2007 when Melanie Perkins and Cliff Obrecht started fusion books – a web app to help students and teachers design their yearbooks. This web app later blossomed into Canva, which is valued at USD 15 billion as of April 2021. The company is seeing exponential growth in its user base, with over 30 million active users across 190 countries (as of June 2020). Also, around 80 designs are created using Canva per second!
Canva Business Model
Canva operates on a unique SAAS business model that uses a freemium revenue model to market, attract, and convert leads.
Who Are The Customers Of Canva?
Canva's primary target audience includes people who aren't professional graphic designers. Such people do not have the time to learn complex design software tools such as Adobe Suite or the money to hire a designer or a freelancer.
Today, the competition has made it imperative to have a good design if you have to stand out. Canva capitalised on this rising need with a business model that disrupted the design industry completely.
What Is The Value Provided By Canva?
Canva empowers the consumers to easily turn their ideas into beautiful visuals without much hassle or training. The ease of designing makes the consumers choose Canva over complex design tools such as Photoshop, Illustrator or Figma. If someone had to learn only the basics of design using Adobe, it would take a lot of time, energy and training. But, with the onset of Canva, designing has become easier than ever. Even a beginner can easily create a beautiful and professional visual within minutes. Canva provides some unique features to its consumers that make the process of designing quick and fun :
The drag-and-drop user interface makes it incredibly effortless for the users to design and create on Canva.
The visual aspects like different fonts, colours, frames and filters make the designs look professional.
The variety of pre-designed and ready-to-use templates minimises a user's workload and saves a lot of time.
Canva's Operating Model
Canva provides value to its customers by allowing them to easily design and create even if they have no prior training or experience in the field. But how does Canva deliver value to its customers? Canva has a perfectly designed user interface that allows its users to:
Customise different templates according to their needs.

Upload and insert various shapes, graphs, pictures, text, audio and videos using the drag-and-drop editor.

Save, print and publish their designs in different sizes and formats.

Create a Brand Kit that allows users to "set-and-forget colours, fonts and logos".

Create a team that allows the users to collaborate and coordinate with the team members. In the free version of Canva, there can be up to 3000 members in a team and 20 teams in all.

Edit pictures using various filters and effects.

Canva's Key Channels
Canva is available for Windows, macOS, Android and iOS. Since Canva is a SAAS platform, users don't need to purchase the license or download the software in their systems. The platform is provided on their cloud as a service. This SAAS model allows the consumers to sync up multiple devices with Canva and work however and wherever they want.
Also, the users can download the app developed by Canva on their mobile phones. The application is available on Appstore as well as Playstore.
What Are The Key Resources Used By Canva?
The primary resources that allow Canva to deliver value to consumers are its designers who create various templates and designs and developers who develop and the platform's technical features. These are the people who work behind the scenes so that the user can have an amazing experience while using Canva.
Who Are The Key Partners Of Canva?
The key partners of Canva enable and help the company to deliver value to its consumers. Canva has a range of partnerships across different industries. Because of these partners, the tech unicorn can provide excellent products and services to the consumers and increase its reach. In 2020, Canva's US partnership network expanded as the company collaborated with more than 40 new ventures across 18 new countries.
So let's take a look at the key partners of Canva:
Print Partners: Canva has several print partners including FedEx Office, OfficeDepot, Staples Canada, KiaKia, Kmart, TradePrint, and Zoomin. The print partners help Canva to print and deliver various products to the users. They achieve this by allowing the consumers to design their websites using Canva and then place the orders.
Digital Partners: The digital partners of Canva include HubSpot, Wattpad, PandaDoc, and Bukalapak. The digital partners help their consumers to design easily by imbibing Canva into their own platforms. This helps Canva increase its reach and popularity. The partners also benefit as they provide more value to their users by allowing them to design and create easily.
Pre-install partners: currently, Samsung is the pre-install partner of Canva. The pre-install partners promote the company by preloading Canva on their devices, be it android, iOS, PC, laptops or tablets. This way, whenever the consumer purchases such a device, they would be familiarised with the software and would be compelled to use it.
App Partners: Canva also offers an app development platform to developers by providing them with Canva API. The developers can use this to integrate third-party tools and to add even more features to Canva.
How Does Canva Make Money?
Canva operates on the freemium SAAS business model, where it provides the main product to the consumers for free. But to access certain add-on features that enhance the experience, the user needs to subscribe to premium plans. Canva offers three different pricing plans – the free plan, Canva Pro and Canva Enterprise.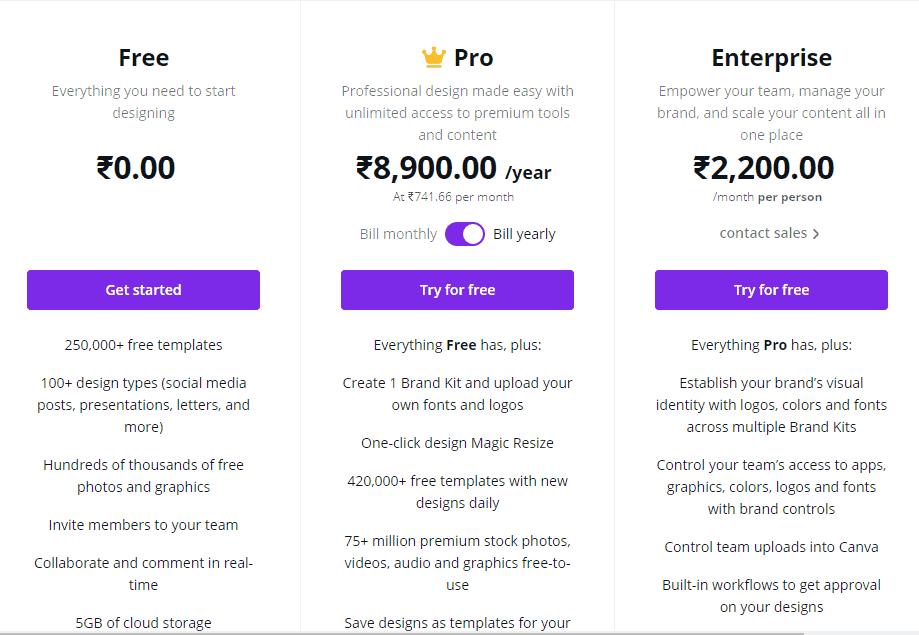 Canva Free: In its free version, Canva provides its users with 250000+ design templates, 100+ design types, thousands of free pictures and graphics and 5GB of cloud storage. The user can also create 20 teams in all with 3000 members. This plan is suitable for beginners and non-professionals who use Canva for their personal needs.
Canva Pro: This plan is priced at $12.99 per month per user. This plan provides the user with some add-on features along with the basic features. These features include- 420000+ design templates, 75+ million premium stock photos, videos, audio and graphics, and 10GB of cloud storage. Canva also allows the pro users to create a 'Brand Kit' and upload their own fonts and logos. The pro plan is more suited towards professional designers or small teams who wish to collaborate and coordinate by working together. Canva also provides a 30-day free trial to its users in an attempt to lure them into buying the plan.
Canva Enterprise: this plan is currently priced at $30 per month per user. This plan includes all the features of Canva pro, and it also allows the consumers to create and publish social media content directly from the Canva Editor to 7 different platforms. Besides this, a user can get approvals on their designs using the built-in workflows, control what team members can see, access, and upload in Canva, and unlimited storage. The consumers also have access to 24/7 enterprise-level support to help them with any problems they face. Canva provides a 30-day free trial for this plan as well.
One thing that sets the company apart from other freemium platforms is that Canva offers free subscriptions of Canva pro for non-profit organisations and special education programs for students and teachers.

Apart from the subscription plans, there are some other sources through which Canva makes money:
Print Service: Canva also offers printing services to its consumers. The user can get his designs printed and delivered to his doorsteps with just a few clicks. Canva Print ships to more than 30 countries around the world. The price varies according to the kind of article and the country.
Design School: Canva's design school is a series of courses covering all aspects of design, social media marketing and branding. The online courses are provided free of charge by Canva, and the physical courses start from as low as $5. These courses are primarily designed to make the user well-versed with various features of Canva and partly to promote the platform.
Canva Marketplace: Canva also earns through a design marketplace where users can purchase designs for one-time use directly on Canva. These designs can be purchased by users who have not subscribed to the pro or enterprise plan. These designs are available for as low as $1. In return for providing a platform to the designers to list their designs, Canva charges a 35% commission for each design sold.
Thus, apart from a freemium model, Canva also works as an online marketplace.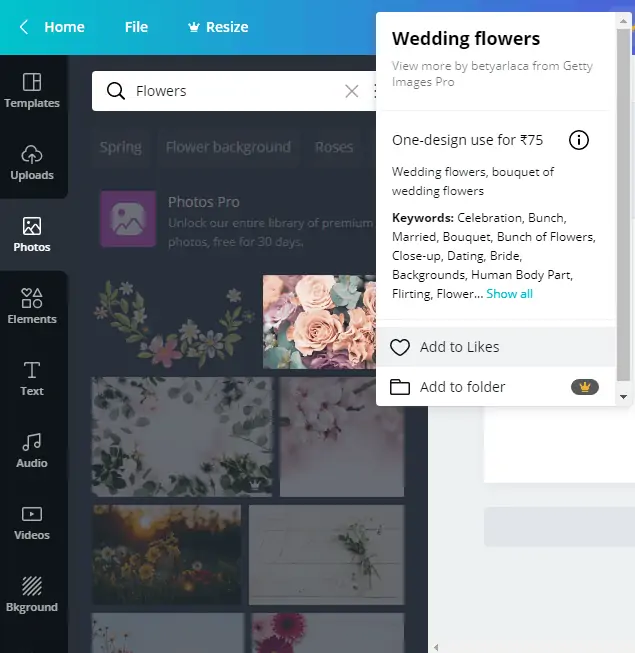 What Makes Canva Unique?
Canva follows a straightforward approach and operates on a simple business model where it provides a platform where even those with minimal designing skills can visualise, design and create. The tech giant's success can be attributed to its ability to attract and retain customers by providing them with an excellent experience.
Canva's user base has increased to the extent that even if a small percentage of its users opt to purchase the paid plans, the company covers its operating costs and generates revenue. In 2020, when the world was trying to overcome the pandemic, Canva generated $500 million in annualised revenue.
The USP (Unique Selling Proposition), that makes Canva even more appealing to the consumers, is that it provides almost all of its services for free. The marketing strategies used by the company like the Canva Affiliate program, the free design courses or the 30-day free trial period work as add-ons and help the company grow and gain popularity.
Go On, Tell Us What You Think!
Did we miss something? Come on! Tell us what you think about our article on Canva business model in the comments section.
An enthusiastic human being with determination and zeal to explore new ventures. Tanya is an entrepreneurial spirit searching for changes and learning to exploit them as opportunities and impacting people for good.