You might have a perfect offering ready for the market. But convincing the market to accept and buy your product is another uphill struggle. You need to look for customers who are interested in buying your offering.
But the problem is, customers find it hard to trust new brands. The bigger problem is that 81% of the customers need to be able to trust your brand before buying from it.
This makes the customer acquisition process even more demanding.
But what exactly is consumer acquisition and how does it work?
Is it just communication through emails with the customers, making them aware of the brand, or is the customer said to be acquired when they actually pay for your offering?
Let's find out.
What Is Customer Acquisition?
Customer acquisition is a process of bringing potential customers and convincing them to buy your product(s). It includes all the techniques which focus on identifying prospects, converting them into leads, and making them pay for the final offering.
The goal of the customer acquisition process is to build a viable and systematic strategy for acquiring customers and, at the same time, to lower the cost of the process.
The industry market is dynamic. So, you need to form a strategy that is sustainable in the long run and can adapt to industry trends easily.
But how do you start?
You develop a customer acquisition strategy that is:
Systematic: The process should be well-defined, backed by sufficient momentum to keep it going
Sustainable: It should be able to sustain the business for the long run and evolve with new trends and changes.
How Does Customer Acquisition Work?
Before developing a systematic and sustainable customer acquisition strategy, you need to understand how customer acquisition processes work. But before we do that, let's clear one confusion –
Customer acquisition isn't just lead generation.
Even though customer acquisition starts with lead generation – making the unaware target audience aware of the offering, building their interest, and gaining their trust; it doesn't stop there.
The customers go through what is known as a customer acquisition funnel. It is wide at the top and narrows down as weaker prospects slowly pull out.
Awareness: You introduce your offering to a large audience for the first time and make them aware of it.
Interest: Once the customer is aware, you ensure that your offering manages to distinguish itself. It should attract the customers and develop their interest.
Consideration: Interest is further nurtured into consideration by using attractive strategies to make the customer consider your offering over other alternatives.
Intent and evaluation: When your products are showcased in a better light, the prospects show their intent to buy. But before that, they evaluate it to make sure it satisfies their needs.
Purchase: Once the evaluation is complete, the lead converts into a paying customer, and another journey begins.
In simple terms, customer acquisition refers to converting an unaware business prospect into a paying customer by using several acquisition strategies.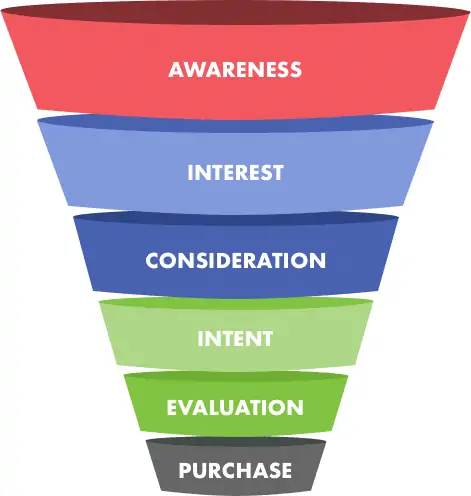 To make this work, you –
Define The Target Audience
Your target audience is the set of all the prospective customers who face the problem you intend to solve. Briefly, everyone who may end up purchasing your offering is your target audience.
Start with defining this customer persona. Once you're done, segment the market into people who would be most willing to purchase your offering, followed by less willing and so on. You start by targeting the most willing segment to achieve maximum sales.
Suppose you plan to offer weekly, monthly, and yearly gym memberships; you would want to target athletes and regular sports enthusiasts who would be the most willing to avail of the offering, followed by those who frequently workout followed by those who rarely ever workout.
Understand Your Customers' Objectives And Buying Behaviour
You have a target audience, but you need to understand what the customer expects from your offering before proceeding. You need to evaluate:
Why would the customer purchase your offering?
What's the use-case of your offering?
What all stages do the customer goes through before making the purchase decision?
What parameters does the customer consider before buying your offering?
Before you develop a customer acquisition strategy, you need to predict your customer's purchase funnel and purchase journey to understand the stages they go through before making the final decision. This will further help you build your customer acquisition strategies that cater to your customer at every funnel stage.
Let's say the target customers of your gym – athletes and sports enthusiasts – start their buyer's journey with a Google search of "Best gym near me" followed by reading the reviews, and then visit the gym to see if they can get any offers.
If you already knew this drill, you would target them on Google using SEO first, followed by social validation, and then offering them special discounts when they visit.
Set The Goals
Once you understand your customers' expectations, you need to set goals to track your progress as well. Then, you need to align these two for the best results.
There should be long-term, growth-oriented goals, and there should be short-term, conversion-oriented goals. But for both, you need to define measurable results that you wish to achieve after a specific time period.
Your goals can be as simple as achieving at least 1000 subscribers by the end of the month or attaining a profit margin of 20% by the end of the year.
Having set goals makes it easier to evaluate if your strategies are working or not.
Define Acquisition Channels & Strategies
Acquisition channels are a set of methods meant to acquire new customers. Once you predict the journey your customer may take before the purchase, it's time to choose the best-suited channels to target them at suitable times.
Proven Consumer Acquisition Strategies
Several strategies can help you acquire customers. But you have to choose the best one that aligns their goals with yours.
Let's have a look at some of the popular ones.
Content marketing
What: Content marketing is a marketing technique that requires the marketer to provide valuable content to the audience at every stage of a purchase. The content is not meant for promotion but to stimulate interest and answer the questions of the customer.
Objective: The customer has many questions about the offering they wish to purchase. With the advent of the internet, they tend to satiate their need for information by consuming content at every purchase stage. Content marketing aims to create content for each stage to develop brand image and foster loyalty.
How: You understand the audience's intent at every stage and try to satiate their information-related need by developing content they can consume. For example, before buying a smartphone, an average customer starts their journey with a Google search with keywords "Smartphones under $$$", "Best camera smartphones", "Best performance smartphones", "What to look for before buying a smartphone", etc. As a content marketer, you can target these keywords and write blog posts or create videos to help them satiate their need and build your brand image. Similarly, you could repeat the drill for the following information-related requirement as well.
Why: Answering the customer's questions builds their trust in the brand and gives the marketer the authority to drive sales. This acquisition strategy helps build a brand image during the early stages of the funnel, which the customer remembers during the later stages – when he makes the purchase.
Example: Hubspot is a tech company offering marketing-related SAAS. The problem is that it isn't the only one in the market to do so. So, to stand out and build its name, it realised that customers wanted more than just marketing tools. They want to learn more about marketing before using such tools. Hence, the company started content marketing, where they blogged about marketing fundamentals on their blog. This helped the company gain thought leadership, build a brand, and get around 6 million traffic per month on their website. The company further use lead magnets and email marketing to convert these prospects into paying customers of their SAAS.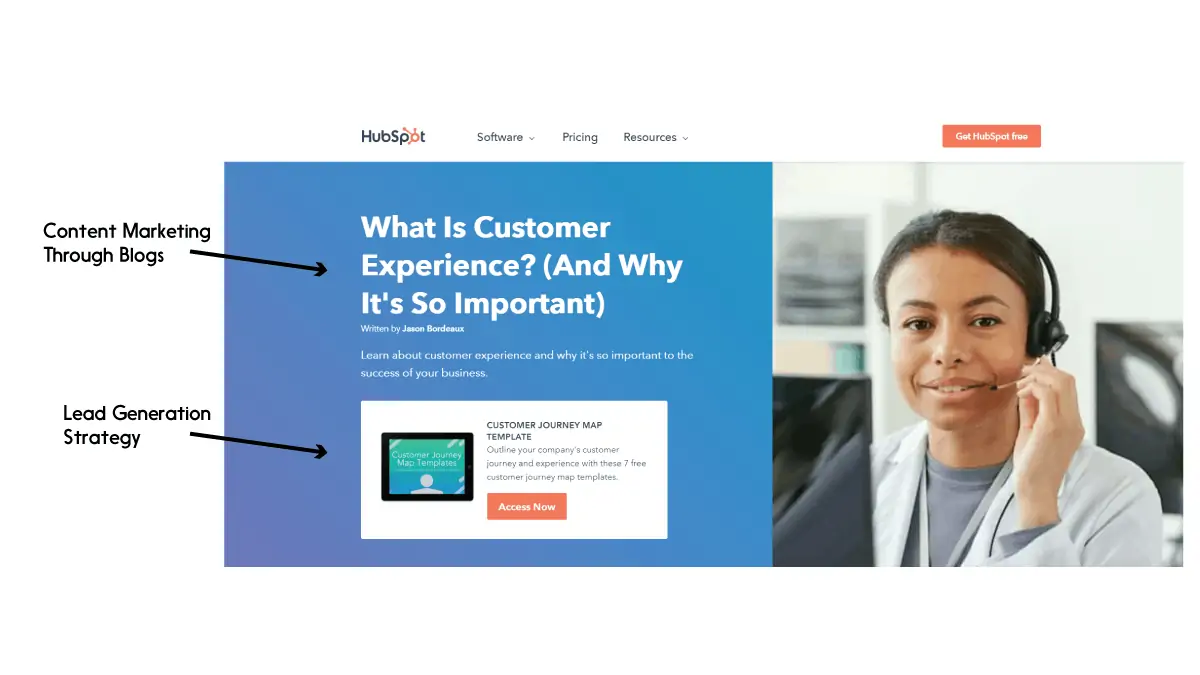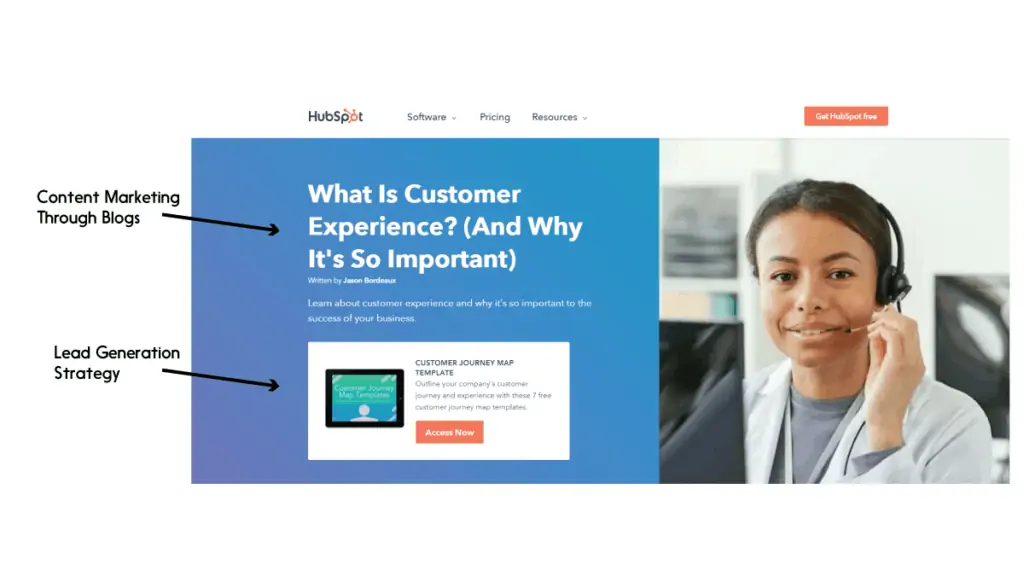 Social Media Marketing
What: Social media marketing uses social media platforms to interact and engage with prospective customers on their preferred social media channels.
Objective: Social media marketing aims to tap every platform where your target audience is present. You either target them organically by capitalising on trends and engaging with them or using paid ads that align with your buyer's funnels strategies.
How: SMM involves two types of efforts – organic and paid marketing.'
Organic social media marketing involves the brand to be as active on social media as their customers are. It involves developing content that's relevant and engaging. It requires you to follow the trends and meet customer's expectations in terms of content so as to make them stop, look, and share your efforts with others. Usually, organic social media marketing is used more in the early stages of the buyer's funnel – to build brand awareness and brand image.
On the other hand, paid social media marketing is more action-oriented. It requires you to target specific audiences based on their persona, interests, and objectives. You use paid SMM to target users based on every stage of their purchase funnel. Different stages require different creatives and copy. Suppose you sell a remote team SAAS. Your copy and creative for bosses who are unaware of such software would differ from the copy and creative of social media marketing ads for people already looking to buy such software.
Why: Social media platforms are where your customers spend most of their time. You need to make sure to make your mark at this domain and use this domain as a channel to fulfill your marketing and sales goals. These platforms a great for interacting and engaging with your customers and build image and loyalty. Good strategies may even help you take advantage of referral marketing and word-of-mouth marketing.
Example: Apple's #ShotOnIphone is one of the best social media marketing examples that not only helped the company gain brand awareness but even helped it gain more customers. The campaign revolved around showcasing photos taken on iPhones to prove that people do not need other cameras to take pictures or videos as long as they have their iPhones. The company encouraged its customers to showcase their photos and videos using the hashtag #ShotOnIphone, which made other non-iPhone users feel FOMO. This strategy, in turn, resulted in not only brand exposure but also more sales. The thing to ponder about is that this marketing strategy was not limited to just organic posts. The company even created ads out of the user-submitted videos and targeted them to non-iPhone users on social media platforms.
Search Marketing
What: Search marketing is a marketing strategy used to drive visitor traffic to brand websites through search engine results pages (SERP).
Objective: The majority of your customers' online journey begins with search engines. Search marketing helps you acquire prospects, leads, and even paying customers by capitalising on their search intents either organically or by using paid ads.
How: Just like social media marketing, search marketing involves the use of both organic and paid strategies. Organic search marketing is referred to as search engine optimisation, and paid search marketing is search engine marketing.
Search Engine Optimisation or SEO is used to improve organic search visibility for the keywords you target. Just like content marketing, you target keywords that the customer searches for during their buyer's journey, and you develop content to satiate their needs. This content can be information-oriented, navigation-oriented, or transaction-oriented. For example, suppose you sell washing machines. In that case, you might develop content that focuses on the keyword "what to look for while buying a washing machine" or "Samsung washing machine vs 'your company's' washing machine" or "buy 'your company' washing machine online". However, SEO isn't a one-timer project. It's a recurrent activity that requires you to optimise your content on-page, off-page, and even optimise your page technically to convince search engines that your content is best suited to be at the top. Here's a guide that we wrote on how you can use SEO to get the best results.
Search engine marketing or SEM requires you to pay for ads to appear as search results on top of the search engine results page (SERP). Through SEM you target selected keywords that the user searches throughout their buyer journey. Moreover, you also develop landing pages for such ads as users have different intentions at different purchase funnel stage. SEM is similar to SEO, but you pay the search engine to rank you at the top.
Why: Increased search visibility while the customer surfs the internet helps you to reach a specific audience based on their intentions. You can directly connect with the audience and maintain authenticity.
Example: Visme is an excellent example to understand customer acquision through search marketing. The company offers a presentation and visual designing SAAS and acquires most of its customers using search marketing. You'll see two Visme results at the top of SERP when you search for "Online presentation software"- one being the result of SEM efforts and the other being SEO.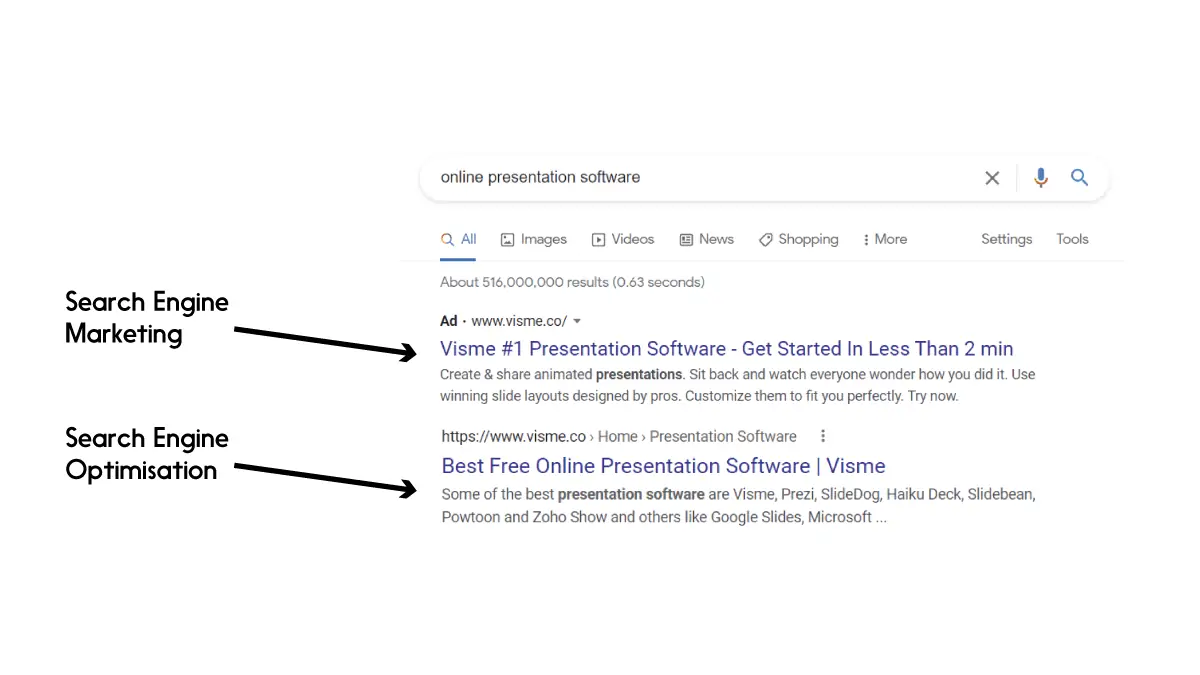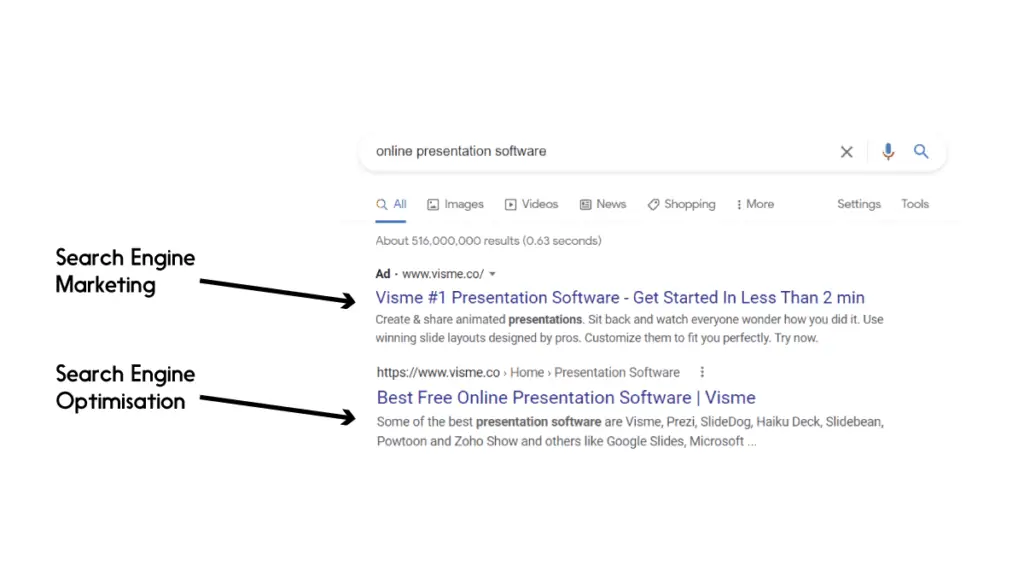 Referral programs
What: Referral marketing refers to using marketing tactics that incentivise existing customers to refer new customers to the business.
Objective: This strategy uses the existing customer base to create a network effect and bring in new customers to the business using their convincing power. Instead of reaching out to the new customers yourself, you reward existing customers to refer your business to their friends, family members, and others.
How: Referral marketing campaigns work by converting existing customers into a volunteer marketing army. It provides attractive benefits like discounts, gifts, or even bank deposits to the existing customers when any of their referrals register for the offering or pay for it. Suppose you offer career counselling courses online. Paid advertising and promotion won't do as much as a personalised recommendation from your existing clients. You wish people to know about the quality of services you offer which needs referrals.
Why: According to a Nielsen study, 92% of consumers believe in suggestions from friends and family above other forms of promotion. This makes referral marketing an important customer acquisition strategy in industries where there is a lot of competition and mistrust.
Example: The app Clubhouse made perfect combination of referral marketing and scarcity principle to build anticipation and get more users on board. You can register for the application only if someone invites you to join the same. Once joined, you get a limited number of invites to invite your friends and family for the same. In return, you get credit for the same.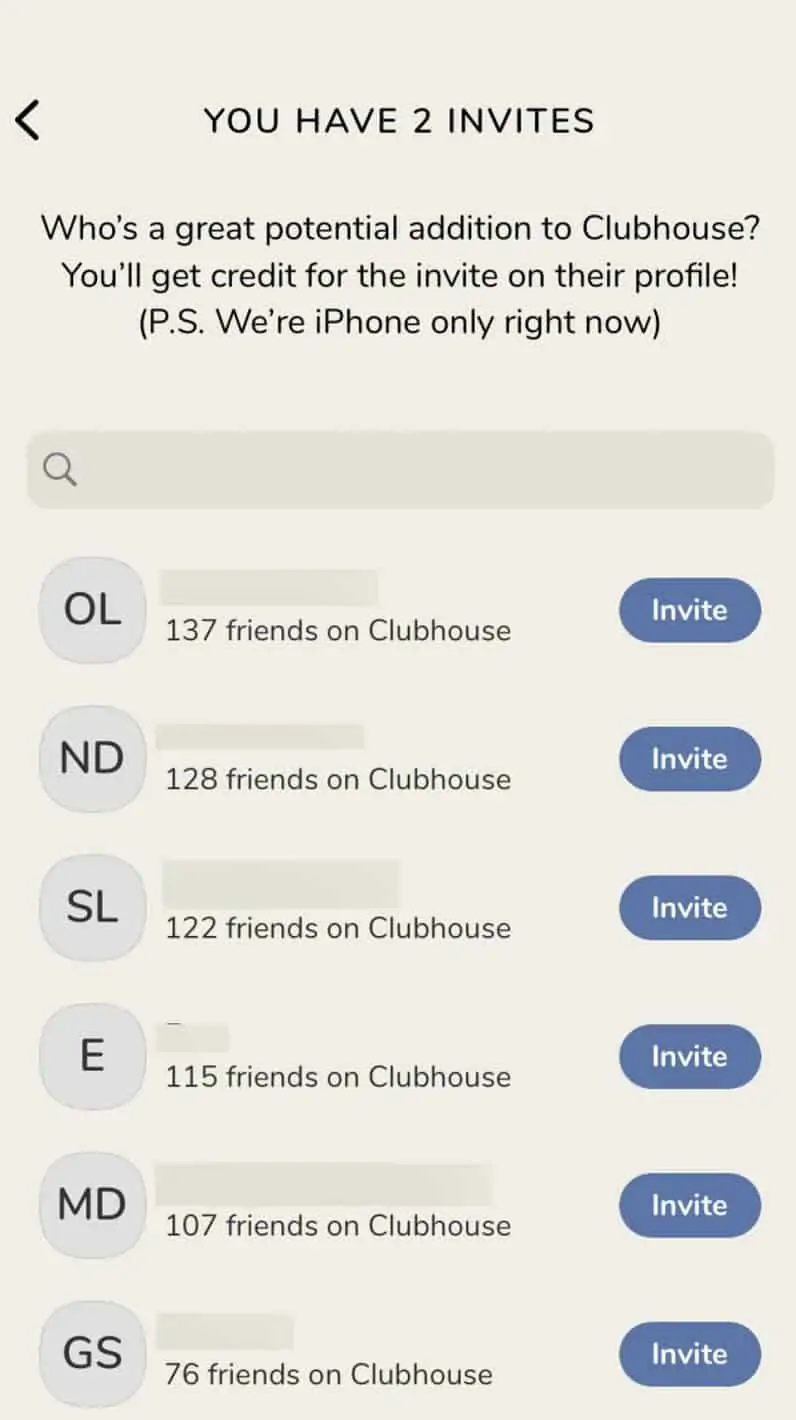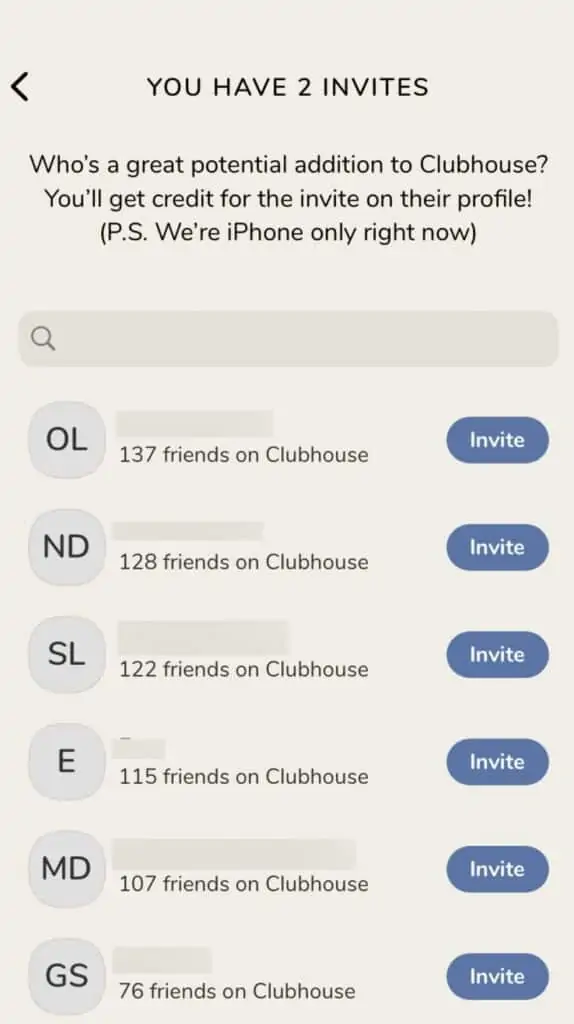 Affiliate marketing
What: Affiliate marketing uses third parties to promote your offering. You pay them commissions in return for every customer you get through them.
Objective: This strategy reduces your marketing workload by delegating it to your affiliate partners who then use their own ways to promote and market your offering, as for every sale, they receive commissions.
How: Affiliate marketing business model revolves around four parties – merchant, affiliate, network, and the customer. You as a merchant register at a network that has a network of affiliates ready to promote your offering and earn commissions. These affiliates sell your offering using content marketing, email outreach, paid ads, and even personalised marketing to the customers who believe in these affiliates' recommendations. Once the customer completes a sale, you pay these affiliates commissions they deserve.
Why: Affiliates can be found in every market, and when you associate with one, you broaden your audience, which helps in lead acquisition significantly. When you partner with trusted platforms, they manage to showcase your product perfectly, which builds your reputation and customer confidence.
Example: Amazon is one company that has entirely devoted its business to affiliate marketing. The company partners with several affiliates like Lifewire who further develop content to sell its offerings to the final customers.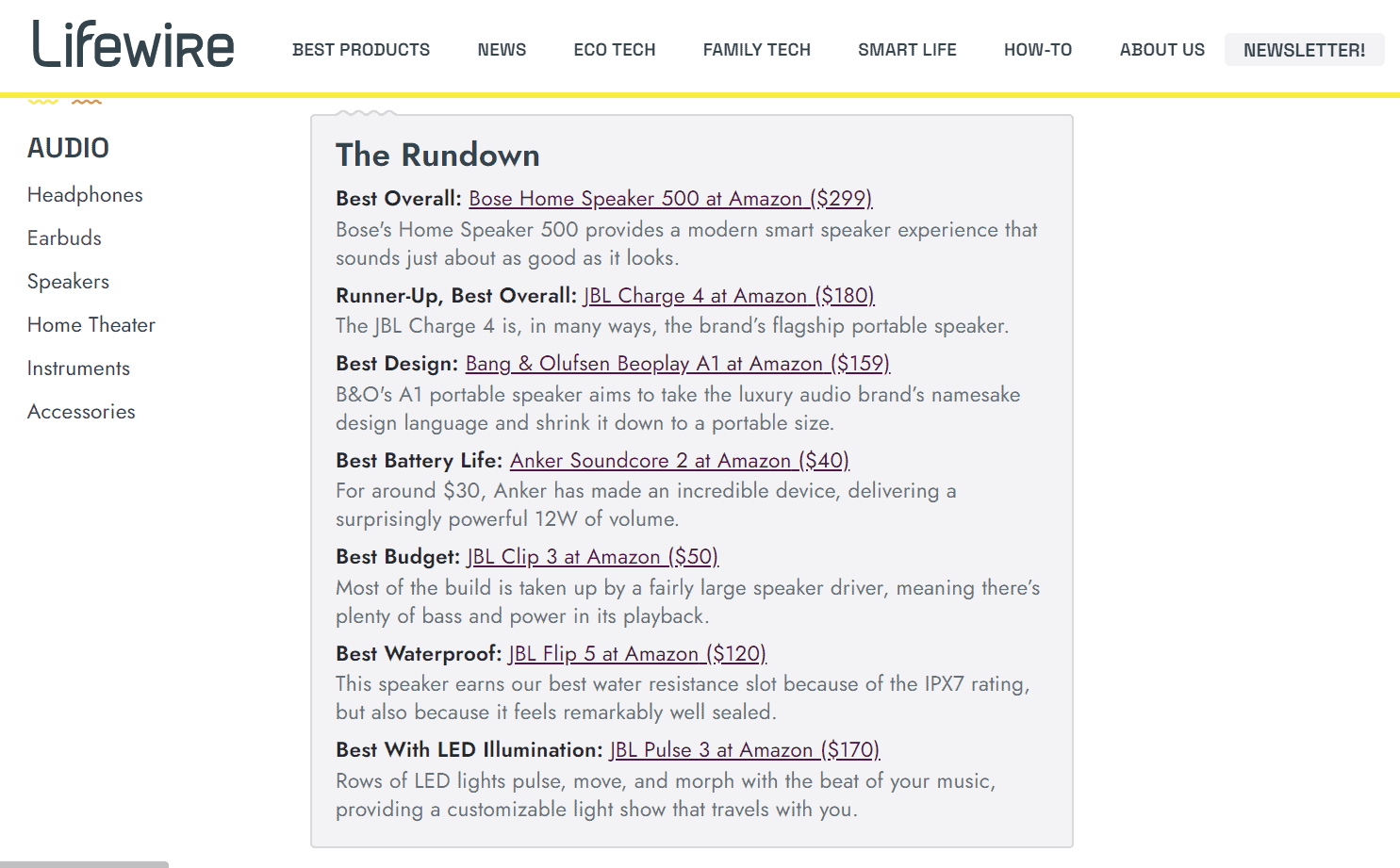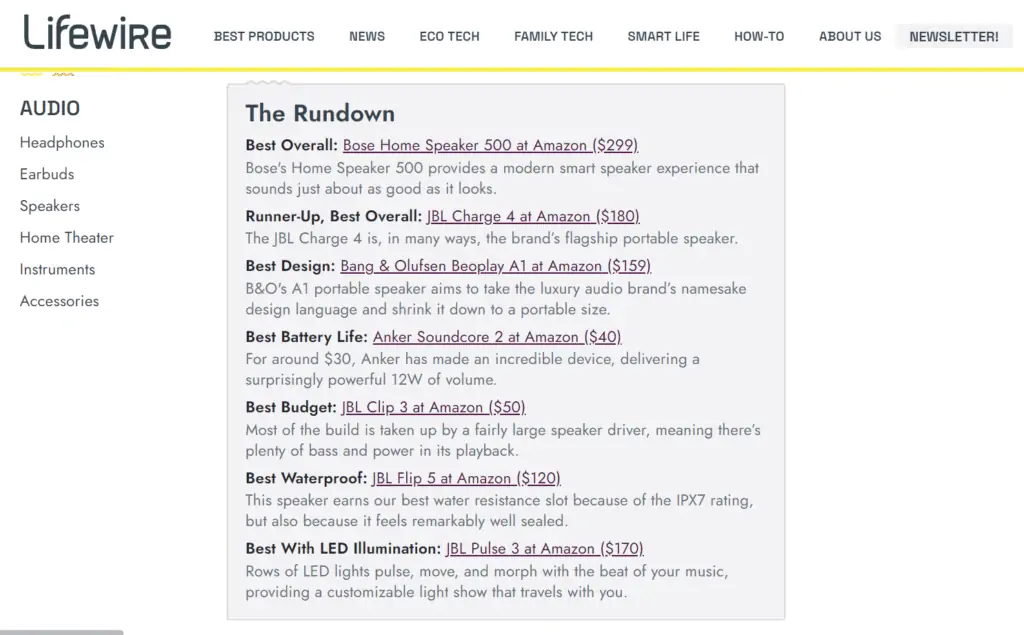 Outbound Communicational Marketing
What: It involves using traditional methods like cold emailing, cold calling, SMS marketing, and IM marketing (Whatsapp, Messenger, etc.) to reach out to prospective customers to inform them about the offering or schemes, offers and discounts.
Objective: It's a push marketing strategy that attempts to push the customer through the marketing funnel and conduct a sale.
How: Some effective methods include emails, cold calling, and messaging to contact the customers. You can can cold emails to the prospects, reach out to them on social media networks like LinkedIn, or even contact them using IMs like WhatsApp. The process requires you to build a list of prospects and define goals for every interaction – an offer, discount, promotion of a new product, etc. Once done, you resort to the shotgun approach to find the right prospects that you can convert using personalised marketing.
Why: Some customers are best acquired when pushed through the funnel. This marketing strategy makes use of 'make them realise that they have the need' ideology. Moreover, although it starts with spray and pray methodology, this strategy resorts to personalised marketing and gives more control to you as you draft your personalised communication messages for your prospects.
Example: Credit card companies and other financial institutions who have access to a big database often use this strategy to communicate about their offering to the prospects.
Go On, Tell Us What You Think!
Did we miss something? Come on! Tell us what you think of this article on customer acquisition strategies in the comments section.
A startup enthusiast, optimist and full time learner. With keen interest in finance and management, Khushi believes communication to be the key to every management. Always ready to explore more and walking that extra mile in putting efforts.