What if I told you that almost all the internet services you use are owned and operated by four to five big corporations?
Intrigued?
Now, what if I told you that your photos on Google Photos remain in the Google servers even after you've deleted them?
Moreover, your personal data is constantly leaked to third parties for advertisements, outreach, research, and other purposes. Ever thought how you receive those spam emails from unwanted people/corporations even though you never subscribed to them?
The internet you use isn't as free as you think. After all, you are the actual product. Almost everything you do on the world wide web is recorded, analyzed, and used to benefit those in power.
It was more evident after the Cambridge Analytica incident.
But there's a way out. There's a company which lets you create your own small home on the internet and keep all your data in it securely without any third party or large corporation meddling with it.
That's Houm for you, the startup disrupting the internet as we know it.
Houm.me – Startup Review By Feedough
Your own private home on the internet.
Yes, a company which lets you legally own a place on the internet, where you can keep your digital assets like photos, videos, documents, etc. that are accessible to no other person, company, software or app but you who is the owner of that digital Houm.
The Concept
Houm works on the concept of a digital home in a literal sense. Having a secure home even on the internet is a 21st century's unfulfilled need.
The platform is built to solve the problem of very less privacy over the internet. Till now, the internet users were in a delusion that the internet is a free place where all the services are provided for free. Little did they know that the actual product sold on the internet was their data, which was revealed to the users recently.
This created an urgent need to have a place where the digital data belonging to the user is not owned, operated or hosted by someone else but the user.
Houm.me developed a platform where the user owns his own domain and hosts his data (images, videos, documents, contacts, etc.) on his own private server. This data can be accessed only by him and can be shared with only the people he trusts.
The Offering
Houm offers you to build a safe, secure home on the internet which legally belongs to you. The concept of home can be related to your physical home where you keep all your belongings safe and no one can access them without your permission.
The motive of the company is to help you not rely on a third party and not to compromise with your privacy when it comes to your data.
Let's say I want to build my own digital home. All I have to do is to go to houm.me, create a profile, sign up for the free trial (without giving any credit card information), choose the domain for my Houm, and that's all.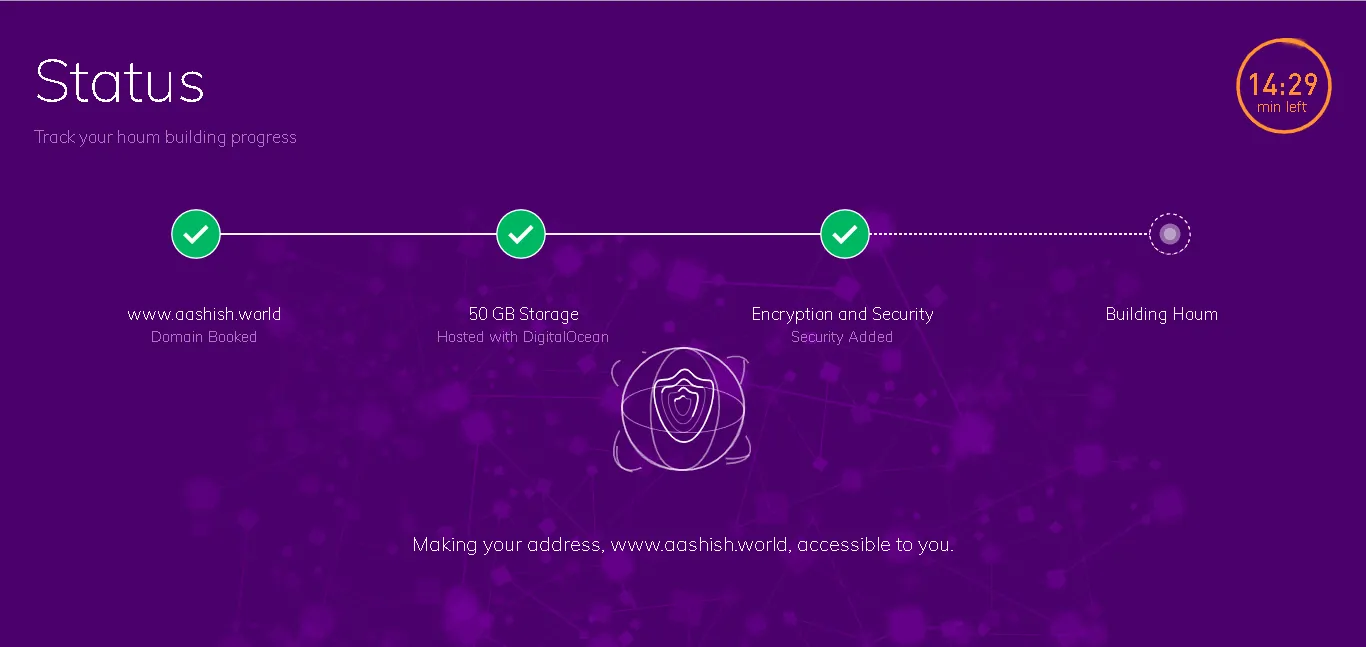 The process takes less than 15 minutes to complete and you get 50GB of storage in your private server. Houm also provides an easy way to sync and get your data from apps like Google, Facebook, Instagram, etc.
Once the Houm is created, you can access it on the web, Android, or iOS.
Other features include –
Neighbourhood: You can invite other people to join your neighbourhood and interact with them using Houm. You can also send and receive files within your neighbourhood.
Inheritance: Since Houm will be your biggest digital asset, the platform also provides you with an option to nominate your loved ones to take ownership of your Houm after you.
Kaai: Kaai makes it really easy to create and operate your Houm. It is an AI-powered personal digital butler which, with your permissions, will keep your Houm organized. It tags your assets to make it easy for you to search for them later. Also, you have an option to turn Kaai off easily if you want privacy from Kaai too.
The Value Proposition
Houm's vision is to bring back the ownership of digital data to where it belongs – the users themselves. The company boasts its value proposition to be privacy and security of the digital data. Everything the user uploads stays in his personal server and even the company doesn't have any right to view or access the user content uploaded.
The Interview
We discussed the concept, vision, and the future prospects of the startup with Bijai K. Jayarajan, the founder of Houm.me. Here are his thoughts on his startup –
How is your product/service disrupting the industry?
Bijai: No one has so far really taken the internet to the consumer. The consumer has never been given a choice to own a piece of the internet. She has always been just a powerless User, and so, she has always had to go to the domains and servers owned by large corporates that monopolized the internet. As a natural result of this, we all then lost our privacy completely and now complain about it, but we do not think that the only true way to get Privacy is to own your own place on the internet. We aim to help a couple of billion users of the internet build and own digital homes on the internet, and thus become part owners of the internet.
The history of your startup (how it all started)?
Bijai: First time when we noticed that possibly 99% of all data on the internet is owned by just two or three companies, we didn't think that it's okay. As we dived deeper along with this thought, we then realized that it's not only consolidation is a problem, it also results in consumers not having an option to own their data. Though this preposterous fact has not hit the ordinary consumers yet, the fact that no one has an option to own their own data is terrible. By this stage, we couldn't hold ourselves back any more. We just had to build a tool that would help all the users of the internet build and own a place of their own on the internet. That's how Houm was born.
Why did you choose this niche?
Bijai: This is not a niche product. Everyone on the internet needs help right now.
The team?
Bijai: My co-founder is Priya Goenka
What's the progress till now and what are you expecting in future?
Bijai: We have completed building the product. It's been tough to build a conceptual product that is so innovative, and this didn't have a precedent that we could copy.
Our Product beta version is out and we are seeing early stages of consumer adoption.
Once I have built my Houm, then what?
Bijai: Well, you have to see this as the first step of a journey. Building your Houm and securing your documents are the first steps. This means – you now actually own a piece of the internet, which is a pretty important development for every consumer. Your Houm will keep getting new features and functionalities, and eventually, your Houm will become your central point of the internet, connecting to everything you care about and that you choose to. Most important thing is… you own a piece of the internet now… see where it goes. This is just the beginning.
Feedough's Take On Houm.me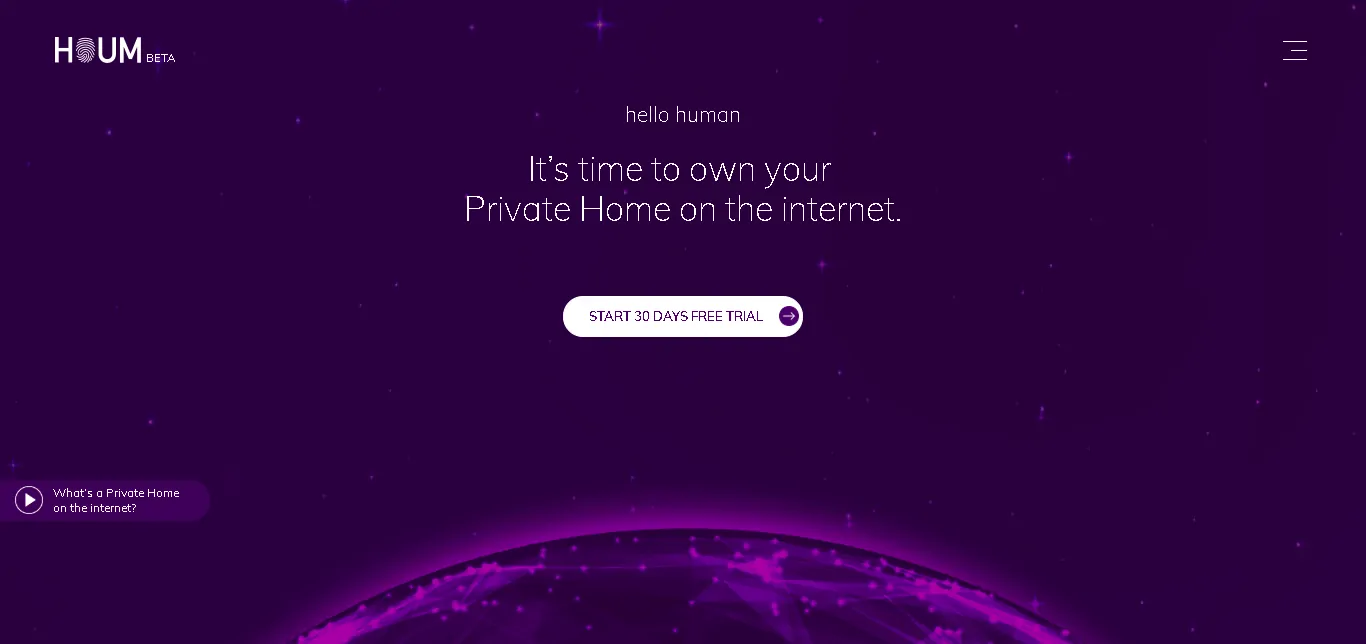 Houm is a well-conceptualized offering which deals with the actual problem we as the internet users face. Even I created my own Houm (www.aashish.world) to test the product and I wasn't disappointed. The platform lets me sync and import my data from Google, Facebook, and Instagram with just a few taps, and Kaai organized those documents seamlessly.
Having your digital data in a place exclusive to you reassures you that it is safe and secure. However, the only challenge we think the startup will face is to get the customers to leave free services like Google Photos, Facebook, etc.
It's hard to get them to pay for a service they are getting for free for years.
That being said, the recent controversies and the shift of the mindset of millennials and generation Z towards a more secure and private internet might work in the company's favour.
Interested?
If you are looking for a secure home for your data where no-one else but you have access to view, use, and share it, you should definitely give Houm.me a chance. The company lets you try the product for free (they even pay for your domain name). Here you own everything from your domain to your server and not even the company can access your data.
Get Your Startup Reviewed By Feedough!
Get discovered by over 500,000 monthly visitors. Explain your offering to over thousands of potential investors, customers, and top blogs.
Startup reviews are custom written posts by our experienced team who'll work closely with your team to create the best pitch possible. The review article will be posted and shared with thousands of our subscribers over emails, social media posts, and push notifications.
Use this form to get in touch.
A startup consultant, digital marketer, traveller, and philomath. Aashish has worked with over 20 startups and successfully helped them ideate, raise money, and succeed. When not working, he can be found hiking, camping, and stargazing.