There are many reasons to sell on eBay instead of say, Amazon –
eBay helps develop brand-identity, which other e-commerce sites like Amazon don't provide. Customers interact with Amazon, not you or your store.
eBay, on the other hand, provides you with customizable storefronts that let the users know that it is you they are shopping from. Generally speaking, eBay's business model is more seller-focused than Amazon.
It also takes the hassle of running your own e-commerce store by providing a stable platform where it is easy to rank on SEO with good practices.
Let's get started.
Getting Started
Before you create an eBay account, it is highly imperative that you get the feel of the site by having a look at other shops/product listing. This helps in finding what works on eBay.
Once you're done with that you can move onto creating your eBay account.
Create an eBay Account
In order to create an account on eBay:
Go to the eBay Registration
There are two types of eBay accounts – Personal and Business accounts.

A Personal account is better suited for an individual who is looking to casually sell and buy, especially in smaller numbers. For a Personal account, fill in the name, email and password fields and click on Create Account or you can also use your Facebook or Google account to sign-up for it.
A Business account is the better option for manufacturers and businesses who want to sell and buy in large numbers. In order to create a Business account on eBay, click on Create A business account.
On the next page, enter the required details and click on Register.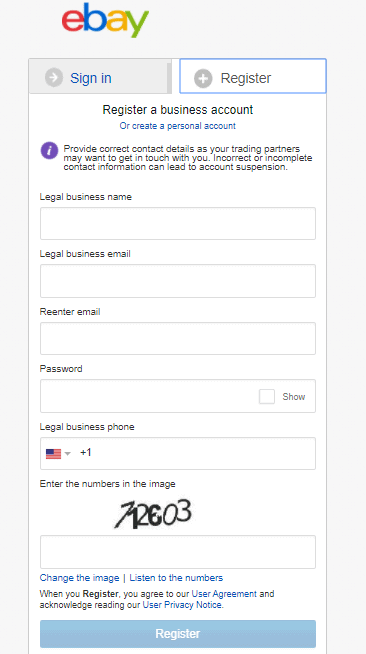 That's it!
Now, it helps a lot if you decide on what you're looking to sell on the site. This not only helps ease you into the process, but it also allows you to create a well-thought-out product listing after creating your account.
eBay acts as a platform for connecting sellers and buyers across the world. You can capitalize on that by catering to the global audience instead of selling a product that is relevant only within certain regions. So deciding what to sell earlier makes sure the logistics, packing, and shipping are in place.
Decide On What To Sell
Here are few tips on deciding what to sell on eBay:
Sell what you already have – In case you already have a product at hand or if you are a manufacturer, you can move onto the next step – creating a product listing on eBay.
In case you are looking to start selling online for the first time and then scale up afterwards accordingly, start by selling what you already own. It can be things that you might not require anymore and gathering dust – old furniture, household equipment and such.
Take Sourcing, Shipping, and Logistics into account – eBay is a platform that connects you with sellers and buyers all over the world. This means that you would have to make sure you can keep up with the demands. Next, you have to consider whether it will be feasible for you to easily pack and ship your products without it affecting your revenue. You also have to decide on the storage and tracking aspects of your shipments and inventory.
With these in mind, you might find a product category that suits you well. Make sure they fall into any mentioned below: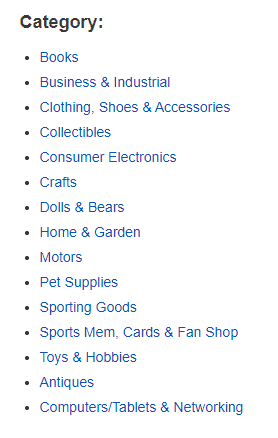 Make sure your product does not fall under any of the prohibited categories and does not violate eBay rules and laws.
With the toughest part over with, let's move onto creating your first eBay product listing.
Create A Listing On eBay
Upon clicking Sell on top of any eBay page, you will be asked to fill out on any missing information in your account and then taken to Sell Your Item form.

In Sell Your Item form, you will be asked to:
Select a Category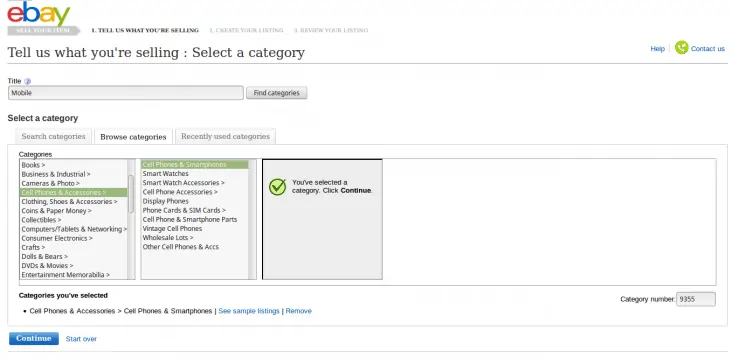 Choose the category that fits your products or use the search box labelled "What are you selling?" to enter keywords related to your product for eBay to suggest the appropriate category.
Fill in Title and Description
Make sure your title helps draw human attention and include related keywords in your product description. This will help you rank higher in searches for your category if done with the right keyword and market research.
Upload Product Photos
Include good and clear photos of your product taken from several angles. Using a white or neutral background helps buyers focus on the product more easily.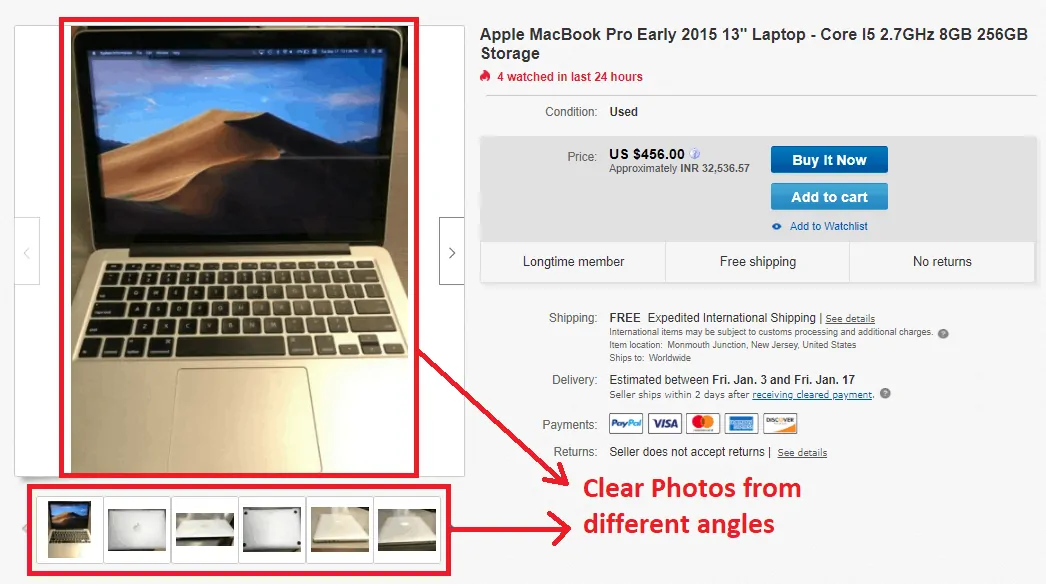 eBay allows you to upload 12 photos for your product for free. Make sure to take advantage of this – include images that show it next to a relatable item for scale and make sure the product is clearly visible in every photo.
Choose Your Listing Format
eBay allows for three different types of product listing formats:
Auction-style listing – You set a base price and an end for buyers to bid on it. The product then goes to the highest bidder.
Fixed price listings – (a.k.a. Good 'Til Cancelled listing) You set a price for buyers to be able to purchase your product right away.
Classified Ads – Similar to traditional ads, eBay allows you to list your products as ads that appear on search results and on the homepage accordingly. With over 175 million active users, a Classified Ad for your product or service will give it a lot of exposure.
Set Your Price
For Fixed-price listings, set a price that reflects the similar listings that you have seen while looking around the site. The help in making sure the product sells easily. eBay also allows for buyers to be able to make offers in case they don't want to pay the price you set by checking "Let buyers make offers".
For Auction-style listings, it is advisable to set the starting price low since it helps bring in more attention for your products. High starting prices may cause many users to lose interest right away.
eBay also allows for automatically accepting or declining offers above/below a set rate respectively. Doing so makes sure that you don't have to respond to every offer individually.
Provide Payment & Shipping Information
List out the payment methods that you accept and the details for shipping.
Details for shipping includes places that you can ship-to and the time it'll take for you to ship the item after the payment.
eBay allows for payments to be made via various methods:
PayPal
Credit/Debit cards
Pay on pickup – Sellers are allowed to accept payments via checks, money orders, cash, PayPal, or cards
Other e-wallets/payment processors – Skrill (Moneybookers), Escrow
PayPal is the most preferred when selling globally due to the simplicity and global availability of using the service. Make sure the payment method that you choose is fast, convenient, and secure.
Mention Your Return Policy
All sellers on eBay are required to state a returns policy (private sellers are allowed to state that they don't accept returns, but they're still subject to eBay's Money Back Guarantee). If you don't mention any, eBay will select a default returns policy.
Use the Additional Information section of the Sell Your Item form to fill in your returns policy and instructions on how to return the purchased product.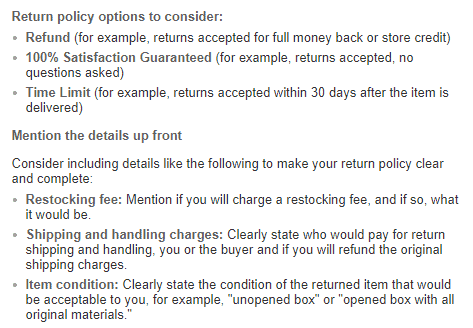 eBay states that Business sellers have to make customers aware of their right to cancel and give the buyers a minimum of 14 days to request a return.
You need to provide clear instructions on how to return an item, exceptions such as international sales, and allow for refunds to be negotiated and made. You also need to clearly mention who pays for the charges incurred for returning the product.
Here's how eBay return process works:
Upon receiving a return request from a buyer, you have 8 days to review the request.
You can proceed in the same way you have mentioned in your returns policy
In case you accept the return, the buyer has 14 working days from when they first opened the product to send it back.
Upon receiving the item you have to inspect it and make sure it meets eBay's policy for the condition of returned products.
You then have 6 working days to refund the amount to the buyer. The final value fee then shows up on your next invoice for the payment method that you used.
eBay also allows for you to customize your product listing with options such as displaying text in bold, place borders and highlight for drawing more eyes to your listing for an additional fee.
This brings us to –
The various different fees that eBay charges its sellers.
Fees On eBay
Getting to know the fee structure of eBay will ensure that you make a profit on the items you list – you can factor in the fee before setting the price and not worry about it eating into your revenue.
Here's a rundown on the various different fees that eBay charges.
Listing Fee
(a.k.a Insertion fee) eBay provides 50 free listings for sellers with Basic accounts after which it charges $0.35 for each additional listing. For the sellers with eBay stores, eBay waives off the listing fees and has a significantly lesser fee even if the established listing thresholds are exceeded.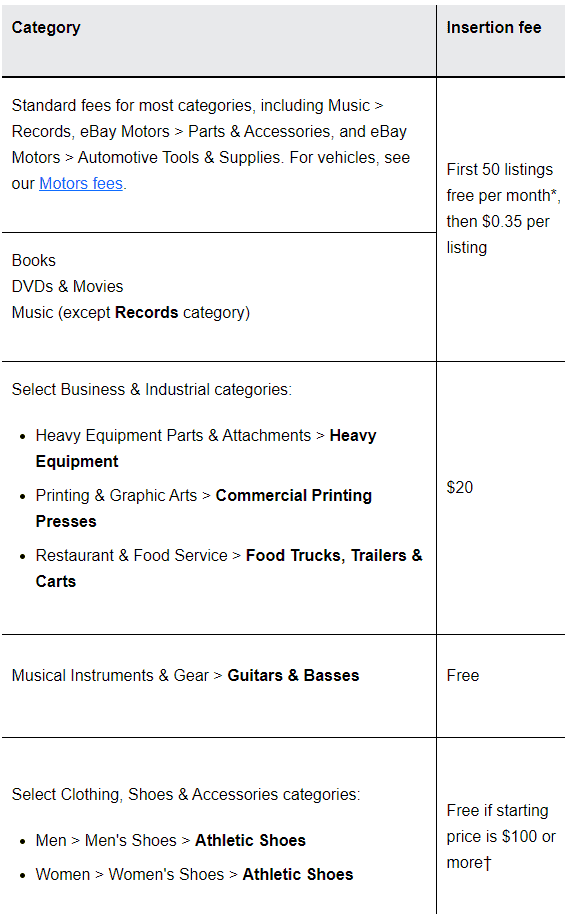 Final Value Fee
eBay charges a fee for every item sold. The fee is a percentage of the total amount of the sale. eBay includes the shipping and handling charges too when calculating the final value fee. Do note that the sales tax is excluded from the final value fee calculation.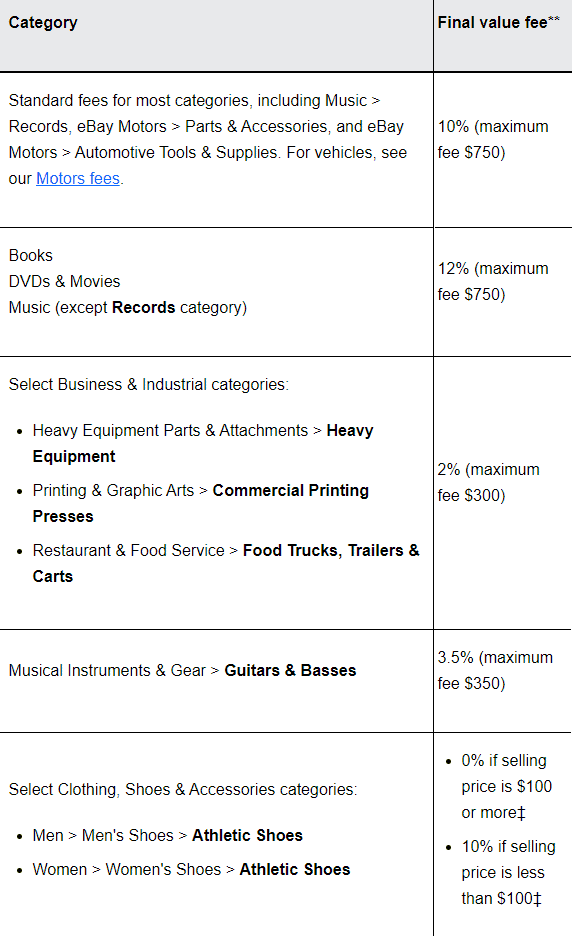 Optional Listing Upgrades Fee
For a fee, eBay lets you add features such as bold, highlights and borders to spruce up your product listing.
For Auction-style listings: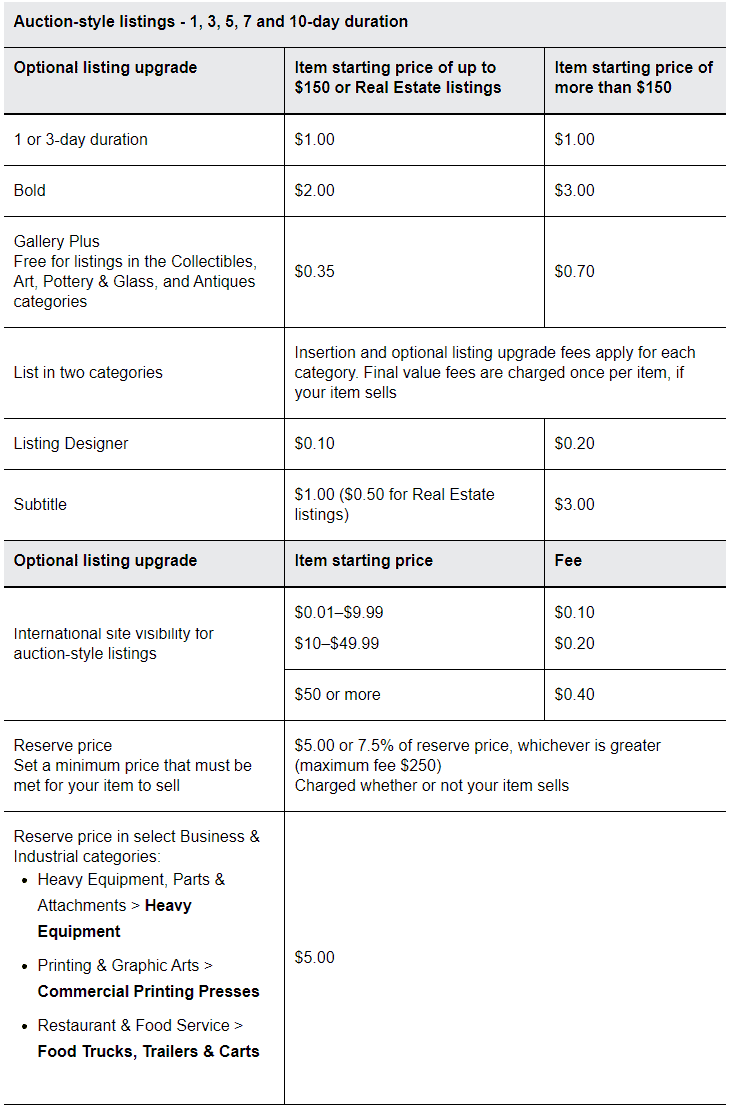 For Fixed-price listing: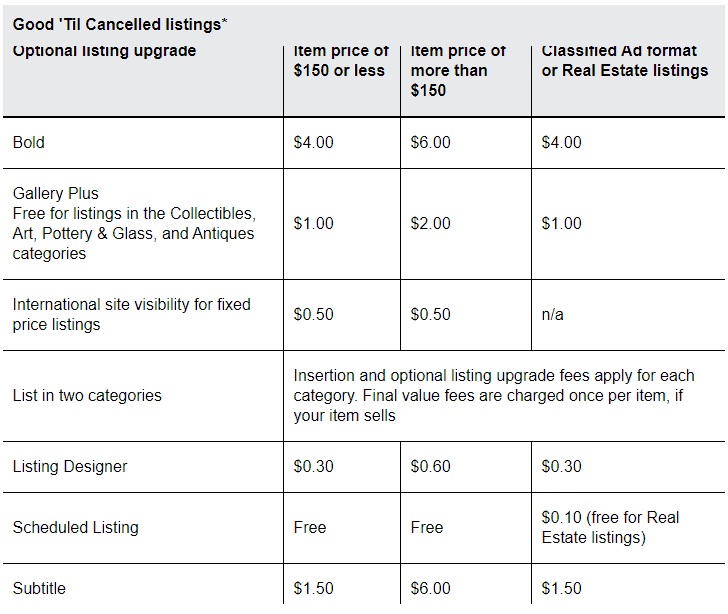 Advertising Fee
Classified Listing Fees
Other than Fixed-price and Auction-style listings, Classified listing is the third type that eBay allows. Classified listing allows sellers to set the price of the product upon which it is displayed in a list similar to the ones you see in classified columns in the newspaper. You get to set a specific period of time (default: 30 days) and interested buyers can fill out a contact form for you to see.
The fee for creating a Classified ad is $9.95 for a 30-day listing and this does not involve any final value fees.
You can use the Classified ad format only for the following categories: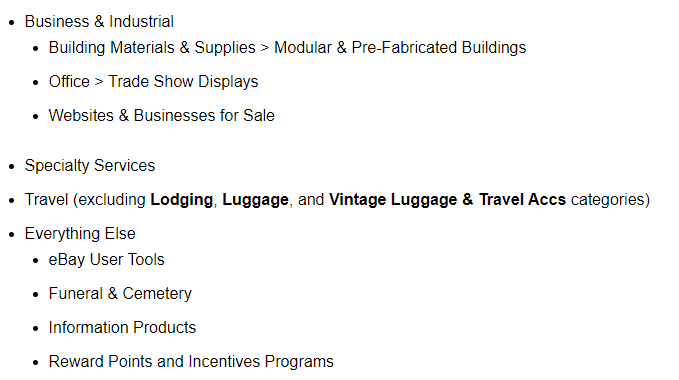 Optional Promoted Listings Fee
Optional Promotions allows for a product to get greater prominence in search results on eBay and also appear in "related items" when buyers are browsing an item being offered by another seller.
The sellers get to fix the fee for the promoted listings, usually based on the ad-rates that other sellers pay for the same service, starting from 1% of the final value fee.
Payment Processing Fee
As of writing, PayPal is the standard payment system used by eBay and most of its users. But eBay has started implementing its own payments processor called the managed Payments on eBay. This will allow eBay to facilitate and manage end-to-end payments for its users from within the platform instead of relying on other payment systems.
As of late-2019 Managed Payments is available to a limited number of users and works on an invitational-basis.
For Payments via PayPal – PayPal charges a 2.9% processing fee in addition to a set rate of $.30 for each eBay sales transaction.
For eBay Managed Payment – For now, eBay allows for you to calculate the difference it makes when you use their Managed payment system against the current payments fee that you might incur from other payment processors.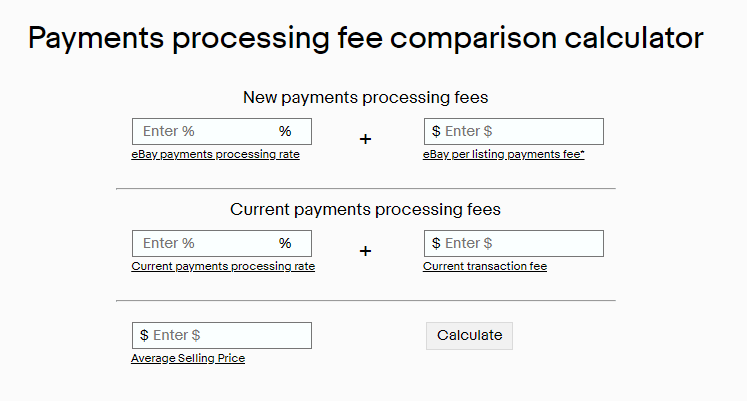 Miscellaneous Fees
Sellers will be charged additional fees in case they don't meet eBay's seller level ratings or perform badly. Sellers will be charged 5% on the standard final value fees in case –
Their account doesn't meet its minimum seller performance standards (can know more by checking your current seller level in Seller Dashboard).
Their rate of 'Item not as described' return requests is evaluated as Very High (evaluated under Service metrics tab) in one or more categories.
eBay also charges sellers a final value fee of the total amount of the sale (even if that item never gets sold) in case they violate its policy by buying or selling outside of eBay. The final value fee for the different listing formats are determined as follows –

Final Thoughts
With your products listed on eBay, you are all set, for the most part. Feel free to experiment with the tools that eBay provides for sellers to further optimize your listings and sales.
For the occasional seller, eBay pretty much takes care of most of the things and even provides you with discounts and freebies such as – 50 free listings per month for basic and the ability to list 12 pictures for free.
But as your sales volume climbs, you can consider opening an eBay store, paying a monthly subscription fee in exchange for lower listing and final value sales fees.
Go On, Tell Us What You Think!
Did we miss something? Come on! Tell us what you think about our article on How to Sell on eBay in the comments section.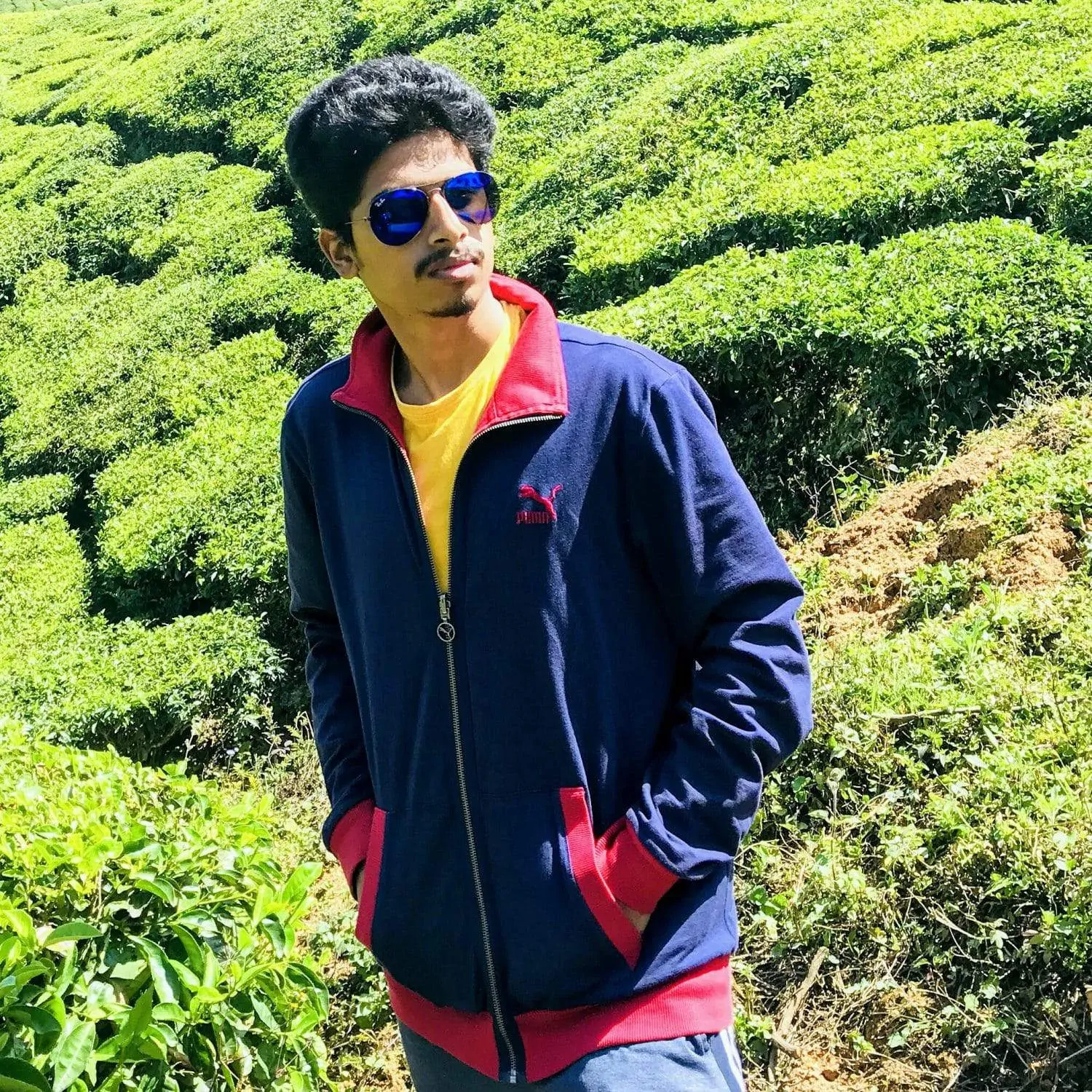 Started out to become a developer but felt at home in the home of startups. The journey started from a single novel. Been an entrepreneur since schooling days. Interested in coding, reading and movies.