As a platform that has recently become popular for NSFW content, OnlyFans is one of the most controversial businesses of recent decades. It attempted to disrupt the 'sex industry' with its new features and immensely different business strategies.
Surprisingly, it succeeded. Launched in 2016, OnlyFans became profitable in less than four years of its launch. While a major portion of its data is still undisclosed, experts have been trying to get more and more information about the company. What is it that has made this business work? Will it be profitable in the long run? Is OnlyFans really a unicorn in disguise?
Let's decode OnlyFans business model.
What Is OnlyFans?
OnlyFans is a content subscription-based service that brings creators and influencers in direct contact with the consumers of their content or their 'fans'. It is a social media platform that helps them earn directly by satisfying their audience's requirements and thus, 'monetise their influence'.
The creators on the platform form a mix of health experts, artists, chefs, sex workers, and everyone else who has something to attract and influence people on.
Tim Stokely started OnlyFans in 2016 as a family business. Stokely saw how virtual sex workers rely heavily on the producers of A-grade movies to earn. Also, since social platforms like Instagram don't allow NSFW content, they have no place to interact with their fans and build their community.
While a few workers use Twitter and the likes to accept direct requests from their fans, most of the work is unorganised and done under the table. Therefore, Tim partnered with his brother, Thomas Stokely, and his father, Guy Stokely, to establish a social media network more friendly to sex workers.
The platform attracted a lot of people from different walks of life. Two years later, Leonid Radvinsky, the infamous 'porn entrepreneur', acquired a 75% share of Fenix International Limited, the company that owns OnlyFans. Since then, the platform has focused more on adult content.
Who Are OnlyFans's Customers?
The customer segment of OnlyFans comprises content creators (aka the 'influencers') and content viewers (aka the 'fans').
Content creators post images, videos, and textual matter on the platform to satisfy their audience's requirements and earn. They create content on various topics like fitness, art, food, travel, etc. Several celebrities like Cardi B, Blac Chyna, and Chad Johnson also have OnlyFans accounts to interact with their fans and popularise their upcoming works.
Content consumers are the loyal fans of these creators willing to pay for accessing their content and interacting with them. Many of the consumers joined the platform because of boredom during the COVID-19 pandemic. When Cardi B announced that she would be starting an OnlyFans account before the launch of 'WAP', the growth accelerated so much that its first BTS video brought $1000 in tips.
However, most of the platform's customers are sex workers and consumers of pornographic content.
What Value Does OnlyFans Provide?
OnlyFans brings content creators in direct contact with their audience. While the creators benefit from a direct payment mechanism, their fans enjoy interactions with them.
What Value Does OnlyFans Provide To Content Creators?
OnlyFans helps creators monetise their influence by hiding their content behind a paywall; that is, it can only be accessed when paid for. This way, they are not dependent on brands to pay them for partnerships, but they can directly earn by providing content pieces to their fans in exchange for money. The platform also facilitates interaction and engagement through live shows and paid direct messages. It further helps in the personal branding of these creators who can now know the requirements of their fans to optimise viewership and build their communities.
Now, sex workers don't have to rely on the exploitative porn industry; they can now directly engage with their audience, satisfy their requirements, and earn therein. Although other platforms let them interact with their fans over voices and cams, they are unorganised and charge heavy commissions. On the other hand, OnlyFans offer safety, security, and privacy in exchange for a flat 20% commission.
The creators of mainstream content (non-NSFW work) also benefit from direct interaction with their fans. Several influencers opt for posting their artworks, cooking, fitness-related suggestions, etc., on the platform. Music celebrities like Cardi B, Swae Lee, and The Dream have used the platform to hype their upcoming works.
However, it is difficult for new creators to monetise their content despite facing less competition than on social sites like Instagram. OnlyFans is better for influencers with an ideal fanbase on any other platform.
What Value Does OnlyFans Provide To Consumers?
OnlyFans lets the audience of the creators interact and learn more about them. These consumers get access to exclusive textual content, pictures, and videos from their favourite creators. They may also specify their requirements through direct messages and have them fulfilled in exchange for a small fee. This way, they feel like a part of their community.
There is no doubt that most of the consumers are on the site to access pornographic content. They can subscribe to their favourite stars, request personalised content, and interact and tip them for their services. Thus, it is a win-win situation for all the parties.
How Does OnlyFans Work?
OnlyFans protect its content behind a paywall; that is, one has to pay to access them. This amount goes directly to the creators of the content. This is how the platform brings creators and their audience in direct contact.
One can sign up on OnlyFans through their email ID or use a Twitter or Google account to sign in. An important thing to note here is that the platform doesn't differentiate between a general and a creator's account. One account can be used in both ways.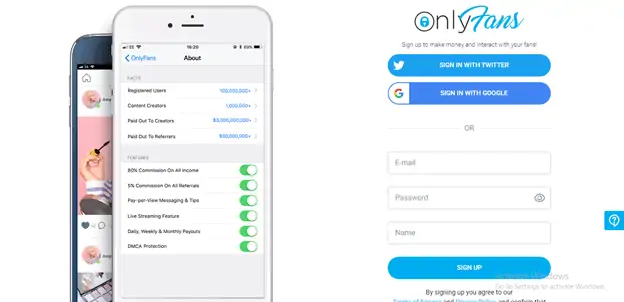 Also, the platform asks one to verify their identity by providing a government-issued ID card. It is strict about not letting in anyone under the age of 18.
After one has created their profile, they can update it by filling in the relevant details, changing their usernames, and adding a bank (to earn) and/or card (to subscribe).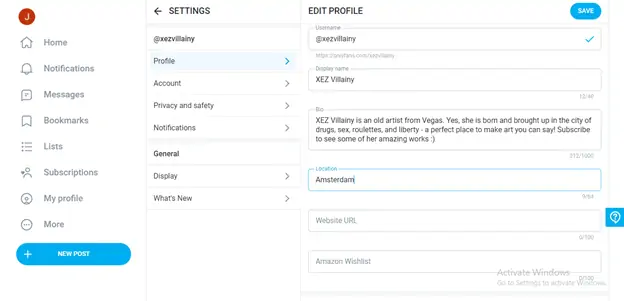 The platform also allows its users to link their Spotify accounts and Amazon wishlists.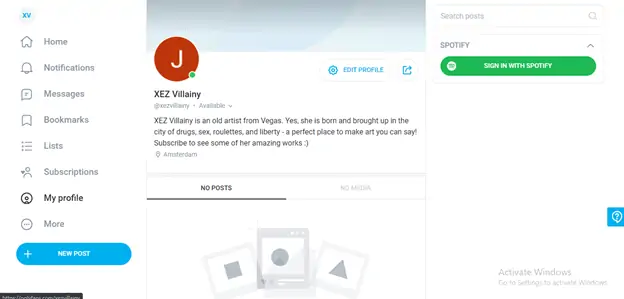 The first thing a new user sees on opening the account is the OFTV or OnlyFans TV, a free video channel that partners with creators across OnlyFans to help new users reach their content. OnlyFans also starts suggesting creators for new users to follow.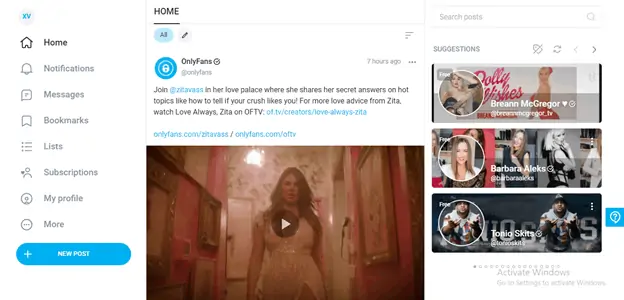 How Does OnlyFans Work For Creators?
New creators have to give their bank details before fixing their subscription rates. They may opt to keep their content free of charge to gain more followers. It has been seen that while celebrities, Instagram influencers, and famous porn artists get paid from the start, others earn little or no amount. There is a huge pay gap on OnlyFans as creators need to have an influence strong enough to monetise.
OnlyFans allow them to earn in three possible ways:
Subscriptions: On this platform, creators hide their content behind the paywall of subscription. They can fix the rates to anywhere between $4.99 and $49.99. They can also offer discounted subscription bundles for a few months to their fans.

Paid Direct Messages: These are usually PPV (pay per view) images and videos that creators send in response to their fans' demands. They compose messages for individual accounts with attached visuals and add a price tag to those DMs. While regular paid private messages have a cap of $100, PPV messages are capped at $50.
Tips: Tips are the best way to engage users and build a loyal fan base on OnlyFans. While the minimum tipping amount is $5, creators like Monica Huldt have been earning over $100,000 on OnlyFans despite charging only $6.50 for a subscription; that's the power of tips. Fans can also send non-monetary tips, that is, gifts by accessing the creators' Amazon wishlist. An important point here is that tips are capped at $100 in the first four months of a creator's activity, following which it rises to $200.
Payment mechanism: The influencers on OnlyFans receive a payout every 21 days. As already mentioned, the platform takes a 20% cut for its services and transfers the rest 80% to them.
Besides posting content and engaging with their audience, influencers host lives and engage in mass messaging to strengthen their brand further. OnlyFans offers services to facilitate these events. It also allows the creators to assess their overall support and thank their top fans of the month.
Moreover, the platform aims to eliminate the concerns of its creator customers regarding the privacy and security of their content. While it has established a DMCA team to look into copyrights violation, privacy is pretty much in the hands of the users. OnlyFans assures that it won't reveal their data to their subscribers and penalise anyone who tries to take screenshots or share their content outside the website. It also strictly advises the users not to reveal any of their detail. However, the platform does share the information with third-party companies for 'verification purposes'.
How Does OnlyFans Work For Consumers?
Consumers need to add payment cards before subscribing to a creator. Even if an influencer's content is free, they need to give their payment information before accessing their content.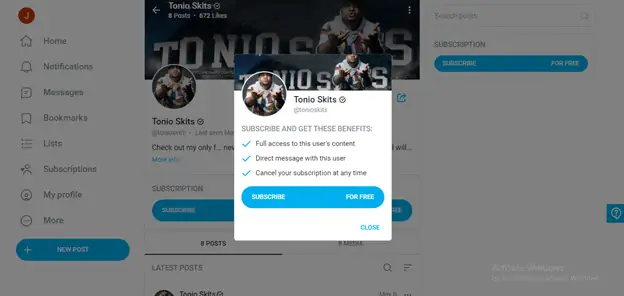 Once this is done, they may start searching for their favourite artists and enjoy their content. Consumers can engage with them through comments and direct messages and send tips for good posts. They can also interact with the creators to learn more about them and get their wants in the form of PPV direct messages. They get a chance to be a part of their favourite creators' community.
OnlyFans Referral Programme
Under this program, anyone who refers a creator to OnlyFans gets a 5% share of their earnings in the first year up to $1 million. At first, the company used to pay 5% earnings for life, but now it has changed its policy. However, since most new creators don't earn well on the platform, the program doesn't benefit many people.
Onlyfans Revenue Model: How Does OnlyFans Make Money?
OnlyFans follows a commission-based revenue model. It earns by taking a 20% cut from its creators' income.
On the other hand, the company mainly incurs expenditure on solidifying its hosting and payment-processing services, and conducting the referral programme. Lately, it has been working and spending hard on strengthening privacy and security services. Reports also claim that OnlyFans might try to reduce NSFW content to attract more mainstream celebrities and their fans.
While official data is not available, a Bloomberg report mentions that, in 2020, OnlyFans generated more than $2 billion in sales and $400 million in net annual sales. Also, it is profitable!
A major reason for the company's success is that it has disrupted one of the most successful industries of the current decades: the virtual sex industry. After Radvinsky's takeover, the platform has strengthened its reputation for 'homemade porn'. This has struck several debates among the post-modernist and conservative groups regarding the ethics of the company.
However, one cannot let the genius of the founders go underappreciated. As opposed to the linear businesses like Airbnb and Uber, OnlyFans follows a multiplicative model; that is, while an Uber driver needs to engage in one more drive to fuel the company's revenue, a picture on OnlyFans can generate multiple tips.
Thus, OnlyFans seems to be a billion-dollar business on its path to grow into a multi-billion dollar enterprise.
Go On, Tell Us What You Think!
Did we miss something? Come on! Tell us what you think about our article on OnlyFans Business Model in the comments section.
A finance enthusiast, literature beau and lifelong learner. Working her way up the success ladder and her personal philosophy textbook, Kavvya believes that a good conversation is worth more than a good book. When not working, she can be found reading, writing and engaging in long walks.