Where do Americans go to buy and sell online?
You wouldn't need much research as with around 50 billion page views per month, Craigslist leads the classifieds market with no competitor coming even close.
Started in 1995, Craigslist's business model was designed to be a not for profit model but was soon transformed into a for-profit model in 1999. The company though started as an email distribution list in 1995, made the most out of word of mouth marketing and has currently positioned itself as a synonym to online classified.
But before we get on to answer how Craigslist makes money, let us first understand the business model of Craigslist and how does it work.
What is Craigslist?
Craigslist is a region-specific online classified website with sections devoted to jobs, housing, personals, services, community, gigs, resumes, discussion forums and more. Most of the advertisements on Craigslist are free to post however they do charge for some advertisements depending on the region and the type of the classified.
How does Craigslist Work?
Craigslist, just like other classifieds platforms, operates by listing advertisements in sections relevant to the users. Advertisements are listed based on region and category to avoid confusion and to be relevant for everyone.
In recent years, classified adverts have evolved into a whole new domain. They are no more a newspaper specific advertisements. Advertisements on craigslist have a longer life, are location specific and searchable, and can be accessed by people all over the world in just a few clicks. The best advantage of advertising on Craigslist over native newspaper classifieds is that it's (mostly) free and can be easily targeted and modified.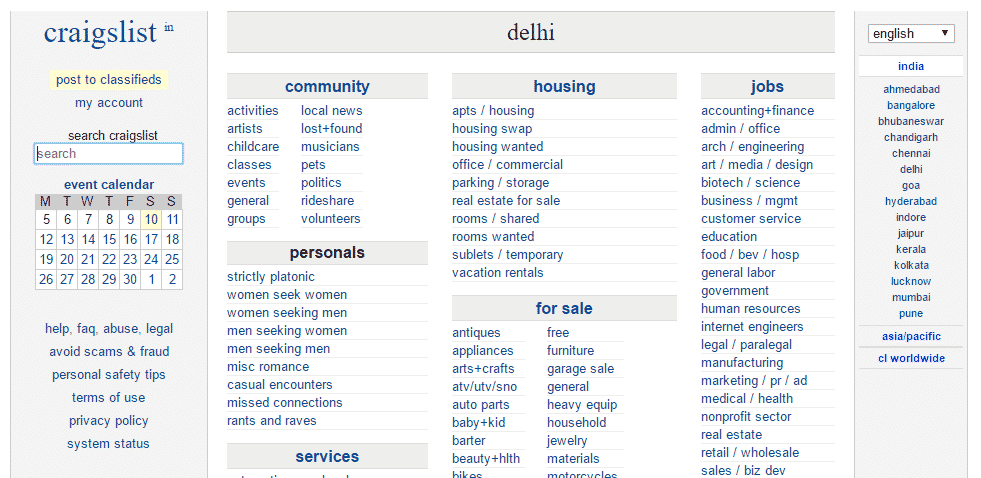 How Does Craigslist Make Money?
How exactly does Craigslist make money when it lets you post classifieds for free?
Well, this company with the peace symbol as their logo has a perfect revenue model which was included in its business strategy accidentally. The company started charging money for certain listings of particularly competitive categories ($25 for job postings in San Francisco) in 1998 to avoid spam and to cover website costs. However, this strategy to earn money seemed fruitful to the owners and many listings were made chargeable to earn more profits.
Eventually we realized we were making a lot of money and it was more than we needed to just cover costs. – A former Craigslist employee
Here's a list of the paid listing to answer your question of how does Craigslist make money.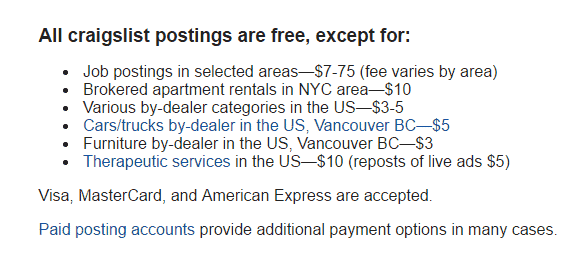 The repost cost in most of the listings is less than the posting cost.
How Much is Craigslist Worth?
Craigslist is a private company and has never raised a penny from investors. Therefore, its value can only be assumed. However, with almost $700 million of revenue and a profit margin of 80% in the year 2016, Craigslist can be valued at around $3 Billion.
Craigslist is the most profitable classified website in the world. One of the reasons for its success is its 'network first, profit later' strategy. Many companies like Whatsapp, Facebook, and Quora also followed this strategy to reach the top.
Future of Craigslist
Craigslist –
Survived the Dot Com Bubble.
Decimated the newspaper classified Industry
Never changed its interface drastically
has around 55 million monthly visitors
has no plans to change its operating model.
This company is as unpredictable as one can be. While other companies try to keep their profit low so as to gain customers, this company earns a whopping profit of 80%. Craigslist doesn't market itself, doesn't believe in changing the business model according to the business environment and is still leading the industry just because of its simple and selectively free interface and a huge network which it built in 2 decades. But this can also prove out to be a reason for its brand failure in future.
Competitors like OfferUp and LetGo have all the plans and strategies to leave Craigslist behind. The chief competitor, OfferUp, has a valuation of 1.2 billion, offers a Pinterest-style photo feed, is also available as a mobile application, and is spending millions in the marketing of its brand. Similar is the case with other competitors like LetGo and Facebook Marketplace. Craigslist would not last long with its current business plans. It has to amend its business and operating model to remain at the position it is at today.
Go On, Tell Us What You Think!
Did we miss something? Come on! Tell us what you think of this article on how does Craigslist make money? in the comment section.
A startup consultant, digital marketer, traveller, and philomath. Aashish has worked with over 20 startups and successfully helped them ideate, raise money, and succeed. When not working, he can be found hiking, camping, and stargazing.